Making a Dragons' Den Investment Go Viral
Graeme and Fiona Fraser-Bell created an award winning board game that got featured on Dragons' Den in 2014 with a successful investment from Peter Jones. The hilarious guess-the-accent party game was mainly sold through John Lewis and a range of small retail outlets. 
The game had Hollywood stars such as Mark Wahlberg, Seth MacFarlane, Zoella and Chris Moyles in fits of laughter. Accentuate Games later went on to produce two more successful board games – Frenetic and Rats to Riches. 
Seeking a new opportunity to grow their customer base Accentuate approached Upbeat Agency to deploy a direct-to-consumer strategy on Facebook and Instagram.
The strategy that Upbeat Agency executed consisted of three main sections:
This is a very important point to note, all three of the above areas were needed in order for us to scale the account.
Great Video Creative + Excellent Ads Management + High Converting Website = Scalable Product Offering
Producing the Ad Creative
To produce a series of videos that would sell thousands of products online, the first step was to ensure we had the correct strategy in place. The Upbeat creative team came up with a series of ideas, concepts and storyboards that would suit each of the three Accentuate games. 
The team then focused on finding the right actors that would match the target audience of the videos. We held auditions at the Upbeat studios in Brixton and ensured each actor was carefully selected. Having produced many videos we have a roster of reliable actors and models we can call upon to get high-quality creatives produced. 
Next up was finding the right locations. Again, we have a bank of reliable locations we can quickly hire to get the right type of setting. For this shoot we decided to hire out a couple of local houses that we knew had a nice kitchen area and nice living room space that would give the shoot a nice homely feel. Every shoot involves a process of pre production, production and post production including:
It was important throughout the videos that we captured the emotions of the actors. Connecting with people's emotions in video creative is a really important aspect of the buying process and needed to be achieved in order to hit high sales numbers.
As mentioned, the key for the shoot was to make sure that all of the storyboarding and shots were planned and prepared before the day so that the team could execute what was needed at the right time and so that the day flowed nicely.
We captured a variety of shots focusing on facial expressions and body language. Using a diverse range of filming equipment and techniques, we filmed different camera angles for clean transitions in and out of shots.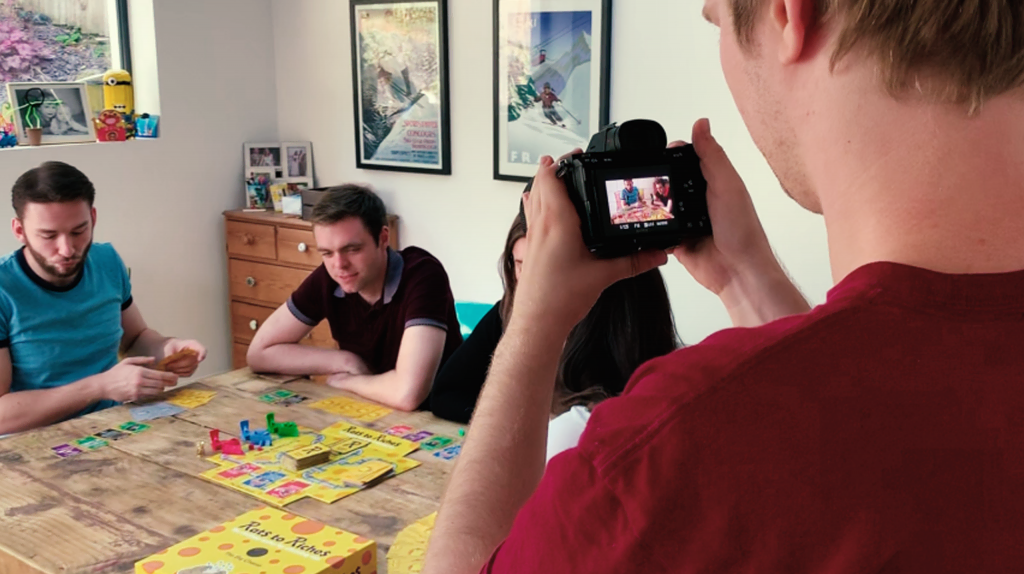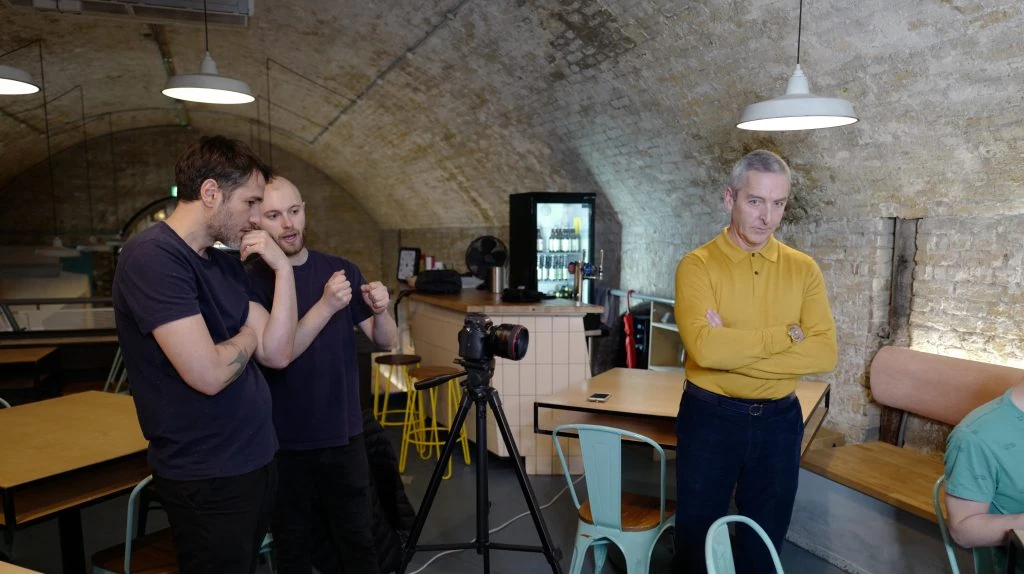 You will see this video is a little more 'rough around the edges'. The editing style is more relaxed and it has that typical top and tailing of the video. This was the video that produced the best results. It doesn't look like an advert, it looks like a native piece of content that someone would stop and watch on Facebook and Instagram.
Also, check out the key emotions in the video – laughter, connection, smiling. There are simple instructions on how to play the game, it's fun, funny and has a clear call to action at the end of the video.
This video was very engaging and attracted a lot of positive attention on Facebook and Instagram. It built up a huge amount of social proof (comments, likes, shares) and this is a key signal to Facebook that the people on their platform like this ad. This means Facebook will give you a great ad score, which will lead to better traffic, more reach and better results.
The comments on the ad also lead to more purchases as people get a sense of community, they trust the seller a lot more and also don't want to feel like they're missing out on something great. 
This ad also requires the viewer to have the sound on, therefore the video starts with a prompt for the user to tap the sound on. This captures attention and gets the user to take action early, which means there is already a level of investment when they start to watch the video. It also means they are more likely to watch the ad the whole way through. 
For those that don't turn the sound on, there are subtitles added which help clarify what is going on, this also builds intrigue as they know they are missing out on something without the sound on. 
Here is the video that we produced for the Frenetic board game from Accentuate. 
You will see the video immediately opens with the emotion of a person. This is a 'hook' and is done to grab someone's attention as they scroll through their newsfeed. 
We then reveal the simplicity of the game and have step-by-step demonstrations of how the game is played. We then use slightly different emotions to the other games, this one being more curiosity, thinking, puzzledness and showing the game is more of a challenge.  
And of course a call to action at the end to get people to click through and purchase the game from the online Shopify store.
Ad Creative - Rats to Riches
Here is the video we produced for the game – Rats to Riches. You will notice straight away we have a really strong movement that zooms upwards and away from the board game. This is the attention grabbing 'hook'. 
Also, listen to the sound. It's really punchy and lively. The editing flows into the sound so the video meshes together nicely. 
Again, we use the same methodology as the other videos – people's emotions. As this game is a little more competitive we also embedded a feeling of sneakiness and mystery into the videos. As the video progresses it gives very clear instructions on how the game should be played.
The video builds up, until eventually we find a winner! The music stops and the CTA draws out at the end. 
Media Buying and Ads Management
Along with having great creatives on our side, we needed to ensure our media buying and ads management skills were at an all-time high for this project to really take off. 
Accentuate followed our advice and had the games products listed on Amazon as well as a new Shopify store we created for them. This gave them a really strong advantage. 
The Amazon sales were minimal at the time, but as we started to launch the ads the Amazon sales also rocketed. This is something we have seen before and it's safe to say you can call Amazon 'the product search engine of Facebook'.
If people see something they like on Facebook and they're an Amazon prime member, there is a strong chance a percentage of them will purchase it from Amazon. This is due to the delivery speed and trust they have for Amazon. 
Usually, Amazon can generate another 100% in sales! This means you will miss out on double the amount of sales if you don't have your products listed on Amazon. If you can also attribute your Amazon sales back to your Facebook spend, then you will be able to justify a higher CPA and lower ROAS in Facebooks ad account, meaning you can scale harder and faster.
A big advantage this client had was allowing us to take care of both the video ad creative and the ads management. This meant our creative department could work hand-in-hand with our ads management department to split-test, tweak and quickly try different ad videos to find the combination that worked.
If these activities were outsourced separately then this process would have been much slower which would have had a huge impact on the results that could be produced.
Shopify will also contain sales that are from Facebook that did not get picked up by the pixel. We usually find there is roughly 20%-30% more sales in Shopify that comes from Facebook that is not recorded. Again, if you factor this into your CPA and ROAS calculations you can arrive at a figure that allows you to be more flexible.
This is exactly what we did with Accentuate and we found that if we tallied up both Amazon and Shopify we could be profitable with a 2 ROAS in the Facebook ads manager.
In October the account went from a £3k spend, a higher CPA and underperforming ROAS to a £60k spend in Nov and Dec, while hitting the required 2 ROAS.
A lot of different interest audiences were tested initially, people who like board games, people who like scrabble, who drink alcohol, who like dinner parties etc. Once we started to get more of this traffic and the pixel became smarter the team were able to build more high-quality lookalike audiences. As each seed audience for the lookalike built up, they were able to graduate from lower level event lookalike audiences such as Page View, to those who were in the top 25% of time spent on site, to those who purchased.
The game had a lot of mass appeal, especially as we got closer to Christmas. The pixel also became a lot smarter so to scale the results up we were able to make our adsets completely broad. We've found with a smart pixel and hardly any targeting this can allow Facebook to work its magic and usually this can be one of the best performing adsets.
Once we have huge audiences we put them into CBO's with a larger spend, this mixed in with a good offer, high converting site and great creatives allowed us to scale up the account while hitting the required 2 ROAS target.
Improving Website Performance
The final piece in the puzzle was ensuring we had a website that had a great conversion rate. Accentuate Games originally came to Upbeat with their own website, but ultimately to get the results we needed the store needed to be re-built in Shopify. 
This would give us all the plugins, tools and analytics we needed to be able to scale the account during Q4 and beyond. Q4 was always going to be a period of heightened conversions due to black Friday and Christmas, however this also meant increased competition on the platform so we still needed to outdo competitors in order to get the sales.
To improve website conversion the funnels team go through a process of; 
You can see how the conversion rate improved over time on the store. We were able to do this through a combination of different factors:
A complete product page re-design. We created a more aesthetically pleasing layout with key features being more prominent and the order being more logical, always leading people to a purchase outcome
We used a moving Gif instead of product images which featured Zoella, Mark Wahlberg and Chris Moyles playing the game. This heightened the credibility of the game
We made the Buy 'Now button' bigger and bright green
We added lots of genuine testimonials to the page to emphasise the social proof
We added award pictures the game had won
We featured the story of Dragons' Den and how Peter Jones invested in the game (again more credibility)
We featured smart product pictures with a detailed, fun product description.
A price discount on the game
Featured a money back guarantee
Ensured 'Fast Delivery' was prominently seen
We also added some post-purchase upsells to increase the average order value. There were multiple games that we could cross-sell so this helped elevate the overall ROAS on the account.
Would you like us to scale your brand?
We have a great team here at Upbeat Agency, consisting of media buyers, ad creatives and CRO specialists. Get in touch below and we can discuss how we can get great results for your brand.