Lead form ads are an easy-to-use, mobile-friendly ad format designed to make it quick and easy for people to find out more information about your products or services whilst also collecting valuable information for your business.
When a person views a lead form ad they have the option to click the call-to-action to bring up the form. The form will be prefilled with the personal information they have shared with the Facebook platform. This information can then be reviewed and edited before submitting the form.
Lead form ads are a useful addition to your advertising repertoire, as they allow you to capture customer data without the person visiting your site.
Benefits of using lead form ads include:
The user does not have to leave the Facebook platform, therefore loading times are faster than being taken to a browser

Submission can be as simple as two clicks (one to open the form and one to submit it) making it more likely for people to submit their details

You can add questions to ask people for specific information (and to also qualify them)

Customer information can be sent directly to your database for follow-up and future targeting
How to create a Facebook lead form ad
Open your Facebook business page and click 'Publishing tools' in the toolbar at the top of the page.
Select 'Publishing tools'
Next, select 'Lead ads' from the left panel and click 'Create'.
Click 'Lead Ads Forms' and then 'Create'
Choose to create a new form and then select 'Next'.
Select 'New form' and click 'Next'
Enter a name for your form. Next, select an image and a headline.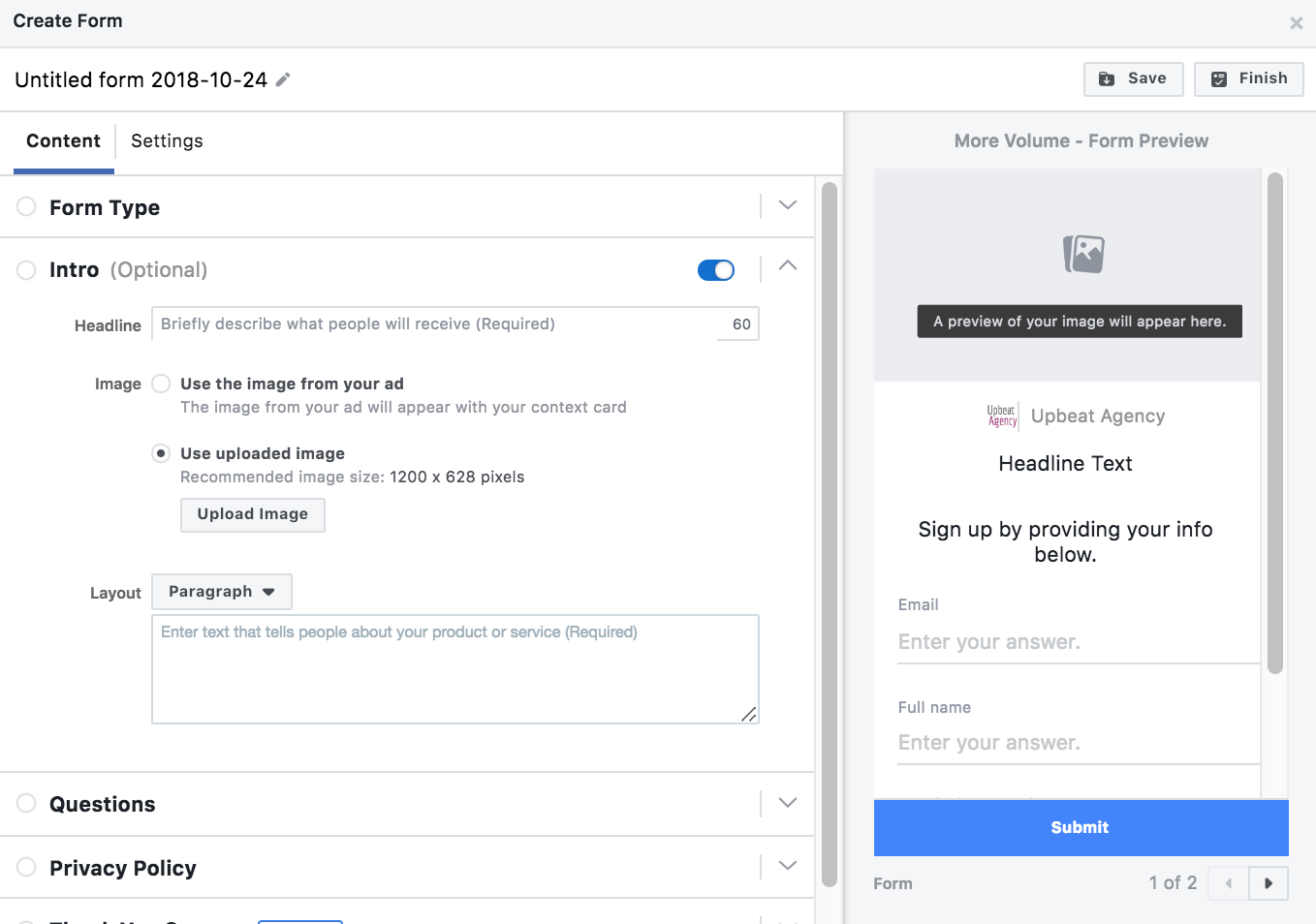 Name your ad and choose an image and headline
Choose which user information you want to ask for in the form.
Select the user information you want to ask for
Add custom questions to ask for information not included in the default list. For example, in this scenario we will ask which type of holiday the person filling out the form is interested in.
Add any custom questions you require
Enter the Privacy Policy details by providing a link to your website's privacy policy page. You can also add a consent checkbox. We recommend that you do this if you are living within the European Union since the implementation of GDPR earlier in 2018.
Enter your privacy policy details and a consent checkbox
Complete your 'Thank you' page. This is a good opportunity to use a call-to action to get people to visit your website and learn more about your business.
Next, click 'Finish' to save your ad.
Create your 'Thank you' page and click 'Finish'
Once your ad is live you can capture customer data quick and easily with as little as two clicks. You can also use this warm audience for future retargeting.
Lead Form ads are now also available to use on Instagram.