­­­­­­­Turn your abandon carts into sales!
Cart abandonment is an inevitable part of e-commerce. Although frustrating, you could see it as a positive; these aren't customers that you have lost, they are potential customers you can recover. It's a great success that they are visiting your site in the first place, but abandoners represent a huge amount of sales in the making – so it must be worth the effort to help resolve any hesitations.
We live in such a fast-paced world, it's so easy just to move onto the next purchase or get distracted by something else in life! With a helping hand, you can ensure that your customers make a good choice and come back to buy your product! …
According to the Baymard Institute, these are the top reasons online shoppers leave retail sites without checking out:
61%: Extra, hidden costs (taxes, shipping) are too high

35%: Visitor forced to create an account and doesn't want to

27%: The checkout process is too complex or lengthy

24%: Visitor isn't able to calculate or see the total order cost up-front
There's also the fact that a lot of customers are looking at your site through their mobiles, meaning they are probably on the go, and these people may purchase later.
Here are some of things that could happen when a customer leaves, you could send….
Capture emails with an exit intent pop up

Convince the shopper to return with a multi-stage email re-marketing campaign

Convince the shopper to return with website push notifications

Make the site welcoming and the cart easy to recover
BUT NOW…
There's another way to connect to your abandoners; via the Facebook Messenger re-marketing app (through Shopify).
It is the first Shopify app that allows you to messenger your undecided shoppers via Facebook. Once you install the app, you'll get a send to messenger tick box below your add to cart button.
You could wait for as little as two hours to see if they ended up buying, if not you can message them on Facebook. Then after 24 hours you can send them another reminder.
You can customise these messages and calls to action to get them back to your checkout page, you could also offer them a discount code or some other form of incentive.
The app also tells you how many emails you have sent out, and how much in sales the app has made for you. You can see who of your customers opened your message and who of your customers came back to buy because of it.
Messenger Bots (Email vs Messenger)
Using a messenger bot takes half the time, you don't need to plan a long email, and the response rate is much faster.
There are higher conversion rates – around 33% higher, so quite significant!
How to send an Abandoned Cart reminder?
Your message could start by perhaps saying something simple like 'Leaving Something behind?' and then sending a picture of what was in their shopping basket – take a look at the pic below.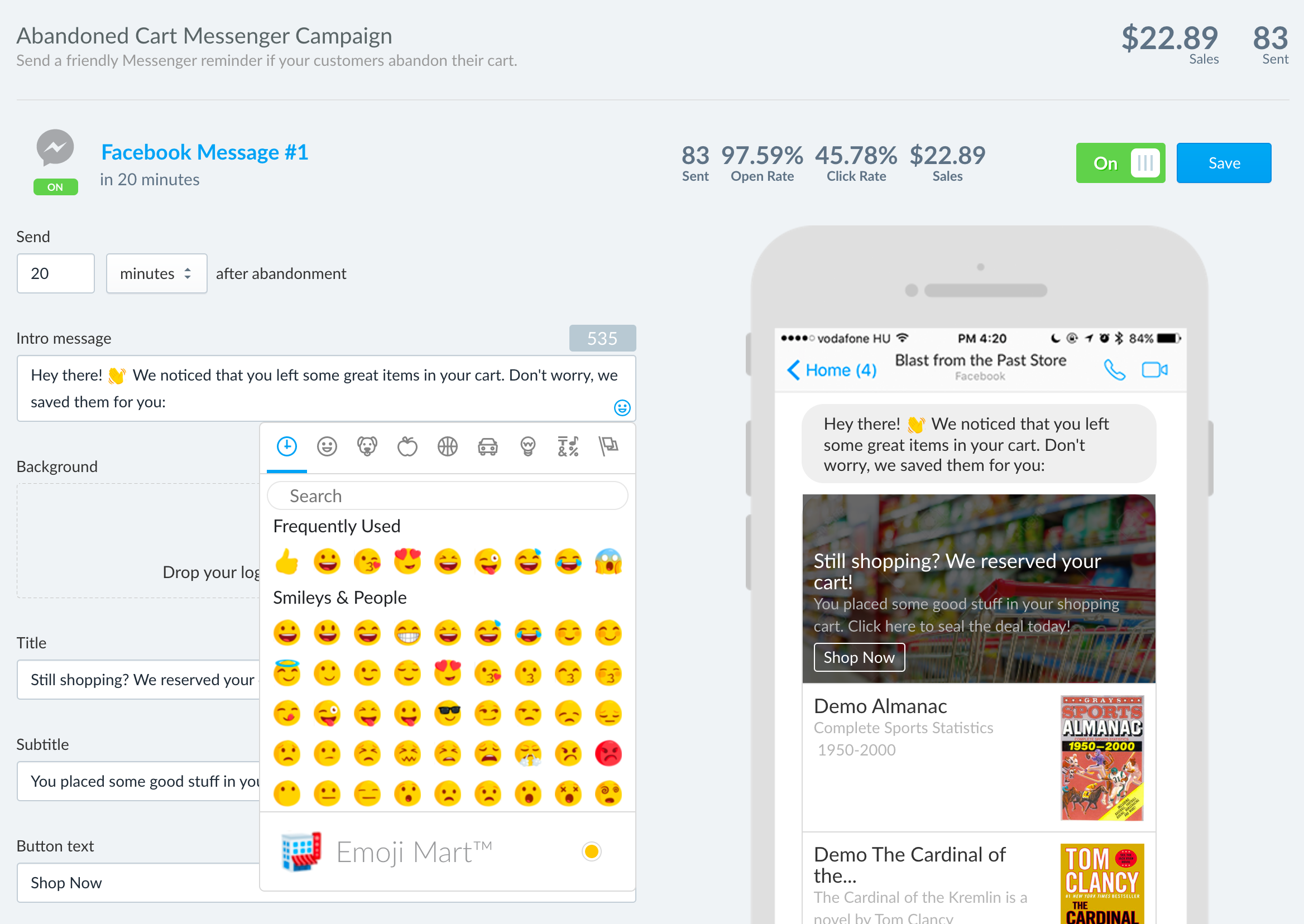 So the idea is that Facebook is encouraging your customers to opt into messenger notifications through their regular purchase channels.
With Facebook Messenger you can send personal emails to your customers, enabling a higher click rate and higher open rates. You can send information that is tailored to them – meaning no two people are receiving exactly the same response. This gives you a higher engagement level. You could also customise this by adding proposed delivery times for their product.
Another valuable tool for your E-Commerce business.
Let us know what you think below!