£300 a day in sales to £5000 a day in sales. Force Wear started printing T-shirts in their shed and have now grown to £5000 a day in sales through Paid Social Advertising. Upbeat has taken them on a journey utilising the best practises to scaling a brand and maintaining a strong ROI.
Generated 33,000 purchases
Transformed side project into seven-figure business
Maintained high 4.5+ ROAS for a year
Reached every member of the military in the UK
Responsible for massive hiring and premises upgrades
Record-breaking £65k revenue BFCM weekend
Established infinitely repeatable revenue flywheeel​
Force Wear is a military-themed apparel store owned and operated by veterans, offering high quality military-themed apparel and accessories. Their designs sport emblems, weapons and words steeped in military culture, and that legitimacy has built them a fiercely loyal following.
With thousands of happy customers, a highly trained squad of ex-military veteran employees and a host of charities and groups they support, Force Wear is doing an exceptional job of lifting up those that serve in Her Majesty's forces.
Force Wear was originally a passion project for the founders. They loved their military background and helping their communities through their clothes store, but were looking for an agency to harness their raw potential.
When they came to us…
They had boosted occasional posts on Facebook and Instagram for engagement but had never run a conversion-optimised campaign.

Their store was built in the BigCommerce ecommerce platform, which was causing them a lot of problems, including bad tracking on their website pixel.

They saw semi-regular organic sales of a few hundred pounds, especially when announcing new designs.
In short, they were seeing good results on a small scale, but it was a hamster wheel – they had to keep churning out new designs and had no way to build momentum or reach new customers at will. Despite all the work they'd put in to warm up their audience and give their page followers a good experience, like many companies they were unaware of how to capitalise on this.
Force Wear had consulted with several expensive BigCommerce experts in trying to fix their site, so instead of fighting an uphill battle we guided them through migrating their BigCommerce site onto the Shopify ecommerce platform. Shopify allowed them to very quickly spec out a revised store, and the Shopify App Store enabled them to implement a complete set of custom features with minimal development time.
We knew that If we could help them create a more attractive, more conversion-optimised site, with great product offers, clean navigation, engaging apps, and just-in-time upsells we would get better conversion rates than the competitors which means we could win in Facebooks auctions.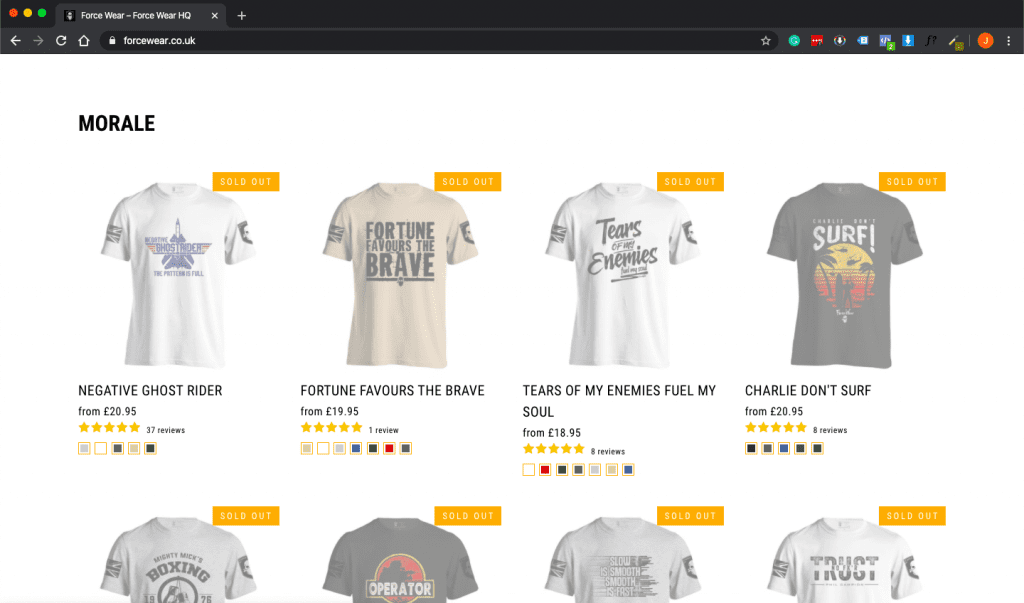 With the client's new Shopify site all ready to roll, we produced ads that spotlighted their best sellers, their hot new designs and their most attention-grabbing product images.
Link ads worked extremely well, especially those with high social engagement, but the biggest hitters were our Catalogue Sales ads. By feeding Facebook a tracked product catalogue, we let the machine-learning algorithm make on-the-fly decisions about which user would like which design.
This gave us not only a high ROAS with plenty of headroom for scaling up, but also consistency. While regular optimisations were necessary for our single product ads to make sure the offering stayed fresh and attractive, our Catalogue Sales ads were crushing it with nearly double the prospecting ROAS (our required ROAS for breakeven was 1.5).
With everything aligned, we had the opportunity for non-linear, immediate growth. Within 3 days, we went from spending £170 to £620 a day, while maintaining a ROAS over 5.
Our ads were generating £3000+ a day in return, with their email retargeting bringing an additional £1000 – £2000 a day. Spend went up:
Maxing Out From The First Scale
As we approached D-Day's anniversary (June 6th), we had planned ahead of time to pull back the D-Day design ads so everyone would receive their items on time and nobody would be disappointed.
What we hadn't counted on was exceeding the client's maximum possible capacity for shipping orders out. Despite their fulfilment offices being 100% all hands on deck to keep up with the demand we had created, the gap was growing and they needed to catch up. It became clear they would need to hire on new staff, move to a larger premises and buy new manufacturing machinery to keep up with all the sales we were generating.
Fortunately, scaling up had given us better context for what was working, so downsizing spend while raising ROAS was very doable. We reduced back to the previous levels of spend, around £150 a day, cutting all but the very best ads and audiences, and saw our ROAS soar to 8+.
Maxing Out From The First Scale
This is an important part of our work. Getting everything aligned on our end gave us the opportunity to bring them this volume of profitable orders, but for the push to be sustainable, clients must have everything aligned on their end too.
From products, ads, audiences, data and website, through to fulfilment, customer service, in-house staff and manufacturing capabilities – everything should be geared for success if you want to scale your business without a hitch.
Throughout the summer we then worked closely with the client to help them re-grow their ad spend as they operational prepared for us to scale the account again. We maintained the account at a level of 5 ROAS and brought in big profits for the client while they re-invested this into their inventory and workforce.
Having never run sales events, discounts, incentives or public holiday celebrations on their store, we recommended they put on a show for Black Friday/Cyber Monday.
We implemented a variety of discounts across the store, and co-ordinated a campaign with them to make sure everyone knew that the Force Wear "Blackout" weekend was coming.
Using rapid scaling techniques, we brought in over £65,000 revenue over that single BFCM weekend period, and proved to them it was 100% worthwhile pushing the occasional promotion to get all those users considering purchasing to become customers.
Capitalising On Sales Events
As the sales events in November and December worked so well the decision was made to carry these into the new year. Selling t-shirts over the winter period can be tricky so we felt having more regular promotions would help us combat this potential seasonality slump.
As a result of this decision and our media buying skills we were able to unlock some of the best revenue periods for this client.