So – your e-commerce site is all set up, and you've got an inventory packed with quality products.
You know that there are thousands of potential customers out there, in the market for these very products…
This is sounding promising.
You also know that they're probably searching for these exact items online…
Even better.
But there's a problem.
How do you ensure that they're seeing your products online? How do you capitalise on this pre-existing demand and make sure that you're getting valuable eyeballs on your inventory?
The answer you're looking for is Google Shopping – and it's like having your products placed at the very front of the virtual shop window.
So what exactly is Google Shopping?
Google Shopping allows users to instantly browse products based on their search queries. For example – if you plug 'white trainers' into Google, you'll see the following appear: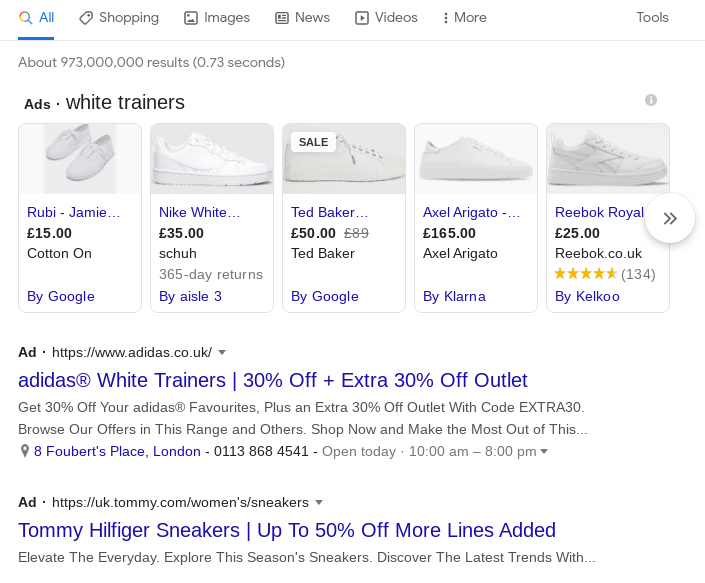 See those products sitting at pole position at the top of the results page? Above all of the paid and organic search content? Those are Google Shopping placements. Not a bad spot at all.
These are extremely effective placements for 2 key reasons:
1. You can showcase your products clearly
There's an image of the product itself, price information, and you can even add in details around shipping or special promotions.
2. You're reacting instantly to user demand
Potential customers search for a specific item, and you immediately offer that exact product. It's a clear intent signal and the perfect opportunity to drive efficient conversions.
Sounds great – how do I get started?
There's a little bit of legwork involved with setting up your Google Shopping campaigns – so let's run through the basics.
Firstly, you'll need to set up a Google Merchant Center account – this is a bit like a virtual stockroom, where you'll manage your inventory and product details.
It's very important to note that Google Shopping sources product images directly from retailer sites, so you need to ensure that you have high quality images. In some instances, poor quality product images can even be removed!
(If you need a bit of guidance on image quality, then you can check out the Google guidelines here)
My product imagery is looking good! What's next?
You'll then need to create your product feed – this is very important, because this data fuels Google Shopping and helps the platform to display your products properly.
You can set up your product feed within the Merchant Center, which involves you populating a giant spreadsheet (a template is provided) with key product information such as title, price and SKUs. It's vital that all of this information is clear and accurate.
Luckily, Google provides their own guide to help you successfully set up your product feed and avoid any spreadsheet-induced migraines.
Finally, you'll need to link your Merchant Center account to your Google AdWords account, because technically these placements are ads! You can do this directly through your Merchant Center account, by selecting 'Account Linking' from the menu in the top right corner.
How do I launch my Google Shopping campaign?
Once you've linked your AdWords account, you'll be able to select 'create campaign' through the Merchant Center. You'll need to input some details about your preferences and your desired objectives. Then you're just a few steps away from launching your campaign. Exciting stuff!
1. Decide on your bidding strategy
From here, you'll need to select your all-important bidding strategy and campaign budget, which dictates how much you'll be paying for users to see and interact with your placements. You can opt for a manual bidding strategy, but Google also offers automated bidding if you need some assistance in this area.
2. Tighten up your targeting and set your schedule
You'll then need to confirm your targeting and scheduling. Google provides you with some default targeting options (based on your location) – but just make sure you're only advertising in areas you can ship to, to avoid any awkward apology emails! You can then confirm the start and end dates of your campaign.
3. Build out your ad-groups
Finally, you'll be prompted to build out ad groups for your campaign. This dictates the type of ads that you'll run – you can select Product Shopping Ads (which display a single product) or Showcase Shopping Ads (which allow you to advertise multiple products). You can adjust these ad groups as desired, and create different ad groups for different categories.
Give yourself a pat on the back. That's your Google Shopping campaign ready to go!
Now – let's check out some tactics that can help you to drive maximum revenue through Google Shopping.
Sure-fire strategies for Google Shopping success
1. Optimise your bidding strategies
It's important to closely monitor your bidding performance in order to allocate budget effectively. Be sure to regularly check how successful your current bids are and if anything needs adjusting.
You'll also need to decide between manual bidding and automated bidding.
Manual bidding provides you with more control (and you can begin to change bidding strategies based on different products and ad groups) but does require a lot of regular tweaking. Automated bidding is more convenient, but you have no direct control over your bids.
Helpfully, Google actually offers a bidding simulator that can help you to forecast how changes to your bidding strategy might impact performance.
2. Utilise negative keywords
Although you can't specify positive keywords to bid for, you can specify negative keywords for Google Shopping to avoid. Check out your search report to identify irrelevant (and ineffective) terms that you might be appearing against, and block these keywords to avoid paying for unwanted clicks.
Although the Google Shopping algorithm is pretty reliable, there's always a chance you might be appearing against some irrelevant search terms, so just be sure to monitor this.
3. Use retargeting strategies
Implementing a tracking pixel on-site can allow you to retarget users who land there, which is a super effective strategy for driving conversions. You can retarget users through other Google channels (e.g. YouTube or display ads) and there are some smart opportunities for relevant messaging.
For instance – if a user has clicked on a Shopping ad for grey jackets, why not retarget them with ads that showcase the same products?
This is a great way to connect the customer journey across multiple touch points, and re-engage prospects who have shown interest in your products.
4. Showcase your special offers
Google Shopping ads allow you to showcase special offers and promotions – for instance, free shipping and price drops.
When you're competing with several brands at the top of the page, it's all about giving yourself every advantage, and offers like this can immediately set you apart from other vendors. After all, who doesn't love free shipping?
As a result, be sure to make the most of the promotions section!
5. Product copy is key
It's important not to neglect your product copy – Google Shopping placements are ads just like any other, and so the right copy can have a big impact on performance.
Accurate descriptions of your products will improve clicks, as users will be more confident that you're providing exactly what they need. Be sure to focus on core keywords too, and place them as close to the front of your product title as possible.
Check out the example below, where phrases like 'All-New' and 'noise cancelling' provide potential customers with handy nuggets of additional product info.
And there we have it – a whistle stop tour of Google Shopping! These ads can be a hugely valuable tool in your arsenal, and allow you to capitalise instantly on real consumer demand. Keep all of the above in mind, and you'll be a Google Shopping pro in no time!