If TikTok ads don't feature in your current social media strategy, you're missing out on a big opportunity.
(And we mean a really big opportunity.)
The TikTok platform has a huge amount to offer marketers, including the ability to create engaging content, connect with a younger audience, and consistently deliver profitable results.
So how can you start unlocking the power of TikTok ads?
Simple. You use TikTok for Business – your one-stop shop for all things TikTok marketing.
We're about to cover everything you need to know about TikTok ads, including how to use TikTok for Business, how to effectively engage TikTok users, and how to smash your business objectives.
What is TikTok for Business?
If you're preparing to launch TikTok ads, TikTok for Business is essentially your all-singing all-dancing marketing tool.
The platform contains everything you need to get started with a new campaign and can enable you to craft a super-effective TikTok strategy.
TikTok for Business can do a lot for advertisers, including helping you to:
Identify and reach your TikTok audience
Create content that delivers results
Manage and optimise TikTok posts
Set advertising budgets
Analyse in-depth campaign data
This tool is one of the most useful features on the TikTok social media platform, so it's important that you understand how to make the most of it.
What are the benefits of TikTok marketing?
TikTok video ads are used by brands from around the world, allowing them to increase brand awareness, attract new customers, and generate cost-efficient conversions.
So why exactly is TikTok advertising so popular? And how can this social network help you to achieve your business objectives?
Let's explore some of the key benefits associated with TikTok video ads.
The platform delivers jaw-dropping reach
The scale of the TikTok app is mind-blowing and provides advertisers with a valuable opportunity to reach a colossal audience.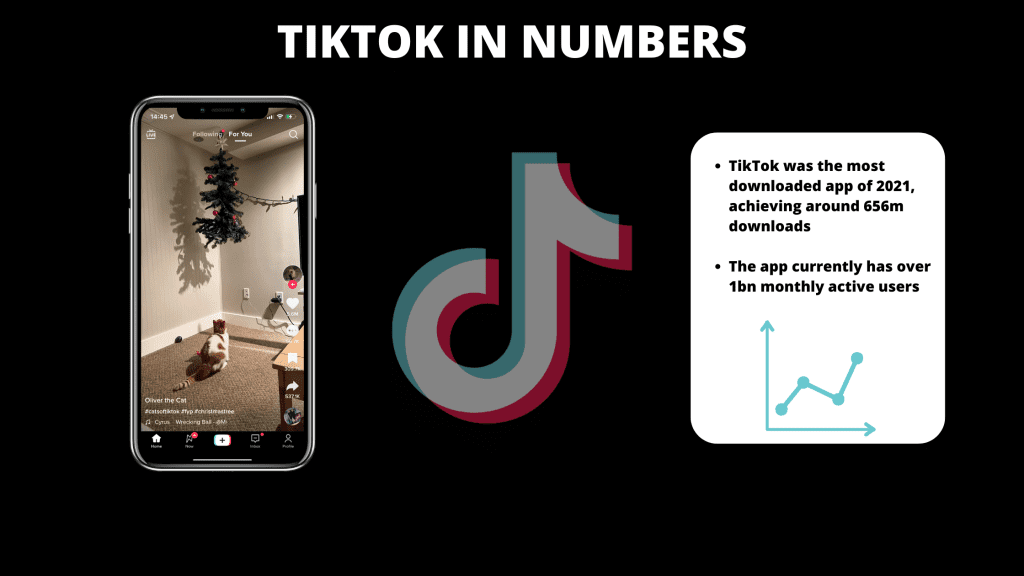 TikTok was officially the most downloaded app of 2021, delivering around 656m downloads worldwide – and all of those downloads have contributed to a whopping 1bn monthly active users.
The sheer size of the TikTok user audience means that you won't struggle to identify new prospects, drive consistent conversions, and scale up your ad campaigns.
TikTok offers access to a younger demographic
If you're looking to reach and convert younger shoppers at scale, then TikTok is the place to be.
41% of TikTok users are aged between 18-24, and around 73% are below the age of 34.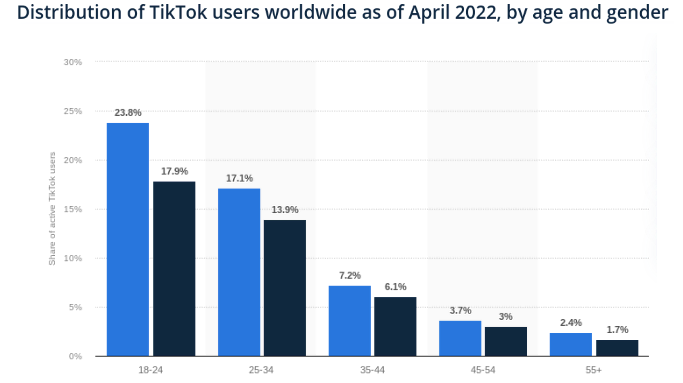 (Source: statista.com)
This offers advertisers unparalleled access to millennial and Gen Z audiences, which can be a huge benefit for certain brands.
However, it's worth noting that this is a two-way street.
If you're going to target a younger demographic on TikTok, then you'll need to tailor your creative approach to these users. That means staying in the loop with trending videos, producing native video content, and adjusting your brand voice.
TikTok ads are proven to drive results
TikTok ads have also consistently proven to be effective for advertisers, and TikTok users are highly receptive to the right campaigns.
More importantly, TikTok advertising has achieved outstanding results at both ends of the marketing funnel.
Whatever your objectives might be, TikTok ads can help you to tackle them.
For example, global clothing brand HUGO launched a Branded Hashtag Challenge (which allowed them to appear on the Discover page) that generated a 7.4% lift in brand awareness and a 21% lift in ad recall.
At the other end of the funnel, cosmetics brand SoSu utilised multiple TikTok ad formats to drive a 72% increase in web transactions and an impressive 211% increase in ROAS.
With a smart marketing strategy and eye-catching video content, you can reach highly engaged customers on TikTok and crush your paid social objectives.
How to grow your brand with TikTok for Business
TikTok for Business is an all-in-one advertising solution that can help you to achieve insane results on the social platform.
But how can you ensure that you're maximising the potential of TikTok for Business?
Let's explore how you can unlock the most valuable features of the tool, and how to use TikTok for Business to drive optimal returns for your business.
Create a TikTok business account
Before you can start taking advantage of TikTok for Business, you'll need to set up a TikTok business account.
If you haven't already downloaded the TikTok app, now's the time to do so.
Download the app, and open an account using your phone number or email address. Once you've successfully signed up, open the 'Me' page and click the '…' option at the top of the screen. From here, select 'Manage Account.'
You'll now be able to click 'Switch to Business Account' to get the ball rolling. All you need to do is select a relevant business category for your brand, and you'll be up and running with a brand-new TikTok business account.
Now that you're set up with a TikTok business account, you can start to lay down the foundations for a show-stopping campaign and refine your TikTok marketing strategy.
Set your profile up for success
Before we get into the nitty-gritty of TikTok campaign management, it's important to polish up your TikTok business profile.
The look and feel of your brand profile are very important, because your business account may be one of the first things that your target audience sees on the platform.
(And as we all know, first impressions count.)
The first thing to consider is your profile photo.
This may seem like a small element of your business profile, but it can make a big impact on consumers. Select a photo that displays your brand identity, including your brand logo and usual colour palette.
If you have multiple business accounts on different social media platforms, then it's also a good idea to maintain consistency with the same profile photo and logos.
Next, you'll need to craft an 80-character brand bio. Keep this bio section short and sweet, and try to express some of your brand personality. This is the time for a punchy summary of your brand, rather than an in-depth description of your product offering.
Here's a light-hearted brand bio from Gymshark that immediately establishes a fun brand persona:
(Source: tiktok.com)
Here's another example from homeware brand MADE, which uses the bio section to highlight a relevant hashtag for TikTok users: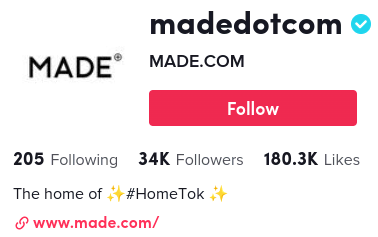 (Source: tiktok.com)
Finally, you'll have to select a tactical URL to display. Think about the best landing page for a seamless user experience – does it make sense for customers to visit your home page, or should they be directed towards a specific product page?
Research and analyse your target audience(s)
Once your TikTok brand profile is ready to go, it's time to dig a bit deeper into your target audience.
But this doesn't necessarily mean researching granular targeting tactics or data segments – these can come later down the line.
This means thinking carefully about who your target audience is, how they behave on TikTok, and the types of content they like to consume.
This is hugely important for running effective TikTok campaigns. After all, data-driven targeting tactics aren't much use if your creative messages and content aren't remotely interesting for your audience.
What type of content is popular with your target audience? Which brands are they engaging with, and how are these businesses communicating with them?
Spend some time researching your target audience on TikTok until you have a clearer understanding of how to effectively connect with them.
Scope out the competition
Time for some good old-fashioned competitor analysis.
Analysing your TikTok competitors can be extremely informative. You can identify content strategies that are resonating with your target audience – and more importantly, avoid strategies that aren't.
First things first, build a list of relevant competitors to monitor. If you're a small business, it's a good idea to balance close competitors (who may be less established on the platform) with larger brands in a similar industry.
Take a close look at every competitor's TikTok account.
What kind of content are they regularly uploading? Which posts drive the highest levels of engagement? Are they targeting a specific type of audience?
These competitor insights will help you to build a fully-optimised, high-performing TikTok strategy.
Master the TikTok algorithm
If you want to launch TikTok videos that achieve efficient results and engage the TikTok community, you need to understand the inner workings of the TikTok algorithm.
The TikTok algorithm dictates the visibility and effectiveness of your content. The more you know about the factors that control the algorithm, the better your results will be.
For example, using relevant TikTok hashtags, captions, and keywords can instantly improve the visibility of your content and TikTok profile in-feed.
The more users engage with your posts, the more the algorithm will support them.
You can also add music and trending audio to your own videos to improve their chances of showing up in search results. Once you understand what makes for popular content on TikTok, you'll be able to leverage the algorithm to your advantage.
Build a winning TikTok content strategy
Effective content marketing on TikTok isn't based on luck. Brands with data-driven content strategies and in-depth audience research are infinitely more likely to succeed, so preparation is key.
Creating a detailed content calendar is a brilliant way to structure your posts, plan your content themes, and ensure that you're covering all bases.
By following a smart content strategy, you can consistently produce high-quality posts for your audience, rather than constantly scrambling around for last-minute ideas.
Entertainment content is always popular on the platform, but audiences also engage with tutorial videos, informative posts, and life hack snippets.
Plan out your TikTok content in advance, and keep your creative approach fresh to maintain the attention of your target audiences.
Utilise creator and influencer content
Posting your own branded content on TikTok can deliver strong results for your business.
But in the world of social media video, content from other creators is often even more effective, with the potential to achieve insane performance.
There are two primary types of user content that you can leverage to enhance your TikTok advertising strategy.
User Generated Content (UGC) is one of the most powerful forms of content available to marketers, on both TikTok and many other social media platforms. UGC can be anything from organic user testimonials to product demonstrations – the key is authenticity.
User Generated Content provides your product offering with instant credibility, which can rapidly translate to sales. If you can regularly harvest high-quality UGC, the results will speak for themselves.
The second type of high-value user content is influencer marketing.
Influencer content is ridiculously popular on TikTok, and if you partner with the right creators, you can tap into brand-new audience segments and unlock valuable revenue opportunities.
For example, you might use TikTok influencers to launch a new sponsored hashtag challenge, record instructional product content, or just create entertaining videos for your target demographic.
Maximise the impact of TikTok ads
If you want to actively promote your TikTok profile and reach a larger audience of potential customers, then paid TikTok advertising is a must-have tool in your social media arsenal.
Paid ads can be targeted towards specific audiences in the TikTok feed, meaning you can reach red-hot prospects with persuasive product messaging.
You can utilise multiple types of TikTok ads, including:
In-Feed Ads
Top View Ads
Brand Takeover Ads
Spark Ads
Branded Hashtag Challenges
Branded Effects
It's all about picking the right ad types to showcase your products and crush your campaign objectives.
If you create high-impact TikTok ads that are targeted towards relevant audiences, then you can effectively build large-scale brand awareness, drive consistent audience engagement, and deliver cost-efficient online sales.
Take advantage of TikTok analytics
Monitoring and analysing TikTok data is also a massively important part of using TikTok for Business. TikTok allows brands access to several analytics tools that are packed with useful information and statistics.
The more you know about the performance of your TikTok paid ads and own content, the easier it becomes to optimise your strategy.
You can view all kinds of data points in the TikTok for Business and TikTok Ads Manager dashboards, including:
Follower growth
Video views
Engagements
Traffic sources
Impressions
Clicks
CTR
Marketers can use this data to inform their creative strategy, paid advertising approach, and audience targeting tactics.
For instance, you may notice that a certain TikTok ad format is performing exceptionally well, or that a specific time of day is ideal for organic posts. These insights can be invaluable when you're looking to dramatically improve performance on TikTok.
3 ways to improve TikTok advertising performance
Getting to grips with TikTok for Business is crucial for success on the platform.
But we know that you're the sort of ambitious marketer who's constantly looking to improve performance and achieve superior results.
So to help you maximise the impact of your ad spend, we've pulled together three expert pointers for improving TikTok ads performance.
Make data-driven optimisations
Making smart and data-fuelled ad optimisations is a surefire way to improve your campaign performance,
So how can you ensure that you're making the right optimisations at the right time?
The first thing to focus on is your core objective.
When you're optimising TikTok campaigns, you should be concentrating on the ad metrics that are contributing to your main goal. For example, if you're looking to drive online sales, then clicks and conversions are far more important than completed views and comments.
You'll also need to monitor your TikTok account analytics consistently.
Set up regular campaign reports, and be sure to stay in the loop with ad performance. Once you do make any optimisations, analyse their impact to ensure that they're delivering the desired outcomes.
Leverage smart A/B testing
Regular A/B tests are a proven method for optimising TikTok ad campaigns and exploring new marketing tactics.
The idea behind A/B testing is simple. You set up fair tests for different campaign variables, and once you identify a high-performing tactic, you optimise your ads accordingly.
Over time you'll be able to refine your campaign strategy to maximise returns.
You can A/B test many different campaign elements, such as:
Creative assets
Target audiences
Ad formats
Headlines
CTAs
As always, the key is to stay focused on your campaign objective.
To understand how your A/B tests are performing, you need to establish the KPIs for your campaign – this could be clicks, engagements, or conversions. Once you've identified the most important ad metrics, it becomes much easier to gauge success.
Jump on trends to engage TikTok users
The most successful brands on TikTok are the ones that are willing to embrace new trends and actively engage with their customers.
Immersing yourself in the world of TikTok creativity is a great way to build your personal brand, grow your following, and improve the performance of your campaigns.
For example, you could actively participate in hashtag challenges, collaborate with TikTok influencers, or utilise trending audio in your posts.
New trends are constantly emerging on the TikTok platform, and these global trends often achieve staggering levels of user engagement. If you can find a way to involve your brand in these moments, you can earn substantial organic reach – and even viral fame.
But it's also important to be selective with your TikTok trends.
Not every hashtag challenge or audio snippet will be relevant for your business, and there's nothing worse than brands forcing themselves into irrelevant trends, so cherry-pick your opportunities.
However, when the right moment does arise, don't hesitate to get involved. Showcase your brand creativity, and put your own spin on a trend!
Many brands find that partnering with a dedicated marketing agency is the best way to achieve optimal results. By accessing expert TikTok marketing services, businesses can quickly optimise their strategy and supercharge their campaign efficiency.
Getting started with TikTok ads
Ready to unlock the awesome potential of TikTok marketing?
Let's take a look at how you can launch your own TikTok ads and skyrocket your brand growth.
1. Create your TikTok ad account
Before you get started with TikTok advertising, you'll need to set up a new TikTok ads account.
Visit this page and follow the steps to sign up for a new account. If you already have a TikTok for Business profile, you can just click 'Log In' in the top right corner.
You'll need to enter some basic information about your business, but once you've completed these forms, you'll be ready to start setting up a new campaign.
2. Set up a new ad campaign
Navigate to the 'Campaigns' tab and hit 'Create' to set up a new campaign.
Select your desired ad objective, input a memorable name for your campaign, and then confirm your campaign-level budget.
Setting a lifetime budget will give the TikTok algorithm more flexibility, while a daily budget allows you more control over your investment.
3. Build your ad group
Now it's time to set up your TikTok ad group.
An ad group contains a lot of key information about your campaign (i.e. target audience, budget, placements) and multiple ads can sit within a single ad group.
You can also create multiple ad groups to test out different strategies, which can be hugely valuable in the long term.
Start by choosing your preferred ad placements. You can either pick 'Automatic Placement' to maximise reach or 'Select Placement' for manual control.
You'll then need to confirm your creative types and build your target audience. TikTok offers plenty of granular targeting options for advertisers, but remember to maintain a decent audience size so that the algorithm can optimise effectively.
4. Craft a new TikTok ad
Upload an image or video file to start configuring your TikTok creative asset.
Always double-check the relevant ad specs before producing any new paid ads for TikTok. Last-minute production edits can be costly (and stressful) so it's better to avoid these headaches wherever possible!
Enter your ad copy, and then choose a Call To Action button for your campaign. Select a CTA that aligns with your creative message and creates a simple customer journey.
Once you're happy with your TikTok ad, just hit 'Submit' to finish the process.
Useful resources for advertising on TikTok
Below are some handy TikTok marketing resources that will help you to set up, launch, and optimise high-performing ad campaigns on the platform.
TikTok creative best practices
Once you've mastered the TikTok for Business platform, you'll be able to achieve exceptional results through TikTok marketing.
Just remember to create high-quality assets, embrace TikTok trends, and stay diligent with your campaign optimisations. Best of luck!