Create innovative solutions with a ChatBot Marketing Agency
If you're looking to harness the unique power of ChatBot technology, then you're in the right place.
As an experienced agency, we can help you to work some ChatBot magic by developing a highly engaging strategy for your business. This will allow you to open up new lines of communication with users, build your brand credibility, and deliver exceptional customer service.
The possibilities for ChatBots are almost endless. These virtual chatterboxes can help to amplify advertising campaigns, build pools of active customer leads, and support cross-selling and up-selling opportunities.
These activations can also deliver incredibly high open rates and CTRs.
You might be wondering what makes us so qualified to talk about ChatBots.
(Don't worry – we're not offended.)
If you'll let us toot our own horn for a moment, Upbeat are recognised by both Facebook and ManyChat as official ChatBot Marketing Experts. Impressive, eh?
Now, enough horn tooting. What does that mean for you?
That means we can create highly effective, innovative, and results-driven ChatBot activations for your brand, using the latest features and solutions available.
Transform your brand with ChatBot Marketing Strategy
Use Artificial Intelligence & Messaging Apps to attract and nurture your customers
Facebook Messenger boasts over one billion monthly active users. That's a big number.
The popularity of social media messenger services and ChatBots is only increasing too.
With the help of a professional agency, you can tap into this massive audience and capitalise on the latest technology.
Build a beautiful Chatbot
ChatBots provide you with a unique opportunity for easy and instant communication with customers and prospects alike, allowing you to grow your social media presence.
Grow Messenger Lists
You can think of messenger lists just like email lists. They can grow rapidly, creating a pool of highly engaged users that you're able to connect with at scale.
Generate Leads and Enquiries
We can help you to combine the power of your ChatBot with Facebook and Instagram advertising - enabling you to generate and qualify large volumes of leads.
Broadcast to your Subscribers
Once you've established a messenger list, you can then broadcast to these users, combining personalised communications with massive scale.
Why Your Brand Needs a ChatBot
Save Time & Money
Your ChatBot can easily address large volumes of customer queries and handle repetitive tasks - allowing you to tackle the rest of your to-do list.
Increase Your Sales
Deliver personalised messaging and tailored promotions in order to fill up the sales pipeline.
Incredible Engagement
Smart audience segmentation can allow you to deliver super relevant messages to users - resulting in jaw-dropping engagement rates.
Connect With Your Audience
The ability to communicate quickly and directly with your audience is extremely powerful. It's never been this easy to connect with your customers at scale.
ChatBots are exceptionally good at quickly handling large volumes of customer queries. Something that can take a lot of time for us humans.
When Tenpin bowling needed an agency to help create solutions for their customer service team, we knew that we could help.
We proposed a Tenpin 'receptionist' ChatBot that would work alongside a hybrid human-bot system. The goal was to help the Tenpin customer service team handle large numbers of queries more efficiently.
The Tenpin ChatBot has helped to:
Take the pressure off of the customer service team
Manage and automate huge volumes of daily customer queries
Create a pool of engaged and active users
Segment the Tenpin messenger list for personalised experiences
Convert customer enquiries into in-store Tenpin visits
ChatBots are also incredibly effective at generating sales and promoting new products.
South West Four Festival approached us hoping to develop new ways of connecting with their target market – and ultimately, selling more tickets.
We created a bespoke ChatBot solution that allowed users to gain access to exclusive festival news, fresh deals, and exciting competitions.
We then developed a strategy that encouraged festival-goers to join the Messenger list, rapidly building a pool of 'hot' users. This increased audience reach, grew site traffic and boosted overall ticket sales.
The South West Four Festival Bot helped to:
Increase open rates to 90%
Increase engagement rates to 40%
Build a brand new community around the festival
Open up new opportunities for audience engagement
Sell out tickets for South West Four Festival
ChatBots can also help to effectively pre-qualify leads and potential customers.
The channel allows users to select their own preferences and chat options, helping so many brands to develop more tailored marketing strategies.
YourParkingSpace is a platform that allows users to list or rent a parking spot. They needed the help of an expert agency to help more effectively inform their audiences about their services.
To help drive app downloads and registrations, we created a custom YourParkingSpace ChatBot calculator.
This allowed users to input their location data into the messenger. The ChatBot calculator would then show them potential earnings or savings, based on their personal information. Smart stuff!
This helped to pre-qualify a huge number of leads in messenger.
The YourParkingSpace Bot has helped to:
Create a large subscriber list, packed with fresh leads
Drive down the overall cost per lead
Increase overall user registrations
Pre-qualify and segment audiences for future communications
Broadcasting To Subscribers​
ChatBots can instantly broadcast key promotional messages to your subscribers. With smart audience segmentation, these messages can achieve some truly exceptional engagement rates. Lock N Load events needed the help of a digital marketing agency to build a bespoke strategy, designed to build a sizable subscriber list and encourage sign-ups. ChatBot communications quickly became a fundamental part of the Lock N Load promotional strategy. The Lock N Load Bot helped to:
Deliver consistent open rates (90%) and engagement rates (50%)
Segment an audience of 10k+ users into defined groups
Successfully promote upcoming events and drive increased sign-ups
Our team of ChatBot whizzes will conduct a thorough analysis of your brand and product offering. This will help us to identify opportunities for ChatBot applications.
We'll then create a bespoke ChatBot strategy for your brand, built to support your existing organic and/or paid media strategies.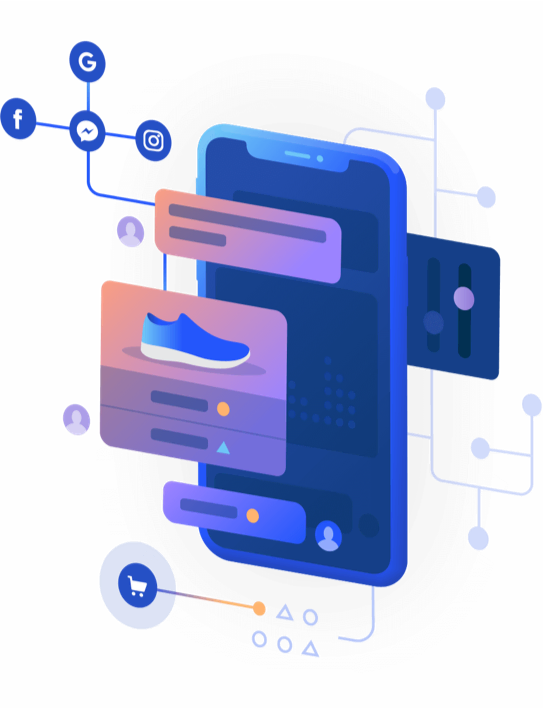 Now the fun begins! Our experts will get working on building your ChatBot, including a whole range of smart functionalities. This includes rigorous testing to ensure that everything runs smoothly on launch day.
Our team will be on-hand during launch, just in case anything needs fixing or tweaking. Once your ChatBot is active, we'll continue to deliver new ideas or recommendations to boost performance.
Keen for a chat about ChatBots? We'd love to discuss opportunities for messenger marketing and ChatBot innovation. Just fill in the form below, and one of our experts will be in touch!
Get in Touch With Us
Speak to a ChatBot marketing agency
If you'd like to learn more about ChatBot opportunities, just fill in the form below, give us a ring, or shoot us a direct message. We'd love to hear from you!
WhatsApp
Call on WhatsApp now
07885458254
A ChatBot is a software application, usually used to replace a human agent and handle time-consuming tasks.
ChatBots conduct online conversations via text, and they have a huge number of different applications. They can promote products, broadcast subscriber messages, and handle customer support queries.

These bots can also link to messaging apps like Facebook Messenger, WhatsApp, Snapchat, and more. It's always worth discussing any potential activations with a ChatBot marketing agency to ensure that you're building the right solutions for your brief.
ChatBot solutions can be built for businesses of all sizes. They can also be designed for many different purposes – they can act as sales funnels, boost customer engagement, or even act as a virtual assistant.

They can be pretty technical to build though, so we'd always advise chatting to a specialist agency team if you're interested in this kind of activation.
Speak to the Messenger Marketing Professionals
If you're interested in finding out more about how we can help you with Messenger marketing then fill in the form.