Transform your brand with ChatBot Marketing
Use ChatBots & Messaging Apps to attract and nurture your customers in fascinating ways
Messaging Apps have taken over the world and have quickly become some of the most powerful and popular apps on the planet.
Facebook Messenger has become the most popular communication apps of all time, boasting over one billion monthly active users – there is a very good chance that your target audience are not only on Messenger, but also using it every single day. 
Upbeat Agency is one of the UK's leading ChatBot Agencies and has been recognised by both Facebook and ManyChat as ChatBot Marketing Experts.
Build a beautiful Chatbot
ChatBots will provide automated responses to anyone who engages / messages in messaging apps allowing your brand to communicate with your customers/prospects in new exciting ways.
Grow Messenger Lists
Similar to how you can grow an email list you can now grow a messenger list into the tens of thousands surprisingly quickly, creating a pool of engaged users and 'hot' audiences to connect with.
Generate Leads and Enquiries
By combining your ChatBot with Facebook and Instagram advertising, we can help you generate and pre-qualify fresh leads and enquiries for your business.
Broadcast to your Subscribers
Once you have your Messenger list in place you can then choose to broadcast hyper-personalised messages to this list.
Why Your Brand Needs a ChatBot
Save Time & Money
Your intelligent ChatBot can deal with a huge volume of customer queries, allowing you to focus on revenue.
Increase Your Sales
Generate more sales in Messenger through bespoke personalised messaging to hot audiences.
Incredible Engagement
Building a Subscriber List and segmenting this list allows you to register mind-blowing engagement rates.
Connect With Your Audience
Limitless ChatBot capabilities allow brands to communicate with their audience in new ways.
A ChatBot is the perfect tool to help automate and manage customer enquiries on Messaging Apps to help free up time and resource – a virtual Customer Service ChatBot can help customers get quick answers to frequently asked questions, allowing a brand to focus more time on the important stuff.
We proposed a Tenpin Virtual 'Receptionist' ChatBot and a Hybrid Human-Bot System that helps to manage customer queries and messages through a series of automated questions and options that assist customers in Messenger. The ChatBot and Customer Service Team work together to resolve any potential customer issues and answer all questions effectively.

The Tenpin ChatBot has helped to:
Alleviate pressure off their Customer Service team to help save time and money
Manage the huge influx of daily customer queries
Create a pool of engaged users available to Tenpin
Segment Tenpin's Messenger List to create personalised messaging
Convert customer enquiries into in-store Tenpin visits
Chat Marketing is an incredibly powerful new channel to use for sales and marketing efforts during advertising campaigns. Not only can a ChatBot support brands in managing customer enquiries, but it can also be used as a key tool to generate sales and effectively promote new products through personalised messaging.
South West Four Festival is an annual London-based electronic music festival who wanted to explore new channels to help connect with their audience in new ways, and ultimately sell more tickets to the festival. We proposed the idea of creating a South West Four Festival 'Messenger Family' and ChatBot that allows users to gain access to exclusive news, deals, competitions and more in Messenger.
We created a ChatBot Strategy to encourage festival goers to join the Messenger list, converting these people into a pool of 'hot' engaged users that help to increase the brand's audience reach, traffic, engagement and overall sales.
The South West Four Festival Bot has helped to:
Increase Open rates to 90% and Engagement Rates to 40% respectively
Build a Community around South West Four Festival
Reach and engage with audiences in new ways
Sell out South West Four Festival 2019
A ChatBot is the perfect tool to pre-qualify leads and potential customers who are interested in buying your products – this channel allow users to determine their preferences and brands to learn much more about their customers, creating personalised marketing strategies.
YourParkingSpace is a website and mobile app that allows its users to either list or rent a car parking spot, whilst setting their location, prices and preferences; it's the "Airbnb of Car Parking". The app and website can help users save and earn money, and we wanted to help users understand this through the power of an interactive Facebook Messenger experience.
To help drive app downloads and driver and space owner registrations, we proposed a custom-built YourParkingSpace ChatBot Calculator and Ad Campaign to help users find out how much they can earn or save on car parking in their area. A user can input their location in Messenger and the ChatBot will show them potential earnings or savings based on their input, helping to prequalify a high volume of leads in Messenger.
The YourParkingSpace Bot has helped to:
Create a large subscriber list of leads
Drive down the cost per lead
Increase overall user registrations to list and rent spaces
Prequalify and segment audiences for retargeting and future broadcasting
Broadcasting To Subscribers​
One of the key features of Chat Marketing is the ability to broadcast key promotional and non-promotional messaging to your chatbot subscribers. Through audience segmentation, you can easily achieve 90% open rates and 40% engagements rates!
We work with International event promoters, Lock N Load Events, to help them during their ongoing marketing campaigns throughout the calendar year. To assist in ticket selling, we proposed using Messenger and a bespoke ChatBot Strategy to build a large Subscriber List to encourage event sign-ups.
Through tailored broadcasting strategies Messenger and the Lock N Load ChatBot has become a significant channel for the brand during all stages of their event promotion, this has helped to:
Generate consistent Open (90%) and Engagement Rates (50%)
Create a tried-and-tested funnel strategy to sell event tickets
Segment an audience of 10k+ into defined groups
Develop tailored messaging for event promotion efforts
Promote upcoming events to audiences in never-before-seen ways 
Our team of ChatBot experts will conduct a full in-depth analysis of your brand and product offering to determine potential ChatBot applications.
After a full analysis has been conducted, the team will begin to create your bespoke strategy and ChatBot framework to complement your organic and/or paid media strategy.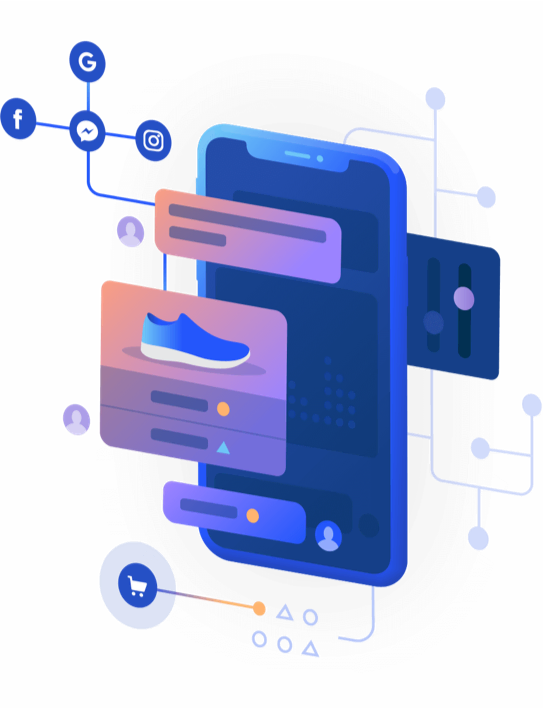 Our experts get to work in designing your new Chatbot and its clever functionalities; all projects go through vigorous stages of user and client testing to fix any potential bugs before launch.
Upon launch, our team are on-hand for full support to fix any issues, make necessary tweaks, and generate exciting new ideas to deliver further value through ChatBots.
Here at Upbeat Agency we have a great team of Messenger marketing enthusiasts! We love Messenger marketing and spending time developing campaigns each and every day. If you would like to have a chat about how we can take your business to the next level using Messenger marketing then fill in the form below and you can speak to one of our expert Messenger ad managers.
Speak to the Messenger Marketing Professionals
If you're interested in finding out more about how we can help you with Messenger marketing then fill in the form, give us a call, or send us a message on Messenger.
We're always happy to discuss Facebook strategies, review ad accounts or have conversations with businesses looking to make progress.