In a world where 75% of mobile data is expected to be video by 2020, a successful digital marketer recognises the importance of getting to grips with video creation through Facebook. This blog will provide you with knowledge for when you're planning on rolling out some video adverts of your own, and to help you to get the most bang for your buck when producing those all-important creatives.  
Why is video so important?
Before introducing you to some of the concepts of videos we think it's worthwhile we explain the reasons for the importance of video in digital marketing.
Firstly, the move to mobile devices has resulted in a marked increase in video consumption. This, combined with a reduced attention span resulting in a need for shorter video content, and an emerging binge-watching culture of online video, means that increasing percentages of people respond positively to video advertisements.
Another important aspect of video is its ability to provide the viewer with context, making the content more stimulating. Facebook studies have also shown that viewers gain more joy from viewing video content than static images, and everyone wants happy customers!
There are impressive proven examples of the potential of video advertising as seen with General Motors OnStar… they measured a 7.2% sales lift among people who had never used a data plan after targeting with mobile optimised video creative!
Placements
Before creating your video, it is important to consider where your ad will be appearing. Which platform will you be using? Will it be Facebook or Instagram?
Each platform has a selection of placements to choose to place your ad upon. Here are some of the most frequently used ones:
Facebook feed – this will appear in your newsfeed (a place where you can discover and interact with media posted by friends, family and businesses) and once clicked on will appear full-screen.

Facebook In-stream – similar to television commercials/ advertisements, In-stream adverts appear midway through a video being watched on Facebook. They usually range from between 5-15 seconds.

Suggested videos – this placement allows you to reach audiences through a reel of suggested videos based on their individual preferences and interests.

Instagram stories – allow people to post a series of short videos and images throughout their day which expire after a set period of time and don't have to be posted to their profile. By posting either one image or a video up to 15 seconds, your advert will appear between people's stories.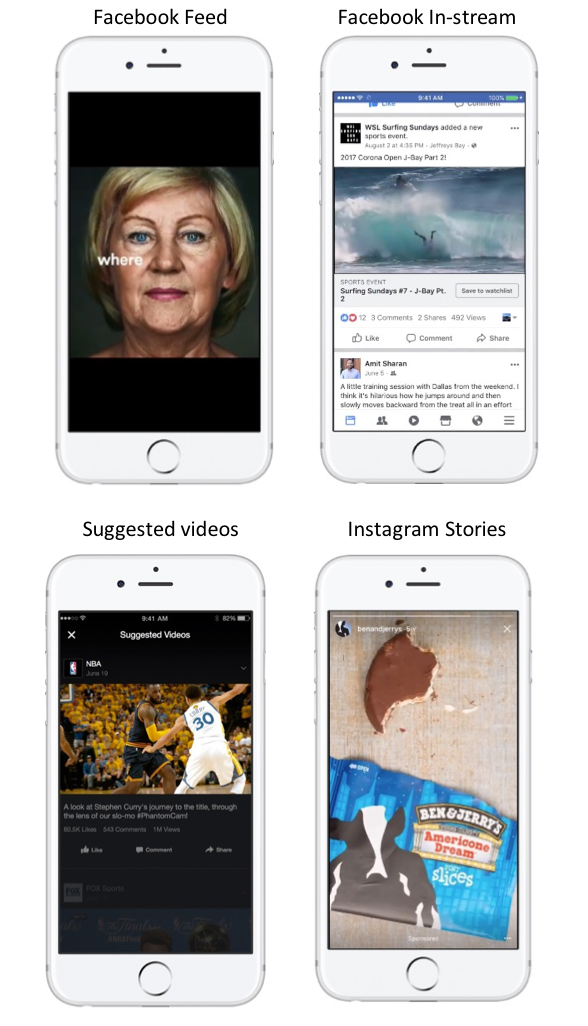 Whilst choosing a placement can be a daunting decision, it also provides exciting opportunities for truly creative creatives, allowing you to really bring across the nature of your brand through your video advertising.
On the contrary, for some it may be a decision that's made somewhat flippantly with no real thought put into the costs and benefits of various advertising placements.
Our advice to you is to put thought and effort into deciding your platform and placement, but to also have fun with it to ensure that it is as stimulating as possible for potential customers – it's an invaluable skill to learn to love to develop exciting and effective videos across all platforms and placements to produce the best results and increase sales.
Video formats
When it comes to the presentation of your video, and what your customers view, there are multiple format options to choose from. There is no explicitly correct way to format your video, however some formats will work better than others depending on the video you are trying to post or what you hope to achieve from your advert, and some ad formats are restricted based on platform and/ or placement.
It's worth noting that there are formats that are available for mobile only, and certain formats load quicker than others (so can be particularly useful if potential customers are searching from an area with low bandwidth). There are also video formats such as In-stream which must be uploaded with audio, so if you intend to use this type of ad it's worthwhile to build audio options into your planning.
Once you've uploaded your video there is the opportunity to edit and add subtitles to enable people to engage with content without turning on the sound.
Some of the more frequently used video formats:
Feed/ In-stream videos – allow you to draw people in with sound and motion.

Carousel – allow you to utilise a single ad unit to showcase up to ten videos, images or both – and you can add a different call to action (CTA) for each card. These are particularly useful if you wish to showcase multiple products within one ad, or tell a story about your brand.

Slideshows – can be created with either a series of photographs or a video. They are particularly user-friendly and cost-effective, and can be used in conjunction with text and audio overlay.

Canvas – these fast-loading and easy to create ads form part of a post-click experience, and allow you to combine videos, images, 360 content and CTA buttons within a single advert.

Facebook Live – an interactive way of engaging with current followers and a means of attracting new ones.
What's important to know is that whether you're planning to channel your audiences to an e-commerce store, or simply trying to introduce them to your ecosystem (an important asset to your business which you build through getting people to like your page, join your mailing list and visit your website), there will be a format that can help you to achieve the results you want.
So, now that you know about platforms, placements and formatting, as well as why video is so great, the only thing left to know is when are you going to get started?