Low product page conversions. Bounce rates creeping up. Prospects continually falling at the final hurdle.
They happen to the best of us.
Luckily, we have exactly what you need to inject some life into your product pages.
We've pulled together the 7 best conversion assets that every product page needs.
These features are perfect for enhancing the customer experience and converting your page landings into those all-important sales.
So without further ado, let's dive into the world of cutting-edge conversion assets.
1. Razor Sharp Headlines
First impressions are always important.
When a customer lands on your product page, the first thing they'll usually see is your headline.
A great headline makes a great first impression. And a bad headline? You guessed it.
Good headlines need to rapidly convey your USPs and UVPs. They need to be super clear and concise, so users instantly know the value that you're offering.
Ridge Wallets does a great job with their headlines. They are simple, punchy, and informative:
Customers immediately know what to expect from the product page. Innovative wallets that are slim, superior to traditional designs, and sold with a lifetime warranty.
Instant clarity makes the shopping experience that much smoother for potential buyers.
Never hesitate to enlist a professional writer if you're struggling to make your headlines work. Hiring a skilled writer to craft your headlines will cost you – but leaving ineffective headlines on your pages will cost you more in the long run!
2. Punchy Product Descriptions & Visuals
Your products are the lifeblood of your business. After all, these are what you're trying to sell to potential customers.
As a result, showcasing your products effectively is extremely important. Displaying them in the right way can immediately demonstrate their benefits and engage your customers.
To put it simply, if you do a good job of presenting your products, users are more likely to find them appealing.
The first things to nail down are your product descriptions.
Product descriptions need to instantly highlight key strengths and benefits. They also need to be easily scannable, so that users can absorb key information without having to trawl through heavy text.
This is a great example from Harry's. Simple, concise and fact-packed bullet points that tell you exactly what's good about the product, and why it's the razor for you. No messing around.
You'll also need some stunning product visuals.
High quality images and videos are a must, but it's also worth showing your products being used in-context with lifestyle imagery. Don't be afraid to use text in your product images either – infographic-style product images can increase add-to-cart rates.
Daily Harvest produces exceptionally good product imagery, which cleverly explains the ingredients of their smoothies through bold visuals. Plus, they look delicious.
3. Effective Pricing Psychology
Pricing psychology may sound like a dark art, but it doesn't need to be complicated.
In fact, utilising the power of pricing psychology can be very simple. It's all just a matter of framing your prices to make them more appealing to customers.
For instance, check out this example from CrazyEgg. They actually list their product prices in descending order, exposing customers to the highest price first.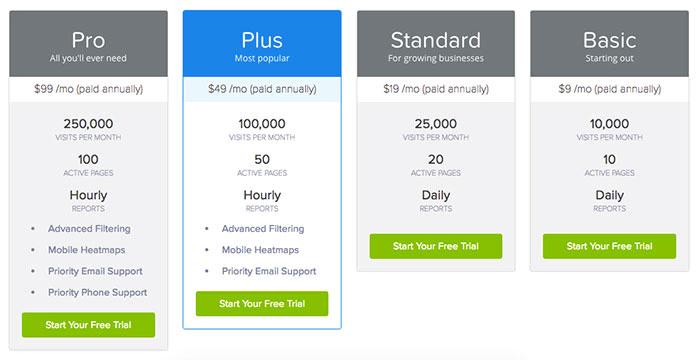 This may seem counter-intuitive, but there's some crafty psychological trickery going on here. When customers are watching the prices decrease, they're also seeing the product benefits disappearing.
In other words, they're missing out on valuable features if they select a cheaper option.,
Although your customers might not opt for the priciest option, they may well choose the second or third most expensive, which feels like a better deal because of the way in which the cost is framed.
That's the power of pricing psychology!
Experiment with different pricing tactics (e.g. discounts and bundle packages) to discover the most effective options for your business.
4. Smart Page Layouts
Users are going on a journey whenever they navigate your product pages.
A smoother user journey is always more likely to drive conversions, so an accessible and intuitive page layout is key. A clear page structure and smart directional cues can make it far easier to nudge users towards the desired action.
Sometimes, simplicity is best.
Below is a brilliant example from Pact Coffee, where everything you need to know about the product is clearly displayed and easily understood on the page:
The simplicity of the page layout makes for a very convenient user experience.
Everything needed to make a quick purchase decision is here – coffee grind options, the flavour profile, the cost (including a 'cost per cup') and even a nudge towards coffee plan discounts. There are no obstacles or unnecessary steps in the way of a conversion.
All of this makes it that much easier for a customer to hit that 'add to basket' button.
5. Persuasive Product Reviews & UGC
User Generated Content can be an extremely powerful asset for your product pages.
The real power of UGC comes through its authenticity. This is real content from real humans, meaning that potential customers are more likely to trust and engage with it.
UGC can add instant credibility to your brand, help to showcase your products organically, and ultimately drive more conversions on your product pages.
Dune London does an exceptional job of utilising UGC on their product pages. Genuine social content from their customers is displayed up front, which effectively showcases the Dune products and how people are styling them.
Not only that, but it also encourages clicks and conversions, because each social post is directly linked to a product page.
Including product reviews and star ratings on your product pages can be equally effective at building credibility. Don't shy away from using them!
Trust is a major part of any e-commerce transaction, and if a customer immediately recognises that previous buyers are happy with their purchase, they're more likely to make the leap and convert.
6. High-Performing CTAs
It can be easy to overlook your call-to-actions, but they're a crucial element of your product pages.
A strong CTA can push a conversion over the line, while a weak one can allow valuable customers to drift away into cyberspace.
But what makes for a truly high-performing CTA?
An effective CTA needs to be positioned clearly on your page. After all, this is the button that leads to a purchase, so it should be highly visible.
Ideally your CTA will also drive urgency and reiterate the value that a customer is about to receive. This can help to reassure users and give them the confidence to convert.
Here's an effective example from Warby Parker. A pair of CTAs that are very simple, but very persuasive.
The customer immediately has two simple choices – commit to buying a pair of glasses, or try the frames at home for free. The user knows exactly what to expect when clicking either button, because the CTAs are clear and direct.
The simplicity and clarity of these CTAs helps to create a smooth user experience, which is more likely to result in clicks and conversions.
Don't be afraid to experiment with different CTA copy either. Try out different variations, A/B test them, and tweak until you find something that really works.
7. Authentic Trust Badges
Including authenticated trust badges on your product pages is a shortcut to credibility.
Users will immediately feel more confident and comfortable with their purchase, and are more likely to then convert as a result.
Services like TrustLock can provide your business with a trust badge, proven to deliver results and boost conversions. You can also include badges to reiterate benefits like free shipping, or third-party endorsements from the likes of Google and Amazon.
Tactical Baby Gear put trust badges to good use on their product pages. These badges immediately visualise some key benefits available to shoppers, including free shipping, easy returns and a lifetime guarantee.
This is a great example of how trust badges can quickly instill a sense of confidence in potential customers.
When these conversion assets are used in the right way, they can completely transform your product pages and open up a world of conversion opportunities. You don't need to include all of these assets at once, but try to incorporate as many as possible over time.
Don't be afraid to tweak and adjust either. Test different variations of each asset, and experiment to find what works for your business!