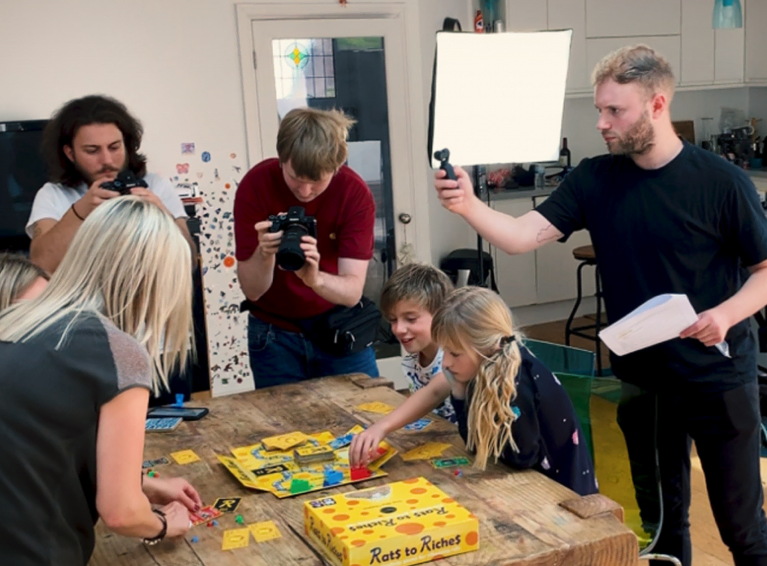 We've been working with award-winning party game company Accentuate since 2018 – and it's safe to say that we've achieved a lot together. From navigating iOS 14.5 chaos to delivering record-breaking sales, we've helped Accentuate scale its exceptional e-commerce offering and delight its growing customer base.
Tripled sales between 2018-2021
Overcame iOS 14.5 tracking issues
Enhanced website performance
Produced bespoke creative assets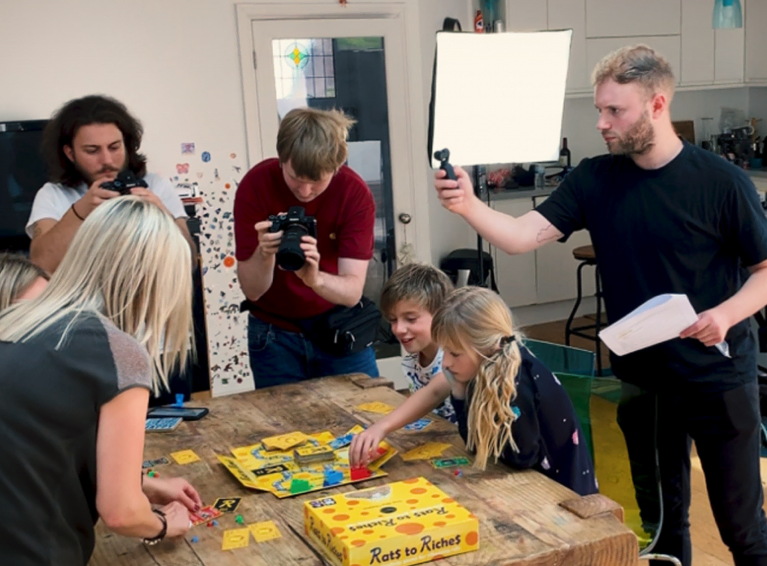 Accentuate needed to scale its e-commerce business quickly and efficiently. We developed a three-pronged strategy to help the business crush its targets:
Producing top-notch video assets
We needed to deliver optimised ad creatives that would capture user attention and deliver high volumes of conversions.
Planning ultra-efficient media buying
Our approach to media buying needed to be fuelled by data insights and built around a strategy that could be scaled up quickly.
Designing a high-converting user experience
We needed to create a smooth, fully-optimised website experience that achieved a sky-high conversion rate.
We didn't just want Accentuate to meet its ambitious targets. We wanted to exceed them.
To deliver a truly scalable e-commerce offering, we needed to perfect all three of these key ingredients - optimised video assets, effective media buying, and a high-converting website design.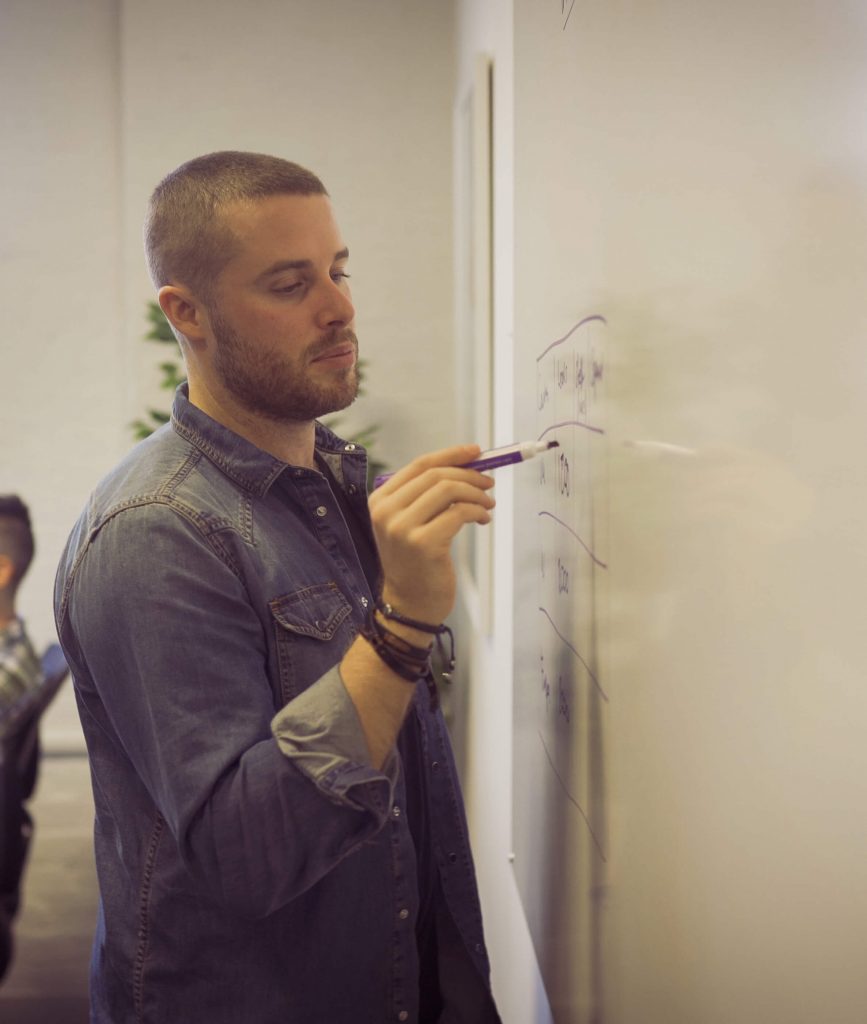 Planning the production process
Quality video assets were key to the success of this campaign. Everything from the editing to the ad copy needed to be designed to maximise clicks and conversions.

The team initially focused on finding the perfect actors that would match the target audience of the videos. We held auditions at the Upbeat studios in Brixton and focused on cherry-picking our ideal actors.

Fortunately, we've got tons of experience in video production, meaning we have access to an extensive roster of reliable and talented actors.

The next step was finding the right filming locations.

Once again, our experience in creative production was key. We identified the best locations for the shoot to create an ideal setting. For this specific brief, we hired out local homes with nice kitchen and living room spaces that provided an authentic, homely feel.
Every shoot involves a meticulous process of pre-production, production, and post-production that includes:
Idea Generation
Actors & Location Sourcing
Storyboarding
Scripting
Filming
Shoot Day Planning
Capturing authentic emotions was vital to the success of these video assets. Connecting with consumer emotion is a hugely important aspect of the e-commerce buying process, and we needed to establish a strong connection to deliver high sales numbers.

Preparation is also fundamental for a slick and efficient production schedule. We thoroughly planned all storyboards and camera shots to ensure that the filming process was smooth.
Producing the Ad Creative
The video creative is deliberately a little 'rough around the edges', with a relaxed editing style that creates a sense of authenticity. It's no surprise that this video style produced the best results during the campaign – it feels like a native piece of content, not a paid advert, which is key to grabbing attention and driving engagement.

Notice the emotions on display in this asset?

It's all about laughter, enjoyment, and a positive experience. There are simple game instructions included that provide the viewer with basic information, and a clear call-to-action present at the end of the video.

This video (and similar assets) were highly engaging, attracting a lot of positive attention on Facebook and Instagram. An abundance of comments generated valuable social proof, while also fuelling the Facebook algorithm and signalling that the ad was a quality asset.

This resulted in a strong ad score, which led to more traffic, more reach, and more sales.
We knew that effectively testing, refining, and optimising these video assets would be fundamental to a successful campaign.

Rather than just allowing multiple creative assets to run for the duration, we needed to rapidly identify the strongest videos and shift budgets to support them. We utilised Dynamic Creative Testing to power this process of optimisation.

Various combinations of ad copy and headlines were tested across the same video assets and delivered to our target audience at scale. We closely monitored performance and then narrowed down our creative approach to focus on the best-performing ads. By focusing on quality over quantity, we could maximise the results generated from these video ads – but that wasn't all.

Running a tighter group of ads enabled us to collect social proof (e.g. comments, likes, shares) more easily on a smaller number of posts. More social proof equals more trust and credibility, which ultimately leads to increased sales. Pretty smart stuff.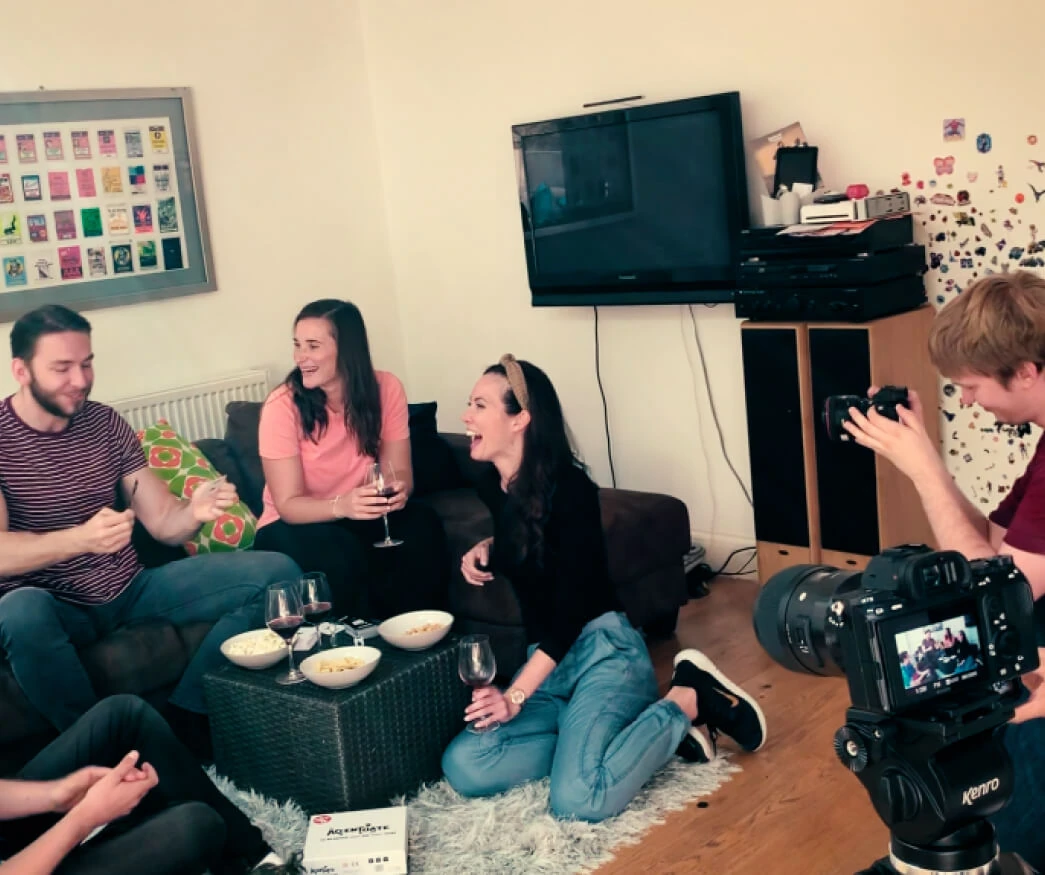 Media Buying and Ads Management
For this campaign to blow our targets out of the water, we needed to combine our optimised creatives with laser-focused media buying and ads management.

We advised Accentuate to list their games on Amazon as well as a new Shopify store we created for them. This immediately gave the business a strong advantage. Amazon sales skyrocketed as soon as paid advertising was launched, which is a common trend.

(It's why we often refer to Amazon as the 'product search engine' of Facebook.)

If Facebook users see a product they're interested in on Facebook, many will instantly switch to Amazon to find it due to the speed and convenience of Amazon delivery.

Amazon can frequently generate a massive increase in online sales for e-commerce brands running paid advertising, which is why Amazon product listings are a must-have. Plus, if you can attribute Amazon sales back to Facebook, you can effectively optimise your budgets and analyse the true value of your paid social spend.
Creating an efficient team structure
Since Accentuate allowed us to handle both video production and ads management, our creative brains could work hand-in-hand with our expert media buyers.

This was a recipe for success, enabling our teams to quickly test, tweak, and trial different assets to find a winning combination. If these activities were outsourced separately, the optimisation would have been infinitely slower, meaning significantly fewer sales.
We also used Shopify to
identify sales

from Facebook that weren't picked up by the pixel.
We usually find roughly 20-30% more sales in Shopify that haven't been attributed to Facebook – this has a major impact on CPA and ROAS calculations and allows us to establish more accurate figures.

Following this process enabled us to improve our campaign efficiencies with Accentuate.

In October 2019 the account transitioned from a £3k spend, a higher CPA and underwhelming ROAS to a £60k spend in Nov/Dec that hit the target ROAS.
Building and Testing
effective audience
Reaching and converting profitable audiences was a major priority for the Accentuate activity, particularly with iOS 14.5 causing severe tracking headaches for e-commerce advertisers. Luckily, we used our collective digital marketing brainpower to develop some clever solutions that helped us navigate the iOS storm. By gathering campaign insights over time with Accentuate, we learned that larger audience sizes were better suited to increasing sales. As a result, we focused on building audiences that were relevant and targeted, but sizable. Larger customer pools allowed the Facebook algorithm to learn and optimise more quickly, as they generated more data that could be analysed by the platform.
To collect audience data as quickly as possible, we rapidly tested different segments to monitor performance. Various 'Interest' audiences were created for targeting, and we combined both proven segments and new test groups to maximise the amount of data we received from the campaign.

This agile 'test and learn' approach enabled us to rapidly optimise the activity and identify the most effective audience segments.

Interest segments such as Shopping & Alcohol quickly proved to be some of the most effective. We also supplemented these Interest groups with different Lookalike segments based on previous customers, experimenting with match rates from 1-10% to find hot prospects.
A range of retargeting audiences was also launched, including users who:
Initiated checkout in the last 25 days
Interacted with the Accentuate
FB/Instagram profile in the last 30 days
Visited the Accentuate website in
the last 2 days/7 days/30 days
Our strategy revolved around building and testing different segments, fuelling the Facebook algorithm with larger audiences, and reacting quickly to performance insights.

This approach proved to be highly successful, consistently delivering increasing numbers of sales for Accentuate.
Making speedy and
effective optimisations
Along with running effective video ads and fully-optimised audience segments, we also needed to make consistent and impactful optimisations. Everything from audience segments to bidding strategies and creative assets needed to be optimised in order to drive the performance we needed. Different optimisation tactics were constantly tested throughout the campaign. Some Facebook ad sets were optimised towards purchase value, while others were optimised towards conversion volumes. We also launched tests using identical creative assets, targeting them towards different audiences and trialling different bidding strategies. By carefully monitoring performance and optimising, we discovered the most effective bidding strategies to balance volume with efficiency.

The Facebook algorithm is incredibly useful, but machine learning still needs to be nudged in the right direction sometimes. We knew that iOS 14.5 would present serious challenges for the campaign, but with perseverance, determination, and some smart Facebook buying strategies, we smashed through these roadblocks. By committing ourselves to making regular optimisations, both big and small, we provided the Facebook platform with the best opportunity to deliver exceptional results. And fortunately, it did.

Read more about the Accentuate campaign here, and learn how these expert strategies helped us to overcome iOS 14.5.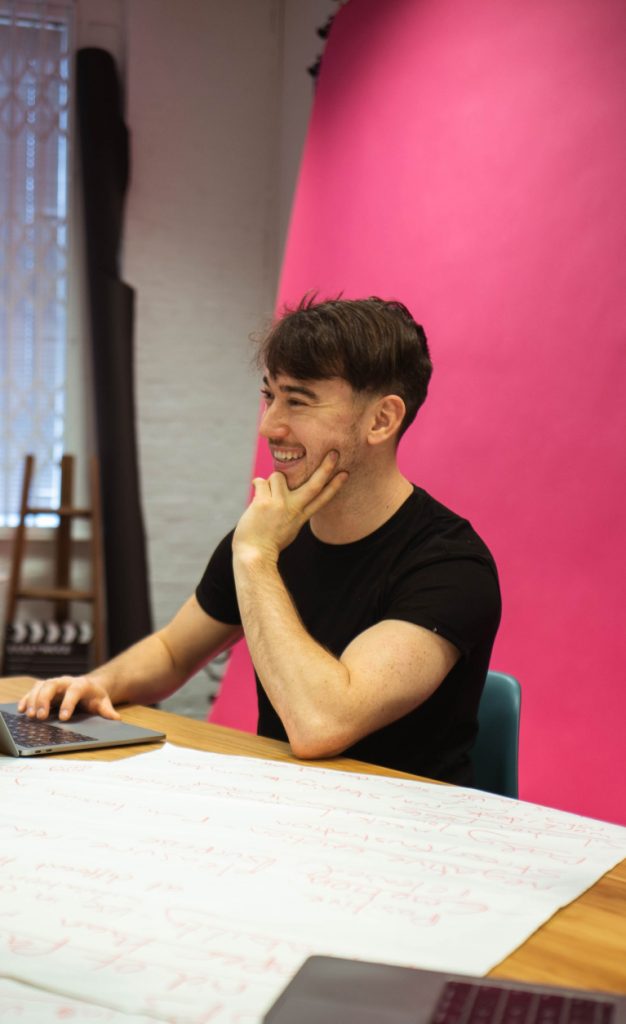 Improving

website performance
The final piece in the puzzle was ensuring we had a website that had a great conversion rate. Accentuate Games originally came to Upbeat with their own website, but ultimately to get the results we needed the store needed to be re-built in Shopify.

This would give us all the plugins, tools and analytics we needed to be able to scale the account during Q4 and beyond. Q4 was always going to be a period of heightened conversions due to black Friday and Christmas, however this also meant increased competition on the platform so we still needed to outdo competitors in order to get the sales.

To improve website conversion the funnels team go through a process of;

You can see how the conversion rate improved over time on the store. We were able to do this through a combination of different factors:
A complete product page re-design. We created a more aesthetically pleasing layout with key features being more prominent and the order being more logical, always leading people to a purchase outcome
We used a moving Gif instead of product images which featured Zoella, Mark Wahlberg and Chris Moyles playing the game. This heightened the credibility of the game
We made the Buy 'Now button' bigger and bright green
We added lots of genuine testimonials to the page to emphasise the social proof
We added award pictures the game had won
We featured the story of Dragons' Den and how Peter Jones invested in the game (again more credibility)
We featured smart product pictures with a detailed, fun product description.
A price discount on the game
Featured a money back guarantee
Ensured 'Fast Delivery' was prominently seen
Our paid social strategy successfully allowed Accentuate to navigate some tricky iOS 14.5 challenges and effectively scale its e-commerce offering.
But let's cut to the chase. How did these tactics impact Accentuate's revenue? Well, see for yourself:
2019 – £294k (51% increase YoY)
2020 – £511k (75% increase YoY)
2021 – £670k (31% increase YoY)
This strategy was incredibly profitable for the business, but more importantly, it was fully scalable. These tactics have allowed Accentuate to consistently increase its revenue over time, thanks to diligent optimisations and an agile approach to media buying.
Keen to rapidly scale your e-commerce business and break your own sales records?