While your own digital marketing expertise is crucial for running successful Facebook campaigns, there's nothing wrong with getting a little bit of support sometimes.
Leveraging Facebook marketing tools is a great way to improve ad performance and make your life that much easier.
Both free & paid tools can help you to increase the efficiency of campaign management, generate superior returns, and experiment with new tactics that you're unfamiliar with.
There's no need to tackle every aspect of Facebook marketing alone. Equipping yourself with the right tools can be a game-changer for your business, which is why we've pulled together 25 of the best Facebook marketing tools available right now.
Paid Facebook Marketing Tools
1. SocialBee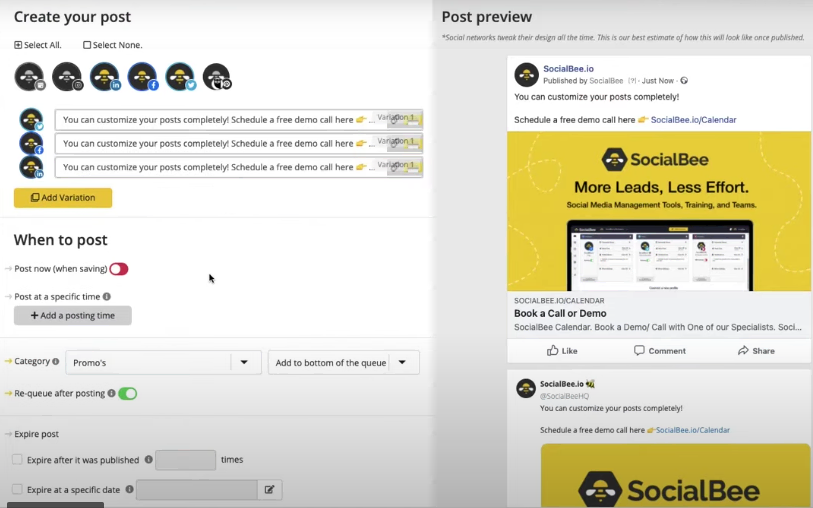 (Source: socialbee.io)
Features
SocialBee is designed to make planning, creating, and publishing high-quality Facebook content a breeze. The tool offers smart creative and editing tools (including an AI post generator), intuitive scheduling features, and analytics options that help you to measure the performance of your content.
Pros
You can set up a specific posting schedule, and even confirm expiration dates
Automate new Facebook posts whenever you post a website article
Various integrations for content creation, URL shortening, and more
Cons
The platform offers a wide range of tools and features, which is great for experienced marketers but may be slightly overwhelming for newer advertisers
Costs
SocialBee offers the following subscription packages:
Bootstrap (Solopreneurs) – $19 per month
Accelerate (Startups/Small Businesses) – $39 per month
Pro (Freelancers/Agencies) – $79 per month
2. Hootsuite
(Source: hootsuite.com)
Features
Hootsuite is a social media management tool that helps brands to optimise Facebook content, attract new followers, and boost engagement.
The platform offers various tools to help marketers thrive on Facebook, including simplified inbox management, bulk post scheduling and publishing, and analytics dashboards.
Pros
The tool offers support in various areas, from content posting to customer service
Scheduling tools are simple, convenient, and accessible for newer advertisers
Easily launch both paid and organic campaigns from a single platform
Cons
The interface can be tricky to master, and Hootsuite may be a slightly expensive option – particularly for smaller teams
Costs
Hootsuite offers the following subscription packages:
Professional (1 user) – $99 per month
Team (3 users) – $249 per month
Business (5 users) – $739 per month
Enterprise (5+ users) – Custom pricing
3. Instapage
(Source: instapage.com)
Features
Instapage helps marketers to build eye-catching, high-converting landing pages that transform social media traffic into sales. The tool makes landing page creation simple and fast, and also allows brands to set up A/B testing and access detailed analytics.
Pros
Utilise 500+ layouts that have been optimised for conversions
Launch robust A/B tests to rapidly improve conversion rates
Build landing pages that match your Facebook ad messaging
Cons
Instapage is designed for simplicity, but the tool may feel limited for experienced website builders looking for more complex features
Costs
Instapage offers the following subscription packages:
Build (Basic website tools) – $299 per month
Convert (Includes additional features) – Custom pricing
Ignite (Fully managed service) – Custom pricing
4. AdEspresso
(Source: adespresso.com)
Features
The AdEspresso platform helps Facebook brands to effectively manage, analyse, and optimise their ad campaigns. Multiple Facebook campaigns can be launched and controlled from a single dashboard, which can be incredibly beneficial for time efficiency.
Pros
Manage several Facebook campaigns from a single marketing platform
Gather, analyse, and download analytics in various formats
Easily adjust and optimise campaigns to drive performance
Cons
AdEspresso offers basic features that can also be found in the Facebook Ads Manager, so the platform may be a little simplistic for veteran marketers
Costs
AdEspresso offers the following subscription packages:
Starter ($1k per month spend limit) – $49 per month
Plus (Unlimited ad spend) – $99 per month
Enterprise (Unlimited ad spend + dedicated consultant) – $259 per month
5. Semrush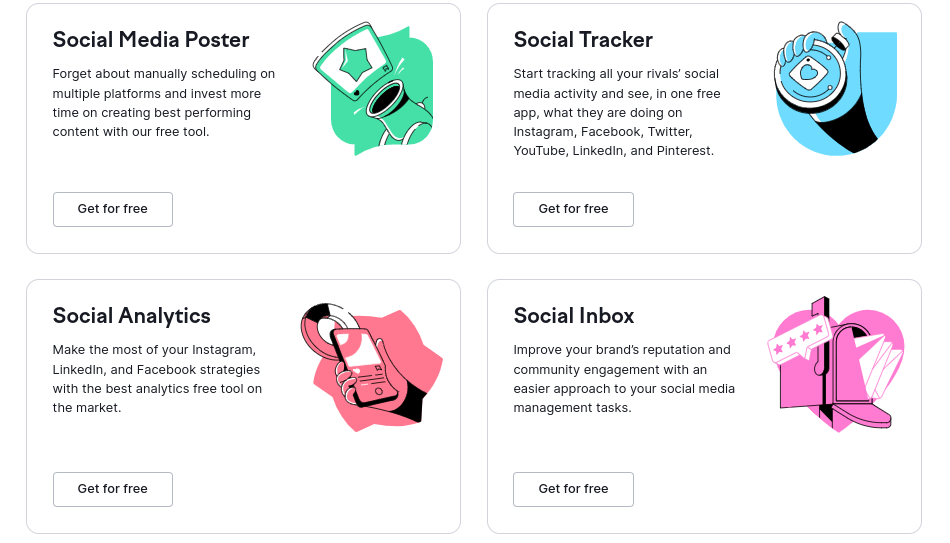 (Source: semrush.com)
Features
The Semrush 'Social Media Toolkit' enables brands to schedule Facebook content, measure page & post performance, and optimise ads effectively. This means that you can handle everything from publishing content to managing your inbox, all from a single platform interface.
Pros
You can analyse competitor activity to fuel your own Facebook efforts
The platform will suggest new content ideas and optimal posting times
You can set up automated email reports for convenient analytics
Cons
Even if you're only interested in Semrush's social media tools, you'll still need to sign up for a full subscription package after a free trial
Costs
Semrush offers the following subscription packages:
Pro (Individuals/Small Teams) – $119.95 per month
Guru (Agencies/Mid-Size Businesses) – $229.95 per month
Business (Large Agencies) – $449.95 per month
6. InVideo
(Source: invideo.io)
Features
Video marketing can deliver exceptional results on Facebook, and with InVideo, you can quickly produce new video assets using pre-built templates. Advertisers can access quality stock media, intuitive editing tools, easy-to-use animations and text-to-speech features.
Pros
Instantly apply your brand's colour palette to different video assets
Access over 5,000 high-quality video templates for speedy production
You can utilise 8m+ pieces of stock media footage and audio
Cons
Editing can be time-consuming (particularly for less experienced users) and multi-tasking across different video projects is difficult
Costs
InVideo offers the following subscription packages:
Business (Small Businesses/Influencers) – $30 per month
Unlimited (Agencies/Large Teams) – $60 per month
7. Heyo
(Source: heyo.com)
Features
If you're looking to launch sweepstakes or competitions to incentivise engagement on Facebook, Heyo is the tool for you. With the Heyo platform, you can easily set up interactive quizzes and giveaways to connect with your target audience, generate leads, and expand your email marketing list.
Pros
Set up quizzes, giveaways and competitions to drive engagement
Run video submission contests that allow you to harvest valuable UGC
Customise templates, forms and landing pages to showcase your brand identity
Cons
Templates and creative options are limited on Heyo, and form designs can feel a little rigid for some advertisers
Costs
Heyo offers the following subscription packages:
Basic (Startups) – $45 per month
Standard (Growing Businesses) – $99 per month
Premium (Agencies) – $249 per month
8. Buffer
(Source: buffer.com)
Features
Buffer is an all-in-one social management platform that's built for small businesses. The tool helps brands to publish content at the right time, grow an engaged follower audience, and automate performance reports for time efficiency
Pros
Identify the best time for posting to maximise your engagement on Facebook
Easily collaborate with team members to draft, share, and approve posts
Access actionable insights, such as comparing the performance of paid vs organic
Cons
Content, audience, and hashtag analytics can be slightly basic in terms of insights – this data may feel lacklustre for experienced Facebook advertisers
Costs
Buffer offers the following subscription packages:
Essentials – $6 per month, per channel
Team – $12 per month, per channel
Agency – $120 per month for 10 channels
9. PromoRepublic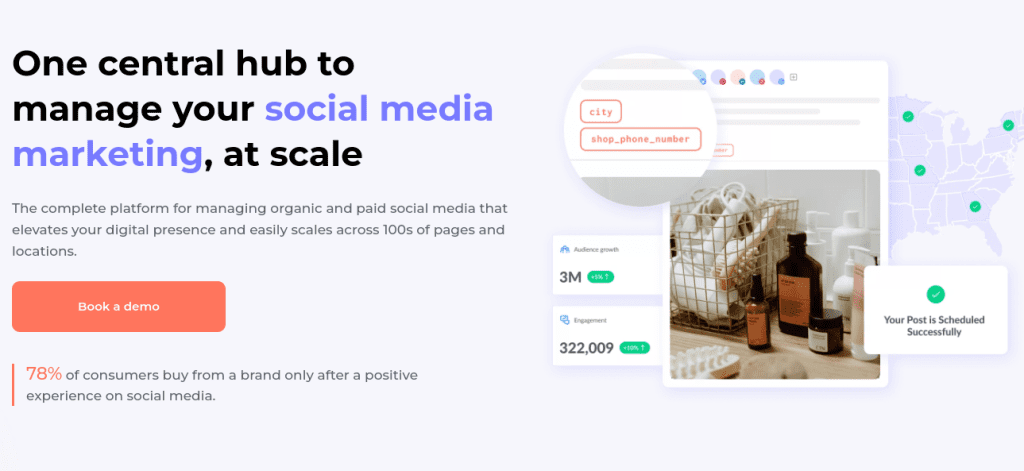 (Source: promorepublic.com)
Features
If you're looking for a Facebook post scheduler that can also provide you with tailored content ideas, then PromoRepublic is the tool for you. With PromoRepublic, you can monitor social conversations, manage customer communications, and create eye-catching posts to maximise Facebook engagement.
Pros
Use pre-made content templates to speed up the publishing process
Schedule your Facebook content in advance to streamline workloads
Instantly boost organic posts and measure performance within the platform
Cons
Linking multiple social accounts can be tricky, and the scheduling tool can be slightly clunky at times
Costs
PromoRepublic offers the following subscription packages:
Small Business – $59 per month
Agency – $99 per month
Multi-Location – Custom pricing
10. Sprout Social
(Source: sproutsocial.com)
Features
SproutSocial offers powerful scheduling, collaboration, and creative tools that help brands drive optimal engagement on Facebook. You can use SproutSocial to leverage social listening, schedule Facebook posts, improve inbox responsiveness, and monitor in-depth analytics.
Pros
Post scheduling is extremely efficient and convenient for marketers
Campaign reports are highly visual, meaning it's easy to gather new insights
Managing content (e.g. duplicating, editing, re-posting) is very easy
Cons
SproutSocial can be expensive for small businesses, and contacting customer support can also be a lengthy process
Costs
SproutSocial offers the following subscription packages:
Standard – $249 per month
Professional – $399 per month
Advanced – $499 per month
Enterprise – Custom pricing
11. Biteable
(Source: biteable.com)
Features
If you're struggling with creative production, Biteable enables you to quickly generate videos that are highly engaging and super polished. Brands can leverage a range of video templates to make the production process a piece of cake, and create everything from custom animations to commercials.
Pros
Pre-built video templates are super easy for brands to use
Customer support team is responsive and helpful
You can publish video assets directly through the Biteable platform
Cons
Free trial videos will contain a watermark, and you won't be able to upload your own video assets without a full subscription
Costs
Biteable offers the following subscription packages:
Pro (1 member) – $99 per month
Teams (3 members) – $199 per month
12. Planable
(Source: planable.io)
Features
For agencies looking to improve teamwork and streamline Facebook content production, Planable is a fantastic tool. Planable helps marketers to set up a shared collaboration space that facilitates easy scheduling and simplified approvals, meaning teams can efficiently distribute content and generate increased engagement.
Pros
Huge time-saver for marketing teams that need to improve efficiency
Affordable for smaller agencies and new advertisers
Easy-to-use and intuitive interface that can be mastered quickly
Cons
Analytics are lacking for marketers who need detailed performance insights. The tool is great for convenient content management, but not ideal for in-depth reporting.
Costs
Planable offers the following subscription packages:
Basic – $13 per month/user
Pro – $26 per month/user
Enterprise – Custom pricing
13. DrumUp
(Source: drumup.io)
Features
DrumUp is a tool that helps brands to generate more leads from Facebook through automated post scheduling, tailored content suggestions, and streamlined workflows. The platform doesn't just help marketers to schedule their posts but improve them through data-driven recommendations and analytics
Pros
Simple and clean interface that's easy to use
Responsive and helpful customer support team
Makes content brainstorming/ideation much faster
Cons
Initial setup of social accounts can be fiddly and time-consuming
Costs
DrumUp offers the following subscription packages:
Starter (3 social accounts) – $15 per month
Pro (20 social accounts) – $39 per month
Small Business (50 social accounts) – $79 per month
14. Quuu Promote
(Source: quuu.co/promote)
Features
Quuu Promote is an innovative tool that enables you to amplify blog posts through a Facebook network. Once you've had a piece of content approved on Quuu, it will be distributed across a huge group of real, reputable users – when these individuals share your work, you'll immediately benefit from increased exposure, engagement, and web traffic.
Pros
Helps to rapidly increase the reach of blog posts on Facebook
Can also be utilised by marketers to populate their feeds with relevant content
Has the potential to drive high volumes of blog/website traffic
Cons
Can be difficult to target your content towards specific Facebook audiences, meaning you may not be reaching relevant users
Costs
QuuuPromote offers the following subscription packages:
Individual Plan – $50 per month
Company Plan – $100 per month
Agency Plan – $500 per month
15. Post Planner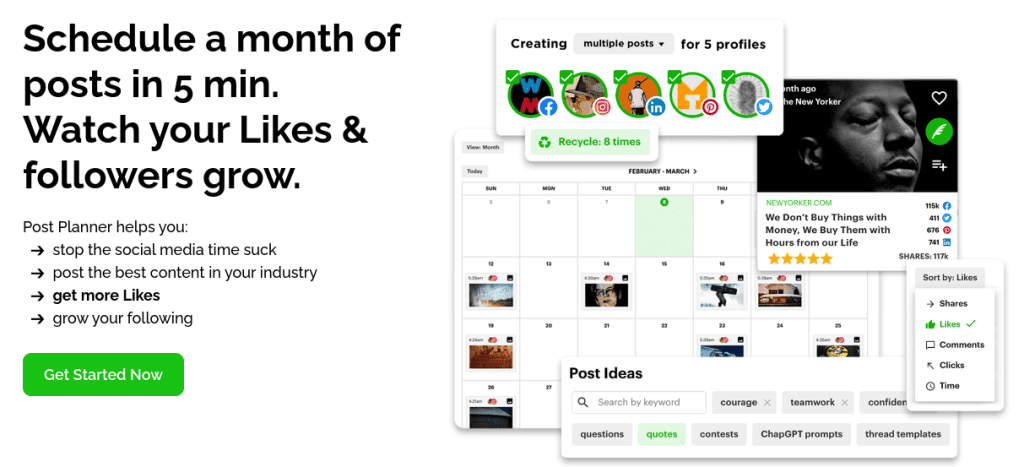 (Source: postplanner.com)
Features
Post Planner offers two main benefits to Facebook marketers. Firstly, it allows brands to schedule and publish content on the platform, as well as analyse the performance of posts. However, the real strength of Post Planner is its content recommendation engine – the tool will automatically curate high-quality and relevant posts for you to share with your audience.
Pros
Helps you to maintain an active and engaging Facebook feed
Allows you to instantly schedule a large number of relevant posts
Affordable and accessible, particularly for smaller teams
Cons
Interface can be slightly confusing at first, and scheduling new posts can be tricky for new users
Costs
Post Planner offers the following subscription packages:
Single (1 social account) – $3 per month
Starter (3 social accounts) – $7 per month
Growth (10 social accounts) – $27 per month
Business (25 social accounts) – $47 per month
Enterprise (100 social accounts) – $197 per month
Free Facebook Marketing Tools
16. Canva
(Source: canva.com)
Features
Canva is an intuitive design tool that allows Facebook marketers to produce eye-catching creative assets and graphics. The platform is extremely simple to use but delivers polished designs that can be used for Facebook ads, videos, Stories, and profiles. Canva also provides a wide range of pre-built templates that are ideal for speedy turnarounds.
Pros
Very easy to set up and use
Allows brands to quickly create professional graphics for various formats
Offers thousands of high-quality, pre-made templates
Cons
Some features are only available through a paid subscription (e.g. larger storage, increased stock media library, etc)
17. MobileMonkey
(Source: mobilemonkey.com)
Features
Facebook Messenger is an incredibly powerful marketing tool – and MobileMonkey allows you to take full advantage of it. The tool helps brands to enhance every area of their Messenger strategy, including building smart chatbots, segmenting Facebook audiences, growing email lists, and generating conversions.
Pros
Build responsive chatbots that reply immediately to consumer queries
Set up push notifications that bring in customer support agents at the right time
Launch follow-up Messenger campaigns that capture leads and drive conversions
Cons
Analytics can be lacking for marketers keen to see in-depth performance insights
18. Headliner
(Source: headliner.app)
Features
Headliner helps brands with a podcast to amplify their content on Facebook. With the Headliner tool, you can transform podcast audio snippets into video assets to distribute among your target audience. You can also add gifs, images, and animations to these video clips to increase engagement and drive traffic to your podcast/website.
Pros
Ideal for increasing the reach and visibility of your podcast content
Allows your audio content to benefit from the mass engagement of video marketing
Easily translate audio snippets into subtitles and text overlays
Cons
The tool only offers a single function (i.e. converting podcast audio to videos) and if you want to release more than 5 videos a month, you'll need to upgrade your plan
19. Facebook Messenger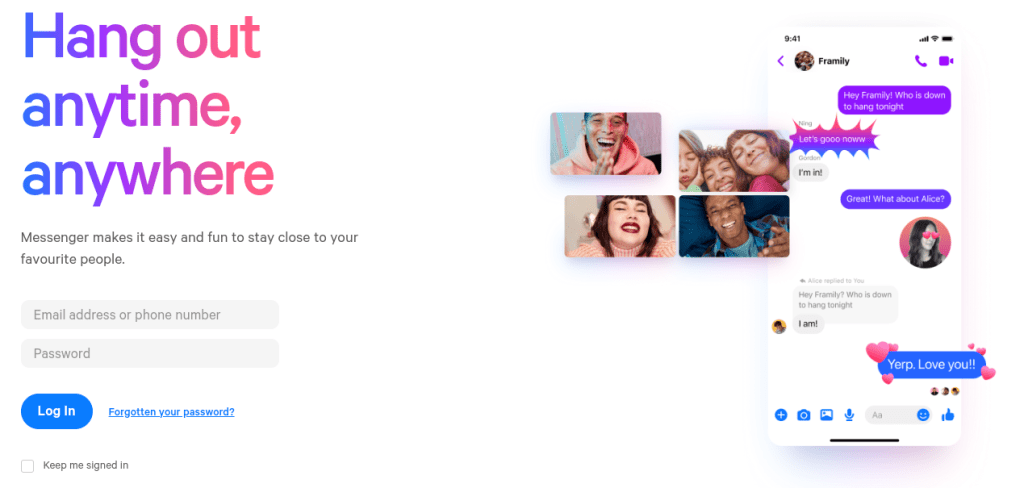 (Source: messenger.com)
Features
Facebook Messenger is a potent marketing tool that's under-utilised by many advertisers. Not only can Messenger help you to deliver reactive customer service, but Messenger ads can achieve an exceptional open rate. With the right targeting and creative messaging, this built-in tool can generate tons of engagements and conversions.
Pros
Available directly through the Facebook platform and simple to use
Can achieve enormous reach, open rates, engagements, and conversions
Excellent way to communicate directly with followers and customers
Cons
If you want to implement more advanced Messenger strategies (i.e. chatbots) then you'll need to use a third-party tool
20. SocialOomph
(Source: socialoomph.com)
Features
For brands hoping to increase their Facebook engagement and grow their follower base, SocialOomph is a fantastic tool. The SocialOomph platform helps you to automate your content strategy, meaning you can bulk-upload posts, monitor new followers, and delete outdated messages.
Pros
Allows you to easily schedule/publish a large number of Facebook posts
Easily track your follower numbers and post engagements
Automatically create new posts based on blog content/RSS feeds
Cons
You'll only be able to connect one social account with the free SocialOomph package
21. MailChimp
(Source: mailchimp.com)
Features
MailChimp is primarily known for email campaigns, but the platform also offers brands a range of handy Facebook marketing tools. You can launch and track Facebook ads through the MailChimp dashboard, as well as synchronise your email lists with Facebook to run retargeting campaigns.
Pros
Share email campaigns/content automatically through the Facebook platform
Build Facebook retargeting segments based on your email list data
Expand your email subscriber list by reaching out to Facebook followers
Cons
If you're interested in using MailChimp for email campaigns, you may find the free subscription limited in terms of features
22. Headline Analyzer (CoSchedule)

(Source: coschedule.com)
Features
Writing persuasive Facebook ad headlines can be challenging for some marketers, but Headline Analyzer is designed to make the process infinitely easier. All you need to do is enter your headline into the Headline Analyzer tool, and you'll receive insights and recommendations on your character count, phrasing, clarity, sentiment, and more.
Pros
Improve headline effectiveness through data-backed recommendations
Boost performance on multiple channels (e.g. Facebook, Google)
Analyse your headlines within a couple of clicks
Cons
The tool is useful for generating high-level insights and suggestions, but you'll still need to review performance data to optimise headlines effectively
23. Facebook Ads Manager
(Source: facebook.com)
Features
The Facebook Ads Manager is built into the Facebook platform, but that doesn't mean you should overlook it as a marketing tool. The Ads Manager is packed with useful tools and features, enabling you to optimise your ads, access detailed analytics, and set up granular audience targeting.
Pros
Manage all of your Facebook marketing activity in a single dashboard
Launch, monitor, and optimise ads to maximise performance
Set up and test different audience segments with ease
Cons
If you're new to Facebook advertising, it can take a little while to wrap your head around the various tools available within the Ads Manager
24. Buyer Persona (HubSpot)
(Source: hubspot.com)
Features
Gaining an in-depth understanding of your target audience is key to success on Facebook, and the Buyer Persona tool is designed to accelerate this process. The platform helps you build a detailed customer profile through a questionnaire, and once your persona is complete, you'll be able to create content that's tailored and relevant to this audience.
Pros
Create a detailed persona that brings your target audience to life
Build a content/marketing strategy that's tailored to your ideal customers
Download your buyer persona to include in presentations, plans, etc
Cons
The Buyer Persona tool is great for informing your Facebook content approach, but you'll still need to leverage campaign data to truly understand your audience
25. OneStream Live
(Source: onestream.live)
Features
Live Facebook videos can help you to drive huge levels of audience engagement, but many businesses aren't sure where to start with live content. The OneStream Live tool is designed to simplify live video, enabling you to stream pre-recorded content, upload across multiple channels, and instantly respond to comments and questions.
Pros
Take the pressure off live streaming with pre-recorded uploads
Manage live video content across several marketing platforms
Edit and brand your live-stream content with the OneStream studio
Cons
The free plan file size limits may be inconvenient for marketers looking to upload large amounts of pre-recorded content
How can tools enhance your Facebook marketing?
Facebook marketing tools can be a game-changer for your business, delivering a number of key benefits to improve engagement, efficiency, and conversion.
One of the major advantages that tools offer is automation. The majority of these platforms will help you to automate time-consuming or monotonous tasks, meaning you can boost efficiency and invest time in other areas of your business.
Facebook marketing tools can also support you in new areas that you may be unfamiliar with.
If you're lacking knowledge about live streaming, for example, then the right tool can help you experiment with confidence. This also applies to content creation, analytics, audience targeting, and every other aspect of Facebook advertising.
To ensure that you're selecting the right marketing tools, think carefully about where the gaps are in your current Facebook strategy.

Are you struggling with creative production? Or is staying consistent with posting your main headache?
Once you've identified your main pain points, it'll become much easier to pick the perfect Facebook tools for the job. Good luck!
For help with your campaigns from an expert Facebook advertising company please get in touch.