Fast Scale Case Study: B2C Software
Our Client wanted to quickly increase the number of sales of their B2C software. They saw an opportunity to scale across paid social but had no experience in the past of running these type of campaigns. There was a big opportunity to gain a wider slice of the market and Upbeat were able to push their product quickly in front of larger audiences and capture their attention with the right creative.
We scaled a leading B2C software company that was one of the fastest growing software companies on the planet. Our focus was on helping them to become an industry leading software company and scale their social media presence as soon as possible.
We started testing different creatives at $300 a day adspend and were able to scale to $10,000 a day in adspend in a matter of 2 days and then $15,477 in 3 days. We eventually had to slow down for the client to handle technical issue by end of the first week.
At the beginning of the second week we again implemented our fast scale strategy this time from $7,000 a day in ad spend to $18,500 a day ad spend in 3 days maintaining a stable CPA throughout.
This software client is offering and constantly developing new tools to keep their users safe from potential threats.

Covering all your devices, iPhone, iPad, Android, Mac and Windows gave us broad targeting options in which we were able to scale quickly without compromising on quality of traffic and CPA.

With thousands of happy Trustpilot reviews we were able to leverage this social proof to get ahead of the competition quickly. Along with our secret sauce of how to scale quickly, we were able to achieve some great success in a very short period of time.
The client instructed us that we can scale as quick as we can as long as we keep CPA under $45. Given we had just entered Q4 we wanted to prep with an engaging creative so we can win and compete in the auction. We prepped 40 different creatives and placed them in 5 separate dynamic creatives which allowed us to test the winning combination of text, headlines and creatives.

The client was looking specifically for installs/purchases and no social engagement so the plan was to immediately start with a conversions campaign.


Before they came to us they had little experience with advertising on FB and IG and doing that internally to a small success. They were seeing some results but not at high spend and consistency (probably given the Facebook volatility).


They had prepared different landing pages which helped us to find the winning one as well increasing our chances of success.
software case study 1
On 9th of Oct we pushed the account to $15,477 and by constantly monitoring the performance of the ads we kept the CPA inline and of course this made the client very happy.
On 8th of Oct we kept pushing and spent $10,521 and again maintaining CPA. We noticed the demand on the auction was low so we prepared for another push the next day.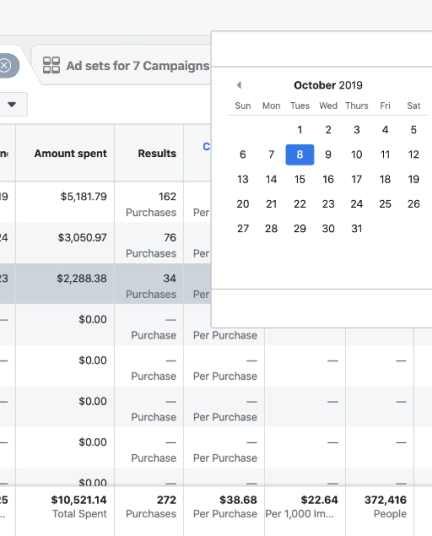 During this course of this two week scaling campaign we spent $130k on Facebook and Instagram.
Having multiple creatives prepared is a big advantage for quickly identifying a winning creative.

Using dynamic creatives allowed us to test these creatives quicker and cheaper and find a winning combination of copy and creative as well as other sales elements.
Using a combination of automatic bids and manual bids allowed us to compete and win the auctions we are bidding in.

Inconsistent tracking can slow down a fast scale so preparing for that in advance is an important step to take.

Once we find what we're looking for we have the ability to hit big budget spends very quickly.

Having large audiences (android, iPhone and desktop – broad targeting) allows to scale fast without compromising CPA.
Using multiple ad accounts/pixels to optimise/feed ad sets non contaminated data (android/iPhone – Countries data points) was also very important. Thank you for taking the time to read this case study. If you are interested in 10X your adspend while maintaining your CPA goals then please do get in touch for a complimentary ad account audit to see if we are the right fit.
Keen to rapidly scale your e-commerce business and break your own sales records?