Google is a juggernaut in the world of digital marketing, with a vast network that touches everything from paid advertising to news updates.
Unsurprisingly, this also means that Google offers a mind-blowing range of tools that can help you significantly improve efficiency and achieve superior business outcomes.
Whether you need support with developing a profitable marketing strategy, boosting quality website traffic, or improving your visibility in search results, Google can help.
Let's take a look at 17 paid and free tools that you can utilise right now to grow your brand.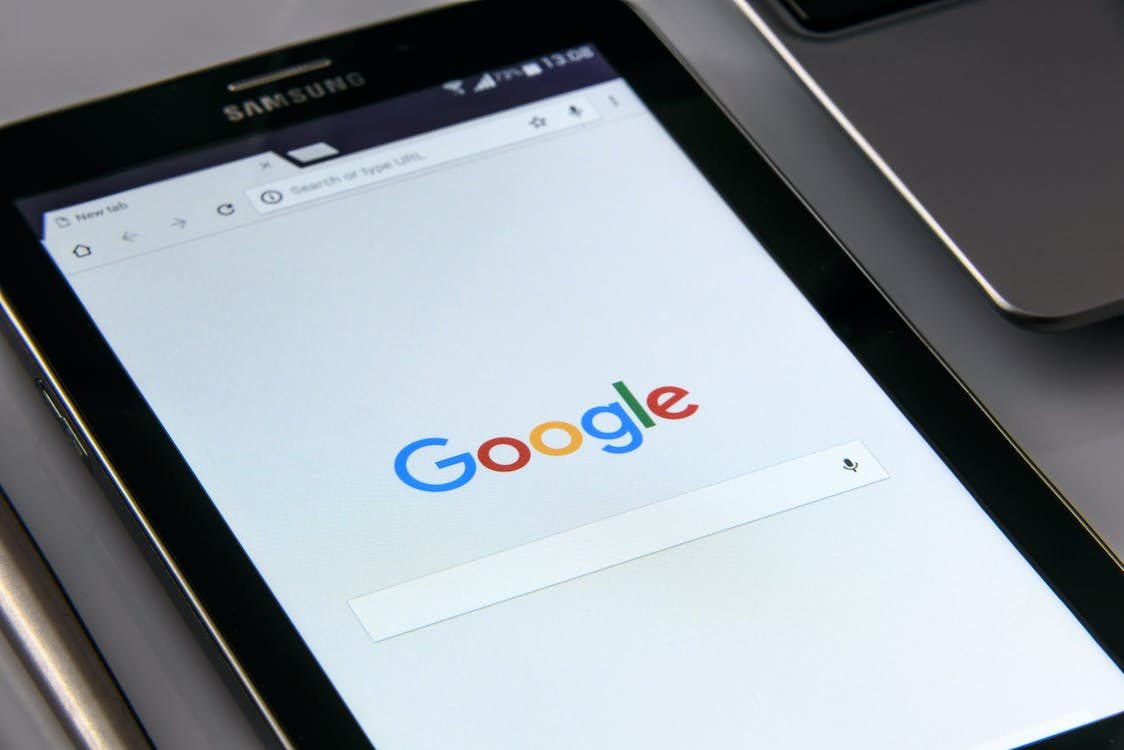 The Best Google Marketing Tools (Free & Paid)
1. Google Analytics
Features
Google Analytics is an extremely powerful tool that's a must-have for modern advertisers. The platform provides you with a huge number of valuable marketing metrics, including number of website visitors, bounce rates, conversions, and cost-per-acquisition.
If you want to understand more about your website traffic, product sales, and on-site consumer behaviours, then Google Analytics can be a game-changer.
Pros
Access a huge number of different data points to analyse website traffic
You can utilise Google Analytics data to optimise your ad campaigns, increasing conversions and reducing acquisition costs
Understand which social platforms are driving the most traffic to your site, and identify the website content that's engaging your target audience
Cons
If you want to utilise Google Analytics across paid ad campaigns, you'll need to complete a few pieces of preparation, such as installing pixel tags and connecting your Google Ads account
It can take some time to familiarise yourself with all of the different options available within Google Analytics, particularly if you're a newer advertiser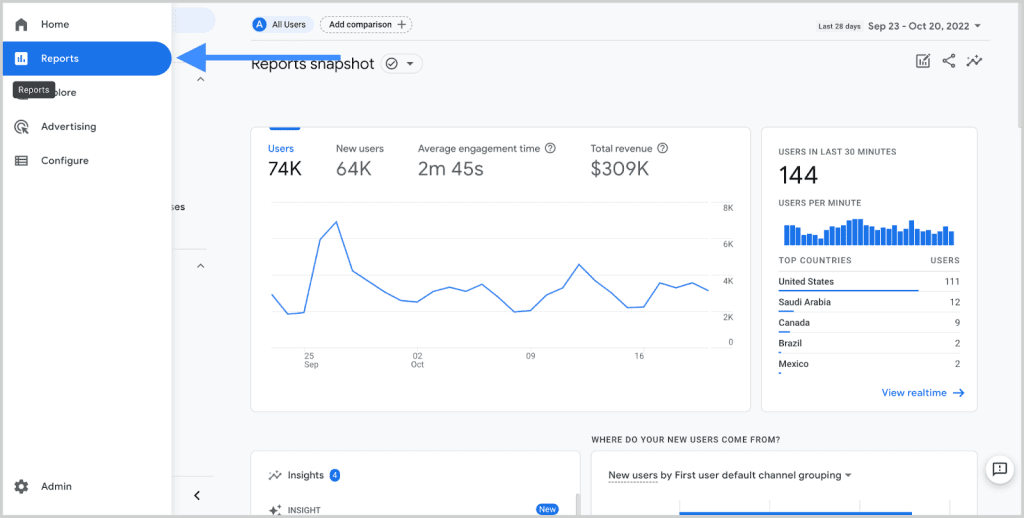 (Source: google.com)
2. Google AdSense
Features
If you're running a growing website, blog, or YouTube Channel, the Google AdSense tool can provide you with a range of monetisation opportunities. AdSense will open up your digital properties to paying advertisers, allowing you to unlock revenue by hosting (and selling) ad placements through your website.
Pros
Convert website/video traffic into passive income with minimal effort
You can monetise multiple websites from a single Google account
Cons
Some website owners may not be comfortable with the idea of selling ad placements, and there may also be concerns about brand safety that you'll need to consider
You'll need a decent amount of website traffic to generate ad revenue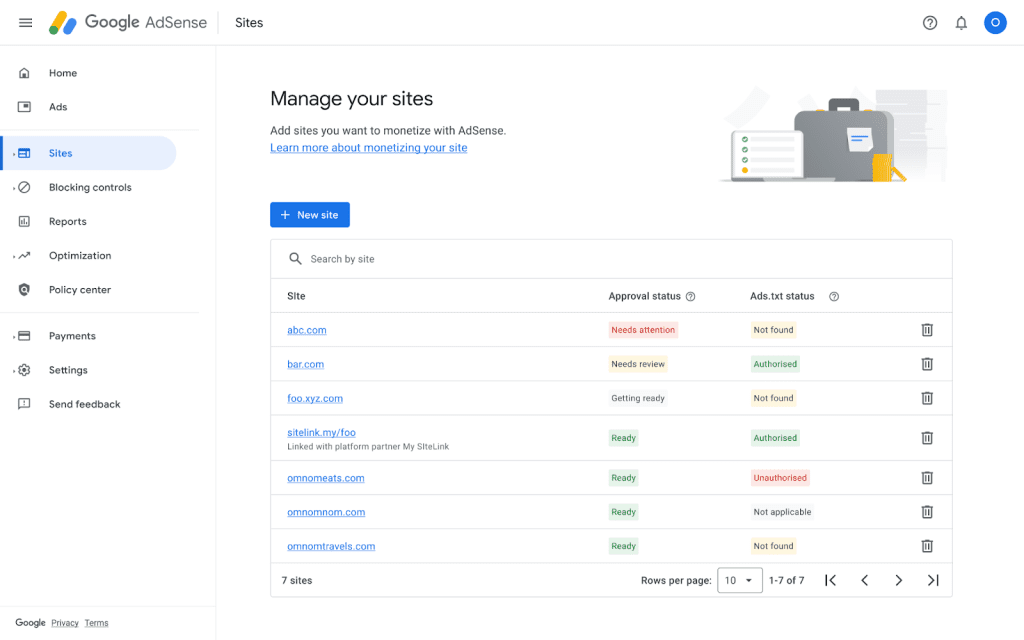 (Source: google.com)
3. Google Keyword Planner
Features
A data-fuelled keyword strategy is key to SEO success, and the Google Keyword Planner is invaluable in this department. This tool will help you to identify the most effective and efficient keywords in your industry, allowing you to improve the performance of your content.
Pros
Utilise real-time Google data to identify high-volume keywords
Significantly improve the performance and visibility of your website content
Receive data-driven suggestions for new keywords in your industry
Cons
The Keyword Planner is fantastic for research and ideation, but you'll still need to create high-quality content with strategic keyword placements to see results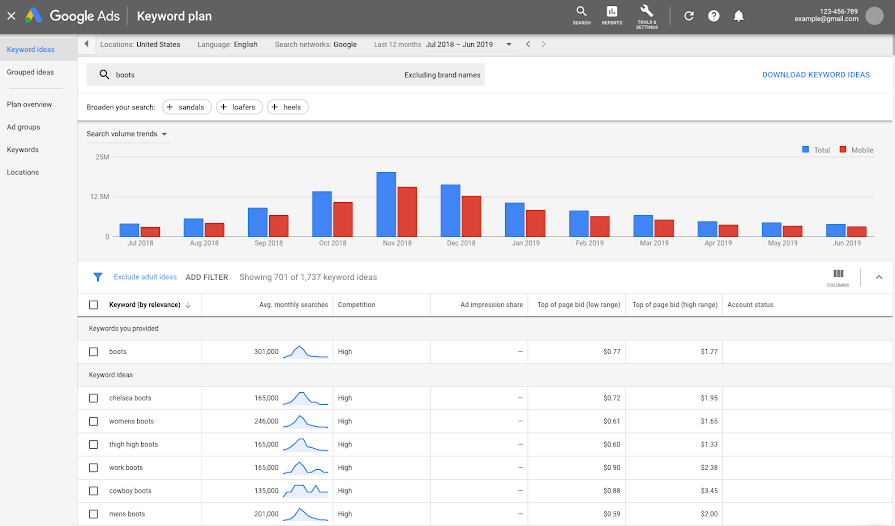 (Source: google.com)
4. Google Trends
Features
Google Trends allows you to instantly analyse the popularity of different search terms over time, and this data can be leveraged in many ways. You can use Google Trends to evaluate keyword choices, track consumer interest in certain products, and identify trending topics.
Pros
Assess/compare the popularity of keywords in a matter of seconds
Track both the long-term and short-term movements of different topics
Filter by specific time periods/locations, and download clear data visualisations
Cons
Google Trends data can be very informative, but it only provides a high-level view of keyword popularity, rather than drilling down into specific search volumes/costs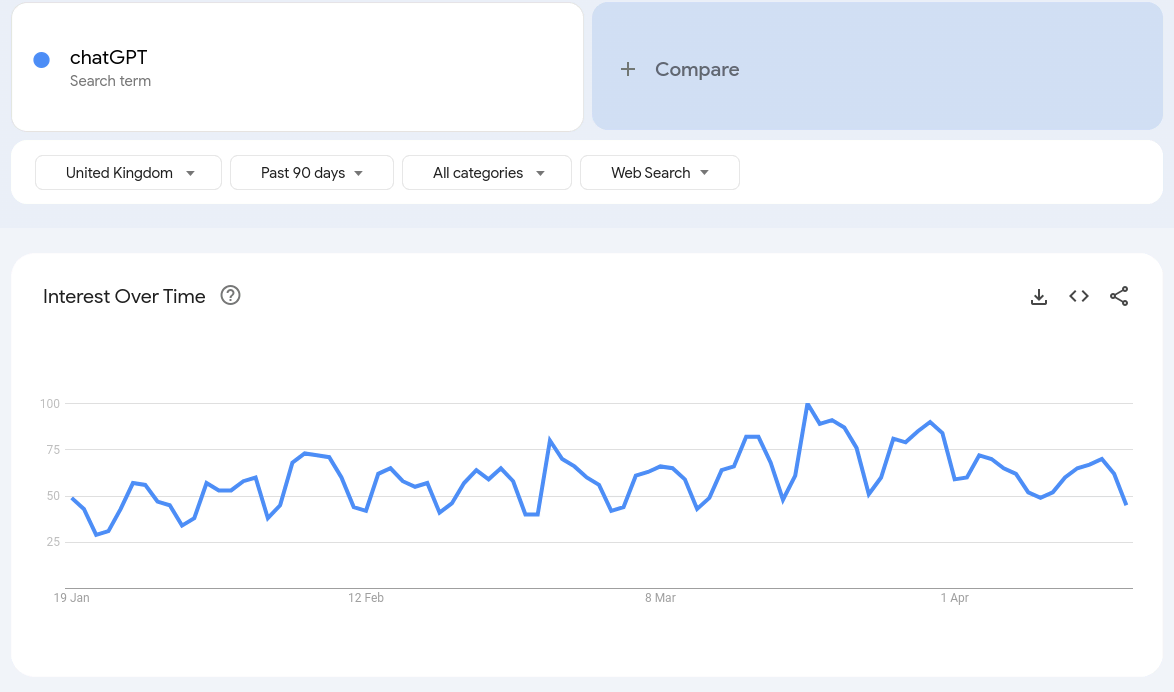 (Source: google.com)
5. Google Alerts
Features
You can use Google Alerts to monitor the web for mentions of a specific phrase or keyword. Brands can set up email notifications that will alert them when a certain keyword has appeared, which could be anything from their own products to a competitor's name.
Pros
Keep in the loop whenever your brand or products are mentioned online
Track competitor mentions to follow updates from your industry
Stay reactive to potential PR opportunities or breaking news updates
Cons
Not every alert will be relevant (particularly for more generic keywords) so you may need to manually filter through search results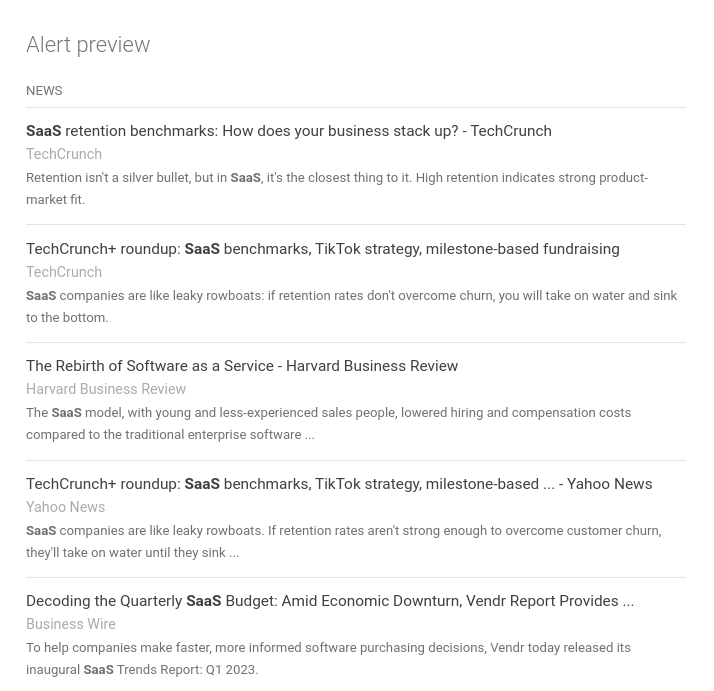 (Source: google.com)
6. Google My Business
Features
Claiming a listing on Google My Business (formerly known as Google Places) is a brilliant way to promote your company and gain visibility in local searches. With a Google Business Profile, you'll feature in relevant Google Search and Google Maps searches, making your business infinitely easier to discover – plus, you can customise your profile to your liking.
Pros
Ensure that your business is visible on Google Maps and in search results
Update your business profile with photos, promotions, and a website URL
Analyse the keywords that are being used to discover your business online
Cons
You'll need to keep your profile regularly updated with changes to your business (e.g. prices, opening hours, locations)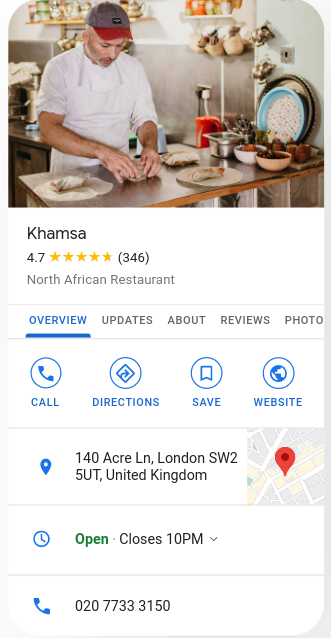 (Source: google.com)
7. Google Workspace For Business (formerly G Suite)
Features
The Google Workspace For Business is an all-in-one platform that's ridiculously useful for small businesses and marketers. This suite of products contains tools like Google Docs, Google Sheets, Google Calendar, and Google Slides – so whether you're sharing a pitch deck, drafting a contract, or setting up a meeting, Google Workspace has you covered.
Pros
Access a range of versatile tools that can help you to complete various marketing tasks, from building a presentation to organising a video call
Collaborate easily with team members through live comments/edits
Share key documents quickly and tweak access with custom links
Cons
You'll need to pay for full Workspace access, with prices starting at £5 per month for a single user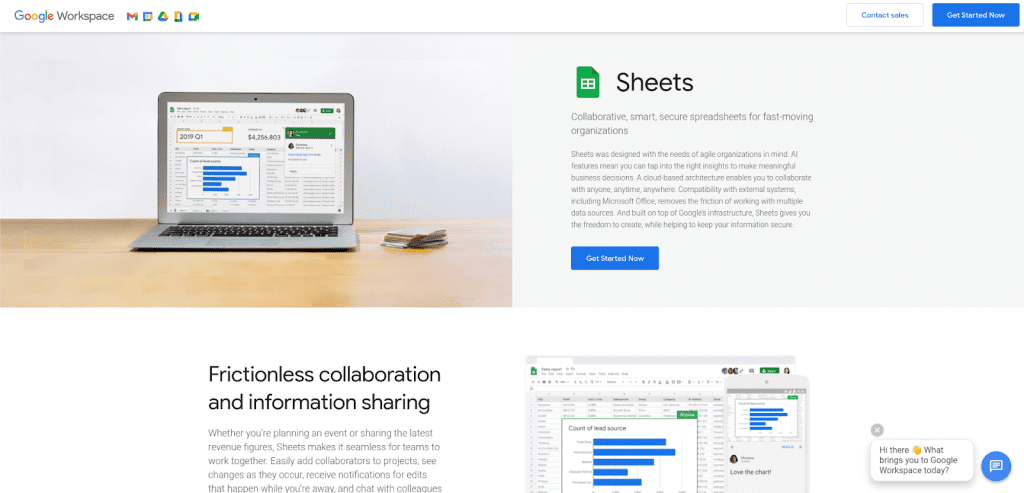 (Source: google.com)
8. Google Drive
Features
Google Drive is a handy storage service that allows users to save up to 15GB of content in the cloud. This can be a lifesaver for businesses that are regularly sharing large files or collaborating on the same documents across different teams.
Pros
Immediately utilise 15GB of storage space for your files
Share secure links between team members to access files within the Google Drive
Save and share large files that would be difficult to send directly
Cons
You'll need to pay for additional storage with a Google One subscription, starting at £1.59 per month for 100GB of space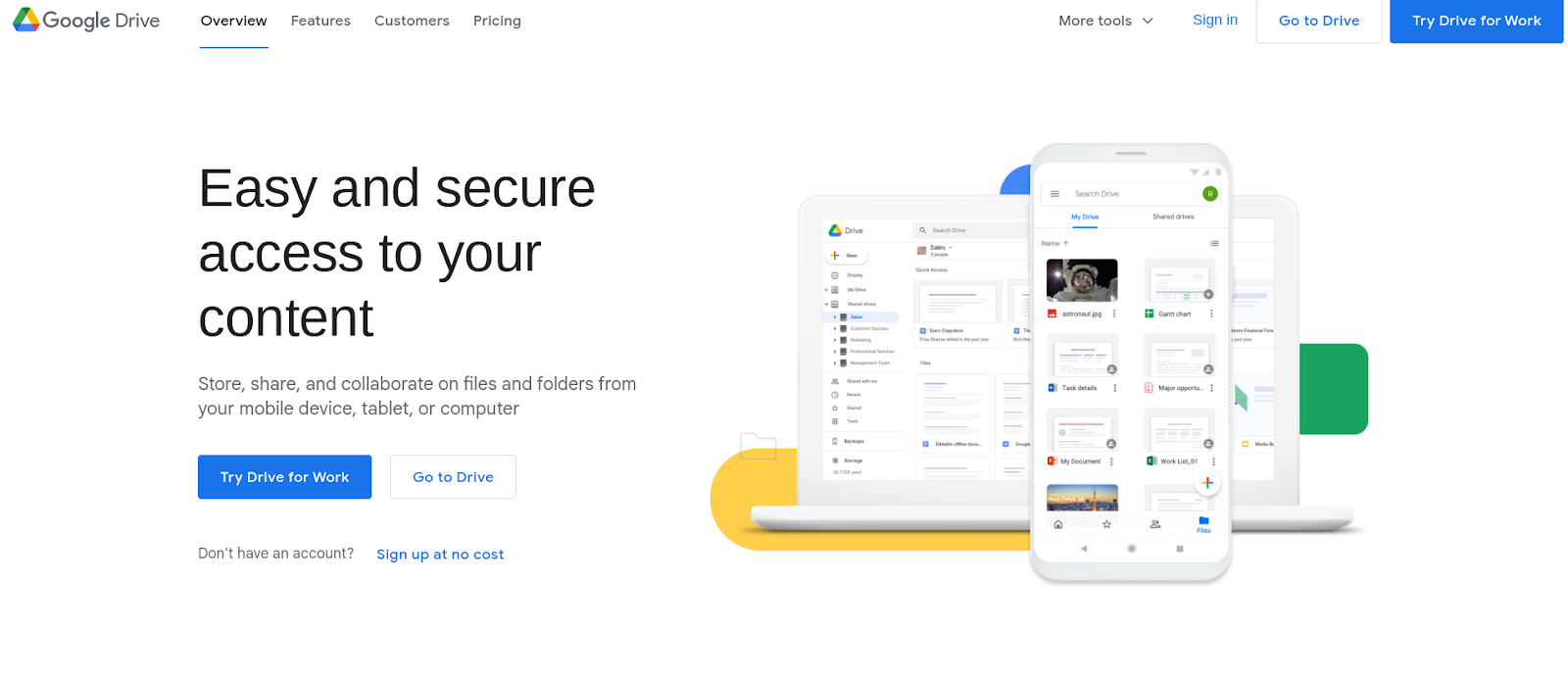 (Source: google.com)
9. Google News
Features
Staying in the loop with the latest updates and trends in your industry is key, and Google News is the perfect way to collate this information. The Google News tool will provide you with customised articles and notifications based on your preferences, allowing you to keep up-to-date with new developments that may impact your customers, products, or campaigns.
Pros
Browse a custom news feed tailored to your interests
Glance over a curated 'Top Stories' section for a quick overview of headlines
Receive news updates from specific locations and relevant industries
Cons
Google News does a great job of collecting major headlines, but you'll still need to deep-dive each article to understand the key points – on top of this, not every link will be relevant to your business
(Source: google.com)
10. Google Voice
Features
Looking for a smart way to communicate with customers? Google Voice is a solid option. You can set up a dedicated phone number for your business online and take calls from any smart device, meaning you can handle sales queries and customer enquiries from anywhere – plus, you can monitor how many responses the 'call' button on your site is generating.
Pros
Communicate with customers remotely using any smart device
Create a unique Google phone number for your business
Allow multiple team members to handle calls from a single number
Cons
You'll need a paid subscription (starting at $10 per user/month) to utilise Google Voice for your business
(Source: google.com)
11. Google Calendar
Features
Staying organised is hugely important for marketing teams, and Google Calendar is a great way to encourage effective collaboration and time management. The Google Calendar tool can be utilised in a few different ways by marketers – you can use the platform to set up meetings with clients/colleagues, organise your day, and confirm timings for blog content.
Pros
Easily create (and respond to) meeting invites for both clients and colleagues
Use links to other Google products (e.g. Meet, Docs) for quick collaboration
Set up calendar notifications and reminders to keep yourself on track
Cons
Google Calendar works best when paired with other Google apps (e.g. Google Meet) – if your company/clients aren't also using these products, then taking full advantage of the tool may be difficult
(Source: google.com)
12. YouTube
Features
YouTube is an online video giant, but it's also an invaluable marketing tool. Creating a YouTube channel for your business allows you to upload content for your audience, engage with other YouTube brands, and launch super-effective video ad campaigns.
Pros
Upload organic content to drive mass engagement from your target audience
Interact with other users/brands to build your profile
Launch highly targeted ad campaigns and leverage multiple ad formats
Cons
You'll need to pay to launch YouTube ad campaigns
YouTube is a highly competitive environment for marketers. If you want to drive optimal results, you'll need to commit to creating a data-driven strategy and optimising your ad campaigns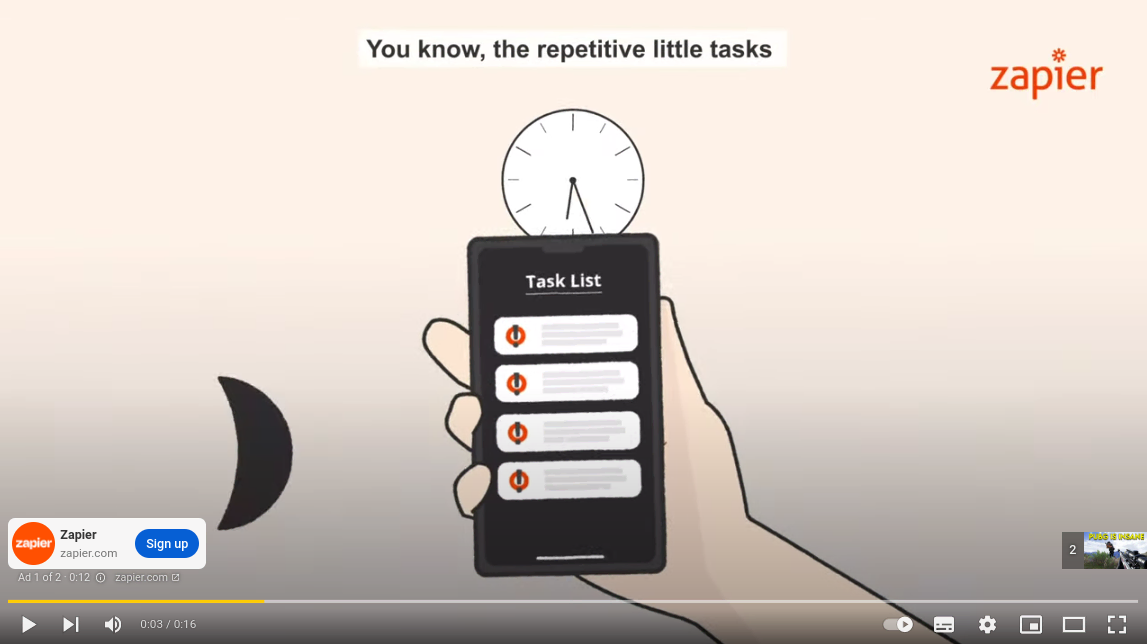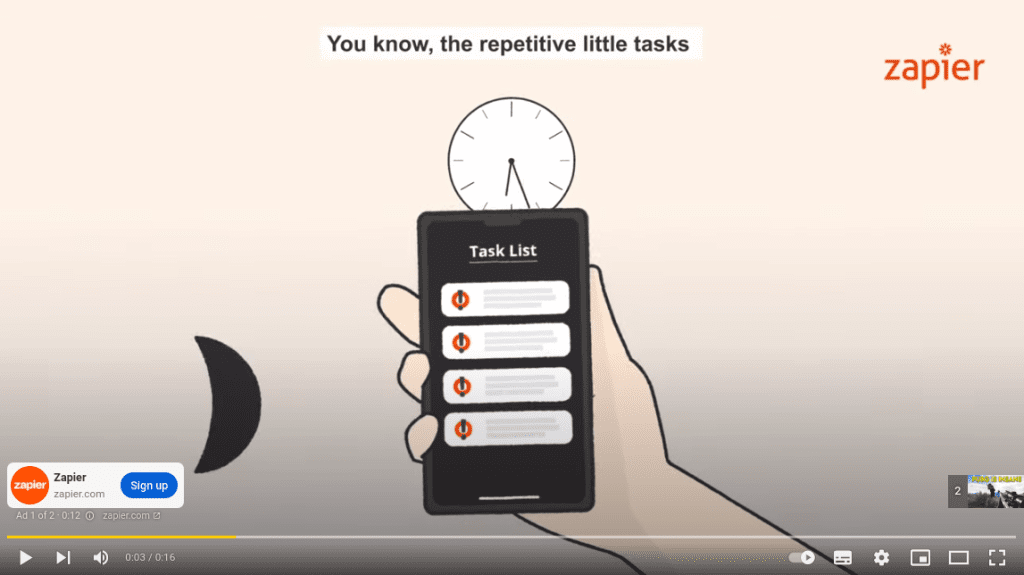 (Source: youtube.com)
13. Google Ads (formerly Google AdWords)
Features
Google Ads is undoubtedly one of the most powerful tools available for digital marketers. With Google Ads, you can launch highly-targeted ad campaigns across a range of Google advertising platforms (e.g. Display, Search, Video) to lower your cost per click, boost website traffic, and generate cost-efficient conversions.
Pros
Leverage rich Google data sources to narrow down your audience targeting
Use channels like Paid Search to launch contextual ads and drive efficient sales
Run multi-channel campaigns within Google that cover the entire consumer funnel
Cons
You'll need to pay for Google advertising, and managing/optimising your campaigns effectively requires a lot of time – as well as knowledge of the Google Ads network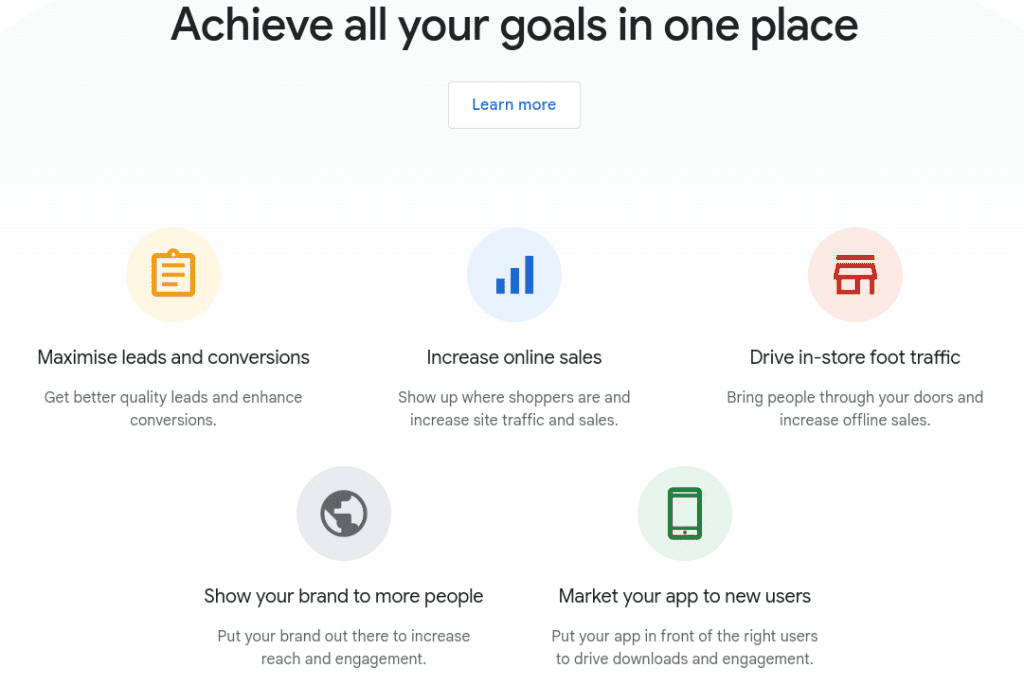 (Source: google.com)
14. Gmail
Features
Communication is key for marketing teams, and Gmail is an excellent tool for coordinating projects, engaging clients, and responding to messages. With a Gmail account, you can set up a personalised Google email address to handle all of your email needs.
Pros
Categorise your emails using labels to stay organised and identify priority messages
Use the Gmail platform to launch email marketing campaigns/attract new business
Set up email notifications for changes to different projects on Docs, Sheets, etc
Cons
If you're already set up with a different email provider, it may be inconvenient to shift all communications over to a new Gmail account
(Source: google.com)
15. Google Meet
Features
Whether you're looking to check in with team members or set up a pitch meeting with a prospective client, Google Meet is a brilliant video communication tool. With Google Meet, you can instantly schedule high-quality video calls across multiple devices, and take advantage of features like screen-sharing and live-streaming.
Pros
Instantly launch video meetings and invite attendees with a simple copy/paste link
Use screen sharing to walk through key documents, presentations, and spreadsheets
Invite up to 500 internal/external participants to a Google video meeting
Cons
If you want to host meetings that last more than 60 minutes (with 100+ attendees) you'll need to upgrade to a paid Google Workspace/Google One subscription
(Source: google.com)
16. Google Translate
Features
If you're an advertiser working across several international markets, Google Translate can be an incredibly valuable tool. Google Translate allows you to instantly translate text across 100+ different languages, whether it's an email, a direct message, or a full document.
Pros
Translate text between 100+ different languages with a simple copy/paste
Instantly translate words, phrases, documents, or web pages
Utilise a text-to-speech feature to hear translations spoken aloud
Cons
The Google Translate app isn't perfect, particularly when colloquial language or slang is used – although the tool can help you to understand basic messages, it's not ideal for detailed translations

(Source: google.com)
17. Google Search Central
Features
Google Search Central is an all-in-one tool that can help you to boost the SEO performance of your website. A solid SEO strategy is key for improving the visibility of your business in Google search results, and with Google Search Central, you can identify potential issues, explore SEO best practices, and analyse the on-site user experience.
Pros
Instantly discover a wide range of tips to improve your search engine rankings
Check out different case studies to understand the impact of SEO adjustments
Utilise the 'Google Search Console' tool to analyse and optimise your website
Cons
Google Search Central is great for receiving high-level advice on SEO, but if you want to deep-dive your specific website challenges/opportunities, you'll likely need to enlist the help of an SEO professional
(Source: google.com)
How using Google tools can help with your marketing campaigns
Google tools can enhance your marketing efforts in many different ways, improving everything from time efficiency to conversion rates.
Below are some of the primary ways that Google tools can benefit your business:
1. Supporting multiple areas of your marketing strategy
One of the biggest strengths of Google's marketing tools is their versatility.
These tools can help to enhance every area of your marketing strategy, whether you need to drive cost-efficient conversions (e.g. Google Ads campaigns) launch organic content (e.g. YouTube) or promote your business in the local area (e.g. Google Maps).
Whatever your key business objectives might be, Google tools can help to plug your knowledge gaps and improve the performance of your marketing campaigns.
2. Improving the efficiency of your marketing efforts
Google tools can also help you to dramatically improve time efficiency and accelerate the process of launching a new marketing campaign.
For example, tools like the Google Keyword Planner can instantly equip you with a number of keyword suggestions, meaning you don't need to spend time researching keywords for yourself.
The platforms found within Google Workspace (i.e. Docs, Sheets, Slides) can also be massive time-savers for your business.
Rather than manually sending documents to different stakeholders for review, you can invite multiple team members to edit content in real time – meaning you can finalise creative assets, ad copy, or pitch decks significantly faster.
By tapping into the full suite of Google tools, you can speed up marketing processes and free up valuable resources for other important tasks.
3. Keeping you up-to-date with industry developments
Using Google tools can also help you to stay in the loop with new updates and emerging trends from your industry, which is crucial for keeping ahead of the competition.
For example, Google News might inform you about an industry event that can fuel a reactive marketing campaign. A piece of breaking news might be causing customers to search for certain keywords, providing you with an opportunity for some strategic paid search ads.
You could also utilise Google Trends to track a spike in consumer interest around certain products, helping you to frame your marketing communications – or even re-think your product development strategy.
Google tools can provide you with a wealth of information about your industry, customers, and competitors – and if you use these insights wisely, the results will speak for themselves.
4. Helping with the day-to-day running of your business
Finally, Google tools can make a huge difference to the day-to-day running of your business.
As a marketer, you're likely to be juggling many different tasks and projects simultaneously, and Google tools can help to streamline this process.
For instance, if you're struggling to keep track of multiple documents or folders, Google Drive can help you to store large files in a centralised location. You can also grant tailored access to different members of your team, meaning employees can access the content they need.
For both internal and external communication, Gmail is a fantastic option, allowing you to share files, project updates, and meeting invites quickly and easily.
Google has built a collection of tools that can support every aspect of your business operations, from contacting high-value prospects to delivering pitch decks. By selecting the right tools for your business, you can maximise efficiency and drive optimal results.
Google tools can make a massive impact on your digital marketing, helping you to collaborate effectively with colleagues, organise your work schedule, and launch high-converting ad campaigns across the Google network.
However, trying to utilise too many Google tools at once can leave you scratching your head.
Instead, focus on the areas of your marketing strategy that need urgent support, and cherry-pick your tools accordingly. Over time, you'll be able to master various Google platforms to generate exceptional returns for your business.