Messenger
has become one of the most powerful communication apps of all time. Boasting over one billion monthly active users, there is a good chance your target audience are not only on Messenger, but using it everyday.
Big businesses are starting to realise this. This week, it came to our attention that Victoria Beckham is now part of this group. Her Facebook Messenger bot is a prime example of the multitude of ways this piece of tech can benefit your business.
We are so impressed with hers that we have decided to walk you through it as a case study of the benefits of adding a bot to your Facebook business page.
6 ways VB's Messenger bot benefits her business
1. Improving the customer experience
With all bots, the first benefit is that you can respond to customers immediately, without having to pay for around the clock customer services staff or constantly answer the messages yourself.
2. Authenticity
As we can see with VB's bot, the customer is immediately provided with human-like conversation, which is more informal than other methods of communication typical between vendor and consumer. This makes the brand seem more authentic, builds up a rapport with the customers and adds to the online experience of the customer.
3. Providing your customers with important information
Whilst this is far from the most exciting aspect of adding a bot to your page, we found it interesting that Victoria had decided to add her privacy statement to her bot. This is a very practical way to share important information with your customers. You could also include your terms and conditions here.
4. Building brand awareness
Much like a catch up with friends, bot conversation provides you with the opportunity to tell your audience what you and your business have been up to. In three simple messages here we learn that Victoria has a new collection out, that the company is 10 years old and that they have taken part in LFW for the first time in 2018. This is a great way to draw customers in.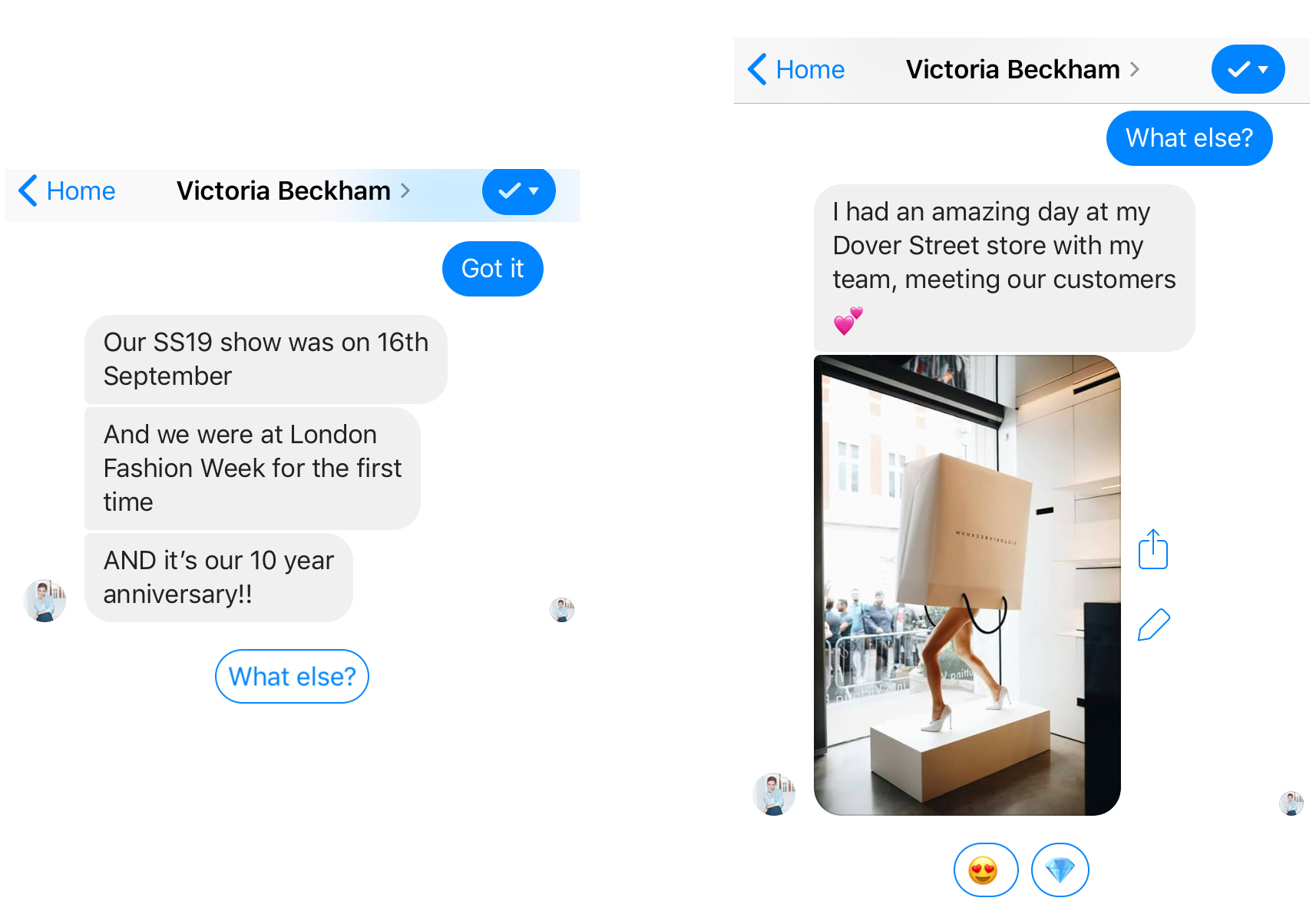 5. Driving sales
Due to the conversational nature of bots you can gently coax customers to your purchase pages without it feeling like a sales pitch. VB's bot appeals to people no matter where in the sales funnel they are (cold, warm or hot) and gently moves them towards purchase pages and products in the hope of conversion but without coming across as pushy.
6. Augmented reality
Whilst the rest of the conversation has been an excellent piece of craftsmanship, gently transporting the customer down the sales funnel, the final part of VB's bot has blown us away! Not only has she made it easy for customers to visit her product pages, she has also incorporated augmented reality, allowing potential customers to try on her recently released sunglasses. This feature is not available to all businesses yet, and will inevitably only work for certain business types, however this is definitely a game changer for online shopping and you should all be keeping your eyes out for it!
Not only does Victoria's bot have these six benefits, but we also like how we came across it via an advert including a call-to-action button that took us to her Messenger bot. This is a fantastic reminder of how diverse Facebook ads are and how you should always consider using a variety of objectives to drive revenue.
We hope this encourages you to consider the ways in which a bot could help your business and we'd love to hear of any amazing bots you've come across in the comments below!