Grab your hats ladies and gentlemen, it's the news we've been waiting for. As promised, video chat has now been rolled out to Direct, Instagram's messaging platform. Not only this, but we have also been gifted with topic channels in Explore and new camera and music effects for Stories.
Here's what you need to know:
Video chat comes to Instagram Direct
You can now video chat with anyone you have an active Direct thread with on Instagram – this can be one-on-one or as part of a group of up to four people through Instagram Direct. This includes real time video which allows you to connect across both iOS and Android. If there's an active chat in a group thread the camera icon will turn blue. Tap this to join and then tap the red phone icon at the bottom to leave the video chat.
To get started, open a message thread in your Direct Inbox and tap the camera icon in the right corner. Similar to Facebook's video chat, once you're connected you can minimise the video so that you can multitask.
Topic channels on Explore
You can now use Explore with more intent to connect with relevant people and to discover your interests and see accounts you want to follow via its new topic channels.
When you open the Explore page a tray at the top will offer personalised channels such as 'For You' which is tailored to your interests, and other topical channels such as Art, Beauty, Fashion and Sports. You will also be provided with a list of hashtags to browse through. This is aimed at making it easier for you to find posts and accounts relevant to you that you would want to follow.
When you select an interest group you can delve further into it by scrolling up. You can also mute interest groups that you wish to remove from your menu. This will not permanently delete the interest group but will send it to the end of the tray where you have the option to un-mute it later.
New camera effects for Stories
The final update to Instagram this week is a new series of camera effects designed by Buzzfeed, Ariana Grande, Liza Koshy, Baby Ariel and NBA in the Instagram camera. If you follow any of these accounts, you can tap the face icon at the bottom right corner to add them to your camera. If you don't follow them but still want the effects, you can tap to try it and add it to your camera.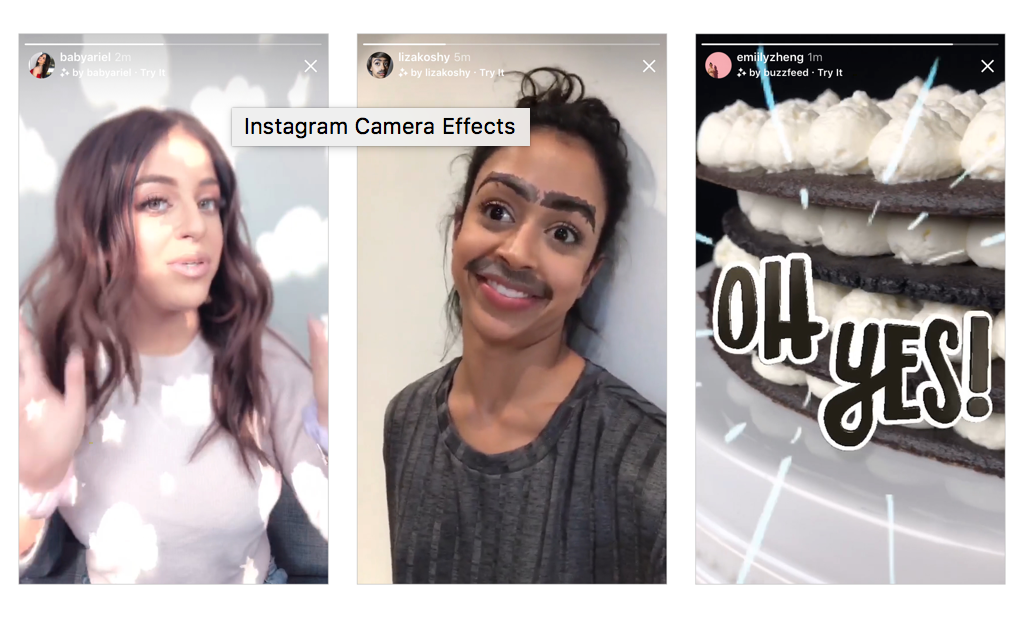 Music in Stories
You can now add a soundtrack to your Story! When you tap to add a sticker to a photo or video there is now a music icon too – by tapping it you are taken to a music library which has thousands of songs. You can search for specific songs, see what's popular or browse by mood. You can also select which part of the song plays over your story, as well as select the song before or after you record your video (iOS).
We suggest you get onto Insta and start having some fun (we will be)!