Reaching valuable customers who are likely to engage with your brand is the dream for Google advertisers. But this can be tricky to achieve at scale – how can you ensure that your ads are consistently finding individuals who are ready to click and convert?
(The answer is closer than you might think.)
With Google Remarketing ads, you can effectively target red-hot prospects who are already familiar with your brand and product offering.
These retargeting campaigns allow you to reach users who have already visited your website or interacted with your ads, meaning you can connect with pre-qualified audiences who are infinitely more likely to convert.
We're about to explain how you can set up ultra-efficient Google Remarketing ads and utilise these campaigns to achieve your key business objectives.
What are Google Remarketing ads?
Google Remarketing ads are designed to target individuals who have already interacted or engaged with your advertising in some capacity.
This interaction could be a simple page visit or a particular action like cart abandonment or a checkout click.
You can use Google Remarketing tactics in different ways, depending on your campaign message and the types of users that you're looking to reach.
For example, if you're just trying to encourage prospects to return to your website or engage with your brand, you might target all individuals who have recently visited your homepage.
But if you're keen to drive cost-efficient sales, you can segment users who have reached a specific product page or checkout. Your Remarketing strategy can be as broad or as granular as you'd like, depending on your objectives.
The bottom line is that Google Remarketing enables advertisers to reach warm prospects who have already expressed an interest in their business.
Rather than trying to generate sales from a colossal audience of new prospects, you can increase efficiency by targeting users who are naturally more likely to convert.
The different types of Remarketing campaigns
'Remarketing' is a fairly broad term, but there are various ways that you can leverage retargeting tactics to achieve your goals with Google Ads.
Below are a few different types of Remarketing campaigns that you can launch across the Google advertising network:
Standard Google Remarketing: Allows you to serve retargeting ads to previous website visitors across the Google Display Network.
Dynamic Google Remarketing: Allows you to serve dynamic Google ads to previous website visitors, based on specific products or services they viewed.
Google Search Remarketing: Allows you to serve Google Search ads to previous website visitors while they're using the Search Network.
Mobile App Remarketing: Allows you to retarget users who have downloaded your mobile app or visited your mobile website.
Google Video Remarketing: Allows you to retarget users who have engaged with your YouTube channel or video content across YouTube and Display ads.
Email List Remarketing: Allows you to upload a customer email address list (i.e. Customer Match) and target these users through Google Ads on Google Search, YouTube, and Gmail.
The type of Remarketing strategy that you employ will have a direct impact on the types of audiences that you reach. It's important to think carefully about who you want to reach with retargeting ads and the kind of message that you'll be delivering to them.
You can also experiment with multiple Remarketing tactics to find out which segments and Google ads drive the best returns!
How does Remarketing work on Google?
Google Remarketing has massive potential for online advertisers, enabling them to rapidly increase efficiency and drive valuable conversions.
So how do these Remarketing campaigns actually work? Some kind of digital marketing black magic? A secret piece of advanced technology hidden away at Google HQ?
Not quite.
Google Remarketing uses a tiny piece of code (also known as a retargeting tag) that can be implemented on different website pages.
These tags collect precious data from visiting users (if they've granted tracking permission) that can then be used to build Remarketing segments. For example, you can implement a Remarketing tag on your homepage, your product pages, and your checkout page.
Users who have only visited your homepage may respond well to a softer campaign message (e.g. come back to learn more) while users who have reached the checkout are likely to be receptive to a harder product-led sales ad.
Setting up smart website tags and building a data-driven strategy around them is key to success with Google Remarketing ads.
What are the benefits of Google Remarketing ads?
Now that we've covered the basics of Google Remarketing ads, let's explore why they can be so incredibly effective for digital advertisers.
They enable you to reach hot prospects
This may seem like an obvious benefit, but its importance cannot be overstated.
The ability to target hot prospects who are already familiar with your brand is extremely useful for marketers.
Since these users are inherently more likely to convert, you can dramatically improve the efficiency of your ad spend and skyrocket your conversion rates.
Rather than taking a 'scattergun' approach to your marketing and hoping that a few individuals will buy, you can target with confidence and leverage granular data to build more effective segments.
All of this leads to a superior ROI for your Google Ads campaigns, which is great news for your business. Better quality targeting leads to better Google Ads performance – and that's what retargeting is all about.
They can improve the customer experience
Google Remarketing ads can also help you to enhance the user experience, benefiting your customers and improving your brand image.
Retargeting ads (and particularly dynamic ads) feel infinitely more personalised than standard Google ads since they're based on real behaviours.
When an ad is tailored to your specific actions, you're more likely to pay attention to it, and attention is a valuable commodity in the world of digital marketing.
Users may also feel more recognised by your business when you target personalised ads towards them. If you're clever with your Remarketing tactics and your accompanying ad copy, you can make your campaigns feel like they've been created for each individual user, which reflects well on your brand.
If an ad is highly relevant and customer-centric, it's going to deliver more clicks and conversions than a generic message.
They're highly versatile
Google Remarketing ads are great for supercharging your conversion rate – but they also open up a lot of opportunities for smarter marketing.
You can leverage various Remarketing strategies to achieve a range of different objectives, tailoring your audience segmentation and messaging to your goals.
For example, if audiences have visited your website but missed important content (e.g. product demonstrations, FAQs) then you can nudge them in the right direction by setting up relevant segments. You can also exclude less-warm prospects from your sales-led campaigns, meaning you won't come across as pushy to newer customers.
By maximising the data available through Google Remarketing, you can optimise the efficiency of your ads and set up versatile campaigns that are more relevant.
Setting your Google Ads Remarketing campaign goals
If you want to generate optimal results through Google Remarketing ads, you need to establish clear campaign goals that align with your business priorities.
There are several different types of Remarketing tactics and campaign objectives that you might pursue. Here are some examples of common retargeting goals:
Targeting individuals who visited your website but didn't perform a specific action – you can target these audiences to warm up new leads and encourage repeat site visits.
Targeting individuals who reached the checkout but didn't complete a purchase – you can target these audiences to nudge conversions over the line and boost product sales.
Targeting individuals who have visited your website but missed a crucial page – you can target these audiences to promote important content or a specific section.
You need to identify the key action that you'd like your Remarketing audiences to complete on your website. After you establish this, you can set up the right website tags, audience segments, and ad creatives to achieve your target.
Before you create remarketing ads, think carefully about the following questions:
Which website pages require a Google Ads tag?
What types of Remarketing audiences do I want to create?
How can I create ads that will resonate with these segments?
What does the full end-to-end customer journey look like?
How will I gauge the success of my Remarketing ads?
Once you have a clearer understanding of your core objective, you'll be in a good position to set up a highly effective and profitable Remarketing strategy.
How to create Remarketing lists
The first step to launching a successful Remarketing campaign is setting up a retargeting audience list. This list will contain all of the prospects that are eligible for Remarketing through the Google Ads network.
Let's take a look at how you can create your first Google Remarketing list.
1. Access your Google Ads audiences
Start by logging in to your Google Ads account and clicking the 'Tools & Settings' menu at the top of the screen.

Hit 'Shared Library' and then click the 'Audience manager' option. From here you'll be able to view your previously created Google audiences, as well as set up new segments. 

You can also double-check your website tags from this section and ensure that the code is properly installed across the necessary pages on your website. This is crucial to running successful Remarketing ads, so make sure that your tags are firing on all cylinders!
(Plus, you can also manage any negative keywords and campaign placement exclusions from this same 'Shared Library' menu.)
2. Set up your Google Remarketing audience
Click on the 'Audience Manager' option and then select 'Audience Lists'.
You'll now be able to set up and populate various types of Remarketing audiences. Let's look at creating a basic 'Website Visitor' segment as an example.
To build a new audience list, hit the blue '+' button and select 'Website Visitors'. A new page will open, prompting you to enter a few key details about your new segment.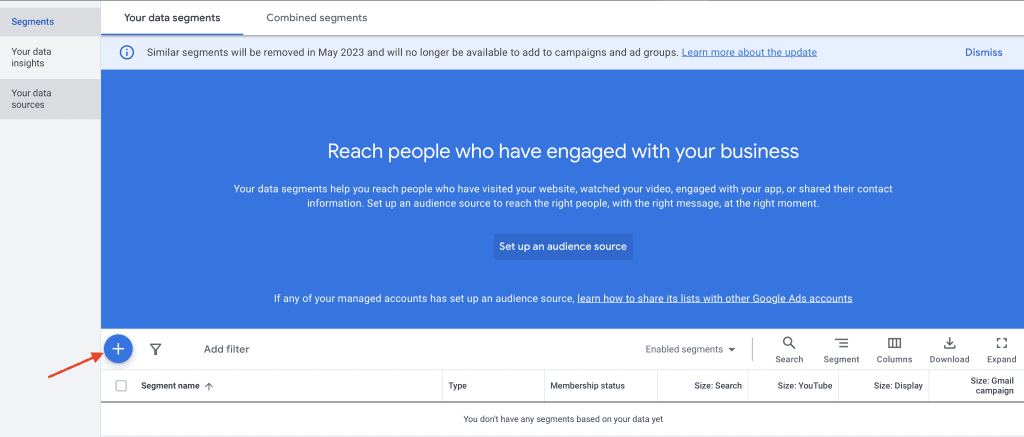 Start by entering a memorable name for your audience – this is particularly important if you'll be running multiple Remarketing segments! A self-explanatory name (e.g. Home Page, Cart Abandonment) can be a smart idea for quick access.
Next, hit the 'List Members' drop-down menu and choose a template. Here you can include all visitors who landed on a specific website page or insert additional parameters such as specific dates or multiple page visitors.
You'll also be able to set up rules for your new audience list. For example, you might only want to set up retargeting ads for pages with specific keywords if you're keen to promote a certain product.
Finally, it's time to establish the size of your Remarketing audience. You can begin populating an empty list or target relevant visitors from the last 30 days. You'll also need to confirm how long you'd like individuals to remain on your retargeting list, with a maximum membership duration of 540 days.

Once you're ready to create your new Google Remarketing ads audience, just hit 'Create Audience' to finalise the process.
How to launch a Google Remarketing campaign
You're now equipped with a brand new Google Remarketing audience list, primed and ready for targeting.
Exciting stuff, eh?
It's now time to explain how you can set up and launch a retargeting ad campaign to begin converting these high-value prospects.
1. Confirm your Google campaign type and goal
Log in to your Google Ads account and hit 'Campaigns' in the top left menu.

Click the '+' button to begin setting up a new campaign. The first thing you'll need to do is select a goal for your campaign based on the following options:

Sales
Leads
Website Traffic
Product/Brand Consideration
Brand Awareness
App Promotion
No Goal
Choose the option that aligns with your core business objective and then select 'Display' as your campaign type.
2. Set up your ad campaign details
You'll now be taken to a new page where you'll be prompted to confirm a few campaign parameters.
Complete all of the necessary fields on this page, entering information about your campaign name, location and language, bid strategy, campaign budget, and ad schedule.
If you want to access more advanced options (i.e. Content Exclusions and Device Targeting) then click 'Additional Settings' to make these tweaks. Once you've filled in all of these details, you'll be ready to start utilising your new Remarketing audience.
3. Select your Remarketing audience
Remember the new Google Remarketing audience list that you created earlier?
It's time to put this segment into action.
Scroll down to the 'People' section of the campaign setup page and select 'Audiences'. From here, click 'Remarketing' and check the box next to your desired target audience.
Fill in some additional details about your audience targeting (e.g. demographics, ad group, bids) and then click 'Create Campaign' to wrap things up.
You're now ready to launch a brand new Google Remarketing ads campaign and harness the power of data-driven retargeting.
Optimising your Google Remarketing ad campaigns
So, you've now successfully built a new Remarketing audience and set up your Google Ads campaign.
Time to stick the kettle on, put your feet up, and watch the conversions roll in – right?
Well, not exactly. Launching your Google Remarketing campaign is just half the battle.
Once your activity is live, you'll also need to stay diligent with campaign measurement and ad optimisations to ensure that you're driving optimal results.
Let's run through some expert optimisation strategies that you can implement to maximise the effectiveness of your ad spend.
Set up your website tags correctly
Setting up your Google website tags may seem like a bit of a chore, but these little snippets of code are the building blocks for your entire Remarketing campaign.
It's important to set up your website tags correctly, but it's also critical to ensure that you have enough tags in place to fuel your desired audiences.
Think carefully about the tactics that you'd like to employ and the tags you'll need to run them. Many advertisers will implement several different tags (i.e. homepage, product pages, checkout) and it's always better to be overly thorough than underprepared.
And remember – if you're not entirely confident about setting up your website tags, don't hesitate to get in touch with Google support or your account manager. Once you know that your tags are firing correctly, you can proceed to launch your campaign with confidence.
Experiment with dynamic ads
Google Remarketing ads can deliver exceptional results for digital advertisers.
Add some dynamic ad placements into the mix, and you'll have an extremely powerful Google Ads campaign on your hands.
Dynamic ads can take your retargeting efforts to the next level. Not only will your ads look and feel more personalised, but they can also showcase products that are more likely to generate conversions.
For example, let's say that you're retargeting a prospect who added a specific product to their basket but abandoned the cart. You can either retarget them with a generic message or serve them the exact product they were interested in – which is more likely to drive a sale?
Setting up dynamic Google Remarketing ads takes a little bit more effort, but the results can be mind-blowing.
Test, test, and then test again
Finally, make sure that you're constantly testing out new Remarketing tactics to fully optimise your campaigns and refine your strategy.
There are many different variables that you can test and tweak within a Remarketing campaign, including:
Ad Testing – experiment with different creative assets, and tailor your headlines to your Remarketing audiences.
Frequency Testing – test out different frequency caps to understand the optimal ad exposure for your audience.
Landing Page Testing – setting up a convenient user journey is key to success, so use A/B testing to figure out the best landing pages to drive action.
You can also test out different Remarketing segments (e.g. from different website pages and time periods) to optimise ad performance.
The more tests you can run throughout your campaign, the more performance data you'll be able to gather. The more data you have, the better your optimisations will be.
Tracking the performance of your Google ads
When it comes to monitoring the performance of your Google Remarketing ads, Google Analytics is your best friend.
You can utilise the Google Analytics platform to measure key campaign metrics like impressions, clicks, CTRs, and conversions.
You can also build custom report templates within Google Analytics that highlight your priority metrics. Focusing on the most important data points is crucial to implementing the right optimisations, so make sure that you're comfortable with using the Google Analytics account
Getting started with Google Remarketing ads
Keen to launch your very own high-performing Google Remarketing ads?
Below are some handy Google advertising resources that will help you to set up an effective campaign and maximise the efficiency of your ad spend.
Setting up Google Remarketing tags
Creating custom Google Analytics reports
Building Google Web Visitor audiences
Google Remarketing ads can be exceptionally effective for digital advertisers.
Not only can retargeting strategies be a game-changer for your conversion rates, but they can also enhance the customer experience and open up valuable opportunities for testing.
Just make sure to set up your Remarketing tags correctly, and you'll be on track to deliver some jaw-dropping results.