Thinking of investing in Pinterest advertising?
This highly visual platform offers e-commerce advertisers some exciting features – impactful ad formats, active audiences and plenty of opportunities for creative executions.
What's not to like?
Well, there is one big question that needs answering before you dive head-first into the world of Pinterest marketing.
Do Pinterest ads actually work?
To put your mind at ease, we're going to tackle this very question.
In this guide, we'll cover the basics of advertising on Pinterest, how the platform can contribute to your business goals, and whether or not it's worth the investment. Let's go!
Hitting your targets and KPIs
Successful paid social activity needs to help tackle your campaign targets and crush your media KPIs.
So how can Pinterest ads help you to achieve your business goals?
A major strength of the platform is its engaged audience. Because Pinterest is designed for easy content discovery and exploration, many users are open to finding new brands and products.
Need convincing?
97% of the top searches on Pinterest are unbranded.
That means the majority of Pinterest users aren't hunting for a specific product or company. They're looking to discover fresh and exciting brands to purchase from. Hint hint.
You can also utilise Pinterest to target prospects across the full sales funnel and achieve a wide range of objectives.
Since so many users are browsing the platform for fresh ideas and products, there are plenty of opportunities to boost brand awareness among your target audience.
At the top of the funnel, advertisers can reach new prospects who are receptive to advertising and actively seeking out inspiration.
New customers can be targeted with relevant and quality products to try, and advertisers are able to increase familiarity with their brand name and services. Everybody wins.
Pinterest can also help advertisers to secure consistent conversions at the bottom of the funnel.
The targeting options available on the platform enable you to identify and target warmer prospects, who are searching with more intent and not just browsing for inspiration.
For example, Promoted Pins allow brands to target specific keywords and audience interests. This allows you to reach potential customers displaying clear interest in your category and products, which is a great way to boost your conversions.
With the right marketing strategy in place, Pinterest empowers advertisers to nail their key business objectives and reach profitable audiences.
Who is the Pinterest audience?
The Pinterest platform has grown a highly engaged user base.
But what's the size of the Pinterest audience? And why are these users so valuable for e-commerce advertisers?
How big is the Pinterest audience?
Pinterest currently has 459 million monthly active users.
The platform is also growing in popularity. It gained more than 100 million new users in 2020, leading to a 37% increase in monthly users between 2019 and 2020.
Although the scale of the Pinterest audience can't compete with the likes of Facebook, it still boasts a sizable user base that can deliver outstanding results for advertisers.
The Pinterest audience is also diverse, allowing brands to target a range of different demographics and shoppers.
Male and Gen Z user numbers have increased by 40% year on year, and as the audience continues to diversify, brands will have access to a wider variety of customer types.
What's special about the Pinterest audience?
The Pinterest audience is unique, and the way they engage with the platform opens up promising opportunities for e-commerce advertisers.
For example, 61% of users say they visit Pinterest when starting a new project.
This is a great opportunity to demonstrate the value your brand can offer, and show prospects how your products can support their personal projects. Users seek out Pinterest inspiration for various different projects, from interior renovations to home cooking.
46% of users also claim that they've discovered a new brand or product on Pinterest.
This is a killer statistic for e-commerce advertisers. Users are willing and ready to explore new products and commit to a purchase. You just need to employ the right strategy to position your products in the best places!
The Pinterest audience offers significant scale, along with a passion for discovering new brands. Both are major benefits when it comes to running successful ad campaigns.
What types of businesses can benefit from Pinterest advertising?
It's clear that Pinterest users are ready to engage with new ideas, and the platform also enables advertisers to deliver full-funnel campaigns. This is all good stuff.
But what types of businesses can take full advantage of Pinterest advertising?
The answer is e-commerce businesses, which are in a great position to capitalise for a few different reasons.
Pinterest creates a smooth online customer experience
For one thing, the design of the Pinterest platform allows e-commerce businesses to effectively increase clicks and conversions.
Shopping Pins sit right alongside organic content, making it easy for users to interact with your ads and visit your website within a couple of clicks.
Pinterest formats like Shopping Ads are also a dream for e-commerce brands looking to drive sales. These ads enable users to instantly purchase advertised products through the platform.
E-commerce brands can effectively showcase products
Pinterest is a highly visual platform, providing e-commerce brands with the perfect stage to showcase their products on.
All of the Pinterest ad formats are heavily geared towards strong imagery, which can deliver sky-high levels of user engagement.
Ad formats also blend in seamlessly with user content in the home feed, helping businesses to display products in a non-intrusive and organic environment. If e-commerce advertisers can utilise high-quality assets and compelling CTAs, they can thrive on the Pinterest platform.
Audiences are ready to spend with e-commerce brands
Pinterest audiences are also ready and willing to purchase from e-commerce businesses.
According to Pinterest, Pinterest users are just as likely to purchase as users from other social channels. A good sign. But it gets better.
Pinterest shoppers also spend 50% more on average when compared to other social channels.
If that statistic doesn't get you excited about the potential for Pinterest advertising, we're not sure what will.
Why does Pinterest advertising work?
Pinterest advertising clearly resonates with audiences on the platform, opening up golden opportunities for increased revenue and fruitful campaigns.
So what is it about Pinterest ads that makes them so effective?
A diverse range of formats
The diverse range of formats available on the Pinterest platform makes it easy for advertisers to keep their campaigns fresh and impactful.
More standard placements (i.e. Video Pins and Image Pins) can be used to boost brand awareness and build visibility among target audiences.
However, more innovative formats can also make a positive contribution to campaigns.
Carousel ads are excellent for displaying a range of different products, encouraging users to swipe through multiple items and driving high levels of engagement.
Collections ads can also capture the attention of your audience, showcasing several different products within a single placement. This makes it incredibly easy for you to exhibit your wares and makes it even easier for users to save or purchase them.
The ability to run a combination of effective formats is a big part of what makes Pinterest advertising so effective.
Easily accessible analytics
Another benefit of Pinterest advertising is easy access to important campaign analytics through the Ads Manager.
The Pinterest Analytics Dashboard allows advertisers to monitor performance and check on key metrics such as:
Impressions
Audience reach
Promoted Pin ads taps/clicks
Promoted Pin saves
Outbound link clicks
The ability to review analytics quickly and easily is crucial to making effective optimisations and shifting budgets towards better performing tactics. This is vital when trying to achieve the best results with your campaign budget.
Pinterest is a visual search engine
You may know Pinterest as a social media platform, but it's also a visual search engine.
Why is that important when looking at ad performance?
Because the platform functions as a search engine, brands can also optimise their activity in the same way they would with Google advertising.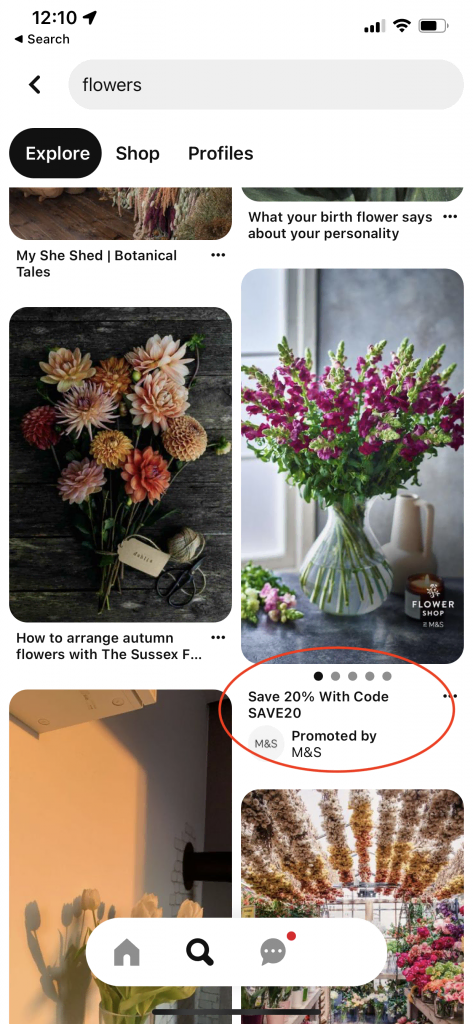 That means plenty of opportunities for smart adjustments that can lead to jaw-dropping improvements.
For example, advertisers can pack their profiles and ad copy with relevant keywords. This improves visibility and rankings in search results, making it much easier for prospects to discover their brands and make a purchase.
Advertisers can also enable a 'sharing' functionality on their websites, nudging users to post product links and images to Pinterest.
This encourages increased organic Pin posting and sharing, which leads to higher levels of natural engagement, which then leads to a higher ranking in Pinterest search results.
Savvy brands will make the most of the search engine aspect of Pinterest and can optimise their activity to deliver superior results.
Are Pinterest ads worth the investment?
There is clearly a wide range of benefits when it comes to Pinterest advertising. But is a campaign really worth the investment?
Let's start with a couple of real-life case studies.
Jonas Paul Eyewear used Pinterest to boost online sales of their glasses.
They managed to reduce their Pinterest ads cost per click by 32% when compared to other social networks, and also achieved a 65% increase in average order values. Not bad.
This is a solid example of delivering a cost-efficient ad campaign on the Pinterest platform.
Another example is Wildfish Cannery, which started using Pinterest Shopping ads to advertise its sustainable food products.
They uploaded their entire product catalogue to the platform, hoping to deliver increased sales. They managed to deliver a 5x ROAS during the campaign, achieving more efficient conversions and making their marketing budget work harder.
Pinterest campaigns can deliver a glowing ROI for e-commerce businesses like yours. They can even outperform other established social media platforms.
You just need to focus on the correct target audiences, refine your creative assets, and make effective optimisations.
If you're interested in exploring different Pinterest case studies, you can discover more here.
Getting started with Pinterest ads
Persuaded by the commercial benefits that Pinterest offers?
Good to hear.
Now, let's take a look at how you can get started with a Pinterest ad campaign.
First things first, you'll need to create a Pinterest business account and enter some personal details to set up your profile.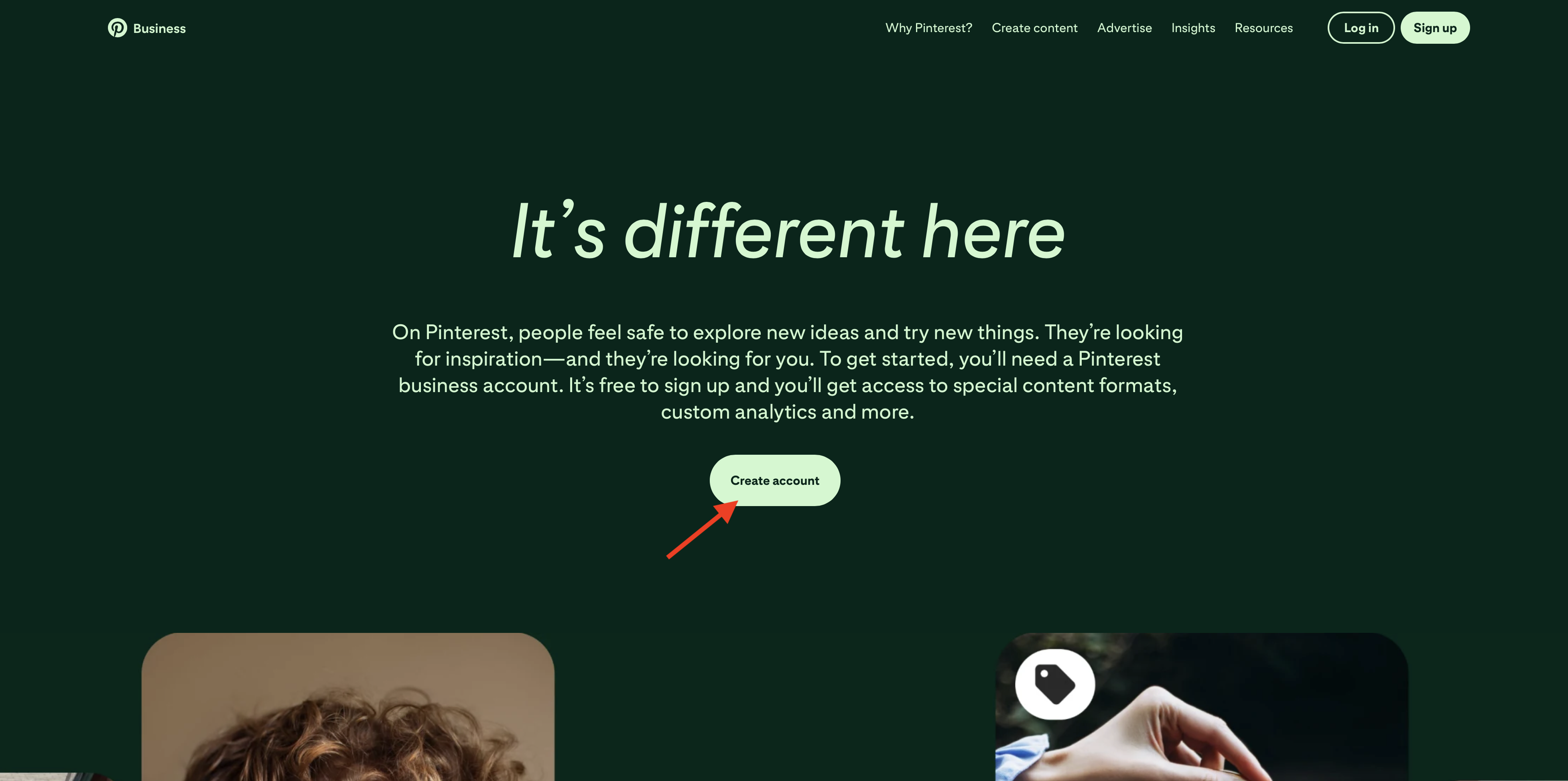 You'll then need to select some content categories that align with your business. From here, you can start populating your profile with Pins and organise organic content into boards.
Congratulations – your brand is now live on Pinterest!
Once you've created your profile, it's super easy to launch your first ad campaign.
Just hit Ads at the top of the screen, and then Create Ad. Select your desired objective, and then fill out some details about your campaign (audience, budget, schedule, etc).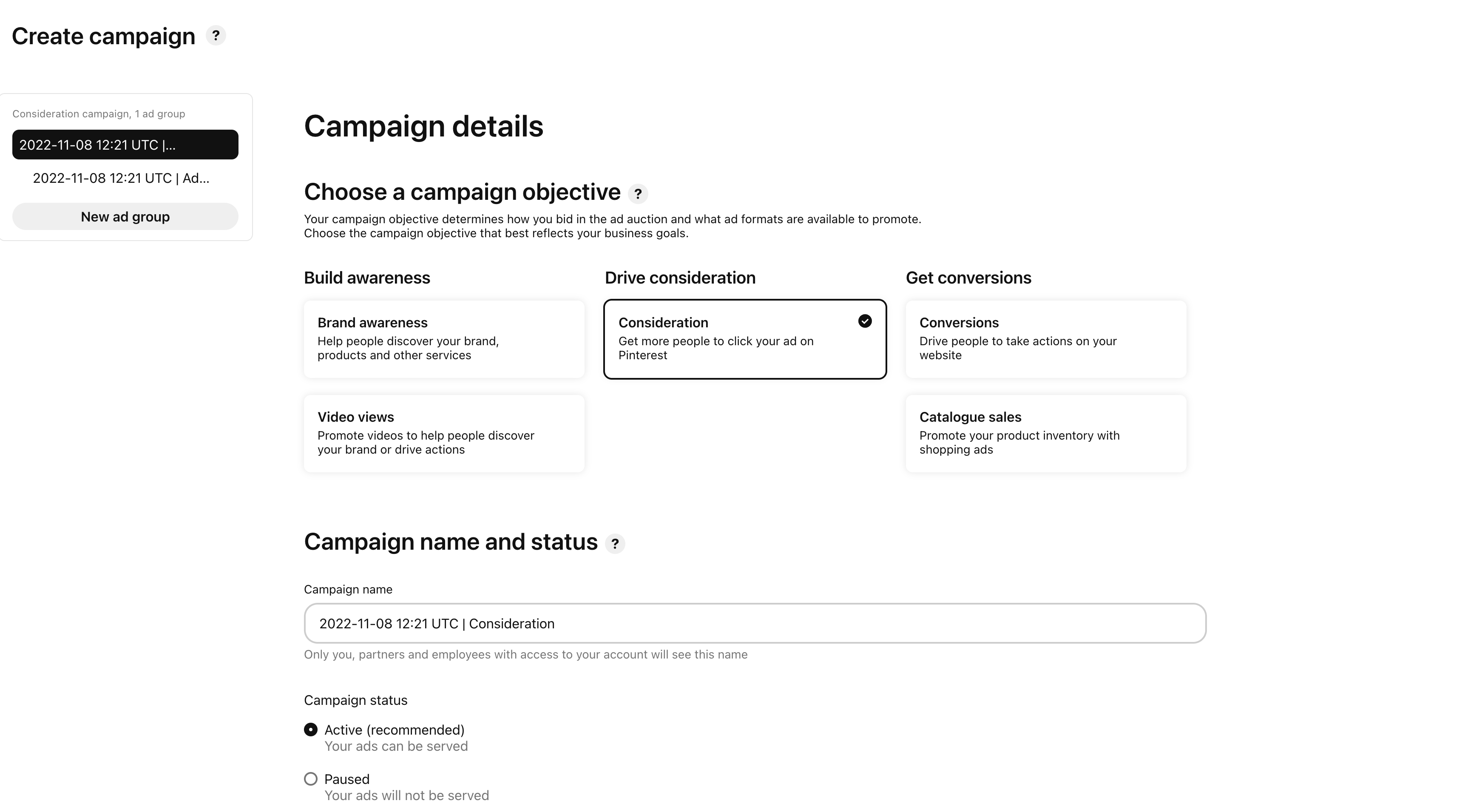 Select 'Continue' and then set up your Ad Groups. Ad Groups allow you to split out multiple segments that run different audiences, budgets and creative assets. Once you've finished here, you're ready to go.
Take a look at the Pinterest Help Centre if you need any further info.
Pinterest is a unique social media platform, with a plethora of advertising opportunities for e-commerce brands.
It can deliver truly outstanding performance for online advertisers. The design of the platform lends itself to high levels of user engagement and eye-catching creative assets.
To make Pinterest ads work for your business you'll just need a solid strategy in place – fuelled by quality ad content and accurate audience targeting.
If you can tick all of these boxes, you're in for some impressive Pinterest results!