There's a lot to think about when you're launching Pinterest marketing.
Target audiences, bidding strategies, ad formats – these are all vital components of a successful Pinterest ads campaign.
But if you're keen to knock your business goals out of the park, you'll need to think beyond the initial launch of your Promoted Pins and organic posts.
If you want to optimise your ads, improve your returns, and refine your Pinterest strategy, you'll need to tap into in-depth performance data and monitor the delivery of your campaign.
And that's where the Pinterest Analytics tool comes into play.
We're about to explain how you can access Pinterest analytics for your campaigns and rapidly improve Pin performance on the platform. Let's get going.
What is Pinterest Analytics?
Pinterest Analytics is your one-stop shop for all things measurement, tracking, and reporting on the Pinterest platform.
The platform provides brands with a huge amount of insights and information about the performance of their Pinterest marketing activity, including both organic posts and paid ads.
By using Pinterest Analytics, marketers can access highly valuable data about ad delivery, content performance, and website analytics. Businesses can also review various Pinterest marketing metrics, including:
Pin Impressions
Engagements
Pin Clicks
Video Views
CTR
Audience Reach
To view the Pinterest Analytics dashboard, you'll just need a Pinterest business account.
If you're running any form of marketing activity on the platform, accessing analytics is a must. Understanding how to utilise the tool and gather the right metrics to track is fundamental to success.
Why use Pinterest Analytics?
So what are the primary benefits of using Pinterest Analytics for advertisers?
Well, the answer is quite simple.
If you want to improve the performance of your Pinterest marketing efforts, from organic posts to Promoted Pins, then you'll need to make smart and decisive optimisations.
The tool provides you with all of the data and insights you need to effectively optimise your ads and understand how your Pins are performing.
Pinterest Analytics allows you to quickly identify your top-performing Pins and gather valuable learnings about your campaigns. You can then leverage these insights to fuel your content approach, refine your Pinterest audience targeting, and improve your Pinterest ROI.
If you want to run Pinterest marketing campaigns that deliver optimal results and maximise the impact of your budget, then utilising Pinterest Analytics is key.
Key terms you need to know
Before we dive deeper into the Pinterest Analytics platform, let's take a step back and review a few of the key terms that you'll likely come across on your marketing journey.
It's important to wrap your head around these phrases so that you can immediately understand your Pinterest metrics and get straight to the most valuable data.
Pinterest Account Overview
When you first begin using it, you'll be greeted with a full overview of your Pinterest marketing performance.
This profile overview screen will provide you with several key pieces of information, including your total Pinterest impressions and your Pin viewers.
This overview is a handy place to assess your Pinterest performance at a quick glance. For example, if you're seeing high volumes of Pinterest impressions but low numbers of views, then you may need to work on creating more engaging Pins.
However, if you're seeing high views but low impressions, you'll need to improve the visibility of your Pins through SEO.
Checking the Pinterest account overview will give you an instant snapshot of your marketing performance, and can help you to diagnose potential issues as quickly as possible.
Audience Growth
You'll also see the term 'Audience Growth' popping up frequently.
Nurturing and expanding your audience is super important on Pinterest.
If you want to engage prospects and build your brand identity through organic marketing, then you'll need to steadily grow your audience over time and attract new followers.
Pinterest tracks 'followers' in the same way as other social media networks. The platform will notify you when new Pinterest users follow your account or boards, and you'll be able to monitor Audience Growth through Pinterest Analytics reports.
Audience Growth data can be hugely useful when you're trying to optimise your marketing strategy or identify your best performing Pins.
You may notice that a certain type of Pin content is generating more followers, or discover the optimal number of times to post organic content to attract Pinterest users.
Pin Performance
Whether you're launching highly targeted paid advertising campaigns or setting up a Pinterest organic content calendar, your messages will be delivered through individual Pins.
As a result, tracking Pin Performance is crucial to success on the platform.
Pin Performance refers to the performance of your individual Pins, and understanding these key metrics is vital if you want to consistently improve your ROI.
You'll be able to review two different types of Pins:
Pins – original Pins that you've scheduled or posted to the Pinterest platform.
Saves – Pins that you've saved to your own Pinterest boards.
For both Pins and Saves you'll be able to track the number of comments, saves and clicks that have been generated. The dashboard will also highlight your Top Pins, which are the posts that have delivered the highest numbers of saves or clicks.
Website Pins
Website Pins refer to Pins that have been posted from your website – in other words, Pins that you've uploaded directly to the platform.
You can use the analytics to identify your most popular Pins based on the number of impressions, clicks and saves that they've achieved.
The 'Website' section of your native analytics screen will provide you with valuable insights on your Website Pins, which can help you to optimise your Pinterest strategy and identify the type of content that's resonating with your target audience.
You can also open the 'All Time' section of this screen to review your Power Pins – these are your best-performing Pins that have driven the highest numbers of saves, clicks, and Repins overall.
Audience Insights
It's crucial to keep a close eye on the performance of your Pins – but it's equally important to analyse the Pinterest users who are viewing and engaging with your posts.
Pinterest Analytics provides brands with detailed Audience Insights that can help them to understand more about the individuals who are interacting with their Pins.
For example, you can use Audience Insights to analyse the types of users that you're currently reaching, including their top categories and most common interests. You can also compare this to the wider Pinterest population, and identify the interest categories and popular keywords associated with different audience segments.
You can then use this data to improve your own content strategy, tailoring your communications around the subjects and topics that interest your target audience.
Audience Insights also provides more detailed breakdowns of demographics and device usage, which can help you to paint a clearer picture of your Pinterest audience.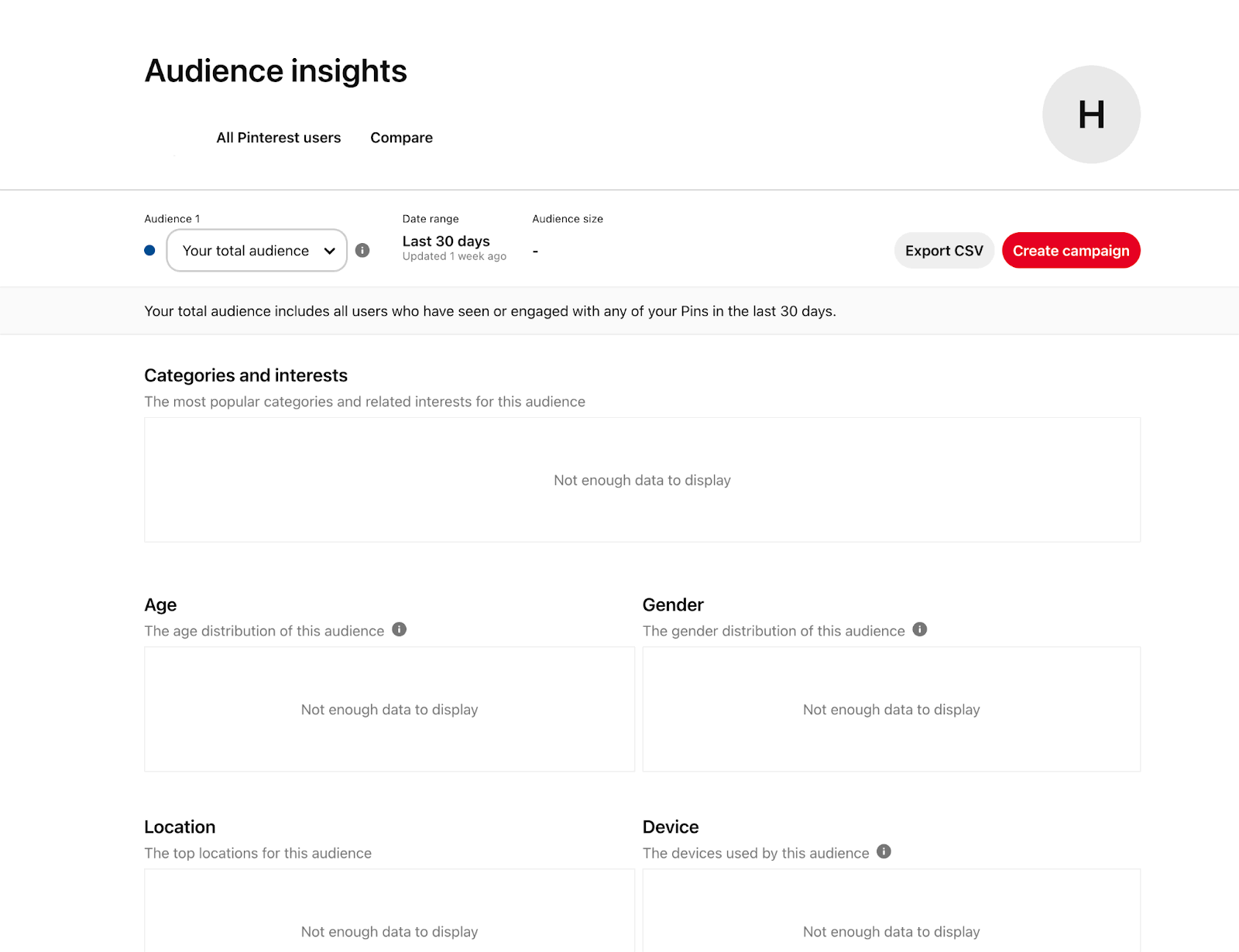 How to access Pinterest Analytics
Now that you're familiar with a few of the key terms, it's time to explain how you can begin accessing the tool yourself.
There are two different ways to use Pinterest Analytics – through your desktop browser or through your mobile device.
Desktop
To get access on your desktop, log in to your Pinterest business account and click 'Analytics' in the top left corner of the page.
Hover over the drop-down menu, and select 'Overview' to get started.
You can use the Overview page for a quick summary of your key metrics, but if you want to check more specific pages (e.g. Audience Insights, Conversion Insights) just hit 'Analytics' for different options.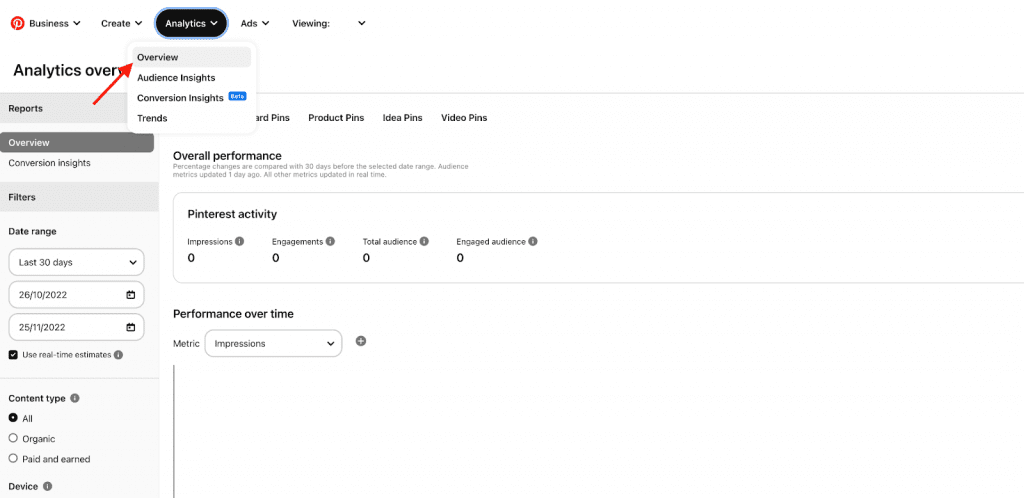 Mobile
To get access on your mobile device, open the Pinterest app and tap your profile photo at the bottom right of the screen.
Scroll down until you find the 'Your Analytics' section of the app, and then tap 'See More' to begin reviewing your profile analytics.
You can open various analytics pages from here (e.g. Shop, Boards, Pins) but you can also tap 'Business Hub' from your profile page for quick access to these insights.
Understanding how to access and review data is important, but it's also just one half of the equation. Many brands find that partnering with a specialist Pinterest marketing agency is the best way to leverage these insights and enhance performance.
5 Pinterest metrics you need to track (and how to track them)
So, you now know how to log in to the dashboard and access different areas of the platform.
But what exactly should you be looking for? Which ad metrics and data points are going to be most useful for your marketing campaigns?
Let's run through 7 key metrics that you need to be tracking through Pinterest Analytics.
Impressions
Impressions highlight the number of times that your Pins have been served to users on the platform.
The more impressions that have been delivered, the more opportunities there've been for your target audience to view and engage with your Pins.
Impressions can be served in different areas of the Pinterest platform (e.g. home feed, search results, user boards) but it's more important to focus on the types of Pins that are gaining reach and visibility.
For example, if you've noticed that many of your top Pins are similar types of content, then this suggests that a large number of users are searching for related keywords.
By creating similar Pins based on these popular posts, you can rapidly increase the number of impressions that you're achieving. These insights can help to shape your content strategy, which is why impressions are so important to track!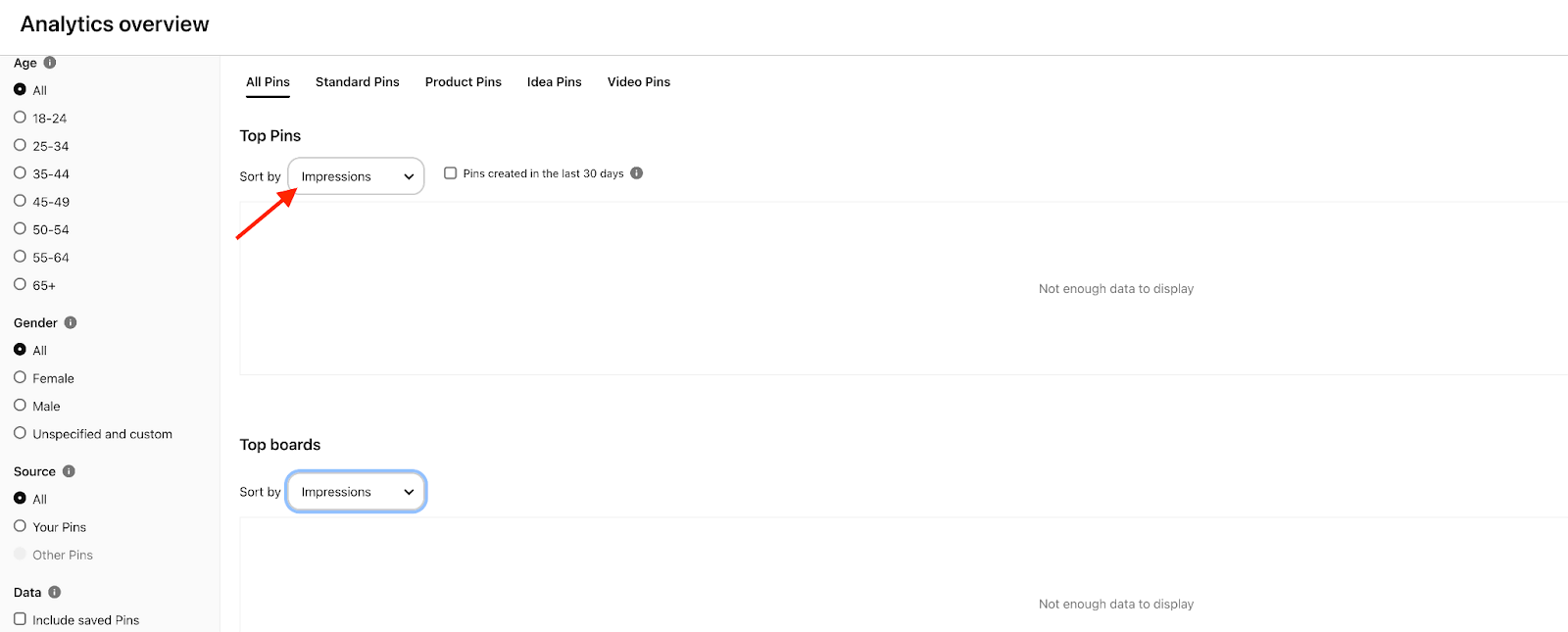 Closeups/Closeup Rate
Closeups measure how many times Pinterest users have clicked or tapped your Pins to zoom in on them.
If your audience is frequently zooming in on your Pins, it's a good indicator that your posts are attracting attention and encouraging users to take a closer look.
In simple terms, the more Closeups you're seeing, the more interesting your Pins are. It's a good idea to analyse the Pins that are generating the highest number of Closeups to understand what's engaging users and grabbing their attention.
If you want to check how your Closeups are performing overall, you can check your Closeup Rate to understand the percentage of Pins that have driven at least one Closeup to date.
Saves/Save Rate
Saves measure how many times a Pinterest user has saved one of your Pins to their personal boards.
This is a hugely important metric to follow on Pinterest because Saves clearly indicate how interesting, relevant, and engaging your content is for your target audience.
Saved Pins also appear on a user's feed, which is a brilliant way for your posts to gain additional exposure and increased organic reach.
You can also check your Save Rate percentage to understand how many Saves have been generated versus the number of times your Pins appeared on the screen.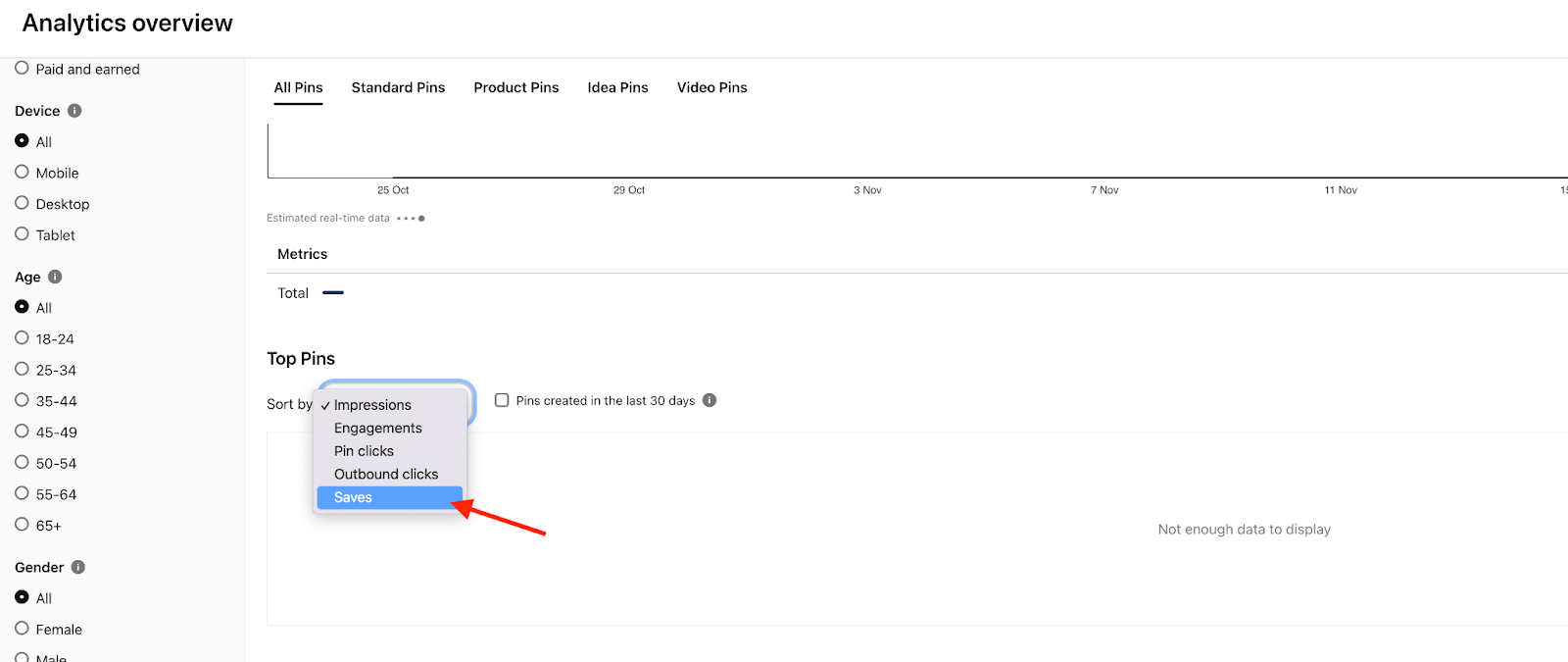 Link Clicks/Link Click Rate
If you're looking to drive quality website traffic through Pinterest marketing, then it's vital to track your Link Clicks.
Link Clicks measure how many times Pinterest users have clicked through to your landing page from a Pin.
Your Link Click rate also indicates the percentage of users that click through to your website after viewing your Pin. If you're familiar with the Click Through Rate (CTR) metric that's often used on other social media platforms, this is the Pinterest equivalent.
Link Clicks are directly correlated with page views and conversions, so this is undoubtedly one of the most important metrics to track.
Total Audience
The Total Audience metric highlights the total number of unique users that have been reached by your Pins and organic content.
You can select different date ranges to track your audience reach over time, which can be helpful for spotting trends and identifying patterns.

For example, if you've deployed a new keyword strategy, then you might want to check how this approach is impacting your audience reach and visibility.
3 key audience analytics metrics to track on Pinterest
We've just covered some of the broader marketing metrics that you should be tracking through Pinterest Analytics.
Now let's take a look at some more audience-focused metrics that are directly connected to your content strategy and Pin performance.
Demographics
Pinterest Analytics allows you to evaluate the demographic profile of your audience, including their age, gender, and location.
The more you understand about your Pinterest audience, the easier it becomes to tailor your content and Pin messaging around them.
Be sure to regularly check Demographic data to monitor any changes, and ensure that your content is always built with your target audience in mind.
Affinity
The Affinity metric highlights how much interest your audience has in a specific type of content.
The higher the Affinity percentage is, the more your audience is invested in a particular topic or subject.
Once again, this metric can be invaluable when you're trying to produce content that resonates with certain users. Make sure that you use Affinity data to fuel your content production – you can even use these insights to inform your Promoted Pin targeting.
Conversions
Conversion insights are key to understanding how Pinterest marketing is performing in terms of product sales, revenue, and ROAS.
If you're running both organic and paid marketing on Pinterest, you must understand which tactics are generating cost-efficient conversions.
You'll also be able to track which audience segments are delivering the bulk of your conversions, which can help to uncover insights around targeting and ad optimisation.
To make the most of Conversion insights, make sure that you have the correct tags and pixels implemented on your website. This will enable you to access in-depth performance data and easily identify your top Pins.
Smart tools to enhance your Pinterest strategy
If you're looking to take your Pinterest marketing efforts to the next level, it can be helpful to utilise specialist online tools.
There are many different tools and platforms available to advertisers that can help with creating content, driving traffic, and generating conversions.
Below are some of the most popular Pinterest marketing tools that can help you to maximise the effectiveness of your Pins.
Hootsuite
The Hootsuite tool allows you to create organised Pinterest boards and eye-catching Pins directly from an intuitive platform.
You can also easily set up Pin scheduling through Hootsuite, and the tool makes it incredibly convenient for brands to post high-performing content on the Pinterest app. When it comes to social media content and Pinterest account management, Hootsuite is a solid option.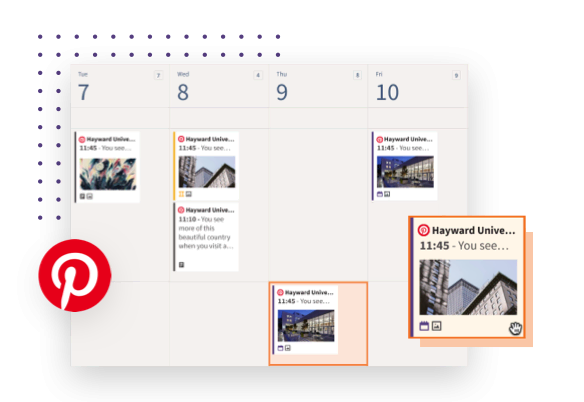 (Source: hootsuite.com)
Google Analytics
For a high-level view of Pinterest performance, Google Analytics is the ideal tool.
Through the Google Analytics dashboard, you can instantly track how much website traffic is being driven from Pinterest, alongside other social media networks.
You can also double-check which landing pages are most popular among Pinterest users, and these insights can help to inform your Pin content and organic strategy.
If you're already utilising Google Analytics to measure ad metrics across multiple marketing platforms, then adding Pinterest data to the mix can be super convenient, providing you with a holistic view of performance.
(Source: google.com)
Tailwind
Tailwind is a one-stop shop for Pinterest marketing, providing everything from convenient post scheduling to in-depth marketing analytics.
If you're new to Pinterest advertising and looking for a tool that covers all of the fundamental bases, then Tailwind is exactly what you need.
The platform can help you to effectively manage your Pinterest marketing campaigns, allowing you to create high-impact content, reach valuable audiences, and skyrocket your website traffic.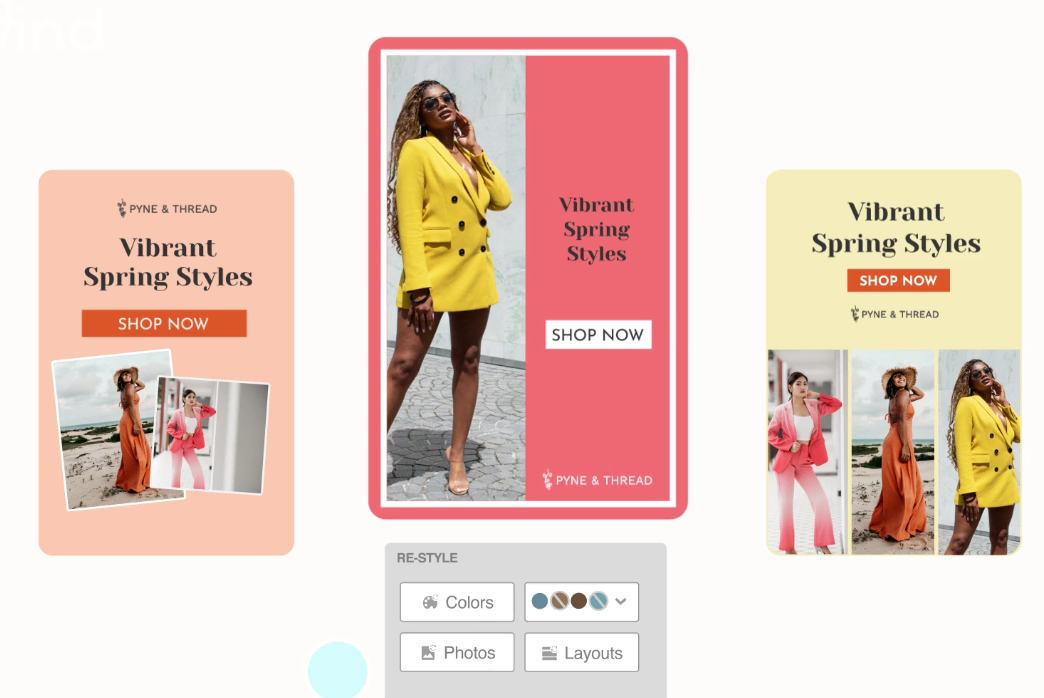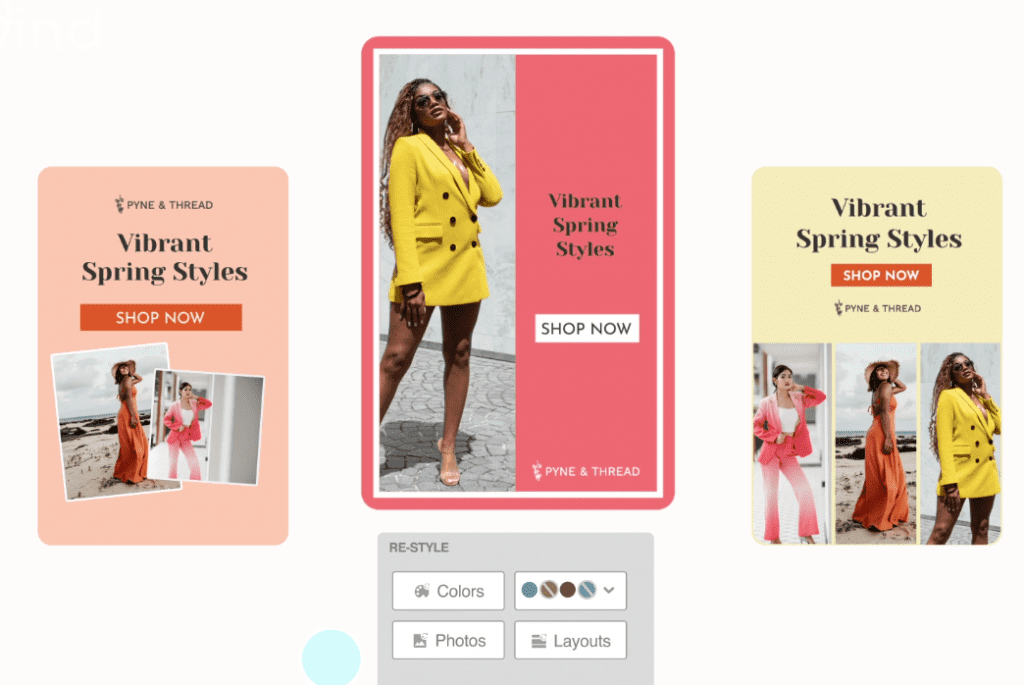 (Source: tailwindapp.com)
Useful resources for Pinterest measurement and analytics
Still keen to learn more about Pinterest measurement and social media analytics?
(We're proud of you.)
For additional guidance on utilising Pinterest Analytics, check out these handy guides and online resources.
Get started with Pinterest Analytics
Guide to Pinterest measurement
Overview of Pinterest conversion tracking
Understanding how to make the most of the Pinterest Analytics tool is crucial for Pinterest advertisers.
Always remember to focus on the core metrics and data points that are most relevant to your business objective.
If you can leverage the right Pinterest insights, you'll be able to drive jaw-dropping performance through both organic and paid marketing on the platform. Good luck!