Twitter ads have the potential to drive outstanding results for digital advertisers.
The Twitter platform is a unique space for brands, and Twitter ad campaigns can deliver enormous reach, sky-high levels of engagement, and ultra-efficient conversions.
But the world of social media advertising moves astonishingly quickly.
Fresh marketing trends arise, different social network brands emerge, and audiences are constantly migrating to new platforms.
So, the real question is – do Twitter ads work in 2023?
Let's explore the current state of Twitter marketing, and reveal if advertising on Twitter is still worth your hard-earned marketing budget.
What are Twitter ads?
Twitter is a unique social media platform that places a strong emphasis on real-time conversations, active brand communications, and trending topics.
The Twitter feed is designed to encourage frequent interactions between Twitter users, including replies, quotes, and Retweets. Users can also easily explore new content on the Twitter homepage, as new posts from profiles they follow are constantly refreshed and updated.
Twitter ads work in a very similar way.
Twitter ads are served in and around the home feed and can be targeted towards specific Twitter users across the site. The platform offers a range of smart targeting options that enable brands to reach a tailored audience with Twitter ads at scale.
It's also important to note that Twitter ads are slightly less visual than ads on other social media platforms.
High-quality images and videos are still very important for advertisers, but a lot of Twitter communications are based on text – and that means effective ad copy is key.
Twitter shares a few similarities with other social networks, but it also has many nuances that make it unique for marketing. This can mean a steep learning curve for brands running their first Twitter ad campaign – but it also opens up plenty of exciting advertising opportunities.
The different types of Twitter ads
Twitter offers a range of ad formats that enable brands to effectively reach their target audiences.
Each of these ad formats can help you to achieve different business objectives. They can also be used in combination to maximise performance.
Twitter Promoted Ads

Twitter Promoted Ads (also known as Promoted Tweets) look almost identical to organic Tweets from normal users. The only visible difference is a small 'promoted' label in the bottom corner of the placement.
Promoted Tweets are a great way for advertisers to quickly build reach and generate Tweet engagements on the Twitter platform.
Since these ads blend seamlessly into the Twitter feed, users are often willing to explore and engage with them as if they're an organic Tweet. That's why a native and engaging creative approach is key for a successful Promoted Tweet.
A few different variations of Promoted Tweets are available to marketers, including:
Text Ads
Image Ads
Video Ads
Moment Ads
Twitter Live Ads
Carousel Ads
Twitter Follower Ads
Twitter Follower ads (also known as Promoted Accounts) are unique – rather than promoting specific products or services, they're used to promote your full Twitter account.
If you're trying to increase your Twitter following or effectively boost your organic reach, then Follower ads can be extremely effective.
Follower ads are delivered to individuals who aren't currently following your Twitter account and appear in a user's timeline alongside normal Tweets. They'll also appear in the 'Who To Follow' suggestions box, as well as being served in Twitter search results.
These ads come equipped with a simple 'Follow' CTA that allows users to click a button and immediately follow your Twitter account.
Twitter Amplify Ads
Twitter Amplify ads are pre-roll video placements that appear before content from brand-safe and premium publishers.
If you're looking to drive video views or increase brand awareness, then Amplify ads are a great way to showcase your video assets at scale.
The key is to deliver a short and snappy message with your video ads, ensuring that your target audience can instantly recognise your brand and product offering.
You can also utilise Twitter Amplify Sponsorships to guarantee pre-roll impressions with specific publishers. If your products or services align closely with a specific type of content, then Amplify Sponsorships can be a solid option for driving efficient reach.
Twitter Takeover Ads
Twitter Takeover ads are high-impact placements that can deliver strong visibility for your brand.
There are two types of Takeover ads available to Twitter marketers.
The first type is a Trend Takeover, previously known as Trending Topics. This allows you to serve a sponsored ad in the 'What's Happening' section of the Twitter feed, as well as the 'Trending' tab on the homepage.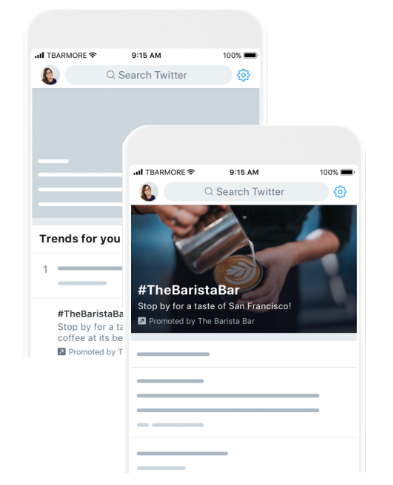 This positions your brand advertising next to some of the most popular topics and trends on Twitter, which can help you rapidly increase campaign awareness.
The second type of Takeover ad is the Timeline Takeover. With a Timeline Takeover, your ad will appear at the very top of the Twitter feed when your target users next open the app.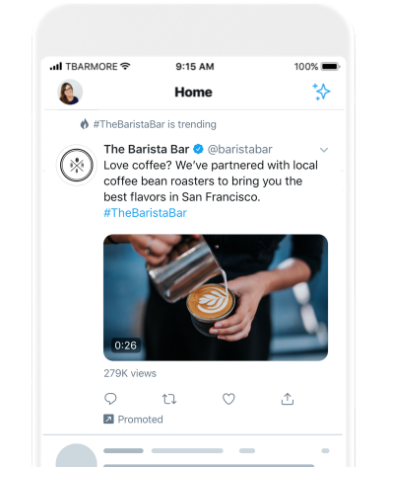 With an eye-catching creative asset and compelling ad copy, you can instantly capture the attention of your targeted customers with a Timeline Takeover.
Need some more information about Twitter ad formats, or searching desperately for detailed ad specifications? Check out this post, which contains all the info you need on Twitter ad specs and sizes.
How much do Twitter ads cost in 2023?
Twitter ads can be a valuable tool in your paid social marketing arsenal.
But how much is a Twitter ads campaign likely to cost you? And are Twitter ads worth spending your precious marketing budget on?
Firstly, it's important to acknowledge some of the different factors that can influence the cost of a Twitter campaign. Your ad costs will regularly fluctuate over time, but if you understand some of these different cost factors, you'll find it much easier to control your budget.
Here are just a few of the internal and external factors that will impact the cost of running Twitter ads:
Target audience
Ad formats
Campaign objective
Bidding strategy
Competitor activity
Seasonality
Some of these elements are within your control, and some of them aren't – but the more you're aware of these different factors, the more you'll be able to manage ad spend effectively.
Now, let's take a look at a few of the average costs associated with a Twitter ads campaign.
(It's worth noting here that Twitter ads are purchased on an objective-based model, meaning you're only billed for specific predefined actions that align with your goal.)
Promoted Tweets/Promoted Ads – Cost Per Action – £0.45-£1.80
Promoted Accounts/Follower Ads – Cost Per Follow – £1.80-£3.60
Promoted Trends/Takeover Ads – Cost Per Day – £180,000
The price of Twitter ads will fluctuate based on your campaign objectives, budget, and target audience – but it can be helpful to use these average costs as a rough guideline.
Always remember to regularly optimise your Twitter ads to maximise efficiency and generate optimal returns from your investment. Smart optimisations will make your marketing budget work infinitely harder for you!
Head-to-head: Twitter ads vs Facebook ads
We've already covered the average costs of Twitter ads and outlined the different ad formats that are available on the platform.
But it's time to spice things up a little bit.
Let's pit Twitter against the social media behemoth Facebook, and compare how these platforms stack up when it comes to performance, efficiency, and value for money.
Platform Reach
Reach is a hugely important metric when it comes to digital advertising.
After all, the more customers you can reach, the more chances you have to drive ad clicks, secure online sales, and improve your budget efficiency.
Facebook is an absolute mammoth in terms of platform reach. The platform boasts around 2.9bn monthly active users, which is a mind-blowing statistic.
Twitter is certainly no slouch when it comes to reach, but struggles to compete against the enormous scale of Facebook. Twitter attracts around 450m monthly active users.
However, it's worth pointing out that reach doesn't necessarily equal success. It's better to reach a smaller number of engaged users than masses of uninterested audiences, so your success will depend on the quality of your creative assets, ad targeting, and strategy.
Ad Performance
It can be tricky to compare Facebook and Twitter directly when it comes to ad performance because each network operates on a different model and releases different statistics.
However, there are some broad comparisons that we can make.
Research suggests that engagement rates for Twitter ads can reach 1-3%, which is significantly higher than Facebook's 0.119% average CTR. Twitter engagement is potentially higher because ads are always served in the main feed, whereas some Facebook placements (e.g. Stories, Messenger) appear outside of the news feed.
However, when it comes to average CPM, Twitter sits at a much higher £3.16 while Facebook delivers an efficient £0.53.
As always, there are some caveats to acknowledge here.
For one thing, every campaign is unique. Your creative assets, ad formats, bidding strategy, and target audience will all have a huge impact on your advertising costs.
Secondly, Facebook's ad performance varies massively depending on your industry. Some verticals see insanely efficient results, while others can pay exceedingly high rates for campaigns.
Ultimately, the best way to determine the highest-performing platform for your business is to test each one and analyse the results.
Ad Formats
Facebook provides brands with a wide range of different ad formats, including:
Image Ads
Video Ads
Slideshow Ads
Stories Ads
Instant Experience Ads
Carousel Ads
Collection Ads
Messenger Ads
Twitter, on the other hand, has a much more streamlined ad format offering.
There's no conclusive winner for this category because the right ad format for your campaign all depends on your creative message and objective.
However, if you're looking to experiment with a larger variety of different placements, then Facebook is a solid option. If you want to keep things simple, then Twitter may be the platform for you.
Head-to-head: Twitter ads vs Google ads
It's time for Twitter to face its second opponent in this digital marketing slugfest – Google.
The Google Ads platform is a giant in the advertising world, offering brands access to an extensive network of marketing platforms and audiences.
So how does Google compare to Twitter in terms of paid advertising potential?
Platform Reach
Unsurprisingly, Google boasts a ridiculous amount of users.
It's estimated that Google has around 4.3bn users worldwide – which is the vast majority of the entire internet population.
This number obviously overshadows Twitter's 450m monthly active users, but it's not quite a fair comparison. While Twitter is purely a social media platform, Google is primarily a search engine that also offers many other services, such as YouTube video and Google Shopping.
In saying that, platform reach is still platform reach, and it's almost impossible to beat Google Ads in this department.
Ad Performance
Once again, it's tricky to make a direct comparison between Twitter and Google Ads due to their advertising models and available data.
It's also particularly hard to make comparisons with Google Ads, because Google has an extensive range of advertising platforms (e.g. Display, Video, Search) that all incur different costs.
However, there are some metrics that we can look at side-by-side.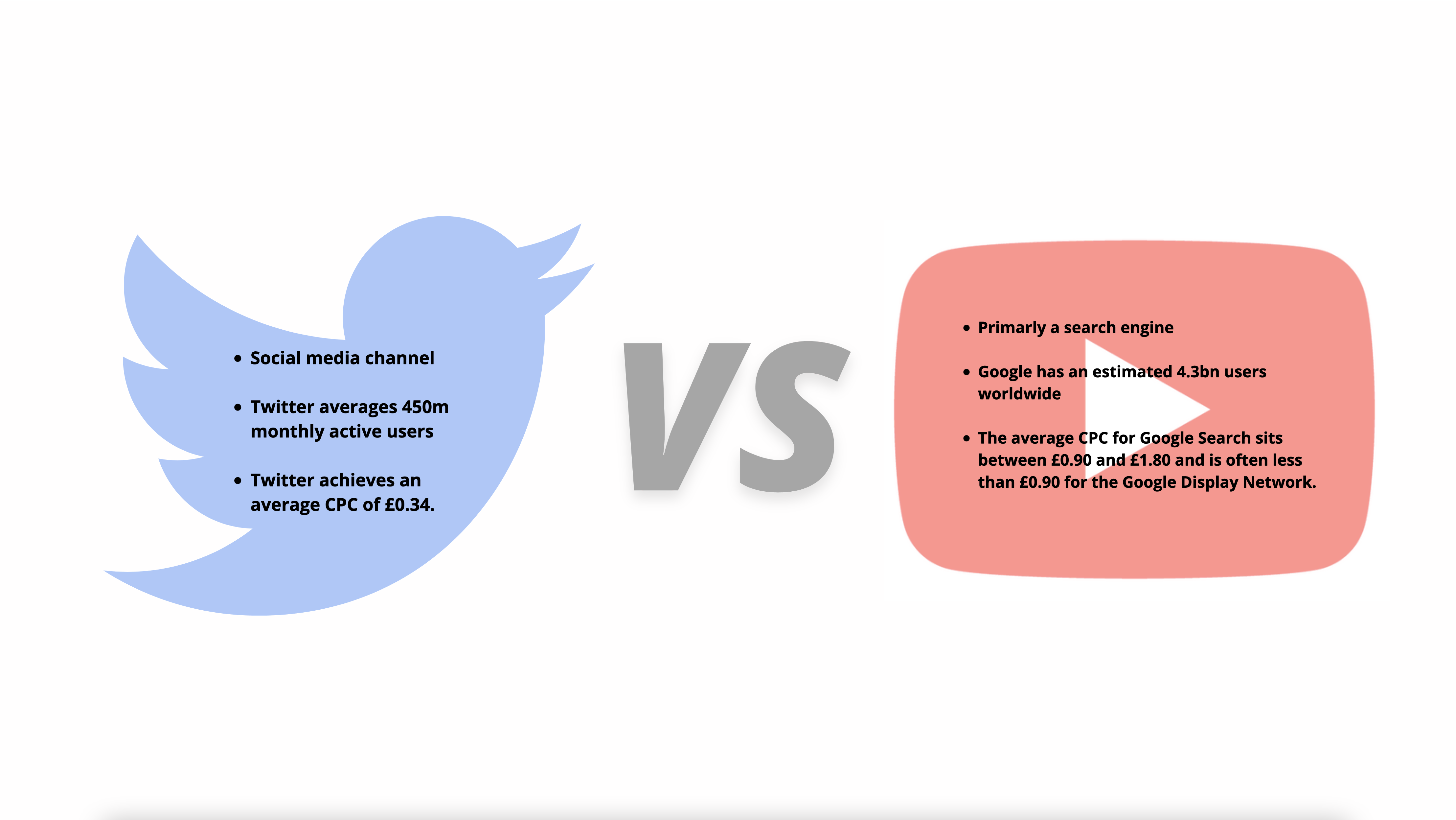 The average CPC for Google Search sits between £0.90 and £1.80 and is often less than £0.90 for the Google Display Network. Twitter, on the other hand, achieves an average CPC of £0.34.
Twitter also claims that the ROI of Twitter ads is 40% higher than other channels, but there are too many variables (e.g. brand, industry, budget) to use this as a point of comparison.
Google Search in particular has the potential to deliver an insanely efficient ROI, so once again, it depends on the platform that delivers the best results for your business.
Ad Formats
Since the Google Ads offering extends into a number of different channels, the platform naturally has a wide selection of ad formats:
Google Search Ads
Google Display Ads
YouTube Video Ads
Google Text Ads
Product Shopping Ads
Google App Ads
This also means that advertisers can launch various creative assets (e.g. text, static image, video) in highly effective placements across the Google network.
Twitter ad formats can deliver outstanding results for advertisers, but if you're looking for a more diverse range of creative placements, it's tough to beat Google Ads.
3 reasons why you should be using Twitter ads
Promoted Tweets can be exceptionally effective for advertisers.
Let's take a look at a few of the most compelling reasons to include Promoted Tweets in your next ad campaign.
1. You can build a strong brand presence
Twitter offers advertisers the ideal opportunity to build a strong brand presence and connect with audiences at scale.
Customers and brands frequently interact on the Twitter platform, through direct messages, Tweets, and Retweets.
Although this is also common on other social media platforms, Twitter is specifically designed to facilitate these direct communications. This means that brands can use Twitter to attract new shoppers, nurture customer loyalty, and strengthen their brand identity.
2. Twitter advertising is cost-efficient
Twitter ads are also extremely cost-efficient, meaning you can maximise the impact of your campaign budget.
(This is particularly useful for small businesses that are new to the ad platform.)
Twitter ads run on a goal-based bidding model, which means that you're only billed for successful actions that relate to your campaign objective.
You can choose from many different goals, including:
Awareness: Reach
Consideration: Video Views, App Installs, Website Visitors, Engagement, etc
Conversion: Conversions, App Re-Engagements
Since you're only paying for successful outcomes on Twitter, you can easily reduce wasted spend and focus on your specific goals – whether that's landing page traffic, app installs, or brand awareness.
3. You can get ahead of the competition
Although Twitter is one of the biggest marketing platforms in the world, it's still neglected by many advertisers.
A significant number of brands concentrate their efforts on larger platforms like Facebook and Google, meaning you have a fantastic opportunity to fill this void.
You'll undoubtedly still find competitors advertising on Twitter, but you may find that you have the chance to secure a much higher share of voice on the network.
This can enable you to attract more followers, drive more conversions, and share promoted content with a more engaged audience. By using formats like Promoted Accounts to grow your organic following and Promoted Tweets to drive action, you can get ahead of the competition and establish a strong brand presence on the Twitter platform.
Proven best practices for Twitter advertising
Now that we've covered the core benefits of Twitter marketing, let's look at some best practices that can help you dramatically improve performance.
Firstly, ensure that your creative messages are short and sweet.
Twitter doesn't provide you with a huge amount of space for creativity (particularly for mobile ads) so you need punchy creative assets that can be consumed quickly. Use your ad copy to highlight key product benefits, and keep any video ads brief to maintain user attention.
You should also refresh your creative strategy to avoid audience fatigue.
For example, if you're exclusively churning out Promoted Tweets over a long period, users may stop paying attention to your campaigns.
(And you don't have to be a Twitter expert to know that isn't good.)
Mix things up with a new ad from time to time, and vary your campaign messages to keep things fresh. You might share valuable industry insights or interesting product updates, rather than just blasting out sales promotions.
Finally, experiment with different targeting tactics to identify new opportunities and optimise your campaigns.
Twitter offers several targeting options (e.g. demographic targeting, keyword targeting) that can deliver solid results, so make the most of them!
Small businesses and new advertisers can find enlisting the services of a Twitter marketing agency exceedingly helpful. A dedicated account manager can help brands to follow best practices and create ads that crush their paid social objectives. 
Getting started with a Twitter ad campaign
Keen to get started with your own Twitter launch campaign?
First things first, you'll need to set up a Twitter ads account.
Check out this guide for a step-by-step explanation of the campaign creation process. You'll need to set up a few different campaign elements, including:
Campaign type
Ad formats
Audience targeting
Objectives
Campaign budget
Ad schedule
If you need any more guidance on Twitter advertising, this page contains a lot of useful resources on different areas of the platform.
Handy resources for Twitter ads
Need a quick reminder of how to set up Twitter keyword targeting? Or wondering how you can use Twitter ads to drive app installs effectively?
No problem.
Below are some valuable resources that contain heaps of Twitter marketing knowledge.
Twitter creative best practices
Twitter advertising case studies
Let's circle back to our original question – do Twitter ads work?
The answer is a resounding yes.
Twitter is a fantastic marketing tool that's often under-utilised by digital marketers. With a data-driven marketing strategy, you can use Twitter ads to connect with your target audience, generate efficient conversions, and strengthen your brand identity.