Facebook is a social media marketing powerhouse.
The platform attracts a whopping 2.93bn monthly active users and accounts for 71.64% of all web traffic originating from social media.
The site offers a number of compelling benefits to digital advertisers, from laser-targeted audiences to data-driven optimisation tools. But one of the biggest advantages of Facebook advertising is the mind-blowing number of versatile ad types that are on offer.
There's a huge range of different ad placements available to marketers – so many, in fact, that it can feel a tad overwhelming for small businesses and newer advertisers.
Which ad formats are going to help you to crush your campaign objective? And what placements are most likely to generate engagements, clicks, and conversions?
If you're suffering from decision paralysis on Facebook, don't panic. We're here to help.
We're about to explain everything you need to know about every single Facebook ad format available on the network, so you can run your campaigns with total confidence.
The different Facebook ad formats
Image/Photo Ads
Facebook Image ads are one of the most straightforward in-feed formats available on the platform – but that doesn't mean they can't be highly impactful.
If you want to launch super-effective Image ads, you need to make sure that you're nailing the basics. You'll need an eye-catching visual asset, compelling ad copy, and a clear CTA that's going to drive action.
If you're running product ads, be sure to use high-quality images that showcase any key selling points or special features.
You don't have too much space for creativity with Image ads, so you'll need to produce assets that are focused, easy to understand, and engaging for your target audience.
(Source: Facebook.com)
Video Ads
If you feel like Facebook Image ads are a little too restrictive, then Video ads can be a great way to deliver more in-depth and detailed messages to your audience.
Video ads primarily appear in the Facebook feed, but can also be inserted as pre-roll or mid-roll placements in qualifying videos through In-Stream ads.
Although long-form video ads can deliver positive results on Facebook, snappy and punchy assets are often the best way to maintain attention from your audience. You should also try to diversify your creative approach to keep things interesting, rotating different assets like UGC videos, product explainer clips, and brand animations.
(Source: facebook.com)
Slideshow Ads
If you're looking for a speedy and affordable way to make your image assets more impactful, Facebook Slideshow ads can be a smart solution.
With Slideshow ads, you can transform a sequence of static images into a seamless slideshow, using eye-catching motion and engaging audio to keep your audience hooked.
Slideshow ads can be super handy for advertisers that want to capitalise on video storytelling, but don't have the budget for video production. They can also be created quickly and easily in the Facebook Ads Manager, so there's no hassle involved.
(Source: Facebook.com)
Stories Ads
Facebook Stories ads are mobile-only, full screen vertical placements that are served between organic user Stories on the platform.
Stories ads are ideal for delivering short and snappy campaign messages.
If you have bold product visuals and a crystal clear CTA, then you can drive sky-high levels of engagement from Facebook Stories ads. These ads also feature a 'swipe up' functionality that enables users to visit specific landing pages, meaning you can utilise them to generate quality website traffic.
Just bear in mind that many users will be tapping through Facebook Stories at high speeds, so if you want to capture attention, you need to make sure that you stand out!
(Source: Facebook.com)
Instant Experience Ads
For brands looking to launch more engaging and immersive Facebook campaigns, Instant Experience ads can be a powerful tool.
These full-screen experiences are fully optimised for mobile devices and designed to drive high levels of engagement.
Instant Experience ads can be utilised to showcase images and videos, run Carousel assets, and even sell products within the Facebook app. This format is highly versatile and can help you to achieve everything from growing brand awareness to generating online sales.
If you're keen to make a big impact on your target audience, and you have creative assets that can shine in full-screen mode, then Instant Experiences are a solid choice.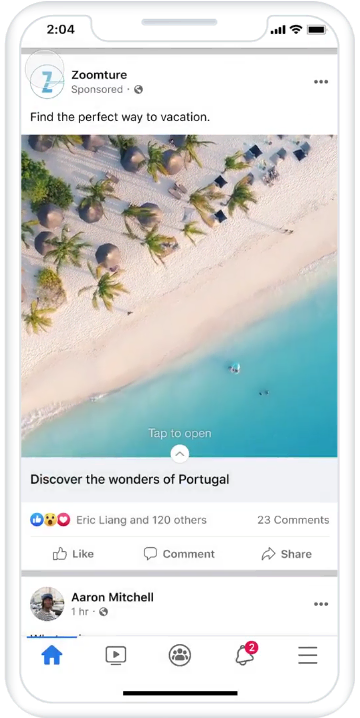 (Source: Facebook.com)
Carousel Ads
If you have a number of high-quality creative assets, then why limit yourself to single image or video placements?
With a Carousel ad, you can run up to 10 separate assets within a single Facebook ad type, providing you with plenty of space for creativity and product messaging.
Brands can fill up their Carousel format with images or videos, and each panel can also contain a unique Call To Action and destination URL. That means you can leverage Carousels to advertise multiple products and drive audiences to the relevant landing pages.
Since the Carousel also encourages users to tap through and explore each individual creative asset, the format is ideal for driving consistent clicks and engagements.
(Source: Facebook.com)
Collection Ads
Facebook Collection ads can be hugely effective for e-commerce advertisers, as they enable users to explore and purchase new products quickly and easily.
You can upload five separate images or videos to create your Collection ad. One of these assets (known as the 'hero' asset) will sit at the top of the placement, while the rest will be displayed underneath.
Brands can then use this 'hero' asset to draw in potential customers and encourage them to explore their wider production collection.
The hero asset may be a specific product that you're keen to promote or a video that highlights interesting features and benefits. By using high-quality product visuals that showcase your key selling points, you can attract new buyers and rapidly increase conversions.
(Source: Facebook.com)
Facebook ad types available on your Facebook page
There are several different ad types on Facebook that are designed to help you tackle specific business objectives.
Some ad types can be created through your Facebook business page, while others need to be set up through the Facebook Ads Manager.
Ads generated through your Facebook page tend to be simpler, with a focus on speed and efficiency. Ads created through the Facebook Ads Manager are generally a little more complicated, featuring different functionalities and creative options.
To kick things off, let's run through the ad types that can be launched directly from your Facebook page.
Boosted Posts
If one of your organic Facebook posts is performing particularly well, you can amplify it with paid spend by making it a Boosted Post.
Boosted Posts look almost identical to organic posts, except for a small 'Sponsored' label that appears at the top of the placement.
Boosted Posts are a great way to capitalise on popular organic content, transforming standard posts into brand-new marketing assets. This ad type also feels more authentic and less intrusive than some paid formats, which can help to drive engagement.
If you want to boost one of your existing Facebook posts, just click on the content you'd like to promote and select 'Boost Post' in the bottom right corner.
Page Likes Ads
If you're looking to grow your Facebook following and promote your business page (rather than a specific product or service) then Page Likes ads can be very effective.
Page Likes ads feature a clear 'Like Page' CTA that allows your audience to instantly tap and like your page. This is a simple ad placement, but one that can be very efficient when you're looking to expand your Facebook audience.
To run a new Page Likes ad, just click 'Promote' at the top of your business page, select 'Create new ad', and choose 'Get More Page Likes' as your goal.
Website Visitors Ads
Website Visitors ads are designed to generate web traffic by promoting a specific landing page on your site.
There are several different ways that you can incorporate Website Visitors ads into your Facebook campaigns.
For example, you might nudge users to visit your website to download a piece of content or drive potential customers to a product page to learn more about your offering.
To create a new Website Visitors ad, just click the 'Promote' button on your Facebook page and select 'Get More Website Visitors'.
Website Purchases Ads
Website Purchases ads can be extremely effective for social media marketers, as they utilise pixel data to identify users who have already visited your website or purchased your products.
This enables you to target hot prospects that are clearly interested in your offering, which can help you to significantly improve your conversion rates.
To take advantage of Website Purchases ads, you'll first need to implement the Facebook pixel on your website. The sooner you can set this up, the better, as you'll give the Facebook pixel more time to collect data and build retargeting audiences.
To launch Website Purchases ads, just select the 'Get More Website Purchases' option from the 'Promote' section of your Facebook page.
Automated Ads
If you're looking to inject some machine learning into your Facebook marketing efforts, then Automated ads are your new best friend.
When you set up Automated ads on Facebook, you'll be prompted to provide the platform with some basic information about your business, audience, and core objectives.
Facebook will then offer personalised recommendations for your ad campaign, helping you to optimise your ads, reduce your costs (e.g. Cost Per Click) and maximise your returns.
These recommendations will include tailored audience segments, suggested campaign budgets, and even creative variations.
For newer advertisers who may need some additional guidance throughout the campaign setup process, Automated ads can be a game-changer.
To launch Automated ads on Facebook, just select the 'Get Started With Automated Ads' option in the 'Promote' menu.
Ad types in the Facebook Ads Manager
Now that we've covered the ad types available within your Facebook business page, let's take a closer look at the ads on offer in the Facebook Ads Manager.
Dynamic Creative Ads
Dynamic Creative ads allow brands to upload multiple assets (e.g. creatives, ad copy, CTAs) to the Facebook platform, where they're automatically combined and rotated to produce different ad variations.
These dynamic ads will then be adjusted and optimised based on the audience receiving them, which is ideal for improving the relevance of your campaigns.
For example, if you're targeting several unique audience segments, the Facebook algorithm will automatically test different creatives to identify the best-performing ads for each group.
Dynamic/Advantage+ Catalogue Ads
Facebook retargeting ads can deliver strong results for your business, but dynamic retargeting ads (also known as Advantage+) can elevate performance even further.
Dynamic product ads will promote relevant products, messages, or services to your target audience based on their previous actions on your site.
For instance, if a user views a pair of trainers online but doesn't complete the purchase, they can be retargeted later on Facebook with this exact product and similar recommendations. This can work wonders for your conversion rates.
If you want to launch Dynamic ads on Facebook, you'll just need to upload your product catalog to the platform and ensure that your website pixel is firing correctly. Once these building blocks are in place, the all-knowing Facebook algorithm will take care of the rest.
(Source: Facebook.com)
Event Ads
Facebook Event ads enable you to promote a specific event to your target audience, helping you to increase awareness, boost event responses, and expand your reach.
These ads showcase relevant event information alongside a clear CTA. You can also use the 'Admissions' field to share a ticket link or request reservation details from your audience.
If you're running a physical event in a certain location, it can be a good idea to geo-target Event ads to ensure that you're only reaching eligible attendees.
Offer Ads
If you're searching for a way to stand out from the competition and attract new customers, Offer ads are a great way to entice first-time buyers.
Offer ads include a special promotion or discount that audiences can then click to redeem in-store, both online and in physical shops.
Limited-time offers can be highly effective at creating a sense of urgency, helping to incentivise both new prospects and existing customers to complete a purchase. However, make sure you're not overdoing these Facebook offers, or they'll quickly lose their impact!
Lead Ads
Lead generation can be a tricky task sometimes.
Many users may be interested in learning more about your products and services but will be deterred by the idea of completing a lengthy form on an external website.
Fortunately, Facebook makes the lead gen process infinitely easier for both advertisers and potential customers.
With Lead Generation ads, you can set up a custom streamlined form that users can complete in-app. Not only this, but the lead form can actually auto-populate based on a user's Facebook profile, which saves a huge amount of time and removes a common obstacle for prospects.
Mobile App Ads
For businesses looking to promote an app and generate new downloads, Mobile App ads can be incredibly effective.
These ads are displayed in-feed on the Facebook mobile app and include a clear 'Install' CTA that drives users to action. When this button is clicked, the relevant app store automatically opens, which makes for a fast and convenient customer journey.
Facebook Polls Ads
Using Facebook polls may seem like a novelty, but they can actually be extremely insightful for advertisers when utilised correctly.
With Facebook Poll ads, you can upload a two-answer poll for your audience to engage with, along with a single image or video asset.
You can use your Facebook Poll ads to:
Drive direct engagement from your target audience
Gather feedback about your brand (i.e. customer satisfaction, repeat business, etc)
Compare different products or services
Although Facebook Polls may not form a major part of your social media marketing strategy, when used strategically, they can be a handy way to check in with your audience on certain topics.
Augmented Reality Ads
Leveraging AR in your Facebook campaigns is a surefire way to drive engagement, showcase creativity, and position yourself as a forward-thinking brand.
By launching Augmented Reality ads, you can promote custom AR filters that your target audience can interact with through their cameras.
AR lenses may be fairly common nowadays in the social media world, but that doesn't mean these executions can't still drive high levels of engagement and excitement. If your AR filters are fuelled by a creative and innovative idea, they can be hugely impactful.
Plus, if your AR filters are genuinely fun to use, your audience is more likely to share them with friends and family, which is great for your organic reach.
Facebook Messenger Ads
Facebook Messenger isn't just a place for memes and chatbots – it's also the perfect environment for some tactical marketing.
Messenger ads look almost identical to normal messages, apart from a small 'ad' label, which means they're non-intrusive and more likely to catch the eye of your audience network.
If you can lead with a strong hook or enticing offer, then Messenger ads can deliver outstanding levels of engagement. You can use Messenger ads to promote products, share special discounts, and even direct users to new Messenger chats with customer service agents.
Maintaining an active and accessible brand presence is key to success on Facebook, and Messenger ads are a great way to keep in touch with your most valued customers.
(Source: Facebook.com)
Facebook advertising objectives
Selecting the right ad objectives is a fundamental part of running successful Facebook campaigns.
Your chosen ad objective will have a huge impact on your campaign, influencing everything from your creative messaging to your ad optimisations.
Let's take a look at the main Facebook advertising objectives, and explain how you can set the right campaign goals to achieve your business targets.
Awareness
Facebook Awareness ads are used to expand your reach and introduce your brand to new customer audiences.
Awareness ads should ideally be simple, clear, and easy for consumers to digest.
Use eye-catching image and video assets to draw attention, and ensure that your branding and logo are both clearly visible. Audiences should be able to identify your brand name and understand your basic offering in a matter of seconds.
Relevant metrics to track: Impressions, Reach
Consideration
Consideration campaigns are all about encouraging audiences to discover more information about your business, which should ultimately nudge them towards a future conversion.
Once Facebook users are aware that your brand exists, it's time to educate them about your products and services.
Formats like blog posts, infographics, and videos are a great way to communicate more in-depth information about your brand. Just remember to keep things snappy – don't try to cram too many technical details into your ads.
Relevant metrics to track: Clicks, Engagements, Video Views, Messages, Traffic
Conversion
Conversion campaigns sit at the bottom of the sales funnel and are designed to transform brand consideration into tangible business results.
Conversions can come in many forms (i.e. catalog sales, downloads, installs, subscriptions) but they ultimately represent an action that's important to your brand.
Make use of strong CTAs within your Conversion ads, and try to briefly remind prospects of how they can benefit from using your products. Don't clutter your ads with excessive text or irrelevant details – just focus on persuasive selling points, such as prices and promotions.
Relevant metrics to track: Conversions, Sales, App Installs, Store Visits, Downloads
Examples of successful Facebook ads
Looking for inspiration to drive performance in your next Facebook campaign?
Below are three examples of high-performing Facebook ads that have leveraged different ad formats on the platform.
1. BYLT Basics
Clothing brand BYLT Basics utilised dynamic Advantage+ Shopping ads to improve the cost-efficiency (and time efficiency) of its Facebook ad campaign.
The brand allowed the Facebook algorithm to automate its audience targeting options, ad creatives, ad placements, and budgets to optimise performance. This smart automation, combined with high-quality product imagery, delivered exceptional results.
(Source: facebook.com)
BYLT managed to achieve a 12% lower Cost Per Purchase versus its usual Facebook campaigns, while also driving a 12% higher ROAS with Advantage+ ads.
2. LIDL
LIDL Portugal combined a creative video campaign with data-driven retargeting tactics to effectively increase brand awareness.
The hero asset of the campaign, a humorous video promoting a LIDL special offer, was targeted towards a large audience of potential customers. Retargeting ad sets were then launched to reach individuals who had finished watching the primary video asset.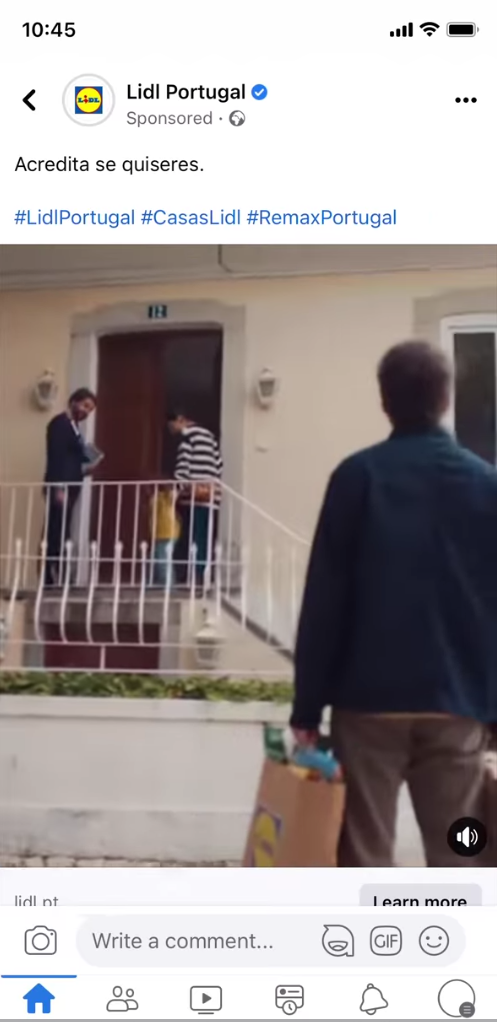 (Source: facebook.com)
This entertaining video ad, paired with a smart retargeting strategy, proved to be highly effective in a Facebook brand lift study. LIDL achieved a 5.2-point increase in campaign awareness, a 9.7-point increase in ad recall, and also reached more than 5.8m users.
3. Stadium
Sports and fitness brand Stadium leveraged Facebook Collection ads to drive cost-efficient conversions and product sales on Facebook.
Stadium produced several creative variations (based on consumer behavioural insights) and used them to retarget previous buyers on Facebook. Each Collection ad also featured an engaging hero video that helped Stadium to stand out and drive clicks in the news feed.
(Source: facebook.com)
These retargeting tactics and eye-catching Collection ads proved to be a potent combination, delivering a 14% increase in sales among existing customers and a 5.5x increase in online incremental ROAS.
What are the most effective types of Facebook ads?
Facebook ad formats are highly versatile and can be used to achieve many business objectives. Before you launch a new campaign, think carefully about which formats can help you to smash your goals and how you'll maximise their impact.
Below is an example of how different ad types may contribute towards a successful Facebook marketing strategy:
Awareness: Use Image and Video ads to reach a large-scale audience and introduce your brand to new prospects.
Consideration: Run Carousel ads to show off multiple products, highlight key benefits, and drive users towards the relevant landing pages to learn more.
Conversion: Retarget recent website visitors with Advantage+ Shopping and Collection ads to secure conversions.
You'll also need to ensure that your creative messaging, audience targeting, and bidding strategies align closely with your objectives. If you can put all of these fundamentals in place, you'll be in a strong position to drive optimal results with your budget.
Getting started with Facebook advertising
Preparing to launch your own high-performing Facebook ads?
Below are some handy resources that will help you to get your campaigns off the ground and maximise the returns you see from Facebook marketing.
Guide to setting up your Facebook campaign
Facebook creative best practices
Facebook offers advertisers a wide range of different ad formats, and the truth is that every placement can drive exceptional results when used in the right way.
The key is to select ad formats that align closely with your business objectives.
Think about the actions that you'd like your target audience to take, and choose ad formats that will support them. If you can combine strategic ad formats with compelling creatives and intelligent bidding tactics, you'll be crushing your social media goals in no time. Good luck! 
For help with your campaigns from an specialist Facebook marketing agency please get in touch.