Google advertising can be extremely powerful for your business, enabling you to reach a colossal number of prospects with highly-targeted, data-powered ad campaigns.
However, the Google advertising network is vast. 
Google offers a mind-blowing range of different ad types, formats, channels, and platforms that you can leverage to drive results. And sometimes, trying to wrap your head around all of these advertising tools can leave you with a digital marketing headache.
But fear not – we're here to help.
We've pulled together a comprehensive guide to the different Google ad types and formats, including a few expert tips that will help you to achieve optimal results and crush your business objectives. Let's get started.
The different types of Google Ads formats
Before we dive into the technical details of the various Google ad formats, let's take a step back and look at the different Google campaign types.
There are 9 main types of Google campaigns available to advertisers.
Each of these campaigns can help brands to achieve different marketing objectives, and there are different ad formats available within each campaign type.
(Still with us?)
Below are the main types of Google Ads (formerly Google Adwords) campaigns, and the ad formats that can be launched for each:
Google Search Ads
Responsive ads
Dynamic ads
Call-Only ads
Google Shopping Ads
Product Shopping ads
Local Inventory ads
Google Discovery Ads
Single Image ads
Multi-Image ads
Google Display Ads
Single Image ads
Responsive ads
Performance Max Ads
(Multiple)
Google Local Ads
(Multiple)
Google Video Ads
Skippable In-Stream ads
Non-Skippable
In-Feed ads
Bumper ads
Outstream ads
Masthead ads
Google App Ads
Download ads
Engagement ads
Google Smart Ads
Search ads
Display ads
As you can see, there's no shortage of ad types available within the Google Ads platform – but don't panic about selecting the right options. 
Once you understand the different roles that each campaign type and ad format can play in your Google marketing strategy, it will become infinitely easier to select the best placements for your brand.
Let's take a closer look at each type of campaign, explore the various Google ad formats available, and outline how you can take full advantage of the Google Ads Network.
Google Search Ads (Pay Per Click)
Google Search ads are some of the most popular placements available on the Google network – and with good reason.
With Google Search ads, you can deliver super contextual campaigns by bidding on specific search keywords that are relevant to your business.
By implementing a smart keyword strategy and launching competitive bids, you can run highly visible ads that will appear at the very top of the Google search engine page. Not only will this help you capture the attention of your target audience, but it will also enable you to tap directly into real-time search intent – which is incredibly powerful for digital advertisers.
Responsive Search Ads
Responsive Search ads rotate up to 15 unique headlines and 4 descriptions based on different search queries. This allows you to tailor your messaging to different customer groups, as well as test out multiple ad variations to track performance.
(Source: google.com)
Dynamic Search Ads
Dynamic Search ads are automatically generated by Google based on your website content and suggested ad descriptions. The Google algorithm will experiment with multiple ad variations based on different search queries, and optimise copy based on the results.
Call-Only Search Ads
Call-only Search ads are designed to generate phone calls for your business, displaying a clickable phone number instead of a standard headline. This can be a great way to attract new customers, and with call tracking, you can even monitor how many phone calls your search ads are delivering!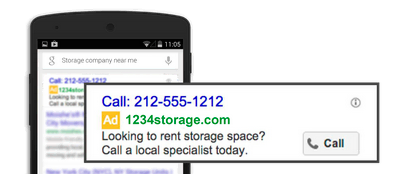 (Source: google.com)
Google Display Ads
Google Display campaigns serve image-based ad placements across the Google Display Network, which includes around 2m websites, apps, and digital properties.
Google Display ads are highly versatile since they can be targeted based on specific website placements, audiences, and content topics.
While a Display ad may not always drive the most direct conversions, it can be a fantastic way to boost brand awareness with high volumes of impressions. This can nudge prospects through the sales funnel and provide your Search campaigns with new customers to convert.
Single Image Display Ads
Single Image Display ads are fairly self-explanatory and can feature an animated (or static) image asset in a variety of different ad sizes. If you have a simple brand message or product benefit to communicate, Single Image ads can be fantastic for driving reach.

(Source: guardian.com)
Responsive Display Ads
Responsive Display ads work in the same way as Responsive Search ads, generating multiple ad variations based on text and image assets that you provide. Since the Google algorithm will automatically cycle through and test different ad combinations, you'll quickly be able to identify your best-performing creative assets.
Google Video Ads
Google Video campaigns function in a similar way to Display campaigns, allowing you to target specific audiences and placements across the Google Ads Network.
However, video ads enable you to communicate in-depth brand messaging, which is ideal if you need more creative space to showcase your products or services.
Not every product can be explained in a single image, and this is where Google Video ad campaigns can shine. Video campaigns are also a brilliant way to increase brand awareness, as marketers can reach enormous viewing audiences through global platforms like YouTube.
Skippable In Stream Ads
Skippable In Stream ads are served before or during video content across the Google Ads Network. Since viewers have the option to skip your ad after 5 seconds, it's vital to deliver your key product messages quickly and clearly.
(Source: youtube.com)
Non-Skippable In-Stream Ads
As their name suggests, Non-Skippable In-Stream ads also appear before/during video content, but can't be skipped by viewers. You'll have 15 seconds of viewing time guaranteed, but you'll still need to keep your audience engaged to prevent them from tuning out.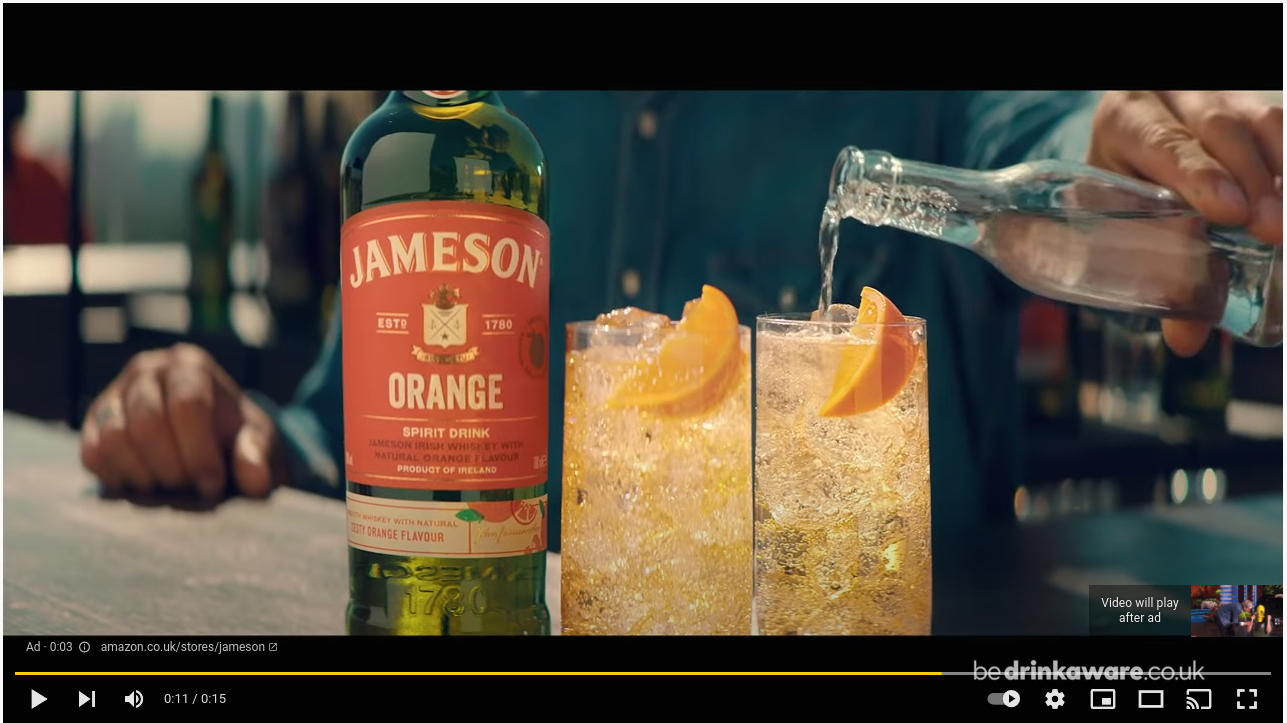 (Source: youtube.com)
In-Feed Video Ads
In-Feed Video ads appear with a thumbnail image and headline that encourage users to click and view your ads. These video ads on YouTube are generally served around search results and video recommendations, so targeting the right audiences (and content topics) is key.
Bumper Ads
Bumper ads are snappy, 6-second non-skippable ads that are served before (or during) video content. If you have a punchy brand message that you can communicate in a matter of seconds, Bumper ads can be a handy tool for driving action – they can also be used to remind your audience of key takeaways from a larger video campaign.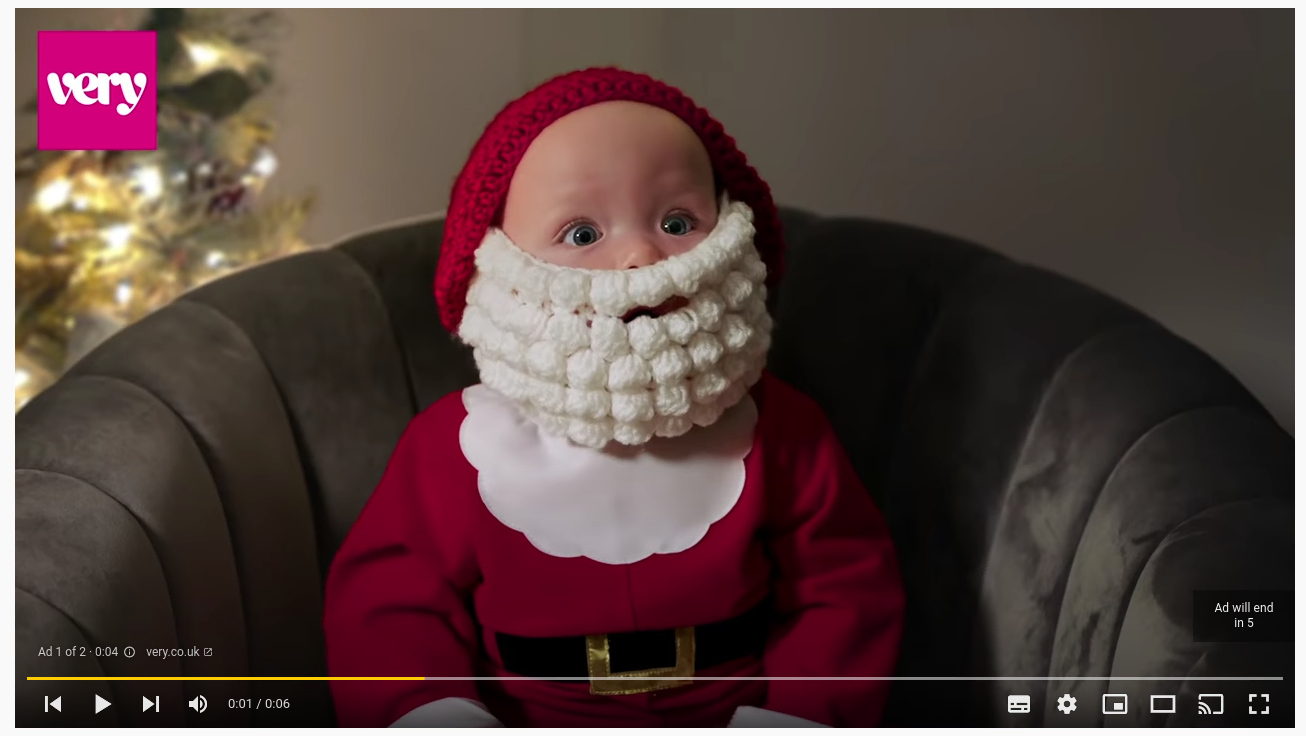 (Source: youtube.com)
Outstream Ads
Outstream ads are mobile-only placements that appear exclusively on Google Video Partner websites rather than YouTube. These video ads will automatically play with audio muted, inviting viewers to click and watch the full asset with sound enabled.
(Source: google.com)
YouTube Masthead Ads
Masthead ads are a high-impact format that can only be purchased directly through a Google sales representative. This video placement appears at the very top of the YouTube homepage, enabling brands to deliver colossal reach. The YouTube ad will auto-play without audio enabled, encouraging users to click and engage with the full asset.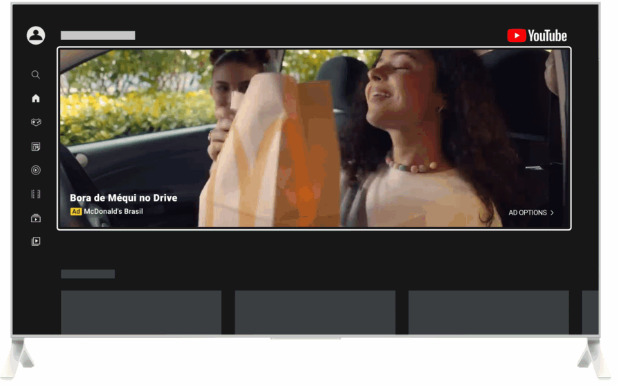 (Source: google.com)
Google Shopping Ads
Google Shopping ads are perfect for e-commerce brands looking to drive high volumes of online sales. To launch a Google Shopping ad, you'll need to set up a dedicated product feed that's activated within the Google Merchant Center.
This feed will house all of the basic information about your products, including their price, colour, size, and quantity.
This data will then be used to generate product-led Shopping ads in the Google Search and Shopping tabs, which will be served around relevant searches and keywords. This is a fantastic way to capitalise on purchase intent, but you'll need to be strategic with negative keywords to ensure that you're not reaching irrelevant users.
Product Shopping Ads
Product Shopping ads are standard placements that are served whenever a user enters a relevant search into Google. They'll include a photo of your products, as well as accompanying information about sizes, discounts, and prices.
(Source: google.com)
Local Inventory Ads
Local Inventory ads function in a similar way to Product Shopping ads but are served based on the geographic location of searchers. By submitting information about store inventory to the Google Merchant Center, you can launch Shopping ads that inform customers about the in-store availability of different products.
Google Smart Campaigns
Google Smart campaigns are essentially fully-automated ad campaigns that are set up, launched and managed entirely by the Google platform.
As an advertiser, all you'll need to do is submit some basic information about your website, keyword themes, products, and target audience.
Smart ads will appear as fairly basic text ads and are delivered across the Google Ads Network in Search and Display placements.
Google will automatically optimise the delivery/location of these ads based on performance. Although you'll be giving up manual control of your ads, if you're struggling to find the time to optimise Google campaigns properly, Smart campaigns can be a great way to improve efficiency and take advantage of machine learning.
Smart Search
Smart Search ads will appear in Google search engine results, targeted around specific keywords and phrases. Google will test different keyword strategies and variations to identify the best-performing tactics for your campaign.
(Source: google.com)
Smart Display
Smart Display ads are served across the Google Display Network. Google will experiment with multiple audiences and placements, automatically optimising your Smart Display ads based on performance.
Smart Shopping
Smart Shopping ads function in the same way as standard Shopping ads, except Google will manage every aspect of your campaign delivery, including optimisation and bidding strategies. These ads will appear across the Google network, including placements on Google Search, YouTube, and Gmail.
Google Performance Max Campaigns
Google Performance Max campaigns are another form of automated campaign available on the Google network.
With a Performance Max campaign, all of your assets will be combined, rotated, and optimised to deliver different ad variations across the full Google Ads Network.
This means that your ads can be shown in a wide range of different placements, including Google Search, Google Maps, YouTube, and Gmail. All you'll need to do is confirm a goal for your campaign and provide Google with various creative assets for auto-generation.
This is a brilliant way to capitalise on Google's advanced algorithms, but you'll just need to ensure that you're providing the platform with high-quality assets and a healthy budget to deliver optimal results.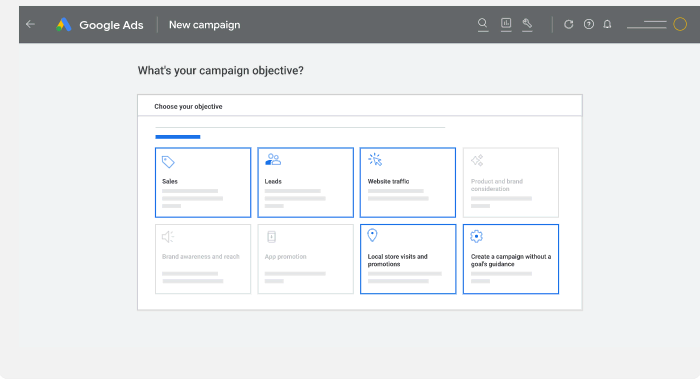 (Source: google.com)
Google Ads Discovery Campaigns
Google Discovery campaigns are automated activations that display your ads across various Google feed formats – that includes placements like Gmail, YouTube, and the Google app.
Once again, you'll just need to supply Google with a range of creative assets (headlines and descriptions, images, ad copy, etc) that can be used to auto-generate different ads.
Discovery campaigns are an excellent way to reach new audiences throughout the Google network since you'll be launching ads in high-visibility spots across multiple feeds.
Google will automatically optimise your Discovery campaign based on performance, rotating different ad variations in different environments to identify the best-performing placements.
As with other automated Google campaigns, you'll just need to be comfortable with minimal control over the delivery of your ads. You'll also need to supply the Google platform with a healthy budget to drive sufficient reach and generate positive returns for your brand.
(Source: youtube.com)
Google App Ads Campaigns
If you're looking to promote your business app and drive app installs at scale, Google App ads can be an extremely powerful tool.
App ads are served across the Google Ads Network in placements such as Google Search, Google Play, YouTube, and the Google Display Network.
This provides you with a huge amount of reach, enabling you to target and engage a large number of prospects. App ads aren't particularly eye-catching (including a basic image and headline) but they can be very effective at generating clicks and downloads – particularly if they're fuelled by smart audience targeting.
Google will automatically generate your App ad based on the information you provide, but you'll still be able to control budget and location targeting if needed. There are also three different types of Google App campaigns that you can run:
App Install Ads – include a 'download' button to generate new downloads
App Engagement Ads – drive existing app users to a specific in-app page
App Pre-Registration Ads – invite users to pre-download an app before release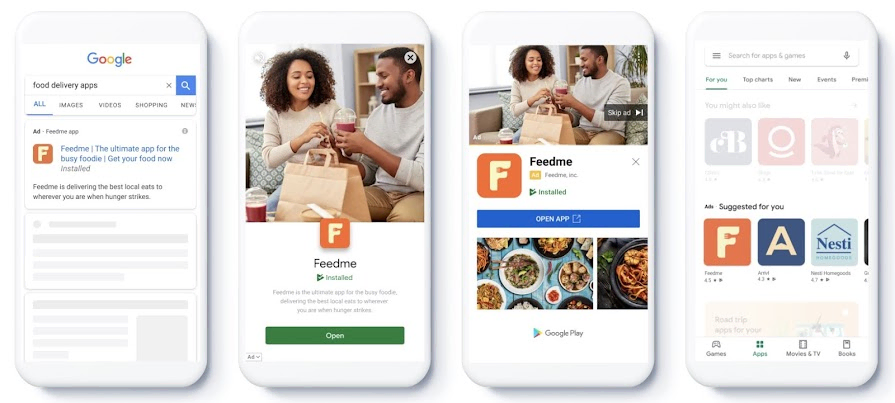 (Source: google.com)
What are the other types of Google ad campaigns?
We've just covered some of the most popular Google ad campaign options, but there are some other important campaign types that you should be aware of.
Google Remarketing Ads
Retargeting is one of the most powerful strategies available to digital marketers.
With retargeting ads, you can target prospects that have already engaged with your brand in some capacity – for example, users that have clicked on your ads, visited your website, or interacted with specific product pages.
This enables you to reach audiences that are already 'warm', significantly increasing your chances of driving clicks and securing conversions – and Google Remarketing ads are built for this very purpose.
With Remarketing ads, you can retarget Google audiences based on specific actions they've completed, such as browsing a product page or adding an item to their cart.
(Source: google.com)
The key here is effective audience segmentation.
For example, retargeting every single user that's visited your website with a generic message isn't likely to deliver the best outcomes. Instead, you should focus on setting up specific retargeting segments accompanied by relevant creative messages.
A user that has spent a few minutes browsing your product pages isn't showing the same level of purchase intent as a user that has reached the checkout stage, so it makes sense to divide up your retargeting segments accordingly.
Think carefully about the different strands of retargeting you'd like to run, create tailored Remarketing ads for each segment, and you'll be seeing exceptional results in no time.
Similar Audience Ads
Similar Audience segments are Google's answer to 'Lookalike' audiences that are available on several popular marketing platforms.
To create Similar Audiences, Google uses your retargeting data sources (e.g. website visitors, customer lists) to identify users that display similar behaviours and interests. Since these users look similar to your existing customers and hot prospects, you can expand the reach of your Google ad campaigns while still maintaining a focus on quality targeting.
However, it's important to note that Google will actually be stopping new Similar Audience segments from being created in May 2023. On top of this, Google will be removing Similar Audience segments from all existing ad groups in August 2023.
If you're wondering which Google tactics you should utilise instead of Similar Audience ads, Google is recommending strategies such as audience expansion and optimised targeting that will allow you to reach fresh prospects and discover profitable new segments.
(Source: google.com)
How to set up a Google Ads campaign
Now that you're familiar with the different Google campaign types and ad formats, let's explain how you can launch your own high-performing Google Ads campaign.
1. Select your desired campaign type
To get the ball rolling, you'll need to decide what type of Google campaign you're looking to run.
As we've already covered, there are several campaign options available to Google marketers, including:
Search campaigns
Display campaigns
Video campaigns
Shopping campaigns
App campaigns
Discovery campaigns
Local campaigns
Performance Max campaigns
To help you select the right campaign type, Google will initially ask you to select a relevant objective. This is an important decision, so think carefully before making your selection – choose an objective that aligns closely with your business goals.
You'll be able to choose from the following campaign objectives:
Sales
Leads
Website Traffic
Product/Brand Consideration
Brand Awareness/Reach
App Promotion
Local Store Visits
Once you've established your chosen objective, you'll be able to choose a Google campaign type that will help you to achieve your goal.
2. Start setting up the campaign
Now that you've confirmed an objective, it's time to begin setting up your ad campaign.
You'll be prompted to confirm a few basic settings for your ad campaign, including:
Campaign Name: Pick something clear that will be easy to recognise – particularly important if you'll be running multiple campaigns simultaneously!
Network: Here you can decide if you want to run ads across Google's partner networks, which can help to extend the reach of your campaign.
3. Define your ad schedule
From here you'll be able to confirm the timings of your Google Ads campaign.
Select a start and end date for your ads, along with your preferred ad schedule (i.e. the time of day you'd like to run your ads.)
The timing of your Google campaigns can be hugely important, so don't rush through this stage of the process. For example, you might want to avoid competing with other advertisers during popular sales periods (e.g. Black Friday) or ensure that you're not advertising a discount after the promotion expires.
4. Specify your preferred location/language
If you're planning on running your campaign in specific countries/regions/cities, you can select your desired locations at this stage of the process. This can be a very important step for certain advertisers, particularly if you're trying to drive foot traffic to physical stores.
You can utilise the 'Presence' option to exclusively target people currently in your specified locations, rather than just individuals with an interest in the area.
(Brands can also upload any Google Remarketing lists here if they're planning to launch retargeting strategies!)
5. Establish your daily budget
It's now time to set a daily budget for your Google Ads campaign.
This may sound simple enough, but there are a few factors at play here that can make a massive impact on the performance of your ads.
For example, it's important to note that your daily budget is more of a guideline than a fixed number. The Google platform may increase your ad spend on a certain day (if ad performance justifies it) and reduce your expenditure on another day to balance things out.
It's also vital to provide Google with a healthy budget that allows the algorithm to experiment and optimise effectively. If you're trying to drive results with a very limited budget, Google will struggle to achieve sufficient scale to gather learnings and data insights.
If you need guidance on the right daily budget to set, you can compare your ad objectives with Google Ads benchmarks in your industry (e.g. Cost Per Click, Cost Per Acquisition) to get an approximate idea of how much you'll need to spend to achieve your goals.
6. Pick your bidding strategy
Since you'll constantly be competing against other Google advertisers to serve your ads, you'll need to set up a competitive and cost-efficient bidding strategy.
The first thing you'll need to do is pick a bid strategy that aligns with your marketing priorities and campaign goals.
You'll be able to select an overarching focus for your campaign (e.g. 'Conversions') and an accompanying bidding strategy, such as maximising conversion volumes or conversion values.
You'll also be prompted to choose between two different bidding approaches:
Manual Bidding: Manual bidding allows you to specify a maximum CPC bid for every keyword – this is a good thing for marketers looking to retain control over their campaigns, but you can run the risk of setting a low bid that restricts performance.
Automated Bidding: Automated bidding enables Google to establish your max CPC bids. The Google platform is well-equipped to optimise your bids and deliver positive outcomes, but you'll still need to monitor costs to make sure you're happy with ad delivery.
Think carefully about the types of results you're looking to achieve with your Google campaign (e.g. max conversions, max clicks, target CPA) and don't be afraid to lean on automated bidding, particularly if you're a newer advertiser.
7. Create an effective keyword strategy
Strategic keywords are the building blocks of a successful Google Ads campaign.
Your choice of keywords will dictate when your ads are delivered to your target audience and the contexts in which your brand appears. Keywords also have a direct impact on your bid amounts, so this stage of the campaign setup process is particularly important.
However, before you iron out your keyword strategy, you'll first need to set up your ad group and organise your bids. You'll start by naming your ad group, which essentially just houses your Google ads and keywords to keep your campaigns organised.
(If you want to maintain a streamlined and efficient Google Ads account structure, try to select clear and thematic names for your ad groups.)
If you've opted for manual bidding, you'll also need to set individual max CPC bids for each keyword added to your ad groups, which is worth bearing in mind.
When it comes to selecting those all-important keywords, tools like the Google Keyword Planner can be invaluable for research. Analyse which keywords are popular in your industry, and focus on balancing smaller cost-efficient branded search terms with more expensive, high-volume phrases.
8. Craft your Google ads
It's now time to create your Google ads.
The key here is to think carefully about the Google ad formats that you'll be using in your campaign and adjust your creative approach accordingly.
For instance, the message you deliver in a text based Search ad is going to be very different to the message you deliver in a Non-Skippable Video ad. Consider where your ads show, the creative space you have available, and the stage of the funnel each ad will be addressing.
(You should also double-check the detailed specs for different Google Ads formats to make sure that you're building assets correctly.)
Finally, always ensure that you're delivering a clear and compelling CTA in your Google ads.
Think about the specific actions that you'd like potential customers to take after seeing your ad, and craft a direct Call To Action that nudges them in the right direction.
9. Add the finishing touches
You've now established a Google keyword strategy, refined your bidding approach, and finalised your creative assets.
We're almost there – but before you launch your Google Ads campaign, you'll just need to iron out a few final details.
For example, if you want to add any Google Ads assets (formerly known as Google Ad Extensions) to your campaign, like call buttons or lead forms, now is the time to make sure they're in place.
You should also take the time to examine your landing page(s) and think about the broader customer journey. There's no point running Google ads with expert keyword targeting and competitive bids if you're driving traffic to a poorly designed website.
Make sure that your landing pages load quickly to avoid high bounce rates. It's also a good idea to consider the full consumer journey from initial click to final checkout – is your site easy to navigate? Are CTA buttons clear and visible? Does your branding stand out?
10. Launch your Google Ads campaign
Once you're happy with the details and settings of your campaign, there's just one thing left to do – launch your Google ads! We know it can be tempting to interfere with your campaign shortly after launch, but try to resist the urge.
The Google platform needs time to gather initial learnings and process performance data, so give the algorithm a couple of weeks to work its magic.
Keep a close eye on your campaign reports, paying particularly close attention to keyword performance, bidding success, and clicks/conversions.
What are the targeting options on Google Ads?
Keyword targeting is hugely important for Google marketers, enabling you to reach hot prospects and capitalise on real-time buyer intent.
However, there are many other Google Ads targeting options that you should be aware of before launching your next campaign.
Google collects a massive amount of data about different digital audiences, meaning there are several powerful tactics that you can employ to target users based on who they are – and not just what they're searching for.
Google Audience Segments
Google offers a number of pre-built audience segments that can be leveraged by advertisers. Using these segments can be a great way to reach relevant prospects at scale and take full advantage of Google's impressive audience data.
Below are the main Google Audience Segment targeting options:
Demographic
Demographic targeting allows you to reach users based on their age and gender, but you can also add more advanced filters such as education, employment, homeownership, and device usage (e.g. mobile devices, laptops, etc.)
Affinity
Affinity targeting is all about targeting individuals based on their specific passions and hobbies. Google harvests a significant amount of data about audience interests, meaning you can target a range of categories including Finance, Beauty, Food, and Lifestyle.
In-Market

Google utilises a range of data signals to identify users getting ready to make a specific type of purchase – otherwise known as 'In-Market' segments. This is a great way to target warm prospects that are actively looking to buy relevant products or services in your industry.
Life Event
Life Event targeting enables you to reach audiences that are going through a specific life stage or transition period – for example, getting married or buying a home. For certain advertisers, this can be a fantastic way to reach prospects at highly relevant moments.
'Your Data' (Remarketing) Segments
Google's 'Your Data' segments (also known as 'Remarketing' audiences) utilise various data sources to help you target individuals already familiar with your business.
These retargeting tactics can be incredibly valuable for Google marketers, enabling you to reach hot prospects that are infinitely more likely to click and convert on your ads.
There are four main Remarketing audiences available through Google Ads:
Website: Users that have visited/interacted with your website
App: Users that have enaged with your app/downloaded it from the app store
YouTube: Users that have engaged with your YouTube videos/YouTube channel
Customer Match: A list of users that have provided you with personal information (e.g. email address, phone number) that can be uploaded into Google Ads
If you're looking to reach high-value audiences and drive cost-efficient conversions, Google Remarketing audiences are a must-have in your marketing plans.
Custom Segments
Custom Segments allow you to combine different types of Google audience data to create unique targeting opportunities.
With Custom Segment targeting, you can reach users based on:
The products/services/topics that users are searching for
The types of websites users are visiting
The types of apps users have downloaded
Custom Segments can't be utilised in Search/Shopping campaigns on Google, but they can be a great way to refine the targeting of your Display/Discovery/Video campaigns. For example, if you feel as if Demographic targeting is a little too broad, adding Custom Segment filters can help you to focus more effectively on relevant audiences.
Additional Targeting Segments
There are also a couple of additional Google targeting strategies that can help you to reach profitable audiences.
Combined segment targeting, for example, allows you to create audiences that fall into multiple Google targeting categories. This means you could target users that:
Are currently in-market for kitchen/homeware goods
Recently moved into a new house
Are not currently in your remarketing lists
You can experiment with different combined segment targeting variations, and this is a great way to identify the intersections between several of your existing Google audiences.
Optimised targeting is another Google strategy that can be massively useful for marketers. With optimised targeting, Google will automatically identify new audiences that look similar to users currently converting in your campaigns, helping you to reach promising new segments.
Optimised targeting is available within Display/Video/Discovery campaigns, and can be a fantastic option for advertisers looking to increase reach and scale up their conversions.
How to optimise your Google Ads campaigns
Optimising your Google Ads campaign correctly is vital for success. Making the right optimisations will help you to focus on more profitable audiences, reduce your acquisition costs, and increase the number of conversions you're generating.
Let's take a look at how you can make decisive and impactful Google Ads optimisations.
Get comfortable with Google reporting
Accessing and analysing your campaign data will be crucial for making optimisations with Google Ads.
As a result, you'll need to be confident and comfortable with the Google reporting system.
You can review your campaign dashboard and download new reports through the Google Ads Manager, which is an intuitive platform designed for easy access. From the Ads Manager, you can check basic metrics (e.g. views, clicks, conversions) and track performance across multiple campaigns or ad groups.
The more familiar you are with the Google Ads Manager platform, the easier it will be to identify performance trends and implement smart optimisations.
(And if you want to take your Google Ads reporting to the next level, you can connect your Google Analytics account to track in-depth metrics around site behaviours and purchases.)
Be patient with optimisations
Although it can be tempting to constantly fiddle with your Google Ads campaigns, patience is key – particularly if your ads have recently launched.

The Google platform will take some time to collect performance data, test new tactics, and make effective optimisations, so don't try to rush things.
Allow 2-3 weeks between tweaks to let new optimisations settle in. The Google algorithm is designed to deliver optimal results for your business, so trust the process – dips and peaks in performance are totally normal, so it's all about balancing patience with smart adjustments.
Stay focused on key metrics
The Google Ads Manager will provide you with a wealth of data about campaign performance, but if you want to make intelligent optimisations, it's important to remain focused on your priority metrics.
Don't be distracted by metrics that aren't connected to your primary marketing objective.
For example, if you're looking to drive cost-efficient product sales through Google advertising, then clicks and conversions are significantly more important than video views.
Establishing your core metrics at the beginning of a campaign will help you to stay focused throughout and identify your best-performing keywords and ad groups.
This is also where accurate tracking is critical.
If you're aiming to optimise towards product sales and conversions, then you need to be able to monitor the right data points. That means setting up clear Google Ads reports, connecting your Google Analytics account, and implementing the correct Google tags on your website.
Examples of successful Google Ads campaigns
Searching for inspiration for your next Google Ads campaign? Keen to see what the almighty Google advertising network can achieve for businesses like yours?
Let's run through some examples of wildly successful Google Ads campaigns, and highlight some of the learnings that you can apply to your own marketing efforts.
Banco Azteca
Mexican banking institution Banco Azteca utilised Google Ads to increase conversion rates and effectively reduce acquisition costs.
The bank was sitting on a vast amount of valuable customer information, from affiliate data to website engagement metrics. However, Banco Azteca needed to find a way to transform all of this data into actionable marketing insights.
Working with an external Google marketing partner, the business imported all of this data directly into the Google Marketing Platform, allowing it to create unique audience segments based on different behaviours and insights.
From here, Banco Azteca created a data-fuelled Google Ads strategy that would tailor communications to different audience segments. Not only did the brand create dynamic Google ads recommending products based on online/offline behaviours, but it also set up bespoke landing pages that were personalised to different audience segments.
By creating a Google marketing approach that combined customer data with personalised messaging, Banco Azteca increased sales by 178% and reduced its Cost Per Action by 30%, proving the value of a data-driven Google Ads strategy.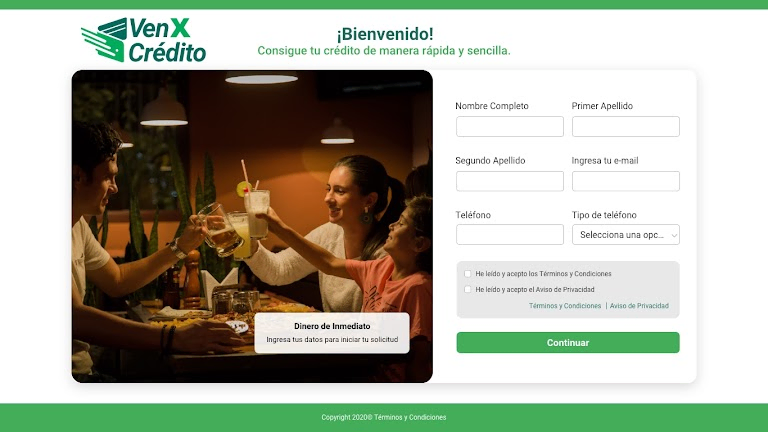 (Source: google.com)
Rituals
Beauty brand Rituals leveraged Google marketing to improve the relevance of its ad campaigns for consumers while still maintaining sufficient scale.
To achieve this, the brand shifted away from manually-built audience segments, which were proving to be time-consuming and inefficient as the customer base expanded. Instead, Rituals looked to capitalise on the automation of Google advertising, with the aim of scaling up campaign reach while still delivering personalised messaging.
Using Google's Conversion Probability feature (which calculates the likelihood of a user converting based on multiple variables) Rituals began auto-generating new audience segments based on their conversion potential. This was a far more efficient way to identify hot prospects, as opposed to manually setting up segments based on previous behaviours.
The brand then targeted these promising audiences through Display and Video campaigns, successfully balancing a large-scale activation with data-fuelled targeting.
This proved to be a massively successful ad example for Rituals, which saw an 85% increase in conversions. However, that wasn't all – not only did the brand boost conversion volumes, but it also reduced CPAs by 15%, achieving both increased sales and superior cost-efficiency.
These campaigns were launched by very different advertisers in very different industries, but there's a common theme between them.
Both brands effectively leveraged the advanced technology, data, and automation that Google offers digital marketers.
Google is constantly developing new tools and features for advertisers, and brands that capitalise on these opportunities can deliver truly outstanding results.
If you're considering using Google Ads, think carefully about the data you currently own about your target audience – chances are, the Google platform can transform these insights into a highly successful (and highly profitable) marketing campaign.
What are the most effective types of Google ads?

Google advertising can be extremely beneficial for your business – but sometimes it can be difficult to know which ad formats and tactics are best for your campaign.
So what are the most effective types of Google ads that you should be using?
Ultimately, the answer all depends on your marketing objectives.
Google offers a wide range of different ad types and placements that can be leveraged to achieve many business goals. For example, if you're keen to drive wide-reaching brand awareness at the top of the funnel, then Google Display and Video campaigns can help you to deliver enormous scale with engaging product or service messaging.
However, if you're looking to drive cost-efficient conversions at the bottom of the funnel, then a Google Search network or Shopping campaign can be exceptionally effective at transforming purchase intent into product sales.
This is why understanding your key objectives (and the areas of the funnel you're looking to target) is so important. If you have a clear goal for your Google campaign, it will become much easier to select the type of ad, keywords, and audiences that will work to achieve it.
Getting started with Google advertising
Keen to launch your own Google Ads campaign?
That's what we like to hear.
To get started with Google advertising, just check out this guide and follow the instructions to set up your first campaign.
Although there are a huge number of different tactics and tools available for Google marketers, don't feel overwhelmed if you're a newer advertiser. There's nothing wrong with keeping things simple, particularly if it's your first campaign with Google Ads.
Over time, you'll be able to gather valuable learnings, understand what works for your brand, and build confidence. At that point, you can test out more advanced strategies and explore new opportunities within the Google Ads Network to try and improve performance.
However, before you launch any ads on the Google network, make sure that you have a clear understanding of your:
Marketing objectives
Campaign budget
Target audience
Ad schedule
Creative assets/messaging
Existing customer data
If you have these building blocks in place before you begin preparing a new campaign, it will become much easier to set yourself up for success and optimise your Google ads effectively.
Phew. That's a lot of Google marketing knowledge to absorb, eh?
We've covered a lot of ground in this guide, and as you can see, the world of Google advertising is vast. However, you can always refer back to this guide if you need support.
Plus, the beauty of Google advertising is that you can easily experiment with new ideas, trial new marketing tools, and improve campaign performance over time.
If you stay close to your Google campaign reports and remain diligent with your optimisations, you'll be in a great position to crush your marketing objectives. Good luck!