As a marketing platform, Snapchat has a huge amount to offer advertisers.
The Snapchat app is packed with opportunities for savvy marketers, from large-scale audiences to fully-interactive ad formats. Whatever your paid social objectives might be, Snapchat almost certainly has the tools to help you achieve them.
But sometimes all of these creative ad placements, data-driven targeting options and advanced platform features can feel a little overwhelming.
So we're here to help.
We've pulled together the ultimate guide to Snapchat ads, including expert insights on platform costs, campaign set-up, and ad format selection. Let's get going.
Is advertising on Snapchat worth it?
Snapchat can be a powerful addition to your paid social arsenal, whether you're looking to increase brand awareness or generate online sales.
But don't take our word for it.
Let's take a look at some killer Snapchat stats that highlight the awesome marketing potential of the platform.
Although Snapchat can't compete with social media giants like Facebook when it comes to scale, that doesn't mean you can't reach a huge number of hot prospects.
The platform boasts around 319m daily active users, providing advertisers with plenty of opportunities to drive brand growth and conversions. Plus, this number is growing steadily year-on-year, meaning there's never been a better time to utilise the platform.
Snapchat is also particularly useful for brands looking to reach, engage, and convert younger demographics like Gen Z.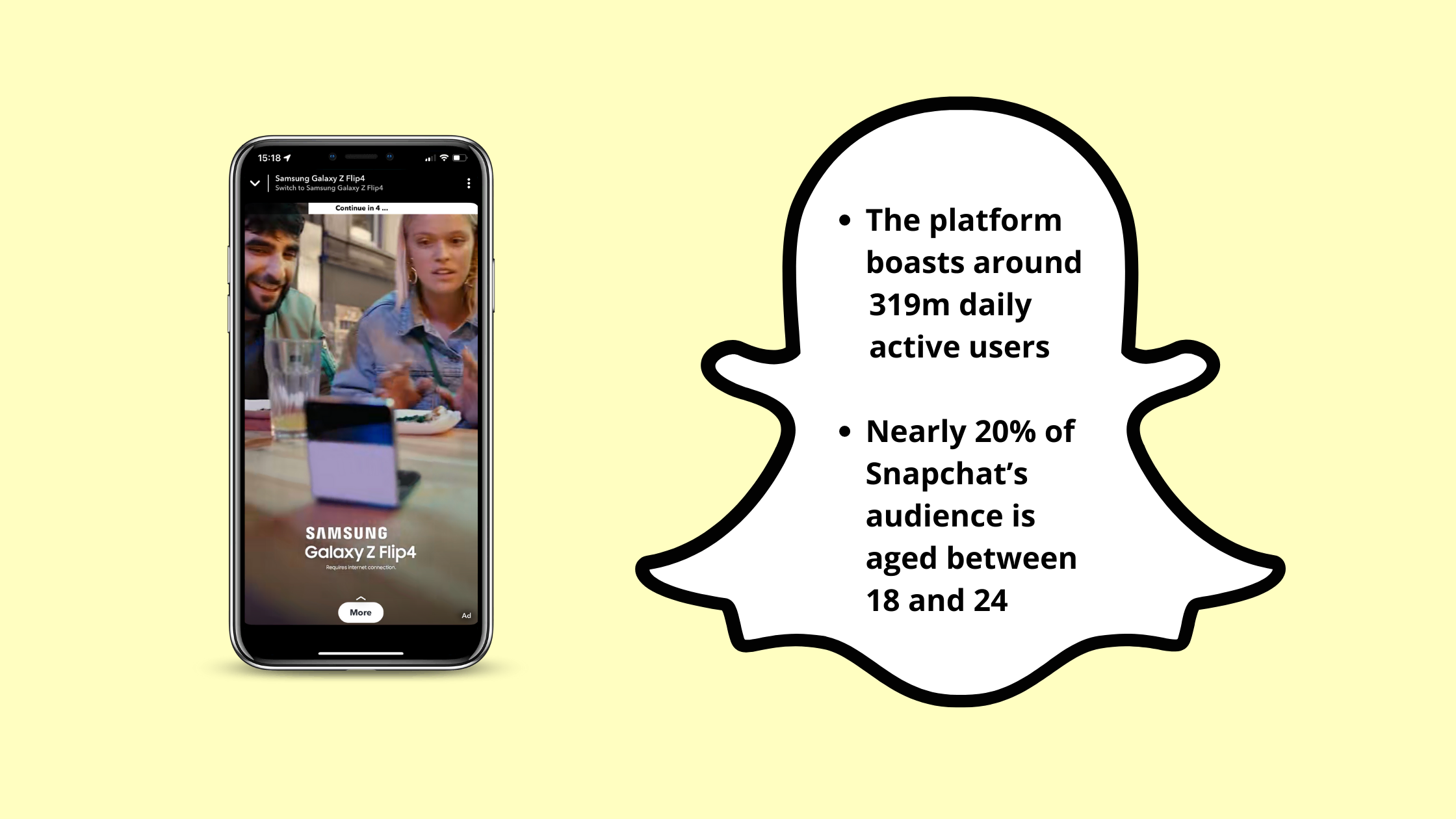 Nearly 20% of Snapchat's audience is aged between 18 and 24, and the app remains very popular among younger audiences.
Finally, Snapchat is proven to work for advertisers. The Snapchat website contains a wide range of different case studies from advertisers around the world, showcasing the strong returns that the platform can deliver.
If you're a digital marketer looking to achieve top-notch results, then Snap ads are a solid investment.
How do Snapchat ads work?
Snap ads are full-screen ads that appear throughout different areas of the Snapchat app.
Snapchat ads usually appear between pieces of organic content that have been posted by other Snapchat users or publishers.
That's why running Snapchat advertising that feels native and authentic is key.
If you want to capture the attention of your target audience, you need to create ads that are instantly engaging. Active users will be rapidly tapping through mountains of content on Snapchat, so your Snap ad will need to make a big impact.
Snapchat ads can run as a single image or video, but short form video assets can be particularly effective on the platform. Video ads can range from between 3 seconds to 3 minutes, but brands can struggle to maintain attention with long form video.
Identifying and targeting the right audiences is also a big component of a successful Snapchat ads strategy.
There are several different targeting options available on the platform, including:
Demographic Audiences
Lifestyle Audiences
Shopper Audiences
Custom Audiences
Lookalike Audiences
If you're just getting started with Snapchat advertising, it's a good idea to familiarise yourself with the Snapchat Ads Manager to understand the vast options available to you.
What are the different types of Snap ads?
If you're looking to advertise on Snapchat, it's vital to understand the various ad formats that you have at your disposal.
Selecting the right ad type for your campaign objective can make a huge difference to the efficiency of your advertising spend, so think carefully about your choice.
Let's explore the different types of Snapchat ads, and highlight how they can contribute to your core business goals.
Single image or video ads
Single image or video ads are highly versatile, and can be used to achieve a range of different objectives.
These ads look identical to organic Snaps, which can be a major advantage for marketers.
Since your target audience will already be in the discovery mindset when they're exploring new content, the right Snap ad can deliver huge volumes of views, clicks, and conversions.
(Source: snapchat.com)
You can utilise photos, videos, or even GIFs as single image and video ads. However, the usual Snapchat rules apply here – deliver a punchy creative message and a crystal clear call to action to keep users engaged.
Many advertisers run single image or video ads as a staple part of their Snapchat campaigns because these ads can quickly generate massive reach and engagement.
Story ads
Snapchat Story ads operate in a similar way to single image or video ads, but with one major difference – Story ads are served in a sequence.
Advertisers can run 3-20 Story ads within a single placement, encouraging audiences to tap through and explore multiple different tiles.
Your Story ad will be delivered between organic user Stories, but can also appear on the Snapchat Discovery page, which can help to drive campaign awareness and clicks.
(Source: snapchat.com)
With the right marketing strategy, Story ads can generate insane levels of engagement.
For one thing, Story ads are inherently engaging.
Users automatically tap through different Snaps while they're navigating the app, so they'll naturally explore your sequence of Story assets.
Secondly, you can use Story ads to deliver several campaign messages within a single placement. You might advertise a range of brand services, showcase an entire product collection, or promote several pieces of User Generated Content.
If you can unlock the full creative potential of this unique Snapchat ad, the results will speak for themselves.
Commercial ads
Snapchat Commercial ads are the ideal format for increasing ad views and boosting brand awareness.
Commercial ads appear in and around Snapchat Stories, but here's their secret weapon – these ads are unskippable.
You can run two different variations of Commercial ads on the platform – Standard Commercial ads (3-6 seconds long and fully unskippable) and Extended Commercial ads (7-180 seconds long, with the first 6 seconds being unskippable.)
(Source: snapchat.com)
It's worth noting that standard Snapchat creative practices still apply here.
Long form video is often inefficient on the Snapchat platform, meaning Standard Commercial ads are generally the right choice for advertisers.
Although 6 seconds isn't a huge amount of time for creativity, you can still put these non-skippable assets to good use.
Prioritise your key brand messages or product benefits, and deliver them in a snappy and engaging way. Since users are guaranteed to watch the whole video ad, this is a great opportunity to showcase your products and brand logo.
Alternatively, you might also use Commercial ads to supplement a wider video campaign, delivering punchy reminder messages about your products or services.
Collection ads
Collection ads are a dream for e-commerce brands.
This ad type is designed specifically for brands to showcase their products, attract new customers, and generate direct conversions.
A Collection ad allows you to display a single 'hero' image or video in the main section of the placement, accompanied by 4 clickable product tiles at the bottom of the screen.
This helps to create a seamless customer journey, where transitioning from viewing an ad to completing a purchase only takes a couple of taps.
(Source: snapchat.com)
To launch a Snapchat Collection ad, you'll initially need to upload your product catalog to the Snapchat Ads Manager. This upload can be completed manually, but you can also automate the process by connecting to digital e-commerce platforms like Shopify.
If you're using Snapchat ads advertising to try and drive online sales at scale, then Collection ads can be a potent tool in your social media ads arsenal.
With an eye-catching hero asset, high-quality product images, and a strong call to action, you can achieve exceptional performance and deliver high volumes of catalog sales.
Dynamic Collection ads
Dynamic Collection ads are fairly self-explanatory. They're the dynamic, data-fuelled cousin of the standard Snapchat Collection ad.
To activate Dynamic Collection ads, you'll still need to use your Snapchat business account to upload your product catalog. Once you've completed this step, you'll then need to put some other elements in place:
A Snap Pixel installed on your website
The following actions set up within your Snap Pixel:

Purchase
Add To Cart
View Content or Page View

Targeting data collected for at least 1,000 Snapchat users within your Snap Pixel
The Snapchat platform will then be able to serve Dynamic Collection ads to your audience, meaning they'll be targeted with more relevant products based on their website behaviours and preferences.
This increased relevancy and automation is what makes Dynamic ads so effective. They feel more personalised to your target audience, which increases the likelihood of a conversion.
However, while Dynamic ads can be super effective, that doesn't mean you can just launch campaigns and automatically assume they'll crush your targets.
Be sure to optimize campaigns regularly, even if they're dynamic, and pay close attention to ad metrics and performance.
AR Lens ads
Augmented Reality Lens ads are essentially sponsored camera filters. Brands can build and promote their own custom filters, and audiences can then use them in their own photos and uploads.
There are two primary types of AR Lens ads available to Snapchat advertisers:
Face AR Lens – enables target users to open the front-facing camera and apply AR features to their faces.
World AR Lens – enables target users to open the rear-facing camera and apply AR features to the image frame.
Worried that designing an AR Lens ad creative might be hard work?
Fear not – the Snapchat Lens Web Builder allows brands to produce their own AR Lenses quickly and easily, using an array of different tools and templates.
(Source: snapchat.com)
With the right creative idea and execution, AR Lens ads can be ridiculously effective.
Snapchat users are already familiar with the concept of using filters, so a unique and fun AR experience can rapidly build momentum and increase organic reach.
Lens ads can be particularly effective at building excitement and intrigue around product launches or events. They can also be a great way for users to virtually try-on different products and accessories.
Filter ads
Snapchat Filter ads are effectively a more basic version of AR Lens ads.
While Augmented Reality Lenses track faces and objects in real-time to apply AR features, Filter ads just apply static overlays to Snapchat images.
You can utilise two different types of Snapchat Filters in your ad campaign.
Location-based Filter ads are geo-fenced around specific areas, while Audience-based Filter ads are targeted toward specific audience segments.
(Source: snapchat.com)
Filter ads can be fairly cost-efficient for advertisers, so if you're looking for a simpler alternative to AR Lenses, this can be a solid option.
Geo-fenced Filters can be very useful if you're looking to specifically target users based in a certain area (e.g. nearby to a physical store) but they can also be handy for event promotion.
As with all Snapchat filter-style ads, the secret to a successful campaign is a unique creative idea that's genuinely engaging for your target audience.
If you're keen to explore any of these ad formats in more detail or need to double-check any ad specifications, just check out this page.
How much do Snapchat ads cost?
Snapchat advertising can be an invaluable addition to your paid social marketing efforts, whether you need to drive monumental brand awareness or secure ultra-efficient conversions.
But let's tackle the social media elephant in the room here.
How much will it actually cost to advertise on Snapchat?
Well, the first thing to acknowledge is that many different factors can impact the cost of Snapchat ads, including:
Target audience
Ad format
Seasonality
Competitor activity
Objective
The price of your Snapchat ad campaign will regularly fluctuate, so it's very important to understand the variables that can influence these costs. The more informed you are about Snapchat costs, the more effectively you can manage your budget!
However, that doesn't mean we can't review some average Snapchat costs to estimate how much you'll likely need to spend on a campaign.
Minimum daily spend on Snapchat – £4.50
Average CPM (Cost Per Thousand Impressions) – £3.16
Single image or video ads (monthly average) – £2,705
Snapchat CPMs are relatively cheap when compared to other social media platforms, so the network can be a great place for small businesses to experiment with paid social ads.
The price of your Snapchat ads will also vary wildly depending on your ad formats, target audience, and bidding strategy. However, if you can leverage the Ads Manager to carefully monitor your costs, you'll find it much easier to control your budget and optimise spend.
How is Snapchat CPM calculated?
Snapchat advertising operates on a goal-based bidding system.
This means that the Snapchat algorithm automatically optimises your ads towards achieving a pre-defined goal, such as video views, app installs, and online sales. When you're setting up a new campaign in your ad account, you'll be prompted to choose your preferred goal.
But it's important to note that your Snapchat ads will always be billed on a Cost Per Thousand (CPM) basis, regardless of your bid goals.
This means that you're paying for the volume of impressions being delivered, rather than specific outcomes. However, the Snapchat platform will work to optimise ad performance and maximise the number of goals achieved by your ad impressions.
Your choice of bid goal will also directly impact your Snapchat CPM. Some goals are more difficult to achieve than others, and this will be reflected in your campaign CPM.
Once you've selected your desired bid goal, you'll also need to confirm your preferred bidding strategy.
There are three primary Snapchat bid strategies available to advertisers:
Auto-Bidding: Allows the Snapchat algorithm to determine the best bidding strategy based on your budget, target audience, and ad set duration.
Max Bid: Establishes a maximum amount that the Snapchat platform can bid to achieve your goals.
Target Cost: Enables the Snapchat platform to bid on your behalf to try and meet a target Cost Per Action.
It's crucial to understand the different bid goals available on Snapchat, as these goals will dictate both the outcomes you generate and the amount you pay for them.
How to create Snapchat ads
Keen to get started with Snapchat advertising?
Just follow the steps below, and you'll be able to create ads that drive outstanding returns for your brand.
1. Access the Snapchat Ads Manager
Before you get started with launching a Snapchat ad, you'll need to set up a Snapchat Advertising Account.
To do so, visit this page and click 'Get Started'. Log in using your Snapchat account details – if you don't have a Snapchat profile, now's the time to set one up.
Fill in some basic details about your business, confirm your payment information, and hit 'Get Started' again to create your ad account.
2. Set up your ad campaign
You'll now have access to the Snapchat Ads Manager page.
Open the Dashboard view on the left side of the screen, and click 'New Campaign.' You'll now be prompted to select your campaign objective from the following options:
App Installs
Website Traffic
Brand Awareness
Video Views
You can run more than one ad set in a single campaign, and multiple ads can be contained in each of these ad sets. This is a great way to test different audiences and creative assets, so make sure that you're comfortable with the Ad Manager tools and features.
Enter a start and end date for your campaign, and then click 'Next' to proceed.
3. Confirm your audience and budget
It's now time to define the target audience for your Snapchat campaign.
There are several pre-defined categories that you can use to build your audience, including:
Lifestyles (based on user behaviours/interests within the Snapchat app)
Shoppers (based on the shopping habits of Snapchat users)
Viewers (based on content consumption and preferences)
Visitors (based on geo-targeting and specific locations)
You can also create powerful, data-driven audience segments through the Snap Pixel. These Custom Audiences (and Lookalikes) are often extremely effective, particularly if you're looking to drive cost-efficient conversions.
Fill in some additional campaign details (i.e. ad placements, budget, bid goal) and proceed to the next section.
4. Upload or create your Snap ad
Hit 'New Creative' to start crafting your Snap ad.
You'll initially need to select your desired ad type from the following options:
Top Snap Only – a standard Snapchat ad without an attachment
Web View Attachments – includes a swipe-up functionality that directs users to a website landing page
App Install Attachments – includes a swipe-up functionality that sends users to an app page in the App Store/Google Play Store
Long-Form Video Attachments – includes a swipe-up functionality that enables users to watch a longer video (up to 10 minutes)
Now it's time to create your Snapchat ad.
Fill in your headline, select your call to action, and upload your image or video asset. If you don't have an asset prepared, you can use the Snap Publisher tool to produce one.
If you need creative inspiration for your Snapchat ads, it's a good idea to look at previous ad examples and case studies. The best Snapchat ads stick closely to best practices for the platform, so make sure that you're following proven strategies.
5. Track performance with the Snapchat Ads Manager
Once you've launched your Snapchat ad campaign, it's vital that you monitor performance closely and make smart optimisations.
You'll be able to analyse various ad metrics through the Snapchat Ads Manager dashboard, including:
Ad spend
Bid goals
Impressions
eCPM
Engagements/Swipe Ups
Stay focused on the metrics that are contributing to your primary objective, and don't hesitate to make decisive optimisations. If any audiences or assets are underperforming, it's a good idea to redirect your ad budget towards more effective tactics.
Many brands find that enlisting the help of a marketing agency can help them to accelerate the campaign set-up process and deliver superior results. Tapping into professional Snapchat ad services can be hugely beneficial for marketers, particularly if they lack experience with paid social advertising.
4 key benefits of Snapchat Ads
Snapchat ads can be a game-changer for your business, whether you're looking to boost brand awareness or drive app installs.
Here are some of the most compelling reasons to include Snap ads in your social media marketing efforts.
1. Snapchat ads are proven to work
This may sound like a fairly obvious benefit, but it's still worth remembering.
Snapchat advertising has been proven to help marketers from a huge range of industries to achieve various business goals.
The platform also enables brands to tackle objectives at both ends of the marketing funnel. For example, Mentos used Snapchat Filters to drive a 7% increase in ad awareness, while
SIKSILK improved its ROAS by 57% through Dynamic ads.
2. You can access multiple ad formats
One of the biggest selling points of Snapchat advertising is the range of different ad formats that are available.
This versatile selection of formats enables advertisers to tackle various objectives, engage audiences in different ways, and effectively address each stage of the marketing funnel.
For example, if you're just interested in maximising reach with a simple product message, single image or video ads can be highly effective on Snapchat.
But maybe you need to deliver multiple product messages in a single placement? Snapchat Story ads are the perfect option. Or perhaps you're looking to make a bold statement and spice up a new product launch? Look no further than AR Lens ads.
3. You can utilise data-driven targeting
Accurate and efficient audience targeting is a must-have in the world of social media marketing.
Fortunately, Snapchat provides brands with access to highly efficient and data-fuelled audience targeting tactics that can generate outstanding returns.
If you're a new advertiser, Snapchat's pre-defined audience segments (such as Lifestyles, Shoppers and Viewers) are a highly effective and super convenient option.
However, the most successful Snapchat campaigns often harness the awesome power of Custom Audiences. Pixel-based audiences can deliver jaw-dropping results, as they enable you to utilise real user data to target the hottest prospects on the Snapchat platform.
4. You can effectively reach younger audiences
If you're looking to engage a younger demographic of shoppers, then Snapchat is a fantastic marketing tool.
Although the Snapchat audience has gradually expanded and diversified over the years, the platform still has a very strong connection to millennial and Gen Z users.
Almost 20% of the Snapchat user base are aged between 18-24 – and when you consider that the platform attracts 319m daily active users, the size of the opportunity becomes clear.
With smart targeting and a creative approach that appeals to younger customers, brands can achieve enormous success through Snapchat advertising.
So, are Snapchat ads worth your hard-earned marketing budget?
The answer is a resounding 'yes'.
If you can produce Snap ads that are tailored to the platform (and your target audience) then you'll be in a strong position to smash your paid social marketing goals. Stick to creative best practices, set up your campaigns properly, and enjoy the mind-blowing results.