Searching for a marketing channel that can attract new customers, ramp up conversions and supercharge your brand growth?
Look no further than social media advertising.
The world of social media marketing is huge, offering brands a range of platforms, tactics, and formats that can drive jaw-dropping results. From laser-targeted paid social ads to super-engaging organic strategies, the possibilities are endless.
But where should you start with your social media marketing journey? And how can you make sure that your budget is working as hard as possible for your business?
It's time to answer every question you have about social media marketing. In this guide, we'll explain how you can maximise your ROI, capitalise on different platforms, and use social networks to achieve your most important business goals.
What is social media marketing?
Social media marketing is an umbrella term for a few different types of campaigns.
Different social media platforms and placements can all be used to achieve a wide range of objectives, so it's important to build a strategy that's tailored to your specific social media marketing goals.
However, social media marketing can be explained as utilising social media networks to reach, engage, and convert target audiences.
There are plenty of social media platforms for brands to use, and each platform has its own unique advantages and opportunities.
TikTok, for example, is generally used to promote short and snappy video assets to a slightly younger audience. Instagram, on the other hand, can be used to deliver diverse content to a wider range of demographics.
The right social media marketing platform for your brand all depends on your objectives, audiences, and product offering.
A major part of social media advertising is also understanding the difference between organic marketing and paid marketing.
What is organic social media marketing?
Organic social media marketing is any marketing activity that doesn't necessarily require money to run.
This could include posting and sharing photos or videos, distributing blog posts, or interacting with social media followers.
If it doesn't cost money to post, it's organic social marketing.
Organic social media marketing can be incredibly useful for brands because it can drive positive results without any investment. Brands can encourage engagement with followers, provide speedy customer service, and build their reputation online.
Brands can also use organic posts to test new creative messages that can then be promoted through different social media channels.
However, it's important to remember that although organic social marketing is technically free, there are some costs often attached to it.
Brands will frequently hire graphic designers to produce visual content, copywriters to deliver social post copy, and digital marketing agencies to handle social media management.
Organic social doesn't necessarily require any investment – but many brands will hire professionals to ensure that their organic marketing efforts are successful.
What is paid social media marketing?
Paid social media marketing is fairly self-explanatory – it's any form of social media advertising that costs money to launch.
One of the biggest advantages of paid social is the ability to reach new, highly-targeted audiences beyond your existing followers.
This allows advertisers to dramatically increase the scale of their social media marketing and attract new customers.
Each social media platform offers its own audience targeting options, but all of these segments can be built using valuable data signals which help brands to target users who are more likely to convert.
Paid social campaigns can be set up to achieve a number of different objectives, from increasing brand awareness to securing online sales. Various paid ad formats can also be utilised within these campaigns, often in combination.
Although paid social advertising will inevitably require some investment, the potential returns can make this more than worthwhile. With a watertight strategy and data-fuelled targeting, you can generate incredibly efficient results through paid social campaigns.
Organic vs Paid social media marketing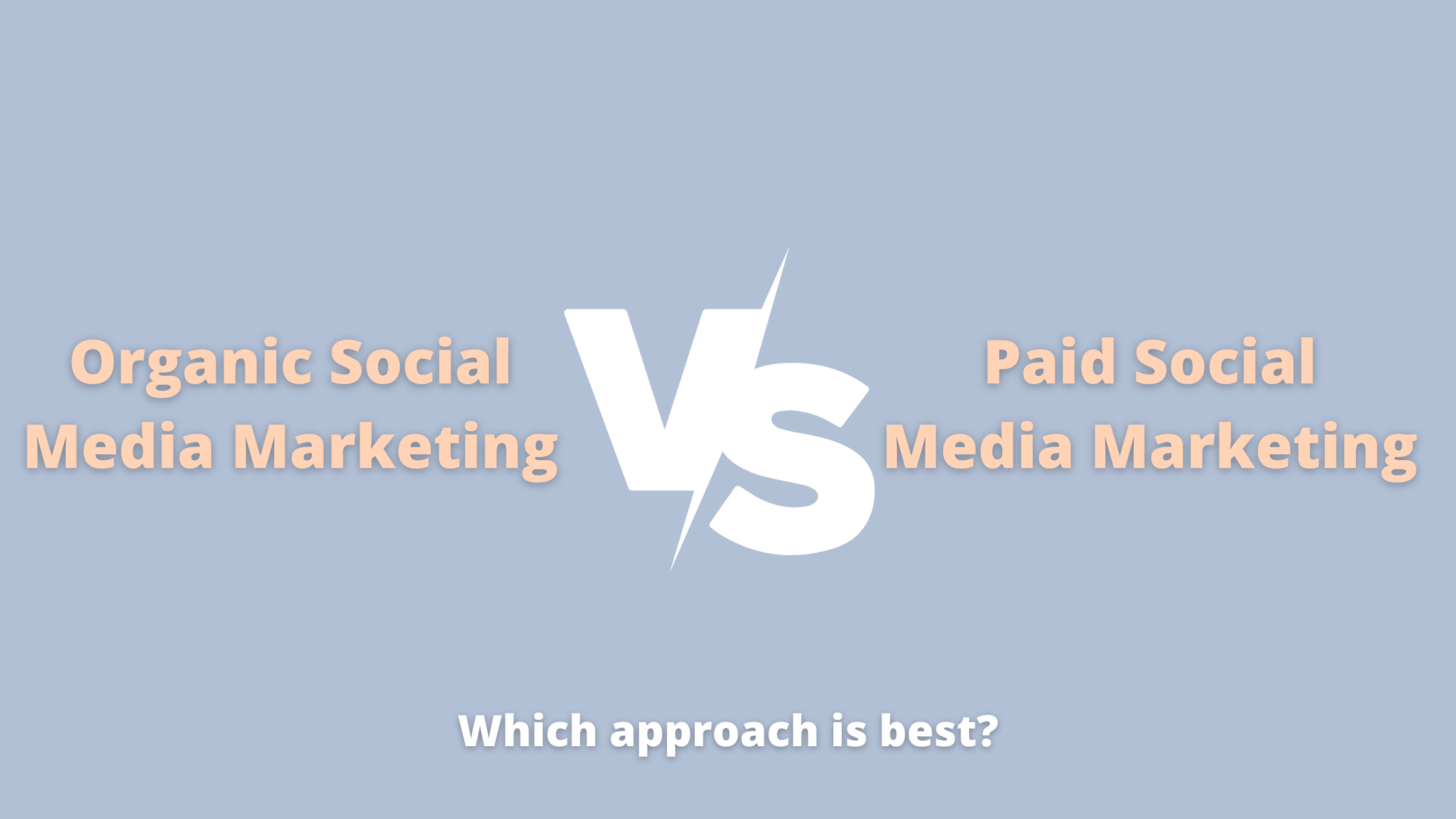 Both organic and paid social media marketing can work wonders for your brand.
So which approach is best?
Should you focus on the low-cost audience engagement of organic marketing? Or the granular targeting and conversion efficiency of paid social marketing?
The answer is both.
There's no need to sacrifice one type of social media marketing for the other.
When both organic and paid tactics are used in combination, brands can effectively grow their social media presence, attract new prospects, and interact with existing customers.
It's a win-win.
Always try to create a well-rounded social strategy that balances engaging organic executions with effective paid social activity. The key is to ensure that both approaches work in harmony.
Maintain a consistent tone of voice across organic and paid content, and make sure that you're taking full advantage of both channels.
What are the benefits of social media marketing?
Whatever your key business objectives are, social media marketing can help you to crush your targets and accelerate your brand growth.
Let's explore some of the biggest benefits that social media marketing can offer.
Increasing brand awareness
Every social media platform is different, but all of the major networks have one thing in common – a huge user audience.
Both organic and paid social marketing enable brands to reach a massive number of users, helping them to increase brand awareness and advertise their products.
Users can engage with your paid ads, watch your brand videos, and click to visit your website. This is great for building familiarity with your business and exposing potential customers to your offering.
Generating leads, sales, and conversions
Social media marketing is also an excellent way to drive conversions for your brand.

Many paid social formats are designed to drive specific actions from your target audience, and with the right targeting tactics, you can achieve outstanding results.
For example, if you're looking to generate leads, placements like Facebook Lead ads and LinkedIn Lead Gen Forms are perfect.
If you're hoping to increase online sales, formats like Snapchat Collection ads and Pinterest Collection ads allow you to showcase your product range and generate conversions.
On the organic side of things, you can also use features like Instagram Shopping to help users discover your products and make new purchases through your content.
With the right ad formats and data-driven audiences, you can rapidly stack up valuable conversions through social media ads.
Enhancing customer relations
Social media marketing is an excellent tool for improving and bolstering your customer relations.
Regularly interacting, connecting, and engaging with your followers is a surefire way to enhance your business reputation and nurture positive relationships.
Plus, you don't need to pay to interact with your existing followers.
You can reply to your customers through comments, post competitions or opinion polls, and set up product giveaways to keep your audience engaged. The key is to stay consistent and ensure that you're actively connecting with users on a regular basis.
You can also use social media networks as customer service platforms, responding quickly to issues and communicating with buyers through direct messages.
Gathering competitor insights
You can also utilise social media networks to conduct some sneaky competitive analysis.
Since most of your competitors will be active on at least a couple of social media platforms, you can keep tabs on their activity to inform your own strategies.
Assess the social media profiles of your competitors to uncover some useful insights.
Which posts are driving the highest engagement rate? Are your competitors using influencers? How are they promoting their products and services on social media?
Learn from what your closest competitors are doing – implement what's working, and avoid any errors. If you can conduct market analysis on a regular basis, you'll put yourself in a great position to stay ahead of the curve.
Breaking down the major social media platforms
One of the most important aspects of a successful social media marketing plan is choosing the right platforms for your campaigns.
Different social networks will provide you with access to different audiences, ad formats, and targeting tactics.
Let's take a look at some of the biggest social media platforms, and explain how they can contribute toward your campaign targets.
Facebook
Facebook is one of the most established social media networks in the world.
The platform boasts around 2.9bn monthly active users which provides brands with immense scale and audience access.
In terms of user demographics, Facebook offers decent reach across age groups. The 18-34 category is the largest (with 54% of users falling into this bracket) but brands can still reach plenty of older shoppers, with 23% of the user base aged over 45.
(Source: statista.com)
Facebook paid social advertising can also be very powerful. Brands can capitalise on a number of different targeting tactics, including:
Demographic Audiences – based on age, gender, education, job title
Interest Audiences – based on specific hobbies and interests
Behavioural Audiences – based on previous purchases and device usage
Custom Audiences – valuable segments built from Facebook pixel data
Lookalike Audiences – based on replicating Custom Audiences
These audiences can be reached with a variety of effective ad formats, so with the right Facebook marketing strategy, you can deliver some tremendous results.
There are also plenty of strong opportunities for organic marketing on Facebook, from uploading visual assets in-feed to uploading Facebook Stories to capture attention.
Twitter
Twitter is a unique social media network that strongly encourages brands to interact directly with followers and engage in popular conversations.
Around 238m users access Twitter on a daily basis, and although the platform can't quite match the likes of Facebook when it comes to scale, it can still offer a lot for brands.
Twitter is all about organic conversations, user interactions, and trending topics, which presents a lot of exciting opportunities for both organic and paid marketing.
From a paid perspective, advertisers can target the following audiences on Twitter:
Demographic Audiences – based on language, gender, age, location, etc
Audience Types – targeting conversation topics, specific keywords, events, etc
Your Audiences – includes follower targeting and first-party Custom Audiences
Advertisers can launch a range of different Twitter ad formats, including standard image and video ads, Carousel ads, and pre-roll video placements.
In the organic marketing department, businesses have a valuable opportunity to engage with loyal customers and followers through Twitter.
Direct Twitter replies are a great way to spark conversations and provide speedy customer service, and brands can also use specific hashtags to get involved with trending topics.
Instagram
Instagram is part of the wider Facebook family, but the platform offers several unique features and marketing opportunities that help it to stand out from the crowd.
As you might expect, the Instagram audience is absolutely huge.
The platform attracts around 2bn monthly active users, making it one of the largest social media networks in the world.
(Source: statista.com)
The Instagram platform design places a major emphasis on eye-catching visuals.
User feeds are packed with mountains of fresh content, providing advertisers with an ideal opportunity to showcase organic posts and capture attention with paid ads.
Since Instagram is owned by Facebook, the platforms also share very similar audience targeting options and ad formats. It's easy for paid social advertisers to extend campaigns across both channels, which is great for increasing reach and driving brand awareness.
The key for both organic and paid social marketing on Instagram is producing quality creative assets.
Instagram users are exposed to a vast amount of content every single time they open the app, so you need to deliver visual content that instantly grabs attention and resonates with your target audience.
LinkedIn
While most social media platforms allow you to share your personal life with followers, LinkedIn focuses more on your business life.
The platform is designed to allow professionals to share and engage with industry content, network with colleagues, and post business updates.
Around 310m users access LinkedIn every month, and although the scale doesn't compare to platforms like Facebook and Instagram, the LinkedIn audience can be extremely valuable for certain brands.
LinkedIn marketing is particularly useful for B2B brands who are looking to reach new customers, build a stronger industry reputation, and connect with specific business verticals.
In terms of paid social, LinkedIn is frequently used for lead generation campaigns. Since brands can target business decision-makers, business owners, and specific job titles, they can secure highly valuable leads.
Paid social advertisers can target the following audiences on LinkedIn:
Demographic – based on gender, location, age, etc
Company – based on company size, industry, name, and followers
Education – based on fields of study and qualifications
Job Experience – based on specific roles, seniority, and years of experience
LinkedIn offers a range of different ad formats, including Sponsored Content native ads, Sponsored InMail and simple Text Ads.
The platform can also deliver strong results through organic marketing, especially if you're posting visual assets (e.g. infographics, videos) or articles that are tailored to your audience.
Many LinkedIn users will share posts that are genuinely valuable and informative, meaning you can rapidly increase your reach by uploading top-notch content.
Pinterest
Pinterest functions more like a visual search engine rather than a standard social media network, creating some unique marketing opportunities for brands.
The platform attracts around 433m monthly active users and has a streamlined design that lends itself to showcasing creative assets and product visuals.
(Source: statista.com)
Users are encouraged to actively search for and discover new visual content through Pinterest search results. Pinterest content is posted in the form of 'pins' which function like bookmarks that users can click, view, and save.
These pins can then be collected and arranged in 'boards' to keep them organised.
This is very important for organic marketing, as brands can set up specific boards for different types of content – for example, product categories and User Generated Content.
Pinterest paid advertising works in a similar way through 'promoted pins' that can be targeted toward specific audiences. Promoted pins are served alongside organic posts in feed, but carry a label to highlight them as paid ads.
Pinterest offers a selection of paid social formats, including:
Promoted Pins
Promoted Carousels
Promoted Video Pins
Promoted App Pins
Collections Pins
Idea Pins
Buyable Pins
Paid advertisers can set up target audiences based on Demographic information, Interest data, and Keywords.
It's also worth noting that because Pinterest works like a search engine, brands can utilise keyword strategies to improve SEO and boost the visibility of their organic posts.
Snapchat
Snapchat is all about speedy, punchy, and eye-catching content that can be consumed quickly.
The platform boasts around 557m monthly active users and offers a particularly strong reach among Millennial and Gen Z audiences.
Although Snapchat has been around for a while (having existed since 2012) it remains a popular app for both marketers and users. The platform focuses heavily on short-form videos, which have recently exploded in popularity through apps like TikTok.
Snapchat paid social ad formats include:
Snap Ads – 10-second video or image ads that can be launched to drive traffic to your website, increase app installs, or secure video views
Story Ads – ads containing 3-20 individual image or video assets
Sponsored Lenses – sponsored camera filters and AR lenses
On-Demand Geofilters – sponsored camera filters for geofenced locations
Snapchat organic marketing can also be highly effective, but as always, the key is to create content that's tailored around audience interests and delivered in an engaging way.
TikTok
TikTok is a relatively new player in the social media space, but that hasn't stopped the platform from making a huge splash.
The TikTok app has achieved stunning growth since launching in 2016. Currently, around 1bn users use TikTok every month, and this number is continuing to grow.
The app offers brands colossal scale and provides them with a golden opportunity to engage Gen Z audiences.
TikTok has plenty of opportunities for paid social advertising, and the platform is continuing to develop new social media marketing tools. Advertisers can launch several TikTok ad formats, including:
In-Feed Video Ads
TopView Ads
Spark Ads
Brand Takeovers
Branded Hashtag Challenges
Branded Effects

Standard audience targeting options are available on TikTok, but marketers can also build more advanced segments (i.e. Customer File, App Activity) using pixel data.
From an organic perspective, TikTok has the potential to drive jaw-dropping levels of engagement and huge organic reach. The right posts and assets can spread like wildfire, so it's all about staying up-to-date with the latest user trends.
Brands that can post regular organic content that's tailored to the TikTok platform have a great chance of increasing audience engagement and attracting new followers.
YouTube
YouTube is the home of online video, and also the second largest search engine on the planet. Unsurprisingly, the platform has plenty to offer for both organic and paid marketing.
Approximately 1.7bn unique users log in to YouTube every month, providing brands with a huge audience to reach, engage, and convert.
Paid social campaigns can generate incredibly efficient results on YouTube, as advertisers can reach granular audiences and appear alongside targeted video content.
YouTube offers a range of paid advertising formats, including:
Skippable and Non-Skippable In-Stream Video Ads
Discovery Ads
Bumper Ads
Overlay Ads
Companion Banners
Display Ads
YouTube is also part of the Google family, which means that advertisers can build highly-targeted audiences that are fuelled by powerful data.
Advertisers can target Demographic audiences, Interest audiences (e.g. Affinity, Life events, In-Market) and can also use first-party data to build more granular segments.
As usual, the formula for successful organic marketing on YouTube is creating the right content for the right audiences.
The platform is absolutely packed with video content from a crazy number of different creators, so you need to make sure that you're uploading fresh content that will genuinely interest your audience.
If you can manage that, then you'll be able to connect with massive audiences and deliver outstanding results through organic YouTube marketing.
Mind-blowing social media marketing statistics
Still not totally convinced about the power of social media marketing?
Tough crowd. But fear not.
We've pulled together some killer statistics that prove what social media marketing can do for your brand – and these numbers speak for themselves:
Social media is used by 4.6bn users around the world. That's over 50% of the global population and 93.4% of all individuals connected to the internet.
Facebook ads are used by 70% of marketers, and 10m active advertisers were using the platform in Q3 2021.
Pinterest shoppers have 30% bigger baskets than shoppers on other social platforms – they also spend twice as much on monthly purchases.
The YouTube platform accounts for more than 25% of global mobile internet traffic.
The potential of social media marketing is mind-boggling.
Whether you're looking to build brand awareness at the top of the funnel or generate revenue-driving conversations at the bottom, social media marketing can do it all.
The fundamentals of successful social media marketing
Every social media platform is different.
Different social networks offer different ad formats, audiences, and marketing tools.
But if you want to run profitable and effective social media marketing, there are some best practices that need to be applied to every platform.
If you can incorporate all of these elements into your social media strategy, you're guaranteed to be on the right track.
An in-depth understanding of your target audience
If you're going to reach and convert your target audience through social media, you need to understand who they are.
What is their demographic profile? What content do they find interesting? Which social media platforms are they actively using?
Once you've painted a clear picture of your core audience, you'll be able to build an effective strategy to find them.
An established brand identity
Your brand identity is super important on social media.
Not only will a strong brand personality help to separate you from the competition, but it will also help customers to relate to your business.
Think carefully about your tone of voice, your brand principles, and the way you'd like customers to perceive your business.
A consistent content strategy
A well-planned content strategy is hugely important for organic marketing.
Building a detailed content calendar is a great way to plan out your key messages and identify opportunities for user engagement.
Diversify your content production, and experiment with different formats and executions to keep your audience engaged.
There will always be moments for reactive or spontaneous social posts, but try to focus on maintaining a regular stream of quality content throughout the year!
A balanced approach to creative messaging
If you're constantly uploading repetitive posts and messages, your audience will lose interest in your content – and that's a big problem.
To keep social media users interested in your brand communications, mix up the types of messages that you're putting out.
Informative social media posts (e.g. how-to videos, business updates, infographics) generally perform well because they're valuable to users, so try to produce a steady flow of this content.
You can then occasionally upload emotional content (e.g. company milestones, brand values) or directly promote your products with more sales-y messaging. The key is to strike a balance between different creative messages.
A strong understanding of social media analytics
Whether you're distributing organic content or managing targeted ads, it's critical that you measure the success of your social media marketing.
Identify the metrics that are going to contribute to your social media goals, and track them carefully through reports.
Organic and paid marketing will usually be measured slightly differently, so make sure that you're paying attention to the right metrics.
For example, you might want to track reach, impressions and engagements when you're uploading organic content. But if you're trying to drive conversions through paid social, you'll want to focus on metrics like clicks, cost per click, and sales.
How to create a show-stopping social media marketing strategy
Now that you're familiar with all of the major social media platforms, let's look at how you can build a marketing strategy that unleashes their full potential.
There are a lot of different moving parts within a social media marketing strategy, but there's no need to panic.
A clear and specific marketing strategy will simplify your challenges rather than overcomplicate them, enabling you to crush your most important targets.
1. Set goals that align with your business objectives
Every successful social media campaign starts with one thing – a crystal clear goal.
The first step is to establish your primary objective for social media marketing.
What do you want social media to achieve for your business? Perhaps you want to boost brand awareness, increase your follower count, or open up new social channels for customer service.
Whatever your objective, make sure that it's laser-focused and abundantly clear.
You'll then need to identify the metrics that will move you closer to achieving this goal.
There's a huge number of social media metrics to choose from, but below is a visualisation of the metrics most commonly attached to certain objectives: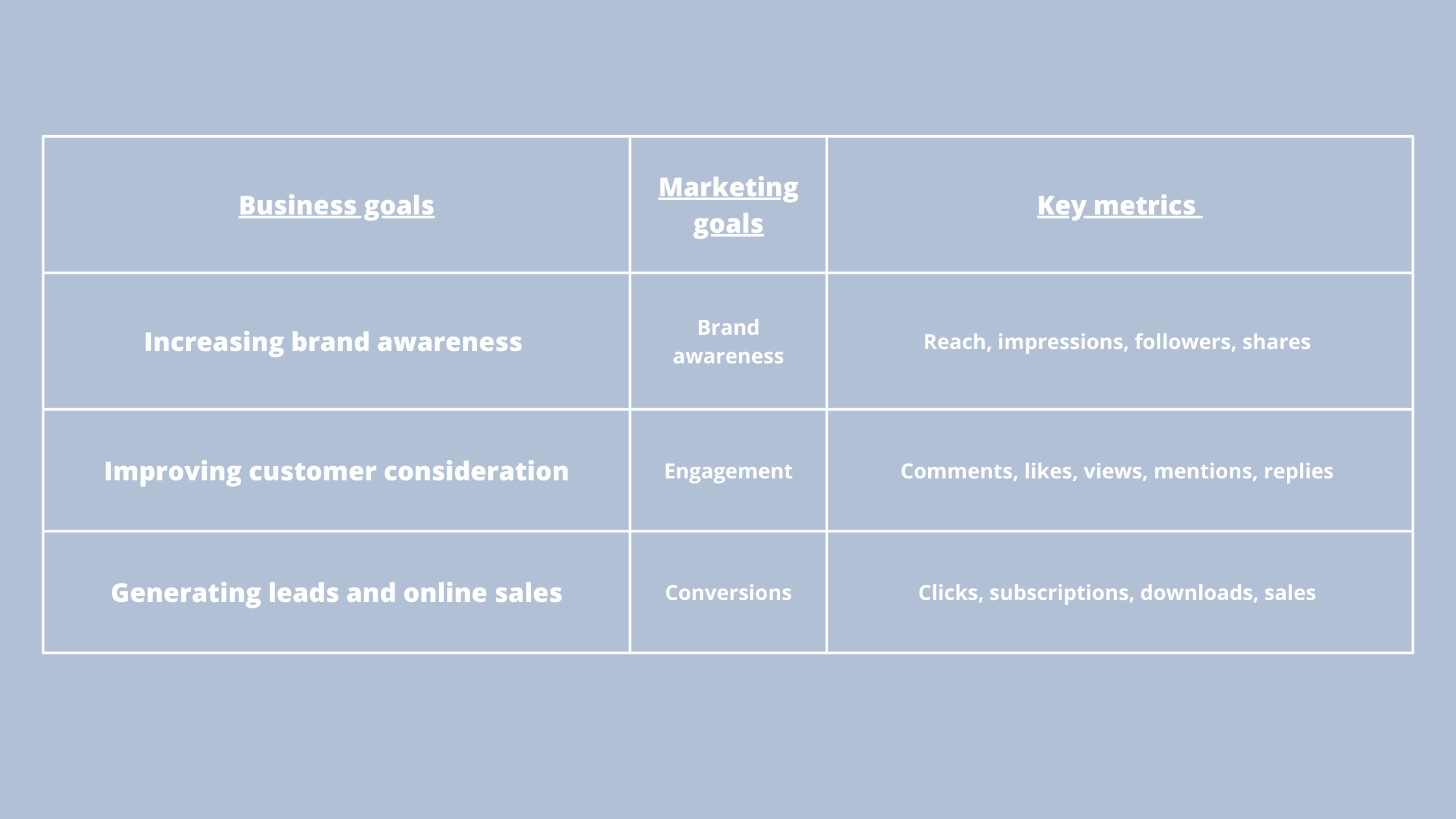 2. Build a clear picture of your target audience
Creating detailed audience personas is a hugely important step in the marketing process.
If you're launching social media marketing without understanding your target audience, you might as well be working blindfolded.
Try to gather as much information about your target audience as possible using platform data, your own customer insights, or desk research. Establish your audience's:
Age range
Location
Average income
Job title/industry
Passions
Digital behaviours
The more you know about your target audience, the more effectively you'll be able to connect with them through social media.
3. Analyse your competition and market position
You can learn a lot from your closest competitors and their social media tactics.
Conduct a thorough competitor analysis across the main social media platforms, focusing on the most relevant and successful competitors in the market.
Analyse the types of content that your competitors are producing. What form of content is driving the most engagement? Which audiences are they trying to reach? What kind of brand persona are they building?
Learn from what your competitors are doing well, and avoid repeating their mistakes.
It's also a good idea to reassess your own brand position in the market.
If you're already active on social media, take stock of your current situation. Which platforms are performing positively for your brand, and where is there room for improvement?
Use these insights to refine your social media marketing strategy.
4. Create your social media accounts and set yourself up for success
Now that you've established your objective, identified your target audience, and analysed the competition, it's time to set up your accounts.
Decide on the networks that you'd initially like to use, and think about the role each will play in your wider strategy.
For example, you might primarily use YouTube to host long form product tutorials, and Facebook and LinkedIn to generate new customer leads. It's all about picking the right platforms to tackle your objectives.
Make sure that you have a clear and focused goal for every social media platform in your strategy – Instagram Stories for driving brand awareness, TikTok In-Feed ads for generating sales, etc.
Once you've nailed down your chosen platforms, set up your social profile on each. Include as much information as possible about your business, and use consistent branding across every network.
5. Draw up a detailed social media content calendar
Sharing high-quality organic content is an excellent way to grow your social media following, attract new customers, and enhance your reputation online.
To ensure that you're delivering a constant flow of engaging content, it's helpful to lay down a detailed content calendar for the year.
Your content schedule can obviously be adjusted (and there's always room for spontaneous posts) but a calendar is a good way to stay on track.
Below are some top tips for producing an effective content calendar:
Map out a clear posting schedule for each social network
Use platform data to inform the best times for posting
Keep things fresh by scheduling different types of content
Balance your messages – it's usually recommended that the majority of your content is informative and educational, with the occasional piece of product/brand promotion
The key word is consistency when it comes to social media content creation.
6. Start producing your brand new content
Once you've set up an expertly-planned content calendar, it's time to start creating those eye-catching assets.
One of the most important parts of content production is tailoring your assets to the platform they'll be running on.
Make sure that your content is aligned with your objectives, your audiences, and your networks. For example, it wouldn't make sense to produce a long-form brand video for a TikTok paid social campaign – think about how you can maximise the impact of your assets.
You'll also need to think about how you'll be producing your social media content.
If you can handle content production effectively in-house, then great. If you'll need external support, look for a marketing agency that can help you to create content that's tailored to your audience, aligned with your objectives, and affordable within your budget.
It's also a good idea to plan your production timelines in advance.
You don't want to be scrambling around to create new assets at the last minute, so save yourself the stress and plan ahead!
7. Launch your content, measure performance, and optimise
So, all of your hard work and strategic planning has finally paid off.
You've finally launched your marketing activity, whether it's an organic post or a paid social campaign.
Time to put your feet up, right? Well, not quite.
Once you've launched any form of social media marketing, it's super important that you track the results and monitor performance. This will enable you to identify your best-performing tactics, understand your audience's behaviours, and improve performance.
The social media marketing process never really 'ends'. You're constantly measuring results across different platforms and adapting your strategy.
It takes time and effort to run exceptional marketing campaigns, but fear not – the results will make it all worthwhile.
How to track and analyse social media marketing performance
The campaign measurement process will be slightly different for each social media platform, but there are some major similarities across every network.
The first thing to understand is how to create a campaign report for every platform that you're using. This is generally quite easy, but you'll want to double-check the necessary steps before launching any new activity.
Set up clear reporting templates that focus on your key metrics and allow you to gather insights quickly. Download reports on a regular basis to stay in the loop.
If you're looking to drive conversions through social media marketing, it's also vital that you set up conversion tracking for your chosen platforms.
This will usually involve implementing a pixel on your website or online store. Each social media network will provide you with instructions on installing a pixel, but make sure that you test your tracking thoroughly to ensure that the data is processing correctly.
Tried-and-tested pointers for social media marketing
Getting ready to launch your own social media marketing campaigns?
Below are some expert tips for generating optimal results from both paid and organic social media marketing.
1. Tailor your content to each platform
Every social media network is unique, so you'll need to adjust your content strategy accordingly.
For example, TikTok and Snapchat are designed for speedy and punchy assets that quickly communicate key messages. YouTube, on the other hand, can support both short-form and long-form video content.
Think carefully about the platforms you're using and the audience's behaviours.
2. Don't be afraid to start small
The world of social media marketing can feel slightly intimidating at first.
There's a seemingly infinite number of audiences, formats, tools and features to use across a range of social platforms. It can be tricky to know where to start.
Fortunately, there's no need to rush in.
Start out by selecting a couple of platforms that align closely with your marketing objectives.
If you're working with a limited budget, you can always start with smaller executions and gradually expand as you gather learnings. Figure out what type of content is working, gain confidence in your platforms, and then you can eventually look to test new networks.
3. Make regular and data-driven optimisations
Smart and consistent optimisations can make the difference between average marketing and mind-blowing social media campaigns.
Keep a watchful eye over your campaign reports, and concentrate on your most important metrics.
When you identify something that's working well, whether that's a content format or a specific audience, use these insights to improve performance.
This applies to both organic marketing and paid social campaigns. The better you understand your campaign performance, the more likely you are to make informed decisions that deliver results.
Getting started with social media advertising
Every social media platform has its own unique campaign set-up procedures.
Now, most social media marketers would need to hunt down individual guides for every single platform.
But not you.
We've already pulled together the set-up instructions for all of the major social media sites, so you can spend less time researching and more time marketing.
Getting started with Facebook marketing
Getting started with Twitter marketing
Getting started with Instagram marketing
Getting started with LinkedIn marketing
Getting started with Pinterest marketing
Getting started with Snapchat marketing
Getting started with TikTok marketing
Getting started with YouTube marketing
Setting up organic marketing tends to be more straightforward than paid social advertising, but if you follow the steps above, you'll be running campaigns in no time.
If you would prefer a professional social media marketing agency to run your campaigns please get in touch with us.
Handy resources for social media marketing
Phew. We've covered a lot of ground there, eh?
But are we finished sharing golden nuggets of social media marketing knowledge?
Absolutely not.
Below are some useful guides to help you maximise campaign performance, master social media platforms, and squeeze the best results from your marketing budget.
Upbeat – Social Media Marketing Tips To Skyrocket Your Brand
Upbeat – 8 Reasons Social Media Marketing Is So Effective
Upbeat – Social Media Marketing Costs And Budgeting (2023)
Social media marketing can work wonders for your brand, but it can also be overwhelming if you don't have a clear strategy in place.
Make sure that you're fully prepared before launching any social campaigns.
Establish your objectives, identify your target audiences, and select the perfect platforms to smash your goals. Once you're equipped with a strong social media strategy, the sky is the limit.