Social media marketing is an invaluable tool for any brand looking to accelerate growth, attract new customers, and retain loyal shoppers. 
That's because both organic and paid social activity is incredibly versatile, offering many powerful benefits and opportunities to companies of all sizes. 
With effective social media marketing, brands can strengthen direct relationships with their customer base, promote products and services at scale, and build an engaging social media presence online. 
But this is easier said than done.
There's a wide range of social media platforms out there, each with its own individual nuances and strengths. If you want to maximise the value you generate from these channels, you'll need to understand how to take full advantage of them.
Luckily, we've got all the social media knowledge you need – and it's right here in this guide.
Let's explore how you can use social media marketing to achieve optimal results across every major platform. 
Organic vs paid social media marketing
First things first. Let's clear up the differences between organic and paid social media marketing.
Although both forms of advertising use the same social media platforms (and both can deliver exceptional results for your brand) they're very different in practice. 
Organic social 
Organic social is any type of social media marketing that doesn't necessarily require money to launch. 
This usually involves brands posting and distributing content through their social feeds. This can be product images, brand videos, business news, or exchanges with followers.
But although organic social marketing is technically free to run, there are some common costs associated with it. For example, brands will often pay designers to produce visual assets, agencies to manage social feeds, and copywriters to craft social media posts.
So while organic social activity doesn't require investment, brands will often pay for additional support to make sure that their marketing is effective and engaging. 
One of the biggest benefits of organic social marketing is the ability to communicate directly with existing audiences on a regular basis. 
Brands can create an active and interesting social profile that keeps users engaged, meaning they're more likely to interact with content, visit landing pages, and reply to posts. 
You can utilise organic social content to strengthen your brand voice and identity – since you dictate what appears in your feed, you have total control over what your followers see.
Many brands also use organic social media posts to test new content and messaging that can then be used in paid social campaigns. 
Paid social
As you might have guessed already, paid social is any type of social media marketing that costs money to run. 
Paid social ads can be targeted toward specific audiences. This allows brands to rapidly expand their reach, and communicate with users beyond their existing follower base. 
Paid social audiences can be built using advanced platform data, meaning advertisers can build and reach granular segments. This is valuable when you're trying to generate sales because you can target specific users who are more likely to convert. 
Brands can choose from a range of different campaign objectives when running paid social activity. These objectives can help you to achieve your highest priority business goals, from building brand awareness to driving high-value online sales. 
A variety of paid social formats can also be launched that are geared towards particular objectives and designed to enable different creative executions. 
While it's true that paid social does require some initial investment, with a smart strategy and data-driven audience targeting, brands can deliver exceptionally cost-efficient results. 
A strategic mix of both organic and paid social activity is recommended for optimal results. 
When brands take advantage of both channels, they can effectively build reach to engage existing customers and attract new prospects. 
General tips for social media marketing 
Every social media platform comes with its own unique tips and tricks for success. 
But there are also a few general pointers for social media marketing that can help you to stay ahead of the competition and maximise the impact of your activity. 
1. Establish clear and measurable objectives
If you're running any social media marketing without a clear objective in mind, you might as well be working blindfolded. 
Without an objective in place, you'll struggle to know what kind of tactics are actually helping you to achieve your most important social media goals. 
Before you launch any kind of social marketing, ask yourself – what do you want this activity to achieve? 
Are you looking to drive comments and likes on a brand video among existing followers? Or are you aiming to generate online sales with targeted paid ads? 
Once you've established your objective, keep a close eye on the relevant metrics that contribute to it. For example, if your objective is to increase web traffic, you'll want to focus on clicks rather than post comments or video views. 
Always choose a specific, measurable, and attainable objective that you can easily track over time. 
 2.Think carefully about your target audience
Whatever type of social media marketing that you're running, on whatever platform you've chosen, you should always place your audience at the core of your strategy. 
Try to build a clear picture of your audience to inform your decisions. You can use online research, platform data, or your own business insights to fuel this process. 
Once you've got a better understanding of your target audience, think about how you can engage them effectively with both organic and paid social marketing.
What pain points or challenges are they facing?
How can your brand help to resolve these issues?
What content types will resonate with your audience?
Which platforms will these users be active on? 
When you focus on creating a social media marketing plan that's tailored to a specific audience, you're guaranteed to see the benefits in your results. 
3. Consider your wider social media strategy 
If you'll be utilising multiple social media sites within your social media strategy, think about the different roles each channel can play. 
You may find that certain platforms are brilliant for organic engagement, while others are delivering better results in terms of paid social campaigns. 
Use these insights to improve and refine your social media marketing strategy over time.
You may also be able to identify opportunities to adapt content for different channels. A long-form paid video on YouTube, for example, could be cut down into snappy organic clips for your Instagram feed. 
It's also very important to monitor how social media channels are contributing to your business objectives. 
Although it can take a little bit of time to collect all of the platform data, you need to understand where the best opportunities are for your brand. This will help you to avoid wasting valuable time, resources, and money on ineffective marketing. 
4. Tailor your content to each platform 
Although many platforms fall under the 'social media' umbrella, there are some major differences between these channels that you need to consider.
If you try to run cookie-cutter content across different platforms or copy and paste the same marketing tactics, you'll struggle to generate positive results. 
That's because each social platform is unique. Every channel has its own key audiences, formats, trends, and features, so you need to tailor your approach accordingly. 
For example, brands can drive high view-through rates on YouTube with slightly longer video assets – content that's around 3 minutes in length can still perform well. But on TikTok, video content needs to be short and snappy, and ideally around 15 seconds in length. 
Different audiences engage with social networks in different ways, so you must understand the nuances of a channel before launching any marketing activity. Many brands will also produce a detailed content calendar to keep their feeds packed with quality content.
Social media tips for specific platforms 
Now that we've covered some general best practices for social media marketing, let's take a look at how you can dramatically improve performance on specific platforms. 
Tailoring your marketing approach to individual channels is a surefire way to succeed, so take note of these social media marketing tips when you're preparing to launch new activity. 
Facebook 
1. Utilise Facebook ads and promoted posts
While organic content can be great for building a brand presence on Facebook, the platform algorithm doesn't often give organic posts preferential treatment.

That means if you want to drive consistent and large-scale visibility, your best bet is paid advertising on Facebook. 
The platform offers advanced data-driven targeting and a range of creative formats that can help you to achieve a huge number of business goals. If you're just starting to experiment with paid social, the enormous reach and marketing opportunities of Facebook make it a great place to start. 
2. Build, engage, and nurture a community 
Facebook is a brilliant environment for building communities and engaging existing followers.
Use your Facebook business page (or even specific Facebook groups) to attract your audience, spark conversations, and encourage regular engagement.
Many brands use their main Facebook page to deliver more general business information and then set up Facebook groups around specific topics, services, or products. 
You don't need to be too sales-y in these spaces, either. 
You can use these opportunities to increase the loyalty of existing customers, share content to drive engagement, and build your brand as an authority in the market. 
3. Take advantage of Facebook Messenger 
If you're looking to communicate with your audience on a more direct and personal level, then Facebook Messenger is an invaluable tool. 
From an organic perspective, brands can set up their Messenger chat to respond automatically to user questions and support customers with instant information. 
This is a brilliant way to deliver speedy and efficient customer service, while also building a brand reputation for responsiveness.
From a paid perspective, Facebook Messenger ads are perfect for communicating directly with warm prospects. These messages can contain product offers, business updates, or direct links to a chatbot so that users can explore your services.
Instagram
1. Use hashtags to increase visibility 
Including relevant hashtags in organic Instagram posts is an excellent way to reach a wider audience, improve content visibility, and encourage active engagement.
Many users discover new content by searching for specific hashtags. If your post contains these hashtags and drums up enough engagement, it'll quickly drive organic reach. 
If you're keen to reach new audiences through an organic Instagram content strategy, then hashtags are a powerful tool. 
And if you don't want to clog up your captions with hashtags, no problem. You can always include a batch of relevant hashtags in a post comment to achieve the same visibility. 
 2. Make the most of Instagram Stories 
Instagram Stories are the perfect format for launching both engaging organic content and highly effective paid ads.
Stories are excellent for delivering short and snappy brand messages, whether you're promoting a product or sharing business information. 
They can also include a swipe-up CTA link to drive traffic to your website, product pages, or blog posts. 
Your followers will see your Story appear at the top of their feed if you're posting organically. If you're using paid ads, you can target Stories toward specific audiences to generate clicks and conversions. 
3. Encourage UGC from customers 
User Generated Content is like gold dust in the world of social media marketing.
And luckily, Instagram is the ideal environment for encouraging, collecting, and distributing persuasive and creative UGC. 
Many brands will set up a specific branded hashtag and encourage their followers to post UGC with this hashtag included. This could involve users taking part in a social media challenge, or just showcasing their favourite product or service. 
You can then harvest all of this valuable UGC and use it to fuel both organic and paid Instagram posts, building your brand credibility and boosting consumer trust.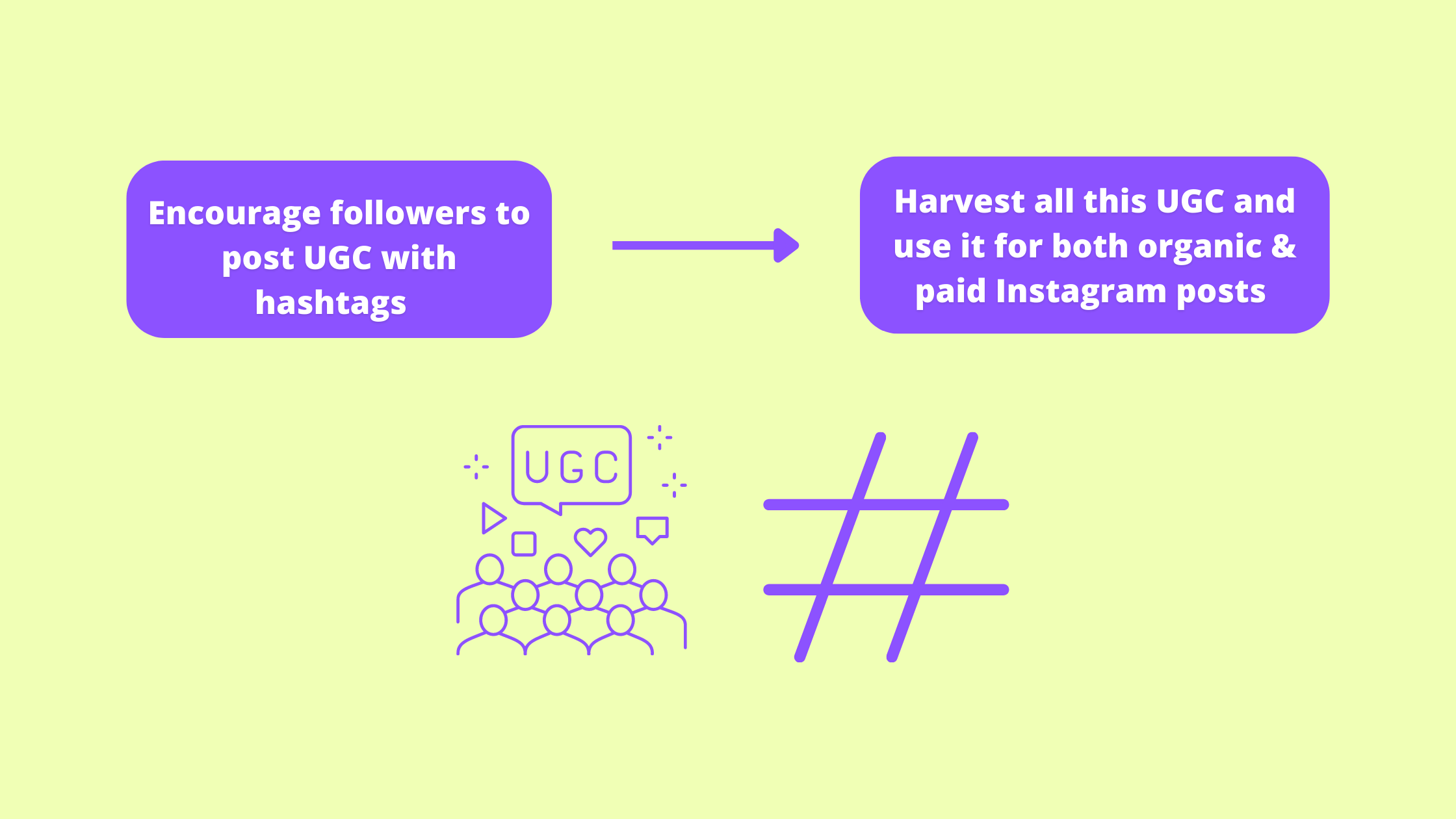 Twitter
1. Encourage and join Twitter conversations 
Twitter is a unique social media channel that encourages a lot of direct conversations and interactions between users and brands. 
If you're looking to establish a strong tone of voice and engage with new audiences, then Twitter is the platform for you. 
Try to maintain an active Twitter presence to build your brand presence. 
Reply to customers mentioning your business, get involved with relevant industry topics, and share insightful content to spark discussions. 
If you can consistently create and join conversations happening on Twitter, you can quickly establish yourself as a relevant and interesting brand that users are keen to engage with. 
2. Take advantage of paid Twitter ads 
Twitter is great for organic user interactions – but it also offers brands several paid social opportunities that can deliver impressive results.
Advertisers can use a range of formats to achieve their goals, from Promoted Tweet ads that generate reach to Promoted Follower ads that can build a loyal follower base. 
Brands can also utilise more impactful formats such as the Twitter Takeover placement to advertise around popular topics, capitalise on global conversations, and even spark new trends on the platform. 
These paid Twitter formats can be fuelled by granular targeting tactics (e.g. demographic, keyword, interest) to help brands reach receptive and valuable users who are more likely to convert. 
3. Use hashtags strategically 
Twitter audiences regularly use hashtags to discover new brand profiles and content on the platform.
By using hashtags tactically in your Twitter posts, you can participate in relevant user discussions and reach brand new audiences. 
The key is to focus on the right hashtags.
Only use hashtags that are relevant to your brand or industry. If you try to involve your business in too many conversations or topics, it can feel forced and artificial. 
Instead, keep an eye out for discussions that you can add genuine value to. You can even try to start your own branded hashtag if you spot an opportunity for mass engagement. 
Snapchat
1. Use Snapchat Collection ads to drive sales 
Snapchat Collection ads are full-screen placements that appear between organic Stories in the Snapchat home feed. 
This format is a dream for e-commerce advertisers looking to sell products cost-efficiently.
Collection ads place a single hero asset at the top of the placement, with secondary assets displayed underneath. This allows brands to instantly showcase a range of different products, which users can purchase with a simple swipe or tap. 
The Collection format is super visual and facilitates a quick and easy user journey that leads to convenient conversions. If you're aiming to drive high volumes of online sales through paid Snapchat advertising, Collection ads are a must-have in your strategy. 
2. Create custom filters to drive mass engagement 
Snapchat is known for its creative camera filters, and brands can easily develop their own visual overlays that audiences can access, share, and engage with.
Custom filters are great for brands looking to drive engagement or promote a message in a unique and interactive way. 
Filters are often created to celebrate special events or occasions, and can also be geo-targeted to certain locations to reach specific audiences. The more users who open the filter and share their photos, the bigger your organic reach will be! 
If you're looking to extend your creativity beyond existing followers, then you can also use Sponsored Lenses to create engaging AR experiences that can be promoted at scale. 
3. Post authentic organic content 
Your Snapchat followers will spend a lot of time exploring their home feed, consuming both organic and paid content from other users and brands.  
If you're aiming to build an engaging and interesting brand image on Snapchat, then you need to post organic content that feels genuine. 
There's nothing worse than brands posting content that feels forced and sales-y when trying to connect with their followers. Pay attention to the type of content that other users are posting – how can you make your brand feel more relatable and human? 
You don't need to worry about your organic content being too polished. Just upload posts that are interesting and relevant to your audience, and the results will speak for themselves.
TikTok
1. Embrace the latest TikTok trends 
If you're going to maximise the results you deliver with TikTok marketing, through both organic and paid strategies, then you'll need to be open to new ideas.
(Even if some of them seem a little crazy.) 
Try to stay in the loop with the latest user trends, and don't be shy about getting involved with hashtag challenges or influencers. 
TikTok trends and crazes emerge at lightning speed. The most successful brands on the platform are the ones that can react quickly and stay relevant. Keep an eye on what other brands and creators are doing, and don't hesitate to engage with your audience!
2. Balance organic and paid content 
Paid advertising on TikTok can be incredibly helpful when you're trying to achieve key business objectives, but it's important to strike a balance with organic posts.
By combining conversion-driven paid ads with organic content that's genuinely engaging, you'll be able to attract new prospects while also keeping your existing customers interested. 
Try to schedule regular video content that's helpful, informative, or entertaining for your followers. Organic posts don't need to feel pushy or sales-driven – they can just help your brand personality to shine. 
Plus, if any organic content proves to be particularly popular with your audience, you can promote it to a wider audience through paid campaigns. 
3. Stay active and responsive 
It's important to keep your TikTok brand profile busy with regular activity. 
By frequently uploading quality content, you'll ensure that users regularly engage with your page and share your posts, boosting your organic reach. 
This is a great way to increase exposure and visibility for your business on the TikTok platform. Although you're running a business account, if you act and behave like a real human, then customers will find it much easier to connect with your content. 
Interact with your followers, stay active in the comments sections, and don't hesitate to reply to other brands or users. 
YouTube
1. Launch a combination of ad formats 
One of the biggest advantages of YouTube paid advertising is the number of different formats available to marketers. 
Brands can utilise a range of video placements that can deliver different creative messages and achieve various campaign objectives. 
For example, many brands will launch a combination of Skippable and Non-Skippable video ads to land their primary campaign message. These formats help to rapidly build brand awareness and communicate key product benefits to a wide audience.
Advertisers can then support this activity with strategic Bumper ads – snappy and punchy video assets that reiterate a single campaign message in a matter of seconds.
With the right combination of YouTube paid formats, you can generate exceptional returns for your business. 
2. Establish your brand identity early 
If you're running paid ads on YouTube, it's very important to establish your brand identity as quickly as possible. 
Regardless of the ad format that you're using, make sure that your brand logo is clearly visible within the first few seconds of the video. 
This is particularly relevant for Skippable ads. Even if users skip past your advertising content, they'll still be able to acknowledge your brand name for future reference. 
If a user skips your video content without even realising who delivered it, that's a waste of a valuable impression! 
3. Mix up your video content 
If you're trying to build an organic YouTube presence that attracts new audiences and drives engagement, then it's a good idea to diversify your video content.
Users will be less inclined to click your content if you're constantly releasing similar videos, so think about different ways to spice up your channel and keep things fresh. 
For example, you might balance short-form product explainer videos with longer-form content that dives more deeply into a specific industry topic or subject. 
Ultimately, the best type of YouTube content is anything that captures audience attention, so experiment with different videos and figure out what resonates with your users. 
LinkedIn
1. Focus on high-quality video content 
Video content is becoming increasingly popular on LinkedIn, and the platform algorithm is rewarding brands that upload videos with increased visibility. 
Try to launch a combination of paid and organic videos to engage your existing followers and reach brand new audiences on the platform. 
You should also mix up your video assets to keep things fresh. Don't just focus on conversion-led sales messaging – think about video content that will be genuinely interesting and informative for your core audience. 
It's also important to note that many users will play in-feed videos without sound enabled, so add your own closed captions (or use LinkedIn's built-in captions) to make sure your message lands. 
2. Think carefully about your target audience 
LinkedIn is a platform for business professionals – but you still need to think about how you can tailor your marketing strategy to your target audience. 
What type of industry do your prospects work in? Are there any specific issues they face in this sector? How can your brand support, engage, and convert these users? 
Whether you're planning organic posts or paid advertising, focus on delivering messages that will resonate with your target LinkedIn audience. Generic content won't cut it! 
3. Host content using LinkedIn's tools 
LinkedIn offers a range of built-in tools that enable brands to publish content directly through the social platform, rather than by posting external links.
Using these features is a great way to increase the reach of your videos and blog posts because LinkedIn rewards brands utilising these native tools and keeping users on the platform. 
If you're still keen to ultimately drive users to your landing pages, you can always include a link to your website within the content published on the platform. 
Getting started with social media marketing 
Keen to start accelerating your brand growth through social media marketing?
Although every social channel will require a slightly different setup process, there are some common steps involved with all platforms. 
Create your social media accounts 
The first step to marketing through any social media platform is setting up an account.
This can usually be done within a matter of clicks, but you'll just need to share some basic information about your business. 
If you're looking to run paid advertising, you'll also need to confirm your payment information to get going. Once you've created a business account, you'll be able to handle everything from social media management to ad creation. 
Produce your creative assets and content 
Whether you're running organic or paid social media marketing, you'll need to create eye-catching and engaging creative assets that drive results. 
If you're able to produce high-quality assets yourself, that's great – but if not, you can always enlist the help of a marketing agency to help out. 
Just remember – whenever you're producing any form of social media content, stick to the detailed platform specs to avoid production headaches! 
Set up your marketing campaigns 
If you'll be using a social platform to run paid advertising, you'll also need to set up your ad campaigns.
Each platform will differ slightly in terms of process, but you'll always need to tick off some basic steps, including:
Selecting a campaign objective
Confirming your target audience
Choosing your ad formats
Setting up bidding and ad budget
Using campaign scheduling tools 
Monitor social media analytics and optimise content 
This is a hugely important step for any form of social media advertising. 
Keep a close eye on the performance of any social marketing, whether it's organic content posted on your feed or paid ads being targeted toward a specific audience. 
You'll need to understand how your assets are performing so that you can make key optimisations and improve the returns that you're seeing. Stay vigilant with your reporting, and focus your social media marketing efforts on the tactics that are driving optimal results. 
Useful resources for social media marketers
Below are some handy resources that will help you to stay on the right track when running social media marketing. 
Upbeat blog – 8 reasons social media marketing is so effective
Upbeat guide to paid social media marketing 
Social media marketing offers enormous benefits and advantages for brands of all sizes.
You just need to focus on selecting the right social media networks for the job. 
Think carefully about what you'd like social media advertising to achieve for your business, and build your social media marketing strategy around specific channels and audiences. 
A healthy mix of organic and paid activity will also ensure that you're able to take full advantage of these opportunities and maximise your reach.