Instagram marketing can deliver exceptional results for your business.
But let's be honest – managing every single aspect of your campaigns can also be exhausting.
There are a huge range of different tasks involved with Instagram advertising, from producing creatives to analysing reports and scheduling content. While you may have specialist knowledge in certain areas of digital marketing, you'll inevitably need to tackle jobs that you're less comfortable with.
Fortunately, if you're feeling the pressure of managing Instagram campaigns, help is at hand.
We've pulled together 26 of the best Instagram marketing tools (both free & paid) that can be game-changers for Instagram advertisers. Whether you need support with video editing, social listening, influencer marketing, or content creation, these tools can help you skyrocket productivity and take your marketing strategy to the next level.
Let's get started.
Paid Instagram Marketing Tools
1. AgoraPulse
Features
AgoraPulse is a popular CRM/scheduling tool that can be hugely beneficial to Instagram marketers. The platform is easy to use, and packed with intuitive features to help brands manage their social inboxes, schedule content, analyse competitors, create visual reports, monitor performance metrics, and more.
Pros
The platform is well-designed, meaning advertisers can instantly access the tools they need to schedule content, download reports, etc.
The tool can be leveraged across multiple platforms, which is great for marketers looking to manage multi-channel campaigns.
Cons
AgoraPulse is packed with useful tools, but it may feel overwhelming to newer advertisers getting to grips with CRM/scheduling.
Costs

AgoraPulse offers several tiered packages that include different features, ranging from Standard (49€ per user/month) to Advanced (119€ per user/month.)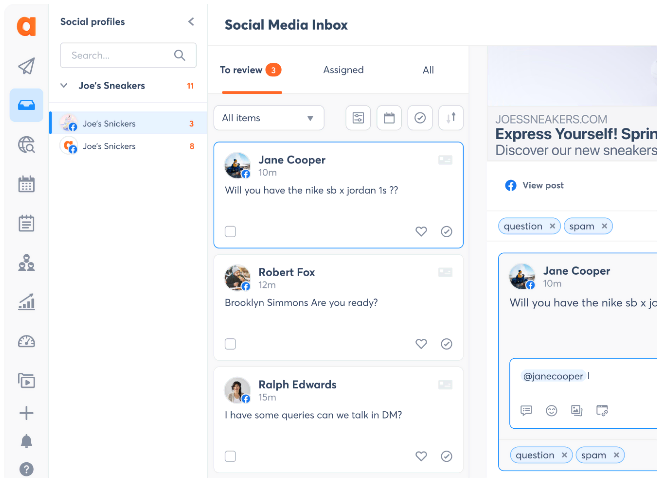 (Source: agorapulse.com)

2. Later
Features
Later enables brands to easily plan, organise, and publish their Instagram content in advance. The tool is an excellent choice for marketers looking to streamline their organic strategies and consistently deliver high-quality content, offering analytics that also help brands identify their best-performing posts.
Pros
Brands can easily schedule Instagram content with a simple drag and drop mechanic.
Users can instantly preview a new Instagram post and access editing tools to refine their content.
Cons
While Later does provide basic metrics around content engagement, it may be lacking more advanced analytics that some marketers require.
Costs
Later offers several packages depending on the amount of social users/accounts required, ranging from Starter ($20.83 per month) to Advanced ($66.67 per month.)
(Source: later.com)
3. Keyhole
Features
Keyhole offers automated reporting tools that help Instagram marketers quickly access visual reports and social media metrics. The platform includes various reporting features (e.g. influencer tracking, profile analysis, social listening) that can produce clean, accessible PDF reports.
Pros
Brands can instantly produce & download visual PDF reports, making social media measurement/analytics quick and easy.
Keyhole offers a single dashboard for real time reporting, which makes it easy for brands of all sizes to review data & implement optimisations.
Cons
Some smaller agencies/businesses may find Keyhole to be relatively expensive.
Costs
Keyhole charges $79 per month for SMB/Freelancer users, $239 per month for mid-sized clients, and $479 per month for larger agencies managing multiple Instagram accounts.
(Source: keyhole.co)
4. Lightroom
Features
Adobe Lightroom is a powerful photo editing tool that can help marketers to produce eye-catching, high-quality Instagram assets. The platform offers a wide range of intuitive editing tools, allowing users to experiment with filters, adjust colours, utilise presets, and fine-tune images.
Pros
Brands can leverage professional-standard editing tools to produce assets that will stand out in the Instagram feed.
Lightroom also makes it easy for users to organise and categorise files, which is good news for Instagram marketers managing multiple projects.
Cons
Lightroom offers outstanding editing tools, but it's also designed for professionals – advertisers searching for basic editing features may feel a little overwhelmed.
Costs
Adobe offers a wide range of price options depending on how many apps are required by an individual/business. A business looking to access the full suite of creative Adobe apps will pay $84.99 per month.
(Source: adobe.com)
5. Gleam
Features
Gleam helps Instagram marketers drive engagement and grow their audience through social media competitions and reward mechanics. Brands can use the tool to set up online giveaways, build competition landing pages, create referral links, and offer exclusive rewards.
Pros
Brands can set up social media competitions quickly and easily, which can help them generate widespread engagement and reach brand-new audiences.
Gleam is an affordable platform, meaning small businesses can start launching prizes/giveaways to build their Instagram followings.
Cons
While Gleam can deliver high levels of Instagram engagement, brands still need to offer compelling prizes/rewards to stand out and capture attention.
Costs
Gleam offers a comprehensive multi-app package for $97 per month, but a competition-only package starts at just $10 per month.
(Source: gleam.io)
6. Iconosquare
Features
Iconosquare is a social media management tool that covers three primary areas – content publishing, campaign analytics, and social listening. This is an all-in-one management platform that can be highly effective for Instagram marketers, allowing users to schedule content, review performance/engagement data, analyse competitors, and monitor social mentions.
Pros
Users can manage multiple social accounts from a single dashboard, making life much easier for cross-channel advertisers.
The platform is user-friendly and intuitive, so newer marketers can easily access performance data & set up a content calendar.
Cons
Iconosquare is designed for multi-platform social media management – if you're only active on Instagram, you probably won't be getting maximum value from the tool.
Costs
Iconosquare offers a Single package (1 user, $29 per month) and a Teams package (10 users, $49 per month) as well as Custom options for larger agencies.
(Source: iconosquare.com)
7. TINT
Features
TINT enables Instagram advertisers to harness the power of user generated content, customer advocacy, and influencer marketing. Brands can use the platform to develop various types of content, from influencer collaborations to UGC campaigns – if you're looking to harvest high-quality videos from your customers and partner with top creators, TINT is the tool for you.
Pros
The tool is highly versatile, allowing users to streamline influencer relationships, organise/distribute content, and manage UGC assets.
Users can monitor consumer trends and engagement insights, allowing them to create superior content through TINT.
Cons
While TINT is a superb option for UGC/influencer marketing, it's better suited to experienced advertisers rather than newcomers to the world of user/creator content.
Costs
TINT offers custom pricing based on user requirements, so you'll need to submit a form to receive a quote.
(Source: tintup.com)
8. Mojo
Features
Mojo is designed to help Instagram advertisers produce animated visuals quickly and easily. Users can access hundreds of custom templates with bespoke animations/transitions, as well as utilise royalty-free audio tracks and unique text effects. If you want to create punchy Instagram assets without any hassle, Mojo is a solid choice.
Pros
Brands can use Mojo to create a range of customised assets, from Instagram Reels to Instagram Stories.
The tool is designed to be easy & affordable for smaller businesses, so marketers can produce fresh assets and launch Instagram campaigns with no delay.
Cons
Mojo is fantastic for quick-turnaround visual templates, but if you're looking for more advanced editing tools, it may feel slightly simplistic.
Costs
Mojo does offer a free trial option for new users, but this free version is limited in terms of templates. On the subscription side of things, users can choose from Mojo Pro ($4.99 per month), Mojo Teams ($8 per month/user) or custom Mojo Enterprise pricing packages.
(Source: mojo-app.com)
9. Buffer
Features
Buffer is a social media management platform that enables Instagram advertisers to schedule posts, organise campaigns, engage customers, and monitor analytics. The tool is designed to maximise efficiency, allowing users to build a social media calendar and optimise content to deliver superior engagement rates.
Pros
Buffer is a true 'all-in-one' tool, meaning users can publish content, access analytics, build landing pages, and engage customers from a single convenient platform.
Smaller advertisers can take advantage of a free plan to experiment with the tool.
Cons
The analytics available on Buffer are fairly basic, so it's not ideal for comprehensive reporting.
Costs
Users can choose between the Essential ($6 per month – one channel), Team ($12 per month – one channel), or Agency ($120 per month – ten channels) subscriptions.
(Source: buffer.com)
10. Prequel
Features
Prequel is a mobile image editing tool that offers a wide range of quality presets, templates, filters, and edit functions. The platform is a great choice for Instagram marketers looking to produce high-quality creative assets without the need for complicated editing software.
Pros
Prequel offers more than 800+ filters and a range of custom templates, making it incredibly easy for users to create Instagram assets.
The platform is very affordable, so brands can test out the editing tools without worrying about breaking the bank.
Cons
While there are some more advanced features available on Prequel (e.g. retouching, sharpening) the tool is designed for more basic editing tasks.
Costs
A limited free version of Prequel is available, but the full app subscription costs $4.99 per week.
(Source: prequel.app)
11. Blog2Social
Features
Blog2Social helps brands automatically push their WordPress blog posts across social media platforms. Users can immediately share text/image/video content to Instagram, which can be an effective way to build brand awareness and drive engagement on social networks.
Pros
Users can easily extend the reach of their blog content by sharing it to Instagram, using smart automation tools and scheduling features to save time.
Blog2Social also works across a wide range of social platforms, so if you want to promote blog content across sites like LinkedIn/Pinterest/TikTok, you can do so.
Cons
Blog2Social makes it extremely easy for brands to distribute their blog content, but to maximise engagement rates, you'll still need to tailor your posts to different platforms/audiences.
Costs
Blog2Social subscribers can choose from Smart ($7 per month), Pro ($11 per month), and Business/Agency ($29 per month) packages. There's also a free version available with limited features.
(Source: blog2social.com)
12. Linktree
Features
If you're an Instagram advertiser keen to drive traffic to external landing pages (i.e. other social media platforms and websites) Linktree is a very handy tool. With Linktree, you can set up a bespoke URL in your Instagram bio that leads to a centralised landing page containing links to all of your other websites/profiles. This makes it much easier for customers to navigate between your digital properties, whether it's your product pages or blog.
Pros
Seamlessly drive traffic between your social media profiles/website pages through a convenient landing page.
Monitor click/engagement analytics to understand which pages Instagram users are visiting.
Cons
Linktree is a brilliantly simple tool, but it won't make a huge difference to your traffic unless you're offering high-quality content across multiple websites/platforms.
Costs
Linktree offers a free subscription for personal use, as well as Starter ($5 per month), Pro ($9 per month) and Premium ($24 per month) packages.
(Source: linktr.ee)
13. Kicksta
Features
Kicksta is designed to help brands drive Instagram follower growth through smart profile discovery and competitor analysis tactics. By searching for relevant hashtags and topics, you can identify authentic users who are more likely to follow your profile and gradually build your audience.
Pros
Steadily attract Instagram followers by discovering relevant audiences & searching for specific interests/topics.
Utilise AI technology to optimise your Instagram marketing strategy and reach high-value audiences at scale.
Cons
Kicksta makes it much easier for brands to discover potential followers, but you'll still need to provide quality content to keep users engaged with your Instagram account.
Costs
Kicksta offers three main pricing tiers – Starter ($69 per month), Advanced ($129 per month) and Ultimate ($219 per month.)
(Source: kicksta.com)
14. SocialInsider
Features
SocialInsider offers a number of practical Instagram tools, allowing brands to access social intelligence, monitor analytics, and analyse engagement metrics to gather insights. Using this data, marketers can optimise their Instagram strategies and understand more about their target audience.
Pros
As both an analytics tool & monitoring tool, SocialInsider provides advertisers with a lot of valuable data about their target audience, engagement rates, and content performance.
SocialInsider also shares industry benchmarks for social media activity, meaning brands can contextualise their results.
Cons
The SocialInsider interface can be slightly confusing for some users initially, so it may take time to get comfortable with the platform.
Costs
SocialInsider offers a Competitors subscription ($124 per month) alongside a Strategy subscription ($166 per month.) Larger agencies can also request custom packages.
(Source: socialinsider.io)
15. ShortStack
Features
ShortStack is another tool that allows brands to launch engaging Instagram competitions and giveaways. Marketers can set up a wide range of different contests, from comment-to-enter competitions to hashtag giveaways. ShortStack offers support at every stage of this process, from lead gen form creation to referral links and winner selections.
Pros
Users can easily set up different types of Instagram competitions to connect with audiences & drive widespread engagement.
ShortStack is very convenient, offering 65+ pre-built templates, automated data collection, and dedicated customer support.
Cons
Once again, while ShortStack may be hugely effective for setting up competitions, you'll still need to offer compelling rewards/prizes to maintain engagement!
Costs
ShortStack offers two main subscription types – Business ($79 per month) and Pro ($199 per month.) Enterprise packages are also available for agencies seeking custom packages.
(Source: shortstack.com)
16. Mention
Features
Mention is a web/social media monitoring tool that allows brands to follow social conversations, brand mentions, and audience sentiments. Marketers can use the tool to monitor specific topics/brands, analyse social media data, and even publish Instagram content. Users can even set up custom alerts for certain keywords.
Pros
Users can track topics in real time and gather audience insights to fuel their Instagram strategies.
Social media mentions can be tracked across multiple platforms, providing brands with increased visibility.
Cons
Mention can become fairly expensive as a listening tool, particularly for individuals/smaller agencies looking to monitor multiple brands.
Costs
Mention offers Solo ($41 per month), Pro ($83 per month), and ProPlus ($149 per month) packages, with each option varying in terms of the alerts/mentions/users available.
(Source: mention.com)
17. SparkToro
Features
SparkToro is a social media intelligence tool which allows brands to analyse audiences based on specific keywords. Subscribers can plug in keywords relating to things their target audience watch, follow, discuss, or purchase – SparkToro will then generate insights about these users, helping marketers to refine their content strategies & identify audiences they should be speaking to.
Pros
Brands can access actionable data quickly and easily, taking advantage of SparkToro's user-friendly design and accessible insights.
SparkToro will also recommend influencers/creators that are relevant to popular audience keywords/topics.
Cons
SparkToro has a unique approach to social media intelligence (i.e. based primarily on keywords/topics) but may not provide the granular level of audience data that some marketers are looking for.
Costs
SparkToro offers three subscription tiers – Personal ($38 per month), Business ($112 per month) and Agency ($225 per month.)
(Source: sparktoro.com)
18. Awario
Features

Awario is a social listening tool that allows users to track conversations, mentions, and keywords in real time. Brands can then deep-dive these keywords (e.g. sentiment, location, audience), monitor their popularity over time, and create bespoke PDF reports to summarise insights.
Pros
Users can dig deeper into specific keywords on Instagram to understand their growth over time, the sentiment surrounding them, and their popularity with certain audiences.
Awario can gather social listening insights from multiple platforms, making it an all-in-one solution for marketers.
Cons
It can take some time for users to get comfortable with Awario's interface, and there is a learning curve associated with some of the more advanced features.
Costs
There are three primary options for Awario subscriptions – Starter level ($29 per month), Pro level ($89 per month) and Enterprise level ($249 per month.)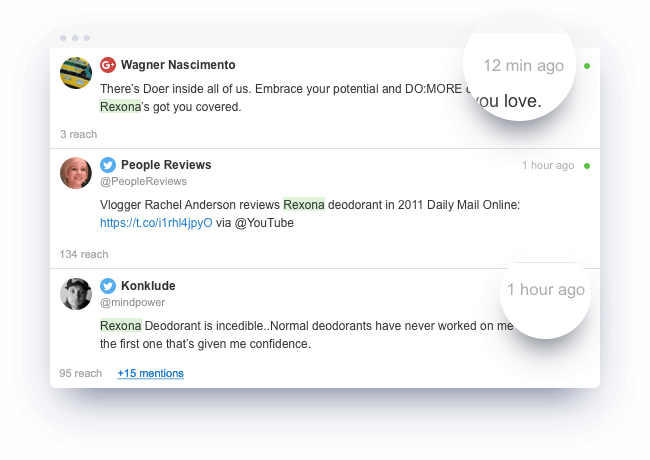 (Source: awario.com)
19. Analisa
Features
Analisa is an Instagram analytics tool that's powered by AI. The platform enables brands to uncover performance insights about their profiles, followers, and hashtags – users can also conduct competitive analysis and report on paid Instagram campaigns. If you're keen to understand more about the effectiveness of your Instagram marketing, Analisa is a fantastic tool.
Pros
The tool is highly versatile, meaning users can gather insights on everything from follower demographics to historical data and influencer suitability.
Analisa provides a lot of in-depth competitor analysis, so marketers can deep-dive the strategies of rival brands.
Cons
Some users feel that Analisa is limited in terms of integrations, so if you're currently using multiple marketing platforms, you may encounter some issues.
Costs
Analisa offers three main subscriptions – Premium (£39.13 per month), Plus (£83.93 per month) and Pro (£134.33 per month.) There is also a free version available with limited features.
(Source: analisa.io)
20. AdEspresso
Features
AdEspresso is a hugely popular marketing management platform. The tool offers a wide range of features for Instagram advertisers, including campaign creation/approvals, performance analytics, PDF reporting, asset management, and automated optimisations. When it comes to all-in-one marketing platforms, AdEspresso is one of the best.
Pros
Marketers can manage multi-platform campaigns from a single dashboard, and AdEspresso makes it easy for brands to gather insights & apply optimisations.
The tool also offers a highly intuitive and customisable reporting dashboard, which makes campaign measurement a breeze.
Cons
AdEspresso is packed with smart features, but if you're primarily advertising on Instagram, you won't get maximum value from its cross-platform capabilities.
Costs
AdEspresso offers Starter ($49 per month), Plus ($99 per month) and Enterprise ($259 per month) subscriptions.
(Source: adespresso.com)
21. Woobox
Features
Woobox enables brands to set up social media giveaways across multiple platforms. On Instagram, marketers can launch competitions using hashtags/comments as entry methods, as well as create bespoke landing pages/pop-ups for data collection. Woobox also offers some additional features, such as quizzes, coupons, and polls.
Pros
Woobox works seamlessly across multiple social media platforms, so brands can launch large-scale competitions quickly and easily.
The tool allows users to build effective landing pages for contests, with custom pop-ups and lead gen forms that can be great for data collection.
Cons
Woobox doesn't offer as many pre-built competition templates as other platforms.
Costs
Woobox offers a range of subscriptions, with each tier unlocking more advanced features. The Basic option starts at $37 per month, and the most expensive costs $249 per month – however, there is a free version available for brands looking to trial the platform.
(Source: woobox.com)
Free Instagram Marketing Tools
22. Instagram Ads Manager
Features
The built-in Instagram Ads Manager tool is incredibly useful for marketers. The Ads Manager acts as your one-stop-shop for Instagram advertising, allowing you to set up new campaigns, manage creative assets, monitor analytics, and implement optimisations.
Pros
The Instagram Ads Manager is designed to be accessible, so it's easy for marketers to get to grips with the platform and manage ad campaigns.
Advertisers can set up website tracking links (and connect to external platforms like Google Analytics) for in-depth conversion tracking and retargeting strategies.
Cons
If you're running campaigns across multiple platforms and want a more holistic view of performance, you'll need to use an external analytics tool.
(Source: instagram.com)
23. Instagram Insights
Features
Instagram Insights is a built-in tool that allows brands to learn more about organic content performance and track audience engagement trends. This includes metrics like reach, interactions, video plays, follower growth, and more. If you want to keep tabs on your organic Instagram marketing, Instagram Insights is the tool for you.
Pros
Marketers can track a wide range of social media engagement metrics to understand how their Instagram content is performing.
Brands can deep-dive specific posts, Stories, Reels, and Live Videos to gather insights for future campaigns.
Cons
Instagram Insights is fantastic for monitoring organic performance, but if you want to measure the impact of paid ads, you'll need to utilise the Ads Manager or a third party tool.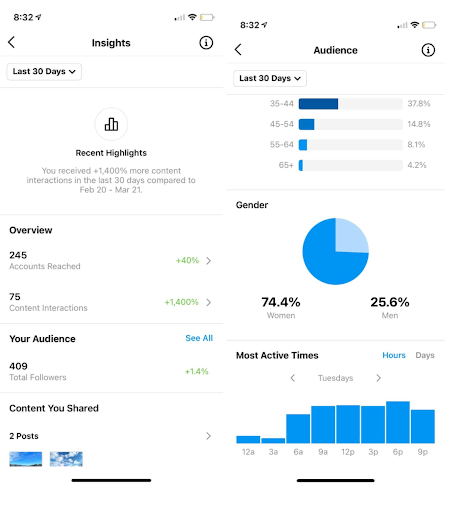 (Source: indeed.com)
24. Canva
Features
When it comes to free graphic design tools that can still produce high-quality assets, Canva is hard to beat. Canva offers a number of professional templates, filters, texts, and backgrounds that can be used to create eye-catching Instagram posts and paid ads.
Pros
Canva is very easy to use, even for complete beginners, and offers a range of quality templates that can be used to create new assets.
Brands can produce various Instagram formats quickly and easily, from animated gifs to compelling carousels.
Cons
While the free version of Canva offers a lot of handy graphic design tools, if you want to unlock more assets/features, you'll need to pay for a subscription.
(Source: canva.com)
25. Instagram Creator Marketplace
Features
The Instagram Creator Marketplace is a free tool that allows brands to discover & connect with relevant influencers. If you're looking to set up content partnerships and utilise influencer marketing, the Creator Marketplace will help you to filter different creators, organise new projects, and launch campaigns.
Pros
Brands can manage their Instagram creator relationships from a single, convenient location.
The tool makes it much easier for advertisers to discover new creators based on their audience, interests, and previous partnerships.
Cons
The Instagram Creator Marketplace isn't available to all advertisers/countries, so you'll need to check if you can access the tool!
(Source: instagram.com)
26. Display Purposes
Features
Display Purposes is essentially just a hashtag generator, but it can be a handy tool for Instagram marketers looking to reach relevant audiences and discover new hashtags. Once you type in a hashtag suggestion, you'll receive a list of related hashtags ranked by relevance/popularity, which can help you find new ideas.
Pros
Brands can produce a list of relevant hashtag suggestions within a couple of clicks.
You can automatically copy a full list of new hashtags, or manually select the suggestions you'd like to use on Instagram.
Cons
The tool is helpful, but very basic – while it can produce some handy hashtag suggestions, it won't revolutionise your Instagram marketing strategy!
(Source: displaypurposes.com)
How using tools can help with your Instagram campaigns
External marketing tools can be an invaluable addition to your Instagram campaigns.
For one thing, they can help to plug any major gaps in your marketing experience or skills.
For example, while you might be a fount of knowledge when it comes to campaign optimisations, you may be lacking in the creative department – this is where an intuitive graphic design tool can be a lifesaver.
Tools can also dramatically improve the efficiency of your marketing efforts, helping you to automate manual tasks and free up precious time.
However, while tools can be extremely effective, it's hard to replace the expertise that specialist marketers bring to the table. If you're searching for Instagram advertising help, partnering with a marketing agency is a great way to unlock reliable support and in-depth platform knowledge.
Instagram marketing tools can make a colossal impact on the performance of your campaigns, helping you to streamline processes, access valuable data, and skyrocket efficiency.
The key is to identify areas where you need additional support, whether that's creative production, audience research, or performance analytics. Once you understand where help is needed, you can cherry-pick the perfect tools to elevate your Instagram campaigns.