The world of social media moves at lightning speed, and Instagram is no exception.
The Instagram landscape is always shifting and evolving, with new content trends, consumer behaviours, and marketing tools emerging.
If you want to manoeuvre ahead of the competition and capitalise on the latest Instagram advertising opportunities, then you need to stay up to speed with these developments.
However, this is easier said than done. Many different areas of the Instagram network are constantly changing, from its core user base to its advertising offering.
But fortunately, there's no need to panic. You're in the right place.
We've put in the hard yards for you, pulling together 65 vital Instagram stats that will keep you fully up-to-date with the platform and ready to crush your next ad campaign.
General Instagram Statistics
1. Instagram currently attracts around 2 billion monthly active users.
The scale of the Instagram platform is enormous, enabling you to reach, engage, and convert profitable audiences at scale. You're guaranteed to find high-value prospects when you have access to 2 billion users!
2. Instagram is now the 5th most visited website in the world.
Instagram is insanely popular with users, publishers, and advertisers around the globe. With the right strategy, you can take full advantage of the scale and influence of the platform.
3. 87% of Instagram users live outside the U.S.
While Instagram attracts a huge audience within the US, it also offers exciting global marketing opportunities.
Many Instagram users are keen to follow and interact with their favourite brands, providing you with a golden opportunity for mass engagement.
Rituals Cosmetics Instagram Page
There's a huge amount of synergy between the Facebook and Instagram audiences, which opens up opportunities for effective cross-channel marketing.
7. …but video delivers 3x more engagement per post than photos.
Photo content is extremely popular on Instagram, but high-quality video assets will allow you to stand out and capture attention in a competitive feed.
8. Instagram is used by approximately 25.31% of the world's population.
The sheer scale of the Instagram platform should never be underestimated. If you're looking to grow brand awareness and generate conversions at scale, Instagram can deliver.
Instagram User Statistics
9. 99.9% of people that use Instagram are also active on other social media platforms.
If you want to maximise reach and engage your target audience across multiple touchpoints, an effective cross-channel paid social strategy is key.
This may come as a surprise with TikTok on the social media scene, but Instagram has an incredibly strong influence over Gen Z and younger social audiences.
11. Millennials also selected Instagram as their favourite social media platform in 2022.
Instagram isn't just popular with Gen Z, either – the network has also established powerful connections with Millennials and older segments.
12. 69.7% of Instagram audiences use the platform to share photos and videos.
Visual content is the lifeblood of Instagram. If you want to grab attention, you'll need to launch creative assets that can stand out from tons of standard user photos and videos.
Instagram Demographics Statistics
13. Instagram sees the highest usage among individuals between 18-34 years old.
If you're looking to reach and convert young adults and Millennials through paid social marketing, Instagram is a very solid option.
14. The Instagram audience is around 52.2% male.
The Instagram platform is fairly balanced when it comes to gender, meaning you can reach a broad audience of potential customers.
15. Around 47% of Instagram users in the United States earn more than $75k per year.
Many Instagram users have access to a healthy amount of disposable income – and more spending power means more opportunities for high-value conversions.
Instagram Usage Statistics
16. Instagram users in the US spend an average of 30 minutes per day on the platform.
Instagram users spend a solid amount of time with the platform every day, meaning you have plenty of chances to engage your target audience.
17. The Instagram user base grew by 5.79% from 2021 to 2022.
Instagram has been around since 2010, but the platform continues to grow its audience and expand its global reach.
18. Around 30.94% of the global internet audience (4.48bn users) are regularly using Instagram.
Instagram ads have the potential to reach a sizable number of the digital population, meaning you can easily discover new customers and scale up your campaigns.
19. More than 150 million people use the Instagram app to communicate directly with businesses every month.
Instagram isn't just a platform for paid social advertising. It's also a crucial channel for customer service and brand communication.
20. Over 25 million businesses use the Instagram platform to reach, engage, and communicate with their audience.
Many of your competitors will be utilising Instagram to strengthen their customer relationships, so make sure that you're doing the same.
Instagram Marketing & Advertising Statistics
21. According to data from Instagram, 50% of users become more interested in a brand after seeing it advertise on the platform.
Actively advertising your business on Instagram can help you rapidly build brand awareness and familiarity with your products. The key is to identify the right audience for your brand and reach them with ad formats that drive consistent engagement.
Balance Instagram Feed Ad
22. In 2022, advertisers saw User Generated Content delivering the highest engagement rates on Instagram.
UGC is an extremely powerful tool for Instagram marketers, enabling you to boost brand credibility and enhance your conversion rates.
23. In-feed Instagram ads deliver a higher CTR (click-through rate) than Stories ads.
In-feed advertising on Instagram is highly visible, and you can achieve exceptional engagement rates with the right creative assets.
24. 53% of Instagram advertisers claim the platform delivers a high ROI – only 7% claim it delivers a low ROI.
When you're equipped with a data-driven marketing strategy, you can generate hugely cost-efficient conversions and unlock new revenue streams through Instagram.
25. Around 130 million Instagram users tap on a shopping post every month.
Instagram doesn't just present a great opportunity to drive brand awareness. It can also help e-commerce brands to rack up high-value conversions through 'Shopping' placements.
26. 36% of advertisers plan to utilise Instagram for the first time in 2023.
New brands are constantly entering the Instagram space, so you'll need to remain agile and reactive with your marketing plans to stay ahead of the competition.
27. Video posts drive 21.2% more engagement than other formats on Instagram.
Video assets allow you to captivate your target audience, tell your brand story, and drive high levels of engagement.
28. Instagram delivered the highest engagement rates for social media marketers in 2022.
Although Instagram has been around for a long time, the platform is still proving its worth for social marketers and delivering outstanding levels of user engagement.
29. 87% of Instagram users claim they take action after seeing a product advertised on Instagram.
Instagram marketing doesn't just enable you to reach the right audiences – it also encourages prospects to click your ads, explore your website, and purchase your products.
AG1 Instagram Reels Ad
30. Social media marketers claim that Instagram is the platform they're most confident using.
Instagram is designed to be as accessible, convenient, and effective as possible for advertisers of all sizes. If you're a new advertiser looking to launch paid social marketing, Instagram is a great place to start.
31. Instagram has the highest CPC (cost per click) among major social platforms.
While Instagram can deliver tremendous levels of engagement, this comes at a cost. If you want to maximise campaign efficiency, you'll need to maintain a strong conversion rate.
32. 86% of Instagram advertisers feel comfortable on the platform when it comes to brand safety.
Brand safety is a major concern for advertisers around the globe, and fortunately, Instagram is constantly working to build a trustworthy environment for marketers.
33. Instagram conversion rates vary between 0.30% and 2.6% depending on campaign reach (and other factors.)
Performance data suggests that a higher reach on Instagram often equals a higher conversion rate, but this will vary wildly between advertisers and industries. Aim to set your own conversion rate benchmarks to help you understand how ad performance is changing over time.
34. The Instagram CPM increased by 17% in Q3 2022.
Instagram costs are steadily increasing for advertisers, so it's never been more important to build a data-fuelled paid social strategy that drives efficiency.
Instagram Influencer Statistics
35. 68% of weekly Instagram users interact with creators on the platform.
Instagram users are keen to engage with their favourite content creators. By tapping into the world of influencer marketing, you can take full advantage of this trend.
36. 54% of all Instagram influencers are 'nano-influencers', while 33% are 'micro-influencers'.
Influencer marketing doesn't need to break the bank. By leveraging smaller Instagram influencers, you can access relevant audiences while maintaining cost-efficiency.
37. 72% of marketers are working/have worked with influencers on Instagram.
If you haven't already embraced influencer marketing on Instagram, the time is now. Chances are, your competitors are already utilising influencers in their campaigns!
Influencer endorsements can be extremely persuasive for your target audience, helping you to build credibility and generate sales.
39. Nano-influencers deliver some of the highest engagement rates on Instagram.
Nano-influencers offer you the chance to connect with small but highly relevant audience segments. When it comes to influencer marketing, quality is far more valuable than quantity.
There are a huge number of influencers available on the Instagram app, so you'll need to cherry-pick the creators that can deliver optimal results for your brand.
The influencer marketing landscape is becoming increasingly crowded, so it's vital to construct a strategy that will genuinely resonate with your target audience.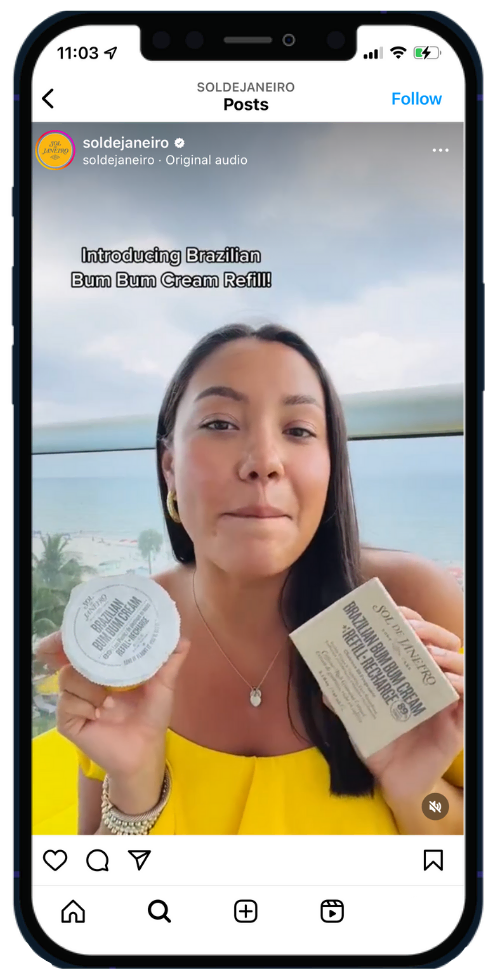 Sol De Janeiro UGC Instagram Ad
42. 32% of marketers claim that Instagram is the easiest platform for influencer marketing.
Instagram allows brands to launch influencer campaigns quickly and easily, so there's nothing stopping you from experimenting with a new strategy.
Instagram Revenue & Growth Statistics
43. Instagram generated $43.2 billion in ad revenue in 2022.
Instagram is continuing to bolster its marketing offering and attract new advertisers, which is why you'll need to consistently evolve your tactics to stay ahead of the competition.
44. Instagram's ad revenue is estimated to reach around $50.5 billion in 2023.
Instagram isn't showing any signs of slowing down, either. The platform is still producing fantastic marketing opportunities for brands, so make sure you're capitalising on them.
Instagram Stories Statistics
Instagram Stories are a highly engaging format that allow you to reach a massive audience of potential customers. If you maintain an active and consistent content strategy, you can frequently engage your audience through the Stories channel.
46. 33% of the most viewed Instagram Stories come from a business account.
People aren't just interested in watching Stories from their friends and family. They're also ready and willing to engage with quality Story posts from advertisers.
47. The reach rate of Instagram Stories is on the decline.
Although Instagram Stories are super engaging, their reach is decreasing for brands, which is why it's vital to diversify your ad formats (e.g. Carousel posts, Collection ads) and experiment with new placements.
48. 67% of Instagram users have swiped-up on an Instagram branded Story.
The 'swipe up' functionality of Instagram Stories allows you to drive massive levels of engagement with eye-catching assets and a compelling CTA.
49. The most active Instagram accounts upload 17 Stories every month.
If you want to succeed in a competitive environment on Instagram, you'll need to regularly post fresh Stories content to keep your brand top-of-mind among your target audience.
50. Instagram Stories retention rates decline as the number of frames/assets increases.
Stories are built for snappy creative messages that quickly engage your target audience. Keep your Story ads punchy to ensure that you're not losing user interest, and use Instagram Stories to share content that your audience genuinely enjoys.
51. Shorter, narrative-led Story assets are the most popular on Instagram.
35% of Instagram users prefer narrative-driven Stories that combine photo, video, and text assets. Try to experiment with a range of creative messages and content styles, and see what resonates most with your target audience.
52. Brand Stories on Instagram have an 86% completion rate.
The majority of Instagram users are willing to view branded Stories to completion, so make sure that you're delivering key product information and a persuasive CTA that drives action.
Instagram Reels Statistics
53. Reels have the highest reach of any type of Instagram post on the platform.
Instagram Reels have exploded in popularity, successfully riding the wave of short-form video content across social media networks.
54. Users re-share Reels around 1 billion times a day through direct messages.
Instagram Reels content has huge organic potential, and once users begin to share your Instagram posts, you can enjoy a colossal boost to your reach as these user numbers multiply.
55. On average, Instagram Reels take up 30% of the time that users spend on the platform.
The Reels format is highly engaging for Instagram users, who can consume mountains of videos in a single sitting. To avoid being lost in the crowd, focus on bold and punchy content.
56. 21% of Gen Z adults in the US view Reels content every week.
Short-form video content is ridiculously popular among Gen Z users, and Instagram Reels have tapped into this market perfectly. If you're looking to connect with younger audiences online, Instagram Reels are the ideal tool.
57. Instagram Reels accounted for 5.4% of platform impressions between Thanksgiving and Cyber Monday 2022.
Instagram Reels are being utilised by many e-commerce advertisers to drive conversions around key sales events, rather than just being used to grow engagement.
58. Instagram Reels deliver an average engagement rate of 1.95%.
Reels can drive outstanding levels of engagement for Instagram marketers, so if you're not currently using this format in your paid social plans, it's time to reconsider. Short-form video has never been more popular on social media, so brands have a brilliant opportunity to jump on the bandwagon and reap the rewards.
Instagram Business Statistics
59. 70% of online shoppers look to Instagram for their next purchase.
Instagram has been steadily evolving its e-commerce offering, and has now become a destination site for online shopping and brands looking to leverage purchase intent.
60. Following/researching brands is the second most popular activity for users on Instagram.
62.3% of Instagram users are regularly researching and following brands on Instagram, so all you need to do is provide them with a good reason to engage with your business profile. Focus on balancing organic and paid strategies to boost your follower audience over time.
61. The average Instagram brand account grows its followers by 0.98% each month.
This number varies massively by industry, but it's important to remember that growth can be slow on Instagram. Stick to smart organic and paid tactics, and your efforts will pay off.
62. Business accounts upload an average of 1.71 posts on Instagram every day.
The key to maintaining an active and engaging Instagram business profile is consistency. Map out a content calendar that helps you to regularly upload high-quality Instagram posts.
63. 35% of Instagram users will make a purchase on the platform in 2023.
Instagram users are keen to consume fresh content, but they're also ready to purchase products that catch their eye. Don't hesitate to promote your products and drive in-app sales!
64. 46% of marketers leverage Instagram Shopping – of those who do, 50% report a high ROI.
Instagram Shopping enables you to generate sales through shoppable product tags and digital product catalogues. If you're looking to drive conversions through Instagram campaigns, make sure you're taking full advantage of these smart shopping features.
65. 15% of US shoppers start their online shopping journeys on Instagram.
A full-funnel approach to Instagram marketing will help you to unlock the full sales potential of the platform. Think carefully about how you can engage users at every stage of their shopping journey, from top-level product research to their final click at the checkout.
Don't worry – you won't need to commit all of these Instagram marketing statistics to memory.
However, it's always a good idea to stay in the loop with the latest facts and figures to understand how the Instagram platform is changing.
The more you know about the trends and tools that are emerging in the world of social media, the better equipped you'll be to capitalise on them.