Facebook and Instagram are both part of the same social media family, but it can be tricky to know which network is going to deliver the best results for your business.
Both platforms offer brands jaw-dropping audience reach, laser-focused targeting tactics, and access to a range of data-fuelled marketing tools.
There are plenty of similarities between Facebook and Instagram, but there are also some major differences that can make a huge impact on the performance of your campaigns. 
The more you know about these social media behemoths, the easier it will be to decide where to invest your advertising budget.
It's time to take a closer look at the strengths and weaknesses of Facebook and Instagram and help you to understand the best choice for your brand. Let's get started.
What are Facebook ads?
Facebook ads are served across the Facebook platform and can be targeted towards specific audience segments.
Since Facebook gathers a huge amount of data about its users and their behaviours, advertisers can run effective campaigns that reach hot prospects, leading to cost-efficient conversions and sky-high levels of engagement.
Ads on Facebook can appear in Facebook Stories, Facebook Messenger, the Facebook home feed, and various other environments in the app. These ads are also available in a wide range of formats, and this versatility is super useful for marketers.
Different ad types can be utilised to achieve specific business objectives, from driving top-funnel brand awareness to generating cost-effective leads and conversions.
Because Facebook offers so many different types of ad formats, selecting the right format (and producing the right creative asset) is crucial for success.
What are Instagram ads?
Instagram ads are extremely similar to Facebook ads in many ways – which makes sense when you consider that Facebook has owned the Instagram platform since 2012.
For example, Instagram ads are delivered across the social media app through placements like Instagram Stories and In-Feed – just like Facebook.
There's also plenty of crossover when it comes to audience targeting. Facebook and Instagram collect similar data points about their respective audiences, which is why it's so easy for advertisers to launch cross-platform campaigns that target the same segments.
However, there are also nuances to note when it comes to Instagram ads.
Firstly, the design of the Instagram platform is very different to Facebook. In-feed ads are arguably more visible on Instagram because the feed is more streamlined and there are fewer ad placements available to marketers.
Instagram also places a stronger emphasis on visuals (i.e. images and videos), which can be a big factor for advertisers to consider.
What are the differences between Facebook and Instagram audiences?
There are a lot of parallels between Facebook and Instagram when it comes to audience data and targeting options.
But what about the user base of each platform? How do the Facebook and Instagram audiences stack up against each other?
Let's take a look at the data.
Facebook attracts a whopping 2.96bn monthly active users, which is a pretty mind-blowing statistic. The platform surpassed the 2bn user mark in 2017, and its audience has continued to grow steadily since then.
(Source: statista.com)
Instagram, on the other hand, boasts around 2bn monthly active users.
Although Instagram can't quite match Facebook in terms of sheer audience size, both of these apps offer businesses colossal reach that many other social media players can't compete with.
(Source: statista.com)
It's also worth remembering that Facebook and Instagram share a significant number of users, and many brands launch cross-platform campaigns that target both audiences.

While it's good to know the individual audience size of each website, you may view both Facebook and Instagram as a single advertising opportunity, depending on your goals!
What are the pros and cons of Facebook ads?
Facebook is a hugely popular advertising platform for brands around the globe – and with good reason.
We've already covered the sizable reach of the Facebook network, which enables brands to reach, target, and convert a huge audience of potential customers.
However, audience reach isn't the only benefit of marketing on Facebook. You can also take advantage of granular audience data, which allows you to build highly targeted user segments that are relevant to your brand and likely to purchase your products.
With the right audience targeting tactics and diligent optimisations, you can use Facebook ads to achieve several business objectives cost-effectively, whether you're looking to generate valuable leads or increase online sales.
But no social media advertising platform is perfect.
Although Facebook has the potential to drive outstanding results for brands, sometimes the amount of different content, ad types, and marketing tools can feel excessive – particularly for newer advertisers. 
For example, while you might assume that in-feed ads are guaranteed to capture attention on Facebook, the home feed is actually packed with content (e.g. Messenger inbox, sponsored placements, Stories, Reels) that may distract from your campaigns.
It can also be tricky to understand the formats that are going to drive solid results for your brand since Facebook offers 8+ different ad types that can appear in various placements.
If you're not a paid social veteran, all of these options can seem a little overwhelming.
What are the pros and cons of Instagram ads?
Instagram also has a lot to offer digital advertisers, providing the same data-fuelled targeting tactics as Facebook, but in a different social media environment.
The streamlined design of the Instagram feed can be a huge plus for advertisers with eye-catching creative assets.
Instagram is all about visual content, and users are ready to engage with high-quality posts that grab their attention. If you can produce compelling ad creatives with striking images and videos, the Instagram feed is the perfect platform for your brand to shine.
The direct connection between Facebook and Instagram is also another bonus for digital marketers.
Both Facebook and Instagram gather mountains of insightful data about their audiences, which can be used to refine and perfect your targeting strategies. Whether you're focused on broader demographic segments or pinpoint Custom Audiences, Instagram provides you with the data you need to reach the right users.
So are there any potential drawbacks of Instagram advertising?
Well, the highly visual nature of the Instagram platform can be a blessing and a curse for marketers.
Although Instagram users are ready to engage with quality content, this also means that you'll need to produce top-tier ads to stand out from the competition. Generic or boring assets are easy to ignore in a feed that's packed with engaging posts, so if you want to cut through the noise, you'll need to produce ads that are bold, creative, and unique.
What are the differences between Instagram ads and Facebook ads?
Now that we've covered the basics of Instagram and Facebook ad campaigns, it's time to dive into the finer details of these social media giants.
Let's put Instagram and Facebook ads head-to-head, examine some of the differences between these platforms, and help you to understand which partner is right for your brand.
Demographics & Audiences
Firstly, let's take a look at who is using the Facebook and Instagram networks.
Data shows that 61.9% of Instagram users are aged between 18-34, which is by far the largest segment on the platform. 23.6% of users fall into the 35-54 age bracket, meaning while advertisers on Instagram can reach older shoppers, the platform may be more appealing to brands hoping to target younger millennials and Gen Z audiences.
(Source: statista.com)
On Facebook, 53.6% of users fall under the 18-34 umbrella, while 28.9% are included in the 35-54 audience.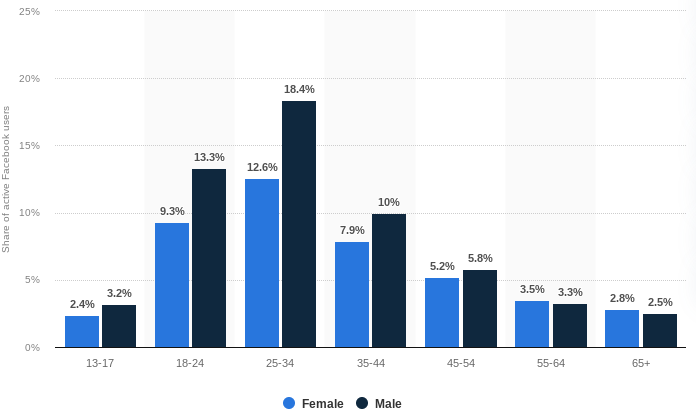 (Source: statista.com)
Facebook still enables brands to access younger demographic audiences, but the user base is slightly more balanced when compared to Instagram.
For marketers looking to exclusively target younger millennial and Gen Z shoppers, Instagram may be the more appealing platform. However, if you're keen to maximise reach without focusing too much on specific age brackets, then the sheer size of the Facebook audience presents a major opportunity.
Cost Comparison
Below are some average costs for Instagram advertising:
CPC (Cost Per Click): £0.16-£1.64
CPM (Cost Per Thousand Impressions): £5.49
And for comparison, average Facebook ad costs:
CPC (Cost Per Click): £0.80
CPM (Cost Per Thousand Impressions): £5.90
Facebook can drive significantly cheaper clicks than Instagram (depending on your target audience) but may also charge a higher CPM. The most cost-efficient platform for your campaigns depends on your objectives and tactics.
It's vital to remember that your campaign costs will be influenced by many different factors, including your ad relevance, bidding strategy, ad formats, and industry.
While the above figures may be helpful guidelines, your costs will always vary!
ROI (Return On Investment)
While we can't directly compare a guaranteed ROI between Instagram and Facebook, we can still look at some other key performance metrics.
A high Click Through Rate, for example, is a good sign for advertisers – the more clicks you can generate with your campaigns, the more potential customers you'll drive to your website. Facebook offers an average CTR of 3.06%, while Instagram delivers an average 0.68% CTR.
(Source: socialinsider.com)
This is a significant difference, so if you're trying to figure out the best place to secure cost-efficient clicks and conversions, Facebook is a safe bet.
But once again, it's important to note that every business is different. The ROI you'll achieve is heavily dependent on your targeting tactics, ad creatives, optimisations, and a number of other factors.
Targeting Options
The ability to reach relevant and profitable audiences is incredibly important in paid social campaigns – so which platform offers the best targeting capabilities?
While both Facebook and Instagram offer industry-leading data access, Facebook is slightly more advanced when it comes to audience targeting.
Facebook enables marketers to add several complex layers to their targeting strategies, from pixel-based purchase data to detailed life events.
If you're looking to target super-granular audiences using multiple data points, Facebook is the platform for you. If you're a newer advertiser who wants to balance rich data with streamlined targeting options, then Instagram is a good call.
Engagement
Consistent audience engagement is very important for social media marketing. Engagement is key to growing brand awareness, building a follower base, and driving website traffic.
And when it comes to social media engagement, Instagram is a clear winner.
A 2019 study showed that Instagram delivers an average engagement rate of 1.60% across all industries, while Facebook delivers an average engagement rate of 0.09.%
Below is an example of this gap in action – MyProtein has 2.3m followers on Facebook and just 985k followers on Instagram, but check out the difference in engagements on the same post.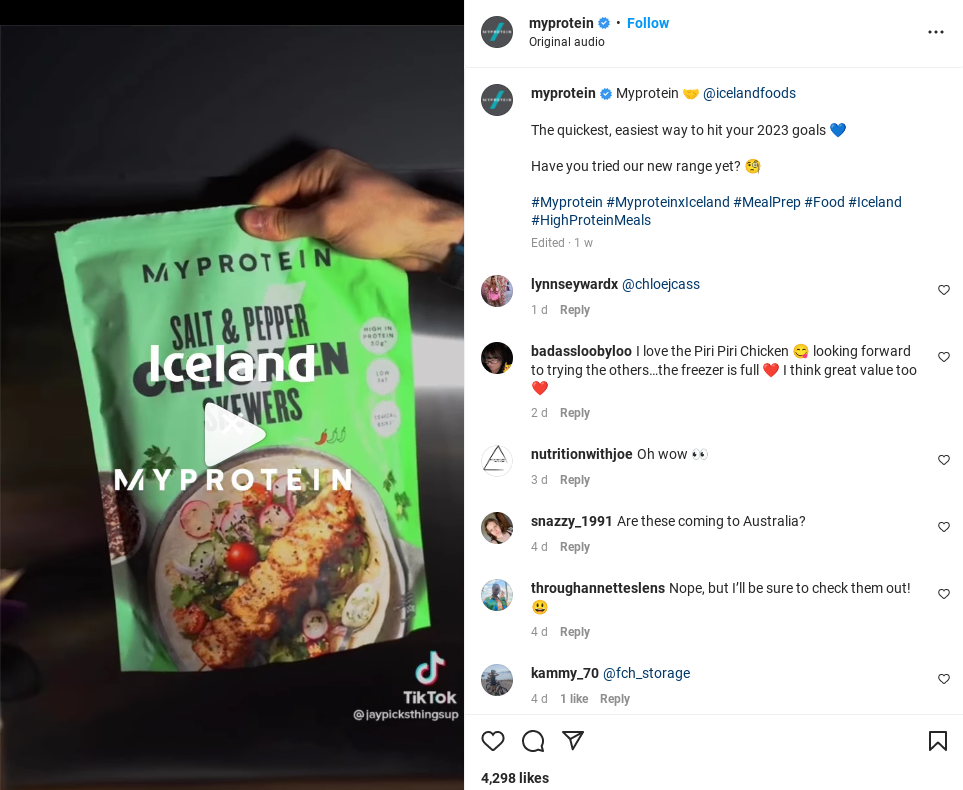 (Source: instagram.com)
(Source: facebook.com)
Buyer Intent
Since the Instagram platform revolves around eye-catching visual content, many brands assume that it's better suited for top-funnel marketing activity. Facebook, on the other hand, is often viewed as superior when it comes to identifying buyer intent and driving sales.
Although there may be some truth in this, both platforms still allow brands to tap into valuable purchase intent data to drive cost-effective conversions.
For example, Japanese sportswear brand On launched Advantage+ Shopping campaigns across both Facebook and Instagram. Advantage+ Shopping ads automatically optimise audiences and creatives towards users with higher purchase intent, which allowed On to achieve a 60% lower Cost Per Conversion and a 4.7x incremental ROAS. 
For advertisers looking to identify high-value prospects with strong buyer intent, both Instagram and Facebook present a fantastic marketing opportunity.
Ad Formats
There's a lot of crossover when it comes to paid advertising formats on Facebook and Instagram.
The following ad formats are available on both social media networks:
Image ads
Video ads
Carousel ads
Collection ads
Instant Experience ads
Stories ads
Reel ads
However, although both platforms share many common ad formats, they can still be deployed in different ways.
While Instagram has evolved its e-commerce offering (i.e. Advantage+ Shopping) it's still heavily focused on aspirational visuals. Ad placements on Instagram are ideal for increasing brand awareness, providing shopping inspiration, and showcasing product imagery.
Facebook is arguably less high-impact when it comes to creative visuals, but the platform is better suited for e-commerce conversions. Placements are delivered throughout the site, ad text is much clearer for product details, and audience targeting is more granular. 
Campaign Features
Unsurprisingly, Facebook and Instagram also have a lot in common when it comes to campaign management and marketing features.
Both platforms have been updated with paid social advertising in mind, meaning both offer similar tools that brands can leverage to improve performance.
Automated bidding strategies, for instance, are available on both Facebook and Instagram.
Marketers can set up their preferred bid goals (e.g. ROAS, cost-per-result, conversion volume) and allow the Facebook and Instagram algorithms to automatically manage their bids accordingly. 
You can also access dynamic ads (now known as Advantage ads) through Instagram and Facebook. Advantage campaigns can automate various aspects of your marketing, from campaign setup to audience targeting.
Ease Of Use
There's a lot to think about when you're selecting a social media platform, but convenient and accessible campaign management is one of the most important factors to consider.
Fortunately, both Facebook and Instagram are relatively simple to use for paid advertising. 
While the Instagram platform is slightly more streamlined in terms of audience targeting, campaigns on both networks can easily be managed through the Facebook Ads Manager.
The Ads Manager centralises all of your marketing activity, so you can control audience targeting, bid strategies, and creative assets in a single place. Ad testing and in-flight adjustments are also very easy to implement, so running campaigns across both Facebook and Instagram is surprisingly convenient. 
Tracking results on Facebook and Instagram
Tracking paid social campaign performance is crucial to making informed and decisive optimisations that can skyrocket your ROAS.
And luckily, keeping tabs on the performance of your Facebook and Instagram ads is simple.
You can access every performance metric you need through the Facebook Ads Manager, which allows you to monitor campaign delivery across both social media platforms. By frequently checking the Ads Manager dashboard, you can identify both real-time insights and emerging trends that can help you to make impactful optimisations.
Advertisers can also review performance charts and download custom reports that focus on priority metrics and important data points.
The key is to stay focused on the numbers that matter to your business.
Whenever you're looking at results in the Ads Manager, think about your marketing objective. If you're trying to grow brand awareness, then metrics like reach and impressions are important – if you're driving conversions, then clicks, CTRs, and sales are more relevant.
How to run successful tests on Facebook and Instagram
Regularly A/B testing is a surefire way to improve the performance of your Instagram and Facebook advertising. By testing out different tactics and strategies, you can rapidly identify new opportunities and reduce inefficient ad spend.
There are many variables that you can test throughout your paid social campaigns, including:
Creative assets
Target audiences
Headlines
Ad Text
Bidding strategies
Since these social networks boast colossal audiences, you'll also have access to plenty of fresh prospects that you can test new tactics and creative assets on.
But wait – it gets even better.
Both platforms also enable brands to set up fully automated A/B tests. All you need to do is select your chosen variables, set up the automated tests, and reap the benefits.
Which platform is right for my brand?
So far, we've outlined the strengths and weaknesses of Facebook and Instagram, compared some of their main features, and explained how you can accurately measure campaign performance.
(We've covered a lot of ground, eh?)
So there's just one question left to answer.
Which platform is most deserving of your marketing spend? 
Well, if you're working with a limited budget and would prefer to focus on a single platform at a time, here's a neat summary of what Instagram and Facebook can offer.
Instagram is generally better at:
Reaching a younger audience
Delivering high levels of engagement
Promoting high-quality product visuals
While Facebook is built for:
Reaching a larger, more diverse audience
Delivering a strong CTR (and cheap CPC)
Generating cost-effective conversions
However, if you have the budget available to experiment with both platforms, a two-pronged approach can deliver exceptional results for your business.
Facebook and Instagram can be fantastic standalone networks, but when you use both platforms during your campaigns, you have a powerful combination on your hands.
How can I use Facebook and Instagram ads in tandem?
Data from Facebook shows that utilising both Facebook and Instagram in your campaigns (rather than just one platform) has the potential to deliver superior results.
A study of 10 Facebook advertisers from multiple industries found that combining both platforms helped them:
Increase total campaign reach by 4.1%
Reduce CPMs by 5.2%
Lower the brand study Cost Per Lift by 10-27%
So how can you maximise the impact of both social media partners?
Firstly, make sure that you're leveraging Advantage campaigns. These dynamic placements will automatically optimise across both Facebook and Instagram, ensuring that your budget generates the best possible returns.
Secondly, don't be afraid to apply cross-platform learnings where relevant. 
If you notice that a particular creative asset or audience segment is performing well on Facebook, you can always set aside a test budget to replicate the approach on Instagram.
Getting started with advertising on Instagram and Facebook
Keen to launch your own high-performing paid ads on Facebook and Instagram?
First things first, you'll need to set up a new ad campaign on your chosen platform.
Click here for more information on setting up and launching your first Facebook or Instagram ad campaign.
You'll be able to select your desired ad placements during this campaign setup process, meaning you can decide whether you'd like to run on Facebook, Instagram, or both platforms.
(You can also set up Advantage campaigns here, which is a great way to maximise the efficiency of cross-platform ads!)
Useful resources for Facebook/Instagram ad campaigns
Looking to understand a little more about the different ad formats on Facebook and Instagram? Or need a refresher on best practices for these platforms?
We've got you covered.

Below are some handy resources to help you make the most of your paid social budget and knock your marketing objectives out of the park.
Overview of Facebook ad formats
Best practices for Facebook/Instagram ads 
Measuring ad performance on Facebook
While there are some key differences between Facebook and Instagram as marketing platforms, the two networks often deliver better results when used in combination.
If you approach your campaigns with a cross-platform strategy (and lean on the data-driven automation that Facebook offers) you can ensure that you generate exceptional results for your business.
Just remember to stay diligent with your optimisations, create high-quality ads that are tailored to your audience, and utilise data-led targeting to maximise your returns from both platforms.