Since launching in 2016, TikTok has continued its meteoric rise in the social media sphere.
The platform is insanely popular with users from around the globe – but it's also a hit with advertisers. Marketers from every industry are jumping on the TikTok bandwagon, launching creative video ads that reach receptive audiences and drive sky-high levels of engagement.
But TikTok has some fierce competition in the world of short-form video ads.
Established social media giant Instagram offers advertisers the chance to utilise Reel ads – short and snappy video placements that also focus on delivering punchy messages.
It looks like we have a paid social ad format grudge match on our hands.
And it's time to settle it.
Let's place TikTok and Instagram Reels ads under the microscope, compare their strengths and weaknesses, and highlight the best option for your next social media campaign.
What are TikTok ads?
TikTok ads are served in and around the main feed of the TikTok app.
They're available in a wide range of formats, and different placements can be used to achieve different business objectives.
Standard in-feed TikTok ads (usually around 9-15 second videos) are incredibly popular among both large corporations and smaller advertisers. These placements can deliver sky-high levels of engagement, enormous audience reach, and cost-effective conversions.
(Source: tiktok.com)
But if you're interested in differentiating your brand with more creative executions, TikTok also offers a number of unique ad formats that are designed to make a major impact.
Branded Hashtag Challenges are often leveraged by marketers looking to drive user engagement and achieve viral fame, while Branded Effects can quickly generate serious organic reach.
Whether you're looking to grow brand awareness or drive cost-efficient sales, TikTok has an advertising solution for you – all you need to do is produce creative assets that will stand out in a super competitive feed.
What are Instagram Reel ads?
Instagram Reels are full-screen, vertical videos that appear primarily in the 'Reels' tab of the Instagram app. Reels can run for up to 50 seconds and are designed for short and snappy creative executions that are easy for viewers to consume.
And Instagram Reels ads? You guessed it – they're served in the same section of the app.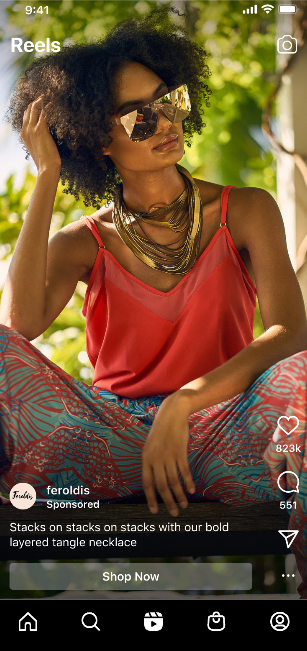 (Source: facebook.com)
Reels ads are delivered between normal user Reels, and can be viewed, liked, shared, and skipped like organic posts.
Since Instagram users will often tap through Reels content at eye-watering speeds, you'll need to make sure that your creative assets capture immediate attention.
Reels ads can also be served in other sections of the Instagram app. If a user taps on a Reels ad from Stories or the Explore page, they'll automatically open a viewer that shows Reels content scrolling vertically.
TikTok vs Instagram – Audience Comparison
Both of these social media platforms are enormous, offering brands access to a huge audience of engaged users and potential customers.
But there can only be one winner. So let's take a look at the hard numbers.
TikTok has grown at lightning speed in recent years and currently attracts more than 1bn monthly active users. Many of these audiences fall into a younger age group, and TikTok has solidified itself as a front-runner for younger millennial and Gen Z audiences.
Instagram, on the other hand, boasts around 2bn monthly active users. The Instagram audience is more balanced across age groups than TikTok, but 61.9% of users are still aged between 18-34.
In terms of sheer audience size, Instagram takes this round comfortably – the platform is strongly established and appeals to a wide range of different audiences.
However, not every Instagram user will be regularly watching Reels content, so this comparison isn't completely fair. Plus, the influence TikTok has on younger shoppers is undeniable, so the 'best' platform for your brand really depends on your objectives.
What are the pros and cons of TikTok ads?
TikTok has plenty to offer digital advertisers.
It's one of the fastest-growing social networks on the global market and is the first app not owned by Meta to reach 3bn downloads. However, although many businesses have boarded the TikTok marketing train, there's still a huge opportunity for new advertisers.
A lot of brands are still hesitant to embrace the platform, meaning if you act decisively, you can take the lead in your industry and capitalise on millions of red-hot prospects.
TikTok ads are also visually engaging and highly visible within the app. Paid ads are served in and around the main home feed, so you can be confident that your audience won't miss your campaigns, especially if your videos are eye-catching.
So are there any potential drawbacks to TikTok advertising?

A lack of choice in terms of ad formats is one of the biggest cons of TikTok marketing.
While there are some variations of the in-feed video ad (i.e. TopView ads, Spark ads) there aren't too many options here – and while placements like Brand Takeovers and Branded Effects allow for more creativity, they can also rack up costs pretty quickly.
What are the pros and cons of Instagram Reels ads?
So what do Instagram Reels ads bring to the table for marketers?
Since Instagram is part of the wider Facebook family, it allows brands to leverage rich platform data to create highly targeted audience segments.
Your Instagram audience targeting can be as broad or as granular as you'd like – you can stick to basic demographics to extend your reach, or target specific data points around interests, behaviours, and recent purchases.
The ability to access this level of audience data is hugely valuable for digital advertisers.
As we've already mentioned, the Instagram audience is also huge. With 2bn monthly active users on the platform, advertisers are almost guaranteed to find relevant and profitable users to target and convert.
But what about the downsides of Instagram Reels advertising?
The placement of Instagram Reels ads is probably the biggest issue for marketers. While Reels ads can appear in different sections of the Instagram app, they're primarily served in the Reels tab, which not every user will view.
This means that Reels ads are best utilised alongside other Instagram formats, rather than running as a standalone campaign.
What are the differences between Instagram Reels ads and TikTok ads?
Now that we've covered the basics of TikTok ads and Instagram Reels ads, let's get down to the nitty-gritty of these paid social formats.
It's time to compare some of the key factors for advertisers and help you understand which platform may generate the best results for your business.
Cost Comparison
Cost is always a very important factor to consider when you're planning a paid social campaign.
But will TikTok help you to launch a cheaper campaign? Or are Instagram Reels ads better value for money?
A study conducted by ad creation platform Creatopy was set up to answer this exact question.
Creatopy launched campaigns on both TikTok and Instagram Reels to compare a few different performance metrics, with identical variables (e.g. budget, custom frequency cap, audience) in place to ensure fair results.
Below are the final costs that Creatopy reported:
| | | |
| --- | --- | --- |
| | Instagram Reels | TikTok |
| CPC | £22.75 | £28.94 |
| CPM | £1.35 | £3.55 |
Within this study, Instagram Reels ads were able to outperform TikTok ads in both CPC and CPM – meaning Instagram Reels delivered both reach and clicks more cost-effectively.
Now, it's important to remember that these results won't apply to every advertiser. Many different factors will impact the price of your campaigns (e.g. audience, industry, bidding strategy) so your mileage may vary.
ROI
It's always tricky to weigh up ROI between social media platforms because every campaign is so different. There's no guaranteed ROI for TikTok and Instagram Reels ads, so a clear-cut comparison isn't possible.
However, we can look at CTR as a strong indicator of potential ROI. Clicks are vital to increasing conversions, so a strong CTR will usually lead to improved returns.
In the same report, Creatopy found that both TikTok and Instagram Reels achieved a CTR of 0.01% – TikTok delivered 28 clicks, while Reels delivered 36 clicks.
There's no clear winner for this category. The Creatopy results are too close to call, and it's tricky to crown a champion when ROI will vary wildly between advertisers.
Ultimately, the ROI you achieve through paid social ads will all depend on the efficiency of your audience targeting, bidding strategy, optimisations, and creative assets!
Reach
Campaign reach is another major factor for digital marketers to consider.
The more potential customers you can reach (and the more cost-effectively you can reach them) the better your advertising returns will be.
During their study, Creatopy launched ad campaigns with a near-identical budget on TikTok and Instagram Reels. Here's what they found in terms of campaign reach and impressions:
| | | |
| --- | --- | --- |
| | Instagram Reels | TikTok |
| Reach | 389,298 | 199,477 |
| Impressions | 604,350 | 228,537 |
This is another clear victory for Instagram Reels. The Reels campaign almost doubled the reach of the TikTok campaign and delivered more than 2x the number of impressions with the same ad spend.
Targeting Options
The ability to reach high-value audiences is key to success when you're running paid social campaigns.
Instagram boasts several impressive audience targeting options, allowing marketers to tap into a wealth of platform insights and historical data. These targeting tactics include:
Demographic (e.g. location, age, gender)
Interests (e.g. business, fitness, shopping)
Behaviours (e.g. device, recent purchases)
Custom Audiences (e.g. web visitors, customer files)
Lookalike Audiences
Custom Audiences are particularly powerful on Instagram since you can build segments based on recent purchases, landing page visits, and ad engagements.
This allows brands to reach warm prospects who are significantly more likely to click and convert.
TikTok also offers several data-driven targeting options, including:
Demographic (e.g. location, age, gender)
Interests & Behaviours (e.g. viewed content, likes, searches)
Device (e.g. device model, price, OS)
Custom Audiences (e.g. engagement, customer file)
Lookalike Audiences
Our social media combatants are fairly evenly matched in this department. Both platforms offer a range of useful targeting tactics, from basic demographic segments to advanced Customer Audiences and Lookalikes.
Instagram may have a slight edge since the platform has been collecting huge amounts of data for a longer period, but there's no clear winner or loser here.
Engagement
Wondering which platform is going to drive higher levels of engagement for your brand?
Let's examine the data.
Reports claim that Instagram Reels ads deliver an average engagement rate of 1.95%, while TikTok ads deliver an average engagement rate of 6.72%.
There's a significant gap between the platforms here, but these results aren't too surprising.
TikTok is known for its impressive engagement rates, and the platform is designed to generate likes, comments, and shares – content is showcased full-screen in the main feed, making it super easy for users to engage with new posts.
(It's worth noting that the same data set shows that Instagram Reels still outperform other Instagram formats when it comes to engagement, so if you're keen to drive user interaction, Reels are a solid choice on the platform.)
Ad Formats
Instagram Reels ads and TikTok ads are extremely similar. Both of these placements tap into the surging popularity of short form video, which is all about punchy messages and snappy video content.
However, TikTok has a clear advantage here. While Instagram Reels are just one part of the wider Instagram offering, TikTok offers several ad formats, including:
In-Feed Ads
TopView Ads
Brand Takeover Ads
Branded Hashtag Challenges
Branded Effects
Source (tiktok.com)
TikTok may not have the widest ad format selection on the market, but there's enough versatility for some experimentation.
For example, Spark ads can be a great way to capitalise on popular organic posts, while creative Branded Hashtag Challenges can quickly achieve huge reach – and even viral fame.
Campaign Features
When you're running paid advertising, you need to be confident that the platform you're using will allow you to easily manage and optimise your campaigns.
Luckily, Instagram and TikTok are well-equipped to help in this area.
Both platforms offer a range of accessible tools and features that make campaign management a breeze.
For example, the Facebook Ads Manager and TikTok Ads Manager are both easy-to-use dashboards that allow you to monitor campaign performance and implement optimisations.
Instagram and TikTok have also both bolstered their offering in terms of e-commerce campaigns. Instagram allows online stores to utilise machine learning through Advantage+ ads, while Shopping Ads on TikTok are designed to boost online sales.
Finally, both TikTok and Instagram have built-in bid automation tools that help marketers to optimise their bidding strategies to maximise returns.
While there may be slight differences in campaign features between these networks, both are
Ease Of Use
Instagram and TikTok are both designed to make running marketing campaigns as convenient as possible for advertisers.
(Makes good business sense, right?)
Both of these platforms are pretty similar when it comes to campaign setup, and both simplify the ad management process through their 'Ad Manager' dashboards.
The only caveat here is that Instagram does have a potentially steeper learning curve, depending on the type of campaign that you're launching.
While TikTok is just a single ad platform, Instagram can be combined with Facebook for cross-platform campaigns, offering a wider range of ad formats and audiences to choose from. In saying that, if you're exclusively using Reels ads, it's easy to keep things simple.
Which platform should I use?
It's crunch time.
We've outlined the main features of TikTok ads and Instagram Reels, explored their strengths and weaknesses, and put them head-to-head in key marketing areas.
There's just one question left – which platform is right for you?
TikTok may be insanely popular at the moment, but the data doesn't lie – from a pure performance perspective, TikTok Reels ads have a competitive edge.
Reels ads have proven they can outperform TikTok ads in several departments, from cost efficiency to campaign reach.
But don't dismiss TikTok ads too quickly. The platform's access to younger consumers and leadership when it comes to new video trends shouldn't be overlooked.
That's why including both TikTok and Instagram Reels ads in your paid social plans is the best way to unlock the potential of both platforms.
Using TikTok & Instagram Reel ads in tandem
If you have the budget to launch both TikTok and Instagram Reels campaigns, these platforms can make for a powerful pairing.
To ensure that you're generating optimal results from both social media partners, be sure to:
Keep a close eye on daily budget. Monitor your best-performing tactics, and allocate budget accordingly.
Apply cross-platform learnings. Don't hesitate to replicate and tweak effective audiences, ad copy, and CTAs between Instagram and TikTok.
Embrace current content trends. Instagram and TikTok both produce their own viral videos, but there's also a lot of crossover between these platforms.
If you're smart with your optimisations and cross-platform budgeting, then you'll be in a good position to maximise the performance of both TikTok and Instagram.
Getting started with TikTok and Instagram advertising
Ready to launch your own high-performing TikTok and Instagram Reels ad campaigns?
The first thing you'll need to do is kick off the campaign setup process – click here for more information on setting up Instagram Reels ads, and click here for a TikTok ad campaign.
There are some minor differences between Instagram and TikTok when you're preparing a new campaign, but both platforms require some fundamental information to get started.
Before you dive into the finer details of your campaign, make sure you've thought carefully about your ideal:
Target audience
Campaign budget
Ad formats
Bidding strategy
Campaign duration
Creative assets
Useful resources for Instagram and TikTok marketing
Need a helping hand with your quest for paid social glory?
We've got you covered. Below are some handy resources that will help you to kickstart your new campaigns and smash your business objectives.
Overview of Instagram Reels ads
The right social media marketing platform for your business all depends on your target audience, objectives, and budget.
TikTok and Instagram both have the ability to drive exceptional results, so you'll just need to think strategically about your preferred network.
If you have sufficient budget, running campaigns on both Instagram and TikTok enables you to access the best of both worlds. Just make sure that you're staying on top of your cross-platform reporting data and implementing smart optimisations where needed!