TikTok and Google are two of the biggest marketing platforms on the planet, attracting advertisers from every industry.
But which network is going to help you crush your advertising objectives, capture your target audience, and skyrocket business growth?

We're about to find out.
It's time for a good old-fashioned showdown between these digital giants.
In the red corner, we have TikTok – the champion of youth audiences, creator of insanely viral trends, and top dog of short-form video. In the blue corner, we have Google – the reigning internet colossus, master of data collection, and ruler of ad efficiency.
We're about to deep-dive both of these platforms to help you understand how they match up in terms of creative opportunities, ad costs, targeting options, and more.
What are TikTok ads?
TikTok is a social media sensation, having built an audience of around 1bn monthly active users since launching in 2017.
TikTok ads appear primarily within the main app feed and are available in a wide range of formats. While more standard video placements (e.g. TikTok feed ads, TopView ads) can help brands achieve mind-blowing reach, more bespoke executions (e.g. Hashtag Challenges, Branded Effects) can generate viral fame and mass engagement.
However, one thing is consistent across all types of TikTok advertising campaigns.
If you want to capture the attention of TikTok's user base, you'll need to produce snappy video ads that capitalise on popular trends and stand out in-feed.
TikTok users scroll through mountains of fresh content every single day, so if you don't want to be lost in a sea of short-form videos, you'll need to find a way to make an impact. 
(Source: TikTok.com)
What are Google ads?
The Google Ads network is incredibly popular among global advertisers, offering enormous scale, advanced data capabilities, and a wide range of strategic formats.
While Google is mainly known as a search engine, the platform offers ad placements across a wide range of digital environments, including:
Google Search – ads appearing in Google search results
Google Display – ads appearing across the Google Display Network
Google Video – ads appearing on the YouTube platform/partner sites
Google Shopping – shoppable ads appearing across the Google network
To drive optimal results through Google advertising, marketers will need to understand how to refine their targeting with data, build efficient keyword strategies, and activate across the customer journey.
(Source: youtube.com)
Search Engine Ads vs. Social Media Ads
First things first, let's look at one of the key differentiators between Google and TikTok.
While Google does offer a range of ad placements, it's most famous for its search engine offering. TikTok, on the other hand, is purely a social media marketing platform.
So what does this mean for advertisers?
Well, since Google processes around 8.5bn search queries every single day, it allows marketers to leverage real-time purchase intent and data signals. Paid search advertising is all about identifying specific keywords you'd like to target, and building a strategy that enables you to capitalise on them to drive conversions.
TikTok, on the other hand, is a social media network. Social media revolves around creative content, unique platform trends, and user engagement. More importantly, social media offers vast audience reach, allowing brands to effectively raise awareness and boost consideration.
Search engine ads are typically used to drive traffic and generate conversions, while paid social is generally used to build awareness and engagement. However, this isn't set in stone, and advertisers often use multiple platforms in different ways across the sales funnel.
TikTok ads vs. Google ads – audience comparison
So how do TikTok and Google compare in terms of platform audiences?
Let's kick things off with the size of each audience. TikTok has grown rapidly since launching in 2017, attracting just over 1bn active users every single month. Google, on the other hand, has a staggering 4.3bn users worldwide.
Now, this isn't necessarily a fair comparison, since TikTok is an individual social media platform and Google is a universal search network. However, when it comes to sheer audience scale, Google is the victor.
But what about demographics?
TikTok is known for its popularity among younger audiences, and rightly so. 38.5% of the TikTok audience is aged between 18-24, but the platform also attracts a significant number of users in the 25-34 bracket. 
(Source: oberlo.com)
While it's a little trickier to break down specific demographics on Google, we can assume that the platform attracts a huge range of diverse audiences. Billions of users are active on the Google network every single day since it's essentially the default search engine around the globe.
What are the pros and cons of TikTok ads?
As we've already established, TikTok is a fantastic platform for brands looking to reach youth audiences, maintaining an incredibly strong influence over this demographic.
Since the network also leads the way when it comes to viral content trends, it offers marketers an unmissable opportunity to gain jaw-dropping organic reach and widespread engagement.
Finally, TikTok enables brands to launch a range of unique ad executions, from high-impact Brand Takeovers to UGC-driven Hashtag Challenges. If you want to engage your target audience and establish yourself as a creative brand, TikTok is the place to be.
However, no platform is perfect.
Successful TikTok advertising requires a very distinct creative approach, as you'll need to deliver punchy content that resonates with audiences and reflects the latest trends. If you can't adapt to the unique style of TikTok ads, you may find yourself in trouble.
What are the pros and cons of Google ads?
Google has a huge amount to offer digital marketers in every industry.
One of the most obvious benefits of Google advertising is the ability to tap into real-time buyer intent and search activity. Billions of search queries are processed through the platform every single day, and every one represents a strategic marketing opportunity.
The scale of the Google network also means that you can effectively target users across the entire sales funnel, while still managing all of your activity in a single place.
For example, you might launch a YouTube video campaign to drive top-level brand awareness, and then target branded keywords to convert new customers cost-efficiently.
It's worth noting, however, that Google Ads does require some technical expertise. While the network can deliver exceptional results, brands will need to understand how to build keyword strategies and manage ads across multiple channels to maximise performance.
What are the differences between Google ads and TikTok ads?
Algorithms
The Google Ads algorithm is designed to optimise paid search and display placements. Your ads will be served across the Google network based on your audience targeting and keyword strategy, and will also be prioritised based on your Quality Score.
TikTok's algorithm, on the other hand, is all about engagement in the main feed. If users interact with a certain video, they'll receive similar content moving forward. The more engagement you can drive with your TikTok ads, the more likely they are to be served.
Cost Comparison
While it's difficult to make direct cost comparisons between marketing channels (since so many variables are in play) we can look at Cost Per Click and Cost Per Mille as a rough guide.
The average CPC is $1 on TikTok, $1 to $2 on the Google Search Network, and $1 on the Google Display Network. As for average CPM, Google Search sits at around $41, while TikTok is roughly $10. 
While this Google Search average CPM may seem high, it's important to remember that not all clicks and impressions are equal. An impression on TikTok or Google Display may reach prospects with a passing interest in your products, but Google Search impressions reach users showing clear purchase intent, meaning they're more likely to result in conversions.
(It's also crucial to remember that these are average figures. Your own TikTok/Google campaign costs will fluctuate depending on various factors, including your target audience, bidding strategy, competitor activity, and ad quality.)
ROI
Comparing ROI between digital marketing platforms is extremely difficult, as every advertiser will see different returns based on their industry, products, audience, and objectives.
However, there is a solution. Since generating clicks is vital for driving conversions, we can use the Click Through Rate metric as a proxy for potential ROI.
So how do Google and TikTok compare in this department?
Across all industries, Google Ads delivers an average CTR of 1.91% on the Search Network and 0.35% on the Display Network. TikTok delivers an average CTR between 0.50% and 1%, depending on various factors.
While TikTok may outperform the Google Display Network, display ads are often meant to raise top-level awareness and brand consideration. When it comes to delivering an efficient ROI, the Google Search Network is likely to deliver the best results for your budget.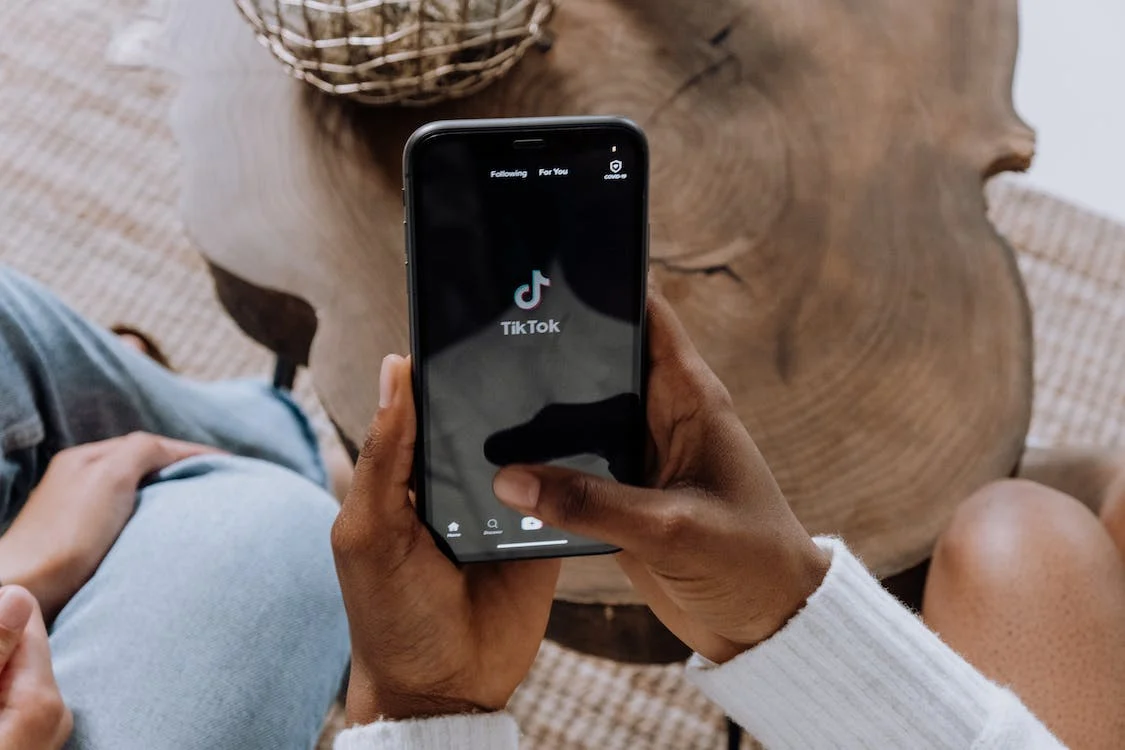 Targeting Options
The ability to accurately target high-value audiences is crucial for digital advertisers. But will TikTok or Google come out on top in this category?
TikTok offers a wide range of targeting options that can help you to reach highly engaged, profitable audience segments.
There are several standard targeting tactics (i.e. Demographic, Interest/Behaviour, Device) that can deliver positive results, but Custom Audiences fuelled by first-party data (i.e. email address) can drive particularly impressive performance.
Whether you're looking to cast a wide net or focus on granular retargeting audiences, TikTok can make it happen.
Google offers similar targeting options, including standardised segments (e.g. Affinity, Demographic) and retargeting audiences based on remarketing tags. However, Google also allows you to target based on specific keywords and content topics, which is a major plus for advertisers.
The other big difference is that TikTok targeting options are limited to the TikTok platform. Google advertisers can launch ads across multiple properties (e.g. Search, Display, YouTube) meaning it's easier to scale up campaigns and harvest audience data.
Engagement
If you want to boost brand consideration and make an impact on your target audience, then engagement is key. Engagement can lead to a number of positive outcomes, from retargeting opportunities to long-term customer interest.
TikTok has a clear advantage here.
Although Google Ads can be insanely effective at driving website traffic and conversions, many placements aren't designed for high levels of engagement. TikTok ads, on the other hand, are all about active user interactions.
TikTok formats like Branded Effects and Hashtag Challenges are literally designed for user engagement, encouraging audiences to share custom stickers, play with AR filters, and participate in global trends.
Buyer Intent
Buyer intent is like gold dust for marketers. If you can identify shoppers who are actively seeking out your products, then you have a great chance of converting them.
Unsurprisingly, Google Ads takes this round pretty comfortably.
As a global search network, Google receives billions of queries from potential customers looking for new brands, products and services. All of this search data can then be leveraged for ad campaigns, meaning marketers can instantly target relevant users and capitalise on real-time buyer intent.
But TikTok does have something to offer here.
Custom Audiences (i.e. checkout visitors) can help TikTok advertisers reach users interested in their products, and data suggests that many Gen Z'ers now prefer to use TikTok as their primary search engine, meaning youth audiences are showing clear search intent on the platform. 
Ad Formats
Both TikTok and Google provide brands with access to a range of effective ad formats.
TikTok offers the following ad formats:
Feed ads
Top View ads
Brand Takeover ads
Branded Hashtag Challenge
Branded Effects
While you can launch these ad formats through Google Ads:
Google Search ads
Google Display ads
Google Video ads
Google Shopping ads
Google App ads
Google Demand Gen ads
Google Local ads
But what are the key differences between these platforms in terms of ad placements?
Well, Google ads are arguably a little more functional – and a little less impactful. Formats like Search and Shopping ads aren't necessarily built for creative masterpieces, but they're extremely effective at driving clicks and conversions.
TikTok, on the other hand, offers eye-catching ad formats that are designed to stand out in-feed, demand audience attention, and generate engagement.
Campaign Features
Although TikTok and Google Ads are very different advertising platforms, there are a few similarities when it comes to campaign features.
For example, both channels enable marketers to use automation to improve efficiency and ad performance. TikTok and Google each offer automated bidding options that help you to maximise conversions while reducing acquisition costs, and TikTok even offers a creative optimisation functionality that's fuelled by machine learning.
As we've already covered, both platforms also allow advertisers to build first-party data audiences (i.e. Custom Audiences) that can be highly profitable and cost-efficient.
Ease Of Use
Getting to grips with a new marketing channel quickly is very important for brands – particularly if you're new to the world of digital marketing. The faster you can learn platform tools and features, the faster you can begin to see results.
Although both TikTok and Google are built for accessibility, TikTok has the edge in this category.
Since the vast majority of TikTok ads are video assets served in-feed, marketers can easily experiment with different formats and master campaign set-up. Ads can be created in minutes, and there are plenty of automation tools to support new advertisers.

The Google network, on the other hand, is a little more complex. There are various channels (i.e. Search, Display, Video) serving ads in distinctly different environments, and each requires a degree of specialist knowledge.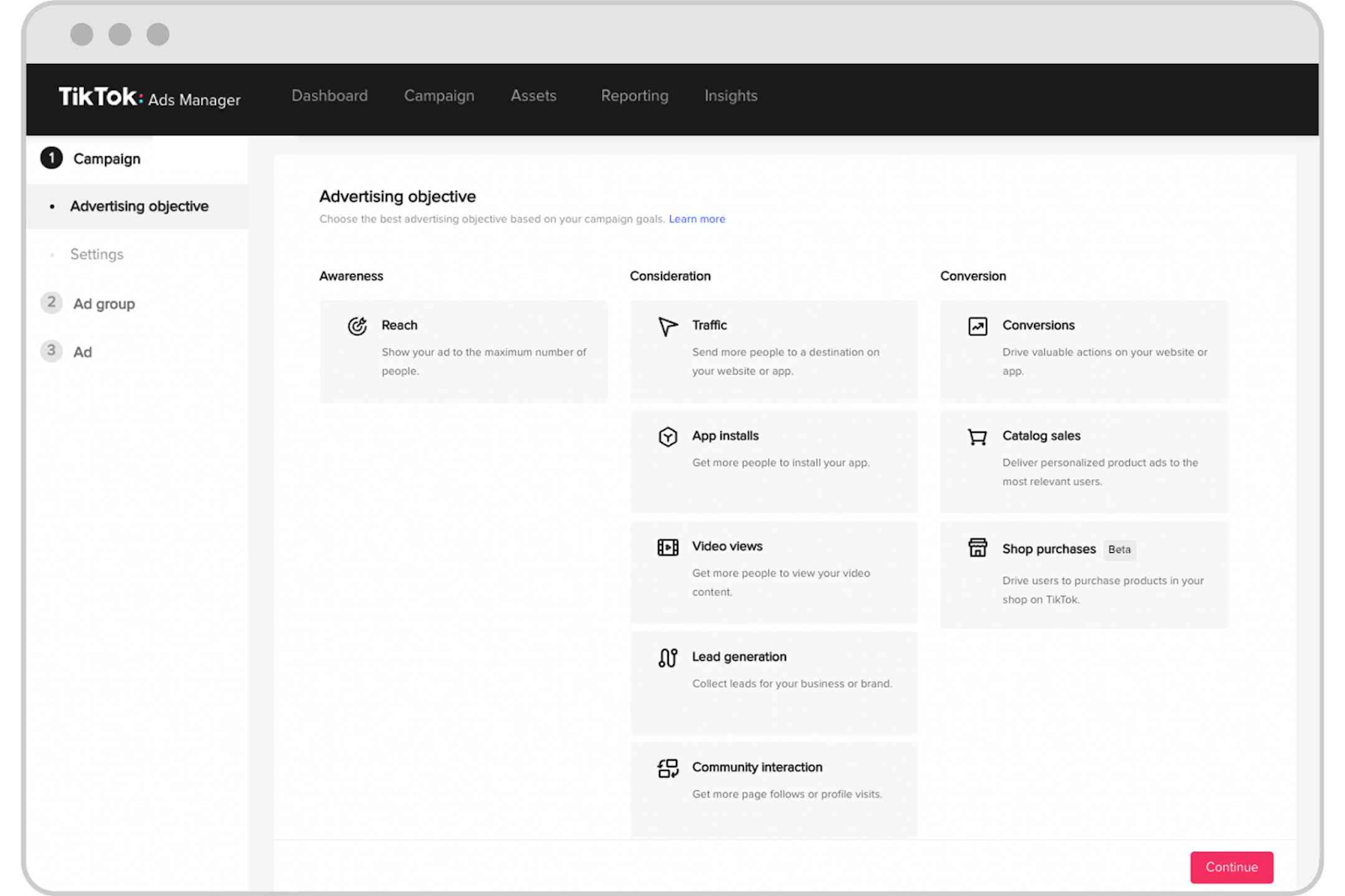 (Source: tiktok.com)
Tracking results on Google Ads and TikTok
If you're running ad campaigns on Google or TikTok, monitoring performance (and implementing optimisations) is key. Fortunately, both platforms make tracking results a breeze – you'll just need to get comfortable with the reporting tools.
By connecting your Google Ads and Google Analytics accounts, you'll be able to see the full customer journey, from ad interactions to website actions. You can also download customised ad reports through Google Analytics to track specific metrics.
Similarly, the TikTok Ads Manager will provide you with access to a clear reporting dashboard where you can monitor campaigns, download reports, and make adjustments.
How can I launch A/B tests on TikTok & Google?
Looking to gather insights and optimise performance through A/B testing?
You're in luck.
Both of these platforms offer built-in testing tools that enable you to launch experiments quickly and easily. However, the testing options are slightly different on TikTok and Google.
With a Google Optimize account, you can run A/B tests that revolve around your landing pages rather than your ad campaigns. By setting up website variations, you can show specific visitors different headlines, page structures, CTA buttons, and more.
(Important note – Google's Optimize offering will no longer be available after September 2023, so if you're looking to run web page A/B tests, the time is now!)
With Split Testing on TikTok, you can experiment with different ad variations to identify opportunities for superior performance. You can test a range of variables here, including your headlines, visual assets, bidding tactics, and target audiences.
Which platform should I use?
Time to answer the big question.
Is TikTok the perfect marketing partner for your business? Or is Google Ads the platform you need to smash your business objectives?
Well, it depends.
We know that's a pretty anticlimactic answer, but hear us out. There's no one-size-fits-all solution for digital marketing, and depending on your business type, objectives, and experience, your mileage will vary massively on different platforms.
TikTok is fantastic for driving awareness and audience engagement, particularly among youth audiences. The ad formats are extremely creative, there's huge potential for viral fame and organic reach, and it's designed to be accessible to newer advertisers.
Google, on the other hand, is a little more complex to master – but the results can be astonishing. While you'll need to grasp keyword strategies and multi-channel campaigns, the ability to target around search queries and data signals can deliver outstanding returns.
So, back to the original question – which platform should you be using as a digital marketer?
Ideally, both.
How to run TikTok and Google Ads in perfect harmony

The truth is, you don't need to decide between TikTok or Google.
With the right cross-platform marketing strategy, you can leverage both platforms to deliver optimal results for your business.
Not only will launching campaigns on multiple networks enable you to maximise reach, but it will also allow you to gather insightful learnings that you can apply across partners. For example, you might discover a product headline that's driving tons of clicks on TikTok, or a profitable audience on Google that could be targeted elsewhere.
Just make sure that you're allocating healthy budgets to both TikTok and Google if you'll be utilising both. Cross-platform campaigns can deliver tremendous performance, but not if your marketing budget is stretched too thin.
Getting started on TikTok and Google Ads
Keen to launch new campaigns on TikTok and Google?
Take a look at this guide for everything you need to know about setting up Google campaigns, and this page for more information on running TikTok ads.
While the campaign setup process for TikTok and Google Ads will be very different, you'll always need to have a clear understanding of your budget, target audience, and ad formats, so make sure you're planning ahead.
Useful resources for Google Ads and TikTok marketing
Before you rush off to create your own high-performing TikTok and Google campaigns, take a look at these handy resources first.
(You'll thank us later.)
TikTok and Google Ads are popular with successful advertisers around the globe – and with good reason.
While these platforms offer different tools, opportunities, and advantages, both can help you achieve your objectives and grow your brand.
If you can find a way to utilise both of these partners with cross-platform learnings, smart optimisations, and effective budgets, then the sky's the limit for your ad performance!