Grab your tickets, order your popcorn, and take your seats, because it's time for a social media marketing grudge match.
In the blue corner, we have TikTok – a rising star in the social media world, boasting more than 1bn monthly users and producing video trends that have taken the internet by storm.
In the red corner, it's YouTube – the long-established champion of online video content, a colossal global advertising platform, and a key member of the wider Google marketing network.
If you've been wondering whether TikTok or YouTube is the best place to invest your video marketing budget, you're about to find out.
Let's take a closer look at both of these social platforms, explore their strengths and weaknesses, and outline where you'll be able to generate the best ROI for your business.
What are TikTok ads?
TikTok ads appear in and around the home feed of the TikTok app.
The platform places a strong emphasis on short, snappy, and creative ad content that capitalises on content trends and stands out in-feed.
Brands can utilise a wide range of TikTok ad formats, and although all of these placements revolve around quality video assets, they can be used to achieve multiple objectives.
While standard in-feed video ads can help brands rapidly achieve huge reach and frequency, more bespoke placements (e.g. Branded Effects, Branded Hashtags) can achieve viral fame and mind-blowing levels of engagement.
(Source: tiktok.com)
What are YouTube ads?
YouTube ads are primarily served around video content on the platform and are available in a range of different formats.
Marketers can launch everything from speedy Bumper ads to static Display placements to connect with target audiences, drive engagement, and generate conversions.
Since YouTube ads reach audiences in a discovery mindset as they consume content, they can be hugely effective at encouraging clicks. YouTube advertising campaigns also benefit from tons of valuable Google marketing data, which can be used to refine ad targeting and identify hot prospects.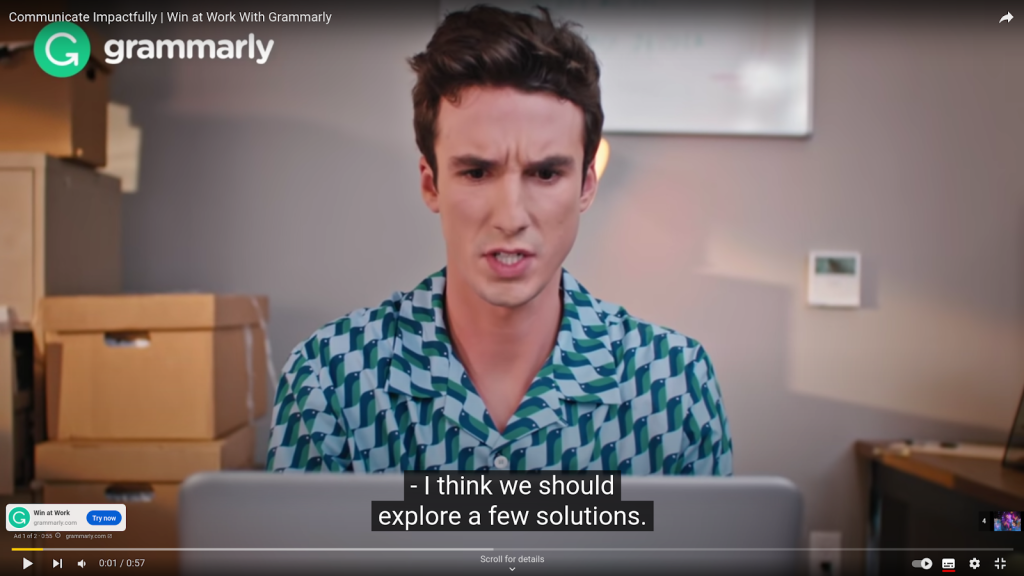 (Source: youtube.com)
TikTok vs YouTube – audience comparison
Now that we've covered the basics of the YouTube and TikTok platforms, let's examine the size of their respective audiences.
The ability to reach a sizable, active, and relevant audience is hugely important for digital marketers.
When you pair a massive platform audience with smart targeting tactics, you can rapidly scale up your campaigns to increase conversions and generate revenue.
TikTok currently boasts around 1bn monthly active users and is particularly popular among younger demographics. The app is also still growing in popularity, so this user base is only likely to expand over time.
YouTube, on the other hand, attracts around 2.5bn monthly active users. The scale of the YouTube platform is absolutely enormous, and although reach isn't the only important factor to consider for marketers, it's certainly a significant bonus.
Pros & Cons of TikTok ads
Before we get into a direct comparison of TikTok and YouTube advertising, let's examine the pros and cons of each platform – starting with TikTok.
TikTok is a phenomenon in the social media world, having quickly attracted a huge user base and a vast number of global advertisers.
However, many brands are still hesitant to embrace TikTok video marketing, which presents you with a golden opportunity to get ahead of the competition. By diving head-first into TikTok advertising with a smart strategy, you can reach profitable new audiences and separate yourself from the pack.
TikTok is also super influential among younger audiences, meaning you can utilise TikTok videos to sway purchase decisions and drive conversions.
Data suggests that around 40% of Gen Z now turn to TikTok for search queries rather than Google, which means that advertisers should be adopting new strategies to reach these younger customers and capitalise on the popularity of the platform.
What about the potential downsides of TikTok ads?
Well, while TikTok's immense popularity among the likes of Gen Z is beneficial for some marketers, it's not the same for all brands. Businesses looking to convert older audiences may struggle to find their ideal customers on the TikTok app.
Successful TikTok advertising also requires brands to tailor their creative approach to specific trends and user behaviours (e.g. 15 seconds videos, using content creators) which may be challenging for some marketers.
Pros & Cons of YouTube ads
YouTube is one of the biggest video sharing platforms on the planet, and it also happens to be one of the largest search engines. For digital marketers, that's a potent combination.
The scale of the YouTube platform is incredibly useful for advertisers, who can grow brand awareness and drive conversions among an enormous digital audience.
YouTube is also a part of the wider Google family, which means that marketers can tap into powerful data sources that enable them to target granular audiences and improve efficiency.
Google harvests a huge amount of data points from its users, including hobbies, purchase behaviours, and specific search queries. When you're equipped with this kind of rich data, you can launch YouTube ads that deliver exceptional results for your business.
What about the potential downsides of YouTube ads?
Although YouTube advertising can be extremely effective, no marketing tool is perfect.
YouTube video ads launched all the way back in 2007, so the platform has been established for a long time. That means YouTube is a highly competitive marketing environment, which can be tricky for newer advertisers to navigate.
If you want to thrive on YouTube, you'll need to invest a significant amount of time and energy into producing quality assets and understanding the platform's tools.
While the results often make this process more than worthwhile, not every business has the capacity or resources to master YouTube advertising.
The differences Between YouTube ads and TikTok ads
Demographics & Audiences
When you're planning to invest your hard-earned marketing budget, you need to feel confident that your ads will be reaching the right audiences and demographics.
In terms of a TikTok demographic breakdown, 41.7% of TikTok users fall into the 18-24 bracket. 31% are aged between 25-34, while just 24.1% are aged above 35.
TikTok is known for its popularity among younger users, and the data certainly supports this reputation.
(Source: statista.com)
So what about YouTube?
Just 15% of YouTube's audience falls into the 18-24 category, while 20.7% are aged between 25-34.
Most interestingly, 46.4% of the YouTube audience is aged over 35, which is a stark contrast to the demographic breakdown of TikTok.
(Source: statista.com)
There's a clear difference in the users that TikTok and YouTube attract. While TikTok is a stronghold of younger audiences, YouTube offers a more balanced demographic spread across age brackets.
Cost Comparison
It's time to tackle one of the most important questions that a marketer can ask.
How much is my ad campaign going to cost?
To give you a clearer perspective on price, let's compare some average TikTok marketing costs with average YouTube marketing costs.
| | | |
| --- | --- | --- |
| | TikTok | YouTube |
| Average CPM (Cost Per Thousand) | $10 | $7.45 |
| Average CPC (Cost Per Click) | $1 | $2 |
The data shows that TikTok and YouTube offer value in different departments. While YouTube provides a cheaper average CPM (meaning more cost-efficient reach) TikTok enables brands to drive cheaper clicks, which could lead to cheaper conversions.
However, it's worth remembering that these costs are averages based on different types of campaigns.
Your own advertising costs will vary significantly depending on your target audience, ad formats, bidding strategy, ad quality, and industry. Feel free to use these average figures as rough guidelines, but don't take them as guarantees.
ROI
ROI is an extremely important metric for advertisers to track – but it's also a metric that's difficult to compare between platforms.
The ROI of your campaigns will be heavily dependent on several factors, including your marketing strategy, targeting tactics, and ad quality.
As a result, there isn't a guaranteed ROI that we can compare from TikTok and YouTube advertising. However, we can look at CTR as a proxy metric. Since clicks are vital for conversions, a solid CTR is a very positive indicator for marketers. A higher CTR leads to more traffic, and more traffic means more opportunities for sales.
YouTube delivers an average CTR of around 0.65%, while TikTok delivers an average CTR of 0.58%.
This is a close call. While YouTube has a very slight edge in terms of CTR, this number will fluctuate wildly for different advertisers and campaign types. Since it's difficult to crown a clear winner in the ROI category, we'll call this a draw.
Targeting Options
There's a lot of crossover when it comes to the targeting tactics available on TikTok and YouTube.
Both platforms offer a range of basic targeting options, including:
Demographic targeting (age, gender, location, etc)
Device targeting (type of device, model, etc)
Interest targeting (based on views, likes, clicks, etc)
TikTok also allows brands to build and target Custom Audiences using pixel data and customer files.
Custom Audiences can be ridiculously effective for advertisers, as they enable them to reach hot prospects (e.g. website visitors, recent customers) and drive cost-efficient conversions.
However, YouTube has a major advantage in the targeting department – Google.
Since YouTube is directly connected with the Google search engine, it provides marketers with several advanced targeting tactics that can be highly efficient. For example, with YouTube videos, brands can set up targeting based on specific types of video content and recent search queries.
Search data is hugely valuable for advertisers trying to identify in-market prospects, so this is a major plus for YouTube marketers.
Engagement
Engagement is very important for social media marketers. When you're targeting audiences with ads, you want to make sure that they're engaging with the content to grow brand awareness and familiarity.
But comparing TikTok and YouTube on the engagement front is a little tricky.
Users don't engage with YouTube ads in the same way they do on TikTok. TikTok audiences can like, tap, comment on, and duet sponsored posts – on YouTube, audiences can only view (and click) video ads.
Ultimately, this means that if you're looking for deeper audience engagement (through comments, replies, and video sharing) TikTok is the place to be.
While TikTok encourages more interaction and active engagement from users, watching a YouTube ad is more of a passive experience for viewers.
Buyer Intent
If you're hoping to drive high-value sales through social media marketing, then you'll need to target users with clear purchase intent.
Understanding which audiences are actively searching for specific products will help you to enhance your targeting, increase conversions, and reduce acquisition costs.
So which platform is best equipped for the job?
TikTok allows marketers to run 'Purchase Intent' targeting which taps into offsite and onsite user behaviours. This can be a great way for advertisers to focus their spend on warm prospects who have expressed interest in their products and services.
But when it comes to identifying buyer intent, YouTube once again benefits from having Google in its corner.
YouTube marketers can leverage Google search data to fuel their targeting, enabling them to reach customers who are in-market and searching for specific products or keywords. This can be a game-changer for businesses looking to attract new customers.
(However, it's worth remembering that many Gen Z users are now using TikTok alongside Google as a search engine! Although it's unlikely that Google will be overthrown, if you're targeting younger shoppers, TikTok is a great place to find purchase intent signals.)
Ad Formats
Launching a range of ad formats is a great way to gather insights and experiment with different creative approaches.
TikTok allows brands to utilise the following ad formats:
Feed ads
Top View ads
Brand Takeover ads
Branded Hashtag Challenge
Branded Effects
YouTube offers these ad formats:
TrueView In-Stream ads (Skippable & Non Skippable)
TrueView Discovery ads
Bumper ads
Display ads
Overlay ads
YouTube Masthead ads
While YouTube does allow brands to run some unique Display placements (which can be useful for generating incremental clicks), TikTok is the winner in terms of high-impact ad formats.
Formats like Branded Hashtag Challenges and Brand Takeovers have delivered outstanding results for advertisers, and allow businesses to differentiate themselves through creative executions.
(Source: tiktok.com)
Campaign Features
TikTok and YouTube both offer advertisers a range of handy marketing tools and campaign features.
For instance, automated bidding strategies are available on both social platforms. TikTok uses the Suggested Bid tool to help newer advertisers get to grips with bidding tactics, while YouTube's Smart Bidding utilises machine learning to optimise bids for conversions.
Both networks also enable marketers to run dynamic ad campaigns, where the platforms automatically create and test different ad variations to increase relevance, generate clicks, and secure sales.
If you're looking for data-driven campaign features that will help you to maximise performance, TikTok and YouTube can both deliver.
Ease Of Use
When it comes to choosing a social media marketing platform, simplicity and convenience are both crucial.
After all, you don't want to spend more time figuring out various tools and features than actually running effective ad campaigns.
Fortunately, ease of use isn't a problem for either TikTok or YouTube.
Although TikTok may be a slightly easier platform for new advertisers to handle (since YouTube targeting is more advanced), both networks are specifically designed to be as accessible as possible. TikTok and YouTube both recognise the importance of advertisers, and so it's in their best interests to make running ad campaigns a breeze.
So whether you're selecting YouTube or TikTok as your preferred marketing partner, don't stress about learning the ropes. It takes a little bit of time to master any video sharing platform, but you'll quickly find yourself setting up and launching campaigns with ease.
Tracking results on TikTok and YouTube
When you're running paid social marketing campaigns, it's crucial to understand how your ads are performing.
Fortunately, tracking campaign results on TikTok and YouTube is simple.
Both partners offer built-in analytics dashboards that allow you to monitor and analyse key metrics quickly and easily.
Through the TikTok Ads Manager and Google Ads platforms, you'll be able to track basic metrics and accurately measure ad performance. These analytics dashboards are designed for simplicity, so you'll easily be able to create custom reports and view performance charts to understand how your ads are delivering.
If you're looking to monitor conversions, you'll also need to make sure that you've implemented the right tracking code on your website. This is known as a pixel on TikTok and a Floodlight tag on YouTube.
Testing ads on YouTube and TikTok
If you want to consistently improve ad performance on YouTube and TikTok, then setting up a data-fuelled testing strategy is key.
A/B testing is one of the most effective ways to experiment with new tactics and optimise your social media ad campaigns.
The concept of A/B testing is simple. You set up new ads that have been tweaked or adjusted, and run them against your existing ads (with a balanced budget) to see which version delivers superior performance.
If your test ads generate better results, then you've instantly identified an opportunity for optimisation.
Many different variables can be tested on TikTok and YouTube, including:
Creative assets
Call to action
Landing pages
Ad copy/headlines
Ad formats
And if you're thinking that A/B testing sounds a little complicated, don't worry. There are automated tools that make the testing process a piece of cake. TikTok offers a Split Testing tool that automatically sets up A/B tests, while YouTube's Video Experiment tool does something similar – there are also third-party platforms that can automate A/B testing for you.
Whenever you're planning A/B tests, just remember to keep things simple. Don't overwhelm yourself with too many simultaneous tests, focus on tracking your core KPIs, and make decisive, data-backed optimisations.
Which platform should I use?
The truth is that running a combination of YouTube and TikTok ads will likely deliver optimal results for your business. Both platforms can be super effective for advertisers, and running cross-platform campaigns enables you to maximise reach and revenue opportunities.
But what if you're working with a limited budget?
If you can only afford to run ads on a single platform, you'll need to think carefully about your priorities and marketing goals.
TikTok is a fantastic avenue for reaching younger audiences. Users on the platform are highly active and receptive to creative content – if you can produce ads that are tailored to specific trends and behaviours, then TikTok provides you with a solid opportunity to get ahead of your competitors.
YouTube, on the other hand, offers a larger audience that's more balanced in terms of demographics. The platform is built for video consumption and allows advertisers to take advantage of advanced targeting tactics and granular audience segments.
Both of these marketing networks have delivered positive results at every stage of the funnel, so the best choice all depends on your target audience, campaign objectives, and business offering.
Using TikTok & YouTube ads in tandem
If you have sufficient budget to advertise on both TikTok and YouTube, then you can unlock the best of both worlds.
Below are some best practices that will help you combine these social media powerhouses to generate optimal returns for your business.
Tailor your creative assets
TikTok and YouTube are very different social media platforms. While TikTok audiences are highly engaged with short form, bite sized, User Generated Content style videos, YouTube marketers can find success with a range of creative approaches, including longer-form 60 seconds ads.
This means that you'll need to tailor your creative assets to specific audiences on each platform.
Don't just copy and paste video ads between TikTok and YouTube. Consider your target audience, look at current trends for each platform, and adapt your creative assets accordingly.
Share cross-platform insights
One of the major benefits of running cross-platform campaigns is the ability to collect and share valuable insights between networks.

Always be on the lookout for learnings that you can replicate and apply across TikTok and YouTube.
This could be as simple as a new audience interest or a variation of a creative headline. If you spot an opportunity for a test, don't hesitate to try it out on either platform.
Maintain effective budgets
Running simultaneous ad campaigns on TikTok and YouTube is a great idea.
But if you want to maintain positive returns, you'll need to ensure that both platforms have sufficient budgets.
A platform with a stretched budget will inevitably struggle to deliver results, so always make sure that you're balancing spend across platforms. Feel free to increase investment behind high-performing tactics, but make sure that both partners have a decent budget.
Getting started with TikTok and YouTube ads
Keen to launch your own TikTok and YouTube ad campaigns?
To set up new campaigns on each platform, just follow this guide for TikTok and this guide for YouTube.
But before you activate a campaign on either network, make sure that you've thought carefully about your:
Ad objective
Campaign budget
Target audience
Preferred ad formats
Creative messaging
Bidding strategy
Measurement approach
If you have all of these building blocks in place, you'll be in a great position to launch highly effective ad campaigns across TikTok and YouTube.
Handy resources for TikTok and YouTube advertising
Before you rush off to generate bundles of new conversions on TikTok and YouTube, take a look at these useful resources – they'll help you to maximise the impact of your budget and achieve a top-notch ROI.
TikTok creative best practices
YouTube creative best practices
TikTok and YouTube can both deliver tremendous results for digital marketers.
If you have the budget, running ads on both platforms allows you to capitalise on all of the marketing tools and revenue opportunities available.
Just remember to tailor creative assets to your target audience, monitor marketing trends on both networks, and leverage reporting data to supercharge cross-platform performance. Good luck!