YouTube is a brilliant platform for e-commerce advertisers.
Brands can take advantage of a colossal audience, advanced targeting tactics and robust campaign measurement.
But before you dive headfirst into the world of YouTube ads, it's important to understand the different formats available to you.
That's where we can help.
We've pulled together a comprehensive guide to the different types of YouTube ad, and explained how these formats can contribute to your business goals. Let's go!
Skippable In Stream Video Ads (TrueView Video)
These placements appear during (mid-roll) or before (pre-roll) YouTube video content. As the name suggests, these ads can be skipped after the first 5 seconds are complete.
Now, you might be wondering why anyone would run ads that include an option to skip.
This is a fair question.
But there's a good reason why skippable in stream video ads are popular.
Advertisers don't pay a single penny for these placements unless users:
Watch 30 seconds of the video ad
Finish the ad
Click on the ad
This is a bonus for cost-efficiency.
But it does mean that you need to engage users in the opening seconds of the video to maintain their attention and prevent a skip.
Clickable overlays and CTAs can also be added to your skippable in stream ad. These are handy for driving engagement from your target audience.
Skippable ads don't feel intrusive for your audience, and if your creative assets can deliver your key messages quickly, they're a solid option.
Just remember to showcase your branding and product benefits as quickly as possible. Strong visuals are particularly important on mobile devices, where ads are displayed on a smaller screen.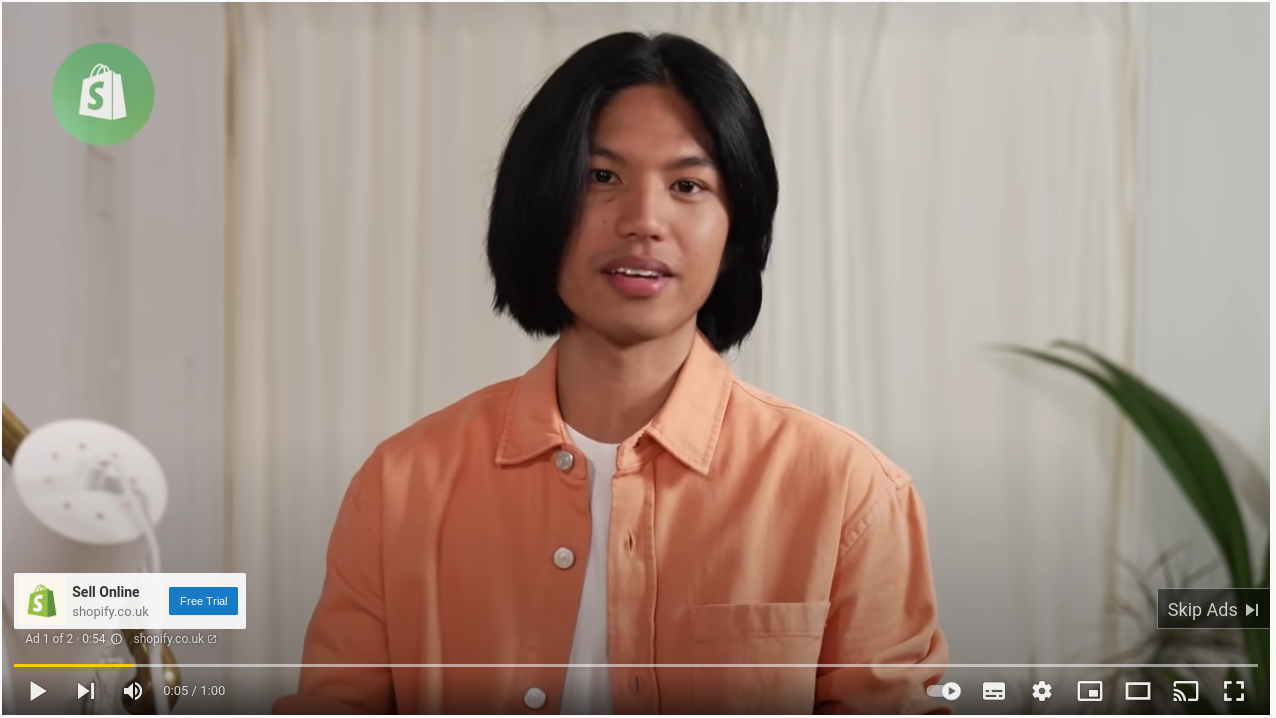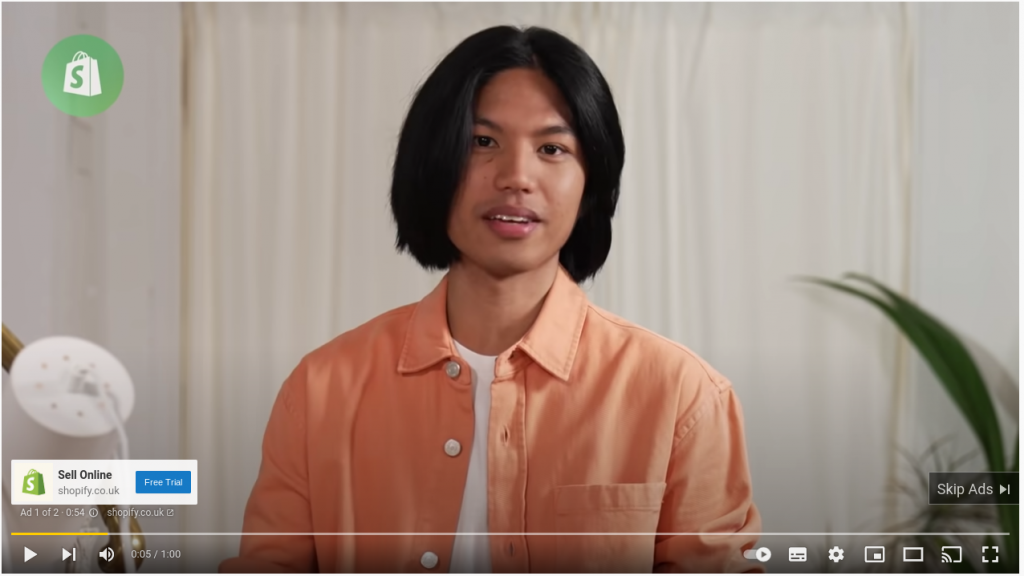 Non Skippable In Stream Video Ads
While skippable YouTube ads are great for cost-efficiency, some users won't be able to resist hitting that pesky 'skip' button.
This is where non skippable in stream video ads come in.
Non skippable ads run for 15 seconds, appearing in pre-roll or mid-roll slots like their skippable counterparts.
This provides you with more time to deliver your creative messaging, without worrying about a skip button appearing when your ads play.
However, non skippable video ads are bought on a CPM model (i.e. per 1,000 views). That means you'll be paying for the impression to be delivered even if there's zero engagement.
With non skippable ads you need to be totally confident in the effectiveness of your video asset, so make sure that the message is clear and compelling.
You're paying for these 15 seconds of uninterrupted advertising, so make the most of them!
Display Ads
Display ads appear in the YouTube sidebar on the right hand side of the screen. They're fairly simple, allowing space for an image, ad text, and CTA.
YouTube display ads are available in a few different shapes and sizes. They're often combined with overlay ads to achieve more visibility on-screen and increase user engagement.
Since this ad type doesn't provide you with mountains of space, you need to focus on combining compelling visuals with a crystal clear CTA.
It's also important to ensure that your display ads are targeted correctly and optimised towards engaged users.
These formats aren't overly exciting or visually stimulating, so they need to be directed towards users who are more likely to click on them.
Overlay Ads
Overlay ads are banners that appear at the bottom of YouTube videos. They contain basic text, but can also include simple images.
These ads only appear in the bottom 20% of video content, so they're definitely not an intrusive ad format.
However, this does mean that your messaging needs to be extremely clear and super concise.
Users can easily close overlay ads by hitting the 'X' button, but they can also click on the ad to visit a landing page.
Keep your ad text short and sweet when using overlay ads, and provide viewers with a strong reason to click. Use images that are visually striking and likely to grab attention.
You'll only pay when your target audience clicks on your overlay ads, so it's all about delivering a clear CTA and reaching the right viewers.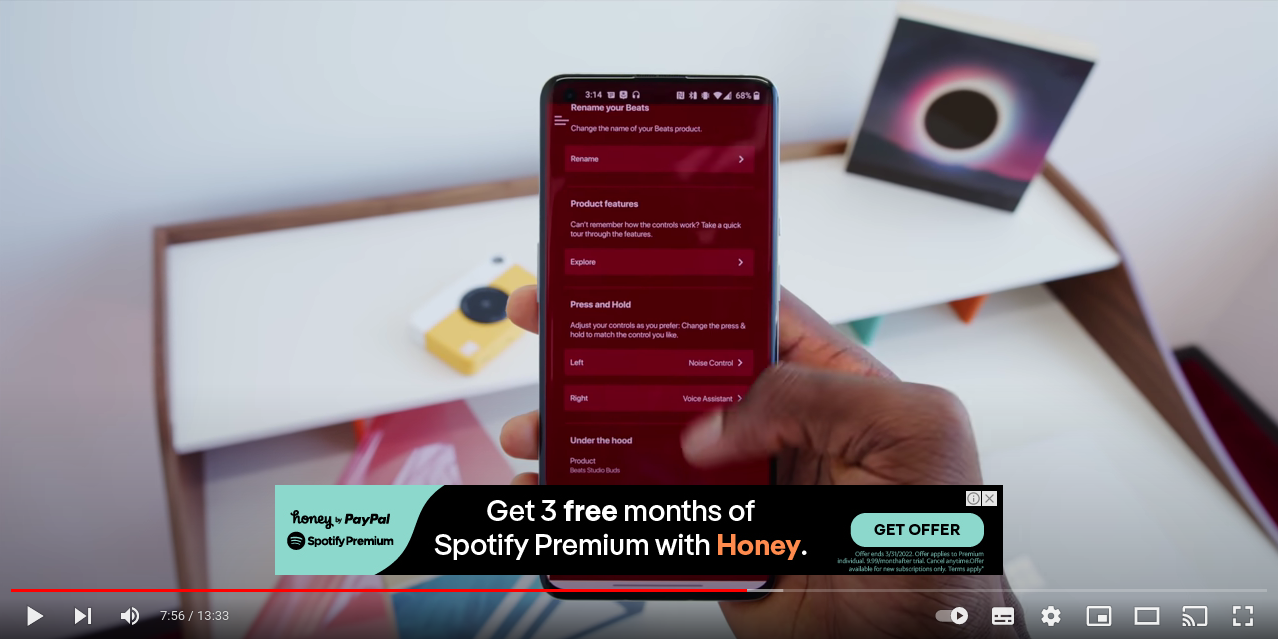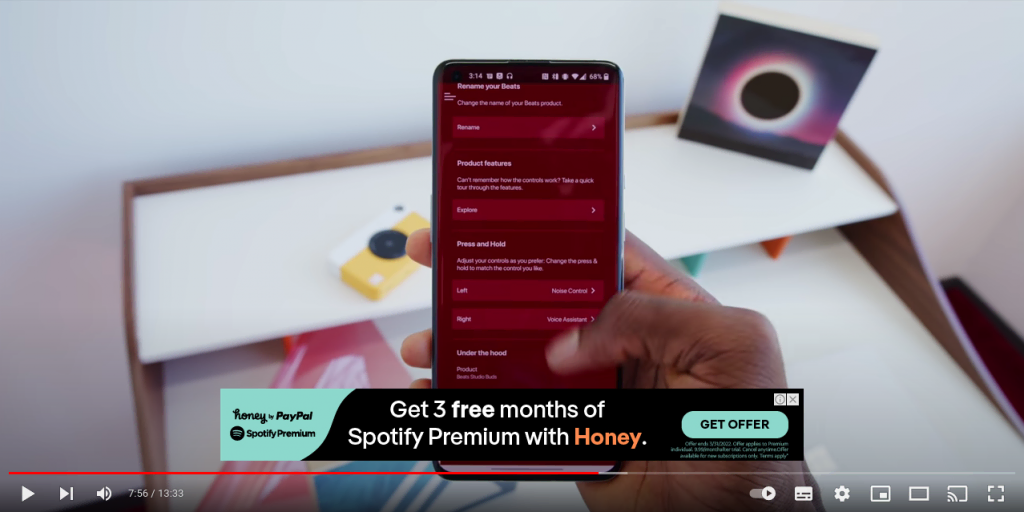 Bumper Ads
Bumper ads run for six seconds, and are served before video content in pre-roll slots.
These punchy ads are unskippable, but as time is limited you need to be extremely clear and direct with your messaging.
Ensure that your visual branding is clear, and deliver your key product message as quickly as possible. There's no time to waste!
Advertisers often utilise bumper ads alongside longer-form video formats (e.g. TrueView) in the same campaign. While the longer video assets drive up brand awareness and reach, a bumper ad can reiterate key messages and deliver a strong CTA.
This is a smart strategy, because it means that you don't need to cram too much info into 6 seconds. Just re-emphasise the key selling points and encourage users to click.
Discovery Ads
Discovery ads work in a similar way to paid search placements on Google. They are served around organic searches and existing YouTube content in a contextual way.
As the YouTube platform effectively works like a video search engine, Discovery ads are a brilliant way to deliver relevant messaging and capitalise on real-time searches.
Advertisers can focus on certain customer intent signals (e.g. specific product or service searches, content categories) to refine their targeting in the same way as they do with paid search.
The ability to target prospects around video discovery can be extremely effective.
Discovery ads can appear in three different YouTube environments.
Firstly, they can appear above YouTube search results, which is an excellent way to deliver visibility around specific content.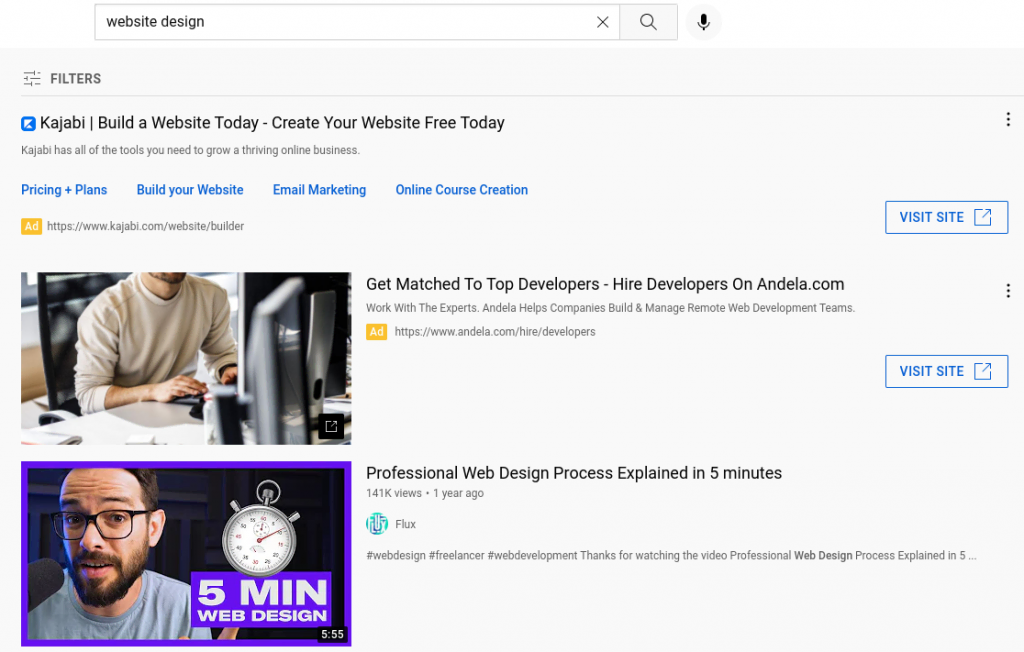 Discovery ads can also appear in the watch page sidebar, served alongside other videos on YouTube suggested by the algorithm.
Finally, Discovery ads can appear on the YouTube homepage, surrounded by the first results recommended to users when they visit the platform.

Examples of YouTube ads
Now that you're familiar with all of the YouTube ad types available, let's take a look at some creative examples.
Below are two examples of solid skippable in stream ads from Wix and Shopify.
In the opening seconds of each asset, the brand name and logo are made clear on-screen.
That means that even if a user skips the ad, they've probably acknowledged the advertiser.
These ads also include a clickable overlay and companion banner with a direct CTA, providing viewers with multiple opportunities to click and visit the website.
Both CTAs ('Start Now' and 'Sign Up') are clear and direct, reflecting the message being delivered in the video.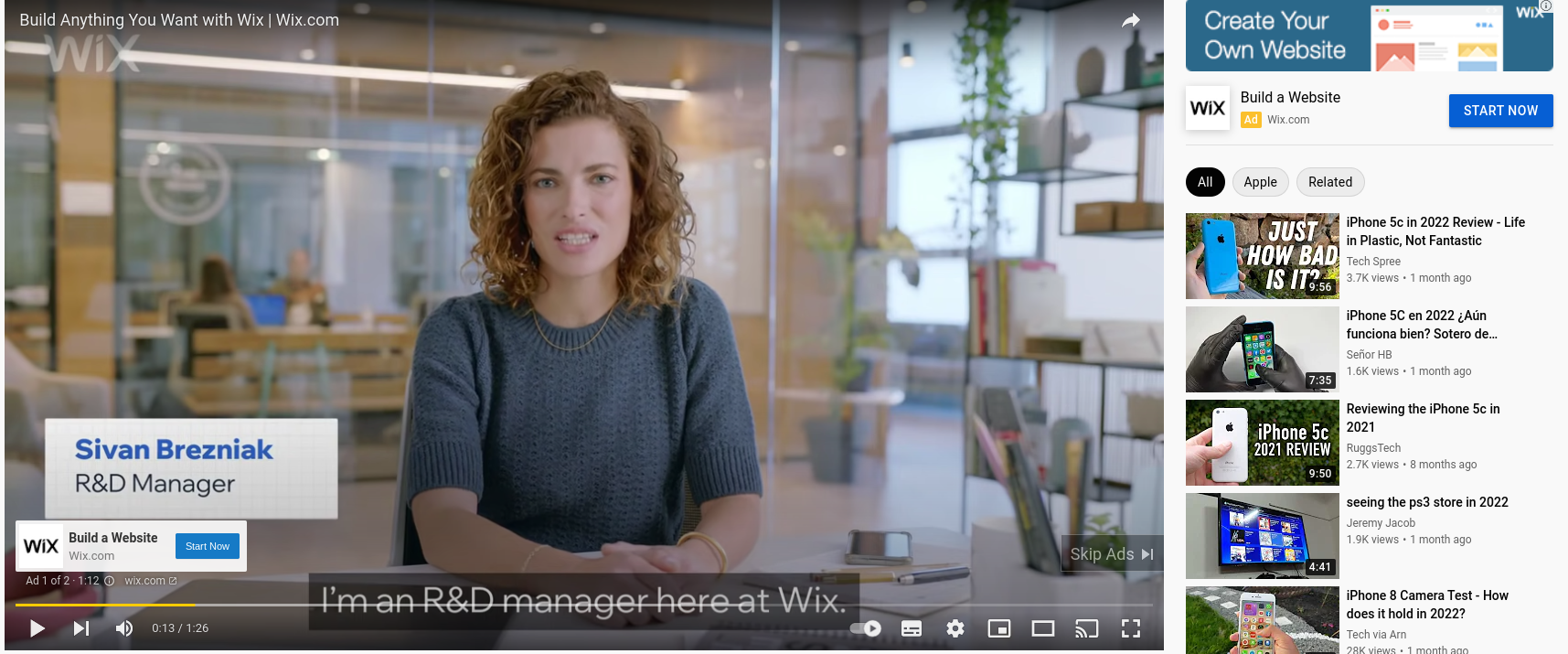 Below are two examples of effective Discovery ads from HelloFresh and Huel.
These ads make great use of the limited creative space available to them.
HelloFresh includes a clear and colourful product image, alongside a compelling offer headline.
A discount code is also included in the body copy, providing users with even more motivation to click and convert. That's a lot of incentive in a small format.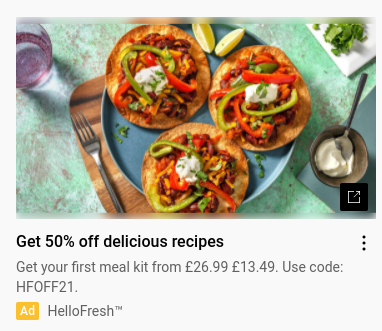 Huel cleverly uses the Discovery ad image to display a set of simple product benefits. The copy is punchy and short, quickly delivering the key info.
There's also a helpful price indicator included, helping potential customers to understand exactly what a Huel shake provides, and how much a serving costs.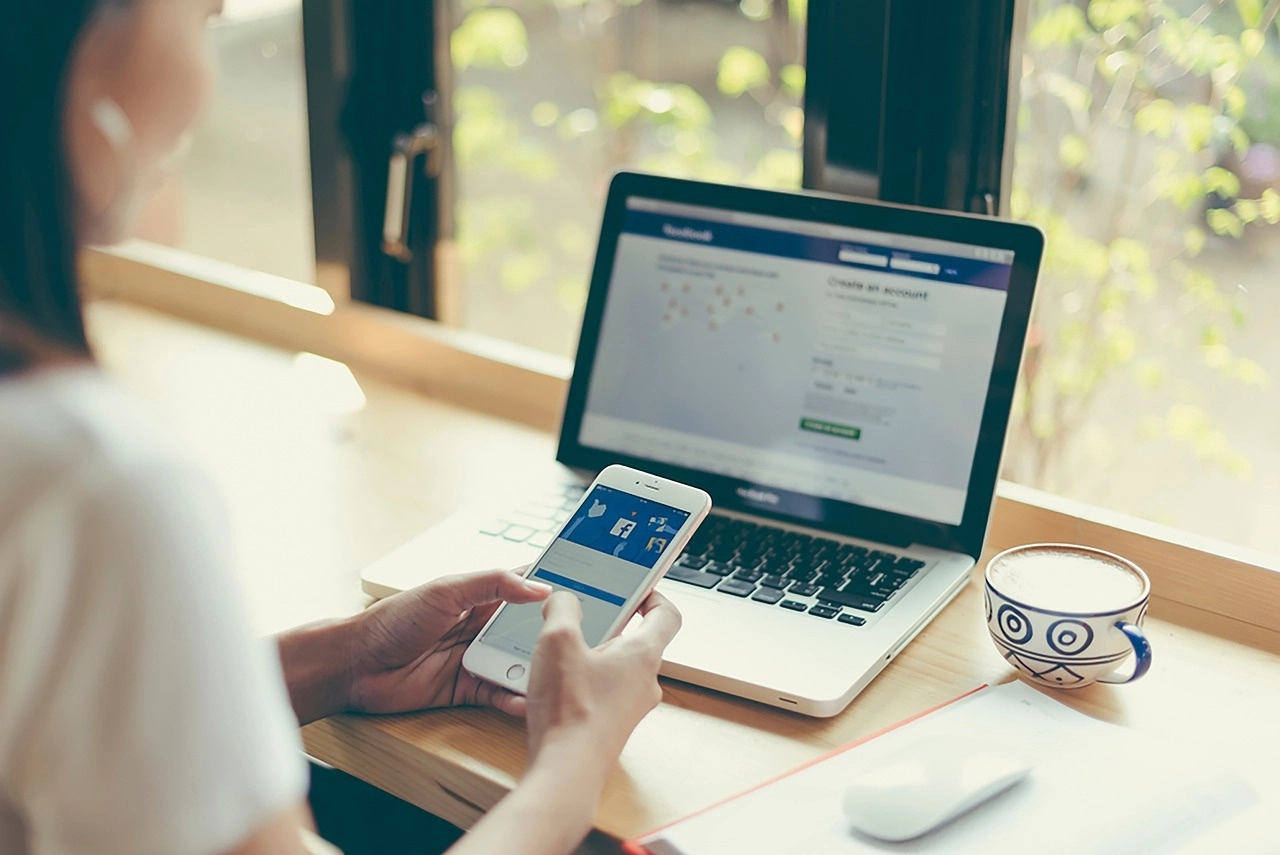 Looking for some more creative inspiration?
We've got you covered.
Check out this page to explore more examples of successful YouTube campaigns.
Getting started with YouTube advertising
Feeling ready to launch your own wildly successful YouTube campaign?

Excellent news.
Luckily, getting YouTube ads up and running is fairly simple. Just follow these steps.
Log into your Google Ads account. Click 'All Campaigns' and then hit the blue '+' icon to get started.
Select your ideal campaign type (in this case, Video) and confirm a goal that reflects your business objectives. For example, website traffic, brand awareness, etc.
Time to configure your new campaign. Choose a campaign name, set your daily budget, and confirm where you'd like your ads to run.
Select your preferred bidding strategy – click here for more information on the different bid types available.
Define your target audience. You can build segments based on Demographics, Interests, Content, or even upload your own first party data to create Custom Audiences.
Choose the ad formats that you'd like to run, and upload your desired creative assets. You'll also need to add destination URLs, alongside any necessary headlines and ad copy.
And there you have it! Your YouTube ads are ready to launch.
If you need any more guidance on setting up a YouTube campaign, just check out this guide.
Read this for a guide to YouTube ad costs.
For help with your campaigns from a specialist YouTube advertising agency please get in touch.
So there you have it. The different types of YouTube ads.
Different types of ads can help you to achieve different objectives, so be sure to think about your key objectives and creative messaging.
Plus, don't hesitate to experiment with new formats.
YouTube ads can often deliver excellent results when used in combination, so feel free to expand your campaigns and test new ideas. Best of luck!