Pinterest ads can be a valuable addition to your paid social marketing strategy.
If you're equipped with high-quality creative assets and smart targeting tactics, you can deliver exceptional results through advertising on Pinterest.
But we know what you're thinking.
What makes for a successful Pinterest campaign? And how can you ensure that your Pinterest ads will engage audiences, generate interest, and drive conversions?
Good questions.
Fortunately, revealing the secrets to Pinterest success is easier than you might think.
By analysing high-performing campaigns from Pinterest advertisers, we can identify the creative best practices and marketing strategies that lead to outstanding performance.
Let's run through 9 examples of super-effective Pinterest ads, and explain how you can use these insights to crush your own social media marketing goals.
What are Pinterest ads?
You probably know Pinterest as a social media network – but in practice, the platform functions in the same way as search engines like Google.
Because of this, Pinterest is also known as a 'visual search engine'. Users can research, discover, and explore new content through the Pinterest search bar.
Pinterest also revolves around high-quality images and videos. Content is delivered in the form of 'Pins', which are essentially bookmarks that users can tap, view, and save. These Pins can then be saved and organised in different 'boards' for convenience.
Advertising on Pinterest also works in exactly the same way.
As an advertiser, you can set up your own Pinterest business profile to upload new content, launch ad campaigns, and attract organic traffic. Many brands will set up their own Pinterest boards to display products and arrange content for their target audience to discover.
You'll also be able to run paid ads (known as 'Promoted Pins') across the Pinterest platform and target these formats towards specific audiences. These ads appear in the main feed alongside organic posts, so it's important to produce creative assets that stand out.
How does Pinterest marketing work?
Paid advertising on Pinterest works in a very similar way to campaigns on other social media networks.
You'll need to create a Pinterest business account, set up a smart advertising strategy, and produce eye-catching Promoted Pins.
You can utilise the following tactics to reach your target audience on Pinterest:
Audience targeting – target Pinterest users based on demographic information.
Interest targeting – target Pinterest users based on their Pin and content engagement.
Keyword targeting – target Pinterest users based on search terms and keywords.
Launching multiple targeting tactics in a Pinterest ad campaign is a great way to maximise reach and improve performance.
By testing several audience segments, you can quickly enhance the efficiency of your Pinterest advertising.
The usual rules of social media advertising apply here too. You'll need to regularly monitor Pinterest ad performance and optimise your campaigns properly to ensure success.
Why use Pinterest advertising?
So what makes Pinterest advertising so useful for digital marketers?
For one thing, Pinterest users are highly receptive to new products and brand messages.
According to Pinterest, 97% of the top Pinterest searches are unbranded. These digital audiences aren't hunting for a specific business name or company – they're open to discovering new and exciting products. And that's good news for your brand.
Even better, 46% of weekly Pinners have discovered a new brand or product on the Pinterest platform.
What does that mean for marketers looking to advertise on Pinterest?
It means the Pinterest audience is open-minded and actively searching for fresh content, new ideas, and quality products. All they need is the right campaign message to nudge them into action.
(Hint hint.)
Pinterest ad campaigns are also proven to work for digital marketers, even outperforming other social media platforms.
The platform claims that Pinterest ads achieve a 2.3x more efficient Cost Per Conversion than ads on other social media platforms. It also states that Pinterest ads drive a 2x higher ROAS for retail brands.
If you're an ambitious marketer looking to drive jaw-dropping returns, then Pinterest offers everything that you need to succeed.
Ad formats and Pinterest ads examples
Let's take a look at the different Pinterest ad types, outline how they can support your campaign goals, and explore a few examples of successful ads.
Standard Promoted Pins
Promoted Pins are almost identical to organic posts on Pinterest, except for a small 'promoted' label that identifies them as paid ads.
Promoted Pins run as static image assets. They can be targeted towards specific audiences who can open them, save them to their Pinterest boards, or tap them to visit a landing page.
Promoted Pins can also be shared by your audience like any other organic pin, which can be hugely valuable for driving organic reach.
Bacardi
Bacardi launched Standard Pin Ads to amplify the launch of its limited edition Halloween bottles, utilising Interest and Keyword targeting to reach relevant audiences.
Campaigns based on seasonal events can be hugely successful on Pinterest because audiences are searching for specific content (i.e. costumes, recipes, ideas) and actively seeking out inspiration.
Bacardi successfully tapped into the excitement and interest around Halloween with unique ads that capitalised on these user searches.
(Source: pinterest.com)
These simple images and GIFs were highly effective, bringing the creative concept to life and engaging users who were searching for Halloween content.
The creative assets delivered eye-catching visuals, contextually relevant messages, and clear product images. This marketing strategy proved to be a huge success for Bacardi, achieving a 71% increase in engagement and outperforming VTR benchmarks by 83%.
IKEA
IKEA used Promoted Pins to advertise its innovative 'chatbot quiz' and drive web traffic to bespoke Pinterest product boards.
Pinterest users were invited to complete a chatbot quiz which would identify some of their favourite locations (e.g. park, beach, field) and activities.
The quiz would then automatically direct users to custom Pinterest boards containing IKEA products that could help them to re-create their favourite outdoor spaces within their homes.
(Source: pinterest.com)
These static Pins were brilliantly simple, featuring bright colour palettes, witty headlines, and clear product shots. All of these visual elements combined to create an eye-catching Pin.
The Promoted Pins delivered a clear and compelling CTA at the bottom of the image, encouraging users to click and complete the chatbot quiz.
These ads also nailed the look and feel of popular Pinterest content, with striking colours and aesthetic product shots. Replicating the native style of other Pins is a great way to increase engagement with the Pinterest audience.
Pinterest Video Ads
Pinterest Video ads operate in a very similar way to static Pins but offer brands the opportunity to run video assets rather than images.
Video advertising is an excellent way to stand out in cluttered social media feeds.
The right assets can help advertisers to boost brand awareness, showcase their products, and drive quality traffic to a website landing page.
Standard video ads can technically last for up to 15 minutes, but Pinterest recommends that Video Pins only run for 6-15 seconds to maximise effectiveness.
Pernod Ricard
Pernod Ricard used Pinterest video advertising to grow brand awareness and increase product sales.
The brand used a combination of Demographic and Keyword targeting to reach relevant users on Pinterest, tracking ad metrics across the sales funnel to gauge the effectiveness of the campaign.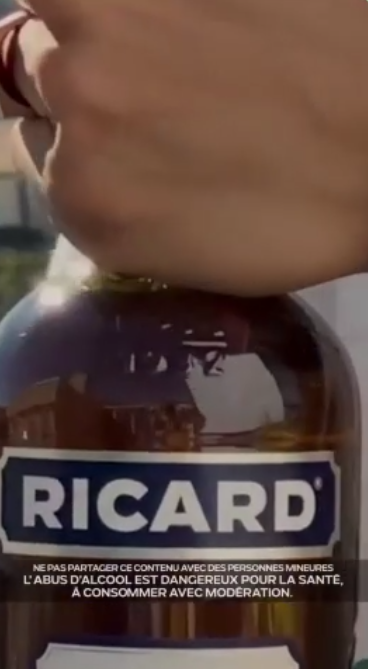 (Source: pinterest.com)
The Video Pins were visually striking, utilising fast-moving images, bright text overlays, and eye-catching product shots.
The Pernod Ricard logo was also visible throughout the short video ad, helping Pinterest users instantly recognise the brand. This is a great example of a high-quality Pinterest video ad, using motion and a unique aesthetic to capture attention.
The campaign was a huge success, delivering both a 58% growth in purchase intent among cold leads and a 5% incremental gain in net new customers.
Wickes
Wickes launched always-on video ads as part of a full-funnel Pinterest marketing strategy.
The campaign objective was to grow brand awareness, increase consideration among social media users, and ultimately drive sales.
These marketing efforts were fuelled by some clever targeting tactics.
Wickes leveraged both Interest and Keyword targeting to find hot prospects but also used different bid types to improve performance. The brand ran CPM bidding to drive reach with an awareness ad, before using CPC bidding for cost-efficient retargeting.
(Source: pinterest.com)
These video ads clearly showcased the Wickes logo, while also helping customers to visualise Wickes products in different interior spaces.
But the campaign also cleverly reflected Pinterest user behaviours to drive engagement.
Many Pinterest users are constantly searching to find the different products and items included in posts. Wickes acknowledged this, and visually highlighted all of its featured products within the Video Pins.
These ads then finished with a strong CTA that encouraged users to start a virtual tour and explore the full Wickes product range online.
This strategy was a big success for Wickes. Users exposed to both CPM and CPC ads drove a 222% increase in conversion rates and delivered a 0.29% conversion rate overall.
Pinterest Shopping Ads
Shopping ads are designed to deliver a smooth customer journey on Pinterest, helping brands to effectively increase conversions at scale.
Shopping Pins allow users to complete purchases quickly and easily, without needing to leave the Pinterest platform.
With just a couple of clicks, your target audience can expand your Shopping ads, explore your product offering, and visit the checkout. This can be a game-changer for advertisers, as audiences are more likely to convert if the user experience is convenient.
To get started with Shopping ads, you'll need to upload your product catalog to the Pinterest platform. There are a few steps involved with this process, but once your product catalog is successfully connected, you can harness the awesome power of Shopping Pins.
Scotch & Soda
Scotch & Soda utilised Shopping Pins to reach fashion lovers on Pinterest and generate cost-efficient sales.
The brand focused on relevant Interest targeting and Lookalike audiences to identify potential customers on the platform. Scotch & Soda also leveraged automated templates to rapidly create ads and test different variations throughout the campaign.
(Source: pinterest.com)
These Shopping ads were very simple but very effective.
Scotch & Soda allowed its products to speak for themselves, placing them at the centre of a blank canvas and accompanying them with a clear brand logo.
Sometimes, all you need to succeed on Pinterest is high-quality product images that can catch attention in a busy feed. With Shopping ads, there isn't always a need for complex messages – if users like the look of your products, they can just click and convert.
These Pinterest ads were enormously successful for Scotch & Soda, generating a 7x higher ROAS than previous campaigns and reaching 800k unique users on the platform.
Missguided
Missguided used Shopping ads to promote its affordable fashion products across the Pinterest platform.
These Pinterest ads were targeted towards fashion lovers and younger shoppers, with Keyword targeting that was designed to reach users at the precise moment they were searching for a specific item.
The brand also focused on two key ad metrics to determine success – return on ad spend (ROAS) and cost per action (CPA).
(Source: pinterest.com)
These ads tick all of the right boxes when it comes to Shopping Pins.
The ads contained eye-catching visuals, key product information (i.e. name and price) and a clear CTA that nudged users to 'Shop Now'.
Crucially, Missguided also paid close attention to the early performance of its Shopping ads to make impactful optimisations. The brand identified product catalog items that were performing well and reacted quickly to customer demand on Pinterest.
Effective Shopping ads and smart optimisations allowed Missguided to launch an overwhelmingly successful ad campaign. The Pinterest ads delivered a 50% ROAS for the brand, alongside a 25% lower CPA.
Pinterest Collections Ads
Pinterest Collection ads are a fantastic tool for any advertisers looking to promote multiple products within the same placement.
Collections ads appear in Pinterest mobile feeds and combine a large 'hero' asset with three smaller secondary assets.
When a user taps on Collection ads, they're directed to a full-screen experience where they can explore up to 24 secondary creatives. By leading with an engaging hero asset, brands can drive high volumes of clicks and showcase their full product range to customers.
(Source: pinterest.com)
One of the best things about Collection ads is their versatility.
You might manually create a Collection ad to advertise specific items or allow the Pinterest platform to automatically populate your Collection ads and serve the most relevant products to your audience.
Brands can easily test different variations of Collection ads to figure out what works on Pinterest. A different hero asset might potentially generate more clicks, or a certain product collection may be more suited to the ad format.
Pinterest Carousel Ads
Pinterest Carousel Ads are a solid format for brands looking to show off a full product range or new collection.
Carousel ads can contain up to five individual image assets within a single placement, meaning you can encourage audiences to instantly explore multiple products or services.
Every asset in a Carousel ad can also include a different headline, description, and landing page URL, so you can direct shoppers towards specific product pages to drive online sales.
Carousel ads have the potential to drive sky-high levels of engagement, so if you're keen to showcase your products or services in an interactive way, this is the ad format for you.
MATCHESFASHION
MATCHESFASHION used Pinterest Carousel ads to increase sales of its premium fashion and homeware products.
The brand combined always-on messaging with seasonal sales ads to both drive brand awareness and generate cost-efficient conversions.
The Carousel ad format was ideal for MATCHESFASHION, as it enabled the business to instantly promote multiple products to relevant audiences.
(Source: pinterest.com)
MATCHESFASHION balanced premium product imagery with clear CTAs to maximise the efficiency of its Carousel ads.
The campaign proved to be extremely effective. The brand achieved an impressive 42% increase in ROAS, while also delivering a 40% increase in average order value.
Pinterest Idea Pins
Keen to create and distribute your own brand content on Pinterest?
Look no further than Idea Pins. This ad format provides brands with a set of creative tools that enable them to record multiple videos and publish them in a single ad placement.
(If you're familiar with the popular 'Story' format found on other social media platforms, Idea Pins are essentially the Pinterest ad equivalent.)
Advertisers can include their own voiceovers in their Idea Pins, incorporate multiple images or videos, and include detail pages containing instructions, recipes, or product info.
Idea Pins are perfect for sharing 'how to' guides or product tutorials, but many brands are also now working alongside Pinterest creators to produce high-quality content and distribute it through Idea ads.
Gatorade
Gatorade launched creator-led Idea Pins to spread positive messages about exercise, hydration, and physical well-being.
The brand partnered with several of Pinterest's biggest fitness influencers to create Idea ads that delivered exercise tips, workout inspiration, and hydration reminders.
The best ads combine real product benefits with a compelling creative message, and Gatorade achieved exactly that with this campaign. The content of the Idea ads felt genuine, authentic, and relevant to the Gatorade brand.
Plus, both Gatorade and the Pinterest creators benefited from the content partnership.
Gatorade was able to tap into brand-new Pinterest audiences through these influencers, while the creators also received additional exposure through paid advertising.
(Source: pinterest.com)
To reach engaged Pinterest audiences, Gatorade focused its ad spend on relevant Keyword and Interest targeting. This enabled the brand to reach individuals who were actively using Pinterest to seek out exercise content and workout inspiration.
The Idea pin creators each recorded unique workout routines, while naturally incorporating Gatorade products into their videos. They also maintained their usual voiceovers and production style to communicate with audiences organically.
Influencer-led content can be extremely effective on the Pinterest app, particularly when marketers use creators that align with their brand values and products. Idea Pins are also the ideal format for this type of campaign.
Gatorade saw incredible results through this activity, delivering a whopping 34m ad impressions and over 99k clicks on its Idea ads.
Scotch™ Brand
Scotch™ Brand launched Idea Pins to encourage parents to craft their own back-to-school supplies for their children.
The brand started by analysing Pinterest search results and keywords that could refine its creative approach and targeting strategy. Scotch™ Brand found that terms like 'preschool crafts' were popular with Pinterest users, which helped to spark campaign ideas.
The business then used Idea Pins to produce a series of 'how to' videos on child-friendly crafts, based on common searches on the platform.
(Source: pinterest.com)
These Idea ads showcased how Scotch™ Brand products could be used for crafting supplies and featured step-by-step tutorial videos, written instructional guides and product recommendations.
This creative approach was perfectly suited for Idea Pins, allowing Scotch™ Brand to deliver content that was informative, product-led, and entertaining.
The campaign also featured paid influencer ads, as Scotch™ Brand partnered with a popular child-friendly crafts creator who helped the business to engage new audiences.
This data-driven creative approach resulted in a hugely successful campaign for Scotch™ Brand. The ads achieved a 64% lower cost per impression (versus benchmarks) and 4x higher CTRs.
How to create a winning Pinterest ad
Now that we've covered all of the different Pinterest ad types and explored a few Pinterest ad examples, it's time to explain how you can launch your own high-performing campaigns.
One of the most important aspects of Pinterest campaigns is high-quality ad visuals.
The Pinterest feed is absolutely packed with eye-catching images and attention-grabbing videos, and all of this content is being constantly refreshed. If you want your Pinterest ad to stand out, you'll need product shots that cut through the noise.
On a similar note, it's also vital for your Pinterest ad to feel native and authentic.
Take a look at the Pinterest feed to understand what style of content is resonating with users. The Pinterest feed has a unique look and feel, and your ads should reflect this.
(Source: pinterest.com)
While your ads should feel professional and high-quality, creative assets that are overly polished can actually be a little jarring for users Gather inspiration from the Pinterest feed, and learn from content that's popular with your target audience.
Finally, make sure that you're not neglecting your ad copy. It's easy to get caught up with ad visuals, but solid copywriting can help to nudge potential customers over the finish line.
Craft short and snappy ad copy, always include a strong CTA and focus on your most persuasive product benefits. Think carefully about the selling points that will be most appealing to your audience, and use this to guide your copywriting.
Brands who are thinking about advertising on Pinterest often benefit massively from working alongside an experienced marketing agency. A dedicated Pinterest account manager can help businesses to create high-impact Pinterest ads, identify profitable audiences, and optimise their ad campaigns.
How to advertise on Pinterest
Keen to advertise on Pinterest? Let's run through the key steps you'll need to take to set up a business account, access the Pinterest ads manager, and launch Pin ads.
1. Create a Pinterest business account
First things first, you'll need to set up a business account on Pinterest.
To create your account, visit this page – if you've already got a Pinterest account set up, just click 'Log in'. If not, select 'Sign up' to get the ball rolling.
You'll be prompted to enter some basic personal information and business details. Once you've completed these fields, you'll be the proud owner of a brand-new business account.
At this point, you'll just need to open up your account page and open the 'Ads' section in the top left. Click 'Create ad' to proceed to the next step.
(Source: pinterest.com)
2. Establish your Pinterest ad objective
The first thing you'll need to do here is confirm your desired campaign objective.
There are several objectives to choose from, including:
Brand awareness
Video views
Consideration (i.e. traffic)
Conversions
Catalogue Sales
Think carefully about what you're hoping to achieve with Pinterest ads, and choose your objective accordingly.
You'll also need to name your ad campaign, input your budget, and set a schedule for your ads.
3. Set up your audience targeting
In this step of the campaign set-up process, you'll create your first Pinterest ad group.
Your ad group contains a few fundamental details about your campaign, including your targeting, ad schedule, and specific budgets.
More than one ad group can be housed within a single Pinterest campaign, and multiple ads can also be contained in each ad group.
In terms of audience targeting, there are several standard options to choose from:
Audience targeting – based on demographic criteria like location, language, and gender.
Interest targeting – based on various Pinterest categories and areas of interest.
Keyword targeting – based on specific keywords and search terms.
You can also create powerful custom audiences using Pinterest pixel data and retargeting tactics. These segments can be very efficient, so they're definitely worth exploring.
Once you've set up your audience targeting, you'll be able to implement ad frequency caps, confirm your bidding strategy, and finalise your ad groups.
4. Create or upload your Promoted Pin
It's time to choose your preferred Pinterest formats and create your Promoted Pin.
At this stage, you can either select an existing Pin to promote or create a new asset. It's very important to think about creative best practices and double-check the relevant Pinterest ad sizes to avoid production issues.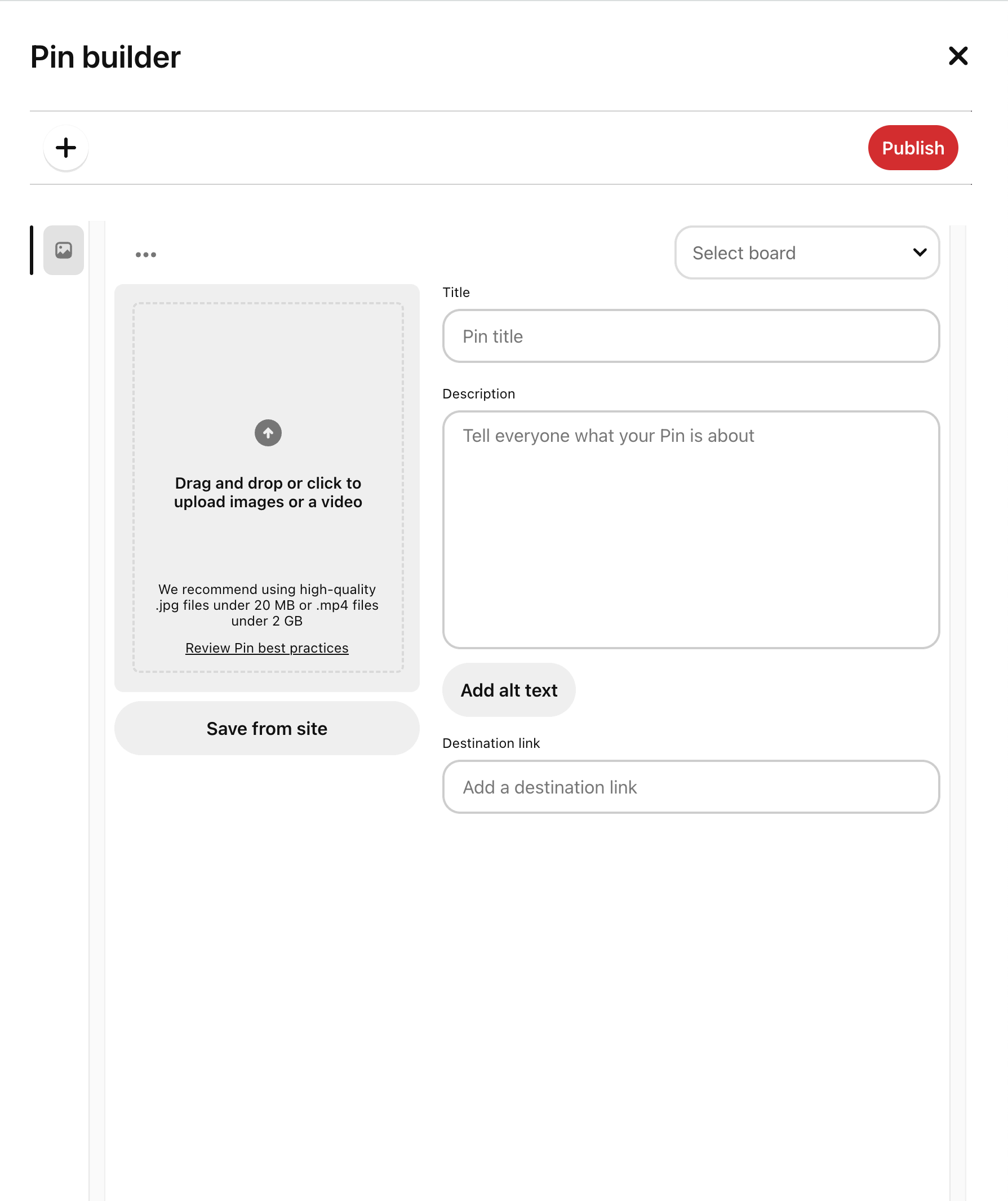 You should also make sure that your ads and creative messages align with your campaign objective. A broad message is fine for top-funnel brand awareness, but if you're trying to drive product sales or app installs, you'll need to think about your specific call to action.
Once you're happy with your ad formats and creative assets, you can submit your campaign for review.
After your campaign has been approved, you'll be ready to launch on your scheduled start date – exciting times!
5. Monitor ad performance
So, your campaign has been officially approved and you're ready to launch.
Job done, right?
Not quite.
It's vital that you monitor the delivery of your ads so that you can make smart optimisations and assess performance.
You'll be able to track several key ad metrics from your Pinterest page, including:
Impressions
Pin Saves
Clicks
CTR
CPC/CPM
Ad spend
It's a good idea to keep an eye on all of this data, but you should focus primarily on the metrics that are contributing to your primary objective. For example, if you're trying to generate online sales, metrics like clicks and conversions will be infinitely more important than Pin saves.
4 proven strategies for Pinterest success
Following a few proven strategies for Pinterest marketers is a great way to hit the ground running with your next campaign.
Here are some best practices that are guaranteed to skyrocket the performance of your Pinterest ads.
Utilise smart A/B testing
A/B testing is a surefire way to increase the returns you generate from Pinterest marketing.
You can test multiple variables within your ad campaigns, including:
Ad formats
Creative assets
Target audience
Headlines
CTAs
The key here is consistency. You need to regularly experiment with different variables to identify superior tactics and improve performance in the long term.
You'll also need to establish the metrics that will dictate the success of your A/B tests. Focus on these priority metrics, and identify the best-performing tests in your campaign.
If you regularly A/B test and optimise your Pinterest campaigns, you're guaranteed to see significant performance improvements.
Leverage Pinterest SEO
Since Pinterest operates in the same way as any other search engine, that means there are golden opportunities for SEO on the platform.
By incorporating relevant and tactical keywords into your Pinterest content, you can rapidly improve the visibility of your Pins and drive higher levels of engagement.
Play around with the Pinterest search functionality to identify popular search terms related to your products, and then use these valuable keywords in your campaigns.
You should also optimise your website and landing pages for Pinterest SEO purposes.
By adding Pinterest 'share' buttons to your product pages, you can enable shoppers to follow your Pinterest page and share your products organically on the platform. This is an easy way to achieve incremental organic reach and rapidly improve your Pinterest SEO.
Target the right Pinterest users
Pinterest offers a wide range of targeting strategies for advertisers, but it's important to understand how you can use these tactics to reach hot prospects effectively.
Many of the most successful Pinterest campaigns combine multiple targeting options to maximise performance, and testing different tactics is always a smart move.
For example, if you're aiming to boost brand awareness on Pinterest, then targeting a broad Interest category can be a great way to increase reach. But if you're trying to generate sales for a niche product, then more specific Keyword targeting may deliver better results.
However, it's also vital that you combine targeting tactics in the right way.
Refining audiences using multiple targeting layers (e.g. specific interests and keywords) can be effective, but narrowing down your targeting too much can restrict scale and reduce efficiency. It's all about striking a balance between effective size and accurate targeting.
Combine multiple Pinterest ad types
Launching several Pinterest ad types is a great method for improving the effectiveness of your campaigns.
For one thing, different Pinterest ad formats can help you to achieve different business objectives.
You might launch a Video Pin to increase large-scale brand awareness, but then use a product-focused Collection ad to secure conversions. Every ad type has its strengths and weaknesses, so you just need to find a way to unlock its full potential.
Experimenting with different formats also helps to keep your brand messaging fresh and engaging.
If you're constantly launching the same formats and creative messages, your audience is highly likely to lose interest in what you're saying. However, if you're mixing up your formats and varying your creatives, you're far more likely to keep users engaged.
Useful resources for Pinterest advertising
Need some additional guidance for your next campaign? Searching for Pinterest marketing insights that will keep you ahead of the competition?

You're in the right place.
Below are some handy resources that will help you to launch super effective Pinterest ads and smash your social media marketing goals.
Pinterest campaign setup guide
Pinterest creative best practices
Pinterest advertiser case studies
With the right marketing strategy and creative assets, you can achieve exceptional results through Pinterest marketing.
And if you're ever lacking inspiration or hunting for expert strategies, don't hesitate to check out a few Pinterest case studies.
Sticking to proven best practices and learning from successful campaigns is a great way to supercharge your Pinterest ad performance. Best of luck!