Pinterest marketing can deliver outstanding results for your business, helping you to convert high-value customers and skyrocket your brand growth.
But there are plenty of moving parts involved with launching a Pinterest campaign, and sometimes you may need a little help to maximise performance.
If you feel like you need support with scheduling quality content, creating impactful assets, attracting new followers, or monitoring analytics, then Pinterest marketing tools can be a game-changer for your brand.
By leveraging the right Pinterest tools, you can plug the gaps in your marketing knowledge and dramatically increase the efficiency of your campaigns. Let's take a look at 25 of the best free & paid Pinterest advertising tools available for marketers.
Pinterest Marketing Tools – Paid Options
1. Hootsuite
Features
Hootsuite is designed to help advertisers manage and optimise their Pinterest marketing campaigns. Through the Hootsuite tool, you can schedule new posts, create/organise your Pinterest boards, and monitor Pin performance – all from a single platform.
Pros
Schedule & publish posts across multiple Pinterest accounts and boards
Track Pin performance, including clicks, CTRs, and conversion rates
Create, view, and edit your Pins from a single dashboard
Cons
The Hootsuite platform may feel slightly complicated for newer advertisers, and more in-depth analytics are only available through higher subscription tiers
Costs
Professional (1 user, 10 social accounts) – $99 per month
Team (3 users, 20 social accounts) – $249 per month
Business (5 users, 35 social accounts) – $739 per month
Enterprise – (5+ users, 50+ social accounts) – Custom pricing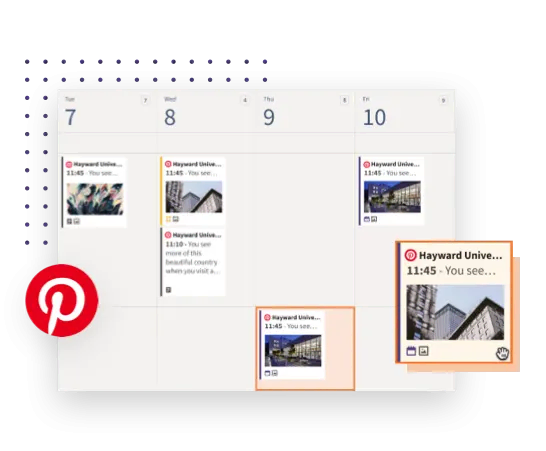 (Source: hootsuite.com)
2. SocialPilot
Features
SocialPilot helps Pinterest marketers to schedule quality posts, track audience engagement, and optimise their content. If you want to ensure that your Pinterest ads and posts are working effectively and resonating with your target audience, SocialPilot is a powerful tool.
Pros
Manage Pinterest posts across 50 accounts with advanced scheduling features
Monitor and analyse Pin performance through custom PDF reports
Utilise bulk scheduling to improve efficiency and content planning
Cons
It may take a little bit of time to become fully comfortable and confident using the SocialPilot interface
Costs
Professional (1 user, 10 social accounts) – $30 per month
Small Team (3 users, 20 social accounts) – $50 per month
Agency (6 users, 30 social accounts) – $100 per month
Agency+ (Unlimited users, 50 social accounts) – $200 per month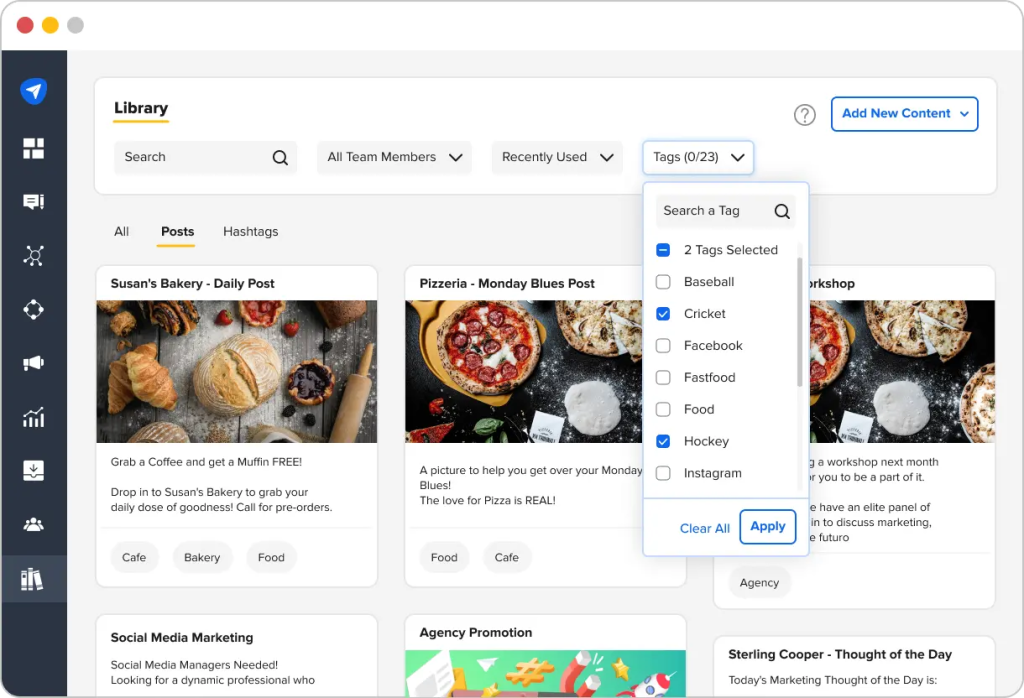 (Source: socialpilot.co)
3. Canva
Features
If you're searching for a quick and effective way to improve your Pinterest visuals, Canva is a fantastic option. This tool is built to help brands produce eye-catching assets and speed up the creative process, even if they're not design experts.
Pros
Choose from a wide range of high-quality, pre-built creative templates
Utilise Pin templates that are sized specifically for the Pinterest platform
Collaborate easily with team members to create and launch new posts
Cons
Marketers are restricted to using the pre-built templates available within the tool, meaning you may find yourself producing similar content to other Canva users
Costs
Canva Pro (1 user) – £10.99 per month
Canva For Teams (2+ users) – £12.99 per month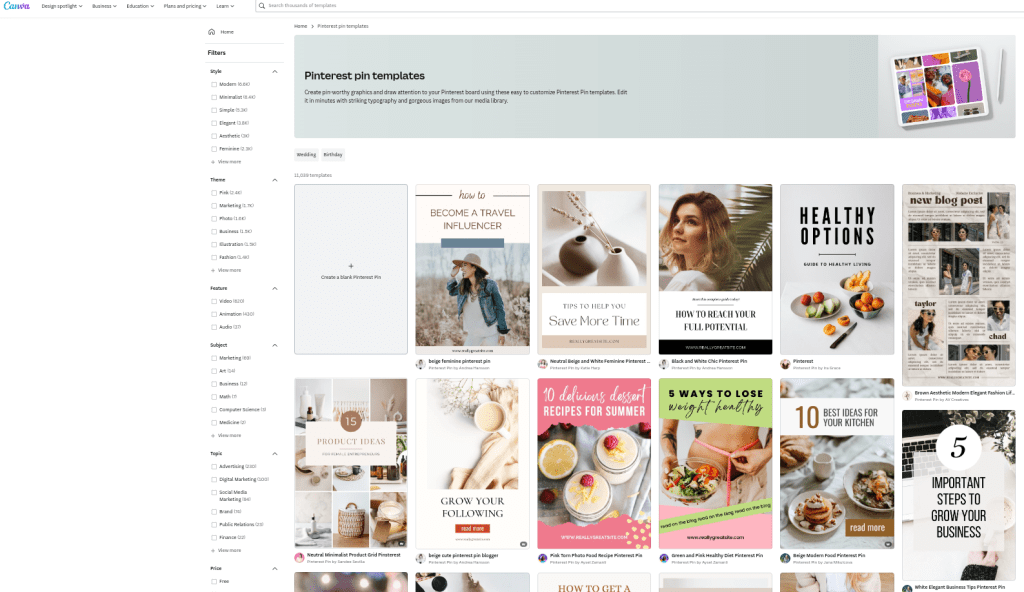 (Source: canva.com)
4. Semrush
Features
Semrush enables you to optimise SEO performance and leverage Pinterest to increase brand visibility, website traffic, and product sales. The tool comes with a range of useful features that can bolster your SEO strategy, from keyword generation to competitor analysis.
Pros
Identify effective keywords to utilise in your Pinterest communications
Monitor the performance and SEO rankings of your competitors
Develop a data-driven marketing strategy to fuel Pinterest performance
Cons
Semrush can be a highly effective tool, but it's accompanied by a steep learning curve that can be tricky for newer Pinterest advertisers to overcome
Costs
Pro (5 projects, 500 keywords to track) – $119.95 per month (free trial available)
Guru (15 projects, 1,500 keywords to track) – $229.95 per month
Business (40 projects, 5,000 keywords to track) – $449.95 per month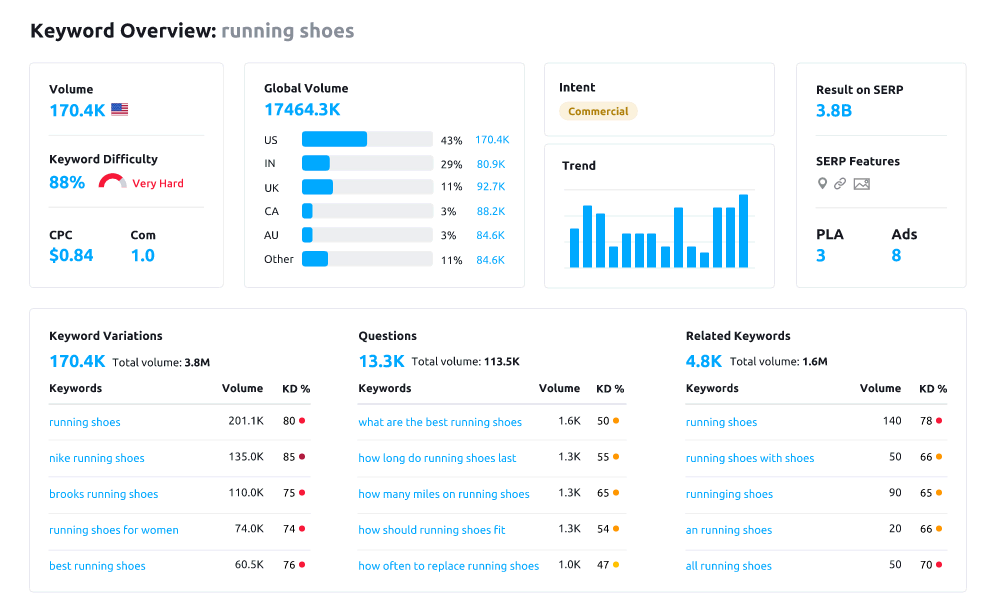 (Source: semrush.com)
5. Adobe
Features
If you want to take your Pinterest creative production and graphic design to the next level, Adobe is the perfect tool. This platform offers a wide range of advanced editing tools that can help you to stand out from the competition and deliver exceptional visual content.
Pros
Create, edit, and enhance new visuals – all within the Adobe product suite
Leverage quality animated templates to expedite the production process
Produce fresh Pinterest assets that are built to the perfect size and spec
Cons
Adobe is an intuitive platform, but it's primarily built for users with a decent amount of experience in design and creative production – it's also a relatively expensive tool
Costs
All Adobe apps (Individual) – $54.99 per month
All Adobe apps (Business) – $84.99 per month
Single App (Business) – $35.99 per month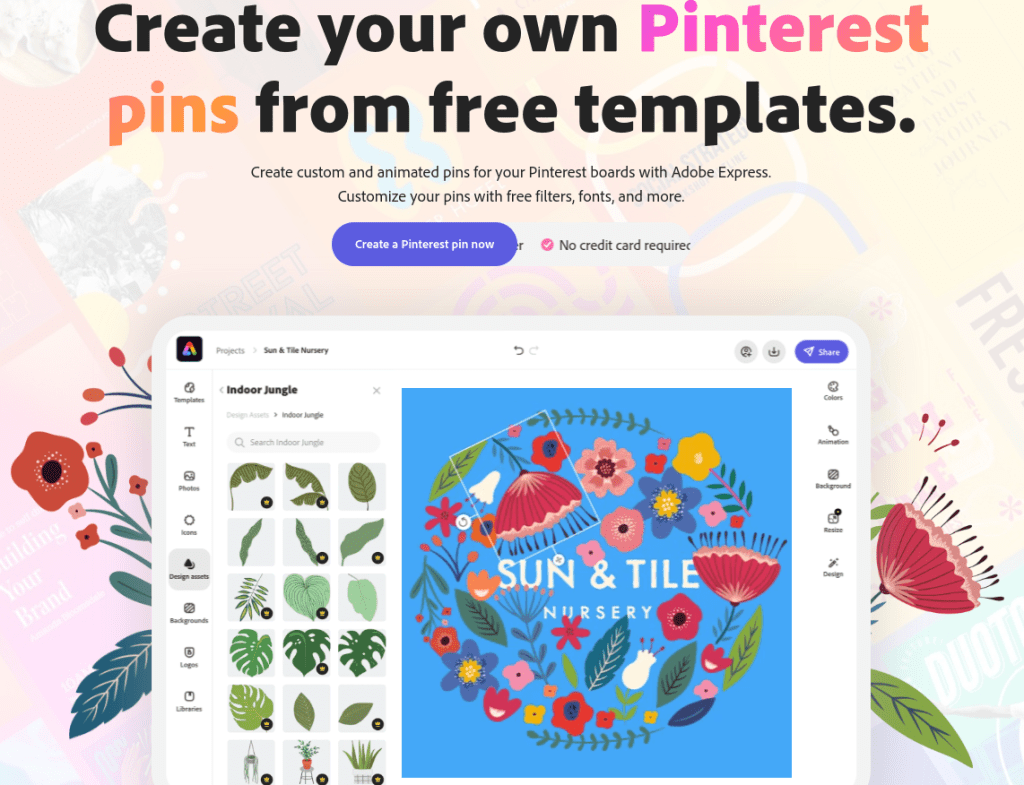 (Source: adobe.com)
6. MiloTree
Features
MiloTree is a WordPress plug-in that helps you to rapidly grow your Pinterest follower base. The tool enables you to launch eye-catching pop-ups on your website/blog that encourage users to follow your Pinterest account, converting warm prospects into new followers.
Pros
Create customised, action-driving pop-ups for your website quickly and easily
Launch pop-ups across multiple websites or product pages
Monitor performance with clear and insightful analytics
Cons
MiloTree can help you to convert website visitors into Pinterest followers, but you'll still need an effective content strategy to keep them engaged with your profile
Costs
Awesome Plan – $9 per month
Smart & Awesome Plan (1 month free) – $99 per year
Bigger Better Plan – Custom pricing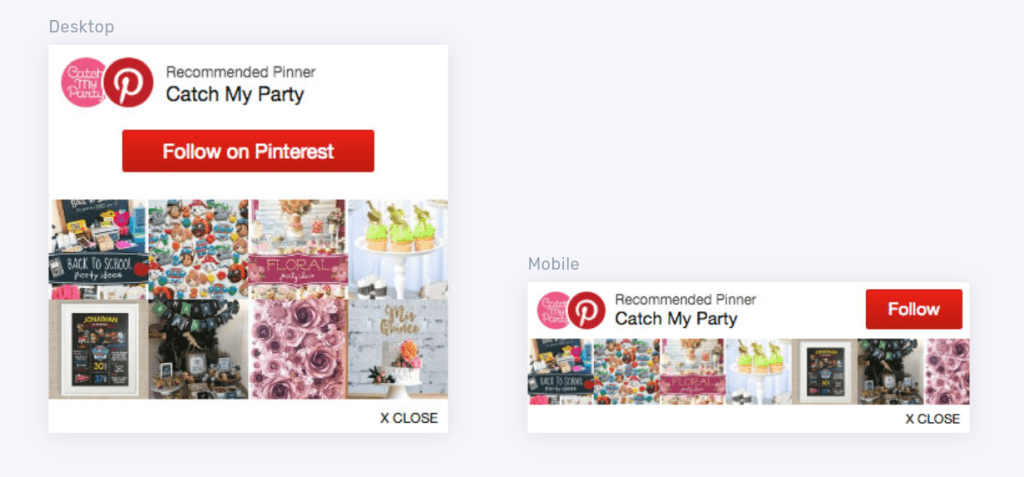 (Source: milotree.com)
7. SocialBee
Features
SocialBee is a great tool for marketers looking to manage and optimise their Pinterest content strategy. The tool allows you to easily create and schedule new Pins, as well as organise posts into different categories to avoid repetition and maximise engagement.
Pros
Create and launch new Pins at scale with intuitive scheduling tools
Utilise a clean and simple interface that's easy to master
Save and manage hashtags to increase engagement and reduce wasted time
Cons
Pinterest integrations can be difficult to set up initially for new users – however, SocialBee support can help to complete the process
Costs
Bootstrap (Solopreneurs) – $19 per month
Accelerate (Start-ups/Small Businesses) – $39 per month
Pro (Agencies) – $79 per month
(Source: socialbee.com)
8. Mentionlytics
Features
Insightful analytics are key to succeeding with Pinterest marketing, and this is exactly what Mentionlytics delivers. The Mentionlytics tool allows brands to access a wide range of data points around social media mentions, from keyword monitoring to competitor analysis.
Pros
Monitor a number of data-driven metrics, including keywords and customer mentions
Utilise a clean and simple interface that's easy to master
Access responsive and helpful customer support
Cons
Mentionlytics provides plenty of useful data for Pinterest marketers, but there aren't too many customisation options available for bespoke reporting
Costs
Basic (5 keyword rules) – $49 per month
Essential (10 keyword rules) – $99 per month
Advanced (15 keyword rules) – $199 per month
Pro (25 keyword rules) – $299 per month
(Source: mentionlytics.com)
9. ViralWoot
Features
ViralWoot is a tool that enables Pinterest advertisers to schedule posts, track engagement analytics, and optimise campaigns. This is a handy all-in-one Pinterest marketing platform that's ideal for brands looking to manage their activity from a convenient, central dashboard.
Pros
Automate the scheduling and publishing of your Pins
Access a clear overview of your scheduled content across multiple social channels
Track metrics such as Likes and Re-Pins in a simplified reporting dashboard
Cons
Analytics reports are fairly basic on ViralWoot, and the tool is more limited than some other social media management platforms
Costs
Standard (500 scheduled posts) – $10 per month
Business (5,000 scheduled posts) – $49 per month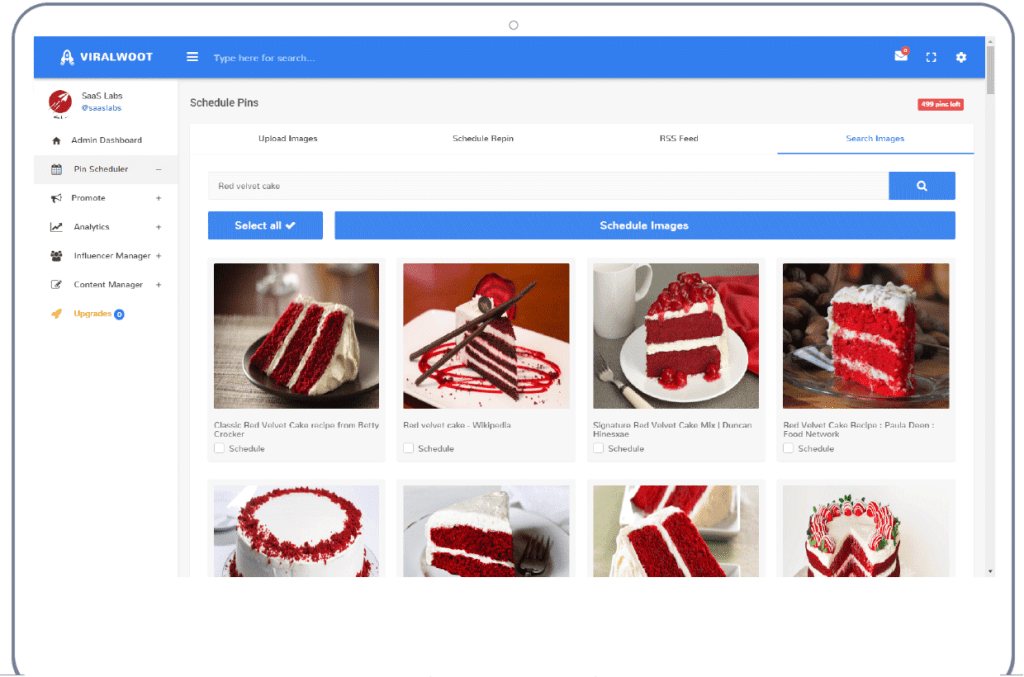 (Source: viralwoot.com)
10. TailWind
Features
TailWind is a popular Pinterest management tool that helps brands to optimise their content strategy, bulk-schedule new Pins, and improve collaboration between teams. The platform also offers several analytics integrations that make reporting far more convenient.
Pros
Automate your publishing schedule to maximise Pin reach and engagement
Use an intuitive drag and drop calendar to schedule and post new content
Access Pinterest/Google Analytics integrations for easy reporting
Cons
The dashboard may be slightly confusing for newer advertisers, and TailWind is primarily focused on Pinterest/Instagram (rather than Facebook, Twitter, etc)
Costs
Pro (1 Pinterest account) – $19.99 per month
Advanced (2 Pinterest accounts) – $39.99 per month
Max (3 Pinterest accounts) – $79.99 per month
(Source: tailwindapp.com)
11. PinPinterest
Features
Looking for a basic tool that can help you to automate Pin publishing and manage your content on Pinterest? PinPinterest is a great option, particularly for newer advertisers focusing exclusively on the Pinterest social media platform.
Pros
Schedule and publish new Pinterest posts at specific times
Publish new content from your website automatically on Pinterest
Access a UI that's user-friendly and easy to learn
Cons
PinPinterest is designed for simplicity and ease-of-use, so it may feel quite basic for experienced Pinterest advertisers or larger businesses/agencies
Costs
30 Days – $33
90 Days – $75
180 Days – $107
365 Days – $170
12. SproutSocial
Features
SproutSocial can support advertisers at every stage of the Pinterest marketing journey, from creating Pins to scheduling posts and analysing performance. If you want an all-encompassing social media management tool, SproutSocial is a very solid choice.
Pros
Utilise a clean, easy-to-use dashboard interface
Access highly detailed (and customisable) reports for Pinterest performance
Leverage a simple and efficient scheduling calendar for new content
Cons
SproutSocial may be slightly too expensive for smaller advertisers, and cross-platform reporting can be tricky if you're running wider campaigns
Costs
Standard – $249 per month
Professional – $399 per month
Advanced – $499 per month
Enterprise – Custom pricing
(Source: sproutsocial.com)
13. Cyfe
Features
Cyfe is a marketing platform that allows brands to monitor performance through a real-time dashboard. The tool also enables businesses to utilise a 'Pinterest widget', meaning you can instantly track your followers, Pins, boards, and ad metrics from a single location.
Pros
Monitor Pinterest performance quickly and easily through a simple dashboard
Access highly responsive and informative customer support services
Automate Pinterest reporting to improve efficiency and save time
Cons
Some of the metrics that Cyfe provides can be tricky to distil down into actionable insights, so it may take a while for marketers to master the platform
Costs
Starter (2 dashboards, 1 user) – $19 per month
Standard (5 dashboards, 2 users) – $29 per month
Pro (10 dashboards, 5 users) – $49 per month
Premier (20 dashboards, unlimited users) – $89 per month
(Source: cyfe.com)
Pinterest Marketing Tools – Free Options
14. Pinterest Analytics
Features
Pinterest Analytics is a great tool for measuring marketing performance – it's also built into the Pinterest platform, which is incredibly convenient. You can use Pinterest Analytics tools to build custom reports for your brand, tracking everything from engagements to followers.
Pros
Instantly access performance metrics from within the Pinterest platform
Identify the types of content marketing that are driving the most engagement
Track performance trends and growth indicators over an extended period
Cons
The Pinterest Analytics tool covers all of the standard reporting metrics, but if you're running multi-channel campaigns, you'll need to utilise an external measurement tool
(Source: pinterest.com)
15. GIMP
Features
GIMP is an editing and design platform that can be a fantastic free alternative to the likes of Photoshop. If you're looking to improve your Pinterest visuals with basic photo enhancements and edits, GIMP is a flexible tool that can help you to learn the ropes.
Pros
Learn the fundamentals of photo/image editing with an easy-to-use tool
Edit multiple images without the need for a monthly/annual subscription
Access editing features that are often found in paid social media management tools
Cons
GIMP lacks some of the more advanced photo editing features found in platforms like Photoshop, so if you're an experienced designer, the tool may feel quite restrictive
(Source: gimp.org)
16. PinGroupie
Features
PinGroupie allows marketers to discover popular Pinterest group boards, monitor keyword trends, and seek out inspiration for new content. If you want to keep up-to-date with emerging trends and topics on Pinterest, PinGroupie will help you to stay in the loop.
Pros
Discover inspiration for future content by monitoring popular Pins/boards
Find trending search phrases and keywords quickly and easily
Follow popular brands (or your competitors) to analyse their activity
Cons
PinGroupie will provide you with an overview of popular boards, posts, and keywords, but you'll still need to distil this information into actionable insights

(Source: pingroupie.com)
17. VistaSocial
Features
VistaSocial helps businesses to improve team collaboration, schedule quality Pinterest content, and access in-depth performance analytics. The tool covers everything from post publishing to customer engagement and is ideal for agencies running social campaigns.
Pros
Schedule Pins across multiple Pinterest profiles with ease
Review, manage, and publish Pins from a centralised content calendar
Track both organic and paid metrics, including follower growth and Pin engagement
Cons
VistaSocial is a brilliant tool for experienced marketers or agencies, but the number of features available might be overwhelming for newer advertisers
(Source: vistasocial.com)
18. Pallyy
Features
Pallyy is a streamlined, easy-to-use scheduling tool that makes publishing Pinterest content a breeze. The platform is packed with handy features for Pinterest marketers, including automated publishing tools, organised media storage, and simple collaboration options.
Pros
Use intuitive and simplified scheduling tools that are easy to understand
Access multiple views (e.g. list, calendar, grid) to clarify scheduled content
Collaborate easily with team members through instant comments/edits/approvals
Cons
Connecting social accounts and scheduling across multiple platforms can be fiddly – but customer support is responsive and quick to resolve any issues
(Source: pallyy.com)
19. Stencil
Features
Stencil is a free editing tool that's built to make graphic design as quick and convenient as possible. If you want to elevate your Pinterest visuals and produce high-quality content, Stencil offers a range of features (e.g. stock media library, free icons) that can help.
Pros
Utilise simple and easy to use graphic design tools to create fresh content
Access a number of free stock photos and icons to use in your assets
Resize your Pin images easily to fit Pinterest specs
Cons
Stencil provides many free-to-use tools for marketers, but certain features (e.g. templates, fonts, premium support) are only available with a paid subscription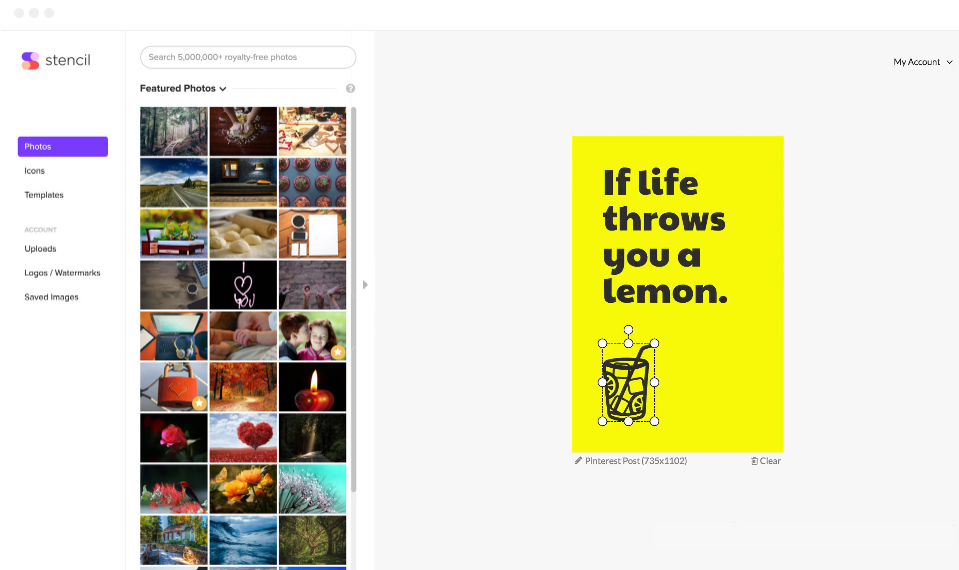 (Source: getstencil.com)
20. Buffer
Features
Buffer is an extremely popular Pinterest tool for Pin scheduling and content management. The Buffer platform enables businesses to publish posts at specific times, analyse the performance of Pins, and even optimise content across social channels.
Pros
Schedule multiple Pinterest posts quickly and easily with a smart dashboard
Launch content simultaneously across different social media platforms
Monitor engagement metrics to identify high-performing Pins
Cons
The free Buffer plan offers plenty of useful features for small businesses, but larger advertisers (managing multiple channels) will likely need to upgrade
(Source: buffer.com)
21. Piktochart
Features
The Pinterest feed is packed with eye-catching content, so if you want to capture the attention of your target audience, you'll need to stand out. Piktochart is a handy tool that can help you produce unique infographics and visuals that set you apart from the competition.
Pros
Utilise free templates to quickly produce creative infographics
Use a simple drag-and-drop editing tool that makes production easy
Transform basic text or statistics into eye-catching Pinterest graphics
Cons
If you're looking for a long-term creative tool (i.e. involving multiple team members and projects) then you may find the free version of Piktochart to be restrictive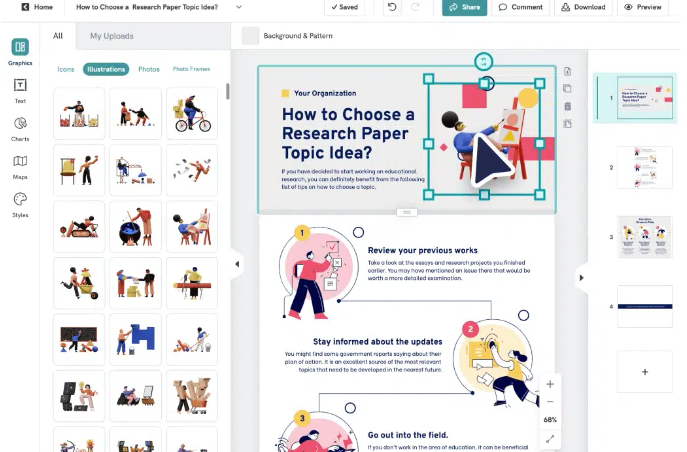 (Source: piktochart.com)
22. SweepWidget
Features
SweepWidget allows you to run custom giveaways and contests on the Pinterest platform, helping you to increase brand engagement, drive traffic to your website, and rapidly boost your follower numbers.
Pros
Use an easy drag-and-drop editor to create engaging competition assets
Connect multiple API integrations to maximise reach and gather in-depth data
Launch referral schemes to increase organic reach and boost engagement
Cons
SweepWidget is a smart way to launch Pinterest giveaways, but you'll still need to provide Pinterest users with compelling rewards and incentives to drive engagement
(Source: sweepwidget.com)
23. Visme
Features
If you're struggling to create eye-catching visual assets for Pinterest, Visme can help. The platform allows you to quickly pull together data visualisations, videos, and social media graphics that are highly engaging and designed to stand out.
Pros
Access a library of Pinterest templates to create unique graphics and assets
Create a wide range of different content types, from videos to product mock-ups
Schedule and publish your new assets using a built-in calendar system
Cons
The pre-built templates available within Visme are useful, but if you want additional customisation options, you may need to explore more advanced design tools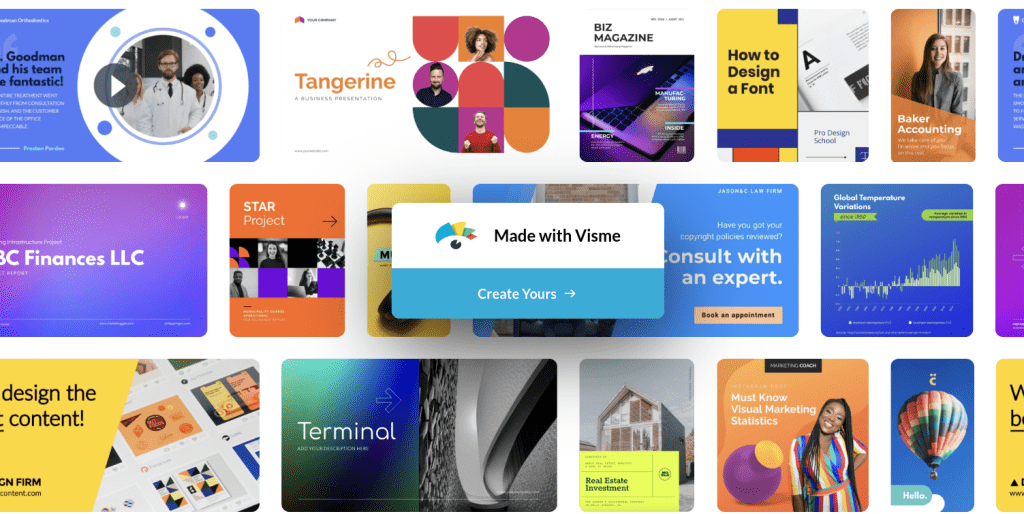 (Source: visme.co)
24. IFTTT
Features
IFTTT is a versatile tool that can be a massive time-saver for Pinterest advertisers. The platform contains several handy applets that can be used to tackle a range of tasks, including sharing content between social media networks and backing up Pins to Google.
Pros
Automatically sync Instagram & WordPress posts to your Pinterest boards
Share YouTube videos directly to your Pinterest profile
Save all of your Pins securely to the Google Drive
Cons
IFTTT can be a helpful time-saver, but only in certain situations – if you're not interested in connecting multiple apps, for example, the tool may not be useful
(Source: ifttt.com)
25. Zapier
Features
If you're struggling to work efficiently across multiple social media platforms, Zapier can help. This Pinterest automation tool allows brands to set up smart workflow automations, such as instantly posting new Twitter content to Pinterest or coordinating post timings.
Pros
Set up automated connections between platforms, saving time and driving efficiency
Maintain an active Pinterest feed by auto-publishing content from different channels
Eliminate time-wasting tasks from your schedule with custom automations
Cons
Newer advertisers may find setting up/maintaining multiple automations to be overwhelming, as there are a massive number of automation options available
(Source: zapier.com)
How will using tools help with my Pinterest campaigns?
Social media marketing tools can work wonders for your Pinterest performance, and offer a range of key benefits that help you to achieve better outcomes.
For example, leveraging tools can be a fantastic way to plug any gaps in your marketing knowledge or abilities. Some marketers may struggle with graphic design, while others might find it difficult to analyse cross-channel performance – tools can provide much-needed support in these areas.
Pinterest automation tools are also designed to significantly improve efficiency, which can help you to reduce wasted time and allocate valuable resources to new tasks.
Graphic design and photo editing tools, for instance, make it infinitely easier for you to create engaging Pinterest assets. Rather than scouring the internet for the right images, you can utilise pre-built templates and stock media to speed up the production process.
If you feel like you're spending too much time on certain tasks, Pinterest tools can revolutionise your time efficiency and inject much-needed automation into your marketing.
Both paid and free Pinterest tools can be extremely valuable for advertisers, whether you need assistance producing assets, scheduling Pins, engaging audiences, or measuring campaigns.
Just remember to cherry-pick tools that will help you to conquer specific challenges or business obstacles.
Think carefully about the problems you're facing with Pinterest marketing, and select your tools accordingly. Picking the right partners is half the battle, and once you've equipped yourself with the best tools, you'll be crushing your Pinterest objectives before you know it.