If you're a paid social advertiser hoping to generate jaw-dropping results, then TikTok marketing is a no-brainer.
TikTok has a huge amount of potential for digital marketers – a colossal audience, creative ad formats, and a platform design that's built to maintain attention.
But TikTok also offers a smart marketing opportunity that's insanely useful for e-commerce brands looking to drive revenue – TikTok Shoppable ads.
Shoppable ads are a dream for e-commerce advertisers because they allow users to instantly purchase your products after tapping your ads. The user journey is ridiculously easy – and convenience is key to delivering consistent conversions.
Let's take a closer look at TikTok Shoppable ads, and explore how this ad format can help you to convert high-value audiences and smash your revenue goals.
What are TikTok Shoppable ads?
When we talk about 'Shoppable' ads, we're referring to ad formats that offer users the chance to purchase new products through the TikTok app.
The most popular way to set up Shoppable ads on TikTok is by integrating a Shopify account with your TikTok For Business account.
While Shopify handles the hosting of your e-commerce store and facilitates seamless transactions, TikTok provides you with powerful paid social marketing tools.
Combine the two, and you have a recipe for potent e-commerce marketing campaigns.
Brands that integrate Shopify and TikTok allow their target audiences to explore and purchase new products directly through TikTok ads – all it takes is a couple of clicks, and users can complete their purchase.
(It's also worth noting that TikTok also offers integrations with several e-commerce partners – check out this page for the full list!)
However, that's just one part of TikTok's 'Shoppable' repertoire.
The platform is also releasing a set of brand new 'Shopping' ads that are designed purely to generate more sales within the TikTok app. TikTok is clearly keen to bolster its e-commerce offering, and these new placements are leading the charge.
These Shopping ads will provide brands with even more opportunities to secure online sales, closing the gap between e-commerce product catalogs and in-app TikTok campaigns.
How do TikTok Shoppable ads work?
The secret to launching TikTok Shoppable ads is platform integration.
Third-party integration is key to building Shoppable ads because this is what connects your e-commerce store with your TikTok marketing campaigns.
Below are a few examples of e-commerce platforms that can be integrated with TikTok to create Shoppable ads:
Shopify
Square
Ecwid
PrestaShop
Once you've integrated your chosen e-commerce partner with your TikTok For Business account, you can start launching your own Shoppable campaigns.
A major perk of Shoppable campaigns is that everything can be managed from your e-commerce platform, including ad creation, targeting, and optimisation.
This makes it easy for brands to control their ad campaigns and analyse how TikTok is contributing to their online sales.
Plus, with a TikTok pixel installed on your e-commerce store, you can track TikTok conversions, build valuable retargeting audiences, and accurately monitor ad revenue.
This is very important for running cost-efficient TikTok campaigns, and another reason why TikTok Shoppable ads can be so incredibly effective.
How do brands use TikTok Shoppable ads?
At their core, TikTok Shoppable ads transform ordinary marketing campaigns into e-commerce powerhouses.
Rather than just showing your products to your target audience, you can actively sell them and create a frictionless customer journey.
But TikTok Shoppable ads can also be utilised in a few different ways, capitalising on the nuances of TikTok and maximising the impact of this unique format.
Harnessing the power of influencer marketing
Influencer content is immensely powerful in the world of paid social marketing, but it can be particularly impactful on the TikTok platform.
Influencer videos tend to perform extremely well on TikTok because they feel more authentic and blend seamlessly into user feeds.
This content has the potential to drive sky-high levels of engagement, so if you can source the perfect influencer talent for your brand, you can tap into a TikTok goldmine.
Let's say that an influencer produces a top-notch video for your brand – it could be a glowing product review or a 'how-to' tutorial. You promote this influencer content with paid advertising, which generates a lot of interest and engagement from your target audience.
With TikTok Shoppable ads, you can take this one step further.
Your audience doesn't just need to hear about your products through your influencer campaign – with a couple of taps, they can purchase your products on the spot.
Combining a data-fuelled influencer marketing strategy with conversion-driving Shoppable ads can be a game-changer for e-commerce brands.
Jumping on viral trends and topics
Viral trends are constantly emerging on TikTok, from new dance crazes to global hashtag challenges.
If you can find a way to incorporate your brand marketing with a popular trend, you can achieve enormous reach and tremendous levels of engagement.
You might use a trending sound in a paid video, or find a way to include your products in the latest challenge. If your content picks up momentum, it can be rapidly shared among a massive audience and earn huge organic reach.
If you find that your products are suddenly in the spotlight, you can utilise Shoppable ads to transform this viral fame into tangible conversions.
However, it's important to remember that not every trend will be suitable for your brand.

There's nothing worse than businesses forcing their products into irrelevant trends or topics, so be strategic when you're jumping on a content bandwagon. If you can pick the perfect opportunities, the results will speak for themselves.
(Alternatively, if you're struggling to find a trend that fits your products, you can always try to launch your own with Branded Hashtag Challenges!)
Why you should be using TikTok Shoppable ads
If you're an e-commerce brand searching for new revenue opportunities, then TikTok Shoppable ads are a must-have in your paid social arsenal.
Let's explore a few of the most compelling benefits that TikTok Shoppable ads offer digital advertisers.
They're integrated with your online store
This may sound like an obvious benefit, but the ability to fuse TikTok ads with real-time shopping shouldn't be underestimated.
Firstly, this integration places your products exactly where they need to be – right in front of your most valuable audiences, appearing in the TikTok home feed.
The process is designed to be as simple as possible for advertisers, so everything from setting up your integrations to installing the TikTok pixel is fast and easy.
Secondly, TikTok integration also makes campaign management a breeze.
You don't need to worry about managing your ads from multiple sources or platforms. Everything can be created, launched and optimised through your e-commerce store – meaning you can focus more on driving strong returns, and less on campaign admin.
They create a seamless customer journey
If you want to encourage potential customers to make a purchase, you need to make sure that you're creating a smooth and convenient user journey.
If the customer journey is time-consuming or needlessly complicated, your audiences aren't likely to persist and complete their purchase.
Fortunately, TikTok Shoppable ads make the sales journey super simple and accessible for your TikTok audiences.
Within a couple of taps, TikTok users can transition from seeing your product ad in-feed to finishing up at the checkout. It's as simple as that.
All you need to do is ensure that you're using high-quality product images, targeting the right audiences, and delivering persuasive ad copy.
If you can tick all of these boxes, then TikTok Shoppable ads will provide you with a fantastic opportunity to attract new customers and drive high volumes of conversions.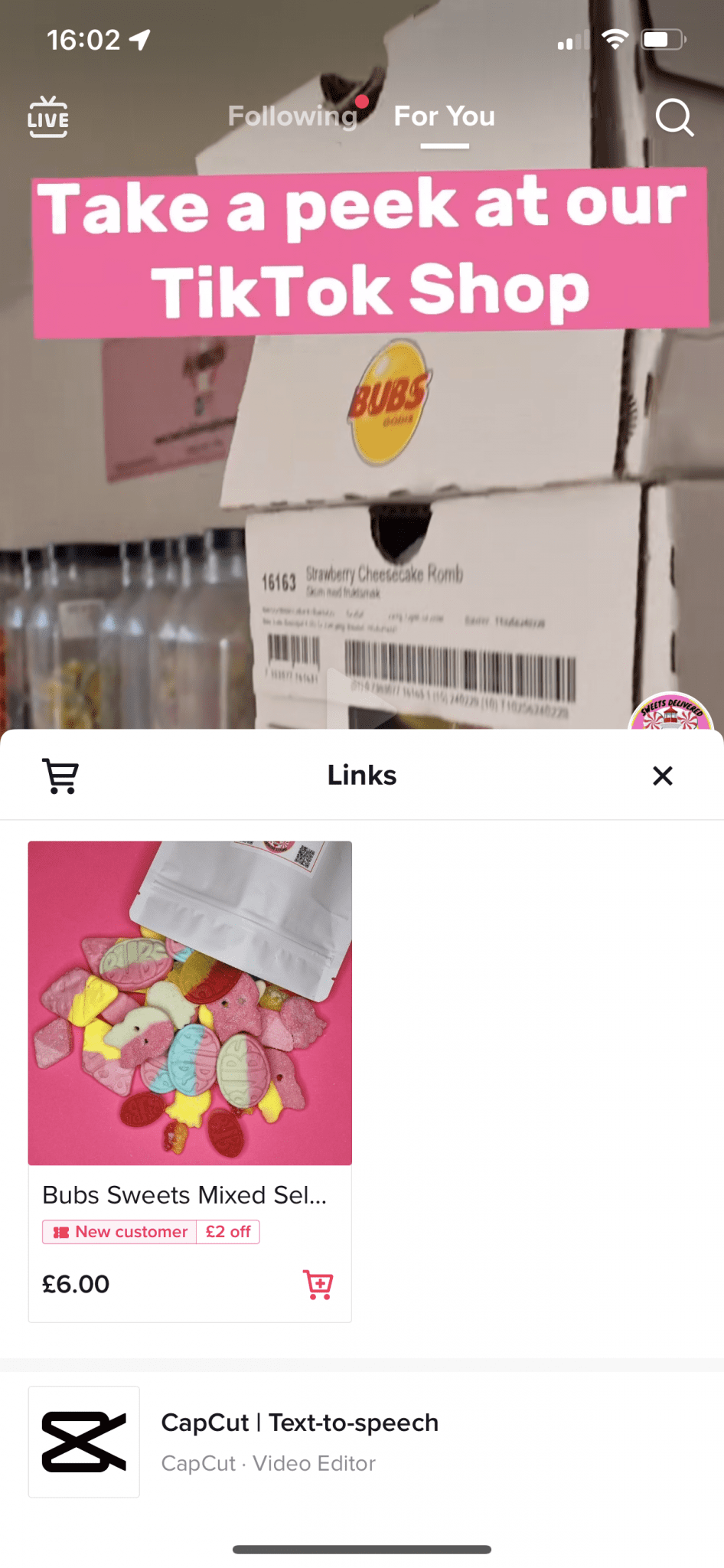 TikTok is proven to work for e-commerce brands
Finally, TikTok is the perfect environment for brands looking to supercharge their conversion rates.
The TikTok audience is open to brand advertising, and the platform is designed to deliver content that captures attention and drives action.
Still not convinced about the e-commerce potential of TikTok marketing? Let's take a look at some killer statistics that prove the point.
Firstly, 25% of TikTok users have researched or purchased a product they saw advertised on the app. When you consider the sheer size of the TikTok audience (around 755m global users), this is a significant number of potential customers.
TikTok also reports that it drives a 30% higher paid media ROAS compared to other digital platform averages.
If you're keen to run hyper-efficient paid social campaigns that reach engaged shoppers, TikTok is the place to do it.
What are the TikTok Shoppable ad formats?
TikTok Shoppable ads can be an invaluable tool for e-commerce brands.
But it's important to maximise the impact of Shoppable ads in your paid social strategy – and a big part of that is selecting the right ad formats.
Below is a list of TikTok formats that can be launched as part of Shoppable campaigns:
In-Feed Video Ads
TopView Ads
Spark Ads
Brand Takeovers
Branded Hashtag Challenges
Branded Effects
Click here for more information on standard TikTok ad formats.
Speaking of Shoppable formats, let's take a look at some of the newer Shopping ads that TikTok is releasing – Video Shopping ads, Catalog Listing ads and LIVE Shopping ads.
Video Shopping ads
Video Shopping ads are fairly self-explanatory. These are fully Shoppable video assets that can be targeted across the For You feed on TikTok.
(Source: tiktok.com)
Catalog Listing ads
With Catalog Listing ads, your audience can instantly open and explore your full product catalogue within the TikTok feed, without the need for any video assets.
(Source: tiktok.com)
LIVE Shopping ads
LIVE Shopping ads enable you to deliver live product demonstrations alongside shoppable products, meaning you can showcase your catalogue in a super engaging way.
(Source: tiktok.com)
These new ad placements have been designed exclusively for driving e-commerce performance, and offer a hugely exciting opportunity for TikTok marketers.
How to create TikTok Shoppable ads
Keen to launch your own TikTok Shoppable ad campaign?
Just follow the instructions below, and you'll be generating exceptional results before you know it.
1. The first step is to integrate your chosen e-commerce platform with the TikTok app. The process for each platform is slightly different, so check this guide for specific instructions.
(A very important part of the integration process is setting up your Product Catalog for TikTok ads, so make sure you reference the official instructions here!)
2. For more in-depth reporting and measurement, you should also implement the TikTok pixel on your e-commerce store. You can either install the pixel from within the e-commerce website itself or create the pixel in the TikTok Ads Manager and link it separately.
3. Once you've finished integrating your e-commerce platform with TikTok, it's time to build your Shoppable ad campaign. Again, the process for ad creation will differ slightly between platforms, but you'll need to set up your:
Campaign Name
Landing Page URL
Ad Creative(s)
Audience Targeting
Objectives/Optimization Events
Budget
Setting up your Shoppable campaign correctly is vital for success, so pay close attention to each step of the process.
Interested in trying out the new TikTok Shopping ad formats?
These placements are only available for testing at the moment, but if you're keen to get involved, take a look at this page for more info.
You'll need to complete a campaign checklist and reach out to your TikTok team to launch new Shopping ads, but if you're successful in setting up a test, you'll be ahead of the curve!
Expert tips for high-performing TikTok ads
Trying to make sure that your TikTok marketing budget is working as hard as possible for your brand?
We've got you covered.
Just follow these proven best practices, and you'll be well on your way to launching click-driving, revenue-boosting TikTok ad campaigns.
Use eye-catching product visuals
Your products are ultimately the most important element of TikTok Shoppable campaigns.
All the pixel data and ad optimisations in the world can't save poor-quality creative assets, so make sure that your product visuals are on point.
Place your products at the centre of your TikTok ads, and showcase any special features or benefits that make them unique. Colour and motion are both massively helpful when you're trying to grab user attention, so try to make your assets as eye-catching as possible.
Take advantage of advanced targeting tactics
There are plenty of smart targeting options on TikTok that can transform your social media marketing performance.
Installing the TikTok pixel is a must for any advertisers looking to unlock the full potential of the platform.
With TikTok pixel data, you'll be able to identify red-hot prospects, build profitable retargeting pools, and accurately measure the ROI of different audiences. These advanced strategies are guaranteed to increase your returns, so use them wisely.
Focus on your priority metrics
When you have instant access to mountains of TikTok performance data, it's very easy to become distracted by irrelevant metrics.

Always focus on your core metrics to ensure that you're making the right optimisations and moving closer to achieving your business objectives.
This is particularly true for Shoppable ads. If you're using TikTok to drive online sales, then you'll need to focus on metrics like conversions and CPAs rather than likes and comments.
Getting started with TikTok Shoppable ads
Ready to get started with your own TikTok Shoppable campaigns?
(That's what we like to hear.)
Before you launch any new TikTok ads, it's a good idea to check out a few TikTok best practices to make sure that you're nailing the fundamentals.
Once you're ready to set up a campaign, just open this guide and select your chosen e-commerce partner to get the ball rolling.
Remember, every e-commerce platform will have a slightly different process for TikTok Shoppable campaigns, so always check the relevant instructions online. If you're stuck, don't hesitate to reach out to the TikTok support team. 
As a specialist TikTok ads agency we can help you with your campaigns just get in touch for a free consultation.
Useful resources for TikTok marketing
There's a whole lot of TikTok marketing knowledge packed into this guide.
But don't worry. We're not done yet.
Below are some handy TikTok advertising resources that will help you to deliver optimal results with your hard-earned marketing budget.
TikTok – How to set up a campaign
Top-Performing TikTok ads right now