Looking for a digital marketing platform that can deliver ultra-efficient conversions and immense scale?
Google Ads could be the answer.
The Google advertising platform is an extremely powerful tool for marketers, allowing brands to reach hot prospects, drive valuable sales, and build a full-funnel strategy.
The combination of Google's extensive network (i.e. Google Search, YouTube, Google Display Network) and accurate targeting options makes it highly effective at tackling a range of business objectives.
So how can you get started with your own Google Ads campaign?
Well, there's a lot to learn. If you want to achieve optimal results, you'll need to understand the different Google ad formats, the campaign setup process, and a few proven best practices.
Luckily, we've condensed all of that knowledge down into a single, practical guide.
This blog contains all the Google Ads expertise you'll need to smash your targets and deliver a jaw-dropping ROI. Let's get started.
What are Google ads?
Google Ads, previously known as Google AdWords, is a PPC (Pay Per Click) advertising network.
Ads on the Google platform can be served across several channels, which provides advertisers with valuable reach and enormous scale. These ads can be targeted toward specific audience segments and delivered in different creative formats.
These different Google Ads channels include:
Google Search ads
Google Display Network ads
Google Shopping ads
Google Video ads (including YouTube)
Google App ads
Google Local ads
All of these placements fall under the wider Google Ads umbrella, and all operate within the same PPC buying model. Different types of Google ads are suited to different objectives, so it's important to select the right placements for your goals.
How do Google ads work?
Since Google Ads works on a Pay Per Click model, advertisers will only pay for campaigns when a specific action or goal is achieved. Once you've established your ad campaign objective, you can set up a bidding strategy and bid for user actions that align with your goal. 
There are three primary bidding models available on Google Ads:
Cost Per Click (CPC) – paying for clicks on your ad, often used for driving conversions and actions.
Cost Per Mille (CPM) – paying for every 1,000 ad impressions, often used for driving reach and brand awareness.
Cost Per Engagement (CPE) – paying for specific user actions (e.g. a user viewing a video, submitting contact details, etc.)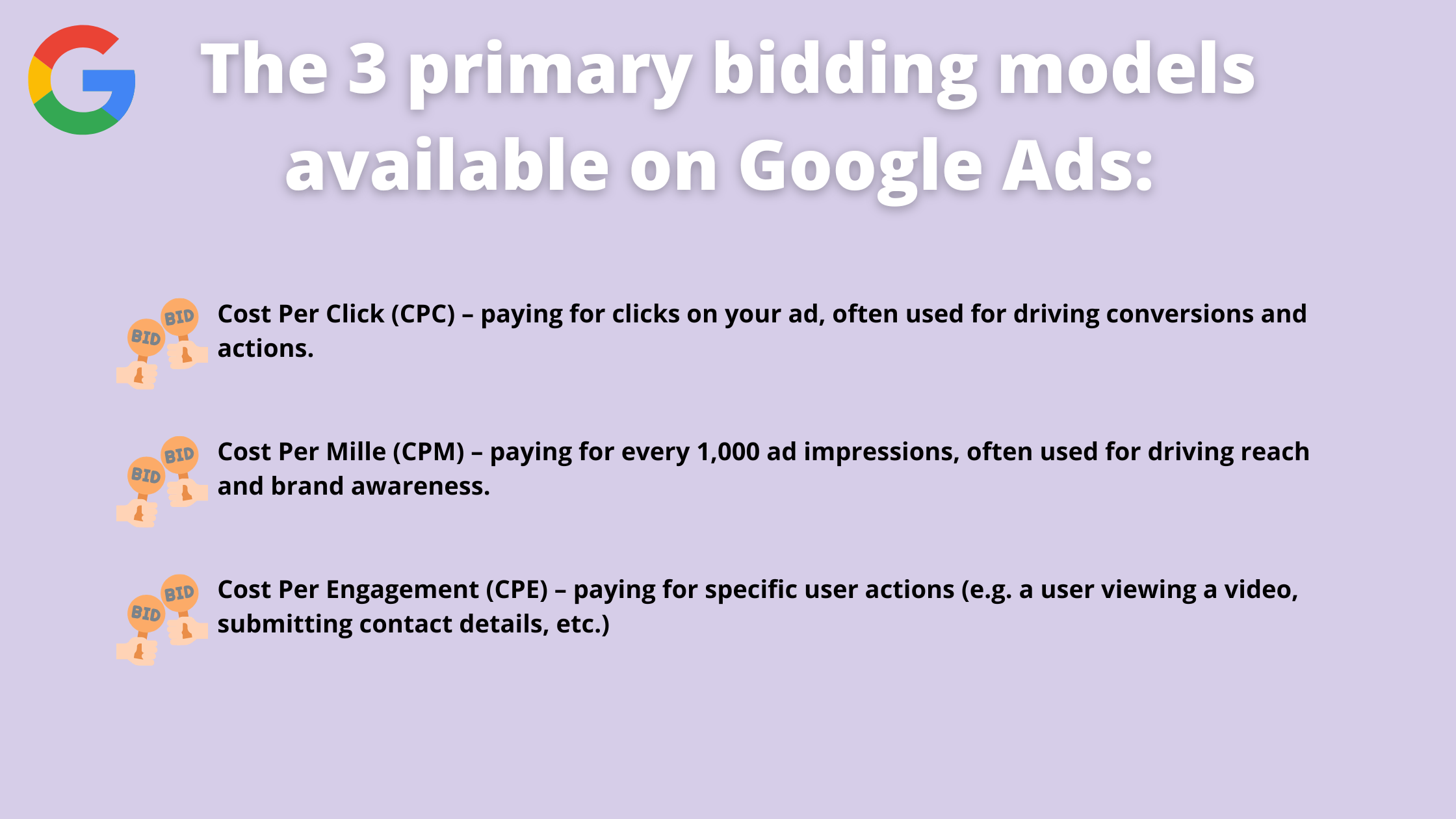 Google ads are delivered through an auction system, where advertisers bid against specific audiences and keywords.
If your auction bid is successful, your ad impression will be served. You can control your Google spend by setting up a maximum bid for a specific action or a maximum daily budget for your campaigns – cost-efficiency is key to generating a positive ROI with Google.
A healthy budget is important for success in the Google auction, but it's also crucial to deliver high-quality and relevant advertising that engages your target audience.
Your expected click through rate (CTR), ad relevance, and landing page experience will all contribute to your Google Quality Score. The better your Quality Score is, the more you'll be able to reduce advertising costs and improve campaign efficiency.
Remember – it's not all about the size of your bid. Think about creative messages that will interest and resonate with potential customers!
How much does Google advertising cost?
Google Ads can deliver exceptional results for digital marketers and help brands to achieve a range of objectives.
But how much will it cost to run a Google Ads campaign?
Well, that depends. Many different factors can influence the cost of your Google advertising, so it's crucial to keep these in mind when you're managing an ad campaign. 
Here are just a few of the factors that can influence your campaign costs:
Seasonality (e.g. Black Friday, Christmas)
Competitor activity
Ad placements/formats
Time of day
Industry
Market trends
However, that doesn't mean you're powerless when it comes to budget management.
The key is to monitor your Google ad campaign reports closely and react quickly to any changes in performance. 
By making smart optimisations and shifting your budget to the best-performing tactics, you can reduce wasted spend and improve ROI.
Let's take a look at some average Google Ads costs as a rough guideline:
Average Cost Per Click (CPC) – Google Search: £0.83-£1.65
Average Cost Per Click (CPC) – Google Display: £0.83
Average Monthly Ad Spend – £7,500-£25,000
Your industry is one of the biggest factors in determining your Google Ads costs, so it's worth researching the average CPC in your category to help budget effectively.
Just be sure to keep a close eye on your campaign spend and make adjustments if efficiency starts to drop!
What are the benefits of using Google Ads?
Google Ads is a powerhouse in the world of digital marketing.
Advertisers around the world, from established corporations to punchy start-ups, utilise the platform to grow brand awareness and drive efficient conversions.
Let's run through a few of the key benefits that Google advertising offers.
1. The scale of the platform is staggering
Buckle up, because we're about to take a look at some mind-blowing Google statistics.
As a search engine, Google handles more than 40,000 search queries every single second.
(Yep, that was another 40,000 queries right there. And another. You get the point.)
That equals over 3.5bn searches being processed every day – and all of those search queries represent a new opportunity for advertisers. Google also boasts around 4.3bn users worldwide, providing marketers with access to a colossal audience of potential buyers. 
2. Brands can capitalise on buyer intent
If you're trying to drive online sales through digital marketing, you want to appear in front of consumers when they're actively considering a new purchase or showing interest in your products.
Fortunately, that's exactly what Google Ads enables you to do.
Since you can bid against specific target keywords in channels like Google Search, your ads will be served when potential customers are showing clear signs of buyer intent. 
With the right keyword approach and bidding strategy, you can immediately target red-hot prospects as they search for your products or services. And that's a surefire way to drive high volumes of valuable conversions.
3. You can easily control your ad costs
Although the world of PPC advertising can seem a little daunting for new advertisers, it's easy to manage your expenditure with Google Ads.
You can instantly adjust your budgets, tweak your bidding strategy, and refine your keyword targeting with the Google Ads Manager.
Whether certain keywords are smashing your CPC targets or struggling to perform, you can make the right optimisations to keep costs down.
Since there are no minimum spends or budget commitments, you can also choose how much you're investing on a daily basis. And since you'll only pay when someone clicks your Google ads, you can stay in full control of your budget.
The different types of Google ads
One of the biggest benefits of Google advertising is the number of different channels that brands can utilise.
The Google network is vast, and advertisers can run campaigns across different digital environments to achieve their goals.
We've pulled together a list of the main Google ad types, and outlined the role they can play in your future campaigns.
Google Search Campaigns
Google Search ads are served as text ads on the Google search results page.
They appear against specific keywords, so it's key for marketers to balance popular keywords (that can drive reach) with specific keywords (that can drive efficiency.)
Here's an example of Google Search ads in action:
(Source: google.com)
Notice how all of the ads are relevant to the search term and likely to be of interest to the user? It's this relevance that allows marketers to drive high volumes of clicks.
These ads also appear at the very top of the results page (accompanied by a small 'Ad' mark) which is great for improving visibility and delivering conversions.
Google Search is one of the most powerful channels available to advertisers because it allows you to instantly showcase your products and services when a user is actively searching for them.
Google Shopping Campaigns
Google Shopping ads also appear within the Google Search Network but are more visually appealing than text-based ads.
Google Shopping ads can appear as images at the top of the search results page, and also within the 'Google Shopping' tab.
Below are some examples of Google Shopping ads on the search results page:
(Source: google.com)
Google Shopping ads function in a very similar way to Search ads – they're targeted around keywords and help brands to capitalise on buyer intent.
However, since Shopping ads are more visual than plain text ads, they're a great way to showcase your products and grab customer attention. You just need to ensure that you're using high-quality images and that your product catalogue is set up correctly.
Google Display Campaigns
The Google Display Network includes a vast array of websites that advertisers can use across their campaigns.
Display ads can be targeted based on audience segments, but also context (i.e. the types of websites they're appearing on). Accurate targeting is vital for success.
Google Display ads can appear in a number of different environments and formats. Below is an example of a Display ad being served on a third-party site in the wider network:
(Source: theguardian.com)

And here is an example of a Display ad being served within the YouTube sidebar:
(Source: youtube.com)
The Google Display Network provides brands with enormous scale. If you're looking to build brand awareness and reach a huge number of prospects, a Display campaign can be highly effective.
Display ads are also fairly versatile, so you can experiment with different creative executions. They can appear as gifs, text ads, video ads, or image ads.
However, it's also very important to control where your Display ads are being served.
The Display Network is massive, so to avoid serving ads alongside irrelevant or ineffective content, you need to pay attention to your campaign set-up and ad delivery.
Google Video Campaigns
When people refer to Google Video campaigns, they're often talking about YouTube advertising.
But Upbeat – didn't you just say that videos could also run across the Display Network?
It's true – video assets can be used within Google Display campaigns.
But YouTube is the home of online video, and if you're running a video asset, it's a good idea to build a specific strategy around YouTube marketing.
That's because there are plenty of unique marketing opportunities available on the YouTube platform, along with a variety of different video placements.
Here is an example of a Skippable In-Stream Video ad:
(Source: youtube.com)
Brands can also run Non-Skippable In-Stream Video ads on the platform:
(Source: youtube.com)
Short and snappy YouTube Bumper ads are great for delivering punchy messages:
(Source: youtube.com)
Discovery ads can be targeted around specific YouTube search terms:
(Source: youtube.com)
Advertisers can also run static Display and Overlay ads alongside video activity:
(Source: youtube.com)
If you have a strong brand video asset to use, then YouTube marketing is a no-brainer.
The platform offers enormous reach and a range of effective video formats that can be used to tackle several different objectives.
You can also implement the same advanced targeting tactics on YouTube as you can across the rest of the Google network, meaning you can reach valuable prospects en masse.
Google App Campaigns
Google App ads are designed to boost app downloads across the Google advertising network.
App placements are served across several Google channels, including YouTube and the Display Network. This allows marketers to reach a huge audience and promote their apps at scale.
Google App ads are also very easy to set up and launch. Advertisers just need to create some basic ad text and confirm a starting budget for the campaign.
Once the App placement has been set up, the Google algorithm will then launch and adapt the ads automatically. Different asset combinations will be tested (e.g. images and text) until the platform identifies the ad that drives the most downloads.
How to set up and launch Google ads
Now that we've outlined the strengths of Google advertising and explored the different ad formats, it's time for the main event.
Let's run through the steps involved in setting up your own Google ads so that you can launch your own KPI-crushing campaigns.
Step #1 – Set up a new Google Ads campaign
Click the 'Campaigns' button on the left side of the page.
Hit the blue '+' button and select 'New Campaign'.
Step #2 – Establish your objective and campaign goals
Select your desired campaign objective from the list. Make sure that you select an advertising objective that aligns closely with your business priorities.
Scroll down the page and select your desired conversion goals. These goals should also contribute to your overarching objective, so choose carefully!
If you want to add multiple conversion goals, just click 'Add another goal'.
Step #3 – Select your campaign type (and subtypes)
Now it's time to choose your campaign types. This will determine where your ads appear in the Google network, so pay close attention to your choices.
If your campaign type has any subtypes, select your desired option.
Once you click 'Continue' you'll be prompted to confirm a few details about your campaign. Every campaign type has a slightly different setup process (and different best practices) so click the relevant link below for more detailed information:
Step #4 – Confirm settings, set up ad groups, and create ads
Every campaign type will be set up differently, but there are a few key areas that you'll always need to focus on when creating Google ads.
Choose a relevant location for your ads – you can be as broad or as granular as you'd like with your targeting.
Your campaign budget and bidding options are both extremely important. You can always start your campaign with a smaller test budget, but make sure that you understand how your bidding strategy will work!
You'll also be prompted to set up your ad groups and keywords. If you're new to Google Ads, you can start with a small number of relevant keywords and gradually expand your strategy. If you need extra guidance, you can always use the Google Keyword Planner or another online keyword research tool.
Make sure that you're using high-quality creative assets and compelling ad copy. Check out our guide to writing Google ads if you need support in this department.
And there you have it. Follow these steps, and you'll be ready to launch a brand new Google Ads campaign.
If you need any more guidance on the Google Ads campaign setup process, just check out this page for additional information.
Remember that every campaign type is different, so be sure to follow the specific instructions for your ads.
Summary of Google Ads specs
Whenever you're planning to launch a Google Ads campaign, you must pay close attention to the ad specifications.
If your assets are built incorrectly, it can cause some serious production headaches – from costly creative edits to delayed campaign launches.
Fortunately, all the information you need on Google specs can be found below:
Make sure that you follow these specs to the letter. The fewer edits or tweaks you need to make to your creative assets, the faster you'll be able to get your campaigns off the ground.
If you're ever unsure about specs for your Google ads, you can always get in touch with your Google representative for more info.
Building an ultra-effective Google keyword strategy
Keywords are the lifeblood of any successful Google Ads campaign.
With the right keyword strategy, you can deliver your ads to hot prospects, drive high volumes of conversions, and accelerate your business growth.
Meanwhile, the wrong keyword strategy can lead to inefficient campaigns and wasted budget. And nobody wants that.
So how can you ensure that you select relevant and tactical keywords that will deliver efficient results?
A great starting point is a keyword research tool, which can help you to identify high-performing and cost-efficient keywords.
There are plenty of research tools available online, but Google also provides advertisers with their own in-house solution. More on that shortly.
It's very important to balance popular keywords that generate scale with targeted keywords that achieve efficiency. High-volume and low-competition keywords are the dream – sometimes a keyword will lean more in one direction, but it's important to find the sweet spot.
You also need to ensure that your bidding strategy aligns with your keyword approach.
The amount you're willing to pay for keywords (and your total campaign budget) will directly impact your keyword targeting. Monitor your keyword costs and volumes to make sure that your bidding strategy is delivering positive returns.
You'll also be able to choose how closely your ads match user search terms. This is known as the 'match type', and you can opt for a Broad match, Phrase match, or Exact match.
Check out this guide for more information on the performance of different match types.
Negative keywords can also be a very useful tool in PPC campaigns.
You may find that your ads are appearing against misleading, confusing, or inaccurate keywords. This can lead to wasted impressions and damage your campaign efficiency.
By setting up a negative keyword list, you can ensure that your ads won't appear against these ineffective keywords. Stay diligent with your keyword management!
How to put the Google Keyword Planner to good use
If you're just getting started with Google Ads, the idea of creating a keyword strategy can be pretty daunting.
You know that targeting the right keywords is super important. But how can you ensure that you're building an effective keyword list?
Fortunately, Google offers a free tool for this very reason. The Google Keyword Planner helps advertisers to research keywords, estimate bid costs, and establish a strategy.
The tool is also very simple to use. All you need to do is search for key terms related to your business – the platform will then provide you with insights on these phrases (e.g. search volumes, costs, competition) and help you to select the right keywords.
Below is a step-by-step guide to using the Google Keyword Planner:
1. Set up (or log in to) your Google Ads account
(Source: ads.google.com)
If you already have an existing Google Ads account, skip to the second stage.
If you don't own a Google Ads account, you'll be prompted to set one up. Enter your basic business information (e.g. location, currency) and press 'Submit'.
(Source: ads.google.com)
Once you've successfully set up your Google account, hit 'Explore Your Campaign' to access the tool.
2. Open up the Google Keyword Planner
After setting up your Google Ads account, you'll be taken to the Google Ads campaign dashboard.
Click on the 'Tools & Settings' button and select 'Keyword Planner'. This is where the magic happens.
(Source: support.google.com)
Once you've opened up the Google Keyword Planner, you'll have a few options available to you. If you're using the tool for the first time, you can use the 'Discover New Keywords' feature to generate ideas and find new search terms.
3. Start researching and planning keywords
Initially, you'll be prompted to enter a few sample keywords that are relevant to your products or services.
Stick to the basics here. For example, if you're selling handbags, you might choose terms like 'women's handbags' and 'women's accessories'.
Once you've entered your related terms, hit 'Get Results'. The tool will provide you with insights on these phrases (e.g. average monthly searches, bid cost estimates) as well as a list of suggested keywords that you can use.
You can run as many searches as you'd like through the tool. Just remember that you need to balance reach and high search volumes with affordable costs.
If you're ever struggling to forecast PPC costs or create new keyword ideas, the Google Keyword Planner is a brilliant place to start.
A handy summary of the Google Ads process
Phew. We've covered a lot of ground there.
Once you've got the hang of Google Ads, you can quickly and easily set up new campaigns, monitor ad performance, and implement smart optimisations.
You just need to familiarise yourself with the campaign setup process.
To keep you on the right track, we've pulled together a list of the boxes that need ticking before you launch Google ads.
1. Turn on Expert Mode. When you're starting your first campaign as a new advertiser, click 'Switch To Expert Mode' rather than selecting an automated 'Smart' campaign.
2. Select your desired campaign type. Make sure that your campaign type aligns with your core business goals.
3. Set up your campaign. Pick a memorable name that you'll be able to identify quickly.
4. Confirm your ad schedule. Keep your start and end dates in mind when you're assessing performance.
5. Pick the relevant location. Think about where your ads will be shown – do you need specific local targeting or national reach?
6. Establish your budget and bidding strategy. Automated bidding is great for newcomers, but as you gain confidence, manual bidding can deliver strong returns.
7. Add in your keywords. Take advantage of the Google Keyword Planner and analyse search volumes and estimated costs. Set up your Google ad group.
8. Create your Google ads. Write short and snappy copy, showcase your brand personality, and focus on a compelling Call To Action. Set up any Google ad extensions.
9. Launch your ads. Once you've completed the above steps, it's time to launch. Keep an eye on performance and make tactical optimisations where necessary.
Expert tips for Google Ads success
Google Ads is a highly competitive environment for marketers, so it's important to make sure that you're giving yourself the best chance to succeed.
A surefire way to improve Google Ads performance is to optimise your website landing page.
Make sure that your landing pages are scannable and easy to navigate, with clear CTAs and no intimidating blocks of text. It's essential to make a good first impression.
Not only will optimised landing pages help you to convert more customers, but they'll also improve your Google Ads Quality Score, boosting performance and reducing costs.
You can also get ahead of the competition by focusing on creating high-quality and action-oriented ad copy.
Many brands place ad copy at the bottom of the to-do list and neglect their Google ads headlines. This is a costly mistake.
Your copy is what attracts new customers, differentiates your offering, and encourages users to click on your ad. Invest time into writing persuasive and effective headlines, or enlist the help of a professional copywriter to do it for you.
Best practices for KPI-crushing Google Ads campaigns
Now that we've covered the different types of Google ads and how you can launch your own campaigns, let's review a few key best practices.
While there's no silver bullet for superior Google Ads performance, if you follow these pointers closely, you'll be in a strong position to smash your targets.
Stay diligent with optimisations
Making smart and consistent optimisations is key to running effective Google advertising.
Stay close to your campaign reports to identify areas for improvement. Support high-performing ads, and don't hesitate to pause any ineffective tactics.
Most importantly, focus on your core campaign objective. Don't be distracted by metrics that aren't relevant to your goals!
Embrace A/B testing
A/B testing is a fantastic way to improve Google Ads performance over time.
You can test several variables within Google Ads, including headlines, formats, audiences, and keywords. Try to test out new tactics regularly.
And the secret behind effective A/B tests? Measuring success.
Running tests is pointless unless you're reviewing the outcomes, so identify your priority metrics (e.g. clicks, downloads, phone calls) and assess how your tests are performing.
Experiment with different channels
The Google advertising network is vast, with plenty of opportunities for advertisers to crush their objectives.
Marketers can achieve exceptional results when using multiple Google channels (e.g. Search, YouTube, Display) to address the full sales funnel.
However, there's no need to rush in. If you take on too many new channels at once, you can stretch your budget too thinly and negatively impact performance.
Instead, wait until you're seeing consistent success with familiar channels, and then expand your strategy. Take your campaign learnings and successful audiences and use these insights to explore new platforms.
How do I track my Google Ads performance?
Monitoring the performance of your Google advertising is incredibly important.
Analysing campaign results enables you to make impactful optimisations, understand customer audiences, and improve your ROI.
Luckily, it's easy to keep tabs on your Google ads.
With the Google Ads Manager, you can generate custom reports on campaign performance, concentrating on specific time periods, audiences, and metrics. These reports allow you to identify profitable keywords and measure the returns you're driving from Google Ads.
(If you're looking to accurately track conversions, it's also vital to set up Google conversion tracking before you launch any activity.)
For more information on accessing Google Analytics, take a look at this guide.
Can I cancel a Google Ads campaign?
You may find yourself in a position where you need to cancel a Google Ads campaign mid-flight. It could be due to a change in business priorities, or a sudden shift in marketing budgets.
Whatever the reason, just follow the steps below to temporarily pause or permanently cancel a Google advertising campaign.
1. Sign in to your Google Ads account and select 'Campaigns' from the menu on the left side of the page.
2. Locate the campaign that you'd like to pause or cancel, and tick the checkbox beside it.
3. Click 'Edit' from the drop-down menu. From here you can select 'Pause' or 'Remove'. If you ever need to put multiple ads on hold, you can tick several checkboxes to do so.
Useful resources for Google advertising
Looking for a little extra knowledge to help your Google ad campaigns shine?
We've got you covered.
Below are some handy resources to help you maximise Google Ads performance and smash your marketing goals.
Google guide to setting up a new ad campaign
Upbeat – How long does it take for Google Ads to work?
Upbeat – How to A/B test your Google ads
You're now equipped with all the knowledge you need to create and launch your own Google Ads campaigns. Exciting, eh?
Just remember, launching your ad campaigns is only half the battle. Make sure that you're monitoring performance, A/B testing new tactics, and optimising your ads to deliver the best results.
Good luck!