Take a look at the tabs currently open on your internet browser. There's a high chance you found them using Google. With 70,000 searches every second, the search engine giant is one of the most effective places to advertise your products or services.
But what if we told you there was a way to use Google to advertise beyond just the page of a search query?
There is, and it's called a Google Display Ad.
Let's explore how Google Display Ads work, and how you can optimise yours for maximum conversions.
What are Google Display Ads?
Source: https://www.youtube.com/
When you think of Google Ads, you'll probably picture the advertisements that appear within or on the top of search query results. You know the ones, you search for 'hairdresser near me', and you see sponsored ads at the top for a nearby hairdressing business.
Google Display Ads, on the other hand, appear across the entire Google Display Network, which comprises independently-owned websites and apps as well as sites owned by Google.
The sites within the Display Network have an agreement in place with Google that allows Google to place adverts on their site.
Unlike Search Ads, Google Display Ads allow you to include images, videos, and artwork.
These eye-catching ads are meant to stand out when you're scrolling, so you can let your creative side loose with graphic elements, unlike search ads which are text-only and have a character limit.
How Google Display Ads Work
As with all tech giants, one of the main advantages of advertising with Google is its targeting options. The Google Display Network uses targeting options to show your message to potential customers at the right time.
You can find new customers or engage existing customers using audience segments, which target people interested in your products or re-engage previous visitors to your site.
Automated targeting is another option for Google display campaigns. This technique increases your conversion rate by finding high-performing audience segments based on existing data. As Google Ads automatically optimises over time, Google Ads learns which segments work for you.
Are Google Display Ads Effective?
In short: yes. Whether you're marketing an enterprise-level business or at the helm of a smaller business, Google Display Ads are high-converting when paired with a wider marketing strategy.
31% of users click Display Ads, and 27% of users conduct a related search after seeing a Display Ad – that's a significant number of potential customers making their way to your site after seeing a Google Display Ad.
Google Display Ads catch users at various stages of their journey. While users may not be actively searching for your product when they see the ad, they might be internet shopping for something else and, therefore, already have purchase intent.
Supercharge sales with retargeting
As with any form of marketing, most prospects don't immediately convert to paying customers. Users clicking on your site doesn't guarantee sales, so a little extra push is sometimes needed to turn the curious into converts.
That's where retargeting comes in.
Retargeted Display Ads target potential customers based on how they've interacted with your website previously.
If a user visited your site and viewed a product but didn't purchase it, for example, you can target them with a Display campaign pushing that particular product. Retargeting is more effective than ads that don't retarget because they appeal to customers who have gotten further down the user journey.
Often, consumers look at a product or even go as far as adding it to their basket but then are distracted and leave it behind. Reminding consumers of items they've previously shown an interest in can result in sales simply because they forgot to check out.
You can catch your target audience at the right time and place, too. Sure, a potential customer may have left their product in the basket when they were tighter on money. But show them that ad again after payday? That's a sale.
6 Benefits of Display Ads
1. Increase brand awareness
Whether you're a new brand trying to carve your identity in the market or a well-known brand trying to become the default option in your sector, Google Display Network ads can help.
While Display Ads won't necessarily get you immediate sales, they improve your brand awareness in the minds of consumers. If you're a brand selling leather handbags, for example, users who have seen your brand on all their favourite sites might think of your company the next time they're in the market for a new bag.
2. Superior creative potential
The rise in the success of apps like TikTok points to a huge marketing trend: leaning into visuals. Consumers are faced with so many ads across platforms that it's becoming harder to stand out from the crowd.
One simple way is with visuals. Unlike Google Search Ads, Google Display Advertising allows you to use graphic elements such as videos and images.
Want to tell your brand's story? Use a video set to a compelling soundtrack to do it. Want to grab consumers' attention with a famous face? Hire a well-known content creator or celebrity to be the face of your campaign in a fun photoshoot featuring your products.
For marketers who feel creatively stunted by the limitations of Google Search Ads, Display Ads offer the opportunity to experiment.
3. Establish your unique brand identity
As digital marketing opportunities become more plentiful for you, it's the same for your competitors. When businesses in increasingly saturated markets need to differentiate themselves, appearing in different contexts than opponents is a good start.
The visual element of Display Ads allows you to tell your story in a more eye-catching way than traditional Google Search Ads, giving you the opportunity to generate more engagement than competitors.
4. Create an effective marketing strategy
The best marketing campaigns take place across multiple platforms, creating an unavoidable stream of subliminal messaging pointing towards your business.
Imagine you're a takeaway food app, targeting hungry customers to order from your app instead of cooking dinner. One Display Ad featuring a tasty-looking burger might not be enough to tempt them.
However, the pizza oozing with cheese they see on Instagram or the mouth-watering pad thai on their Facebook News Feed might just be enough to encourage them to order.
With a targeted campaign spread across multiple platforms, from Google to social media, you can increase brand awareness and give consumers that last bit of convincing they need to try your product or service.
5. Reach people across different platforms
While Google Search Ads can be incredibly effective, they only target users searching for a product or service very similar to yours. Google Display Ads, on the other hand, target users across 35 million websites and mobile apps.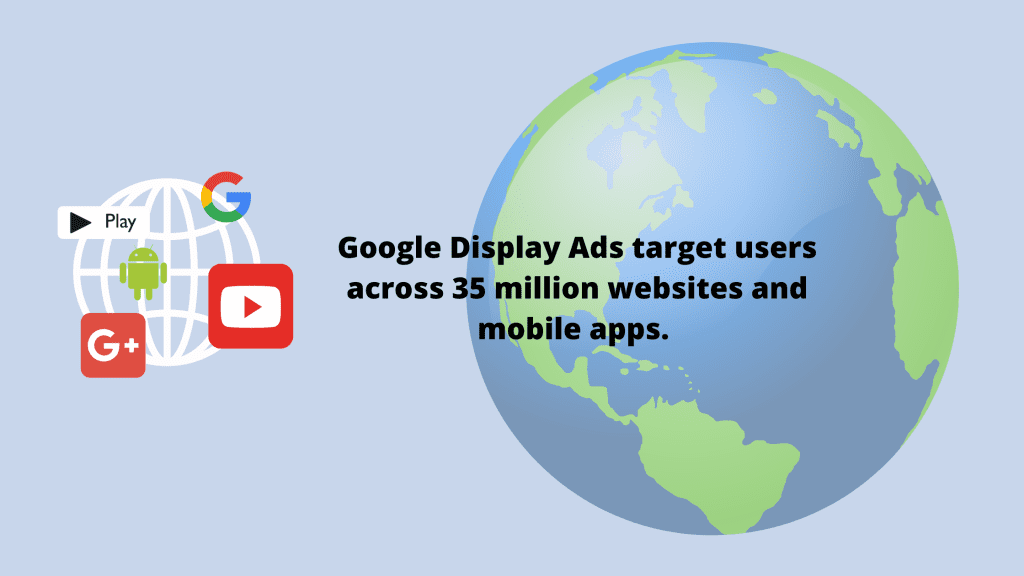 People navigating YouTube, for example, will see your ads whether they search on Google or go straight to the YouTube homepage.
6. Enjoy optimisation features
One of the biggest advantages of Google Display Ads is their use of from machine learning. With optimised targeting, you can find the best-performing audience segments comprising the customers most likely to buy your products.
Google Ads' smart bidding feature uses machine learning to optimise conversion value in every auction. That means less time manually adjusting ads, and more time to focus on growing your business.
You can target specific audiences too, for optimal results. One of the best ways to narrow your targeting is using Custom Audiences to target people who have recently searched for the best-converting keywords. That way, you'll reach the customers more likely to convert, promising a better ROI for your campaign.
Google Ads Optimization Score
If you never take stock of how well your ads are performing, you'll struggle to improve them going forward. The good news is, Google provides a litmus test of how well your ads are doing – it's called an optimisation score.
An optimisation score is Google's estimate of how well your Google Ads account is set to perform. The scores range from 0-100%, with 100% meaning your ads are performing at their full potential.
If your score isn't where you'd like it to be, don't panic. Alongside your score, Google will provide you with a list of recommendations to optimise each campaign. Google Ads will also show you exactly how much your optimisation score will be impacted if that recommendation is applied.
Your optimisation score is calculated in real-time, and the score is based on the statistics, status, and settings of your Google Ads account and current campaigns. Recent changes made on the back of Google's recommendations appear as changes to your score.
When you create your Google Ads account and initial campaigns, you can set business objectives. For example, you might select maximising conversions as your objective.
Google factors these objectives into your recommendations, meaning every suggestion Google gives has the aim of increasing your desired outcome. Pretty cool, right?
Best Practises for Optimising Google Display Ads
​​Aside from making the most of Google's tips for improving your optimisation score, there are tons of other ways to optimise your Google Display Ads. Let's take a look at some of the most effective.
1. Prioritise your target audience
Every ad that gets shown to somebody with little to no chance of actually buying your product potentially wastes your marketing budget, so aim for maximum efficiency when targeting a particular demographic.
For every pound you spend on marketing, focus on ROI. It stands to reason that the people most likely to buy your products will provide a better ROI, so prioritise a particular audience when setting up your campaign. After all, every penny counts when it comes to your marketing budget.
Common sense comes into this, too. If your restaurant's in Brighton, but you're advertising all over the UK, you're wasting a huge chunk of your money. As delicious as your burgers might be, it's unlikely that residents of Dundee will travel that far to try them.
There are the obvious demographics to focus on, such as age, gender, and location. But for the best results, go even more granular. Zone in on the interests of your audience, the brands they may already love, and their behaviour.
2. Exclude unsuitable placements
When it comes to Google Ads, getting value for money is crucial. The more precisely you can target users, the better your results will be and the less money you'll need to spend.
There's a ton of focus on what to include in your campaigns, but less so on what to exclude, but the latter is equally important. Opting for ubiquity across multiple websites is tempting, but not every website will be high-converting or even flattering for your business to be featured on. That's where exclusions come in.
With Google's exclusions feature, you can exclude particular web pages, demographics, websites, and apps that are unlikely to produce your target audience or have associations you want to avoid for your business.
Just like negative keywords in Google Search Ads campaigns, excluding placements allows you to remove pages that either aren't suitable for your business or aren't delivering your desired results.
Before you prematurely remove ads for poor performance metrics, keep in mind that Display Ads are usually earlier in the customer journey than Search Ads, so expect lower conversion rates than Search Ads.
Compare Display Ad campaigns against other Display campaigns rather than other forms of marketing. Otherwise, you risk doing away with ads that are a crucial part of your marketing funnel.

3. Make the most of remarketing
Picture the scene. You're an eCommerce site selling dresses, and a potential customer is scrolling your site on the hunt for a dress for their best friend's wedding.
They find the dress of their dreams, and they're just about to add it to the basket when their neighbour appears at the door asking for help bringing in shopping.
They close the tab, shut their laptop, and completely forget about the dress of their dreams. Later, when browsing another website, the dress appears in a Display Ad on the side of their screen.
Thanks to the reminder, they rush to your site and check out the dress with a clutch bag to match. It's a win for your business and a win for your customers. That's how remarketing works.
Remarketing is one of the most effective tactics in any PPC campaign. When you focus on consumers who have already shown interest in your products, they need less convincing than consumers who've never heard of your brand or product. Focus a significant portion of your budget on retargeting for better results.
4. Get creative
Unlike other ad formats, Display Ads are super visual. But in a digital world where you're competing with dozens of other tabs and shiny social media feeds, you'll need more than just a colourful logo to stand out.
Whether you opt for an image or video in your Display Ad, don't forget to communicate why consumers should choose your product over competitors'. Emphasise common pain points and how your product or service solves them.
Since you only have a few seconds to catch the attention of scrollers, keep the copy clear and concise. Make sure to include a call to action to maximise conversions, too.
Some studies have suggested calls to action perform better on ads when they're included as a 'button', so factor that into your graphics.
5. Create Custom Audiences from your competitors' visitors
Custom audiences are some of the most powerful tools in any Google advertiser's arsenal. Instead of guessing who's interested in your products, look at people who have browsed your competitors' websites since they're more likely to be seeking the product or service you offer.
Create a custom audience comprising people that have visited certain websites in your industry, then target them with your adverts.
They're likely further along the marketing funnel, so you'll catch them with more purchase intent than when they're scrolling an unrelated website.
This is especially handy if you're a smaller business targeting visitors to a large company's site – you can capitalise on the site's popularity.
6. Prep your landing page
Most calls to action on web marketing take users to the landing page for a company's website. If users are clicking through to a landing page – especially if they're new to your brand – you'll need an eye-catching homepage that explains succinctly exactly what you offer.
You need to establish exactly what you're offering, why your customers need it, and why they should buy it from you instead of another business.
While we're on the topic of calls to action, make sure yours contains relevant information so users can actually carry out the desired action. If your ad tells users to call you, include your number. If you're offering an exclusive discount, present the code or point users in the direction of the relevant webpage.
7. Use Responsive Display Ads and Standard Display Ads
You've already gotten to know Standard Display Ads, but let's introduce you to their cool older brother, Responsive Display Ads. Responsive Google Display Ads are auto-generated by Google once you've uploaded key elements to the platform.
While Responsive Display Ads offer little customisation, these ads are heavily pushed on consumers by Google. Google automatically adjusts the appearance, file type, and size of your assets to fit the spaces on Google Display Network.
When it comes to planning your Google marketing campaign, why not try both? Granted, Standard Display Ads are better for brand identity, but throwing some Responsive Ads into the mix will get your brand seen in places where Standard Display Ads don't show up.
In order to have your Display Ads on the top of YouTube searches, for example, you'll need a Responsive Sd as part of your campaign. Responsive Display Ads enjoy premium placements that Standard Display Ads could only dream of.
Useful Resources
A foolproof way to improve your marketing campaign is to look at what your competitors are doing and do it better.
Google's handy case studies page shares success stories from companies that have used Google Ads to take their profits to the next level. The rich media gallery is also full of great ideas – you can filter by ad format, feature, type, and size.
Take a look at what competitors from your industry are doing the make the most of Google Ads, and take notes on trends, visuals, and brand identities.
Want to know more about optimising your ads with Google's optimisation scores? There's a guide to optimisation on Google's site, so you can understand the optimisation process and how it can supercharge your sales.
Getting Started
Convinced of the effectiveness of Google Display Ads? Thanks to Google's abundance of resources, getting started has never been easier.
Make sure to pair your Google Display Ads with a marketing campaign across multiple platforms, including social media and your website, for the best results.