Facebook provides e-commerce advertisers with a huge opportunity for increased revenue.
The platform attracts around 2.9 billion monthly active users and offers a range of effective targeting options and ad placements.
(Told you it was a huge opportunity.)
One of the most powerful formats available to advertisers is the Facebook Lead Ad.
Lead Ads can help brands acquire highly valuable prospects through a frictionless customer journey. What more can you ask for?
Let's run through the fundamentals of using Facebook Lead Ads and explain how you can launch incredibly effective campaigns. Read on!
What are Facebook Lead Ads?
Generating new leads from Facebook can be tricky.
The customer journey has a few different steps involved. Users need to click on a social media ad, visit an external landing page, input their personal details and hit another CTA button to share them.
The issue with a journey involving multiple stages is that it's too manual. It's easy for users to lose interest and abandon the process.
Facebook Lead Ads streamline this entire experience.
When users click on a Lead Ad, the Facebook platform instantly populates a lead form with their personal data.
All they need to do is confirm, and voila. There's a new lead ready for advertisers to pursue.
Why use Facebook Lead Ads?
Facebook Lead Ads benefit both advertisers and potential customers.
The format makes it easy for users to engage with new brands or products, without ever leaving the Facebook platform. All it takes is a couple of clicks for them to express interest.
For advertisers, Lead Ads enable them to quickly identify warm prospects.
Brands can customise Lead Ad forms to attract high quality prospects, reduce the drop-off from potential customers and build valuable data lists.
How much do Facebook Lead Ads cost?
The cost of using Facebook ads will vary between different advertisers.
That's because several different factors impact the overall cost of a campaign.
Target audience, seasonality, ad relevance, competitor spend – these variables, among others, all contribute to the amount you'll pay for your Facebook Lead Ads campaign.
However, we can look at some average figures as a rough guide.
The average Cost Per Click (CPC) for all industries on Facebook is £1.27, while the average Cost Per Action (CPA) is £13.78.
It's important to remember that your industry will have a major influence on your Facebook costs. Sectors like finance and insurance will experience much higher costs than sectors like e-commerce retail.
That's why it's vital to constantly monitor your campaign performance and Cost Per Lead. Regularly calculating your ROAS can also help you to establish your own benchmarks.
If your Lead Ads are costing more and generating a lower ROAS, you'll need to make optimisations. Checking your ad relevance diagnostics is a good place to start.
What are the different types of Facebook Lead Ad?
Although Lead Ads all have the same purpose (i.e. collecting user data) there are different ways to approach your messaging.
Social Proof Lead Ads
Social proof can be an immensely powerful motivator for customers.
Including some form of social proof in your Lead Ads can give a user the nudge they need to complete a lead form.
For example, including UGC examples of buyers using your products, or snippets of positive testimonials from happy customers.
Social proof builds instant credibility with new users, and if they feel confident in the quality and popularity of your brand, they're more likely to convert.
Benefits List Lead Ads
If a user is going to complete a lead form, they'll need a good reason to do so.
Listing the key benefits of your products or services is a brilliant way to generate leads.
Sounds simple – but it works.
Think about what you're offering users in exchange for their details (e.g. a newsletter subscription, a PDF download, etc) and then clearly explain the benefits they'll receive.
Carousel Lead Ads
You can also utilise the Facebook Carousel format to deliver your Lead Ads.
This allows you to include up to 10 images or videos within a single Lead Ad, providing you with plenty of creative space to land your key messages.
If you're using Lead Ads to acquire a customer phone number, for example, then you might use the Carousel to display all the benefits that a phone consultation can provide.
For an e-book download, you might use Carousel images to tease the insights available in the content. It all depends on what you're offering.
Learn More Lead Ads
Rather than referencing an immediate action (e.g. a download or phone call) a 'Learn More' CTA can be used to attract curious users who are just seeking out additional information.
An informative email or landing page link can then be sent to these customers, providing them with the details that they're searching for.
This can be an effective way to build brand awareness among new prospects.
How to create a Facebook Lead Ad
Below is a step-by-step guide to help you get started with your Lead Ads campaign.
1. Create a new campaign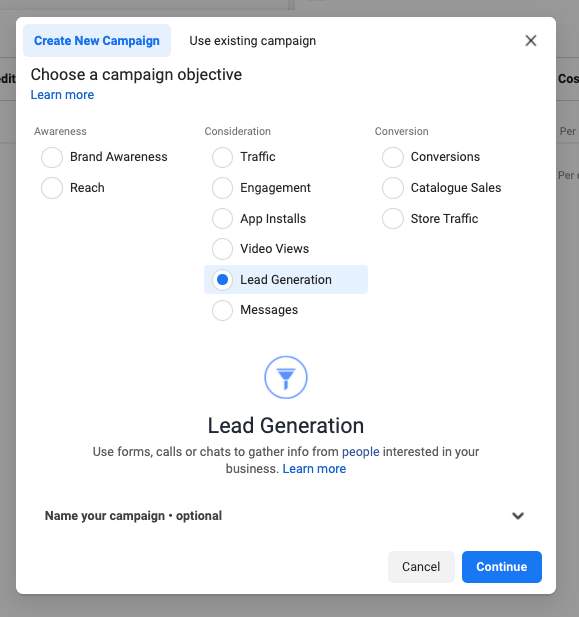 Log in to the Facebook Ads Manager and click 'Create'.
Assign a name to your new Facebook lead ad campaign, and then select 'Lead Generation' from the Campaign Objective menu.
You'll then be prompted to confirm your budget and name your ad set. Try to name this clearly (i.e. referring to a target audience) so that it's easy to manage different ad sets.
Select the relevant Facebook business page, name your ad, and proceed.
2. Schedule your ads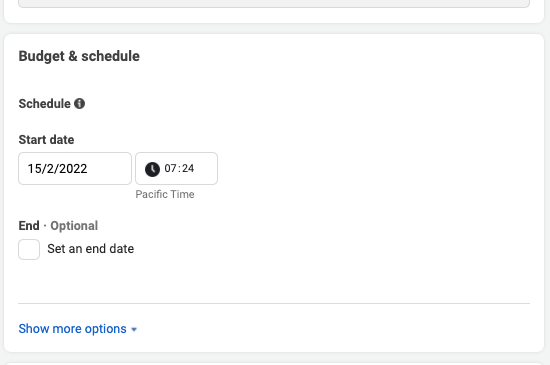 Click on your ad set and scroll down to Budget & Schedule.
Confirm your desired campaign start date, and set an end date if you need the activity to finish at a specific time.
3. Build your target audience
You can define an audience based on demographics, interests and behaviours.
If you've already run previous Facebook ad campaigns, feel free to target audiences that have worked well in the past.
Otherwise, just select the options that feel relevant for your target audience.
What about Custom Audiences?
Custom Audiences can be a very powerful tool to utilise in your Lead Ad campaigns.
These audience segments are fuelled by Facebook pixel data, meaning they're highly valuable and more likely to convert.
If you've previously run Lead Ads and you're feeling particularly clever, you can even use Custom Audiences to exclude users who have submitted a form already.
4. Confirm ad placements
You'll then be asked to confirm the placement of your Lead Ads.
Lead Ads are already restricted in terms of where they can appear due to their nature, so we'd recommend leaving the Automatic Placements setting to make life easier.
5. Create your ads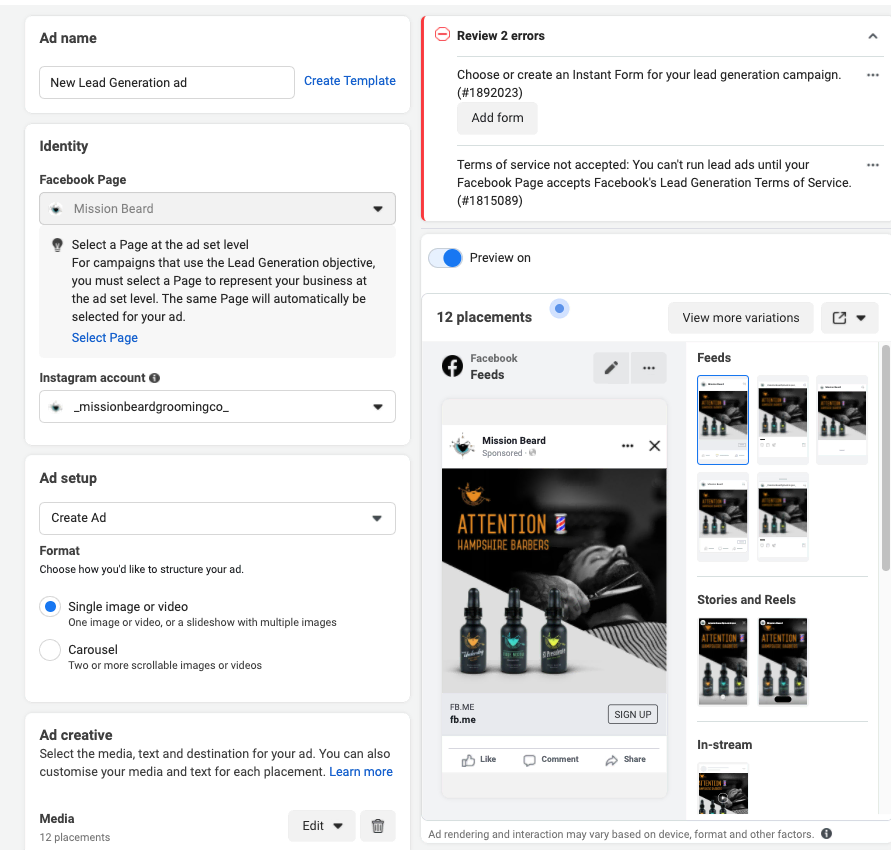 Select your ad name to begin creating your Lead Ad.
Follow the ad specifications to ensure that you're on the right track. You'll need to select a single image or video to use as your creative asset.
Whatever the format, always make sure that your products or services are clearly visible in the ad.
Users are often scrolling rapidly through the Facebook feed. Use bright and lively images to grab their attention, and simple product shots to ensure that they understand what you're selling.
6. Craft your ad copy
Now it's time to write your primary text and headline, and choose your call to action.
Keep your ad copy short and snappy.
Clearly outline the action you're encouraging users to take (e.g. download this e-book, set up an appointment) in the headline, and use the primary text to reiterate the key benefits.
Users are quick to scroll when an advert is unclear, so the quicker you get to the core selling points, the more likely you are to generate leads.
7. Construct your lead form
Hit 'Create Lead Form' in the Instant Form section and enter a name.
(If you'll be creating multiple lead forms, try and use a memorable name that will be easy to find later down the line. You'll thank us later.)
You can now choose your preferred form type. 'More volume' forms are quicker to complete, while 'higher intent' forms add a review stage before submission.
Add a headline and introductory paragraph that summarise what users can expect after they submit the form. You can also customise the header image for the lead form.
Now it's time to tailor your lead form questions.
Think carefully about the information you'd like to receive from customers.
Standard details (i.e. name and email address) are collected automatically, but you can also add custom questions to ensure that you're only generating qualified leads.
Customise the Thank You screen and click 'Finish' to complete the lead form.
Congratulations! Your Lead Ads are ready to launch.
Once you're ready to collect that all-important lead data from the platform, just follow these steps.
Facebook Lead Ads strategies
To maximise the performance of your Lead Ads, try following some of these proven strategies.
1. Take advantage of Lookalike Audiences
Use Facebook Lookalike Audiences to refine your Lead Ad targeting and focus on high quality prospects.
You can build lookalikes based on successful Facebook leads and existing customers.
Since you're basing these lookalikes on quality audience segments, you're increasing the chances of successful lead generation.
2. Streamline your lead form
Although Facebook lead forms are designed for simplicity, it's still important to focus on including only the most relevant fields.
Every field that needs completing is another opportunity for users to lose interest and abandon the form, so keep it short and sweet.
3. Offer a clear value exchange
A lead form needs to offer users a clear and compelling value exchange.
Be sure to make this abundantly clear in your Lead Ad and form messaging. Let customers know exactly what to expect in return for a completed form, and how this exchange will benefit them.
Put yourself in the shoes of a consumer. Is your value exchange tempting enough to warrant a completed form?
Improving your Lead Ad conversions
If you're hoping to improve your Lead Ad conversion volumes, look no further.
We've pulled together some handy pointers to help you maximise your chances of success with a Lead Ad campaign.
Implement the Facebook pixel
We can't stress the importance of the Facebook pixel enough.
It's so important that we've made this point bold, just to emphasise it.
The Facebook pixel allows you to use real customer data to create highly valuable audience segments.
For example, the pixel enables you to retarget recent visitors to your website, or create Lookalike Audiences based on successful form completions.
Targeting these pixel audiences with Lead Ads is a brilliant way to increase your conversions and reach more profitable users.
Follow this guide if you need some help with implementing the pixel.
Utilise A/B testing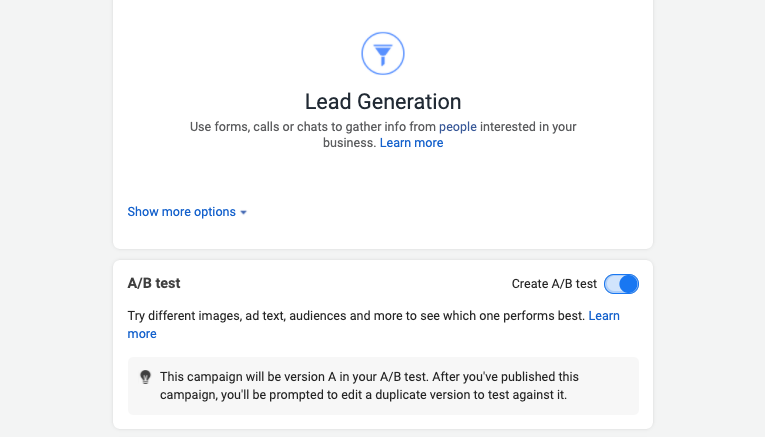 Regular testing is key to uncovering new learnings, improving performance and optimising your campaigns.
Testing two audiences, for example, is a great way to understand what type of customer is most likely to complete a lead form.
You can follow this same methodology to compare creative assets, ad copy, and other variables.
Optimise, optimise, optimise
Optimising your Lead Ads is crucial to improving your results.
Be sure to monitor Facebook reports regularly. This will help you to identify the best performing audiences and tactics.
Stay focused on the audiences delivering against your key metrics (i.e. completed leads) and shift your budgets accordingly.
Facebook Conversions API
The Facebook Conversions API connects your marketing data with the Facebook platform.
The Conversions API can help you to reduce acquisition costs, improve campaign measurement and track actions beyond purchases (e.g. subscriptions, phone calls.)
The API provides advertisers with more visibility over the full customer journey, offering some insights that the Facebook pixel can't deliver.
If you use a commerce platform like Shopify, the Conversions API can be set up in just a few clicks. For more info on getting the API up and running, check out this guide.
Facebook Lead Ads vs Conversion Ads
If you've ever run a Facebook conversion ad campaign, you might be wondering to yourself:
Upbeat – what's the difference between a Lead Ad and a Conversion Ad?
Good question.
Both of these ad types are ultimately looking to drive conversions, but there's a key difference to note between them.
Lead Ads are focused on capturing user data within the Facebook feed, while Conversion Ads direct users to an external landing page.
Lead Ads keep things very streamlined and contained on the Facebook platform, which makes form completion much easier.
However, you have more control over the information shared with customers on your landing page. There's more time and space to deliver product messaging, and you're not restricted by the fields in the lead form.
Lead Ads are generally more likely to result in successful Facebook lead generation due to the simplified format.
But that doesn't mean you can't also test Conversion Ads to compare the results. Just keep a close eye on the conversion rates that you're seeing with both formats.
GDPR considerations for Lead Ads
Since Lead Ads are designed to capture user data, you'll need to be aware of the GDPR regulations around Facebook advertising.
(Don't worry – it's not as daunting as the acronym suggests.)
All this means is that advertisers need to be clear about the fact they're collecting user data, and users need to give permission for them to do so.
Within a lead form, you'll be given the option to add a link to your company's privacy policy, outlining how you'll use any personal data. You can also add a custom disclaimer field to the form asking explicitly for permission to collect user data.
For more information on GDPR best practice, check out this page.
Examples of successful Facebook Lead Ads
Need some inspiration for your Lead Ads? Say no more.
Here's a great example from Nissan, where a simple Lead Ad offers a clear value exchange.
Fans of the brand can feel like they're staying ahead of the curve (e.g. 'be the first one to find out') while Nissan can quickly collect customer data and build a valuable email list.
Once the new car is released, there's a ready-made group of engaged users available for targeting.
While Nissan have used Lead Ads to capture the data of interested customers, below is an example from Virgin Active where Lead Ads play a direct conversion role.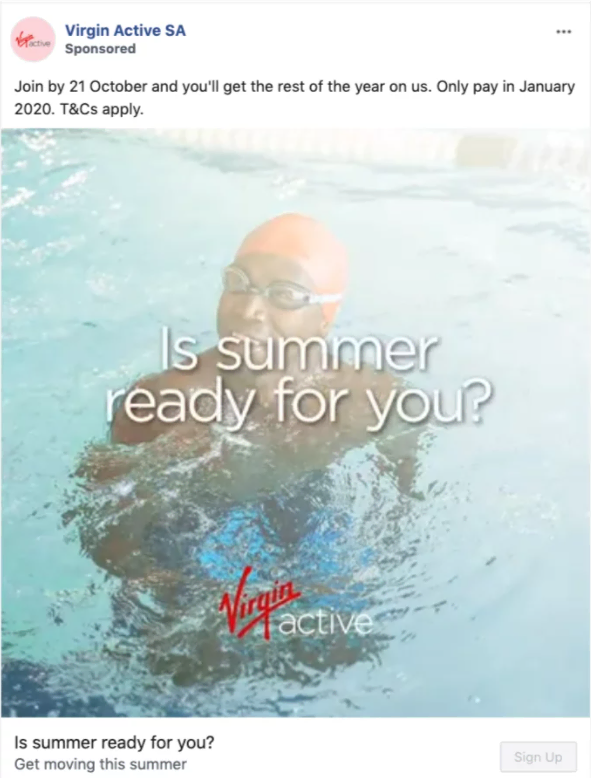 The limited-time offer creates a sense of immediate urgency. Customers can then convert directly through the lead form, driving instant sign-ups rather than just gathering email data. 
So there you have it. 
Everything you need to create Facebook Lead Ads that will convert.
This format can be hugely beneficial for your e-commerce business. Just be sure to follow best practices, set up your Lead Ads correctly, and consistently optimise your ad campaigns. 
You'll have mountains of valuable leads to target in no time. 
For help with your campaigns from a specialist Facebook Leads ads agency please get in touch.