Instagram ads have the potential to reach almost 850 million people. Yes, really.
There's simply never been a better time to advertise on this booming platform, with 54% of users buying a product right after seeing it on Instagram.
There are multiple ways to advertise on Instagram, including posts and stories. Most posts allow you to add one image showcasing your product or a collab with a popular content creator.
But what if you have a marketing campaign featuring multiple products at once, and a regular post just won't cut it?
Enter: Instagram carousel ads.
But what exactly are carousel ads, and how can you use them to optimise your sales? Let's dive in and find out.
What is a Carousel Ad?
Source: https://instagram.com
If you regularly use Instagram, you'll have noticed a growing trend towards users posting multiple images at once that you can swipe through – a 'photo dump' as the cool kids call it. These are Instagram carousel posts.
Carousel ads work the same way.
Instagram carousel ads appear in a slide-show format, allowing Instagram users to swipe through multiple images or videos in one post. You can post up to 10 images at once using the carousel format.
A carousel ad isn't just a pretty face. These ads are primed for conversion, with the option of adding a clickable call to action, changing the text below to match each image as you swipe, and linking to relevant web pages.
With more creative space than with a regular ad, you can highlight multiple products, take a deep dive into their features and benefits, or tell a story about your brand that develops across each slide.
Ad Guidelines
Just like regular posts, carousel posts can be created in landscape, portrait, and square formats. All image or video sizes must be uniform, so the shape you choose for the first slide applies to the entire carousel. You can select either images, videos, or a mix of the two.
Here are the recommended specs for Instagram carousel ads.
Landscape: 1080 x 566 pixels
Portrait: 1080 x 1350 pixels
Square: 1080 x 1080 pixels
Aspect ratio: landscape (1.91:1), square (1:1), vertical (4:5)
Recommended image size: W 1080 pixels, H between 566 and 1350 pixels (depending on whether the image is landscape or portrait).
Pros & Cons
Like every advertising format, Instagram carousel posts come with advantages and disadvantages. Here are some of the main ones to bear in mind.
Pros
Show off multiple products at once. If you have numerous best-selling products and you just can't choose which ones to feature on your post, you don't have to with carousel posts.
You can level up your ads with creative techniques. Carousel ads don't have to be used to post 10 images of different products. They can be tools for storytelling or used to display super-wide images. If you were creating a carousel ad for a new train line with more carriages than ever, for example, you might use a carousel ad to show just one image of a long train. It's quirky, eye-catching, and does something different.
Your post gets a second chance. If a user misses the first page of your ad when they scroll, the algorithm will show the second image in the carousel when they refresh their page.
They provoke curiosity. When users come across posts with those enticing three dots underneath, they tend to scroll through them for curiosity's sake.
Cons
Every image has to be optimised. Creating one perfect image to convert your target audience is challenging enough, but up to 10? That requires much more time and effort.
Users don't always scroll to the end. Pouring extra labour into creating 10 images instead of just one works best when it's guaranteed that your audience will scroll to the last image. If users aren't pulled in by the first or second image, it's unlikely they'll look at the rest.
Are Instagram Carousel Ads Effective?
Source: https://instagram.com
In short: yes – but with a catch. According to SocialInsider, carousel ads have an engagement rate of 1.92%, compared to 1.74% for a regular post. Instagram carousels with 10 posts perform best, with an engagement rate of 2.07%. Those are pretty impressive results for adding a few extra slides to a post.
But here's that catch we were talking about. While carousel ads are overall more likely to engage your target audience, they're also riskier.
That's because, to get users to scroll through all the images or videos in one post, the first slide has to be eye-catching. Whereas when you're posting an ad in the form of a single post, you only have one image to optimise, with carousel ads, you not only have to optimise a single image, but optimise it enough to encourage scrolling to the other slides.
It's the digital equivalent of making the reader want to read on past chapter one.
The good news is that when carousel ads are done well, they're extremely effective. Read on to find out how to optimise your carousel ads to be high-converting.
Creating Instagram Carousel Ads
Create an Instagram carousel ad using the following steps. It's worth noting that to use carousel ads, you'll need a corresponding Facebook business page.
Go to Ads Manager
Click + Create (you'll find this in the top left).
Choose an objective supported by the carousel format.
If relevant, add your campaign details and campaign budget optimisation information.
Complete details about your budget, schedule, audience, placement, delivery information, and optimisation. Click Next.
In the identity section, select the Instagram account you want to use for your carousel ad.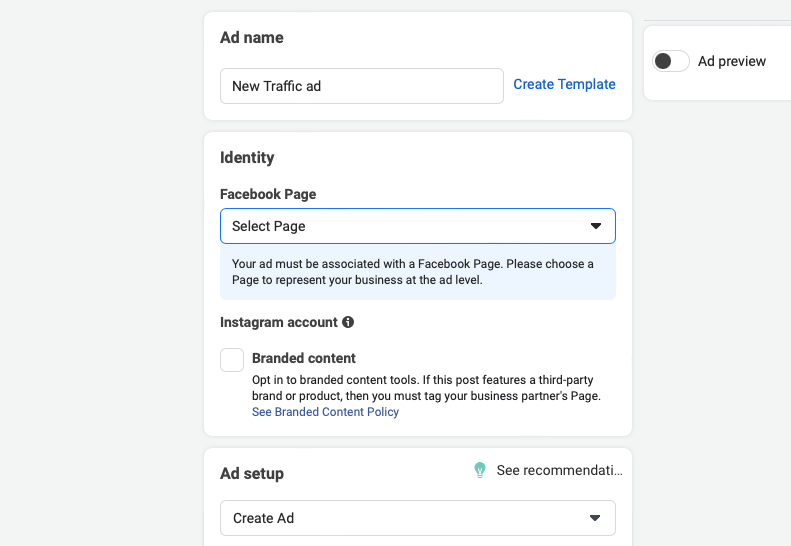 In the Ad Setup section, choose Carousel.
In the Ad Creative section, select your media manually or fill the carousel slides dynamically from a product set. If you opt for the latter, you'll need a product catalogue. There's more information on how to choose media dynamically or manually here.
Post your carousel advert. Analyse its performance in Ads Manager or Meta Ads Reporting.
Strategies for High-Converting Carousel Ads
1. Do something new
If you're spending the extra time and money required for a carousel ad, you want a significant return on investment. This means creating a carousel ad that stands out from the crowd.
Most companies use carousel ads to show off multiple products in a straightforward slideshow. If you're using your carousel post in this format, figure out a way to make it different.
Use your carousel to tell a story.
Let's imagine you're a supermarket using your carousel ad to show off a new range of products. You could opt for a slideshow with every slide showing an image of the new product with a small description underneath.
Or, you could create a story, by using each slide to show an ingredient from the new range going into a recipe. On the final slide, you'd see the end result: the finished meal.
2. Engage your audience
If a user comes across your ad, there's no guarantee they'll swipe through the carousel – especially if they don't usually buy the types of products you're selling. A simple way to make it more likely for users to check out each slide is to ask them a question.
We can see an example here with this carousel ad by supermarket, Co-op.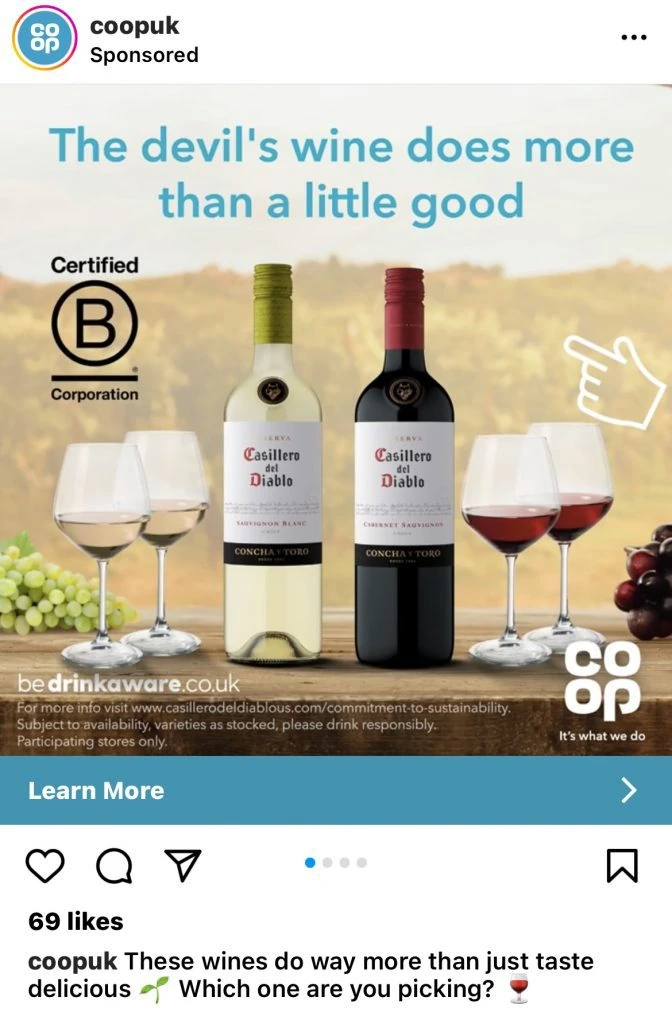 Source: https://instagram.com
The carousel is advertising Co-op's range of eco-friendly wines. Instead of just opting for a swipeable carousel with a caption such as 'Check out our new range of wines', Co-op asks Instagram users a question. 'Which one are you picking?'.
This gamification of social media engagement encourages users to swipe across through all the slides in the carousel, giving a higher likelihood of success than if Co-op had opted for something more generic.
Ask questions in your captions, offer giveaways, or create polls to engage your target audience. The more playful your content, the more memorable it will be.
3. Combine images and video
Carousels with a combination of images and videos generate higher engagement rates, taking rates up to an impressive 2.33%. In a world where video content is becoming more popular (think Instagram Reels, YouTube Shorts, and TikToks), images work best when paired with easy-to-follow video content.
If you're using a carousel post to advertise a product, for example, opt for images of the product and its features, then a video of the product in use. Adding a video allows consumers to see the product being used authentically in a real-world setting.
4. Partner with content creators
A whopping 61% of consumers trust influencers' recommendations, while only 38% trust branded social media content.
Featuring a famous face in your carousel ad makes it more trustworthy.
If you're creating a video of your product in use as part of your ad, for example, hire a content creator to film the video.
Not only are users more likely to trust the advice of their favourite influencer, but it also makes the advert more authentic to see the product being used as part of a real-life daily routine.
There are other ways to partner with experts to optimise your chances of success.
If you're lacking in creative vision, technical knowledge, or time and need a helping hand, try an Instagram ads service. That way, an agency can do the work for you, allowing you to sit back, relax, and reap the rewards.
Best Practices for Instagram Carousel Ad Success
Use high-quality images or videos
Like TikTok and other popular social media sites, visuals do the talking on Instagram. If users see a blurry, poor-quality post, they'll simply switch off from the get-go without bothering to scroll along. It makes your brand look less legitimate, too.
Instead, opt for high-resolution images or images with a quirky twist to garner that all-important engagement.
Be smart with copy
When it comes to copy for Instagram ads (both on the images and the caption), less is more. You have a limited amount of words to convert users into paying customers, so use them wisely.
A study showed that including the instruction 'swipe left' in the caption increases the engagement rate, so try adding prompts such as 'swipe for a surprise' to ensure users swipe through your entire slideshow.
Include a call-to-action
It's all too easy to pour hours into creating content and enjoy tons of engagement, but look on with bafflement when nobody buys your product or service. Don't forget to actually direct users to the action you want them to take with a clear call-to-action at the end of your carousel.
Whether you want users to subscribe to a mailing list, check out your site, or buy a new product, you're guaranteed more conversions when you give your audience clear guidance.
Don't feel the need to fill all 10 slides
If you've got enough content to fill all 10 slides in the carousel, that's great. If you don't, don't panic. Carousel ads have space for up to 10 images or videos, but you're not required to use them all. Sometimes, less is more.
If it works best to have an image paired with video or text on the next slide, opt for just two slides instead.
Use the first image as a teaser
The first image or video in your carousel is the equivalent of a newspaper headline. If it's engaging, your audience will want to read on. If it's dull or makes the purpose of the post unclear, they'll simply scroll past it.
Save that coveted first spot for your most compelling photograph or video.
If your carousel is in the style of an infographic, try a bold, catchy headline or statistic on the first slide.
Don't overwhelm your audience
Having the ability to add 10 images or videos doesn't mean you should cram your carousel full of as much information as possible. Instead, think of your carousel as giving you extra space to convey the same idea.
Keep images or videos simple. If you create a different caption for each slide, keep the captions short and sweet. Otherwise, your audience will get too overwhelmed trying to read each one.
Promote an exclusive deal or discount
Everybody loves a bargain, and Instagrammers are no different. Incentivise shoppers to scroll through to the end of your carousel or click on your call to action with a limited-time deal.
Whether it's free shipping, a percentage discount, or a discount when you buy several items, you're more likely to pull in customers by attaching some sort of deal to your carousel.
Is there a sale ongoing on your website? A carousel is a perfect way to show off a range of your most popular discounted products.
Keep it cohesive
A carousel filled with images that follow different brand guidelines risks your brand identity. You want the images to feel like part of a series rather than standalone posts.
Here are some ways you can ensure consistency across your carousel:
Use the same font
Keep the tone of voice consistent
Add a watermark or your brand's logo in the corner of every slide
Use the same editing style, e.g. filters, brightness, etc
Feature similar, related products, or use various pictures of the same product.
If you make sure all slides have a similar aesthetic, it will make the carousel more cohesive and instantly recognisable as your brand.
Getting Started
Ready to level up your social media marketing strategy and get started with Instagram carousel ads? You won't regret it.
Now you've got the fundamentals down, establish how carousel ads fit into your wider marketing strategy and the best way to optimise them – using our top tips, of course.