Instagram can be an extremely effective marketing platform for your business, enabling you to reach high-value audiences at scale, access data-driven analytics, and drive brand growth.
Sounds pretty promising, right?
But before you rush off to launch an Instagram ad campaign, it's important to get the fundamentals in place.
If you want to unlock the full power of Instagram advertising, then you'll need to understand the different ad types and formats available to you.
Selecting the right ad placements is a hugely important part of a successful Instagram campaign. Different formats will allow you to achieve different marketing goals, so whether you're looking to increase engagement or maximise conversions, you'll have to learn how to pick the right tools for the job.
In this guide, we'll be providing an in-depth rundown of the different types of Instagram ads, as well as explaining how you can drive optimal results through Instagram advertising.
How to align Instagram ad formats with your marketing objectives
Instagram offers a wide range of different ad formats, each with their own unique advantages and features.
Knowing which Instagram ad formats to use to achieve your campaign objectives will help you to dramatically improve performance.
For example, if you're looking to increase brand consideration by showcasing product benefits, then Instagram Carousels are ideal for delivering multiple messages. However, if you're focused on generating product sales, then Collection and Shopping ads are designed to facilitate a seamless transition from initial click to final checkout.
Establishing your marketing objective and selecting your ad formats shouldn't be viewed as separate tasks. Your objectives and ad types are directly connected, and the more closely aligned these elements are, the more likely you are to see exceptional results.
The different Instagram ad types and formats
Before we explain how you can leverage different types of Instagram ads, let's run through the basic ad formats that are available on the platform.
Instagram Image Ads/Photo Ads (In-Feed)
As you might expect, Instagram Image ads allow you to promote your brand, product or service through image assets (JPG or PNG) that are served in the Instagram feed.
While single Image ads may not seem like the most exciting ad format, they can still enable you to drive cost-efficient reach and engagement on the Instagram platform.
The key here is to focus on high-quality visuals that will showcase your products effectively and capture the fleeting attention of Instagram users. Eye-catching graphic design, bold product shots, and persuasive ad copy will all help you to make a big impact with Image ads.
(Source: facebook.com)
Instagram Video Ads (In-Feed)
If Image ads feel a little bit restrictive, then Video ads are a great way to deliver more in-depth product messaging and creative storytelling to your audience.
Instagram Video ads appear in-feed, and can technically run for up to 60 minutes. However, since social media users aren't likely to spend an hour watching your ads, it's best to follow Facebook's advice and keep your video assets around 15 seconds long.
Like an Image/Photo ad, your Instagram Video ad will need to capture attention quickly in a highly competitive feed.
Motion and colour are powerful tools for attracting interest on Instagram, and since audio is automatically muted in-feed, you can also utilise video captions to ensure that your messages still land.
(Source: facebook.com)
Instagram Carousel Ads
Carousel ads are a versatile format that allow you to include up to 10 images or videos within a single Instagram placement.
You can use Carousels in a number of different ways. For example, you might show off a full product range with multiple images, or use each Carousel card to highlight a different customer benefit.
Just remember, focus on quality rather than quantity when it comes to your Carousel assets. Although you can run up to 10 Carousel cards, that doesn't mean you need to – it's more important to upload high-quality assets that feel consistent and connected.
Each individual Carousel asset can also include a unique Call To Action and landing page URL, so think carefully about where you'll be driving potential customers!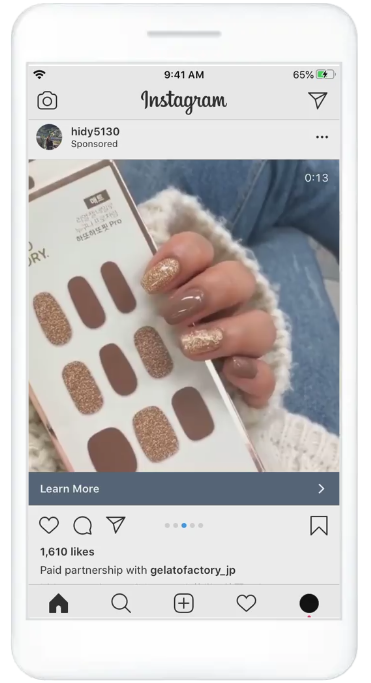 (Source: facebook.com)
Instagram Collection Ads
If you're looking to drive product sales through Instagram advertising, Collection ads are a fantastic option.
Collection ads include an eye-catching cover asset (i.e. image or video) followed by three product images. When someone taps on your Collection ad, they'll open up an Instant Experience – a full-screen, immersive landing page designed to drive clicks and conversions.
You can think of an Instagram Collection ad as a digital shopfront.
By uploading high-quality product images with compelling ad copy, you can incentivise your target audience to click on your assets, explore your products, and complete a purchase.
(In a similar way to Carousel ads, you'll need to ensure that your product shots feel consistent and on-brand! If your Collection looks visually appealing and cohesive, it's more likely to drive engagement from potential customers.)
(Source: facebook.com)
Instagram Shopping Ads
Shopping ads are another highly effective format for e-commerce brands aiming to generate cost-efficient clicks and conversions.
Instagram users aren't just logging into the platform to post holiday snaps and share memes. Data shows that 70% of shoppers look to Instagram when planning their next purchase, and social media is now synonymous with online shopping.
Shopping ads are designed to showcase your products in-feed, and within a matter of clicks, users can land on your mobile site and complete a new purchase. The customer journey is quick and convenient, which is great news for marketers looking to maximise conversions.
To launch Instagram Shopping ads, you'll just need to set up an Instagram Shopping catalogue and upload your desired products. Once this social media storefront is up and running, you can start driving traffic directly to your product pages and checkout.
(Source: facebook.com)
Instagram Explore Ads
People browsing the Explore tab on Instagram are actively seeking out fresh content and new accounts. This discovery mindset can be extremely valuable for advertisers – and with Explore ads, you can take full advantage of it.
Explore ads appear within the Explore tab and are served after a user clicks on a photo or video. They can be launched as both image and video assets.
Since your Explore ads will be appearing around trending content and popular videos, they're a great way to increase brand awareness and reach highly engaged audiences.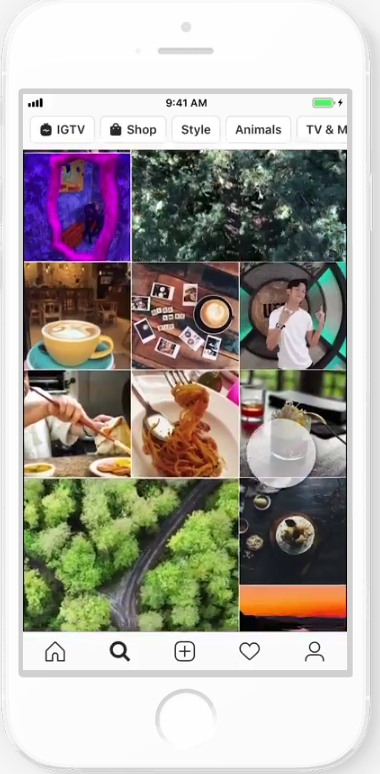 (Source: facebook.com)
Instagram Stories Ads
Instagram Stories are designed to deliver constant engagement and maintain a viewer's attention. An Instagram Story ad is no different.
Stories ads are full screen photos, videos, or Carousels that are served between regular user Stories. Since your ads will be appearing among organic posts, you have a fantastic opportunity to engage your audience with content that feels authentic and natural.
(Stories ads can also now run for up to 60 seconds without being segmented, meaning you have more time to deliver your creative message.)
Your Instagram Story ads can include a call-to-action link sticker at the bottom of the asset, which means you can encourage specific actions or drive traffic to an external landing page.
As always, remember to utilise high-quality visual assets that will instantly grab attention. Users are often tapping through Instagram Story posts at high speeds, so use punchy creatives and bold product messages that make an impact.
(Source: facebook.com)
Instagram Reels Ads

Short-form video content is insanely popular in the world of social media. Reels ads allow you to capitalise on this trend, driving sky-high levels of engagement with snappy videos.
Reels ads are full-screen vertical video assets that are served between organic Reels on Instagram.
Although Reels ads can run for up to 15 minutes, users are looking for punchy short-form content, so it's best to tailor your assets accordingly.
Reels ads appear in several places throughout the Instagram app, including the Reels tab, Explore page, main feed, and Stories section. However, the same creative rules apply wherever your Reels ads are showing – capture attention with bold visuals, make the most of video sound, deliver clear and compelling product messages, and finish with a strong CTA.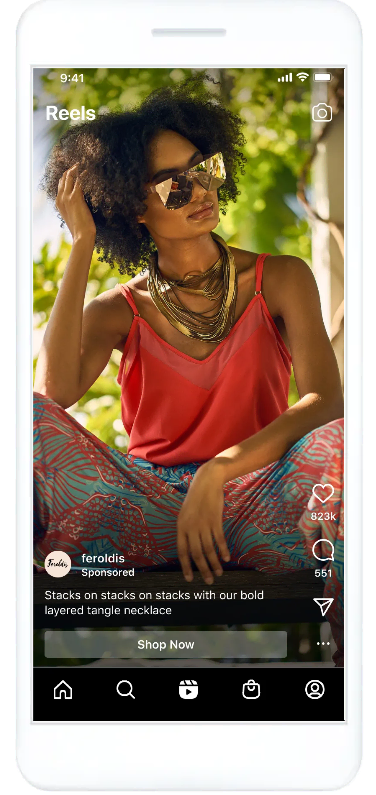 (Source: facebook.com)
Instagram Profile Feed Ads
Instagram Profile Feed ads appear in the feed view of public Instagram profiles.
When Instagram users scroll through a profile feed, they may be served image/video ads between pieces of organic content. If you're looking to effectively expand the reach of your Instagram campaigns, Profile Feed ads are a solid option, since you can also re-use existing feed assets.
However, since users are specifically looking to browse content from a particular Instagram account/profile, you'll need to make sure that your ads feel valuable and non-intrusive.
Use motion and sound to grab attention, keep your ads short and snappy, and let your target audience know how they can benefit from using your products.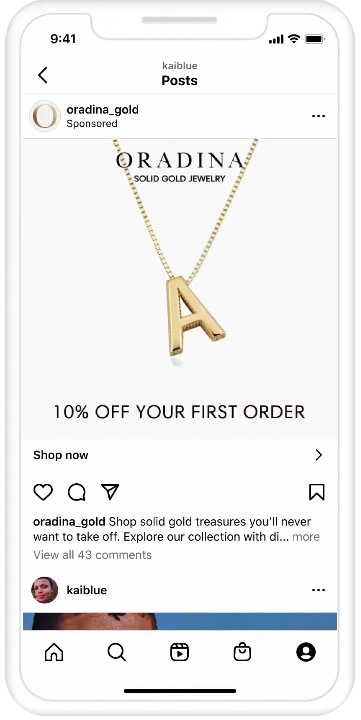 (Source: facebook.com)
How do I choose the right Instagram ad format?
Now that you're familiar with the different types of Instagram ads, let's tackle the big question on everyone's mind.
How can you ensure that you're choosing the best ad formats for your next campaign?
It all starts with your campaign objective. Your campaign objective will dictate your audience targeting, reporting methods, creative messages – and most importantly, your ad formats. Whenever you're deciding on your Instagram ad formats, always think back to your primary campaign objective.
If you're aiming to drive cost-efficient product sales, you'll need formats that create a seamless customer journey – for example, Collection ads or Shopping ads. However, if video engagement is your priority, then Stories and Reels are more likely to perform well.
It's all about identifying Instagram ad formats that will actively contribute towards your specific objectives.
This is also where A/B testing can be incredibly useful. By experimenting with different ad formats and creative messages, you can establish the best-performing placements that will allow you to achieve your goals.
What are the most effective types of Instagram ads?
So what are the most effective Instagram ad formats?
Well, that all depends on your objective.
Every Instagram ad format has the potential to deliver outstanding results, but only when paired with quality creative assets and relevant objectives.
For example, if your goal is to drive high levels of brand awareness, Reels ads can be extremely effective. Reels take up 30% of the time people spend on Instagram, and Reels content is shared 1bn times a day through direct messages, meaning the potential for audience reach is enormous.
However, if you're looking to increase consideration through in-depth product explainer videos, Reels may feel too restrictive. Reels viewers want to consume short-form content, so you might struggle to hold their attention with longer assets.
The same format can deliver very different results depending on your objective. Rather than trying to fit a square peg in a round hole, you'll have much more success if you build your ad format strategy around your marketing goal.
What are the benefits of using Instagram ads?
They can achieve massive scale
Instagram advertising can help you to reach a huge audience of high-value prospects.
The Instagram platform currently attracts around 2bn monthly active users, providing you with plenty of opportunities to discover profitable new audiences and scale up your ad campaigns.
Plus, when you combine this jaw-dropping reach with data-fuelled targeting options, you have a recipe for ultra-efficient social media marketing.
They feel native and non-intrusive
Instagram ad placements blend seamlessly into organic content on the platform, meaning your campaigns will feel authentic. This is fantastic for audience engagement, as users will interact with your ads like any other post or video.
However, this does mean that you need to focus on producing quality ad content that won't stick out like a sore thumb.
Instagram ads that feel too corporate or sales-y can feel intrusive, so try to lean on assets like UGC (User Generated Content) that are more likely to resonate with your target audience.
They deliver a frictionless customer journey
The more accessible and convenient the customer journey is, the easier it will be to drive conversions. Fortunately, Instagram does a great job of creating a smooth experience for potential buyers.
Shopping ads are a great example of this.
With Instagram Shopping ads, users can simply tap on your product image to discover more about its key features and pricing. Within a couple of clicks, they can also add this product to their basket and complete a purchase, all from inside the Instagram app.
A combination of high-quality product images and frictionless customer experiences can work wonders for your conversion rates.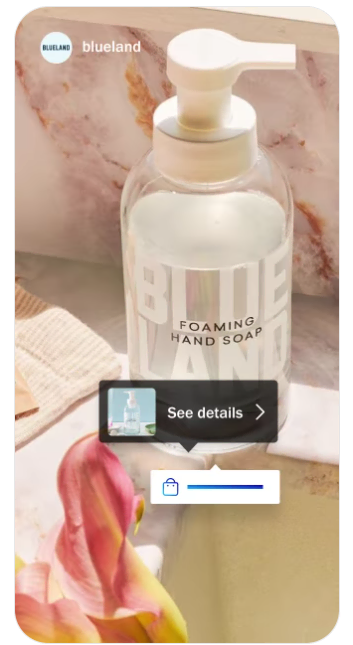 (Source: facebook.com)
How to set up and launch Instagram ads
Instagram ads can help you to engage new customers, drive product sales, and accelerate brand growth. Luckily, they're also very easy to set up.
1. Create a new Instagram ad campaign
Log into the Facebook Ads Manager and hit the '+Create' button to get the ball rolling.
(Source: facebook.com)
2. Select your campaign objective
If you're starting a fresh campaign (rather than adding to an existing one) you'll need to select a campaign objective. There are six main objectives available here, including:
Awareness
Traffic
Engagement
Leads
App Promotion
Sales
Pick an objective that aligns with your business goals, and then hit 'Continue' to proceed.
(Source: facebook.com)
3. Name your Instagram ads campaign
Input a memorable name for your campaign. Trust us, it will save you a lot of hassle when it comes to reporting and campaign management!
(Referencing your objective in the name makes it much easier to distinguish between campaigns too.)
When you're happy with your campaign name, hit 'Next'.
4. Confirm your budget and ad schedule
Now you can begin to firm up the details of your new Instagram ad set.
You'll start with your campaign budget. There are two options available here – a Daily Budget (i.e. a maximum daily spend) or a Lifetime Budget (i.e. a total campaign spend.)
While a Daily Budget gives you more control over daily expenditure, a Lifetime Budget gives the Instagram algorithm more flexibility in terms of daily spend and upweights.
Once your budget is confirmed, you can tweak your ad scheduling. From here you can select specific times you'd like your Instagram ads to run, or opt for more of an 'always on' approach.
(Source: facebook.com)
5. Establish your target audience
You'll now need to decide if you want to target a pre-saved audience segment or build a new one from scratch.
If you choose to create a new Instagram audience, you'll be able to target based on various factors including location, demographics, interests, and behaviours. You can also build powerful Custom Audiences based on first-party data.
6. Choose your ad placements
It's now time to decide where your ads will appear on the Instagram platform.
If you select Advantage+ placements, the Instagram platform will automatically serve your ads wherever they're likely to perform best. If you want more control over your ad placements, you can select 'Manual Placements' to make these decisions yourself.
(Just be aware, if you select Manual Placements, you'll be responsible for optimising each of your visual assets to each individual ad format!)
7. Create and publish your Instagram ad
Finally, it's time to create and publish your Instagram ad.
Edit your ad name, choose your desired ad type, and then finalise your creative elements (e.g. visual content, headlines, CTAs) to proceed.
You can also specify any website URLs or tracking links at this stage of the process.
Whenever you're ready, click the 'Publish' button to launch your new Instagram ad into cyberspace. Congratulations – you've successfully set up an Instagram ads campaign.
(Source: facebook.com)
What are the targeting options on Instagram?
There are two main audience targeting routes that you can pursue on Instagram.
The first is standard audiences, which are pre-built and immediately available to advertisers. Standard audiences allow you to target users based on:
Demographics (e.g. age, gender, location)
Interests (e.g. fitness, entertainment, fashion)
Behaviours (e.g. purchase history, device usage)
Standard targeting segments can help you to achieve sizable campaign reach, and by layering on different filters, you can reach more granular audiences.
The second targeting option is Custom Audiences. Custom Audiences are built from first-party data (i.e. using the Facebook Pixel) and are often extremely effective at driving clicks and conversions.
There are various types of Custom Audiences available, including:
Website Visitors
App Activity
Customer List
Ad Engagement
Since Custom Audiences are already familiar with your brand or products, they're usually much easier to convert cost-efficiently. If you're looking to increase campaign reach while maintaining targeting quality, you can also leverage Lookalike Audiences to expand your Custom Audience activity.
How to optimise your Instagram ad campaigns
Implementing decisive, data-driven optimisations is absolutely crucial for Instagram advertisers. The more effectively you can optimise your Instagram ads, the faster you can increase conversions and reduce acquisition costs.
To start with, make sure you're comfortable using the Instagram Ads Manager.
You'll be using the Ads Manager for everything from checking campaign analytics to downloading custom reports, so you'll need a solid grasp of the tool to succeed.
It's also vital to stay focused on your primary marketing objectives whenever you're making optimisations. Don't be distracted by irrelevant data – establish a clear objective, track the metrics that are contributing to it, and shift budgets accordingly.
Finally, don't make assumptions about ad performance when you're optimising campaigns. Follow what reporting data is telling you, and don't hesitate to make major adjustments if you're seeing clear trends.
Examples of high-performing Instagram ads
Searching for creative inspiration for your next Instagram campaign?
We've got you covered. Below are some examples of high-performing Instagram ads that have smashed their objectives and exceeded expectations.
Nugu
Fashion brand nugu launched Carousel ads to try and increase conversions and reduce acquisition costs.
(Source: facebook.com)
The brand partnered with several Japanese creators to produce a range of product-led Instagram Carousels. Each Carousel card featured a unique product shot, as well as an action-oriented 'Shop Now' CTA.
The campaign was a resounding success, helping nugu to achieve a 12% increase in ROAS, a 64% increase in purchases, and a 39% lower Cost Per Purchase.
Displate
Metal poster brand Displate utilised Instagram Reels ads to increase conversion volumes while maintaining cost efficiency.
(Source: facebook.com)
Displate created short and snappy Reels videos that showcased how customers could easily receive, unbox, and install their own posters. The brand added these Reels assets to their existing Instagram marketing strategy, using A/B testing to compare performance.
The inclusion of Reels ads allowed Displate to achieve a huge increase in performance, including a 66% higher ROAS and a 67% boost to sales volumes.
Getting started with Instagram advertising
Looking for a helping hand with your next Instagram ads campaign?
Take a look at this page for step-by-step instructions on setting up your first ad campaign and insights about the Instagram Ads Manager.
Plus, if you need guidance with creating high-impact Instagram content, these official best practices will help you to stand out from the competition and engage your target audiences.
Knowing how to select the right Instagram ad formats will help you to maximise the impact of your marketing budget.
By closely aligning your ad formats with your campaign objective, you'll be in a great position to smash your business goals and unlock the full potential of Instagram. Best of luck!