It's time to come clean.
We're all curious about what our competitors are doing on Facebook.
Don't worry, there's no judgement here. It's human nature.
As much as we focus on managing our own social media campaigns, we can't help but ask questions sometimes.
What kind of campaigns are these troublesome competitors running? Have they discovered a secret weapon that we don't know about? Which products are they pushing?
Fortunately, there's a way to find out the answers to these questions.
Just follow the guide below, and you'll soon be able to find competitor's Facebook ads with ease and identify important trends that can shape your campaign strategy. Let's get snooping!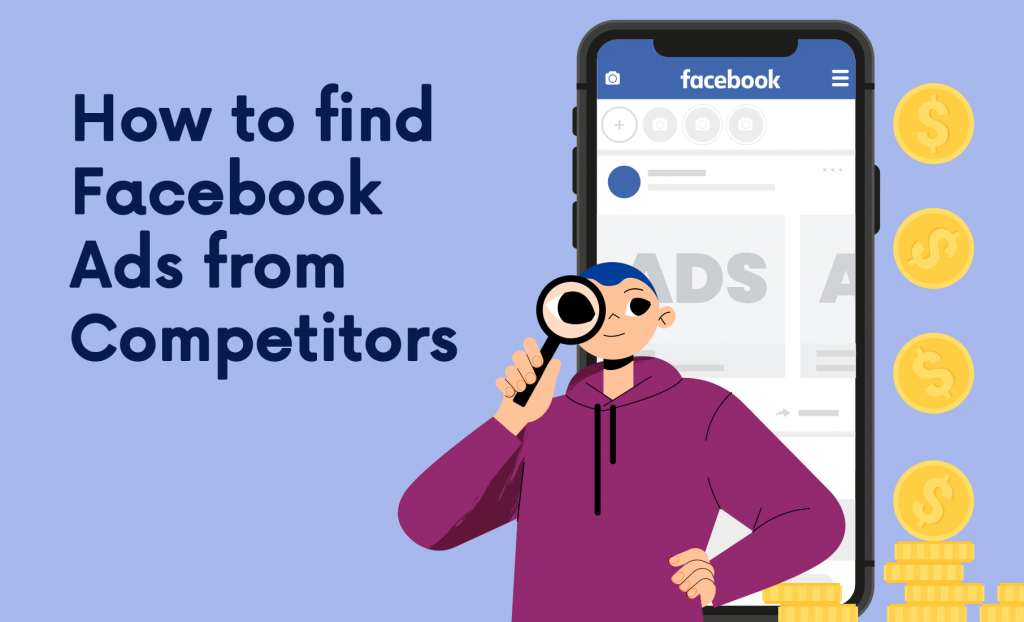 Why do I need to spy on competitor ads?
Keeping track of your competitors ads on Facebook isn't just about being nosy.
(OK. Maybe a little bit of that.)
It's also an excellent way to gather valuable insights about the market.
Although it's important to concentrate on running your own campaigns, you're ultimately competing in the same space as many other e-commerce brands.
Staying aware of this can keep your business ahead of the curve.
Maybe competitors are offering a superior product discount, or pursuing a very specific segment of their audience. These insights can help to inform your future ad campaigns.
By regularly analysing the competition, you can:
Avoid using repetitive messaging or creative assets
Identify effective ways to differentiate your brand
Learn which types of ads have proven to be successful
Get ideas for your own Facebook ads
Spying on the competition can help to improve the efficiency of your Facebook budget and enhance the performance of your ads.
How do I find Facebook ads from competitors?
There are two primary methods for finding Facebook ads from your competitors, and both techniques are effective for conducting thorough research.
We'd recommend using these tactics in combination to ensure that you've left no stone unturned.
Ideally, you'll have a solid understanding of your closest competitors, but don't panic if you're not certain. These solutions can help you to identify the key players in your market.
Method #1 – the manual approach
Follow the steps below to start a manual investigation into a competitor's Facebook ads:
1. Log in to your Facebook business account.
2. Type the name of a specific competitor into the search bar.
3. Open the relevant Facebook page, and scroll down until you see a section titled 'Page Transparency'. Hit 'See All' in the top right corner.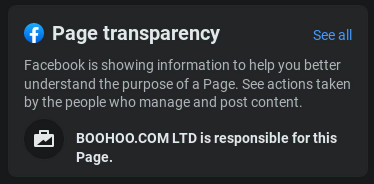 4. Click 'Go To Ad Library' at the bottom of this pop-up, and you'll instantly have access to a treasure trove of competitor ads – including both active ads and inactive ads.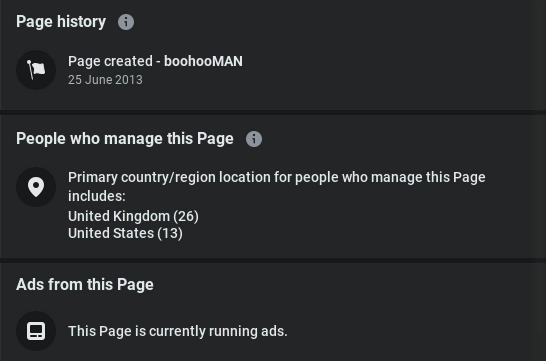 5. Once you've identified an interesting ad, you can hit 'See Ad Details' to dig deeper. On this page, you can view video assets, listen to audio, and review destination URLs and landing pages.
Plus, you can check if multiple ad variations are running with the same copy.
This approach may be a little more hands-on, but it's a great way to scope out specific competitors and build a clearer picture of their advertising activity.
Method #2 – the Facebook Ads Library
The Facebook Ads Library is an incredibly helpful tool that's built into the platform.
To access the library and monitor competitor ads, just follow the steps below:
1. Open up the Facebook Ad Library page here.
2. Use the search bar to begin hunting for information on the competition. If you have a specific competitor in mind, just plug in the name of their business page to get started.

3. However, if you don't have a specific competitor to research, you can use the library search function to look at wider industry categories.
Businesses can be categorised in different ways, so you may need to experiment with different keywords and search terms to find relevant competitors.
4. Once you've found the right competitor page, you'll be able to access your competitor's facebook ad library. From here you can view assets and check details such as locations and impressions.
If you're looking for a broader snapshot of your category before examining a specific competitor, the Facebook Ads Library is a great place to start.
What should I be looking out for when researching?
You now have the power to monitor any competitors Facebook ads.
Pretty handy, right?
But to take full advantage of your new spying abilities, you need to focus on the data that will provide you with the most valuable insights.
So what should you be keeping an eye on while tracking the competition?
Facebook ad impressions
You can quickly identify the strongest assets from your competitors by filtering ads by impressions.
Ads that have the highest amount of impressions (i.e. the ads that have been served more times) are most likely the best performing.
If one asset has delivered significantly more impressions than others, that means your competitors have probably put a substantial budget behind them.
And that suggests they've been performing particularly well.
You may be able to pick out a 'hero' product that your competitors are pushing, or a specific offer that's gained a lot of momentum. Try to identify a few of these high-impression ads and analyse why they might be outperforming other assets.
This will provide you with strong insights into competitor performance and marketing strategy.
Type of media
The type of ads that your competitors are running can tell you a lot about their Facebook tactics.
Are they running brand-led video assets? Or are they using product-focused static images? How are they utilising these formats creatively?
Analysing the media choices of successful competitors can help you to improve your own approach. Don't be afraid to take inspiration from other brands.
For example, if a competitor is regularly using a more dynamic ad format (e.g. Carousel ads, Collection ads) they're probably seeing success with these placements.
This can help you to understand what's currently working in your market, and incorporate new formats into your Facebook plans.
Creative messaging
Facebook ad copy is a clear window into the advertising strategy of your competitors.
Pay close attention to the headlines and ad text being used, and think about the differences (and similarities) with your ad copy.
It's important to focus on a few details, such as:
The length of the body copy
Specific pain points mentioned
Specific product benefits mentioned
The core value proposition
The call to action
Ad copy will be able to tell you if competitors are focused on building brand awareness (with more upper-funnel messaging) or driving direct conversions (with sales-led messaging).
You'll also be able to identify the core product features being highlighted and understand if you have a competitive edge to utilise in your ads.
Plus, ad copy can reveal a lot about the target audience of your competitors. Who are they likely to be reaching with these ads, and how are they trying to appeal to these shoppers?
Ad duration
Checking the duration of an ad campaign is another way to gauge the success of competitor ads.
By filtering ads by duration, you can go back as far as 90 days to monitor which assets are still live and which have been pulled.
If a competitor has been running certain ads for an extended period, it's safe to say that they're seeing consistent success with these assets.
This enables you to figure out which ads are performing well and analyse why they might be so successful.
You can also pick up on some interesting marketing trends by reviewing these 90 days.
Competitors may be launching tactical assets around seasonal events (e.g. Black Friday) or evolving their campaign messaging over time.
Offers
Offers and discounts are a fundamental part of Facebook advertising for many e-commerce brands.
Keep an eye out for any deals that your key competitors are pushing in their Facebook campaigns.
If similar businesses are regularly promoting standard offers in the news feed (i.e. free shipping) you may want to incorporate these messages into your own ads to stay competitive.
It's also worth checking if competitors are frequently running any larger promotions. They could be offering a significant welcome bonus or limited-time discounts around seasonal events.
If you're not promoting similar offers for your own business, you could be losing out on customers. Keep checking regularly for new promotions to stay ahead of the curve.
Using competitor insights to your advantage
Monitoring competitor activity should ideally become a regular part of your advertising routine.
You don't necessarily need to check on your competitors every single day, because you're unlikely to uncover major insights that often. Plus, it's a tiny bit obsessive.
Instead, you might pull together a detailed competitive analysis on a weekly or monthly basis to stay in the loop and remain aware of any emerging trends.
Competitive insights can also be particularly useful when you're planning a new advertising campaign.
Competitive research is a brilliant starting point when you're planning a campaign launch.
You may discover insights that change your creative messaging, your ad formats and even the timing of your campaign.
So the earlier you scope out the market, the better.
In some instances, you may want to avoid direct comparison with competitor products, so it's important to find different talking points and messages.
On other occasions you may have an all-around superior offering, so you can go toe-to-toe with the competition. It all depends on what the research shows you.
Now that you're equipped with all the knowledge you need to spy on the competition, you're ready to start snooping.
But remember to stay laser-focused on the key metrics.
Concentrate on the data that provides you with the clearest picture of competitor performance.
Impressions, campaign duration, messaging – these kinds of insights will ultimately help you to differentiate your brand and outperform your competitors. Best of luck!
For help with your Facebook campaigns please visit this page.