Whether you're looking to skyrocket brand awareness or accelerate online sales, Snapchat is a brilliant option for digital marketers.
Snapchat ads are a fantastic way to grow your brand profile, reach valuable prospects, and drive profitable conversions. The platform is particularly useful if you're looking to connect with younger demographic audiences, such as Gen Z.
So how can you get started with Snapchat advertising?

The answer is Snapchat for Business.
Snapchat for Business is your one-stop shop for brand advertising on Snapchat. The tool allows you to create paid ads, launch new campaigns, and optimise performance.
Let's explore how you can start using Snapchat for Business, and more importantly, how you can maximise the returns you generate from the platform.
What is Snapchat?
Snapchat is a social media platform that enables users to share images, videos, stories and messages with their friends.
The Snapchat platform is absolutely packed with content from friends, family, influencers and advertisers.
Short-form video is hugely popular on Snapchat, and some of the most successful and engaging content is often delivered in bite-sized assets.
Users can explore Snapchat content in several different areas of the app, including:
Snapchat 'Discover' Feed – a home feed that displays new content from friends, brands, publishers, and content creators.
Snapchat Messages – a section of the app where users can exchange images and videos (also known as 'Snaps') with their friends.
Snapchat Stories – 'Stories' are posts that can be shared with friends and followers for 24 hours before disappearing.
Snapchat Spotlight – an area of the app where users and publishers can share content with a public audience, not just their friends list and contacts.
A combination of both organic and paid content can be discovered throughout the Snapchat app, so it's important to produce assets that can stand out and grab user attention.
Can you have a business account on Snapchat?
If you're a small business looking to create content and launch marketing campaigns from a brand profile (rather than a personal profile) then you'll need a Snapchat for Business account.
Snapchat for Business is designed specifically for brands who are keen to advertise on the platform. The platform contains everything you need to start running high-performing brand communications, from organic Snaps to paid advertisements.
Is Snapchat for Business free?
Interested in Snapchat marketing but concerned about start-up fees or initial costs?
We've got some good news.
Creating a Snapchat for Business account won't cost you a penny.
Brands can set up and manage their Snapchat for Business ad accounts for free, so there's no barrier to entry here. You can create your account and explore the platform without any costs involved, so don't hesitate to get to grips with the app!
The only time you'll need to pay is when you're running Snapchat advertising, but we'll cover this in detail a little later on.
What are the benefits of a Snapchat business account?
Setting up a Snapchat for Business account is extremely useful for brands interested in paid social marketing – it's also a mandatory step if you're keen to run Snapchat ads.
Let's take a look at some of the most compelling benefits that a Snapchat business account offers.
You can build your brand profile
Setting up a Snapchat business account enables you to grow your brand presence through both organic and paid marketing.
A balanced paid social marketing strategy is key to success, which means you shouldn't focus exclusively on sales-led paid advertising.
With a Snapchat for Business account, you can also engage your existing audience and build your follower base over time. This enables you to reach a broader audience with organic posts and Snaps, keeping your brand front-of-mind among customers.
You can post how-to instructional content about your products, share user generated content (UGC) from your followers, or even just upload entertaining brand videos.
If you can consistently post engaging content from your business account, then you'll strengthen your brand identity and keep customers interested in your services. 
You can reach and convert specific audiences
You can also use your Snapchat for Business account to launch super effective paid advertising campaigns on the platform.
Snapchat offers a range of creative ad formats (e.g. Sponsored AR Lenses, Video Ads) and smart targeting tactics that you can utilise to reach hot prospects and drive high-value conversions.
This is a great way to expand your customer base and reach new shoppers on Snapchat in a short amount of time.
Whether you're hoping to boost brand awareness among a new audience or deliver conversions through ultra-granular targeting, a Snapchat business account provides all the tools that you need for success.
If you can balance engaging existing followers through organic content with converting new customers through paid ads, then you'll be in a strong position to supercharge your brand growth.
You can optimise your Snapchat ads
A Snapchat for Business account doesn't just allow you to launch new ads on the Snapchat platform – it also allows you to optimise them.
When you're running marketing campaigns on Snapchat, you'll be able to access and analyse key performance data through your business account.
Need to double-check which audience segments are driving the most product sales? No problem.
Keen to understand if AR Lenses drive higher levels of engagement than Story Ads? You got it.
By monitoring this data through your Snapchat business account, you can effectively optimise your marketing campaigns, increasing ROI and improving the efficiency of your ad spend.
How to set up a Snapchat for Business account
Now that we've explored the main selling points of a Snapchat business account, it's time to explain how you can set one up.
Step #1 – Log in to your personal Snapchat account (or create a new one)
To set up a new Snapchat business account, you'll first need to create a personal account.
If you already own a personal Snapchat account, all you need to do is log in as usual. Once you're logged in, you can jump to the next step.
(That was easy, eh?)
If you don't currently own a personal Snapchat account, you'll need to create one. But don't worry – this step is a piece of cake.
All you need to do is download the Snapchat app (or click this link) to get started. Open up the app, click 'Sign Up', and follow the steps to create your personal account. Once you've submitted some basic information, you'll then be prompted to verify your public profile.
Complete the verification process, and voila – you have a brand new Snapchat account, and you're ready to set up a business profile.
Step #2 – Create your Snapchat business account
It's now time to input some key business information and create your Snapchat for Business account.
To get started, log in to the Snapchat Ads Manager with your personal account.
You'll need to share a few details about your business, including:
The name of your business
Your business email address
The specific location of your business
Your business phone number
Once you've entered this information, just hit 'Next' to complete the process.
And that's all it takes! You've now successfully created a Snapchat business account, and you're ready to take advantage of all the marketing opportunities that the app has to offer.
How to use Snapchat for Business
We've already explained how to set up your Snapchat business account – now it's time to explain how you can start putting it to good use.
A Snapchat for Business account enables brands to do a lot of smart things on the platform, from posting engaging content to personalising their profiles.
The more you know about Snapchat's business features and tools, the better equipped you'll be to smash your marketing goals. Here are a few tips to keep you on the right track.
Taking a new Snap
Once you've created your Snapchat business account, one of the most important things to master is taking a Snap (i.e. a photo/video) with the app.
You'll be able to use Snaps for everything from Sponsored Lenses to organic posts, so make sure that you're comfortable with the process.
To take your first Snap, open the Snapchat app. You'll immediately be greeted with the back-facing camera mode, meaning you're ready to capture a photo or video – if you want to switch to the front-facing camera, just tap the arrows icon in the top right of the screen.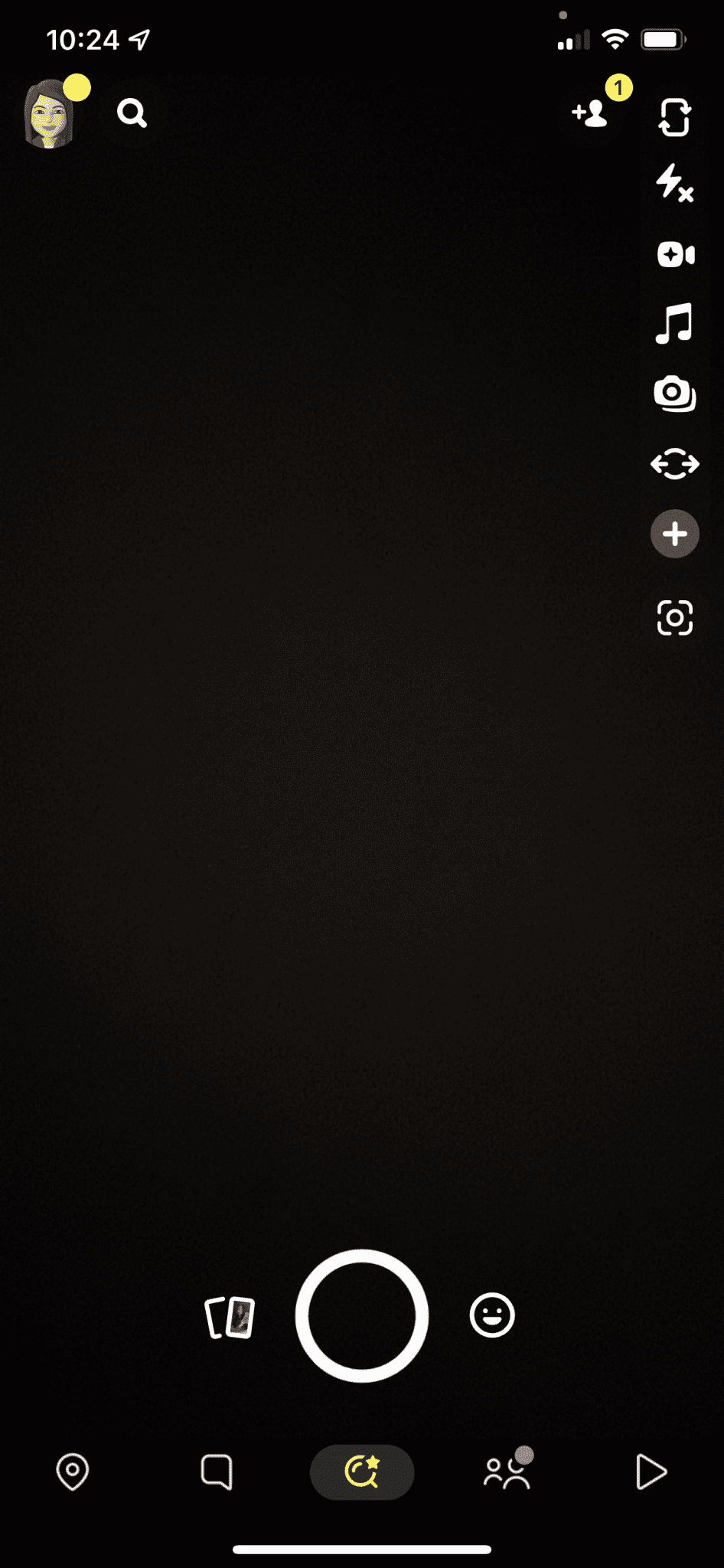 If you want to take a photo, click the white circle at the bottom of the screen. To take a video, just hold this button down and a yellow timer will automatically appear.
(Snapchat videos can be up to 60 seconds long, but will be divided into 10 second snippets!)
From this camera screen, you can also access different branded filters, turn on your camera flash, or select pre-recorded videos to upload. It's a good idea to play around with these different options until you feel confident with the Snapchat interface.
Customising your business profile
It's also a good idea to customise your Snapchat business profile for clarity and convenience.
Snapchat is fairly limited in terms of profile customisation options when compared to other platforms, but that doesn't mean you can't make a few handy tweaks.
You'll find a small ghost (or Bitmoji avatar) icon in the top left corner of the screen. Tap on this icon to open up your profile page.
From here you'll be able to customise your Bitmoji and change your username. Make sure that customers can easily recognise your brand from your username, as this will make it far easier for Snapchat users to search for the right profile.  
You can also take a few different actions from your profile page, including managing your friends & followers and uploading videos to Snapchat Stories. Snapchat business advertisers can also customise their QR code to direct users to specific landing pages.
Engaging with your audience
We mentioned earlier that audience engagement is a vitally important part of running a successful Snapchat business account.
There are a few different ways to interact with your followers and network with potential shoppers through Snapchat:
Snapchat Stories
Uploading Snapchat Stories, or responding to a user's Story, are fantastic ways to engage your customers.
Keep a close eye on the Stories section of the Snapchat app, and if you see a relevant opportunity for audience engagement, don't hesitate to reach out! The platform is built for quick and reactive communication, so make the most of it.
Direct messages
You can also use the Snapchat app to send direct messages to your followers. These private messages can include videos, images, or just plain text.
(Unlike most social networks, Snapchat is mainly designed for private communications rather than public interactions.)
Businesses that actively communicate with their target audience tend to drive higher levels of engagement and highlight themselves as an interesting profile for Snapchat users to follow. 
You can utilise direct messages for a wide range of different reasons.
For example, you might want to acknowledge some top-notch user generated content that a user has uploaded about your products, or reach out to resolve a customer issue or question. 
Growing your follower base
To consistently grow your Snapchat audience base, you'll also need to attract new followers over time. There are several different ways to connect with other users on Snapchat, including scanning personalised QR codes.
You can also proactively reach out to specific users to add them, but you'll need their username handy to do so.
That's why distributing high-quality organic content is a solid approach to recruiting new followers.
When you upload an engaging Snap or Story post, your existing followers are more likely to share it with other Snapchatters. If these friends enjoy this content, they'll follow your business account – and if you can repeat this process enough times, you'll have plenty of followers to engage and convert.
Making the most of Snapchat Stories
Snapchat Stories are the ideal format for sharing creative and interesting organic content.
Story posts are only accessible for 24 hours, so you don't need to worry about uploading posts that are guaranteed to be relevant in the long term. Instead, you should use Snapchat Stories to upload snappy and punchy pieces of brand content.
For example, you can use Snapchat Stories to:
Provide customers with a snapshot of everyday life at your business
Allow employees to showcase their personalities
Share customer testimonials or quality UGC
Deliver quickfire brand, product, or business updates
Stories are one of the most engaging formats on the Snapchat platform, and once you've accumulated a sizable follower list, they're a great way to communicate with your audience at scale.
As always, the key to effective Snapchat audience engagement is consistency.
Stay active on the platform, and make sure that you're regularly responding to any direct messages and uploading fresh video content.
Getting started with Snapchat advertising
Snapchat advertising can help brands tackle a broad range of business objectives.
With the right audience targeting and creative messaging, you can achieve tremendous results through Snapchat marketing.
If you're interested in harnessing the power of Snapchat marketing for your brand, just follow the steps below to start advertising.
Create a Snapchat advertising account
Before you launch any Snapchat ad campaigns, you'll need to set up a dedicated Snapchat advertising account.
Click here to start the process. You'll first need to log in with your existing Snapchat business profile and then fill in a few key business details to create your ad account.
At this stage, you'll also need to enter some payment details, because it costs money to run ad campaigns on the Snapchat platform. You can link an existing bank account or set up a line of credit, which means that Snapchat will send out monthly invoices.
Get to grips with the Snapchat Ad Manager
Once you've set up your Snapchat ad account, it's important to get comfortable with the Snapchat advertising interface.
You'll be able to access two key pages from your Snapchat advertising account – the Snapchat Ads Manager, and the Snapchat Business Manager.
The Snapchat Ads Manager is a self-serve advertising platform that contains all the tools, features, and data you'll need to launch profitable ad campaigns.
The Ads Manager has four primary features that can be found on the top left side of the home page:
Dashboard: This is where advertisers can launch a new campaign or review the performance of existing Snap ads.
Creative Library: Used to submit new creative assets for approval or access previous submissions.
Custom Audiences: Brands can open this view to create new Snapchat Custom Audiences from different data sources, including the Snap Pixel.
Help Centre: You can click this option for more information on the different Ads Manager functions.
The Snapchat Business Manager is a little more functional, allowing you to manage payment details and team member account access.
Set up your Snapchat ad campaign
Now that you have access to the almighty Snapchat Ads Manager, it's time to set up a new campaign.
Open the Dashboard section of the Ads Manager and click 'New Campaign'. You'll then need to choose an ad objective that aligns with your business goals, so pay close attention to your selection here.
(It's worth noting that you can launch multiple ad sets within a single Snapchat ad campaign, meaning you can test different creative assets, ad formats, and target audiences.)Enter your desired campaign start and end dates, and then give your campaign a memorable name. Once you're happy with your choices, click 'Next' to proceed.
Select your target audience, budget, and schedule
You'll now be prompted to finalise some crucial details about your ad campaign.
Starting with the basics, you'll need to input a name for your ad set and confirm your preferred targeting location.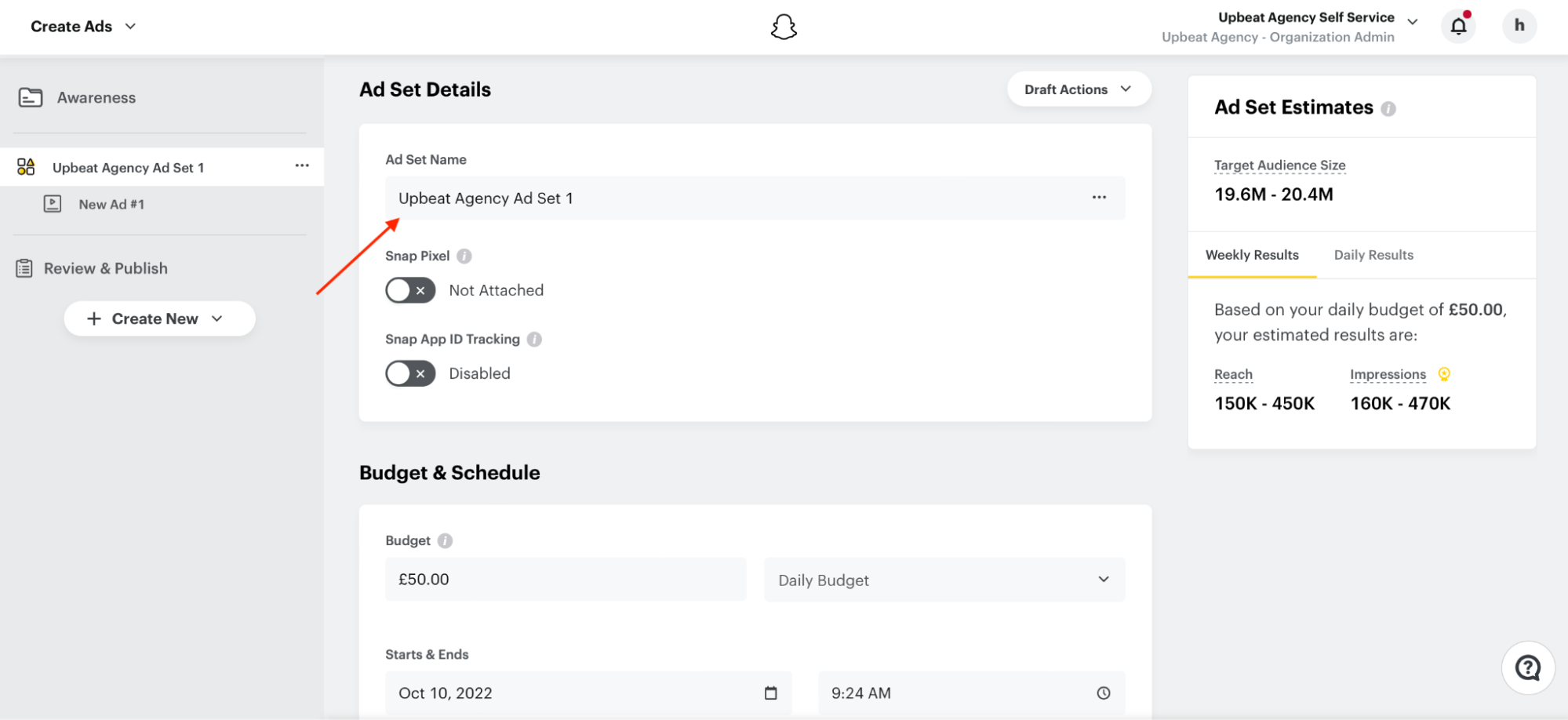 Now it's time to set up your target audience. There are plenty of demographic filters that you can apply (e.g. age, gender, location) but you can also choose from a range of pre-built Snapchat data sets, including:
Lifestyle Audiences – based on Snapchat browsing habits and video content preferences, such as DIY and fashion.
Shopping Audiences – based on online (i.e. mobile device) and offline shopping behaviours, such as Home & Garden and Apparel.
Viewing Audiences – based on user content consumption, such as TV viewing and movie viewing.
Select your desired ad placements and devices for targeting, and then input your campaign budget. You'll also need to confirm when you'd like your ad set to run, so if you're keen to activate around specific times of the day, now's the time to set this up.
If you're looking for some expert support to take your Snap ads to the next level, don't hesitate to reach out. We offer a range of Snapchat advertising services that will help you to crush your paid social goals and leave your competitors in the dust.
How to create ads on Snapchat
So, you've successfully set up a Snapchat advertising account and ironed out the core details for your first campaign.
The only thing that's left to do is to upload a show-stopping creative asset that will capture user attention and drive action.
To get started, click '+ New Creative' in the Ads Manager. Enter a name for your creative asset, and then choose the type of ad that you'd like to run. You have a few different options to explore here (i.e. Web View, App Install, Long Form) but it all comes down to the action you'd like Snapchat users to take after viewing your ad.
For more information on choosing the right ad placement, check out our in-depth guide on Snapchat ad types.
It's now the moment you've been waiting for – time to flex your creative muscles and produce your Snap ad.
Fill in the required fields for your Snap ad, and then enter your brand name and headline. Different ad types (e.g. Sponsored Lens, Branded Filter, Video Ad) require different specifications, so be sure to double-check the details here.
If necessary, add your desired Call To Action and website URL. Remember – when it comes to Snapchat headlines and CTAs, keep things short and sweet.
If you're uploading an existing Snap ad asset, hit the 'Upload' button or drag your video file to the 'Upload Your Snap' section of the screen. If you're creating a Snap ad from scratch, you can use the Snap Publisher to produce a brand new creative asset.
Once you're happy with your campaign setup and creative assets, hit 'Publish' and then click 'Launch Campaign' on the next page to submit your ad for review.
If your ad set is approved, you'll be ready to launch your Snap ad into cyberspace and deliver some outstanding results.
Handy resources for Snapchat advertising
Searching for some additional guidance to support your Snapchat advertising efforts?
We've got you covered.
Below are some useful paid social marketing resources that are packed with Snapchat insights and helpful tips.
Getting started with Snapchat advertising
Snapchat creative best practices
Snapchat advertising can be an insanely powerful tool for digital marketers around the world.
And it all starts with Snapchat for Business.
If you can master the ins and outs of the Snapchat business platform, you'll be able to launch highly effective ad campaigns that deliver exceptional results for your brand.