TikTok advertising can deliver mind-blowing results for digital marketers.
The platform has a huge amount to offer advertisers, including impactful ad formats, highly engaged users, and jaw-dropping reach.
But if you're thinking about launching a TikTok ad campaign, it's vital that you understand the different targeting options available to you.
Identifying, reaching, and converting the right audience is crucial for success on the platform. Inefficient targeting can rapidly drain your marketing budget – but accurate targeting can lead to consistent engagement, valuable conversions, and increased revenue.
Let's run through the fundamentals of TikTok advertising, and explain how you can effectively reach your target audience at scale.
What are TikTok ads?
TikTok ads are paid ad placements that can be served throughout the TikTok app.
Advertisers can choose to launch a wide range of TikTok ad formats, and different formats can be utilised to achieve various goals and objectives.
Standard video ads on the platform (i.e. In-Feed ads and Top View ads) are hugely popular with advertisers. This type of ad format is simple to create and can deliver enormous reach, consistent audience engagement, and cost-efficient conversions.
But if you're looking to create ads that make a serious impact, TikTok can certainly deliver.
Ad formats like Branded Effects and Branded Hashtag Challenges have the potential to drive insane amounts of engagement. These high-impact ad placements require a little more investment to launch, but with the right creative approach, brands can rapidly achieve colossal reach and viral fame.
A combination of different ad formats is often a winning strategy for TikTok advertising – but the key is to create TikTok ads that feel native and authentic to your target audiences.
The benefits of TikTok advertising
Wondering why so many global brands choose to advertise on TikTok?
Below are some of the most compelling reasons to include TikTok marketing in your social media advertising plans.
TikTok's advertising platform offers massive scale
Whether you're looking to increase brand awareness or drive product sales, the sheer size of the TikTok ads platform is a huge bonus.
TikTok was the most downloaded app of 2021, achieving around 656m downloads – and believe it or not, the app is still growing at lightning speed.
So what do all of these downloads mean for TikTok advertising campaigns?
Well, it means that the app currently has over 1bn monthly active users – so you won't struggle to scale up your campaigns or expand your customer base.
TikTok ad campaigns are proven to work for brands
TikTok ads aren't just a trendy fad for digital marketers, either.
They've consistently proven their ability to deliver strong returns for advertisers.
Brands from around the globe have utilised TikTok ads to tackle objectives at both ends of the marketing funnel.
For example, New Balance launched Spark Ads to increase mass awareness around a new product launch. The TikTok ads campaign achieved a 6% lift in awareness, as well as a 6.6% lift in ad recall.
At the other end of the funnel, sports equipment brand McSport used multiple TikTok ad formats and targeting tactics to promote a product sale and drive conversions. The brand managed to secure an impressive 8.75 ROAS, as well as a super-efficient €0.09 CPC.
If you still need proof of the power of TikTok advertising, check out some more advertiser case studies here.
You can get ahead of the competition with TikTok ads
Although the popularity of TikTok is skyrocketing and TikTok users are constantly multiplying, not every brand has successfully embraced the platform.
Many businesses are still reluctant to experiment with TikTok ads, and even brands that are using the platform aren't necessarily making the most of it.
And this presents you with a golden opportunity for high-performing TikTok advertising.
If you can dive head-first into the world of TikTok marketing with a razor-sharp advertising strategy, you'll be in a great position to attract new customers and establish your brand presence on the platform.
With smart audience targeting and a polished creative approach, you'll be able to leave your competitors in the dust while you maximise the awesome potential of TikTok advertising.
What audiences can I target on TikTok?
If you want to run a highly effective TikTok advertising campaign, you'll need to utilise the right targeting tactics to convert your target audiences.
Below are some of the primary targeting options that are available through TikTok ads.
Location Targeting
With Location targeting, brands can reach their target audience based on their physical location. Marketers can limit their TikTok ads to specific areas, such as:
Countries
Regions
Counties
Cities
Districts
Location targeting can be very useful if you're trying to drive traffic to a physical store or promote sales that are restricted to certain regions. However, it's worth remembering that the more specific your Location targeting is, the more you'll reduce your campaign reach.
Interest Targeting
With Interest targeting, you can build a target audience based on their content consumption and passion areas. TikTok regularly collects this data from users, analysing the types of video content and posts they're engaging with.
There are a vast number of different TikTok interest categories, including:
Games
Financial Services
Sports & Outdoors
Home Improvement
News & Entertainment
Travel
Tech & Electronics
Apparel & Accessories
Interest targeting is a great way to instantly reach users whose interests align with your product offering. For example, a brand selling energy drinks can instantly tap into relevant audiences through both the Sports & Outdoors and Games categories.
The key is to balance broad interest categories (that can deliver scale) with more specific interest categories (that relate closely to your products).
Behavioural Targeting
Behavioural targeting is all about reaching TikTok users based on their interactions with organic and paid content. The TikTok platform is constantly gathering valuable user data on profile follows, TikTok account visits and video engagements.
There are a couple of different Behavior targeting options available to advertisers – Video-related Actions, and Creator Following Actions.
Video-related Actions are based on recent and specific user behaviours like:
Video completions
Likes
Comments
Shares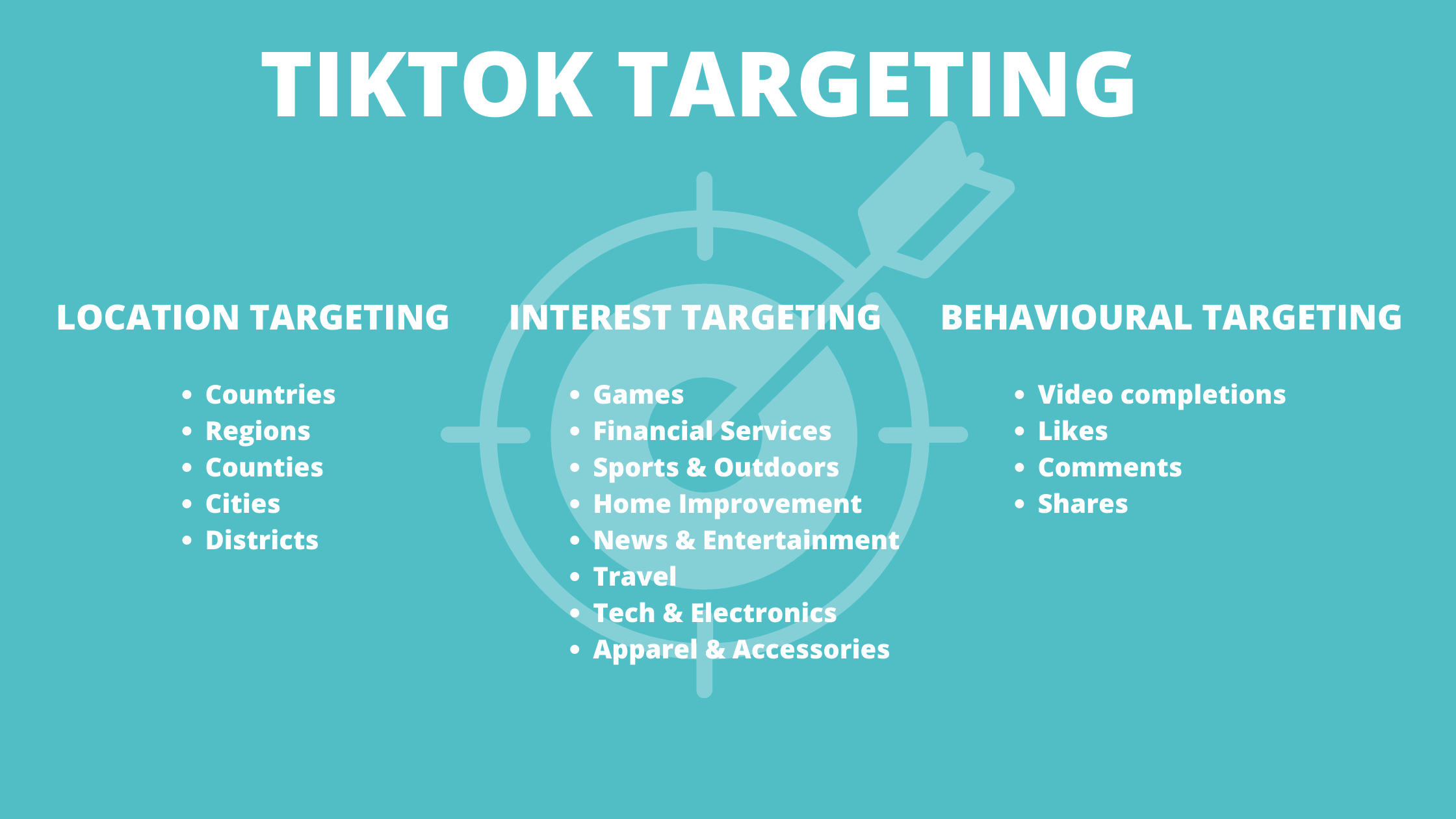 Creator Following Actions are based on specific profile behaviours like:
Users following particular types of TikTok creators
Users viewing the profile pages of TikTok creators
Behaviour targeting is like a more focused version of Interest targeting. You're not just targeting audiences based on broad categories, but targeting them based on specific actions and interactions with certain profiles.
Custom Audiences
Custom Audiences are some of the most powerful targeting segments available through TikTok advertising.
Custom Audiences revolve around targeting users who have engaged with your brand or TikTok ads. In other words, hot prospects who are likely to be valuable customers.
There are six main types of Custom Audiences available on TikTok:
Customer File – enables you to cross-reference your own customer files with the TikTok user base and target any matches.
Engagement – enables you to target users based on recent interactions and engagements with your TikTok ads.
App Activity – enables you to target audiences who have completed certain events within your app.
Website Traffic – enables you to target users who have recently visited (or taken a specific action on) your website.
Lead Generation – enables you to target audiences who have engaged with your Lead Ads on TikTok.
Business Account – enables you to retarget audiences who have recently engaged with your TikTok profile.
Since Custom Audiences are built on real customer data, they can deliver exceptional results for TikTok advertisers.
How to optimise your TikTok targeting
The TikTok user base is absolutely enormous.
This is ideal for achieving significant reach, but it also means that you can easily waste your ad spend by pursuing the wrong prospects.
But don't worry. We're not going to let that happen.
Let's take a look at how you can optimise your TikTok targeting to maximise efficiency and consistently reach the right audience.
The first thing to focus on is setting up balanced ad groups and a diverse mix of audience segments.
Whenever you advertise on TikTok, you'll need to strike a balance between reach and granular targeting to optimise campaign performance.
Broad targeting can be great for driving scale, but larger audiences can also lead to inefficiency. On the other hand, specific targeting can generate more efficient conversions, but small audiences can also increase your TikTok advertising costs.
In general, it's good to start with a slightly larger audience to allow the TikTok algorithm to identify high-performing users, collect campaign learnings, and make optimisations.
It can also help to manage your lifetime budget at the campaign level, rather than at a specific ad group level.
Every TikTok campaign is different, but this approach allows for smart optimization across multiple ad groups, enabling the TikTok algorithm to quickly identify your best-performing targeting options and optimise your ad spend accordingly.
For brands that are new to TikTok marketing, accessing a TikTok advertising service from a specialist agency can be insanely useful. Paid social professionals can help advertisers to optimise their TikTok targeting, create show-stopping ads, and skyrocket their conversions.
How to launch TikTok ads
Now that we've covered the main TikTok ad targeting options, it's time to outline how you can launch your own TikTok advertising campaign.
1. Set up a TikTok ads account
The first thing you'll need to do is set up a new TikTok ads account. This will provide you with access to the TikTok Ads Manager, and enable you to create an ad on the platform.
Visit this page to get started. If you already have a TikTok account, then you can just log in as usual.
If you haven't already set up a TikTok ads account, then you'll need to click 'Sign up now' in the top right corner of the screen. From here you'll just need to enter some basic information about your business – once you've completed the necessary fields, you'll be good to go.
2. Create a new campaign in the TikTok Ads Manager
Once you've successfully logged in, you'll be able to access your TikTok Ads Manager account. This is where all of the paid social marketing magic happens.
Open the 'Campaign' section of the TikTok ads dashboard, and then click 'Create' to set up a new TikTok ad campaign. Be sure to pick a memorable campaign name.
(Before we proceed to the next step, it's time for a quick TikTok advertising public service announcement.)
Your choice of campaign objective, budget, and bidding strategy will all play a vital role in determining the success of your TikTok advertising.
That means you should pay close attention to each stage of the process, and think carefully about your decisions. The more thorough your campaign setup is, the better your ad campaign will be!
3. Choose your campaign objective
Selecting the right campaign objective is a very important part of the TikTok advertising process, as your objective will influence everything from optimisations to ad delivery.
Your campaign objective should be directly connected to your business goals.
What is your primary motivation to advertise on TikTok? What action would you like your target audience to take when they see your video ads? Are you looking to drive app installs, or does your TikTok video need to boost brand awareness?
TikTok campaign objectives are split into three separate categories, and there are several goals contained in each category.
Awareness
Reach – TikTok will serve your video ads to the largest possible number of people.
Consideration
Traffic – TikTok will send more users to a specific landing page, whether that's a section of your app or a campaign page.
App Installs – TikTok will drive more people to install your app on their mobile devices.
Video Views – TikTok will get more of your target audience to watch your video content.
Conversion
Conversion – TikTok will drive specific user actions (e.g. page views, online sales) on your website.
The performance of your TikTok ads will depend on your campaign objectives, so make sure that you're thinking about your core business goals.
4. Establish your budget
Your ad budget will essentially let the platform know how much you're willing to spend on your TikTok campaign.
You should always start with a campaign budget that you're comfortable with, but it's also important to give the TikTok algorithm a healthy amount to work with.
Budget management is super important because this will impact your ad delivery, bidding strategy, and the overall performance of your TikTok advertising campaigns.
There are two main types of budget management on TikTok:
Daily Budget – TikTok will limit your ad delivery based on a daily budget cap. This option allows you more manual control over your daily spending on TikTok advertising.
Lifetime Budget – TikTok will utilise your lifetime budget in the most effective way across the full campaign. This option allows the algorithm more flexibility and control over ad delivery.
Every advertiser is different, so you may need to experiment with different budget options until you find a solution that works for you. If you're comfortable with your ad delivery, and your campaigns are performing well, then you're probably onto a winning strategy.
How to create an ad group on TikTok
Now that you've established the details of your TikTok campaign, it's time to set up your ad groups.
So what is an ad group, exactly?
TikTok campaigns are structured into three levels – campaigns, ad groups, and ads. A single ad group can include multiple ads, and also contains key information about your targeting, placements, and ad schedule.
We're about to explain how you can create an ad group, and how you can also set up different ad groups for testing and learning.
1. Select your placements
At this point, you can either choose to select your own ad placements or use Automatic Placements to handle this for you.
If you select Automatic Placements, the TikTok algorithm will optimise your ad delivery across all placements on the TikTok network.
Automatic Placements can be very handy for new advertisers, but once you've built up some experience with TikTok advertising, you may want to experiment with manual selection.
2. Finalise your ad group details
It's now time to enter some additional ad details for your TikTok campaign.
You'll need to input some basic advertiser information, but below are some of the more important fields in this section.
Promotion Type – depending on your chosen campaign objective, you'll be able to select either 'app install' or 'website' as your promotion type.
Category – you'll need to choose the ad category that's most relevant to your campaign, as this will inform some of TikTok's optimisations.
Ad Tags – add up to 20 tags that accurately describe your product offering, website, or app. These tags will be used to match your ads to relevant TikTok audiences.
At this stage, you can also choose to activate Automated Creative Optimization for your ad campaign. This will enable TikTok to automatically generate different combinations of your
assets (e.g. headlines, ad copy, videos) and optimise towards the best-performing variations.
3. Confirm your targeting options
You'll now arrive at the targeting screen, where you'll be prompted to select your preferred audience targeting tactics.
Advertisers can utilise several targeting options on TikTok, including:
Demographic targeting
Location targeting
Interest targeting
Behaviour targeting
You can also create Custom Audiences here, but make sure that you've completed the necessary steps (e.g. TikTok Pixel installation, Customer File upload) for the segments you'd like to launch.
While it can be tempting to build super-granular, microscopic audiences with all of this audience data, it's important to maintain sufficient reach. The TikTok algorithm will need decent audience scale to gather learnings and optimise, so bear this in mind.
4. Set your ad budget and schedule
Once you've set up your targeting in the TikTok Ads Manager, you'll need to confirm your campaign budget and schedule.
There are three main areas to cover in this section of the process.
Firstly, you'll need to select either a daily or lifetime budget for your ad group.
There are advantages to both strategies, so pick whichever option feels more appropriate for your campaign.
You can then set start and end dates for your TikTok ads, or allow your campaign to run continuously once it's been launched. Unless you're running 'always on' activity, you'll probably want to confirm a finish date for the campaign.
Finally, you can set up dayparting to activate your ads in specific time periods throughout the day. By default, your TikTok ads will run constantly, but if you're keen to set up particular dayparts, now is the time to do so.
5. Choose your bidding strategy
It's now time to finalise your all-important bidding strategy.
TikTok offers several bidding and budget optimisation tactics that you can use to improve performance and drive efficiency.
Your bidding strategy will have a big impact on your ad delivery and budget pacing, so make sure that you understand all of the options offered in the TikTok Ads Manager.
Here are some of the bidding and optimisation strategies available to advertisers:
Bid Cap – TikTok will aim to keep its average Cost Per Result below your chosen bid cap.
Cost Cap – TikTok will aim to achieve an average Cost Per Result – actual costs may fluctuate slightly throughout the campaign.
Lowest Cost – TikTok will utilise your ad group budget to achieve as many results as possible at the lowest Cost Per Result.
The right bidding strategy for your campaign all depends on your business objectives.
However, it's possible to compare two strategies directly by setting up A/B tests in the Ads Manager. To learn more about TikTok bidding and optimisation, check out this guide.
How to create engaging ads on TikTok
Just one more step to complete before you can launch your TikTok campaign – creating and uploading your ads.
1. Upload your creative asset
Kick off the ad creation process by uploading your creative asset.
If you already have a TikTok video ad prepared, you can select it from your computer files or your TikTok video library.
If you need to create a TikTok ad, you can use TikTok's creative tools and video editor to produce a brand-new asset for your campaign.
You'll also be able to choose from several TikTok ad formats, including:
In-Feed Ads (including Spark Ads and Collection Ads)
TopView Ads
Brand Takeover Ads
Branded Effect Ads
2. Preview your TikTok ad
Now is a useful opportunity to preview your TikTok creative asset before you go live.
Make sure that images and videos are loading correctly, and that your branding and products are clearly visible in the ad.
If you're struggling to format your video ads, you can also use the TikTok Intelligent Optimization Tool to adjust your assets to the correct aspect ratio.
(It's also recommended that you preview your ads on both desktop and mobile to ensure that they appear correctly on different devices!)
3. Craft your ad copy
Enter your TikTok ad copy, including your headline and Call To Action.
Although your TikTok ad visuals are hugely important, make sure that you don't neglect your ad copy.
(And if you do, we'll know about it.)
While your ad visuals might be the first thing that captures attention in the TikTok feed, your ad copy can give your audience the vital nudge they need to click and convert.
Keep your ad copy short and snappy, focus on your key product points, and ensure that all text is within the TikTok character limit.
4. Add your CTA
If you're going to successfully drive landing page traffic or app instals, you'll need to incorporate a strong CTA into your TikTok ads.
You can choose from a range of different CTA buttons, so pick an option that aligns closely with your creative message:
Learn More
Shop Now
Download Now
Sign Up
Contact Us
Be sure to set up landing pages that are directly connected to your TikTok ads. A disjointed customer journey can be jarring for your audience, so focus on creating a seamless user experience from click to conversion.
It's also a great idea to A/B test various CTAs across your ad groups.
Although the CTA button may seem like a small element of your campaign, you'd be surprised at how different options can make a major impact on performance and engagement.
Once you've finalised all of these details, just hit the 'Submit' button to create your TikTok ad.
How to succeed with TikTok ads
If you want to launch a truly engaging ad campaign, it's important to follow TikTok's best practices and proven creative strategies.
One of the most important elements of TikTok advertising is keeping up with new trends and user behaviours.
TikTok creative trends and challenges are constantly emerging, and with the right marketing strategy, you can jump on the bandwagon and drive huge amounts of engagement for your brand.
You might take part in a Hashtag Challenge, or use a piece of trending audio in a new campaign. The execution doesn't need to be overly polished, just authentic and engaging.
Although not every Tiktok trend will be suitable for your business, when the right opportunity arises, don't hesitate to get involved with some creative advertising.
You should also embrace the power of influencer marketing when you advertise on TikTok.
Influencer content can be extremely effective on the platform, particularly if you find talented creators who can tap into a relevant audience and promote your products in a natural way.
Spark Ads are a fantastic tool for amplifying influencer marketing posts, so be sure to build these into your TikTok strategy. 
As an expert TikTok advertising agency we can help you with your campaigns just get in touch for a free consultation.
Useful resources for TikTok advertising
Keen to advertise on TikTok but hunting for some additional resources?
We've got you covered.
Below are some handy links that will provide you with all the fundamental information and marketing insights that you need.
TikTok advertising can be a game-changer for digital marketers – but the key is to communicate with the right audiences.
By utilising data-fuelled targeting tactics, you can increase the efficiency of your ad spend and drive exceptional results through TikTok ads. Plus, if you can consistently A/B test different audiences, you'll be able to skyrocket your returns in no time.