If you're looking to crush your business objectives and supercharge your brand growth through social media marketing, TikTok is a fantastic option.
The platform provides brands with valuable access to younger audiences, data-driven targeting options, and high-impact ad formats.
And the key to success with TikTok marketing?
A data-fuelled and insight-led TikTok strategy that enables you to reach your target audiences at scale with eye-catching creative assets.
We're about to run through the fundamentals of TikTok advertising, and explain how you can maximise the effectiveness of your budget to accelerate the growth of your brand.
What is TikTok marketing?
To put it simply, TikTok marketing is any activity that involves brands promoting their business, products, or services on the TikTok platform.
But TikTok marketing comes in many forms, and the versatility of the platform is one of its biggest strengths.
For example, brands can utilise a variety of strategies (e.g. paid advertising, organic content, influencer marketing) as part of a wider TikTok campaign. These different tactics can help marketers to tackle a broad range of business objectives and crush multiple goals.
Businesses can achieve a huge amount with TikTok marketing, from strengthening their brand presence to building brand awareness among a new audience.
The key is to select the right marketing strategies, identify the right target audiences, and build effective creative assets that can deliver outstanding results.
Organic vs Paid
If you're planning to launch a TikTok marketing campaign, you'll often see the terms 'organic' and 'paid' mentioned online.
These are two highly important types of TikTok marketing, and understanding how to maximise the potential of each strategy is crucial.
So what's the difference between organic marketing and paid marketing on TikTok?
Organic marketing refers to any activity that doesn't incur costs on the TikTok platform.
For instance, many brands will regularly post TikTok videos about a wide range of topics to keep their followers engaged and interested.
When TikTok users then share these videos with their own followers, the brand automatically reaches new audiences, extends its reach, and attracts additional followers to its TikTok account.
This is one of the major benefits of organic marketing – creating content and posting TikTok videos is completely free.
(Source: tiktok.com)
(However, it's worth noting that there are some common costs associated with organic marketing – content production and marketing agency fees, for example.)
Paid marketing, on the other hand, involves brands paying to launch ads throughout the TikTok feed and app. These ads can be delivered in a wide range of different formats and can be targeted toward highly granular and data-driven audience segments.
If you're looking to generate online sales at scale and reach specific audiences, then TikTok paid advertising is an invaluable tool.
(Source: tiktok.com)
A blend of organic and paid marketing is usually the best approach on TikTok and can allow you to effectively communicate with your existing TikTok community while also driving clicks and conversions among hot prospects.
What are the benefits of TikTok for brands?
TikTok is one of the most popular social media platforms in the world, and TikTok marketing is utilised by brands from every industry.
So what makes TikTok so popular with businesses? And how can a winning strategy help you to smash your most ambitious business objectives?
Well, for one thing, the sheer scale of the TikTok app is mind-blowing.
TikTok was crowned the most downloaded app of 2021 and achieved around 656m global downloads. The platform also currently attracts around 1bn monthly active users, meaning brands can easily reach sizable new audiences and scale up their ad spend efficiently.
Plus, if you're looking to reach, engage, and convert younger shoppers, then TikTok is the ideal place for some strategic marketing.
41% of TikTok users are aged between 18-24, and approximately 73% of the total user base is below the age of 34. With creative TikTok content that's designed to engage a younger demographic, you can effectively reach millennial and Gen Z audiences at scale.
Finally, the versatility and massive commercial potential of TikTok marketing are some of the biggest reasons that you should be utilising the platform.
TikTok advertising can allow you to tackle a wide range of different objectives, from boosting brand awareness to generating cost-efficient conversions.
You can achieve these objectives by creating authentic content, launching tactical paid ads, and harnessing the power of influencer marketing.
If you can take advantage of the full TikTok marketing offering, you'll be outperforming other brands and growing your business in no time.
3 brands who are crushing TikTok advertising
Now that we've covered the key benefits of TikTok advertising, let's take a look at some real examples of brands that are taking full advantage of the social media platform.
VIRAGE
Jewellery brand VIRAGE is a great example of a brand that has utilised various tools and TikTok ad solutions to generate rapid business growth.
VIRAGE worked closely alongside its TikTok account managers to develop a smart strategy that could drive positive returns at every stage of the marketing funnel.
The business initially started by refining its ad campaign structure, using the full TikTok for Business ad network to increase reach and engage a wider pool of prospects. VIRAGE also enlisted the help of TikTok creators and content experts to produce assets that would effectively boost awareness and attract high-value followers.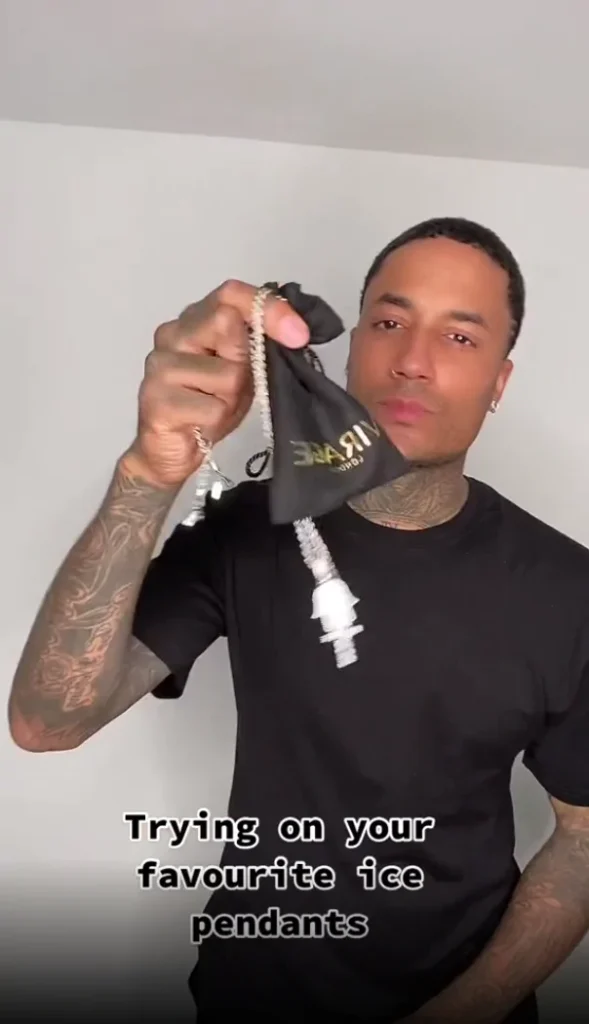 (Source: tiktok.com)
These refreshed creative assets proved to be a game-changer for VIRAGE.
The brand focused on creating snappy influencer-style videos to showcase its product benefits. Campaigns also featured popular music and audio snippets that helped VIRAGE to gain organic momentum and reach new audiences.
This TikTok strategy was an overwhelming success.
VIRAGE delivered a whopping 1.6m impressions throughout the campaign, resulting in a 467k increase in followers. The business had previously achieved a maximum campaign reach of 12,800 – by the end of this activity, it had reached 480,000 unique users.
This TikTok campaign was brilliantly simple, using a native creative approach and data-driven optimisations to deliver exceptional performance for VIRAGE.
Wonderskin
Award-winning beauty brand Wonderskin launched TikTok ads to drive cost-efficient product sales.
To tackle its business objective, Wonderskin leveraged Video Shopping ads – one of TikTok's newest paid advertising solutions.
Video Shopping ads allow marketers to communicate in-depth product messaging through video assets, while also displaying clickable product tiles and sales-led CTA buttons.
And when it comes to driving high volumes of sales through TikTok, this is a powerful combination.
(Source: tiktok.com)
The brand created eye-catching product-led video ads that immediately captured user attention in-feed and drove high levels of engagement.
However, Wonderskin's secret weapon was the Dynamic Destination tool. Dynamic Destination enabled the business to automatically create bespoke in-app product landing pages that were tailored around user intent and product interest.
By pairing super-effective Video Shopping ads with dynamic product landing pages, Wonderskin managed to achieve mind-blowing results.
The brand drove a 46% higher ROAS versus benchmarks, as well as a 33% lower cost per completed payment and a 21% higher completed payment rate.
Wonderskin leveraged TikTok advertising to focus on bottom-funnel sales and conversions, and thanks to a data-fuelled marketing strategy, the brand achieved exactly that.
L'Oréal Paris
L'Oréal partnered with TikTok to launch its latest haircare product range, aiming to rapidly increase brand awareness and drive sales among new audiences.
The brand utilised several ad solutions and TikTok features throughout the campaign, kicking things off with a Branded Hashtag Challenge.
The Hashtag Challenge put a unique spin on a popular 'transformation' video format and encouraged customers to submit their own 'before and after' videos with a branded hashtag.
More importantly, L'Oréal also leveraged the Branded Mission solution, which allows marketers to crowdsource TikTok content from creators and integrate it into paid advertising campaigns.
(Source: tiktok.com)
By driving sky-high levels of engagement with a Hashtag Challenge and capitalising on User Generated Content with the Branded Mission solution, L'Oréal was able to drive outstanding performance.
The business also further amplified this valuable content through strategic ad formats, including TopView ads and In Feed ads.
UGC is an extremely powerful asset on social media channels, as it allows brands to boost their credibility and deliver product messages that feel authentic and trustworthy.
By using the content generated from its Branded Hashtag Challenge in paid ads, L'Oréal rapidly scaled up its campaign reach and drove huge levels of organic engagement.
The brand achieved a staggering 1m likes on its Branded Mission content, as well as achieving an impressive 8.4% increase in ad recall among its target audience.
How to accelerate brand growth with TikTok
Looking to grow your business on TikTok with a high-performing marketing strategy?
You're in the right place.
We've pulled together a selection of proven TikTok best practices that will help you to strengthen your brand voice, generate jaw-dropping results, and improve the effectiveness of your social media activity.
1. Harness the power of paid advertising
If you're looking to extend your reach and engage new audiences on TikTok, then paid advertising is an invaluable tool.
With the right strategy in place, you can use TikTok paid ads to crush your marketing objectives, skyrocket your business growth, and unlock new revenue opportunities.
TikTok paid advertising enables you to target highly specific audience segments, meaning you can build and engage high-value audiences who are more likely to convert.
There are several standard audience segments available for targeting (e.g. Location, Interest, Behaviour) that can deliver positive returns for marketers. However, advertisers can also create powerful Custom Audiences that are built using real customer data and advanced pixel segments.
These audiences can be targeted with a wide range of creative TikTok ad formats. Different placements can help you to achieve different business objectives, so selecting the right formats is key.
TikTok offers several different ad types, including:
In Feed ads
TopView ads
Brand Takeover ads
Hashtag Challenge ads
Branded Effect ads
If you can target data-fuelled audience segments with strategic and eye-catching ad formats, then you'll be in a great position to drive incredible results through TikTok.
2. Tap into creator and influencer content on TikTok
Producing highly engaging and creative TikTok videos is a key ingredient for successful marketing on the platform.
And when it comes to social media, some of the most effective video content can often be sourced from TikTok users and creators.
Incorporating user content into your TikTok advertising strategy can be a game-changer for your business, allowing you to effectively crowdsource high-quality videos and reach brand-new audiences.
There are two main types of user content that you can leverage on the TikTok app.
The first is User Generated Content (UGC) – this can include anything from funny videos posted by your audience to educational content uploaded by existing customers.
The true power of UGC comes from its authenticity. Since this content is created by real people, it immediately feels more credible and trustworthy for your audience, which can help you to drive more engagements and conversions.
The second type of TikTok user content is influencer marketing.
Influencer content is ridiculously popular on TikTok, and if you partner with the right creators, you can tap into brand-new audience segments and unlock valuable revenue opportunities.
Influencer content is insanely effective on TikTok. If you can find relevant creators who can produce compelling TikTok videos and reach valuable potential customers, then the sky is the limit for your influencer marketing campaigns.
Influencer marketing is also highly versatile, which is a massive bonus for your business.
You can work alongside TikTok influencers to launch Hashtag Challenges, create content promoting your products, or even produce assets for other social media platforms.
3. Use TikTok analytics to fuel content performance
Utilising TikTok analytics and in-depth audience insights is a great way to supercharge the performance of your content.
When you post organic content on TikTok, you'll be able to access analytics that highlight how your videos are performing and the types of audiences that are engaging with them.
By paying close attention to this data, you can begin to refine your content strategy and use the TikTok algorithm to your advantage.
For example, you may begin to identify patterns among your best-performing pieces of content. It could be that certain hashtags are boosting the visibility of your posts, or that a particular audio snippet is performing well at the moment.
If you can use these insights to improve and perfect your TikTok videos, then you have a much higher chance of appearing on the For You page for more users.
The more exposure you can achieve for your own content, the more engagement you'll drive, and the more followers you'll attract.
This process can take a fair amount of trial and error. You'll need to stay close to your TikTok analytics to understand what's working (and what isn't) and stay agile with your creative approach to react to new trends and opportunities.
However, the TikTok algorithm often rewards brands who have previously uploaded popular videos, so it's possible to gain a huge amount of momentum with the right content!
4. Increase engagement with Hashtag Challenges
TikTok Hashtag Challenges are incredibly popular on the social media platform, and if you can put them to good use for your brand, the results will speak for themselves.
Hashtag Challenges involve brands or users setting up a challenge that TikTok audiences can participate in. These could be physical challenges, dance challenges, or creative challenges – the possibilities are endless.
There are two ways to get involved with Hashtag Challenges on the platform.
If you have an original idea for a Hashtag Challenge that you think will resonate with your audience, then you can launch your own challenge on TikTok. This could be shared organically with your current followers, or amplified through a paid ads campaign.
Alternatively, you can submit your own video to an existing TikTok Hashtag Challenge. This can be a great way to jump on a popular bandwagon to rapidly increase the visibility of your brand.
There are two core features of a successful Hashtag Challenge – creativity and relevancy.
If you want users to get involved with your own Hashtag Challenge, you need to make sure that it's genuinely interesting and fun to participate in. You might offer a prize incentive to encourage submissions or post some of the best videos on your TikTok feed.
On the other hand, if you're getting involved with an existing challenge, make sure that there's a clear connection between the Hashtag Challenge and your product offering.
When you produce a video that feels genuinely authentic and natural, you'll have a much higher chance of gaining increased exposure and engagement.
5. Engage your target audience with viral audio clips
Audio is one of the most important elements of popular TikTok video content.
TikTok 'sounds' such as audio clips and music tracks can quickly gain enormous viral fame in the same way that hashtags and challenges do.
Using a viral sound clip presents your business with a fantastic opportunity to capitalise on trending content and popular videos.
Your videos will appear alongside other posts using the same audio snippets – and if you can find a way to stand out and capture attention, your content will be shared among a wider audience, and the snowball effect will kick in.
That means more video views, more engagements, and more organic reach for your brand.
Don't hesitate to utilise popular audio clips in your TikTok videos. The most successful brands on TikTok are the ones that embrace the latest trends, produce relevant content for their target audience, and pay close attention to user behaviours.
Businesses looking to grow their brands on TikTok often deliver the best results by accessing professional TikTok advertising services. A specialist marketing agency can help brands to capitalise on expert strategies and best practices to drive optimal returns on TikTok.
How to get started with TikTok video marketing
Let's run through the steps required to set up your TikTok business account and launch some wildly effective marketing campaigns.
Whether you're looking to run organic or paid activity on TikTok, the first thing you'll need to do is set up a TikTok for Business account.
You can think of TikTok for Business as your one-stop shop for TikTok marketing.
This tool provides you with all the data you need on content performance, audience insights, and campaign management.
To get started with TikTok for Business, download the TikTok app, and open an account
using your phone number or email address. Once you've signed up, open the 'Me' page and hit the '…' option at the top of the screen.
From here, select 'Manage Account and then 'Switch to Business Account'. You'll then be prompted to choose a relevant business category for your brand.
Once you've completed this step, you'll have a brand new TikTok for Business account ready to go. You can now begin to post TikTok content, build your follower base, and develop a killer organic strategy.
How to set up and launch paid TikTok ads
If you're looking to run paid ads on TikTok, then there are a few more steps that you'll need to complete before getting started.
Sign up for a TikTok ads account
Once you've successfully set up your TikTok for Business account, you'll then need to create a dedicated TikTok ads account to launch paid campaigns.
Open this page and follow the steps to create a new ads account. You'll be required to enter some basic information about your business, but once you've filled out the necessary forms, you'll be good to go.
Set up your TikTok campaign
Click on the 'Campaigns' tab and hit 'Create' to begin setting up a new ads campaign.
Choose your desired campaign objective, enter a memorable name for your campaign, and then input your campaign-level budget.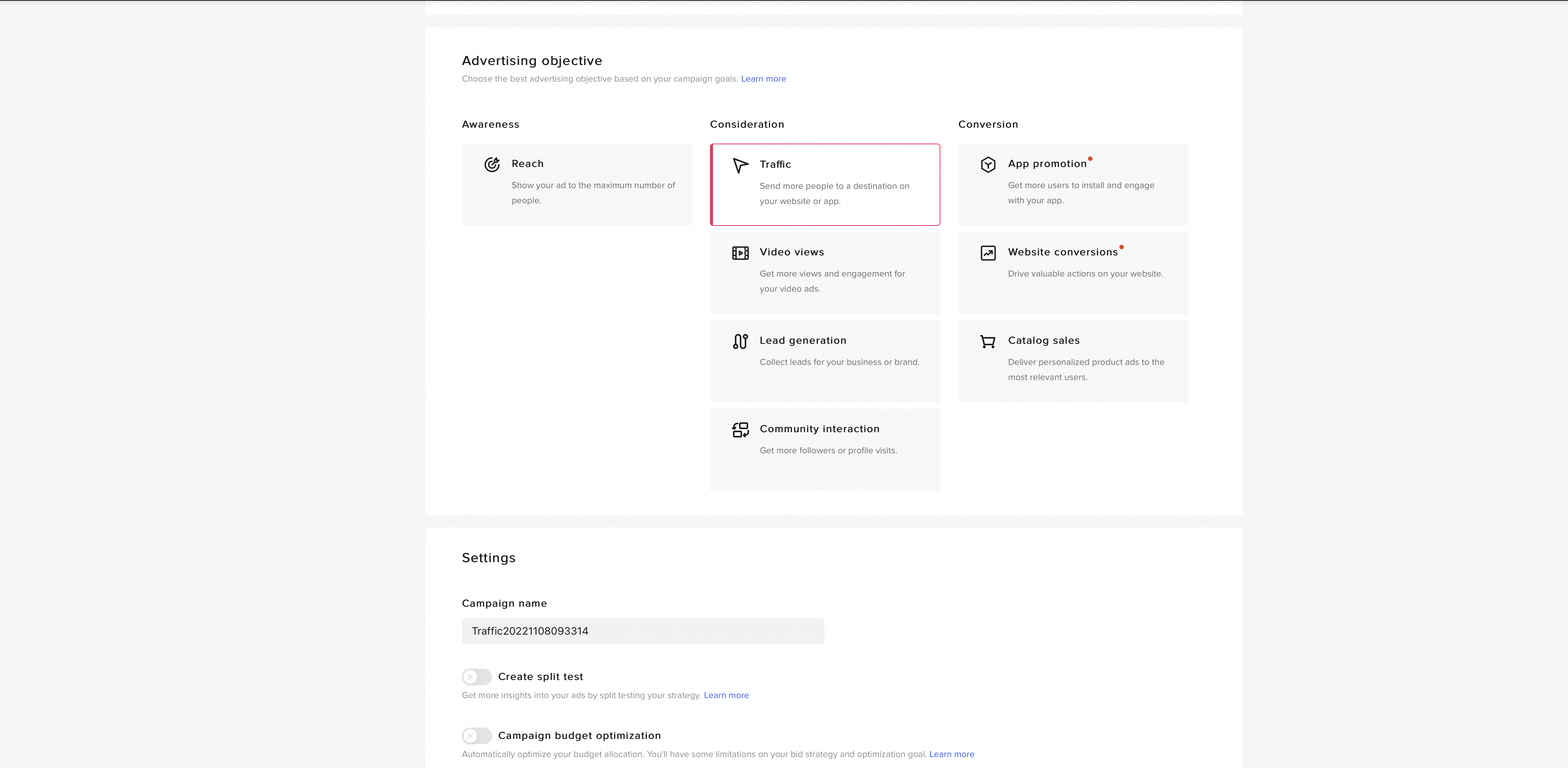 Setting a lifetime budget will give the TikTok algorithm more flexibility, while a daily budget provides you with more control over daily expenditure.
Once your objectives and budgets are in place, it's time to set up your ad group.
A TikTok ad group contains a lot of important information about your campaign (i.e. target audience, budget, placements) and multiple ads can sit within one ad group.
You can also set up multiple ad groups to test out different audiences, creative assets, and strategies. This is a great way to gather learnings and optimise performance over time.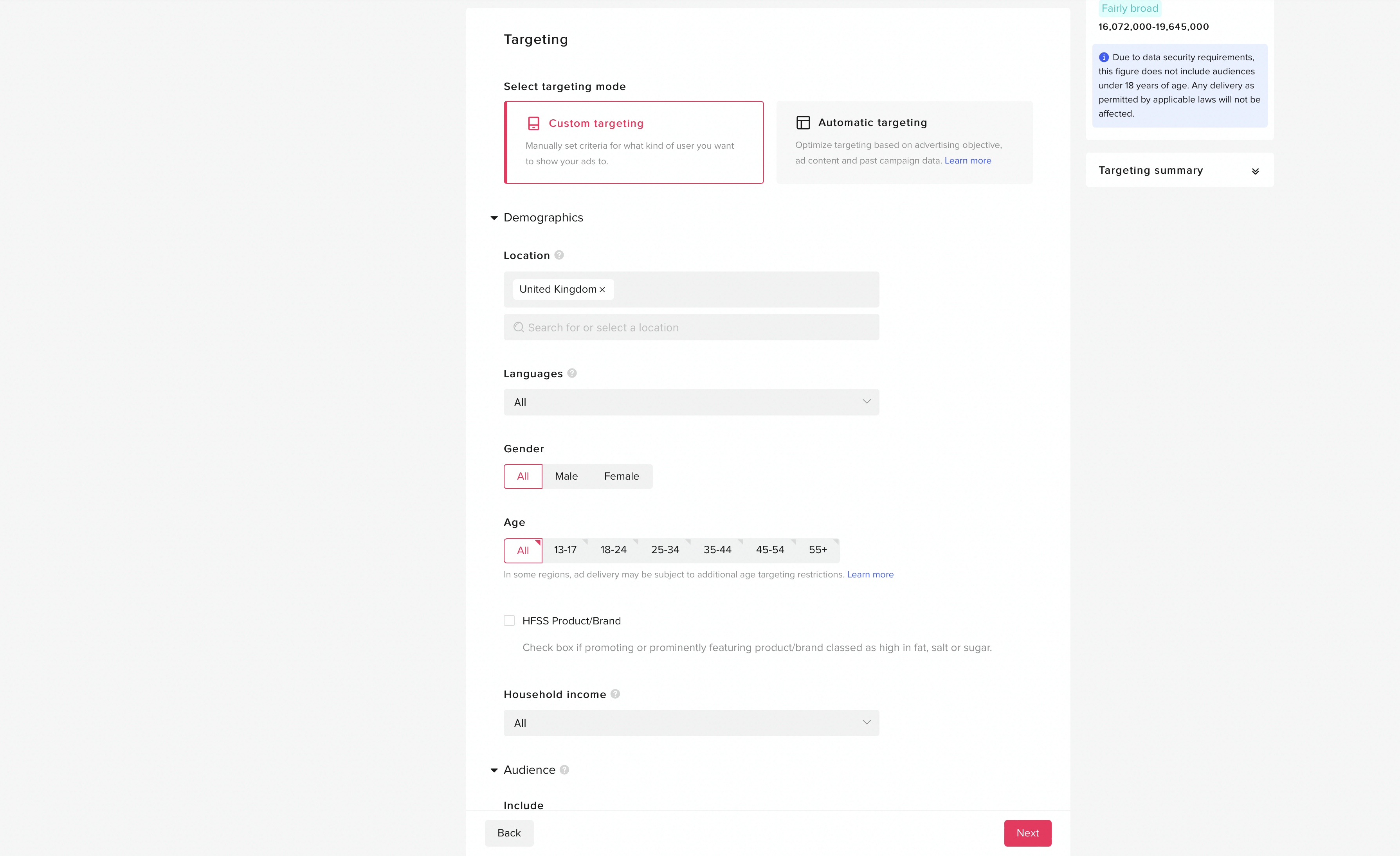 To start constructing your ad group, choose your preferred TikTok ad placements. You can pick 'Automatic Placement' to maximise reach or 'Select Placement' for manual control.
You'll then need to confirm your preferred creative types and set up your target audience.
Create your first TikTok ad
It's now time to craft your creative assets.
Start by uploading an image or video file to the TikTok platform.
When you're producing or uploading new TikTok assets, always remember to double-check the relevant ad specs based on your placements and ad formats. Last-minute production edits can be stressful (and costly) so they're always best avoided wherever possible!
Create your ad copy, and then select a CTA button for your campaign that aligns with your objectives and creative message. Once you're happy with your final TikTok ad, just hit 'Submit' to complete the process.
Handy resources for TikTok marketing
Keen to learn more about best practices for TikTok ads? Or looking for more detailed information on the different ad formats available?
We've got you covered.
Below are some useful TikTok advertising resources that will help you to launch super-effective marketing campaigns.
TikTok creative best practices
TikTok can be an enormously valuable marketing tool, for both small business owners and bigger brands who are experienced with social media advertising.
With the right approach, you can use TikTok to reach profitable audiences at scale, drive significant revenue for your business, and grow your brand presence online.
Both organic and paid marketing tactics can deliver massive benefits for your business, so make sure that you're building a balanced strategy that will generate optimal results.
As an expert TikTok ads agency we can help you with your campaigns just get in touch for a free consultation.