Twitter can provide e-commerce advertisers with some truly unique and effective marketing opportunities.
The platform allows brands to achieve enormous scale, interact directly with consumers and engage with current trends and conversations. Sounds good so far, right?
But if you're planning to launch a new Twitter campaign, it's important to wrap your head around the different types of Twitter ads.
If only someone would pull together an informative and entertaining guide on Twitter formats.
(Spoiler alert – that's exactly what we've done.)
Read on to discover everything you need to know about the different types of Twitter ads, and how these placements can enhance your paid social marketing.
What's so special about Twitter advertising?
Twitter is a unique social media platform, and that means equally unique marketing opportunities for brands.
Since the platform revolves around conversations and exchanges between users, brands are encouraged to interact with their target audience.
This opens up valuable opportunities for genuine engagement and provides brands with an authentic 'voice' to communicate with their audience.
New trending topics regularly appear on Twitter and drive high levels of organic engagement. With the right strategy, advertisers can take advantage of these trends and involve themselves in active conversations.
Twitter advertising also requires some strategic thinking and smart executions, as space is often limited. Creativity is key.
So what are the main types of Twitter ads available to advertisers?
What are the different types of Twitter ads?
There is a diverse range of Twitter formats available to advertisers, and each placement has its own strengths and advantages.
Image Ads
Image ads feature a single image positioned below the ad text. These ads are simple and easy to create, so they're ideal for a quick turnaround campaign or reactive messaging (e.g. responding to a trending topic).
You can also include additional features (such as polls and CTAs) in your Image ads, encouraging clicks and conversions.
Video Ads
Video ads allow brands to run video assets up to 10 minutes long – although Twitter recommends that video ads run for around 15 seconds to drive maximum engagement.
Any video assets under 60 seconds will automatically loop, so if you can deliver a short and snappy message, this can work to your advantage.
Advertisers can also promote live video streams, so if a suitable opportunity arises (e.g. a product launch or webinar) then this can be a great way to expand audience reach.
Carousel Ads
If you have experience with Carousel ads on other social platforms (e.g. Facebook) then you'll be familiar with this concept.
Twitter Carousel ads allow you to run between two and six assets in a single format. This can be an excellent way to advertise multiple services or showcase a new product range.
The Carousel assets can also be static images or videos, which is convenient if you have a range of different formats to utilise.
Moment Ads
If you're looking to tell a story beyond the 280 character limit, Moment ads might be the format for you.
These ads allow you to curate a collection of Tweets and promote them under a single placement, allowing for quick access and easy engagement.
You might want to display positive feedback from a business event, or utilise the power of UGC and showcase some glowing customer reviews.
It's also a smart way to resurface old content that you might have posted previously.
Text Ads
Sometimes simplicity is best – and if you have the right message, there's nothing wrong with a good old fashioned Text ad.
Although images and videos can help tremendously when you're trying to grab attention and drive engagement, if you've seen an organic Tweet generate some momentum, it can be worth promoting the content to increase your reach.
Follower Ads
Looking to expand your Twitter brand profile and increase your follower numbers?
Follower ads could be the ideal solution.
This format allows you to directly promote your brand profile on Twitter, accompanied by the usual 280 characters of text. The ad also contains a 'Follow' CTA to help drive action.
If targeted correctly, this ad can be a very effective way to boost the visibility of your profile and reach out to a wider audience.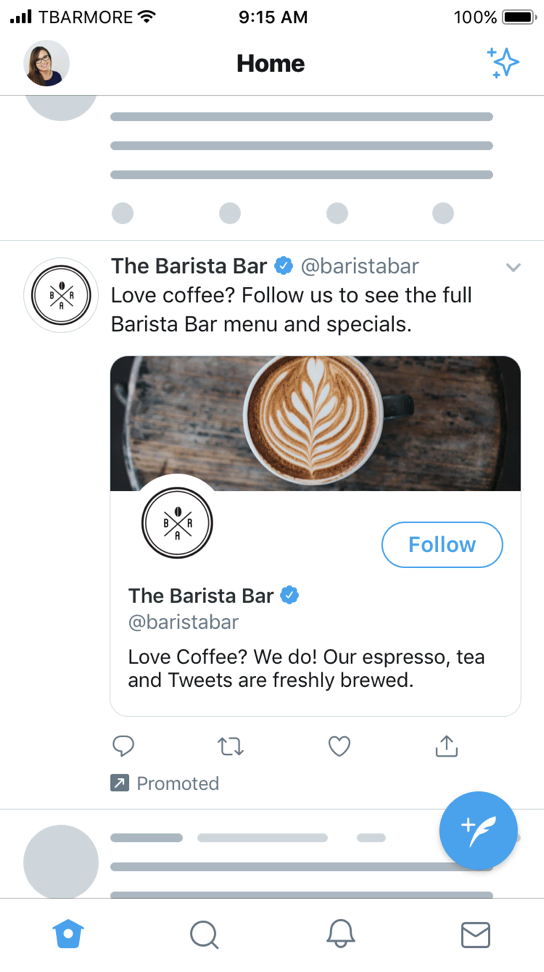 Amplify Ads
Amplify ads are a great way to increase the reach and visibility of your video assets.
These ads appear before longer-form content on the Twitter platform, effectively functioning like a skippable pre-roll advert.
They can run for a maximum of 2 minutes and 20 seconds, but the 15-second recommendation still applies here.
Since users are consuming more and more videos on the Twitter platform, these ads can help you to capitalise on organic content that's gaining traction among your audience.
Takeover Ads
Keen to make an impact on your Twitter audience? A Takeover ad could be the answer.
This format sits at the very top of the user timeline when the app is opened, delivering strong visibility and encouraging immediate engagement from your audience.
Takeovers can be run as both static images and videos, so you can select the perfect asset to make a serious impression on the Twitter timeline.
If you ever need some more guidance on different Twitter formats, then the Twitter Ads Help Center is a handy page to bookmark for future reference.
You can also find detailed specs for each of these ad formats here.
Best practice for Twitter advertising
Now that we've covered the fundamentals of Twitter ads, let's look at some best practices for advertising on the platform.
Keep your copy short and sweet
With only 280 characters at your disposal, you'll need to make sure that every word counts.
Identify your strongest selling points and product benefits, and keep your ad copy focused on these central themes.
Twitter data suggests that Tweets between 50-100 characters deliver superior performance – so don't be afraid to cut the fluff and get straight to the point.
You can always direct users to more information on your website or landing page, and encourage a click to discover more.
Utilise strong visuals
Users are often scrolling through the Twitter timeline at rapid speeds, so you'll need visuals that can stop a thumb in its tracks.
It's important to showcase your products quickly and clearly. This may sound obvious, but with limited time to make an impression, every second counts.
You should also ensure that your ad visuals are connected to your copy. A disconnect between text and imagery can be jarring, so be sure to deliver consistent messaging.
Include a compelling CTA
A strong and persuasive CTA is crucial to success. You'll always want to drive a certain action with your ads, so the first step is to identify what this action is.
Are you looking to boost your follower numbers to increase community engagement? Or drive an immediate purchase from a product page?
Adjust your CTA to reflect your objectives, and use short and clear language to encourage the desired action. End your Tweets with specific phrases like 'Follow us' or 'Click to discover more' to nudge users in the right direction.
And there you have it – a whistlestop tour of Twitter ad formats.
Twitter can enable advertisers to deliver highly effective campaigns and engage frequently with target audiences. You just need to ensure that your assets are tailored to this unique platform.
Now it's time to get out there and start Tweeting!
Get help with your campaigns from an expert Twitter ads agency.