Picture this. You're browsing the usual content on your Facebook feed when a Story post at the top of the page catches your eye. 
Maybe it's an update from friends and family or a new post from a celebrity. 
You click on the Story, thinking you'll just take a quick peek.
Before you know it, you're caught up in the Facebook Stories wormhole, rapidly consuming content as you tap through a seemingly endless number of images and videos. 
And that's the power of Facebook Stories. 
These bite-sized pieces of content are incredibly engaging, and users can consume reams of new Stories without even lifting a finger. 
Hold on – an exceptionally engaging social media format that instantly captures user attention? 
If you're thinking this sounds like a golden opportunity for paid advertising, you'd be right. 
Facebook and Instagram Stories ads can be a highly effective marketing tool. 
Since they sit alongside organic user content, they can easily drive sky-high levels of engagement and impressive business results. 
Let's take a more in-depth look at this format and explore how it can contribute to your business objectives, engage your target audience, and enhance your paid social campaigns.
What are Facebook Stories ads?
Facebook Stories appear at the top of the news feed or Messenger app. Once a user taps on a single Story post, they can browse through multiple Stories in quick succession. 
Stories are essentially just short and snappy pieces of user content. They can be uploaded as full screen images or videos, and are designed to be easily consumed in large numbers. 
Facebook Stories ads look and feel almost identical to these organic Stories posts, but appear with a 'Sponsored' tag to mark them as promoted assets.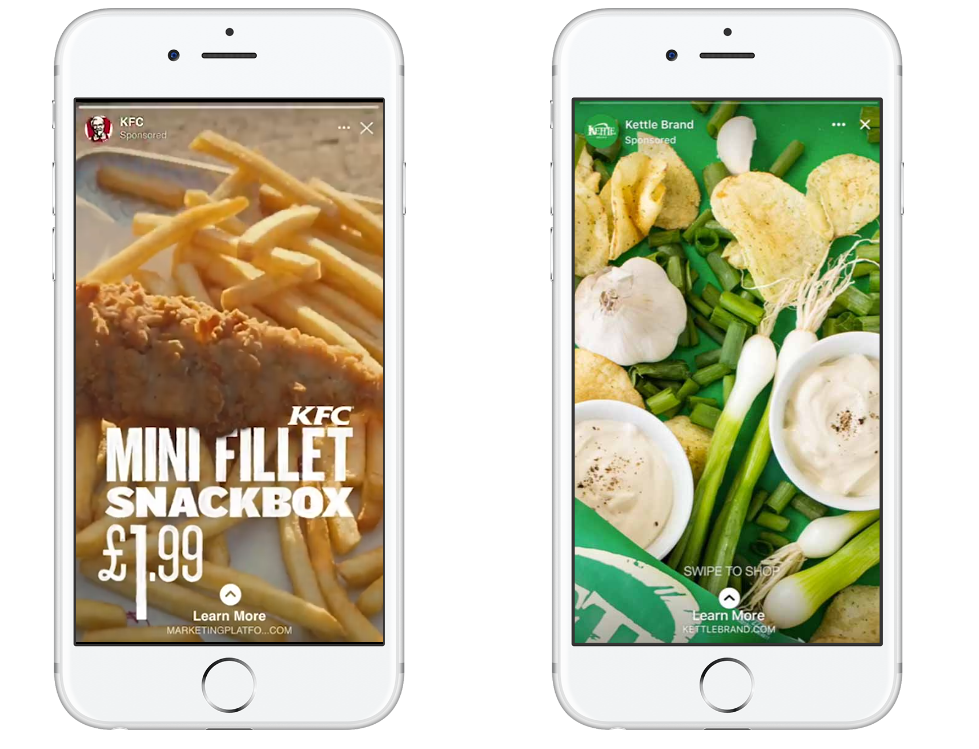 Stories image ads appear for 5 seconds, while Stories video ads can play for up to 15 seconds. 
When a video asset is longer than 15 seconds, it will be split into up to 3 separate 'Stories cards'. If a user wants to continue watching a long-form Stories video that extends beyond these cards, they'll need to tap a 'Keep Watching' button. 
Facebook Stories ads also come equipped with a 'swipe up' functionality that sends users to a dedicated landing page. 
Since Stories ads are fairly short, the key is to capture attention quickly with a bold asset and encourage users to swipe up to learn more. 
What are Facebook Stories ads used for? 
Facebook Stories ads are highly versatile and can be used to achieve a wide range of different business objectives. 
These ads can be set up to optimise toward the following campaign goals:
Brand Awareness
Reach
Traffic
App Installs
Video Views
Lead Generation
Conversions
Depending on your campaign objective, you can use different CTAs within your Facebook Stories ads to drive action.
For example, if you select a 'Traffic' objective, you can utilise CTAs like 'Shop Now' and 'Book Now' to encourage a swipe-up. If you've set a Lead Generation objective, you can include a relevant CTA like 'Sign Up' or 'Get Offer'. 
Since you're working with limited time to drive action, picking the right Call To Action is important to nudge customers in the right direction and persuade them to swipe up. 
But whatever your core objective is, the real power of Facebook Stories ads is in their placement.
These ads are integrated among highly engaging organic posts, meaning you can capitalise on user attention. You just need the right targeting and creative assets to convince your audience to take action.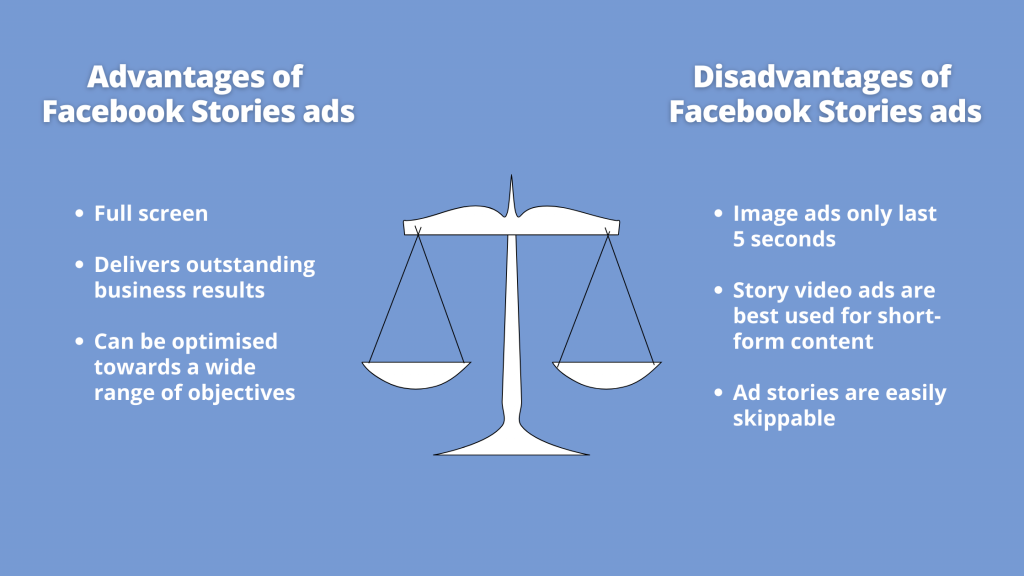 What are the advantages of Facebook Stories ads? 
One of the biggest selling points of Facebook Stories ads is the fact that they're full screen. 
When your ad dominates the entirety of a mobile screen, it's almost impossible for your target audience to ignore it. 
This kind of visibility is like gold dust for paid social advertisers. You just need to deliver a creative asset that will generate interest and deliver conversions. 
Plus, Stories ads aren't just designed to capture attention. They can also deliver outstanding business results. 
62% of consumers say that they became more interested in a brand or product after seeing it in a Story, while 34% say they actively searched for a new product in-store after seeing it advertised through Facebook Stories ad campaigns.
And since Stories ads can be optimised toward a wide range of objectives, they can help businesses to improve the efficiency and profitability of their paid social campaigns. 
What are the disadvantages of Facebook Stories ads? 
While the full screen nature of Facebook Stories ads is definitely a bonus, these placements don't provide advertisers with much time to deliver their message. 
Image ads only last for 5 seconds, and although video ads can technically run for up to 2 minutes, Stories are generally best used for short-form content. 
Granted, this won't be an issue for every campaign, as some ads can convey key information in a matter of seconds. But if you need a bit more time and space to deliver an in-depth creative message, you may struggle in the confines of a Facebook Story.
It's also worth noting that Facebook Stories ads are easily skippable.
With just a single tap, users can move past your Stories ads and onto the next piece of content. This puts a fair amount of pressure onto your creative assets because they need to instantly grab user attention – and this is often easier said than done. 
How to set up and run Facebook Stories ads 
Ready to launch your own Facebook Stories ad campaign?
Let's run through the steps required to get started.
1. Log in to the Facebook Ads Manager and click 'Create'.
2. Choose an objective that can be set up for Facebook Stories – this includes App Installs, Brand Awareness, Conversions, Reach, Traffic, Video Views, and Lead Generation. 
3. Set up your desired target audience.
4. Confirm your placements. Stories will be automatically included when you choose a compatible objective, but you can click Edit Placements to refine the list. 
5. Select the relevant Facebook business account.
6. Choose 'Single Image' or 'Single Video' as your Stories ad format.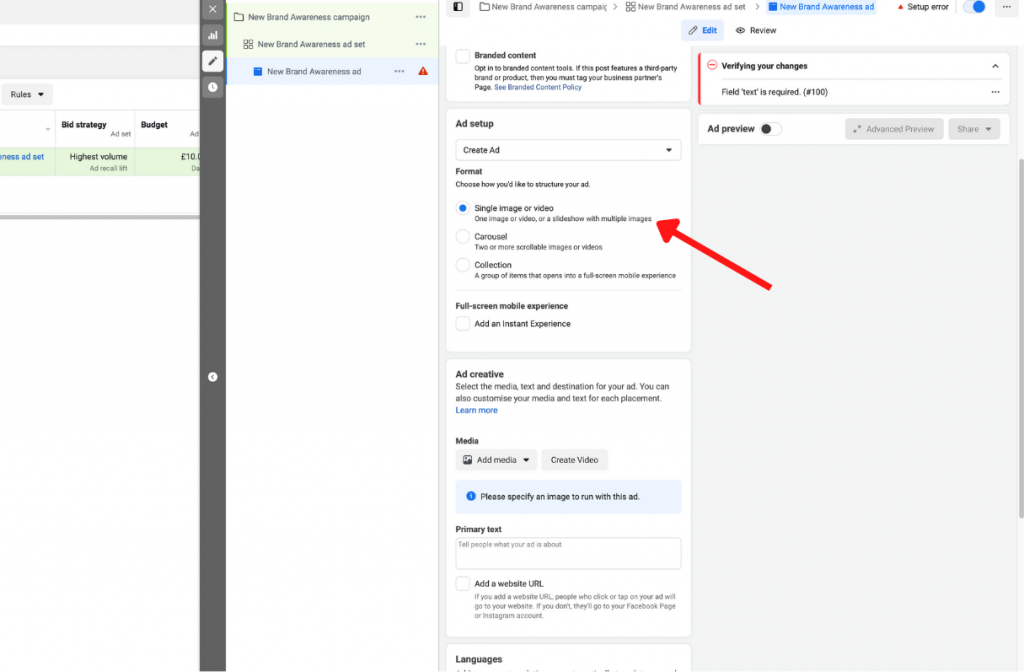 7. Upload your creative assets, making sure that your ads are designed in line with the specifications for Stories ads. If you need a refresher on these specs, click here. 
8. When you're happy with your campaign details, hit 'Publish'. 
Voila – you've launched your very own Facebook Stories ad campaign! 
If you need any more guidance on the campaign set-up process, just check out this guide.
How much do Facebook Stories ads cost? 
The cost of running a Facebook ad campaign depends on a few factors.
Here's a handful of the different elements that can influence the total price you pay:
Your choice of ad placement
Your industry
Your audience targeting 
Your bidding strategy 
However, that doesn't mean you need to be kept in the dark when it comes to estimating Facebook advertising costs. 
Below are some average costs for Facebook ads, based on a few common metrics.
The average Cost-Per-Click (CPC) on Facebook is £0.79. 
The average Cost-Per-Thousand (CPM) on Facebook is £5.88.
The average Cost-Per-Download (CPA) on Facebook is £4.47. 
These numbers can be handy to reference as a rough guide, but remember – your mileage may vary. 
Your Facebook Stories advertising costs will fluctuate regularly, so you must keep a close eye on both your spend and available budget. 
Expert strategies for optimising Facebook Stories ads
When you're investing your hard-earned cash into Facebook marketing, you need to make sure that your ads are working hard to generate strong returns at a lower cost. 
Fortunately, we can help. 
We've pulled together three proven strategies that will help you to optimise your Facebook Stories ads for success. 
1. Use clear, creative, and compelling visuals 
When you only have a matter of seconds to engage a potential customer, you can't afford to run bland creative assets.
Your Facebook Stories ads need to be bright and bold. Use text sparingly to deliver core product messages, but avoid cluttering the screen.
Here's a great example of an eye-catching Stories ad from Clinique: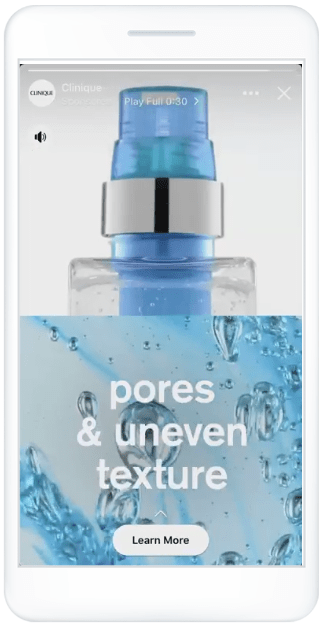 It's also vital that your assets are optimised for mobile devices. Many users will be viewing your ads on a smaller screen, so make sure that your assets are tailored to the mobile experience. 
2. Set up a fully-optimised landing page 
It's very important to create Stories ads that grab user attention and drive action. 
However, it's also crucial to think about the post-click user experience.
There's no point in driving masses of quality clicks with a top-notch Stories ad if your landing page is clunky and confusing. 
Make sure that your dedicated landing page helps to create a smooth customer journey. For example, if your Facebook Story ads are promoting a specific product, it makes sense to drive users to the relevant product page. 
You should also ensure that your landing page is optimised properly for mobile users so that customers can explore your products and make a purchase without any technical issues. 
3. Get straight to the point 
Facebook Stories are short and snappy, which is a big part of why they're so engaging and fun to consume. 
But this also poses a creative challenge for advertisers.
With limited time in which to deliver your marketing message, you need to focus on speed and efficiency. 
Your branding should be immediately clear and visible so that even if a user taps onto the next story, they've acknowledged your brand name. 
If you're advertising a specific product, make sure that it's front and centre throughout your Stories ad. Showcase the most compelling product benefits as quickly as possible, and try to use minimal text when conveying any key information. 
The quicker you deliver your core message, the more chance you'll have of driving clicks and conversions. 
Tracking the performance of Facebook Stories ads
Monitoring the performance of your Facebook Story ad campaign is critical for improving the efficiency of your ads.
Without knowing how your ads are delivering against your key metrics, you'll struggle to make effective optimisations and focus on the best-performing assets. 
Thankfully, keeping track of ad performance is simple. 
You'll just need to access campaign reports through the Facebook Ads Manager. 
You can customise these reports to focus exclusively on the metrics that relate to your primary campaign objective, which is important. For example, if your main priority is driving Traffic, then metrics like 'clicks' and 'CPC' will be most useful to analyse. 
The most important thing is to stay consistent with your reporting. 
Check in on ad performance on a regular basis, and pay close attention to how your ads are performing – this will help you to spot valuable opportunities for optimisation. 
Facebook Stories ads can drive outstanding results for your business. 
The key is to play to the strengths of this format. Focus on producing short and punchy creative assets that can generate interest quickly. 
As always, you should also think carefully about the right objective to pursue. Select a goal that aligns with your business priorities, and regularly check your key metrics to monitor performance and optimise ads.