It has recently been recorded that there are 1.74 billion mobile active users on Facebook – a 21 per cent year-on-year increase. According to research, 48 per cent of millennials only watch video on their mobiles – we think it's safe to say that if there was something you could do as a business to utilise those stats to your advantage then you would want to know about it.
Fortunately, the clever team at Facebook has recognised that both mobile and video need to be championed at every given opportunity and the new Facebook ad collection format does just that. Here's what it is and how it could really help you to draw in the crowds.
What is it?
Let's walk before we can run… A collection is a new Facebook ad format, designed specifically with mobile users in mind. It features a video, slideshow or picture, situated above a collection of linked product images.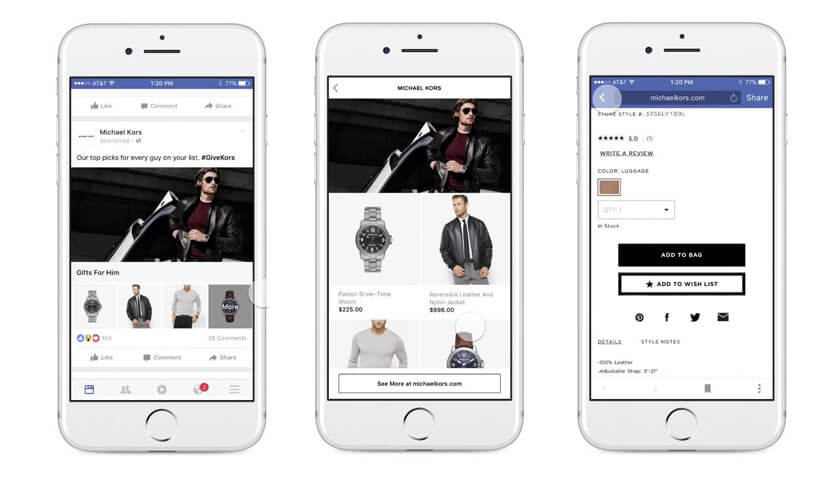 Click on one of those images and you'll be redirected to an 'immersive' experience that's similar to Facebook Canvas, allowing you to show off up to 50 of your products.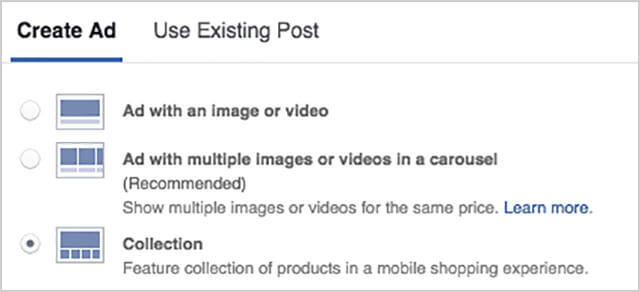 Why does it work?
We think the big benefit of the Facebook ad collection format is that it gives you the chance to immerse your potential customer into your brand. For example, say you're a women's clothing brand – you can create a short video that tells a story and draws a viewer in, utilising items from your collection and then linking to those key pieces in the images you place below the film.
Rather than attempting to make a sale through a standalone series of images, you're able to show how your brand might fit in with somebody's lifestyle (or the lifestyle that they want) – collections have the power to bring a brand to life, in a way that other Facebook ad formats cannot.
Benefits?
As with any advertising, the end goal is to increase your conversion rate and we're confident that the dynamism that the collection format offers can do just that. However, there are also other benefits to targeting mobile users.
Collections allow users to browse products quickly and without leaving the Facebook app, meaning there should be a decreased drop-off rate in comparison to an advert that leads to what could be a (dreaded) slow-loading web page.
As with any new advert, we'll be learning more about the Facebook collection ad format as it develops – the team loves getting to grips with new features and we'll be keeping a close eye on any changes or updates that we think you should know about.
Although simple for a user to experience, the adverts themselves are fairly complicated to set up and if you're feeling unsure about taking advantage of them, then we suggest seeking some expert advice.
The tech pros at Upbeat Agency will be happy to help discuss your business' marketing needs and to get your ads up and running whether you choose collections, dynamic ads or Instagram advertising. To learn more about how we can help boost audience engagement (and, importantly, sales) just get in touch.