Facebook Ads is an incredibly powerful platform for driving traffic to your website and generating customers, but how does it know what happens after people leave the platform?
What is a Facebook Ads Pixel?
How can we be sure that the money you spend on you advertising, is directly contributing to the results you're looking for?
The Facebook Ads Manager
This is the Facebook Ads Manager.
It's a central dashboard for media buyers on Facebook that want to build advertising campaigns and measure results.
Reading the column titles, it makes sense that Facebook is able to track some of the metrics, such as spend, links clicks and ad impressions – after all, these all happen on the platform…
But how does Facebook know how many people purchased through this company's website?
The Facebook Pixel
If you've been wondering what the Facebook pixel actually looks like, here it is above.
Confused?
Simply put, the Facebook pixel is a code snippet that activates when loaded by a page visitor, which sends information back to Facebook. By recording whose profile you're logged into while browsing, Facebook can tell who has been looking where.
Media buyers load up this pixel code snippet with tracking events, such as Add To Cart, Initiate Checkout and Purchase, to track what your site visitors have been up to.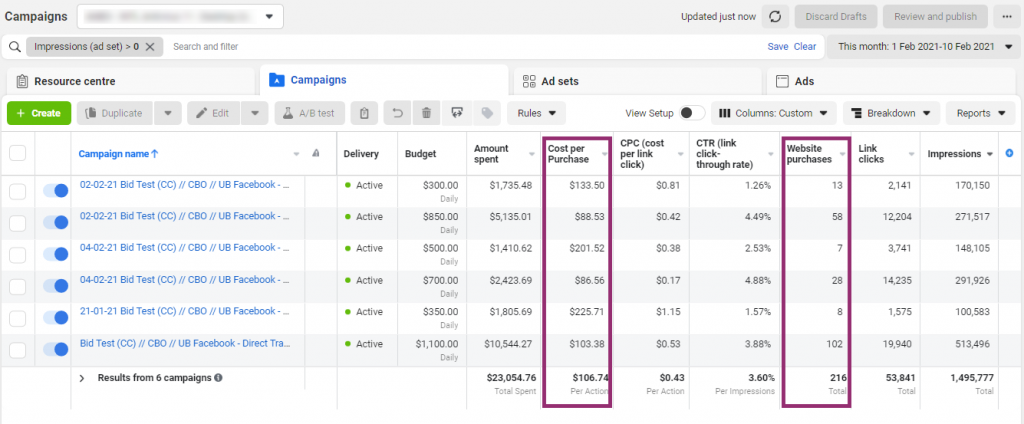 By matching up user profiles that have recently clicked or viewed ads, with the users who activate those trackable events on your website, the Ads Manager can show how effective your ads have been.
Facebook Attribution Windows
By default, Facebook ads will keep track of events fired within a 7 day timeframe after clicking an ad. (Default attribution windows are in a state of flux at time of writing – Before Q1 2021 it has included 28 days + 1 day view, which is now deprecated in favour of 7 day click + 1 day view, until iOS14 enforces the ATT prompt, at which time the default will be 7 day click only).
It is easy to modify attribution windows inside the Facebook Ads Manager, by editing ad sets and scrolling to the bottom of the edit window.
This will change the timeframe within which your ads will attribute conversion events, which affects the numbers that show up in your Facebook Ads Manager, as well as how much data and learnings accumulate for that ad set.
Can I Trust Facebook's Numbers?
Facebook cannot guarantee that the number of purchases you see in your ads manager is exactly how many that ad has achieved – it only shows what it tracked within the time window.
If more than one ad was clicked or viewed by the same user before they converted, conversions will show on the most recent attributable ad (aka last touch attribution).
The Facebook Pixel is also fallible for a number of technical reasons:
Adblock may interrupt the proper functioning of the pixel
The page may not load correctly
The user may be using a VPN
A correctly installed browser-side Facebook pixel has an approximate 90% accuracy.
How Can I Improve Pixel Conversion Tracking Accuracy?
There are 2 big features we use to make Facebook as truthful and useful as possible:
Server-side tracking, using the Conversions API (aka CAPI)
Automatic Advanced Matching (aka AAM)
Server-side tracking improves on browser-side tracking's 90% accuracy substantially.
Instead of waiting for the page to load, so the pixel activates on the user's browser, your CMS will send the event information directly to Facebook at the same time as it registers someone has completed the event requirements.
This means, if I were to buy your item, but leave before waiting for the purchase confirmation page to load, I would not be tracked browser-side, but I would be tracked server-side.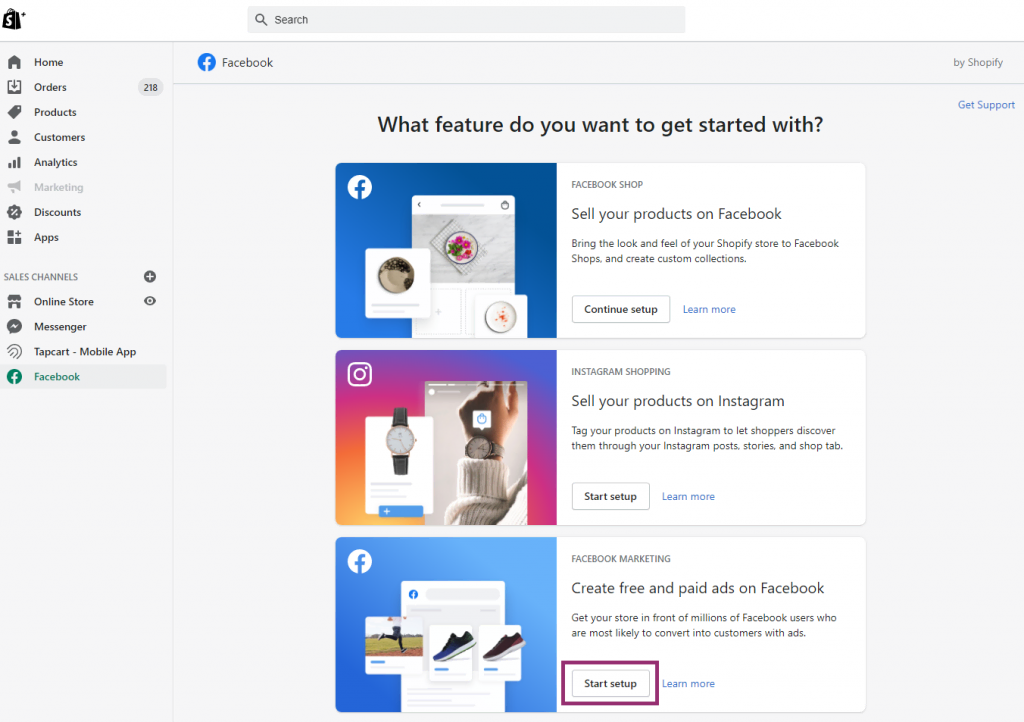 This is straightforward to set up in Shopify, and more platforms are adding this functionality natively all the time.
Google Tag Manager is also adding server-side capabilities in case you are a more established brand with access to a developer.
Automatic Advanced Matching won't help you capture more events, but it will help Facebook's user profile match rate.
If I purchased while using an adblocker or VPN, the pixel may not match my activity on your site against the profile I'm logged into.
However, with AAM activated, Facebook will scan the details I've entered including name, address, phone number and email, to try and automatically match up who is buying what.
This is also very straightforward to set up. Simply toggle it on in the Facebook Events Manager Settings.
Please also refer to our article about iOS14 Changes, which will impact tracking from Q1 2021.
What Is Delayed Attribution?
What happens if a user clicked one of your ads 5 days ago, thought about their purchase for a while, and purchased today?
Would their purchase show up in ads manager today? Or 5 days ago?
Answer: Facebook shows attributions on the click date (i.e. 5 days ago).
Delayed attribution refers to the expectation that more people will convert after the fact, than what can be seen on the same day.
This is crucial to take into account when cutting poor performing ads, and raising budget on effective campaigns.
The difference can be calculated by comparing attribution windows, and measuring the uplift.
How Do I Measure Multichannel Attribution?
Facebook will not take into account user journeys, multichannel activity, or the importance of more ephemeral factors such as word of mouth and brand familiarity.
Attribution and Business Intelligence is a deep subject that Facebook's tracking cannot encompass entirely, so it's important to understand what Facebook does do to calculate its numbers.
As soon as your advertising channels begin to accumulate and work together, you may be better served by introducing 3rd party attribution technology.
People are not just numbers, despite how simplified the Ads Manager makes them appear.
They need many touchpoints with your brand, and may expect many positive experiences before they'd consider purchasing from you. This means that while your prospecting may appear weak, you are likely still making critical positive first impressions, which are converted to purchases by your retargeting activity.
Consider each channel as a part of your marketing mix.
Some channels, such as Pinterest and Snapchat, are cheap to create new impressions but aren't as blessed as Facebook or Google at targeting. Instagram might be where all your new customers find you, but it could be through your Youtube content or your blog's SEO that they come to love you.
Nobody will be able to give you a perfect answer about the true value of each of your marketing efforts, so it's important to make the most of all you're doing and create for yourself a single source of truth that you can refer to to measure each channel's role.
If you would like more information about how we can help you drive positive ROI's for your brand, drop us a message and we'll call you right back 🙂