Facebook advertising is immensely popular with brands around the globe.
And for a good reason.
The Facebook platform offers creative ad formats, detailed targeting, and a wide range of campaign objectives.
This is a winning combination for anyone looking to launch high-performing paid social ads. 
But getting started with Facebook marketing can feel a bit overwhelming sometimes.
Which Facebook ad formats are going to deliver optimal results? How can you make sure that you're targeting the right audiences? Where do you start with setting up an ad campaign?
Take a deep breath. We're about to explain everything you need to know about creating effective Facebook ads, so you can harness the power of this social media giant.
What are Facebook ads?
In simple terms, Facebook ads are any paid social placements that run across the Facebook network. 
They can appear in different areas of the platform (e.g. In-feed, Messenger, Stories) and can be targeted towards specific audience segments. 
However, there's a lot to unpack when it comes to running profitable Facebook ads. 
These Facebook ad placements come in a wide range of shapes and sizes, and different formats can help you to achieve different business objectives. 
It's also very important to target Facebook ads to relevant and receptive audiences. If you're targeting users who aren't interested in your products, then you're going to struggle to deliver results. 
Beyond selecting the right formats and targeting the right users, you'll also need to produce creative assets that capture attention and engage your target audience. 
(Told you there was a lot to unpack, didn't we?) 
How much will Facebook advertising cost? 
If you're going to spend your hard-earned cash on Facebook advertising, it's important to know how much a campaign might cost.
Well, we have some good news, and some bad news.
The bad news is that it's difficult to estimate exactly how much your Facebook ads will cost. 
There are plenty of factors that will influence how much you'll pay for a Facebook ad campaign. Both external factors (e.g. competitor activity, seasonality, industry) and internal factors (e.g. budget, bidding strategy, ad type) will ultimately impact your cost. 
Because of this, you'll see the cost of Facebook advertising fluctuate over time, which is why it's so important to closely monitor your spend.
The good news is that we can look at some average Facebook costs to provide you with some rough guidelines. 
Below is a simple breakdown of some average Facebook costs:
The average Facebook CPC (Cost Per Click) is around £0.81.
The average Facebook CPM (Cost Per Thousand Impressions) is around £6.02.
The average Facebook CPL (Cost Per Like) is around £0.90.
The average Facebook CPA (Cost Per Download) is around £4.58. 
Just remember – these are average costs, not guarantees! Your own Facebook ad costs will regularly change, so keep a close eye on your campaign reports to manage your budget. 
The benefits of Facebook advertising 
So why is Facebook advertising so incredibly popular with brands from all corners of the world? What makes the platform so useful for results-driven marketers? 
Let's take a look at some of the key benefits associated with creating Facebook ads (and why we started out as a dedicated Facebook ads agency).
Facebook offers mind-blowing scale
The Facebook platform is absolutely huge.
(Like, seriously huge.)
Facebook boasts around 2.9 billion monthly active users – and 79% of these monthly users are active daily. These are some big numbers.
So how does that help advertisers?
Well, this enormous scale means that you're almost guaranteed to be able to reach profitable and relevant audience segments.
It also means that you're unlikely to hit a ceiling in terms of advertising returns. With so many users available to engage and convert, you can maintain highly effective ad campaigns without ever running out of prospects to target.
The targeting options are highly advanced
Facebook doesn't just provide advertisers with a huge number of different audiences. It also provides them with smart ways to reach them.
Facebook audience targeting is highly advanced, and fuelled by mountains of platform data and insights.
There are plenty of standard segments available for targeting (e.g. demographic, location, behaviour) that can deliver positive results for marketers.
However, the real power of Facebook targeting comes in the form of Custom Audiences.
These highly-targeted segments are built around real audience data, such as website visitors and recent buyers. This allows advertisers to reach people who are infinitely more likely to convert.
You can even build Lookalike Audiences based on these Custom segments, increasing the reach of your campaigns without sacrificing quality.
It's proven to deliver efficient returns
Facebook also has a track record of delivering impressive results for advertisers from every sector and industry.
Campaigns can be set up to tackle a number of specific objectives, so whatever your marketing goals are, Facebook ads can help you to achieve them.
Whether you're looking to build brand awareness or generate cost-efficient online sales, an expertly-managed Facebook ad campaign can drive jaw-dropping performance for your brand.
Keen to see some real-world Facebook advertising results? Check out a huge selection of case studies here.
The different types of Facebook ads
It's time to dive deep into the world of Facebook ads.
Let's take a whirlwind tour of every format available on the Facebook platform, and outline how each Facebook ad placement can contribute to your campaign goals.
Facebook Image ads
Image ads are very simple, but that doesn't mean they can't be effective.
With the right ad creative, Image ads can deliver persuasive brand messaging quickly and efficiently.
The key is to focus on a simple image that captures user attention without being cluttered by excessive text or visuals.
By pairing an eye-catching asset with a compelling headline, you can generate high volumes of clicks and engagements from your target audience.
Facebook Video ads
If you need to communicate a slightly more detailed message to your target audience, Video ads can be a great option.
These placements can appear directly in the News Feed, but they can also be delivered within longer video content in the form of In-Stream ads.
It's also very important to think about the type of video content that you'd like to create. From product explainer videos to animations, there are plenty of ways to engage your target audience with a Facebook video ad.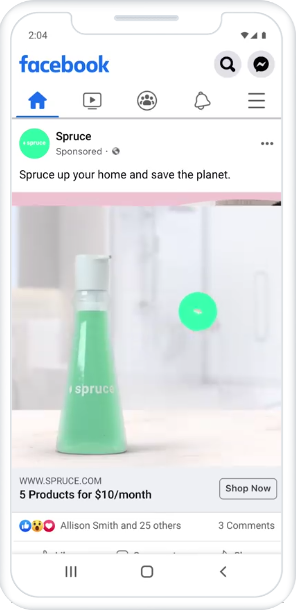 Facebook Carousel ads
Feel like single image and video ads aren't quite giving you enough creative freedom?
Say hello to the Facebook Carousel. These ads can deliver up to 10 individual assets within a single placement, providing you with plenty of space to deliver key messages.
Advertisers can fill the Carousel with images or videos, and each card can also contain a unique CTA and destination URL.
Not only is the Carousel ideal for showcasing multiple products or services within a single format, but it also encourages high levels of engagement as users explore the different creative assets.
Facebook Slideshow ads
If you're looking for a way to repurpose existing video clips or static images, Facebook Slideshow ads are a versatile format that can be highly effective.
As the name suggests, this placement essentially transforms your visual assets into a slideshow, with eye-catching motion that can be great for grabbing attention.
You can also use the Facebook Ads Manager to add text and music to your Slideshow ads, producing more engaging and interesting creative assets.
Facebook Collection ads
The Collection format is a dream for e-commerce brands, because it allows customers to instantly buy products simply by clicking on ads.
When it comes to convenient user journeys, it doesn't get much easier than this.
Advertisers can upload five images or videos to create their Collection ad. Users can then click to complete a new purchase without ever leaving the Facebook platform.
One image or video (also known as the 'hero' asset) will sit at the top of the placement. This could be an item that you're particularly keen to promote, or a video asset that explains the benefits of a wider product collection.
Facebook Instant Experience ads
Instant Experience ads are full-screen experiences that are highly engaging and immersive for users.
(If you're familiar with Instant Articles, this is essentially the marketing equivalent – fast loading, responsive content for audiences.)
This format is fully optimised for mobile devices, and is one of the most versatile placements available on Facebook.
Instant Experience ads can be used to display images and videos, showcase Carousel assets, and sell products within the Facebook platform. Whether you're looking to build brand awareness or generate direct conversions, Instant Experience ads can do it all.
If you're keen to stop users in their tracks with bold visuals and encourage interaction with your ads, the Instant Experience format is ideal.
Facebook Poll ads
Looking to gather real-time insights and opinions from your audience?
Or potentially just encourage some active user engagement?
With the Facebook Poll format you can instantly add an interactive element to your ads, incorporating a two-option poll into images and videos.
Both you and poll participants will be able to see a summary of the responses to each option.
A separate link can also be added to each poll choice. This is a simple Facebook ad format, but one that's great for drumming up user engagement and standing out in a busy feed.
Facebook Lead ads
Traditionally, generating new leads from social platforms can be a little clunky.
Users need to click on your paid social ad, visit an external landing page, enter their personal details, and hit another Call To Action to share them. It's all too easy for prospects to lose interest (or willpower) and abandon the process.
Fortunately, Facebook Lead ads streamline this entire experience.
When your target audience clicks on a Facebook Lead Ad, the platform instantly populates a lead form with their personal data, sourced directly from their profile.
All users need to do is click the relevant menu options, hit a single confirmation button, and a brand new lead will be ready to pursue – all completed within the Facebook app itself.
Facebook Stories ads
Facebook Stories ads are a mobile-only, full-screen vertical format that's great for capturing audience attention and delivering snappy messages.
These placements appear between organic user Stories, which helps them to feel more organic, more authentic, and less intrusive.
Stories ads can be used to tackle a wide range of campaign objectives, because they include a 'Swipe Up' functionality that enables users to visit specific landing pages. From here, audiences can learn more about products or make new purchases.
The key is to create eye-catching and punchy Stories ads that communicate messages quickly and drive immediate action.
Facebook Dynamic ads
Whenever you're promoting products or services on Facebook, it's very important to focus on targeting audiences who are most likely to be interested in them.
Dynamic ads help advertisers to reach the most relevant and receptive audiences available on the Facebook platform – and better targeting equals better results.
With Dynamic placements, you can effectively create personalisation at scale, which is incredibly powerful. Facebook pixel data allows you to retarget users who have visited your website or Facebook business page, clicked on your product or service website pages, or completed purchases.
The Facebook platform can then run customised automatic placements to show users products and messages they're more likely to be interested in. This is a super smart advertising strategy that can lead to high volumes of clicks and conversions.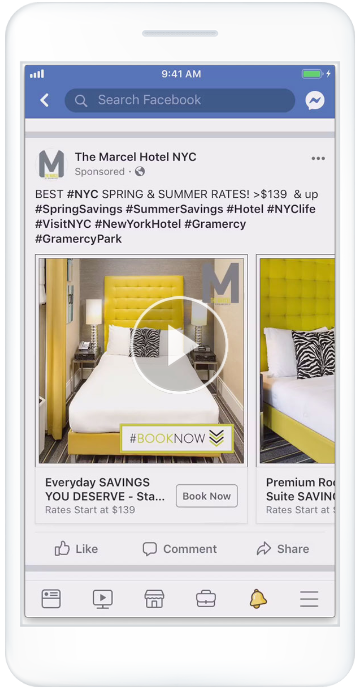 Facebook Messenger ads
Facebook Messenger has almost 1 billion monthly active users.
And with Facebook Messenger ads, you can tap into this enormous audience to reach, engage, and convert potential customers.
Messenger ads look almost identical to standard user messages (apart from a small 'ad' label) which is great for boosting interest and engagement.
They look and feel like authentic messages, helping to increase the chances of audiences opening them. Messenger ads can be used to deliver simple and snappy promotional messages, but they can also open new Messenger chats with sales reps or customer service agents.
Facebook Augmented Reality ads
If you're keen to put a more creative and interactive spin on your Facebook ads, the Augmented Reality format is the perfect tool.
Advertisers can create custom AR filters and animations which users can engage with through their cameras.
These ads are superb for generating engagement because users can enjoy an interactive and interesting experience. You might use AR filters to celebrate a special business occasion, promote certain products, or just provide your audience with some fun.
Augmented Reality ads are also great for extending organic reach. Users are often compelled to share AR filters with friends and family, which helps to increase the number of individuals exposed to your ad.
How can I create Facebook ads?
Ready to start driving outstanding results with your own Facebook ad campaign?
Let's run through the steps required to set up your own Facebook ads quickly and easily.
1. Create a Facebook Ads Manager account
The Facebook Ads Manager is your go-to destination for all things Facebook marketing. As a result, the first step in the process is to set up an ad account.
From the Ads Manager dashboard you can create new ads, optimise your campaigns, and monitor performance through custom reports.
If you need to set up a new Ads Manager account, visit this page and click 'Go to Ads Manager' to get started. Enter the necessary information about your business and Facebook page, confirm your preferred payment method, and save these changes to confirm.
Also, if your Facebook ad campaigns are a team effort and other individuals will need access to ad data, it's a good idea to set up a Facebook Business Manager account.
2. Kick off the Facebook ad creation process through the Ads Manager
Start by logging in to the Facebook Ads Manager.
If you currently have any Facebook ads live, these placements will appear in the dashboard along with an overview of performance. If you don't have ads running, this page will be blank.
Click the 'Create' button on the top left of the 'Campaigns' tab, and input a memorable ad campaign name to get started.
3. Choose a campaign objective
It's time to select your primary campaign objective.
This is an absolutely crucial step of the process (and will influence other aspects of your campaign) so make sure you're paying close attention to your choices!
Your objective selection will give the almighty Facebook algorithm a better idea of what you're trying to achieve, so pick a goal that aligns with your business priorities.
There are 11 different campaign objectives to choose from:
Brand Awareness
Reach
Website Traffic
Engagement
App Installs
Video Views
Lead Generation
Messages
Conversions
Catalog Sales
Store Traffic
Facebook will automatically make ad format recommendations based on your objective, but you can manually select your preferred ad types if you'd like.
4. Confirm your target audience(s)
You'll then be prompted to set up target audiences for each ad set within your campaign.
If you're just starting to use Facebook advertising, you may need to experiment with a few different audiences until you find the best-performing segments. This can take a little bit of time, but don't worry – with the right strategy, you'll quickly identify the right prospects.
There are several different ways to create your target audience on Facebook.
Standard audiences (e.g. demographics, interests, location) can be handy for new advertisers because they're simple to set up. However, Custom audiences tend to deliver superior results because they're built on real customer data.
(If you want to start utilising a Custom Audience, you'll need to implement a Facebook pixel – check out this guide for more info.)
As you start to build your target audience, Facebook will provide you with a reach estimate on the right hand side of the screen. A bigger audience isn't necessarily better, but you'll want a decent reach to make sure that you can generate significant results.
5. Set your campaign budget
When you're setting up your Facebook ad budget, you'll be given the choice between a 'Daily Budget' and a 'Lifetime Budget'.
So what's the difference between the two?
If you select Daily Budget, Facebook will manage your spend based on a daily limit. If you select Lifetime Budget, the platform will manage your spend across a set time period until the campaign end date.
If you're keen to maintain a consistent spend across your campaign, a Daily Budget is a solid option because you know the maximum amount that can be spent in 24 hours.
Spend is more likely to fluctuate with a Lifetime Budget (because there isn't a daily cap) but since the platform has more flexibility it can capitalise on profitable opportunities, which can lead to better results.
Once you've decided on your preferred budget setting, click 'Show Advanced Options' to open a new menu. From here you can specify your campaign schedule, adjust your bidding strategy, and manage spend delivery.
This is an important stage of the process, so if you'd like more guidance on campaign budgets and spend management, check out this guide.
6. Create your Facebook ads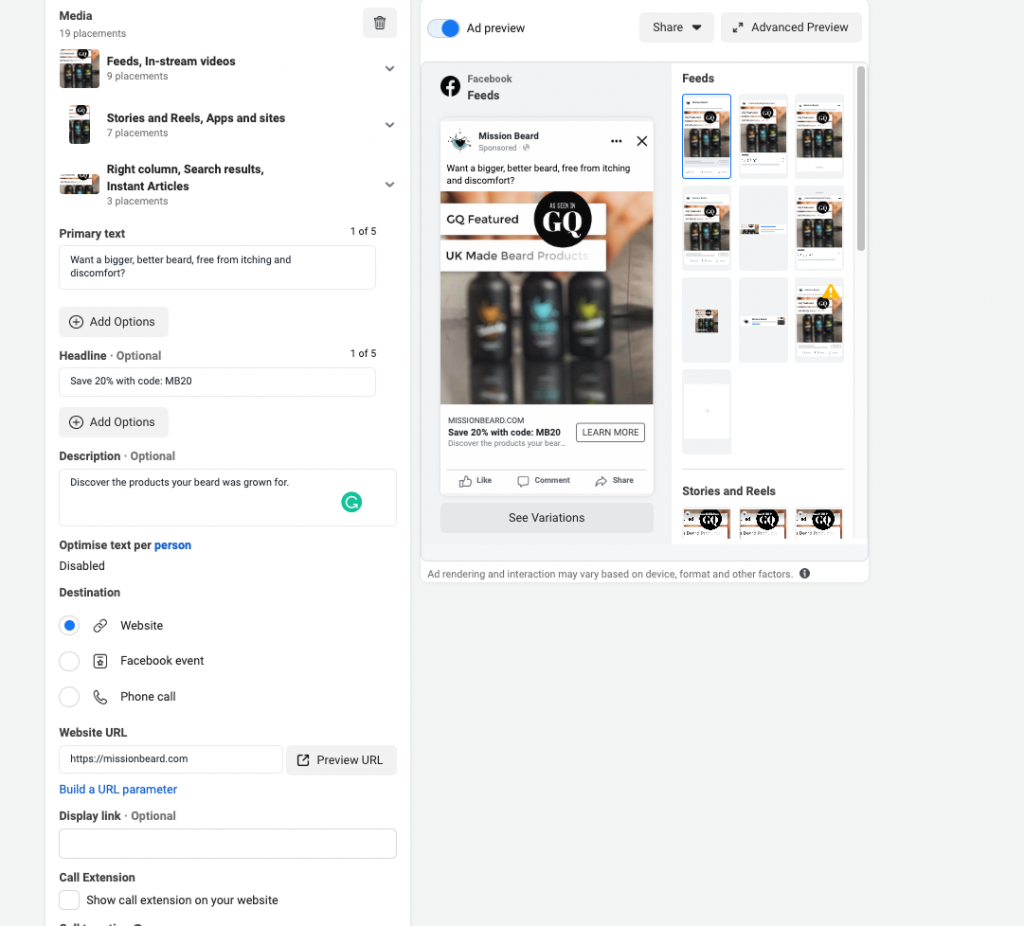 Now it's time to create your Facebook ads.
Depending on the types of Facebook ads that you're running, you'll need to stick to specific ad specs and design guidelines – more on that in the next section.
Different ad formats will have different components, but you'll generally need to pull together:
Image or video assets
Headlines
Ad text
CTAs
It's important to think about the type of ads that you're running when you decide on a creative approach. A Carousel, for example, will require several different visual assets to run – if you don't have the right creatives, you may encounter campaign delays and production issues.
Once you've created your new Facebook ads and finalised the details, you'll be ready to launch your campaign. Exciting stuff!
Facebook ad specifications and sizes
Whenever you're preparing creative assets for a new Facebook campaign, you need to pay very close attention to the detailed ad specs.
Otherwise, you may end up grappling with last-minute (and expensive) production edits. Or even worse, severe campaign delays.
To make sure that you stay on-track with creative production, use this page to double check ad specifications and production requirements.
Not only will you need to build your creative assets around these specs, but you'll also need to ensure that your creative approach works properly within these guidelines.
If you're ever in doubt, just refer back to these detailed ad specs. Trust us.
Tips for successful Facebook campaigns
Looking for a helping hand with your new Facebook campaigns?
We've got you covered. Below are some handy tips that will help you to maximise returns and enhance campaign performance.
Enlist the help of professionals
If you're just getting to grips with Facebook advertising, launching and monitoring campaigns might seem like a daunting task.
Although running and optimising your own campaigns isn't impossible, it will take a significant amount of time and resources to drive positive results.
Not only will you need to learn how to set up and manage campaigns properly, but you'll also need to spend a lot of time tweaking ads to maximise performance.
And if you're already struggling with a packed to-do list, this just isn't feasible.
Don't hesitate to reach out to paid social experts and marketing agencies if you need support. Although you'll need to invest money to enlist professional help, running ineffective Facebook ads and wasting budget will be far more costly in the long run.
Keep a close eye on campaign reports
Always keep close to your campaign reports and Ads Manager dashboard when you're running Facebook ads.
When you stay in the loop with ad performance, you can instantly react to new opportunities, shift budgets towards profitable tactics, and pause inefficient strategies.
Campaign delivery will constantly change for a number of reasons. Competitors may ramp up their spend, audience performance will fluctuate, and different formats will vary in success.
Check your reports regularly to stay ahead of the curve with your optimisations.
Pick the right ad objectives
Selecting a relevant campaign objective is key to starting off a Facebook campaign on the right foot.
Think about which objective aligns with your core business priorities.
Are you more interested in building brand awareness among a wider audience? Or are you focused on achieving cost-efficient conversions?
Your objective will impact your ad formats, your bidding strategy, and your audience targeting, so make sure that you're laying the foundations for a successful campaign.
It's also important to stay focused on your objective when making optimisations. Every tactic and audience should be contributing towards your primary goal, so bear this in mind when you're tweaking campaigns.
Proven best practices for Facebook campaigns
Regardless of your campaign objective, it's always helpful to stick to Facebook best practice when you're running ads.
If you can follow these guidelines during your next campaign, you'll be in a great position to deliver jaw-dropping results for your brand.
Focus on producing quality creatives
Bold and eye-catching creative assets won't just look great in your campaigns. They'll also help your Facebook ads to work more efficiently.
How, you ask?
Facebook ads work on an auction system, but it's not just the highest bidder who earns an impression.
The Facebook platform also rewards advertisers who are serving up high-quality, relevant ads to their target audiences.
This is known as Ad Relevance Diagnostics, and it's hugely important for advertisers to understand if they want to outperform the competition and improve efficiency.
In simple terms, you need to produce ads that interest your audience and deliver consistent engagements and conversions. If you can manage this, then you'll be one step ahead of the competition.
Make regular, data-driven optimisations
If you want your Facebook ads to succeed, you need to make rigorous and regular optimisations.
It's as simple as that.
You need to make sure that you're prioritising your budget towards the tactics, ad formats and audiences that are delivering the best results. You also need to act decisively in pausing ad sets that are struggling to perform.
Whenever you make optimisations, think about your core campaign objective. Which ads and audiences are moving you closer to achieving this goal?
You'll need to optimise towards certain actions to achieve specific objectives, so identify the most important actions for users to take. This could be clicks, video views, or conversions.
Once you know which actions are going to contribute towards your campaign objective, you can start to shift budgets to support your best performing tactics. After you've made the right optimisations, you'll quickly see improvements in performance.
Keep testing and learning
A thorough test-and-learn strategy is a surefire way to improve Facebook performance over time.
The first step is to identify different campaign elements that you'd like to test. You might want to trial a brand new audience segment, or introduce a different headline to your ads.
You'll also need to figure out the metrics that will indicate a successful test.
Are you hoping to drive traffic? Improve conversion rates? Increase purchase values?
Once you've established a clear goal, you can set your test activity live. If you need some pointers on Facebook test and learn, this page contains some handy advice.
After you've launched a successful test, rinse and repeat. Pretty quickly, you'll identify new opportunities for superior performance and increased revenue.
Tracking Facebook ad performance
Keeping tabs on your Facebook ad performance is critically important.
By closely monitoring your activity, you can gather valuable insights to improve and refine future campaigns. Plus, you'll need to track performance in order to make effective optimisations.
Luckily, accessing your campaign data is simple.
All you need to do is log in to the Facebook Ads Manager. From here, you can check the dashboard view for a summary of performance, or set up custom reports to focus on specific metrics.
If you're running Facebook ads to drive conversions, it's also crucial that you set up accurate Conversion Tracking before anything goes live.
This will help you to understand the true impact of your ads on sales and revenue.
Facebook ads can be a game-changer for brands looking to run effective marketing.
The most important thing is to stick to best practices when setting up, launching, and managing campaigns.
If you can produce quality creative assets, select the right formats and audiences, and make smart optimisations, then you'll be able to squeeze optimal results out of your marketing budget.