We want everyone to be able to grow their business on Instagram to reap the rewards this incredible platform has to offer. There's something for everyone on Instagram – a place that people visit to discover and see things they care about, including content from brands and businesses. A Business Instagram account will allow you to give people more information about your products, services or business.
Before we tell you how to create your Instagram business account, here are some stats to demonstrate why you should be using it:
There are already over 25 million business profiles on Instagram worldwide, and there's space for way more. Don't give your competitors the upper hand by not utilising this easy-to-use platform.

60% of people say they discover new products on Instagram. Yes, you heard us! This figure is too big to be missing out on.

Over 200 million Instagrammers visit at least one business profile daily. This just goes to show how successful a marketing platform it is.

One third of the most viewed stories are from businesses (reiterating the point above).

There is an 80% increase in time spent watching video on Instagram. We all know the power of video (if not, see our previous blog) so make sure you are using the Instagram platform to promote your brand via video.
How to create your Business Instagram account
1.Download the app
You can download the app from the Apple iOS, Android and Google Play app stores. We recommend that you download and manage your Instagram account on mobile as the app is directed more to this device. There are some things, such as uploading content, that are limited on desktop without plug-ins.
2. Create an account
You can create an account by using your email address or phone number and creating a username and password, or by logging into your Facebook account. If you're choosing the latter, ensure you are using your Facebook Business profile.
If you already have an account, sign in and go to your profile page.
3. Switch your profile from personal to business
Instagram automatically gives you a personal profile when you sign up. To convert it to an Instagram for Business page it needs to be linked to your Facebook Business page.
Go to your profile by clicking the icon at the bottom right of the screen. Next, go to Settings and select 'Switch to Business Profile' (you can switch back to a personal profile at any point).
Next, swipe through the slideshow until you reach the Connect to Facebook page. Here, you can select the Facebook Business page that you want to connect to Instagram – select this from the list of pages you've already created on Facebook and click 'Next'. Note that this step can only be completed by an administrative user.
4. Complete your profile setup
Enter your business email, phone number and address. Some of these fields may be auto-filled depending on what you have entered onto your Facebook page. Click 'Done'.
Your profile page should now be updated to include an icon for Insights (a graph icon) – here you can keep track of stats.
5. Create your business page
This can be linked to an existing Facebook page, or you can create a new Facebook page as you go through this process. Choose a page title and select a category e.g. personal blog, music, brands and products. You should also choose a subcategory to make it easier for people to find you in searches. Click 'Next'.
6. Personalise your profile
Now it's time to update your profile to promote your business. Go back to your profile page and click 'Edit your profile'. Update your page logo, bio and website link. Add a link and hashtags to your bio sections. You should also make sure that your username reflects what your business is.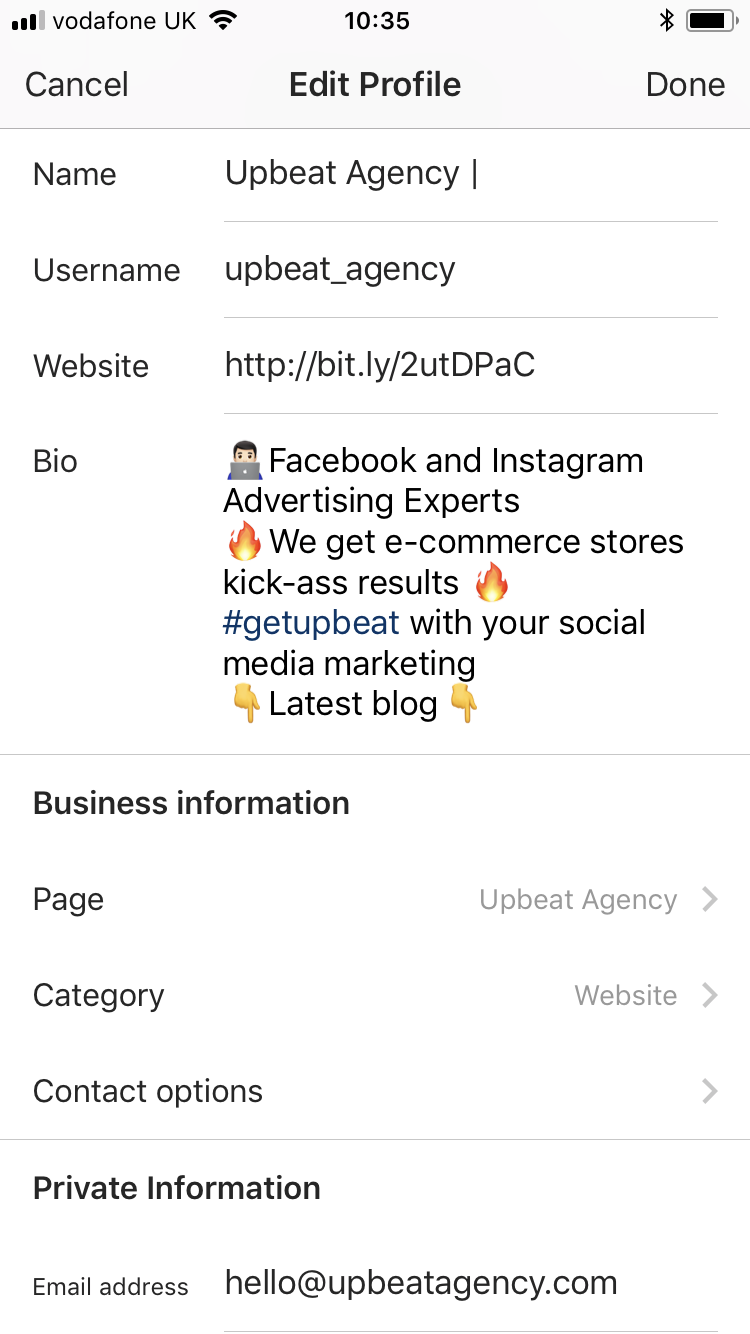 7. Add your contacts
Go to settings and click 'Invite Facebook friends' to send a notification to everyone in your Facebook network. You can also use this to invite people from other networks such as LinkedIn and Twitter. You should aim to have as many followers as possible, but make sure they are organic followers and don't buy them.
You can only add your contacts from mobile.
8. Start posting content
Use the cross button in the bottom centre of the app to start adding content from your camera, gallery or Google Drive. You can also use Instagram stories to promote your brand (check out our previous blog).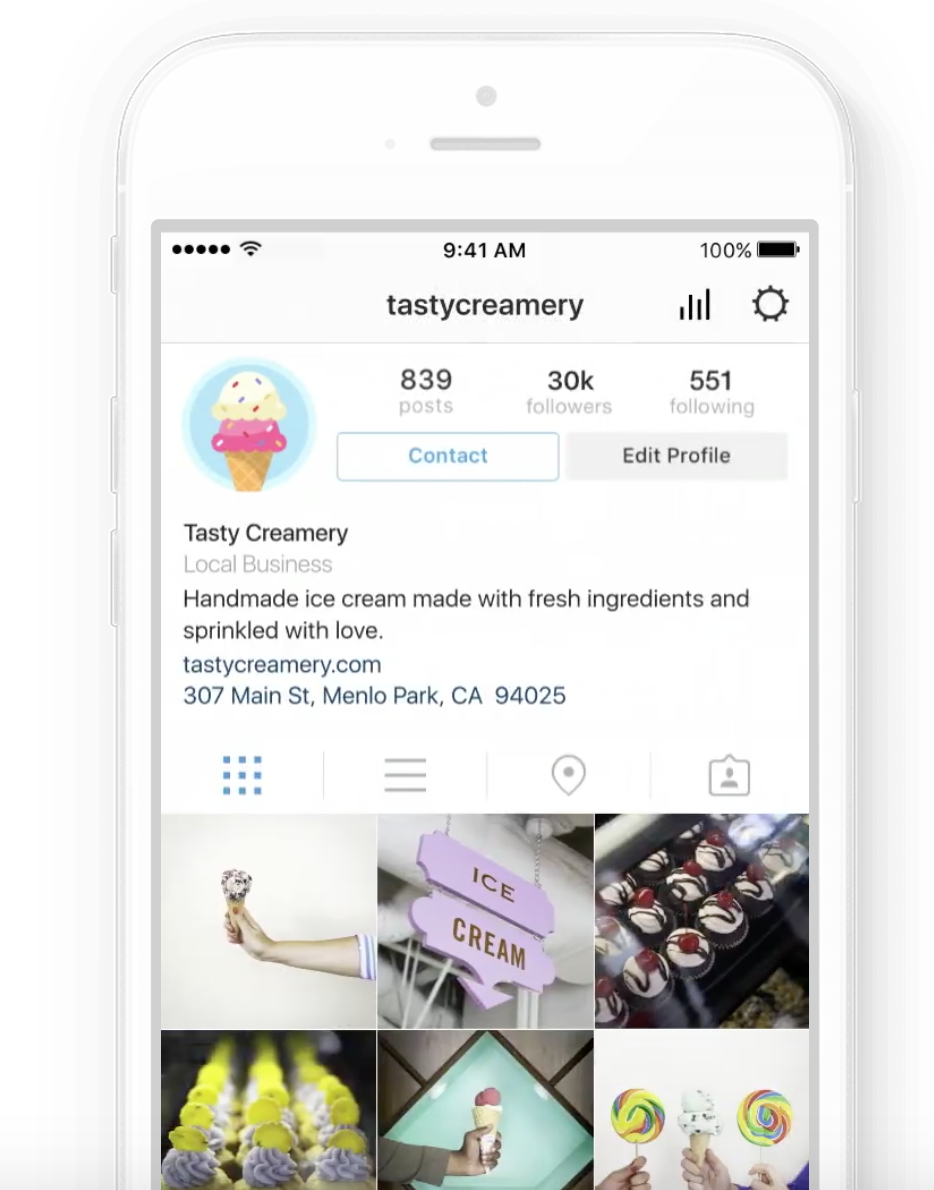 Once you've followed these eight simple steps and started posting, your Instagram network will start growing. Posts can be informal but keep them relevant to your brand and make sure you're posting regularly to keep building followers. Also, remember when you're promoting something to update the link in your bio so that users can easily find the relevant webpage.